The EASIEST Turtle Brownies Recipe!
Made with a cake mix, this super chocolaty Turtle Brownies recipe is just as easy as they are delicious! Loaded with lots of chocolate, caramel, and pecans, these Caramel Pecan Brownies are amazing anytime you're in the mood for a sweet treat!
This post may contain affiliate links. Delightful E Made is a participant in the Amazon Services LLC Associates Program, an affiliate advertising program designed to provide a means for us to earn fees by linking to Amazon.com and affiliated sites.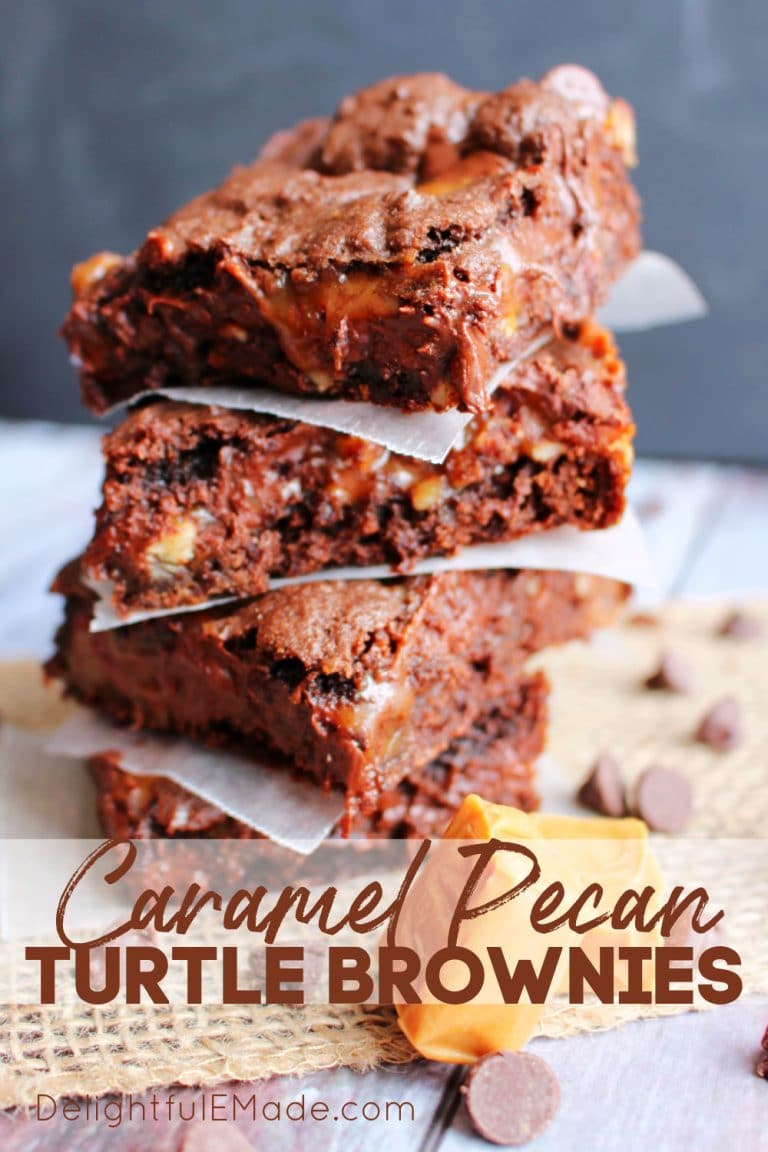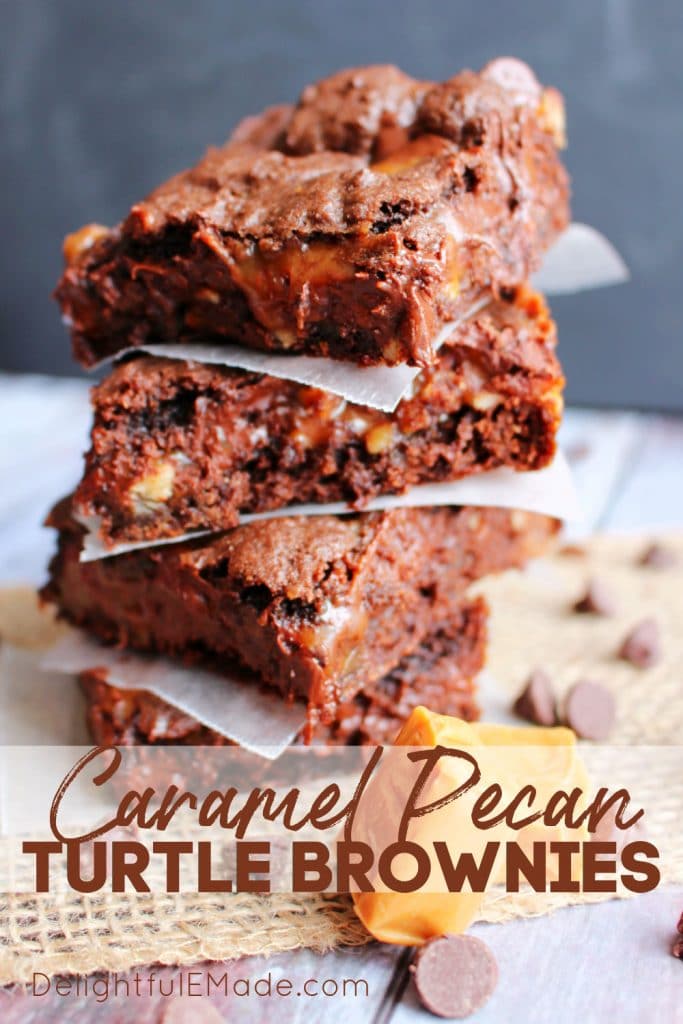 Caramel Pecan Brownies made from a Cake Mix!
Did you know you can make brownies from a chocolate cake mix? Yes! These Caramel Pecan brownies need just six ingredients and are the perfect quick treat when you're craving chocolate and caramel with a bit of crunch.
I'll show you the quick and easy steps to making these decadent, delicious Turtle Brownies recipe.
Can I make brownies from a chocolate cake mix?
Yes! A chocolate cake mix and a brownie mix are similar (not identical) and can be adapted to be made into brownies.
What is the difference between cake mix and brownie mix?
The primary differences are the leavening agents, like baking soda or baking powder, which is generally not used brownie mixes. This is why brownies tend to be more dense and fudgy and cakes tend to be fluffier. Brownie mixes will also contain more chocolate than a cake mix.
Can I use a brownie mix instead of a cake mix for this recipe?
Yes. The mixes tend to contain the same ingredients. The consistency of the turtle brownies will be fudgy and dense.
What ingredients do I need to make turtle brownies?
For this recipe you will need the following:
Chocolate Cake Mix
Butter
Milk (preferably dairy milk, not plant based)
Caramels
Pecans
Semi-sweet chocolate chips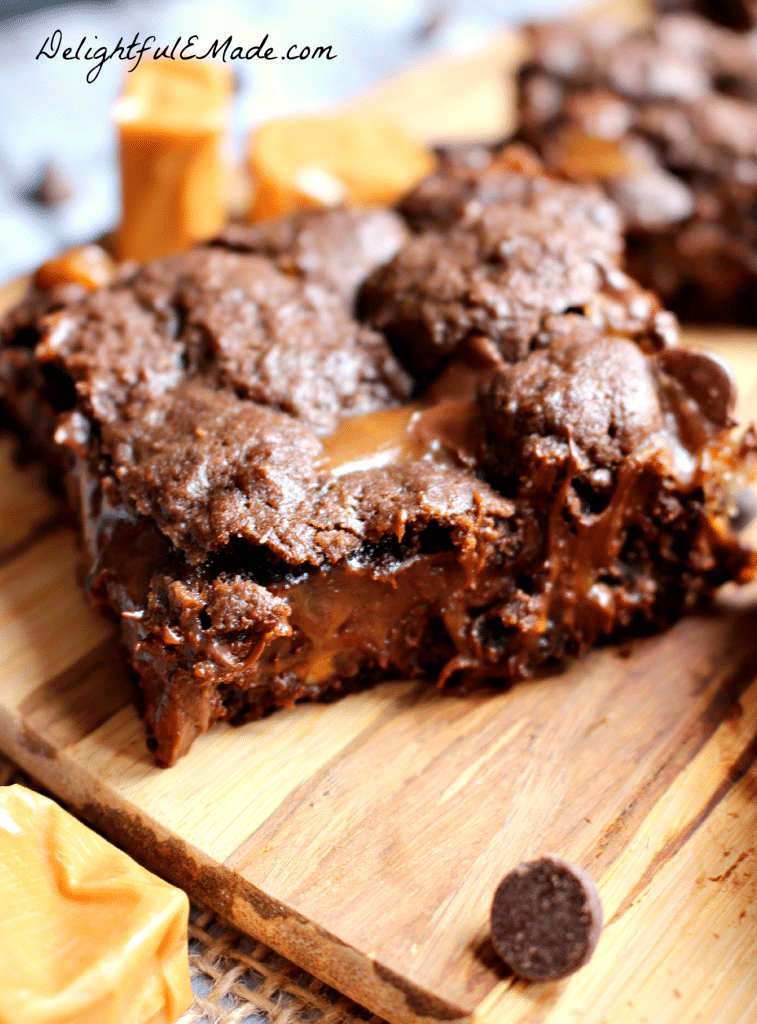 Can I use caramel bits instead of caramel squares?
Yes. These are the same product and sold by the same brand. Be sure to follow the package directions when melting.
As you can see, these bars are loaded with chocolate, caramel and pecans! They are super-gooey, fudgy and really hit the spot when chocolate is what you're craving. Perfect with a scoop of ice cream, they make one heck of a fantastic dessert at the end of the day!!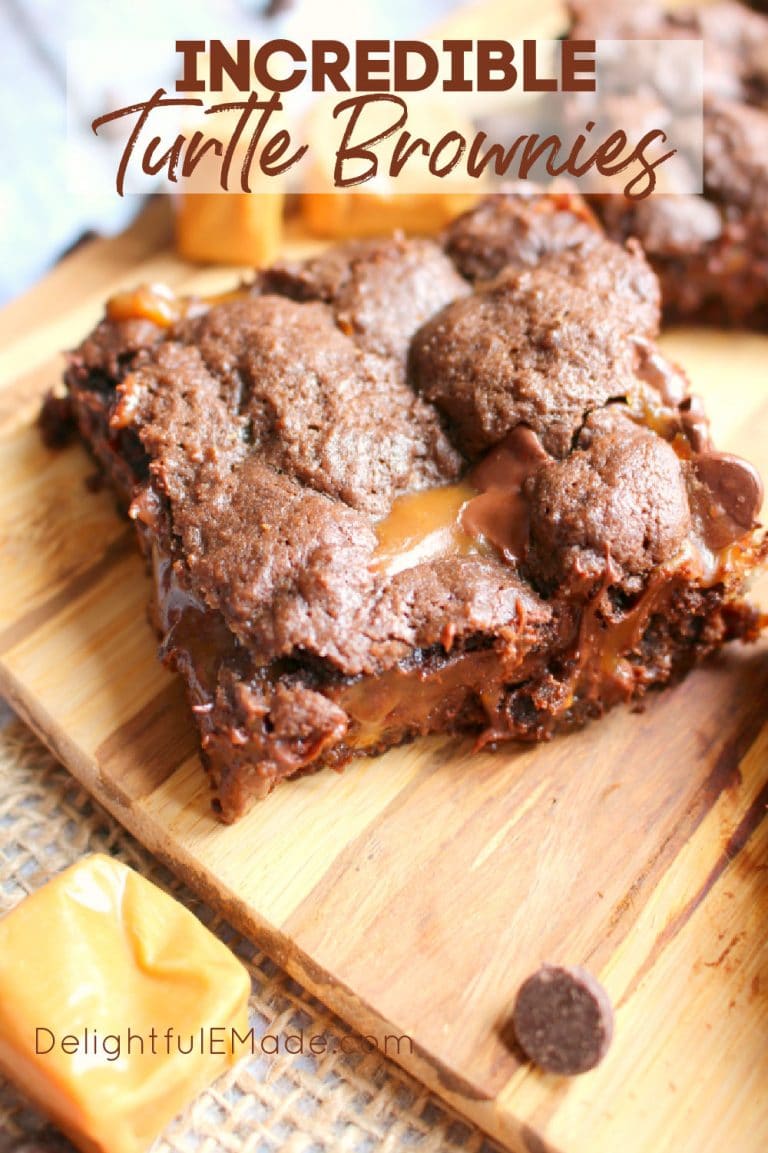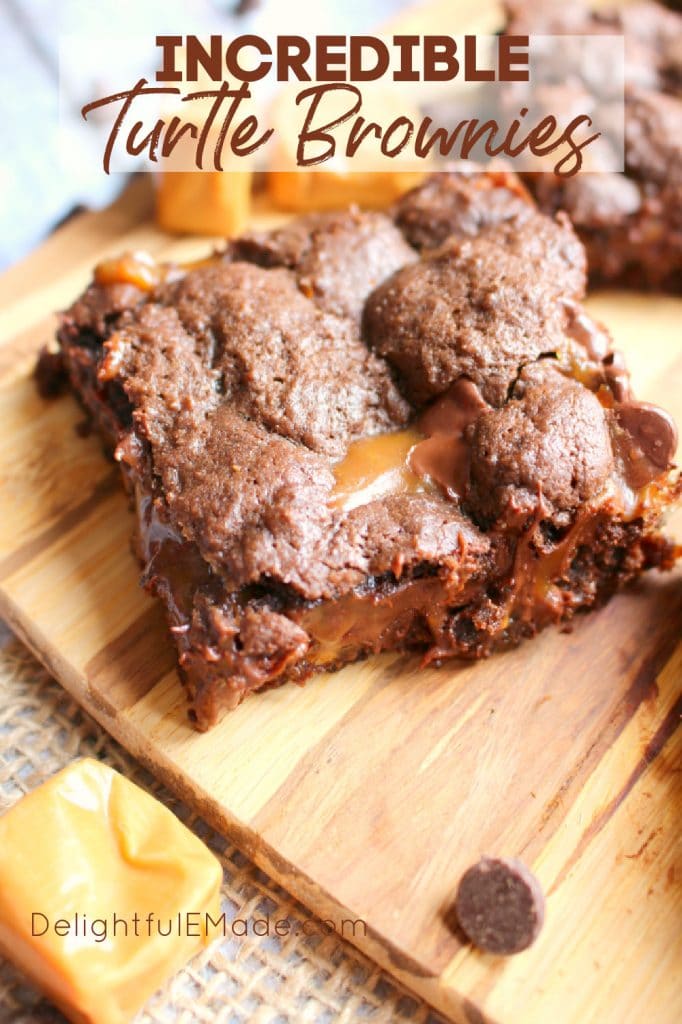 How long should I wait before cutting the brownies?
Once the brownies are done baking, remove from the oven and let cool. I would recommend waiting 1 hour. I do NOT recommend cutting the brownies right away. The caramel will be piping hot can burn if you try to handle. Let the brownies cool to room temperature before cutting. They will still be slightly warm on the inside.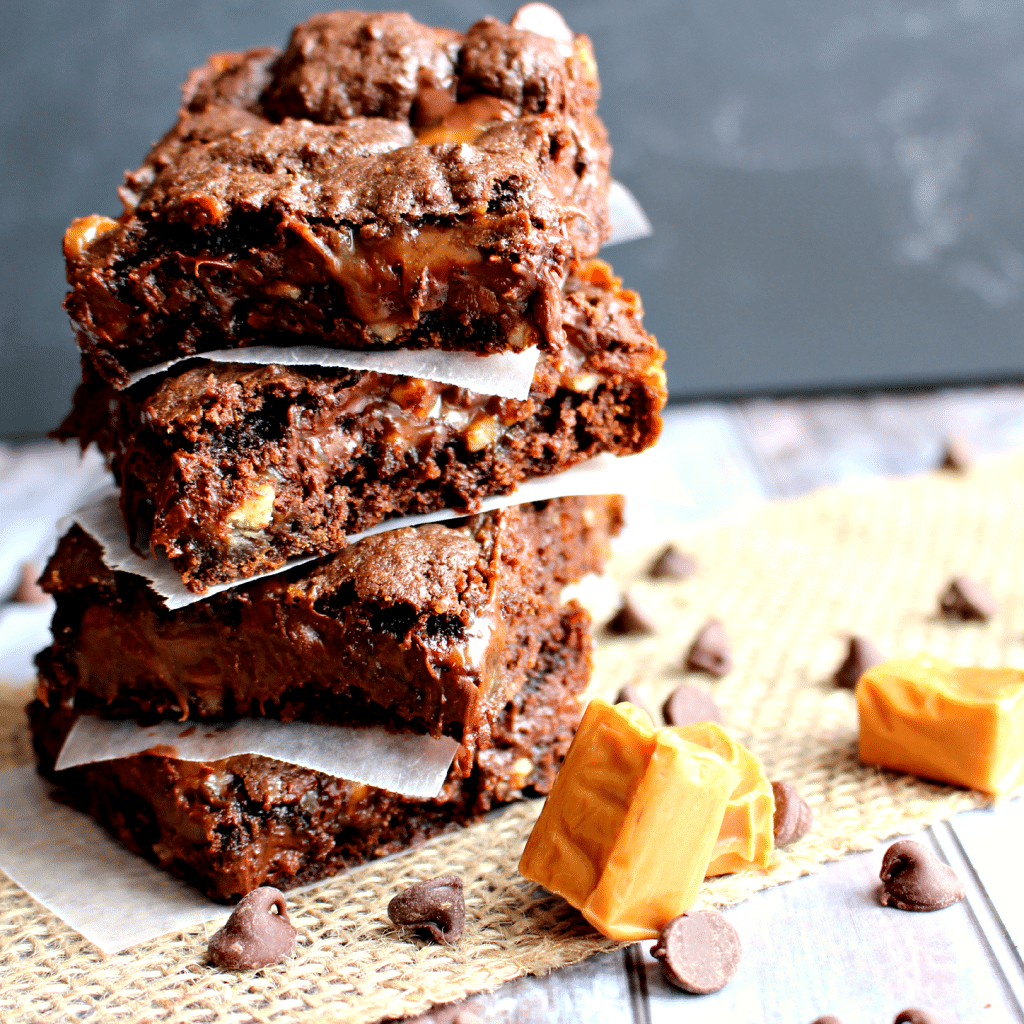 If you loved these Caramel Pecan Brownies, check out some of my other similar treats:
Do you enjoy the convenience of baking with cake mixes? Check out these other cake mix recipes:
Here are how these Easy Turtle Brownies come together: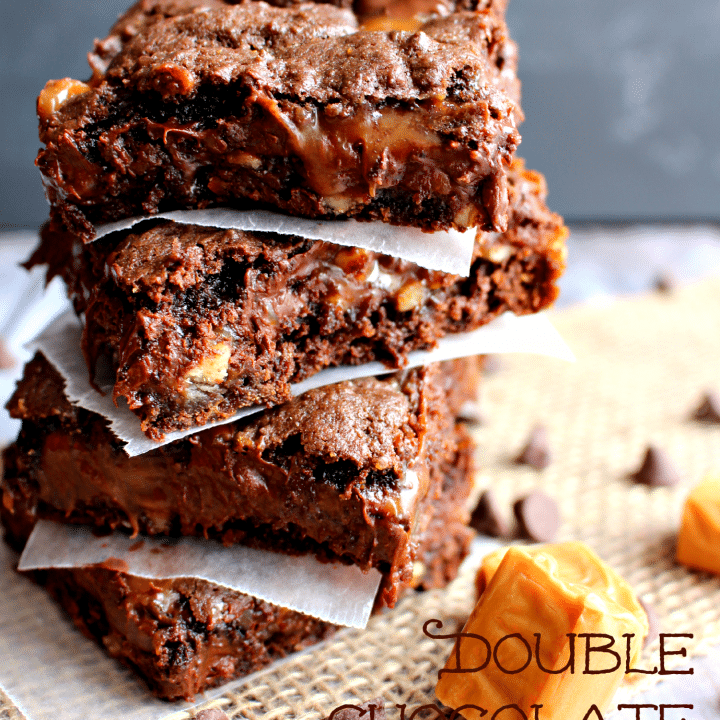 Double Chocolate Turtle Bars
Chocolate, caramel and pecans have never tasted so good! These Double Chocolate Turtle Bars are the perfect dessert when you're craving something gooey and delicious!
Ingredients
1 pkg chocolate cake mix
3/4 c. butter, melted
1 c. milk (divided)
1 pkg. Kraft caramels
1 c. chopped pecans
2 c. semi-sweet chocolate chips
Instructions
Preheat oven to 350 degrees. Spray a 9x13" plan with non-stick spray.
In a mixing bowl pour the melted butter and 1/2 c. milk into the cake mix. Stir. The batter will be sticky. Using a rubber scraper, spread 1/2 the batter into the 9x13 pan. Bake at 350 degrees for 15 minutes.
Remove from the oven and sprinkle the chopped pecans and chocolate chips over the thin cake layer. Melt the caramels with 1/2 c. milk in the microwave. (Melt in 1 minute increments, stirring each time. It took me 2 1/2 minutes to get to a smooth fully melted consistency.) Pour the caramel evenly over the nuts and chocolate chips. Drop the remaining cake batter (I used my fingers to drop small chunks) on the caramel. Bake 15 minutes more at 350 degrees.
Cool completely before cutting.
Store at room temperature in a air tight container.
Nutrition Information:
Serving Size:

20 squares
Amount Per Serving:
Calories:

200
Total Fat:

17g
Saturated Fat:

8g
Cholesterol:

20mg
Sodium:

71mg
Carbohydrates:

15g
Sugar:

12g
Protein:

2g