The perfect game-time snack mix recipe!
This crock pot snack mix recipe is the ultimate savory snack! Made with everyone's favorite Cheez-It crackers, cashews, and pretzels, this ranch snack mix is perfect for watching the game, enjoying with friends or serving at any party.
This post may contain affiliate links. Delightful E Made is a participant in the Amazon Services LLC Associates Program, an affiliate advertising program designed to provide a means for us to earn fees by linking to Amazon.com and affiliated sites.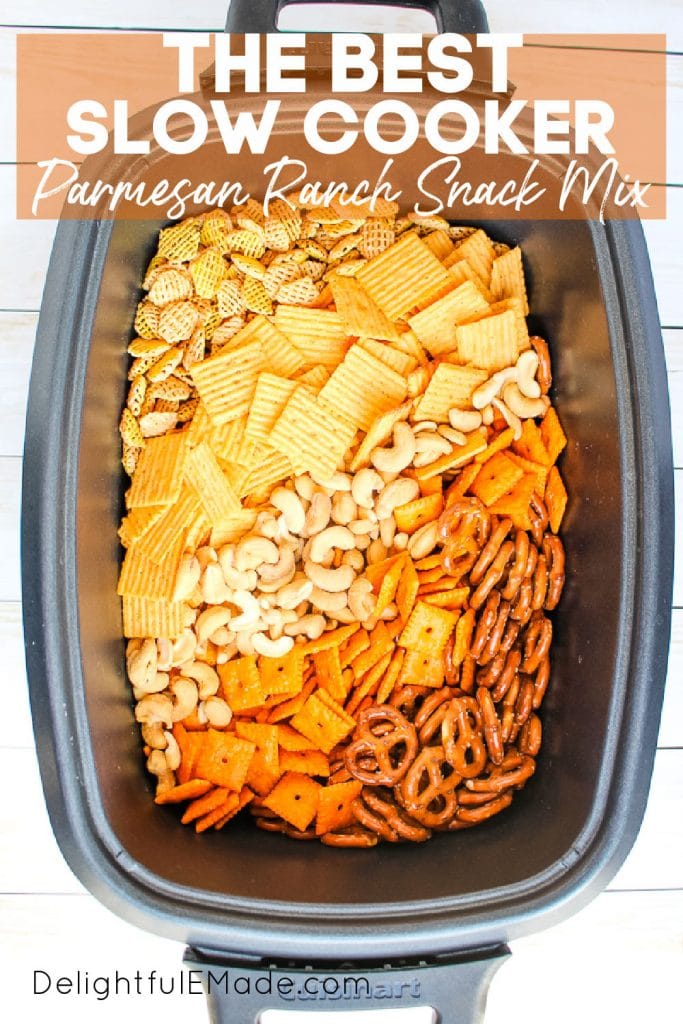 Do you love a great snack mix recipe? Why not try making it in your slow cooker? This simple, delicious ranch snack mix recipe is perfect for your next watch party, movie night happy hour with friends or tailgating event!
Ideally made in a larger slow cooker, you can also easily make this snack mix recipe in your oven. Fantastic zesty flavor with a great crunch!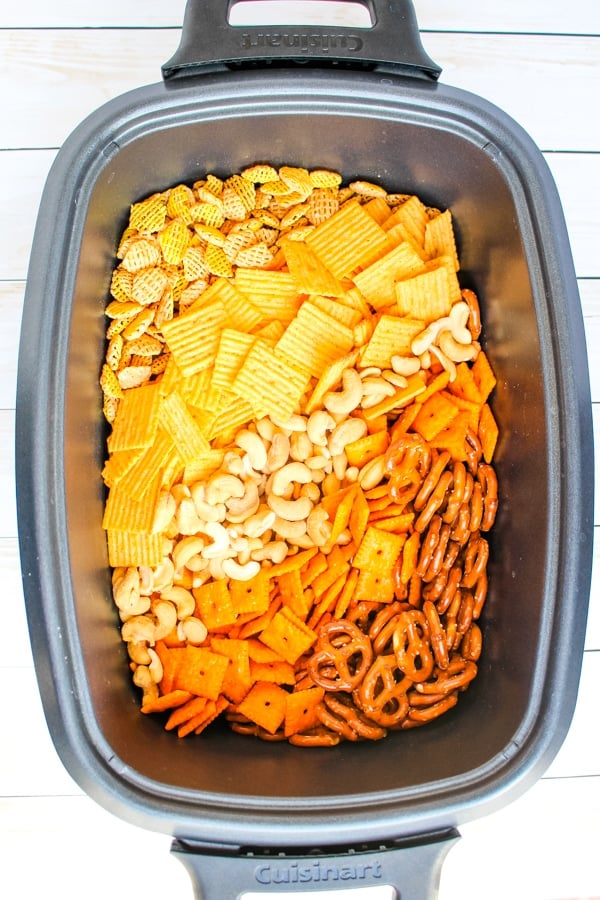 Ingredients you'll need for this Snack Mix Recipe:
Cheez-It Crackers
Cheez -It Grooves, Zesty Cheddar Ranch Crackers
Pretzels – small pretzel twists work well.
Rice/Corn Cereal – either Chex or Crispix work well
Cashews
Butter
Worcestershire sauce
Ranch seasoning mix
Grated Parmesan cheese
For exact ingredient amounts and full recipe instructions be sure to reference the full recipe below.
How this snack mix recipe comes together
This snack mix recipe is super easy to make, and uses a slow cooker or crock pot, to help make it savory, crunchy and completely delicious!
Also included are pretzels, corn/rice cereal and cashews. To season the mix, I poured a basic seasoning made from melted butter, ranch seasoning, and Worcestershire sauce, and then let the crock pot do the rest.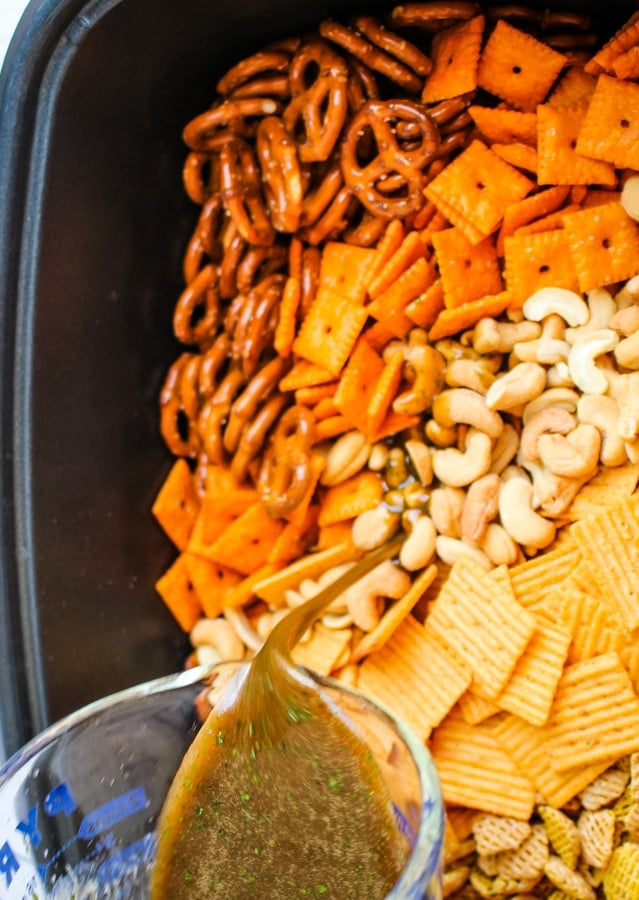 Can I use a slow cooker to make snack mix?
Yes! Using your slow cooker is a fantastic tool for making snack mix.
Add your ingredients to the crock pot.
Pour the seasoning sauce over the mix.
Give it a good stir to thoroughly coat the ingredients.
Roast the mix in the crock pot, stirring occasionally.
Lay out the mix and sprinkle with grated Parmesan cheese.
NOTE: If you have a smaller slow cooker, this recipe would be best made in the oven. The large amount of ingredients need space to roast adequately. To roast in the oven, place mixed snack mix on baking sheets and roast at 250 degrees for 1 hour 15 minutes, stirring snack mix every 15 minutes.
I have the Cuisinart 3-in-1 Multi-Cooker Slow Cooker. It's one of my absolute favorite appliances in my kitchen and I use it all year long. Check out all of my favorite kitchen tools here.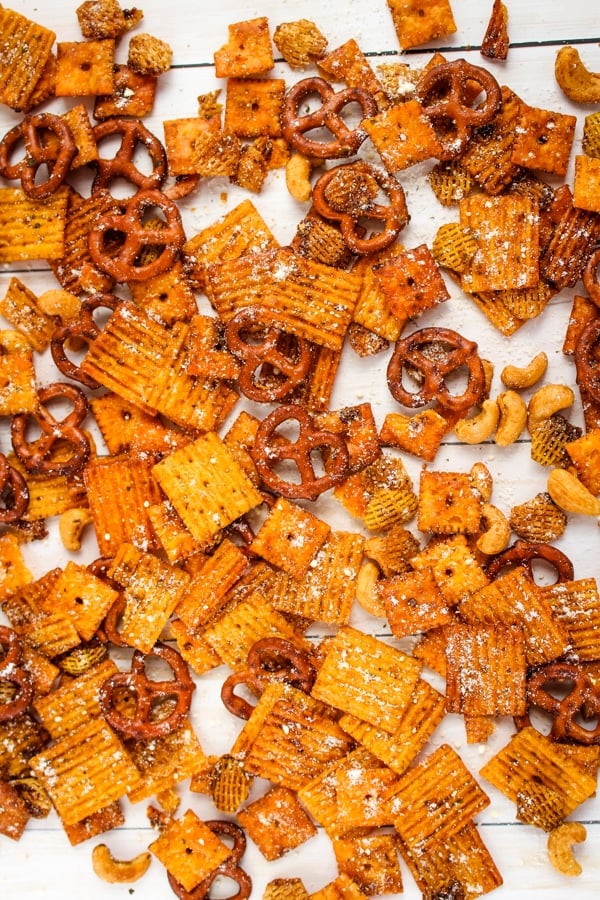 Once the snack mix is done roasting, lay out on a flat surface lined with waxed or parchment paper. This will help the snack mix cool and dry so it stays crisp.
The last step is to sprinkle the snack mix with the grated Parmesan cheese.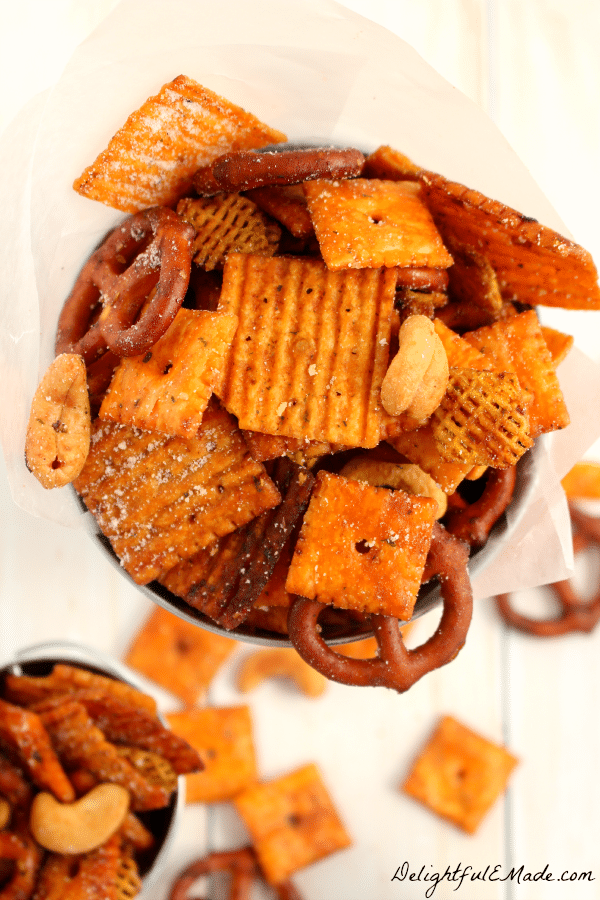 Once the snack mix has cooled completely, it should be stored in an airtight container. You can also package individually in smaller snack or sandwich-sized plastic bags.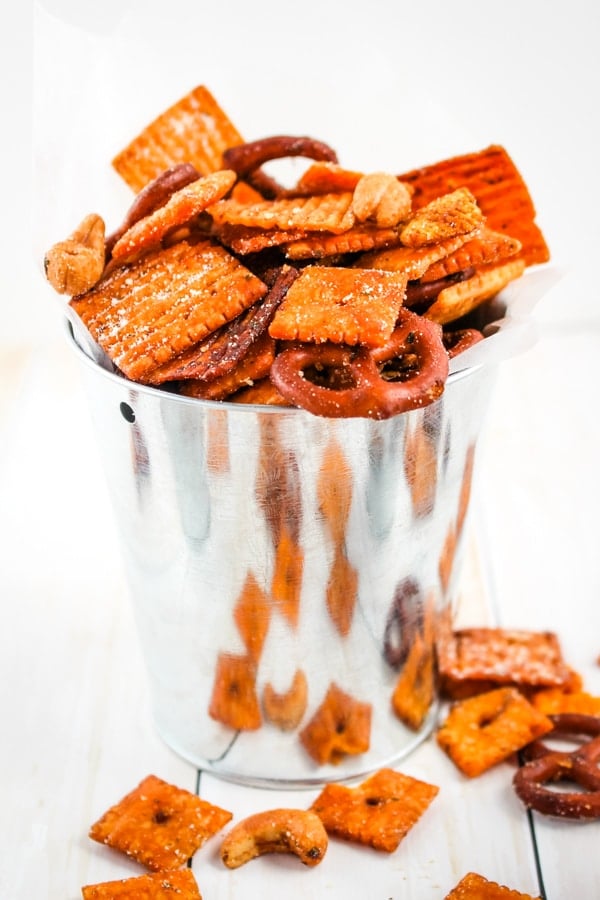 Fantastic for watch-parties and your favorite basketball, football or baseball game, this simple snack mix recipe is great for tailgating, too! This recipe is also great for holiday parties, movie night or anytime you're gathering with friends and family.
If you loved this easy snack mix recipe, check out my other party appetizer recipes:
Here's the easy recipe for the Parmesan Ranch Snack Mix: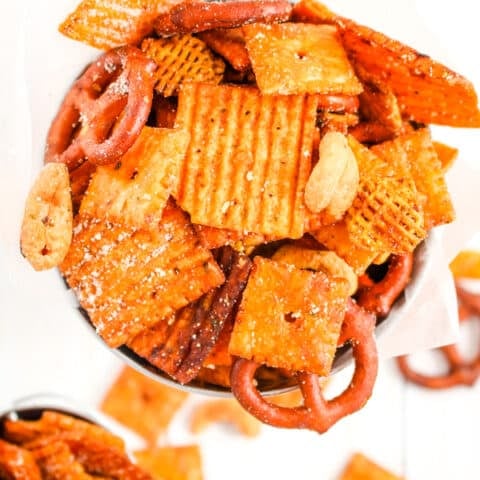 Parmesan Ranch Snack Mix Recipe
Total Time:
2 hours
10 minutes
This crock pot snack mix is made with Cheez-It crackers, cashews and a Parmesan ranch seasoning. One of the best ranch snack mix recipes!
Ingredients
3 c. Cheez-It original crackers
3 c. Cheez It Grooves, Zesty Cheddar Ranch crackers
2 c. small pretzels, twists work well
2 c. rice/corn cereal, like Chex or Crispix
1 c. cashews
6 Tbsp. butter, melted
1/4 c. Worcestershire sauce
2 Tbsp. dry ranch seasoning mix
1/3 c. grated Parmesan cheese
Instructions
In a large crock pot or slow cooker, combine the crackers, pretzels, cereal and cashews.
In a small bowl, whisk together the melted butter, Worcestershire and ranch seasoning. Gradually pour over the snack mix, and stir well to coat the mix.
Turn the slow cooker on low heat and roast for 2 hours, stirring the mix every 30 minutes.
When mix is done roasting, spread the mix out evenly on a flat surface lined with waxed paper to cool completely. Sprinkle with the Parmesan cheese.
Cool completely before storing in an airtight container.

Oven Directions: Place coated mix on baking sheets, and roast at 250 degrees for 1 hour, 15 minutes. Stir the mix every 15 minutes so it toasts evenly. Cool as directed above. Add the Parmesan cheese once mix has cooled.
Notes
This recipe is ideal for use with a larger slow cooker, due to the volume of ingredients. If you have a smaller slow cooker, oven use is recommend instead.
Make sure you let the snack mix cool completely before you put in storage containers. Cooling will allow the mix to crisp up and dry completely, letting out any heat or steam from the roasting process.
Recommended Products
As an Amazon Associate and member of other affiliate programs, I earn from qualifying purchases.
Nutrition Information:
Yield:

12
Serving Size:

1
Amount Per Serving:
Calories:

200
Total Fat:

14g
Saturated Fat:

13g
Trans Fat:

1g
Unsaturated Fat:

12g
Cholesterol:

22mg
Sodium:

149mg
Carbohydrates:

43g
Fiber:

4g
Sugar:

3g
Protein:

18g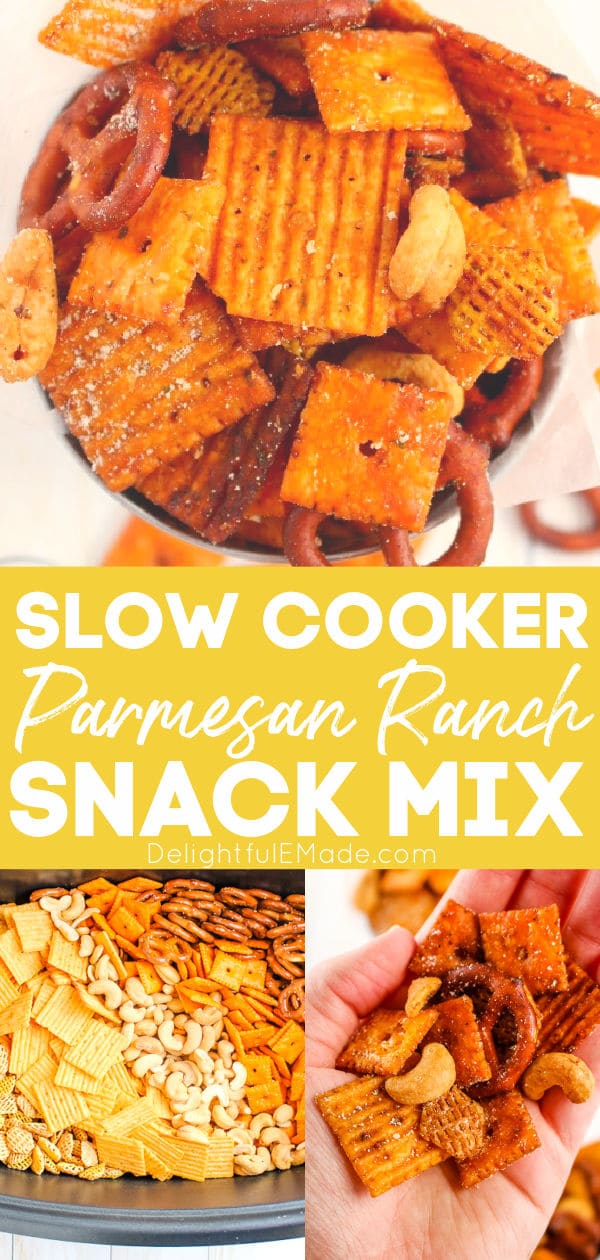 Frequently asked questions about making snack mix:
Can I use my oven for this recipe if I don't have a slow cooker?
If you don't have a slow cooker or would prefer to use your oven, you can definitely do so. The key is to roast it on a low temperature, 250 degrees is ideal. Bake for 1 hour 15 minutes, stirring every 15 minutes.
Why did my snack mix burn?
To ensure your snack mix doesn't burn, make sure you do two things. Heat/roast on a low temperature. For slow cookers , use your low setting, for ovens heat oven to 250 degrees. Additionally, you need to stir every 15 minutes to make sure the pieces are evenly toasted.
How do I prevent soggy snack mix?
First, stir often. Making sure you evenly distribute the sauce is important. Also, using a small crock pot is not ideal. A larger slow cooker is better for making sure the ingredients roast evenly. If you're unsure that your slow cooker will adequately roast the ingredients, feel free to use your oven instead. Roast ingredients on sheet pans at 250 degrees for 1 hour, 15 minutes, stopping to stir every 15 minutes.
Are Chex and Crispix the same thing?
Basically, yes. These are both corn/rice cereals, just different brands. They can be used interchangeably.