The perfect game-time snack mix recipe!
This crock pot snack mix recipe is the ultimate savory snack! Made with everyone's favorite Cheez-It crackers, cashews, and pretzels, this ranch snack mix is perfect for watching the game, enjoying with friends or serving at any party.
This post may contain affiliate links. Delightful E Made is a participant in the Amazon Services LLC Associates Program, an affiliate advertising program designed to provide a means for us to earn fees by linking to Amazon.com and affiliated sites.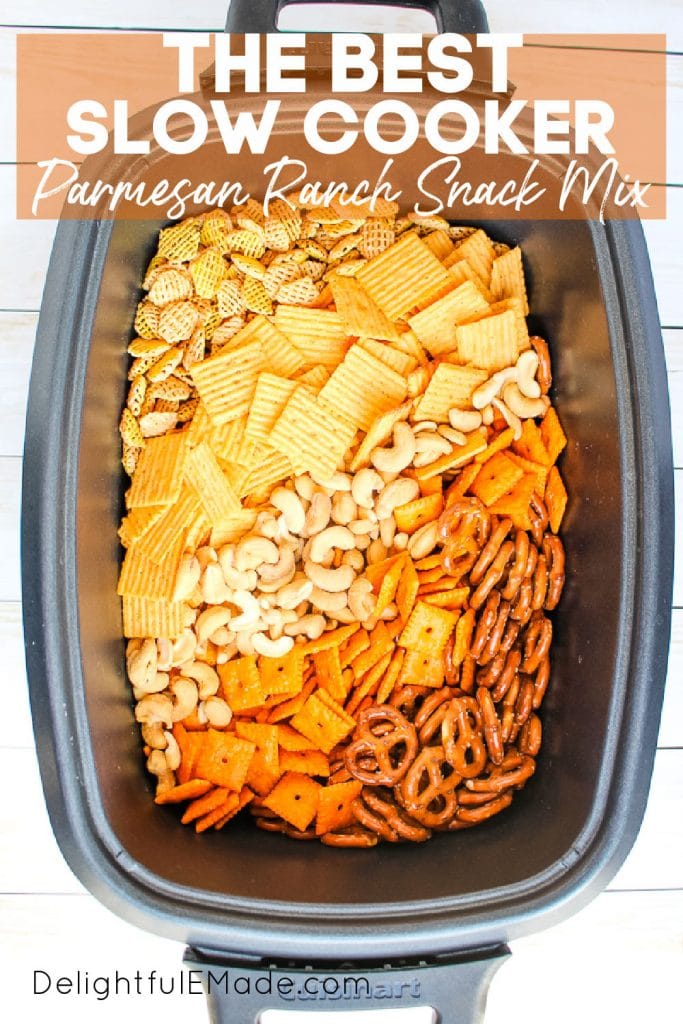 Have you been watching the big basketball tournament? We're definitely a sports loving household, and "the big dance" is something we always watch every year. The suspense of the lower seeds upsetting the big dog top-seeds is not only great TV, but one of my favorite parts of the tournament.
I filled out a bracket again this year, and despite a couple of bracket-busters, my teams are doing pretty well. With days of basketball watching still ahead, great snacks are a MUST! So, I pulled out my crock-pot and made a batch of my Parmesan Ranch Cheez-It Snack Mix. It's a total slam dunk snack perfect for eating by the handful!
How this snack mix recipe comes together
This snack mix recipe is super easy to make, and uses a slow cooker or crock pot, to help make it savory, crunchy and completely delicious! I included both Original Cheez-It crackers along with their new Cheez-It Grooves Zesty Cheddar Ranch crackers, which are the perfect flavor for this mix.
Also included are pretzels, corn/rice cereal and cashews. To season the mix, I poured a basic seasoning made from melted butter, ranch seasoning, and Worcestershire sauce, and then let the crock pot do the rest.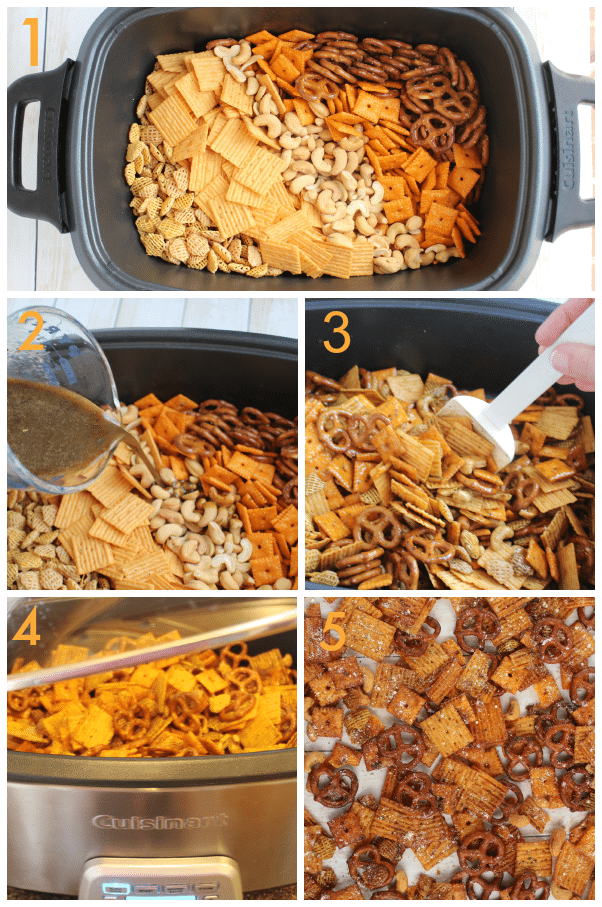 Can I use a slow cooker to make snack mix?
Yes! Using your slow cooker is a fantastic tool for making snack mix.
Add your ingredients to the crock pot.
Pour the seasoning sauce over the mix.
Give it a good stir to thoroughly coat the ingredients.
Roast the mix in the crock pot, stirring occasionally.
Lay out the mix and sprinkle with grated Parmesan cheese.
I have the Cuisinart 3-in-1 Multi-Cooker Slow Cooker. It's one of my absolute favorite appliances in my kitchen and I use it all year long. Check out all of my favorite kitchen tools here.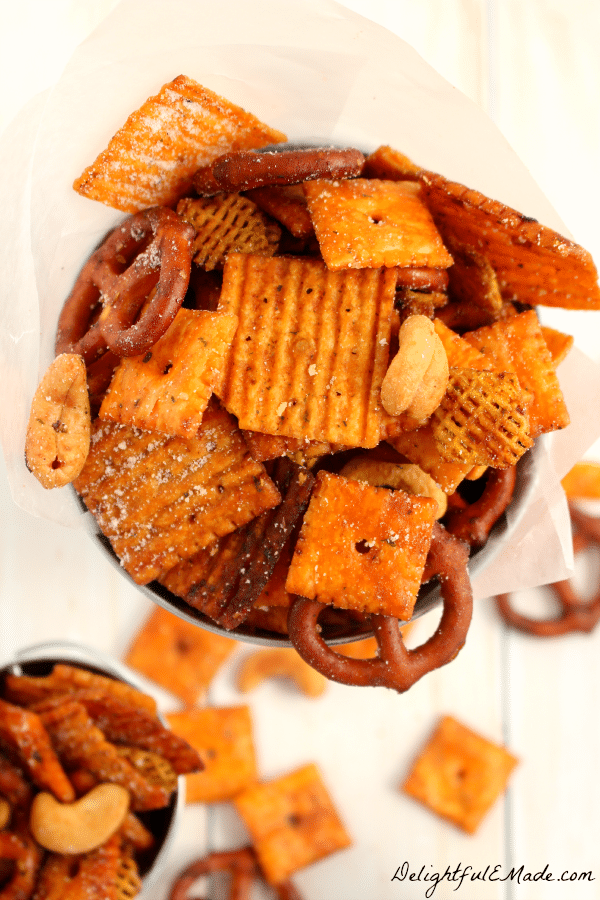 This snack mix is amazing! Savory, crunchy and loaded with flavor, its the perfect snack for watching the big game!
Fantastic for watch-parties and your favorite basketball, football or baseball game, this simple snack mix recipe is great for tailgating, too! Simply package into a resealable container and go. This recipe is also great for holiday parties, or anytime you're gathering friends and family together.
If you loved this easy snack mix recipe, be sure to check out some of my other recipes perfect for a party, holiday or game time:
Slow Cooker Honey Roasted Mixed Nuts
How to Make Popcorn Balls – Genius Kitchen
Here's the easy recipe for the Parmesan Ranch Snack Mix: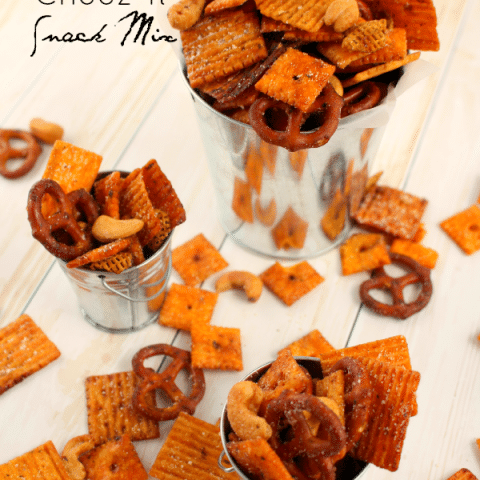 Parmesan Ranch Cheez-It Snack Mix
Total Time:
3 hours
10 minutes
Crunchy, savory and completely irresistible! This crock pot snack mix is made with everyone's favorite Cheez-It crackers, cashews and a Parmesan ranch seasoning, its the perfect snack for any occasion!
Ingredients
3 c. Cheez-It Original crackers
3 c. Cheez-It Grooves, Zesty Cheddar Ranch crackers
2 c. pretzels
2 c. rice/corn breakfast cereal
1 c. cashews
6 Tbsp. melted butter
1/4 c. Worcestershire sauce
2 Tbsp. ranch seasoning mix
1/3 c. grated Parmesan cheese
Instructions
In a crock pot or slow cooker, combine the crackers, pretzels, cereal and cashews. In a small bowl, whisk together the melted butter, Worcestershire and ranch seasoning mix. Pour over the snack mix, and stir well to coat the mix. Turn the slow cooker on low, and roast for 3 hours, stirring every hour. For the last hour stir 2-3 times more.
When the mix is done roasting, spread out on sheets of waxed paper to cool. Sprinkle evenly with the Parmesan cheese. Enjoy right away, and store any leftovers in an airtight container.
Nutrition Information:
Serving Size:

1
Amount Per Serving:
Calories:

3055
Total Fat:

196g
Saturated Fat:

88g
Cholesterol:

206mg
Sodium:

5509mg
Carbohydrates:

275g
Sugar:

56g
Protein:

51g
I hope you enjoy this snack mix as much as my family and I have over the last several days. I'm looking forward to seeing more buzzer-beater upsets, underdog wins and most of all, fun with my family. I hope you get to do the same!