Looking for an amazing potato salad recipe? This amazing Deviled Egg Potato Salad is absolutely amazing! Made with a fantastic mustard-based dressing, this bacon and egg potato salad will be the perfect side dish for your summer cookouts and back yard barbecues!
This post may contain affiliate links. Delightful E Made is a participant in the Amazon Services LLC Associates Program, an affiliate advertising program designed to provide a means for us to earn fees by linking to Amazon.com and affiliated sites.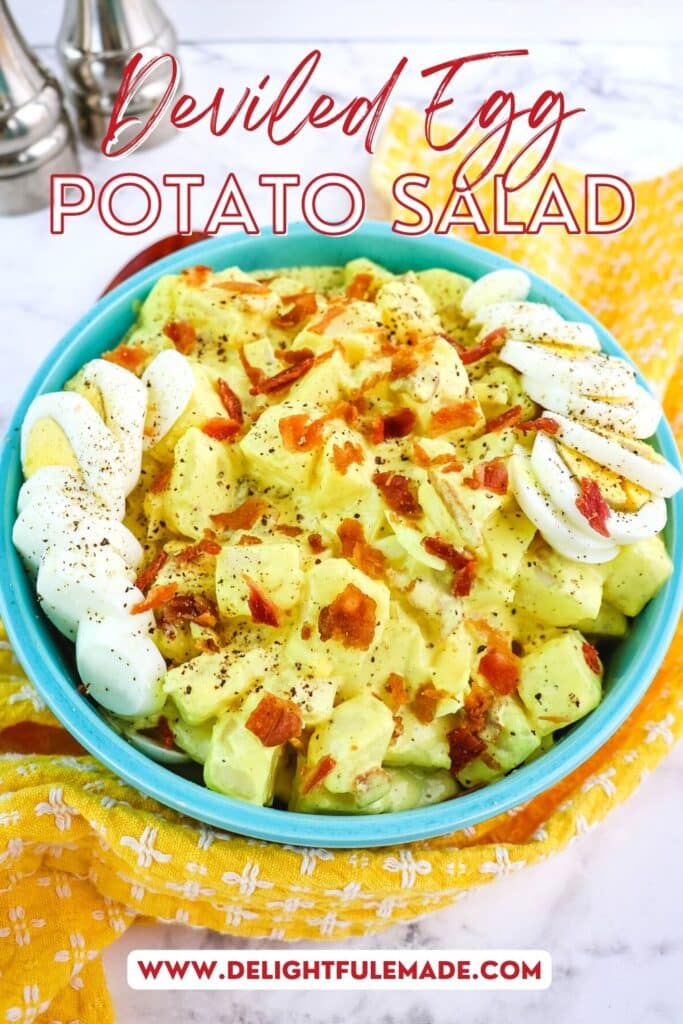 There seems to be millions of potato salad recipes out there. Everyone's aunt and grandma has one that they swear by. I'll be honest, I've never been super impressed with potato salad….until I made this one!
A good potato salad recipe must have three superior components – a quality dressing, the right potatoes and eggs. For this bacon and egg potato salad, we add crisp-cooked bacon for another component that brings the flavor to a whole new level!
In this post, I'll show you what potatoes are best for potato salad, making a good dressing, and bringing the salad together with a few other key ingredients.
What do I need to make egg potato salad?
For this bacon and eggs potato salad recipe, you'll need the following ingredients:
Red potatoes – after testing several varieties of potatoes, I've discovered that red potatoes are the best for potato salad. They hold their shape after cooking, don't become mushy or grainy, and have a slightly sweet flavor.
Eggs – hard-boiled eggs are an essential ingredient for this potato salad.
Yellow onion – you can also use white onion. Finely minced onions are great for flavor and add a slight bit of texture and crunch.
Mayonnaise – use a good quality mayo, like Duke's. Primal Kitchen also makes a good quality, mayonnaise.
Yellow mustard – this is a key component to the dressing and gives the salad its signature yellow color.
White vinegar – also very important to making the dressing for this salad. It will give it a great zesty, tangy flavor.
Sugar or granular sweetener – a little sweetness is important in balancing the acidity of the dressing. Instead of sugar, I used Whole Earth Granular Monk Fruit Sweetener.
Garlic Powder – a nice addition to the flavor of the dressing.
Salt and Pepper – great for rounding out the flavors of the dressing.
For exact ingredient amounts and full recipe instructions be sure to scroll down to the bottom of this post to the recipe card. Thanks!
How do I make deviled egg potato salad?
There are a few key components to making a really fantastic potato salad. The first is choosing the right potatoes. I've discovered that overly starchy potatoes like Russet or Yukon Gold potatoes lose their shape and become mushy and grainy after being tossed together with a dressing.
The best potatoes for a potato salad are waxy varieties, like Red potatoes. Red potatoes hold their shape well after cooking because they are less starchy. They also have a slightly sweeter flavor, which pairs very well with a savory, tangy mustard-based dressing.
Other waxy varieties include Fingerling, new potatoes, baby potatoes and creamer potatoes.
For potato salad, you'll want to peel the potatoes (this is optional) and cut into 1″ pieces. Cook the potatoes in boiling water. You'll know they are done when they become fork tender.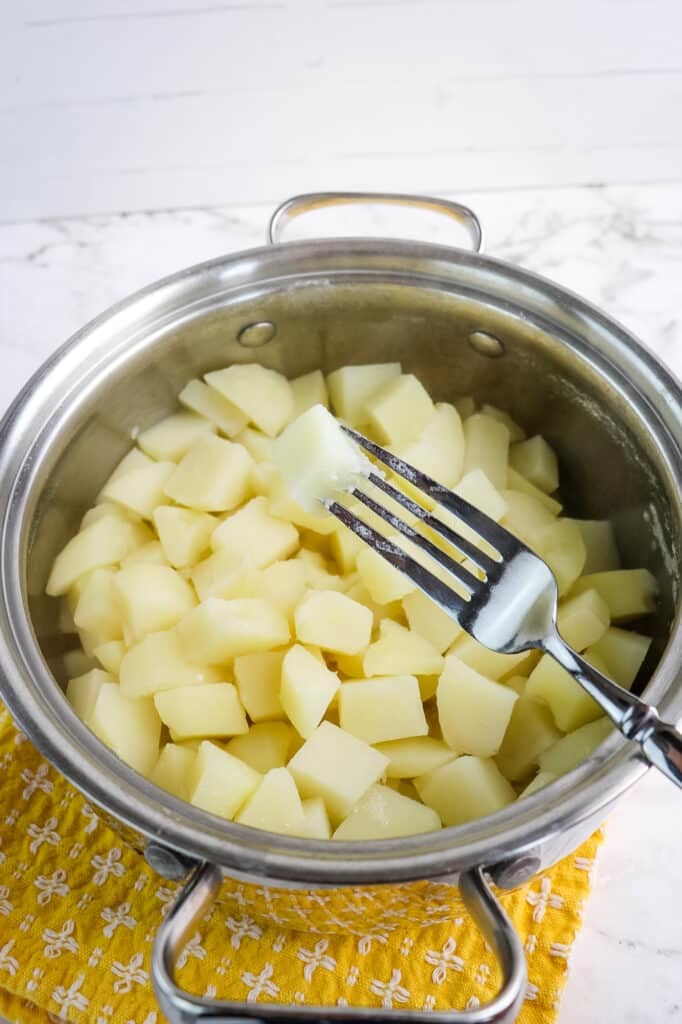 What type of dressing is best for potato salad?
A mustard-based dressing is ideal for potato salad. This potato salad dressing includes mayonnaise, yellow mustard, vinegar, sugar, salt, pepper and garlic powder. This mustard based dressing also creates the perfect flavor of deviled eggs.
I highly recommend making your own dressing for potato salad. Depending on the type of potato salad you're making will determine the dressing that will coat the potatoes, eggs, onion and bacon.
When I originally posted this recipe in 2014, I included a dressing that required cooking. This dressing was from a potato salad recipe that my mom had given me, that she received from the Naper Cafe in Naper, Nebraska.
While this dressing tasted great, it required unnecessary rather cumbersome steps. After several rounds of testing, I recreated the Naper Cafe potato salad dressing with ingredients and steps that don't require the dressing to be cooked.
To create a the flavor of deviled eggs, we made sure to include diced hard boiled eggs in this potato salad. The mustard dressing also creates the perfect deviled egg flavor.
The addition of diced onions and bacon also add a great flavor and texture to every bite of this zesty salad.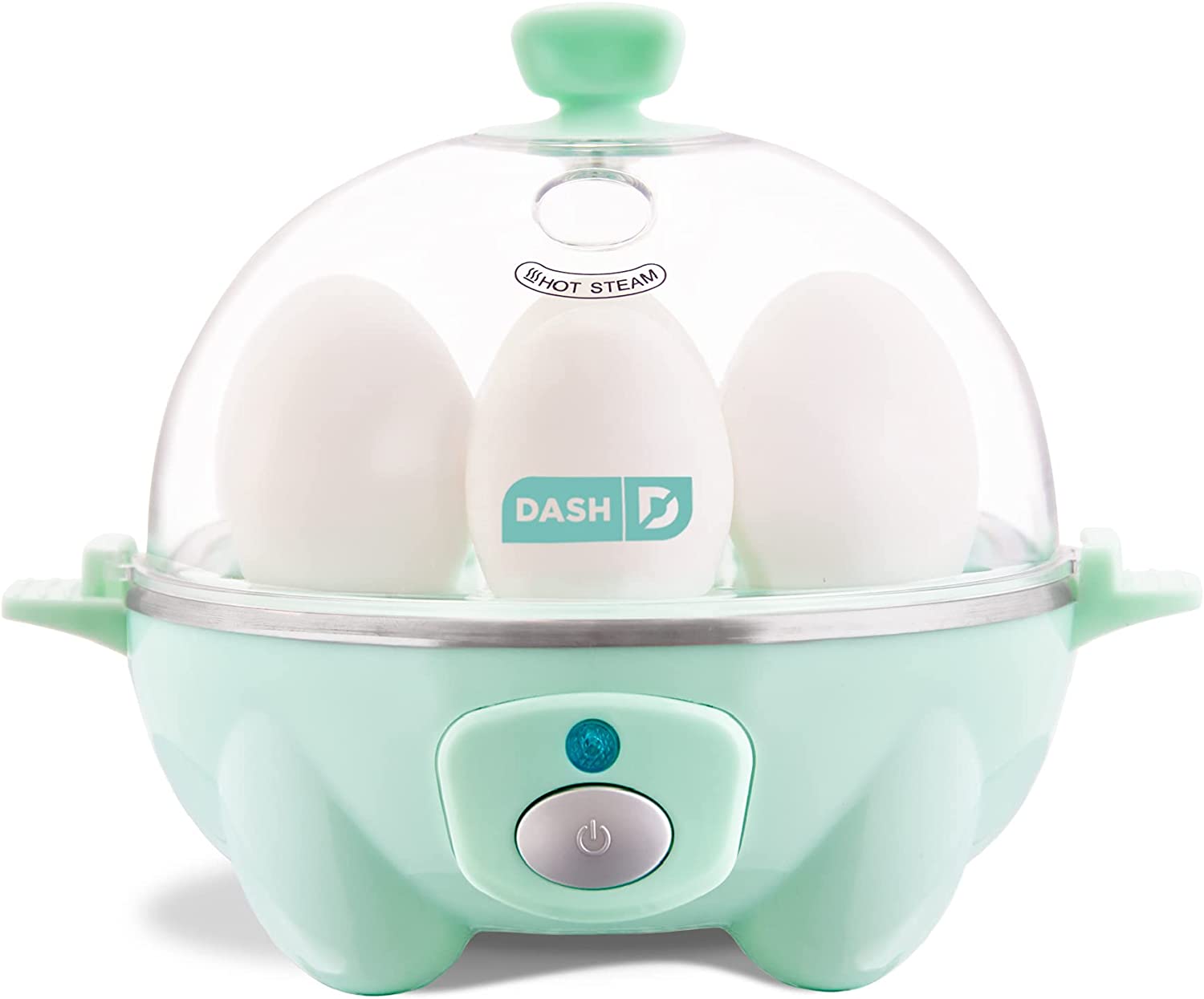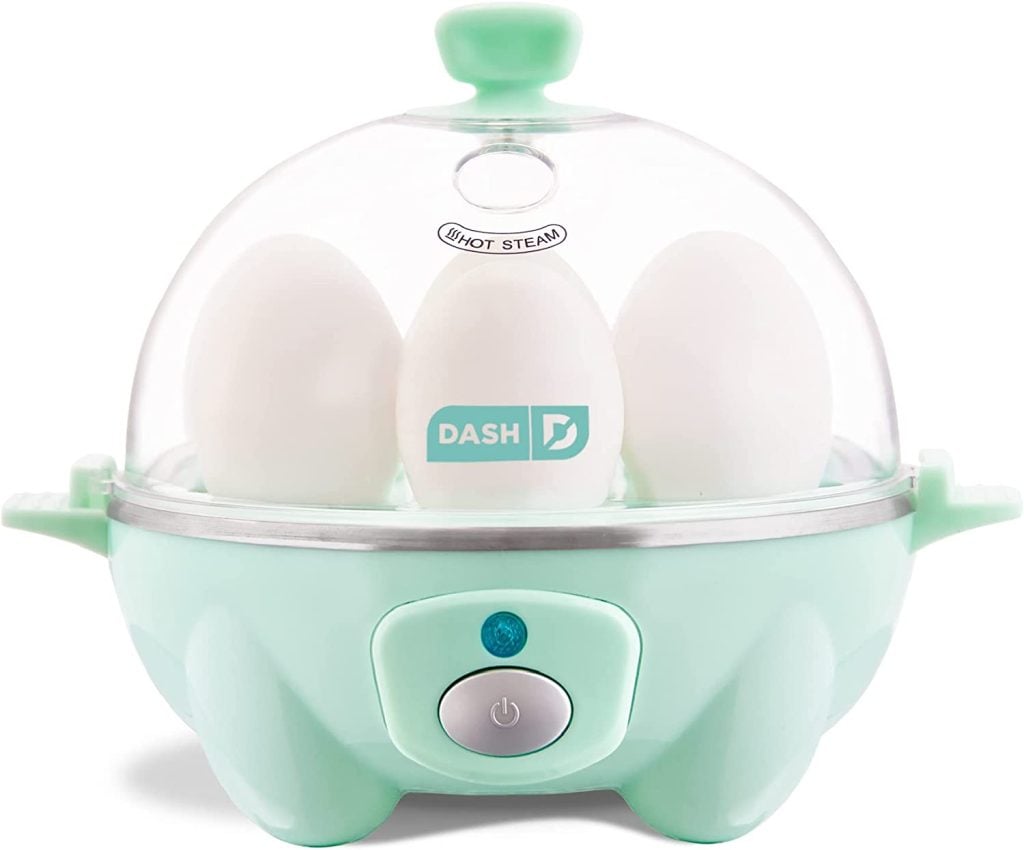 Want perfectly cooked hard boiled eggs that are EASY to peel? This rapid egg cooker by Dash perfectly cooked eggs every time without the guesswork. Will also do soft-boiled, poached and comes with a mini omelet pan, which is great for breakfast sandwiches. I LOVE mine and use it almost daily!
Love the ease of cooking with hard cooked eggs? Check out my Healthy Egg Salad, Chicken Cobb Salad and Grilled Salmon Salad recipes, all of which include hard boiled eggs.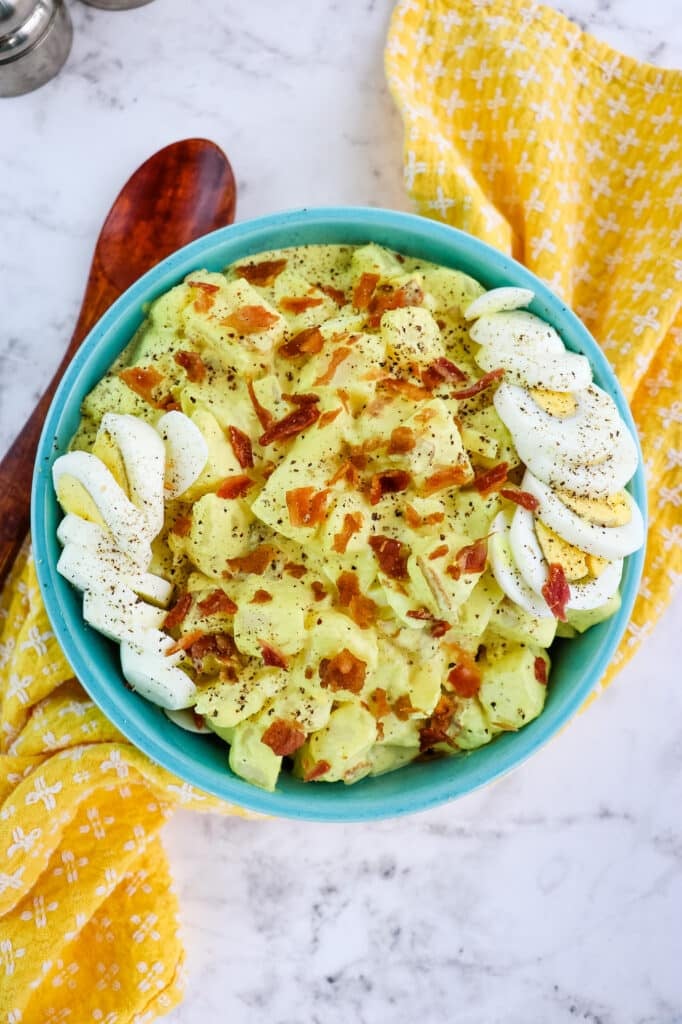 What goes with potato salad?
Potato salad is the perfect side to go with cookout favorites, like burgers, pork chops, sausage and grilled chicken. Here are some of our most popular recipes:
Best Ever Potato Salad
This is one of the BEST potato salad recipes you'll ever find! Perfect for any cookout, bbq or pot-luck, its a summer classic!
Ingredients
2 1/2 lbs. Red potatoes, peeled and cut into 1" cubes
3 hard-boiled eggs, diced
1/2 c. yellow onion, finely chopped
Dressing:
1 cup mayonnaise, like Duke's
1/3 cup yellow mustard
1/3 cup white vinegar
1 Tablespoon sugar, or granular sugar substitute
1/2 tsp. salt
1/2 tsp. pepper
1/2 tsp. garlic powder
Instructions
In a large pot, boil potatoes until fork-tender, about 12-14 minutes. Drain water and let potatoes cool to room temperature.
Cook eggs. I use my Dash Egg Steamer for perfectly cooked hard-boiled eggs. Let eggs cool and dice. Finely dice the onion. Cook bacon crisply and break into small pieces. Set these ingredients aside.
For the dressing: in a mixing bowl, whisk together the mayo, mustard, vinegar, sugar, salt, pepper and garlic powder.
In large mixing bowl, add the cooled potatoes, diced eggs, onions and bacon. Pour the dressing over the top, and using a rubber scraper, fold the ingredients together to coat with the dressing. Gently mix until all ingredients are evenly coated. Cover bowl and chill for at least one hour.
Serve cold and garnish with additional bacon pieces, sliced eggs and/or fresh ground pepper.
Notes
This recipe is derived from a recipe that my mom received in the early-90's. It is a potato salad that was made and served at the Naper Cafe in Naper, Nebraska. This wildly popular potato salad recipe had a very unconventional method for the dressing. While the taste is great, many readers felt that the teqniques used to make the dressing were rather cumbersome and unnecessary. After multiple rounds of testing, I came up with a non-cook dressing option (listed above) that still gives the dressing a superior flavor, but without cooking.
If you would prefer the original "cooked dressing" option, I'm including it here:
Original Naper Cafe Potato Salad Dressing Recipe:
In a sauce pan, add 1/4 cup vinegar, 1/4 cup water and 1/4 cup sugar. Heat over medium and bring to a boil. Remove from heat, and while the liquid is still hot, slowly temper in 2 beaten eggs. Return the mixture back to the stove and cook over medium low heat, whisking continually for about 5 minutes until the mixture thickens. Once thick, remove from heat. Whisk in 1 cup of mayonnaise (or Miracle Whip), 1 tablespoon yellow mustard, 1/2 teaspoon salt, 1/2 teaspoon garlic powder and 1/4 teaspoon pepper. Pour the dressing over the prepared potatoes, eggs and onions. Stir to coat. Refrigerate the salad for at least 1 hour or overnight.
Storage: For best results, keep potato salad cold until just before serving. Store in an airtight container with a tight fitting lid. Salad will keep for 5-7 days refrigerated.
Making in advance: If taking this salad to a cookout, potluck or other even, it can definitely made the night before.
Sitting out: potato salad is often served at cookouts or other events where is can get warm. Because this salad has mayo and eggs (ingredients that can spoil if left out for too long), be sure to put away any leftover salad once it has been served. To be safe, if the salad sits out for longer than 90 minutes, dispose of any leftovers.
Nutrition Information:
Yield:

12
Serving Size:

1
Amount Per Serving:
Calories:

244
Total Fat:

15g
Saturated Fat:

3g
Trans Fat:

0g
Unsaturated Fat:

12g
Cholesterol:

54mg
Sodium:

316mg
Carbohydrates:

22g
Fiber:

2g
Sugar:

3g
Protein:

4g