The BEST Grilled Pork Tenderloin Rub Recipe!
Do you love an amazing grilled pork loin recipe? This simple, delicious grilled pork tenderloin rub is made with sugar and spices making is amazing off the grill. Paired with grilled peaches this grilled pork tenderloin recipe is amazing!
This post may contain affiliate links. Delightful E Made is a participant in the Amazon Services LLC Associates Program, an affiliate advertising program designed to provide a means for us to earn fees by linking to Amazon.com and affiliated sites.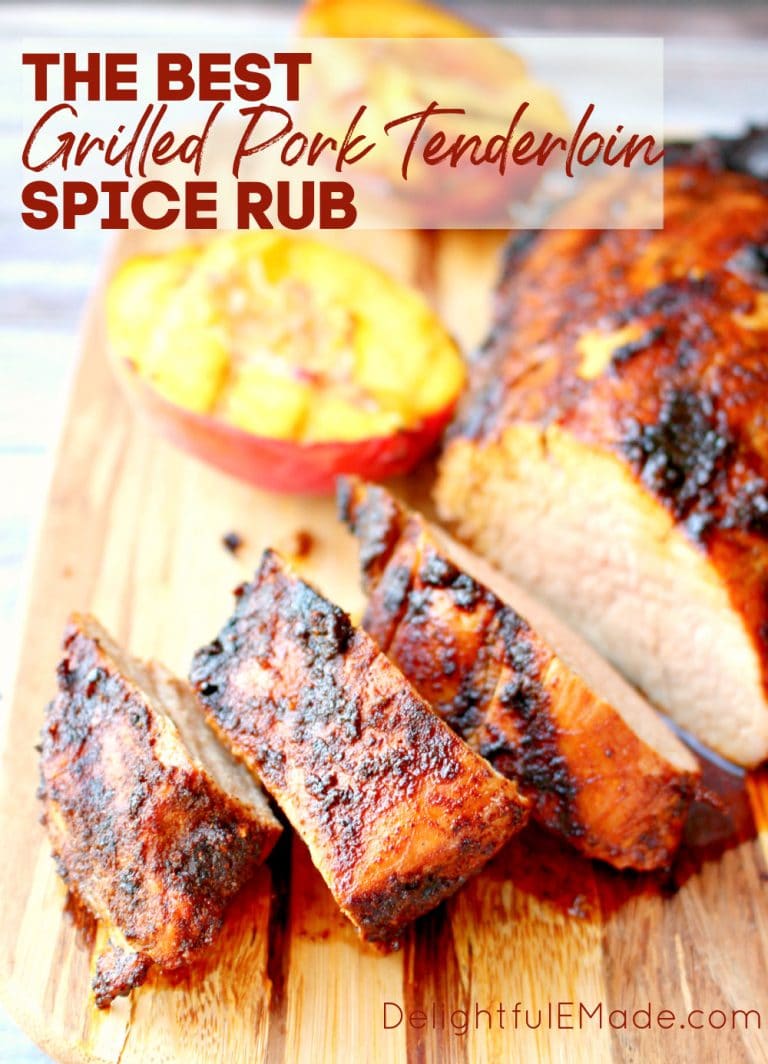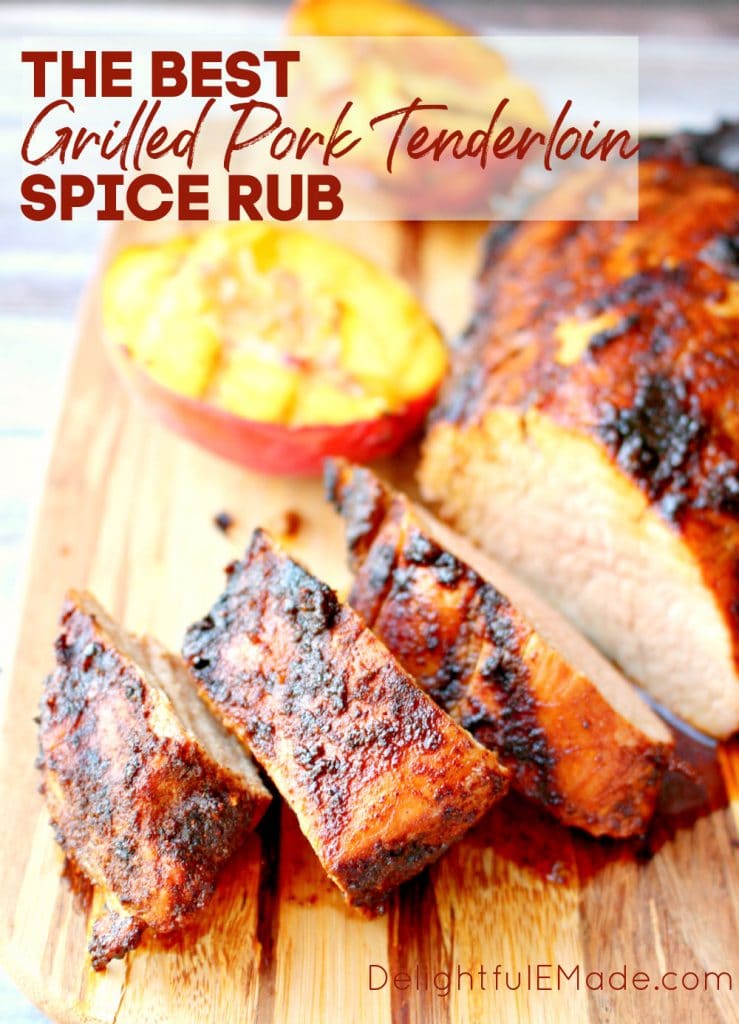 The EASIEST Grilled Pork Loin Recipe
If you love grilled pork loin, you've got to try this grilled pork tenderloin rub! Made with brown sugar and spices, this simple wet rub takes just minutes to stir together.
When grilled with fresh peaches, this pork loin recipe will quickly become your new favorite summer dinner. Similar to my Apple Cider Glazed Pork Chops, and my Bacon Wrapped Pork Loin this grilled pork recipe is fantastic!
Here are the tips and tricks to making this simple grilled pork tenderloin rub: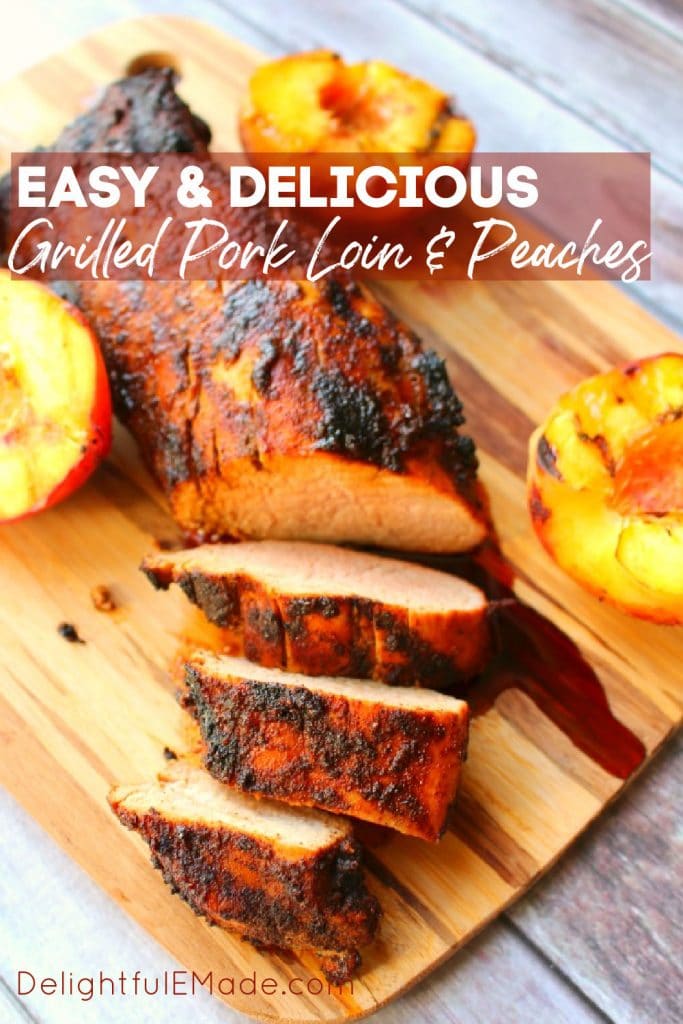 How long does it take to grill pork tenderloin?
It takes approximately 15 minutes. Depending on the thickness of your tenderloin, it is best to use an instant read thermometer to check the doneness of the pork. The internal temperature should read 145 degrees.
What is the best seasoning for grilled pork loin recipe?
Using a wet rub made of spices and brown sugar will be wonderfully complimentary to the pork. Here are the ingredients for the grilled pork tenderloin rub:
brown sugar
chili powder
ground cumin
salt
ground pepper
olive oil
The rub is actually a wet rub or paste. The preparation for the meat is really minimal – maybe 5 minutes to mix together the rub, and cover the pork with it.
Pro Tip: I recommend patting the pork tenderloin dry with paper towels. This will help the wet rub adhere to the surface of the pork.
I really like this rub, as it adheres well to the pork. When grilled, the sugar caramelizes a bit to give it a great char, but still preserving the flavors of the spices.
What temperature should I grill a pork tenderloin?
For best results, a medium-high temperature of 375-400 degrees will render the best results for grilling a pork tenderloin.
What should I serve with grilled pork tenderloin?
This grilled pork tenderloin is great served along side grilled peaches.
What peaches are best for grilling?
When choosing peaches at the grocery store, or farmers market, select fruit that has a nice peachy fragrance at the stem. The peaches also need to be slightly firm, with just a little give.
Anything that's really yellow at the stem, rock hard or overly soft, put back – these peaches are either hard and unripe or overripe, mushy and possibly mealy.
Here are some of my other sides that go well with grilled pork:
Here's the simple recipe for my grilled pork tenderloin rub: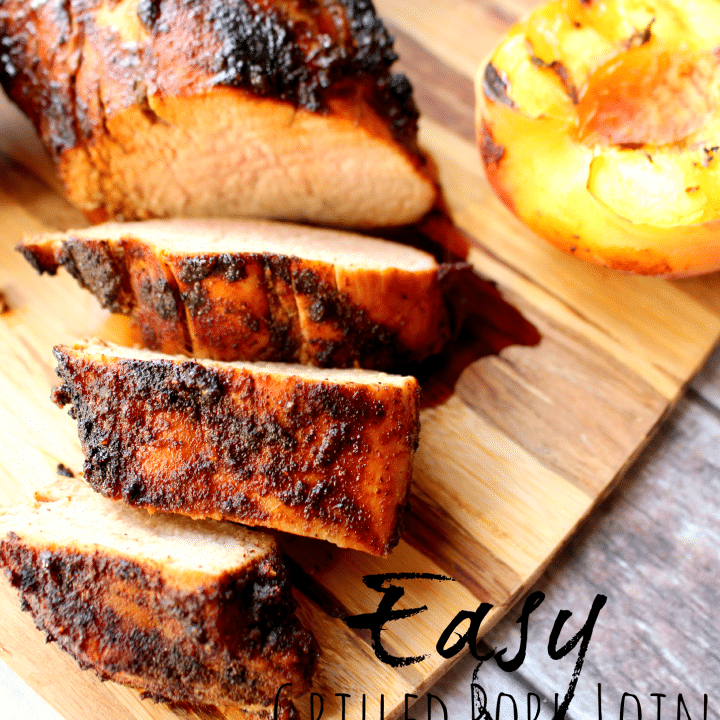 Easy Grilled Pork Loin with Sugar and Spice Rub and Grilled Peaches
A super quick and easy meal that's healthy and delicious! Tender, juicy grilled pork tenderloin coated with a sweet, spicy rub served with delicious, juicy grilled peaches. It doesn't get much better than this!
Ingredients
Rub:
1 Tbsp. Brown sugar
2 tsp. chili powder
1 tsp. ground cumin
1 tsp. salt
1/2 tsp. fresh ground pepper (a few grinds of the pepper grinder)
1 Tbsp. olive oil
2-3 fresh peaches, halved
Instructions
Using an outdoor grill, heat it to medium heat. While grill is heating, mix together your rub. In a small bowl, mix together the sugar, chili powder, cumin, salt, pepper and oil. Stir until everything is wet and it becomes a paste. Pat dry the pork loin with paper towels. On a pan, cover the pork with the rub on all sides. Prepare peaches by slicing in half and removing the pit.
Before putting the pork down on the hot grill, add a little oil or non-stick grilling spray to the grill grates. Grill the pork loin, on each side for approximately 10 minutes, or until internal temp of the pork reaches 145 degrees. (FYI - this is a new recommendation for pork, versus the old school 160.) Slightly pink is okay. The peaches only need 10 minutes to cook on the grill, so hold off putting them on until you flip the pork loin for its second side. Place peaches cut side down on the grill and remove after 10 minutes.
After the pork is done grilling, let it rest for 3-5 minutes to seal in the juices before cutting. Serve with the grilled peaches.
As you can see, this delicious meal comes together easily. The prep is simple, the cooking is straightforward, and in the end, you'll have a healthy, delicious meal that took less than 30 minutes from start to the time you're eating. It really doesn't get much better than that!
~Erin