Craving monster cookies? This is the BEST monster cookie recipe I've ever made, as it comes from my grandma LaDene. These jumbo monster cookies are wonderfully chewy and loaded with chocolate chips, M&M's, peanut butter and oatmeal.
This post may contain affiliate links. Delightful E Made is a participant in the Amazon Services LLC Associates Program, an affiliate advertising program designed to provide a means for us to earn fees by linking to Amazon.com and affiliated sites.
This monster cookie recipe came from my Grandma LaDene, and I've never tasted and better, more perfectly baked cookie than these. These jumbo monster cookies are perfectly chewy on the inside and slightly crisp on outside – just the way a good cookie should be!
These monster cookies are made with everyone's favorite M&M's, chocolate chips, peanut butter and oatmeal, making them amazing for bake sales, pot-luck's, or enjoying on a movie night.
What ingredients are in a monster cookie recipe?
Peanut Butter – I recommend creamy, but if you like small bits of peanuts, crunchy peanut butter is also a great option.
Butter – an essential ingredient for any cookie recipe. Room temperature butter is ideal for creaming together with the sugars.
Eggs – large, room temperature eggs are ideal.
Light brown sugar – you could also use dark brown sugar
Granular sugar – also known as white sugar
Vanilla extract – great for amplifying the flavor of the cookies.
Oatmeal – for this recipe you could use either quick oats or old fashioned oats.
Baking soda – a necessary leavening for baking cookies. Don't leave this out!
Salt – very helpful for flavor. You can reduce the amount, but don't eliminate completely.
Chocolate chips – I recommend semi-sweet, but you could also use mini-chips, milk chocolate chips, or chocolate chunks.
Plain M&M candies – you could also use Mini M&M's, Peanut M&M's or Peanut Butter M&M's.
For exact ingredient amounts and full recipe instructions be sure to scroll down to the bottom of the post for the recipe. Thanks!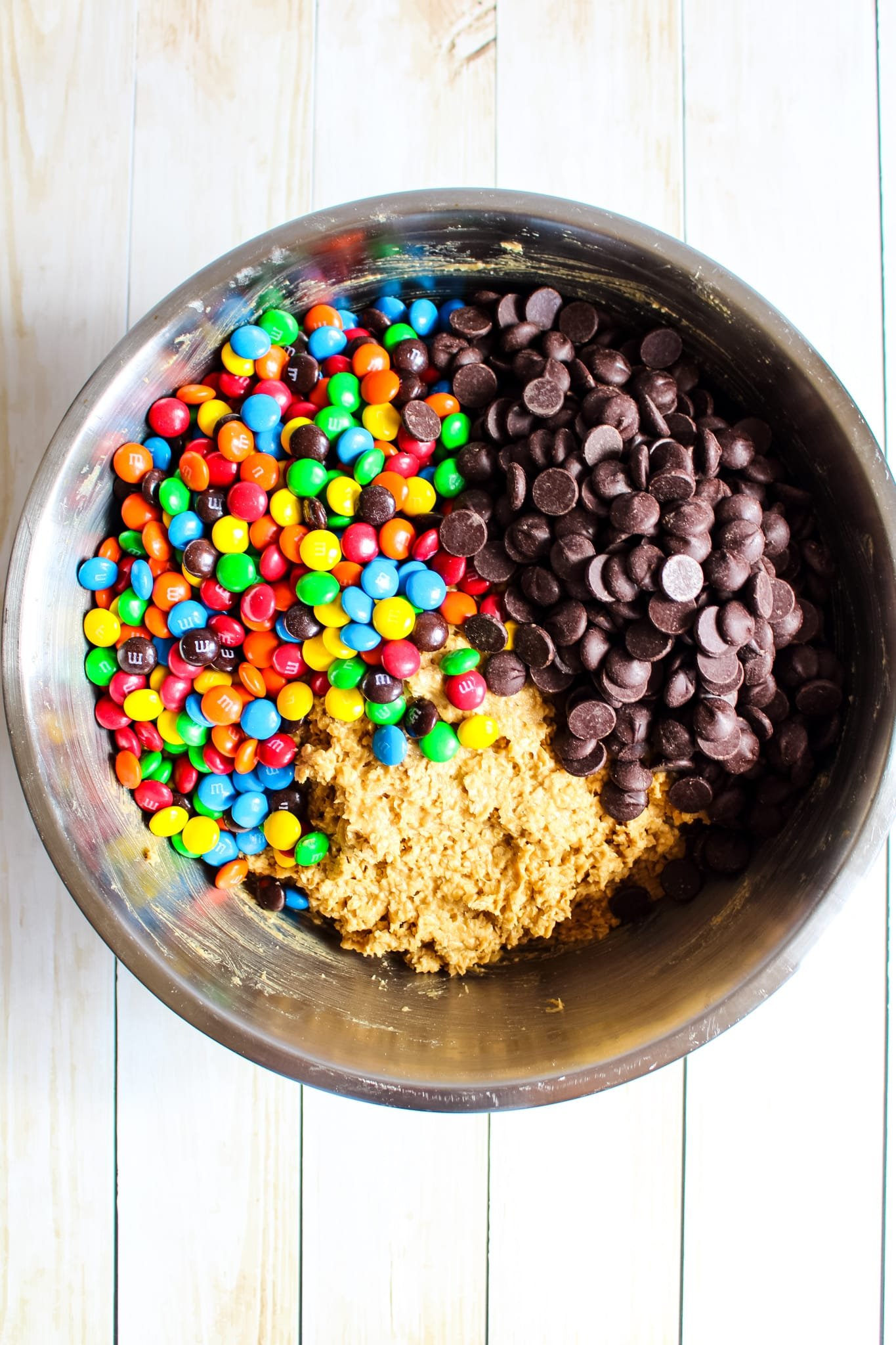 How do I make monster cookies?
Make the cookie dough. Start by creaming together the butter and sugars. It is important that your butter be room temperature – not cold from the fridge and not nearly melted. Soft butter is important in creating a fluffy, chewy cookie.
Add in the peanut butter, eggs and vanilla to the rest of the wet ingredients and mix to combine. Add in the oatmeal, baking soda and salt. Mix to combine. The batter will be very thick. Fold in the M&M's and chocolate chips.
Using a 1/4 measuring cup, place six large cookies on a baking sheet and bake.
After baking, let cookies cool for 5 minutes before transferring to a cooling rack to cool completely.
How do I bake thicker, chewy cookies?
For thicker, more chewy cookies, consider refrigerating the cookie dough for 1-2 hours before baking. The cooling of the butter will help create a more dense, thick cookie that spread less and is more chewy in the middle.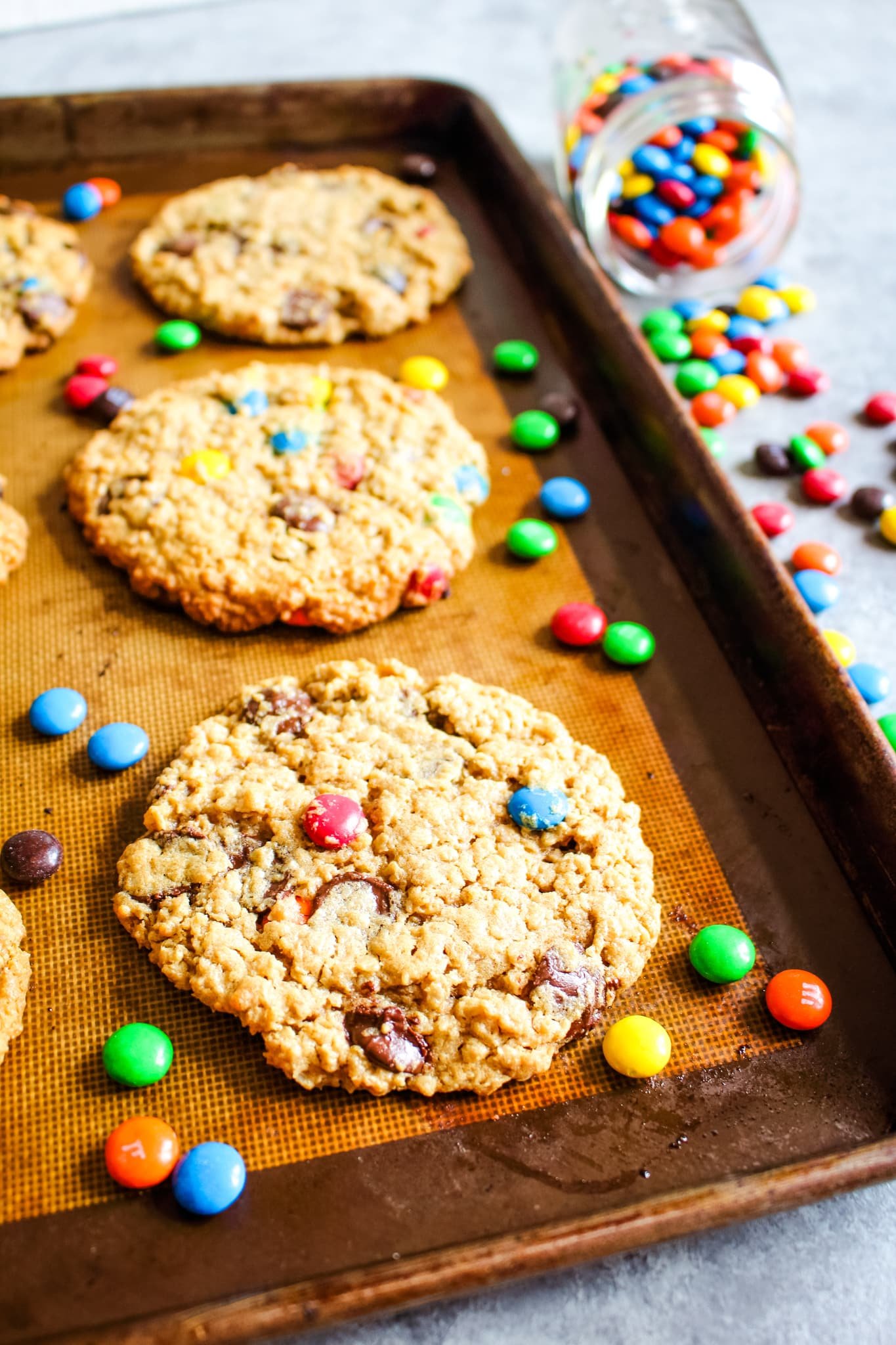 Tips for baking amazing monster cookies:
Don't crowd the pan. For this monster cookie recipe, I recommend baking six jumbo cookies at a time. Because of the size of the cookies, they will need adequate room on the sheet, and for air to circulate around for even baking.
Use lined baking sheets. I use and recommend silicone baking mats for baking cookies. These help the cookies bake evenly and prevent the cookies from sticking to the bottom of the pan.
Allow cookies to cool on the cookie sheet after baking. Let hot cookies rest on the baking sheet for about 5 minutes before transferring to a cooling rack. This will help the ingredients solidify slightly and the cookie will stay together (not fall apart) when transferring with a spatula.
Extra Monster Cookie Mix-In's:
Mini chocolate chips or chocolate chunks
Peanut Butter Chips
White Chocolate Chips
Reese's Pieces candies
Mini, Peanut or Peanut Butter M&M's
Mini Reese's peanut butter cups
Chopped peanuts
For exact ingredient amounts and full recipe instructions be sure to scroll down to the recipe at the bottom of the post. Thanks!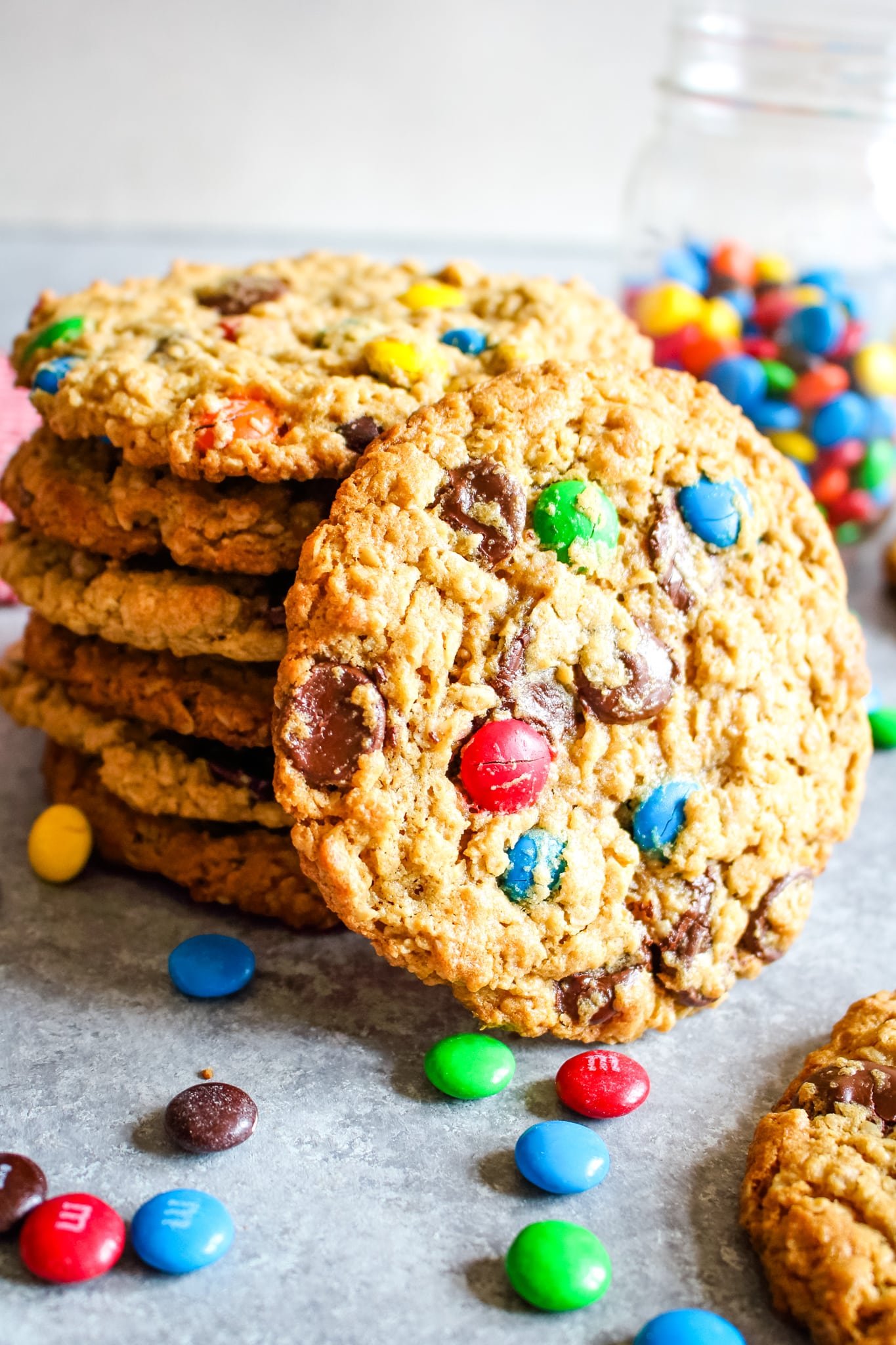 Frequently asked questions about making monster cookies:
What are monster cookies made of?
Monster cookies are made of butter, brown sugar, granulated sugar, eggs, peanut butter, vanilla, oatmeal, salt, baking soda, chocolate chips, and M&M candies.
What is it called monster cookies?
Monster cookies get their name by their "monstrous" size. Most often, these cookies are double or triple the size of a regular cookie. These cookies are a mash-up of everyone's favorite cookies; peanut butter, oatmeal, M&M and chocolate chip cookies.
Why do my monster cookies go flat?
To prevent your monster cookies from going flat you can do a couple things. First, use room temperature butter and eggs. When these are creamed together they will create a fluffy texture that will create small pockets of air, helping the cookies to remain fluffy when baked. Secondly, refrigerating the cookie dough before baking will help give you a thicker, chewy cookie.
How many calories are in a monster cookie?
On average a large monster cookie, approximately 4″ in diameter, is around 450-550 calories. For example, a monster cookie from the Target cafe has 480 calories, 22 g of fat, 62 carbs and 43 grams of sugar per cookie.
Can I freezer monster cookie dough?
Yes. Monster cookie dough can be frozen. You can freeze the dough in one large container, or roll out individual cookies and freeze. These can be baked as needed. Let dough thaw slightly before baking.
Love chocolate and peanut butter treats? Check out some of our other delicious recipes:
If you loved these monster cookies, check out our other irresistible cookie and bar recipes: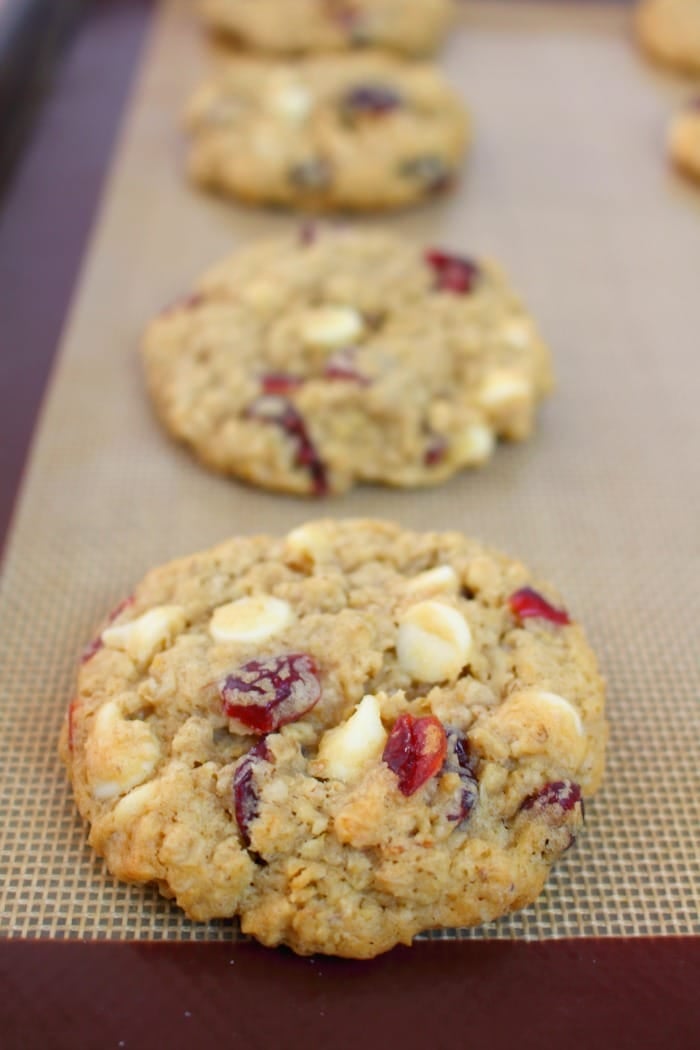 ---
---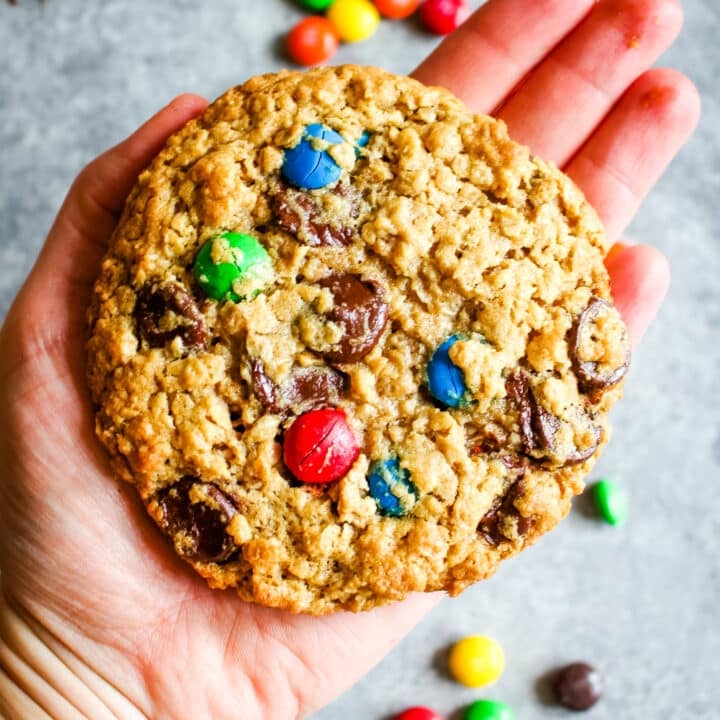 Monster Cookie Recipe
Craving monster cookies? This is the best monster cookie recipe! Loaded with big chocolate chips, peanut butter, M&M's and oatmeal, these jumbo monster cookies are always a hit!
Ingredients
1 1/2 c. creamy peanut butter
1 c. light brown sugar
1 c. granulated sugar
1/2 c. butter, room temperature
3 eggs
1 tsp. vanilla extract
4 1/2 c. oatmeal, quick or old fashioned oats
2 tsp. baking soda
1/2 tsp. salt
1 1/3 c. semi-sweet chocolate chips
1 1/3 c. plain M&M candies
Instructions
Preheat oven to 350 degrees. Line baking sheet(s) with silicone baking mats or parchment paper. Set aside.
In a large mixing bowl, cream together the butter and sugars. Stir in peanut butter, eggs and vanilla until completely combined.
In a separate bowl, mix together the oatmeal, baking soda and salt. Gradually add the oatmeal mixture to the wet ingredients until fully incorporated.
Fold in the chocolate chips and M&M's
Using a 1/4 cup measuring cup or scoop, scoop the batter and form the cookies on the baking sheet. For these larger jumbo cookies, only place six cookies to a pan.
Bake at 350 degrees for 12-14 minutes or until cookies are golden brown.
Let baked cookies cool on pan for 5 minutes before transferring to a cooling rack to cool completely.
Notes
For ingredient substitutions and options be sure to scroll up to the ingredient section.
Storage: cookies can be kept at room temperature. Stored in an air-tight container, cookies will keep for 3-4 days. Cookies can be frozen. Store in a freezer bag or air-tight container. Cookies will keep for up to 3 months frozen.
Nutrition Information:
Yield:

24
Serving Size:

1
Amount Per Serving:
Calories:

340
Total Fat:

19g
Saturated Fat:

8g
Trans Fat:

0g
Unsaturated Fat:

9g
Cholesterol:

35mg
Sodium:

281mg
Carbohydrates:

41g
Fiber:

3g
Sugar:

29g
Protein:

7g