A refreshing, thirst-quenching iced tea perfect for sipping on a hot summer day!  This delicious beverage has amazing peach and ginger flavor, and way better than any powdered mix!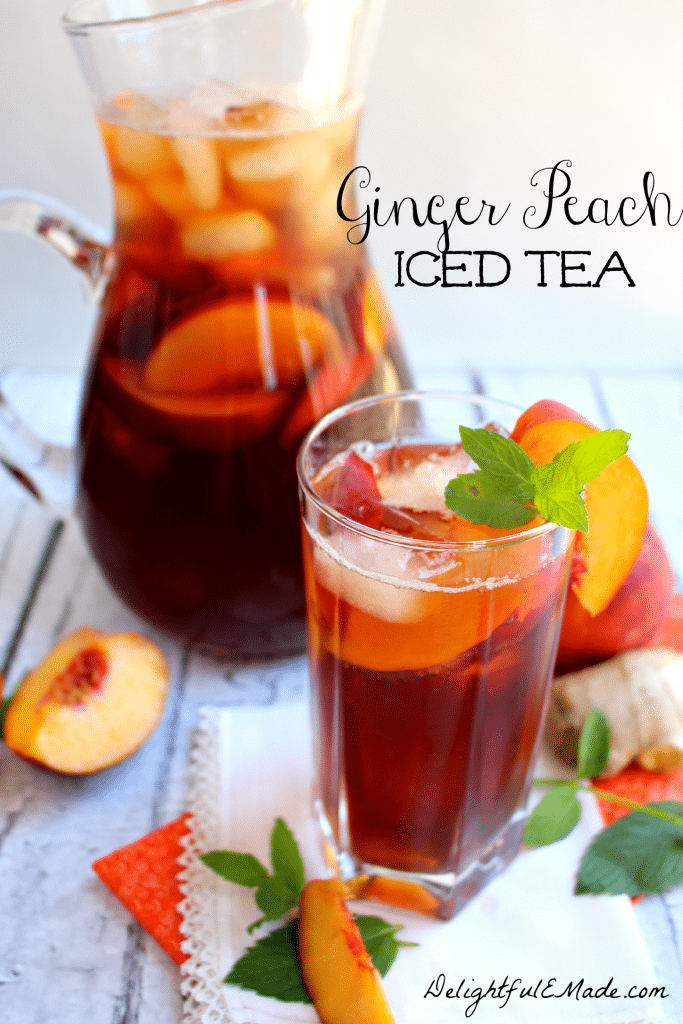 It is now July here in Northern Virginia.  That means heat, humidity, and sweating before 9am.  Don't get me wrong, I've come to really love living in the South.  In fact, one of the major advantages to being a Southerner (even if just by geography) is getting early access to some of the finest, best tasting peaches this side of the Mason-Dixon line.  With this in mind I've come up with a sure-fire way to beat the heat and humidity – this amazingly delicious and refreshing Ginger Peach Iced Tea!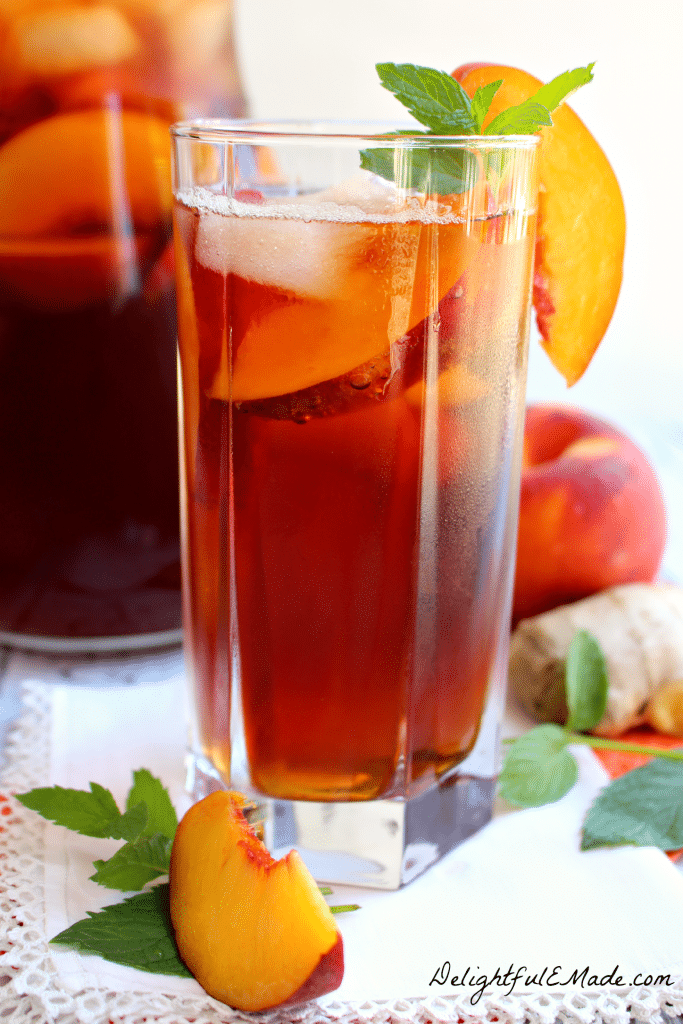 Drinking iced tea is a very Southern thing, right along with BBQ and college football.  (I love BBQ and College Football – maybe I'm more Southern than I thought!) Now, even though I'm a good mid-western girl, I've grown up loving iced tea.  I actually come from a long line of iced tea drinkers, including my Great-Grandma Elsie, who mostly drank her's hot, Grandpa Denny (he likes his tea sweet, just like many folks here in the south), my mom, (she drinks hers unsweetened), and now me.  I like my Iced Tea somewhere in the middle, with just a mild hint of sweetness.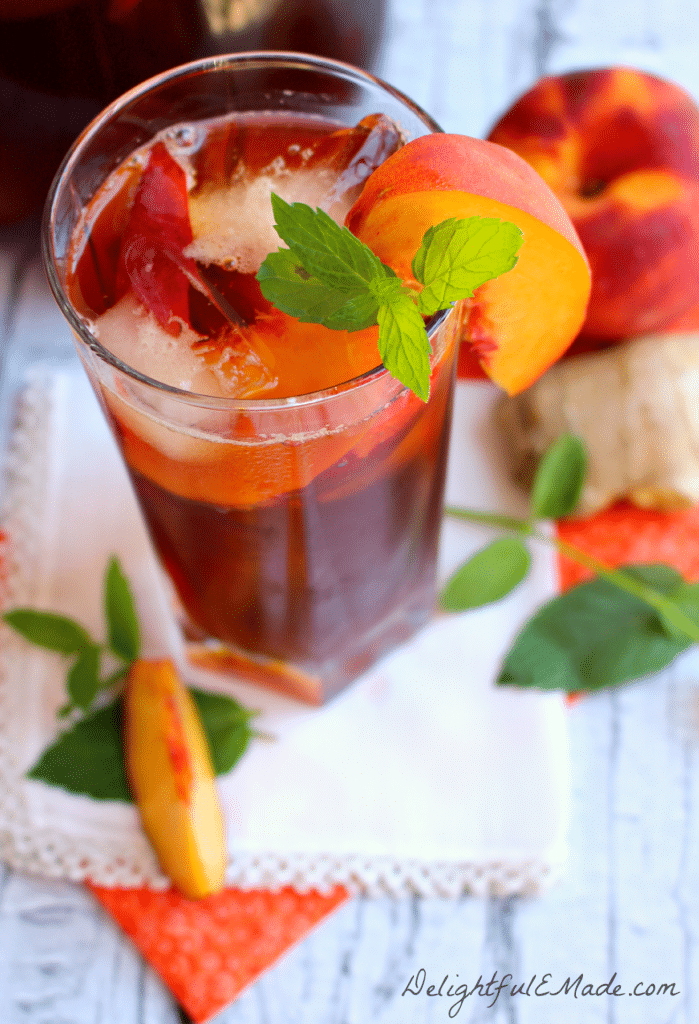 This Ginger Peach Iced Tea can be made with all tastes in mind – sweet or not.  Adapting the amount of sugar you use lets you personalize it to your tastes.  Another great bonus to this tea is the fact that its flavored with sweet, juicy peaches and ginger zest.  The juicy peach slices and ginger zest give the tea an incredible flavor and freshness that you simply cannot get in a powdered or bottled ice tea!  As far as I'm concerned, if you like a great tasting, fresh tea, make it at home.  It takes just a few ingredients to capture this amazingly delicious, flavorful, fresh drink of the south!
See how easy this fantastic summer drink comes together:

Erin Indahl-Fink
Yields 6-8 glasses
Ginger Peach Iced Tea
Forget those powdered or bottled Ice Tea Drinks! This Ginger Peach Ice Tea is SOOO much better! Fresh, juicy peaches and ginger zest give amazing flavor to this cold, refreshing summer drink.
30 minPrep Time
5 minCook Time
35 minTotal Time
Ingredients
2 1/2 c. water
4-6 tea bags (regular or decaf)
1 large, ripe fresh peach, sliced
2 tsp. fresh ginger root, peeled and zested
1 Tbsp. sugar (adapt to your taste)
Water
Ice
Mint leaves for garnish (optional)
Instructions
Wash and slice the peach. Add the peach slices to a small bowl along with the ginger zest, and sugar. Stir to fully coat the peaches with the sugar and zest. Let the peaches sit for at least 20-30 minutes to macerate. (Macerate = let the sugar pull the juice out of the peaches. This will provide a sweet, delicious juice that will give the tea its flavor.)
In a small saucepan, add the 2 1/2 c. water and bring to a boil. Remove from heat. Add the tea bags, cover the saucepan, and let the tea steep. Let the tea come to room temperature. Remove the tea bags (don't squeeze the tea bags. This will release the tannin and make your tea bitter.)
In a 2-quart pitcher, fill the pitcher 1/3 full with ice. Add the peach mixture, along with any juices that were drawn out. Pour the tea concentrate over the ice and peaches and fill the pitcher with water. Chill at least 1 hour before serving.
7.8.1.2
82
https://delightfulemade.com/2014/07/06/ginger-peach-iced-tea/
Copyright by DelightfulEMade.com
I like to keep a fresh pitcher of this tea in my fridge all summer long.  I'll take a big glass to the pool, or with me in the car when running errands.  Its definitely a nice alternative to the powdered ice tea stuff, and much better for you than soda or any other pre-made canned or bottled beverage.
As we close in on the hottest months of the year, remember to keep yourself hydrated.  Better yet, pull up a deck chair or kick back in your hammock, and hydrate with a delicious, fresh glass of Ginger Peach Iced Tea.   Weather you live in the South or any other place on the planet, enjoy your summer one sip at a time, ya'll!
~Erin

Related articles across the web