A healthy pasta salad recipe that actually tastes good!
You'll never believe this pasta salad is light and healthy!  Made with a delicious Greek yogurt dressing and loaded with fresh garden vegetables, this pasta salad recipe will be your new favorite summer side dish. Perfect for cookouts, pot-lucks and summer barbecues!
This post may contain affiliate links. Delightful E Made is a participant in the Amazon Services LLC Associates Program, an affiliate advertising program designed to provide a means for us to earn fees by linking to Amazon.com and affiliated sites.
We love pasta at our house, especially pasta salad in the warm summer months. It makes for a fantastic side-dish to fried chicken or anything that is coming off the grill, like burgers, brats, steaks, chops and chicken. This healthy pasta salad recipe is a nice alternative to other mayo-heavy macaroni and pasta salads. My Garden Vegetable Pasta Salad is made with a much lighter dressing, using plain Greek yogurt and light sour cream. As far as I'm concerned this dressing is fantastic! You won't miss the heavy mayo, and the light, creamy dressing that coats the pasta and vegetables is perfect. When paired with the pasta, and fresh, crisp vegetables this healthy pasta salad will be your new summer salad favorite!
Here are the simple steps to creating this simple, healthy pasta salad: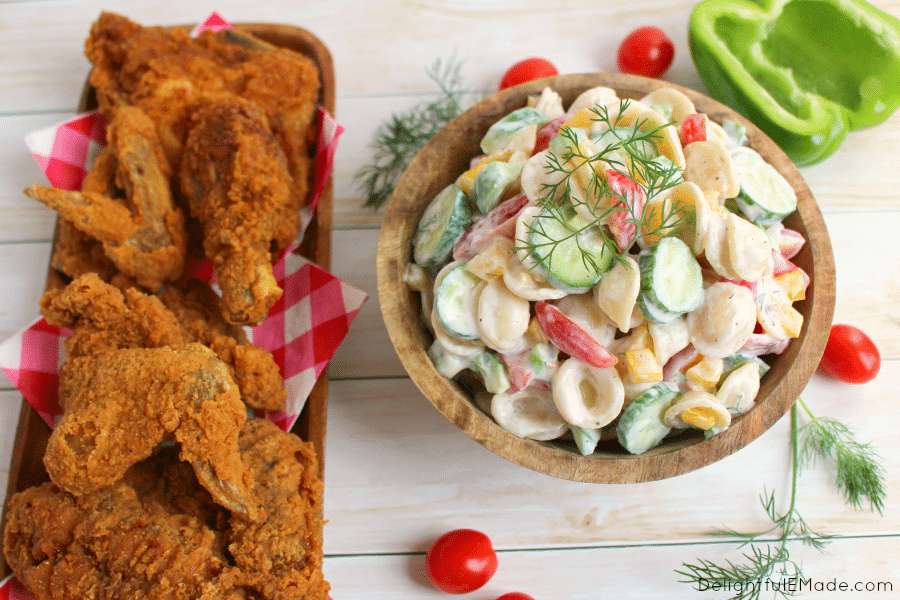 Step 1: Cook the pasta and Chop Vegetables
In a large pot, cook the pasta according to package directions. If you cannot find orecchiette pasta, feel free to use shell pasta or any other medium noodle. Cook the pasta to al-dente, drain and let it set to cool to room temperature, rinsing with cold water.
While the pasta is cooling, begin chopping the vegetables, and placing in a large mixing bowl. Fresh garden vegetables are something that we always had plenty of while I was a kid. Growing up in rural South Dakota, my mom, aunts and grandma always planted big, fruitful gardens which tended to supply the community with endless amounts of tomatoes, peppers, cucumbers and more. The cucumbers, yellow and green peppers, tomatoes, and green onions add excellent texture and crunch to the salad. I also included fresh dill to give the salad some additional flavor and freshness.
Cut all veggies into small bite-sized pieces. Once all of the veggies are cut, add the cooled pasta, and gently toss the ingredients together.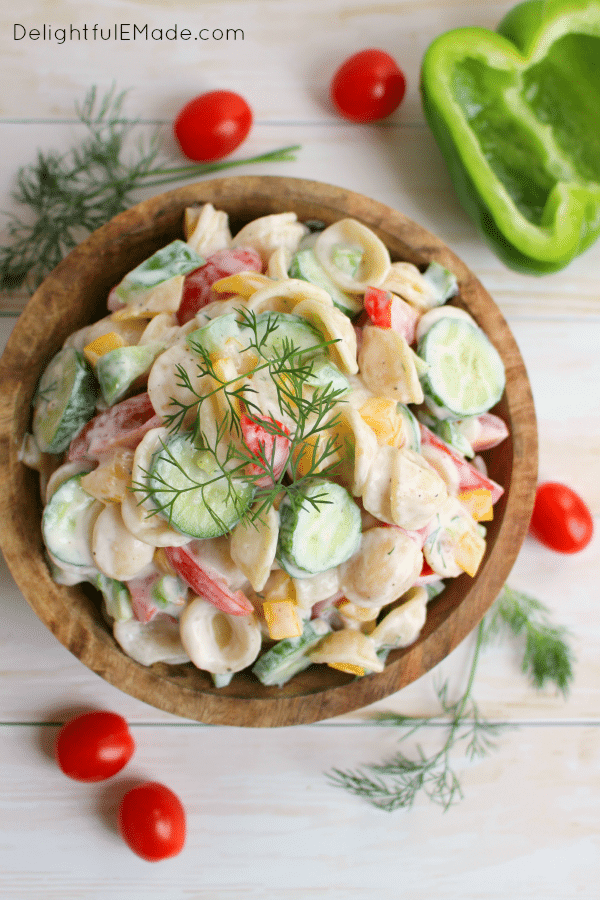 Step 2: Mix the dressing
Once you're finished cutting the veggies, and the pasta is still coming to room temperature, you can now mix together the dressing.  Combine the plain Greek yogurt, light sour cream, vinegar, salt and pepper.  Whisk together and then pour over the pasta and veggies.  Toss the salad well to coat all of the pasta and vegetables.
Looking for more homemade dressing ideas? Check out these healthier, homemade salad dressing recipes: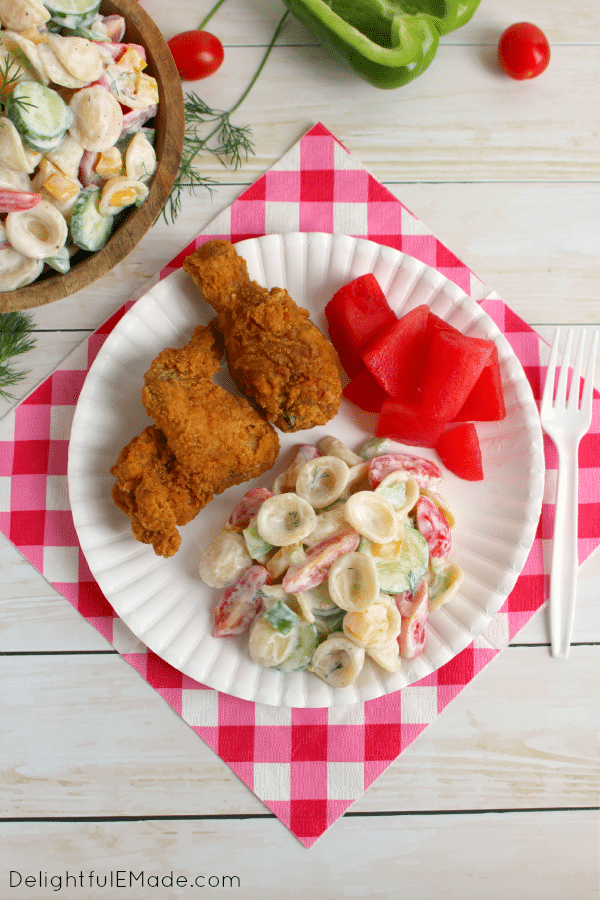 Step 3: Chill the Salad Before Serving
Chilling the salad is not imperative, but refrigerating for about an hour before serving really helps the salad come together. The dressing will lightly marinate the ingredients and the veggies and pasta will become nice and cold, which is what every great summer salad needs to be extra amazing!
Make this salad, and share it at your next summer potluck, cookout or backyard party. People will definitely be asking you for the recipe!
Here's a quick reference shopping list of the ingredients you'll need for this fantastic pasta salad recipe:
Oricchiette pasta, or any other medium pasta
Plain, Greek yogurt
Light Sour Cream
White Vinegar
Garlic Salt
Pepper
Fresh Dill
Cucumber
Green and Yellow Bell Peppers (1 medium pepper each)
Cherry or Grape Tomatoes
Green Onions
Here's the easy, delicious recipe for my Garden Vegetable Pasta Salad:
Garden Vegetable Pasta Salad
You'll never believe this pasta salad is light and healthy! Made with a delicious Greek yogurt dressing and loaded with fresh garden vegetables, this pasta salad will be your new favorite summer side dish!
Ingredients
1 (12 oz.) package of orecchiette pasta or other shell-shaped pasta
1 tsp. salt
1 (7 oz) container of Plain Greek yogurt
1/4 c. light sour cream
3 Tbsp. white vinegar
1/2 tsp. garlic salt
1/4 tsp. ground pepper
1 Tbsp. fresh dill, chopped, plus more for garnish
1 medium cucumber, sliced
1 medium yellow pepper, diced
1/2 medium green pepper, diced
1 c. cherry tomatoes, halved or quartered
2 green onions, chopped
Instructions
Fill a medium sauce pan with water, and 1 tsp salt and bring to a boil. Cook pasta according to package directions. Drain and rinse with cold water to stop the cooking process. Add a few ice cubes to cool the pasta. Let pasta sit in sink to cool.
In a large mixing bowl, chop and add the cucumber, peppers, tomatoes and onions. Toss together with the cooled pasta.
In medium bowl, whisk together the yogurt, sour cream, vinegar, garlic salt and pepper. Whisk until smooth. Stir in the chopped dill. Pour over the vegetables and pasta, and stir until everything is evenly coated. Garnish with a few extra sprigs of fresh dill. Serve right away. Refrigerate any leftovers in an airtight container.
Nutrition Information:
Amount Per Serving:
Calories:

320
Total Fat:

3g
Carbohydrates:

66g
Protein:

13g
This pasta salad comes together quickly and easily, and makes for an excellent side for just about any summer meal.
Enjoy summer, everyone! ~Erin
If you loved this awesome pasta salad recipe, be sure to check out some of my other summer salads: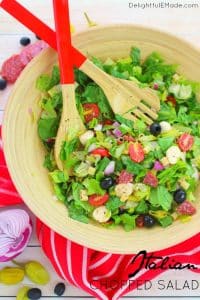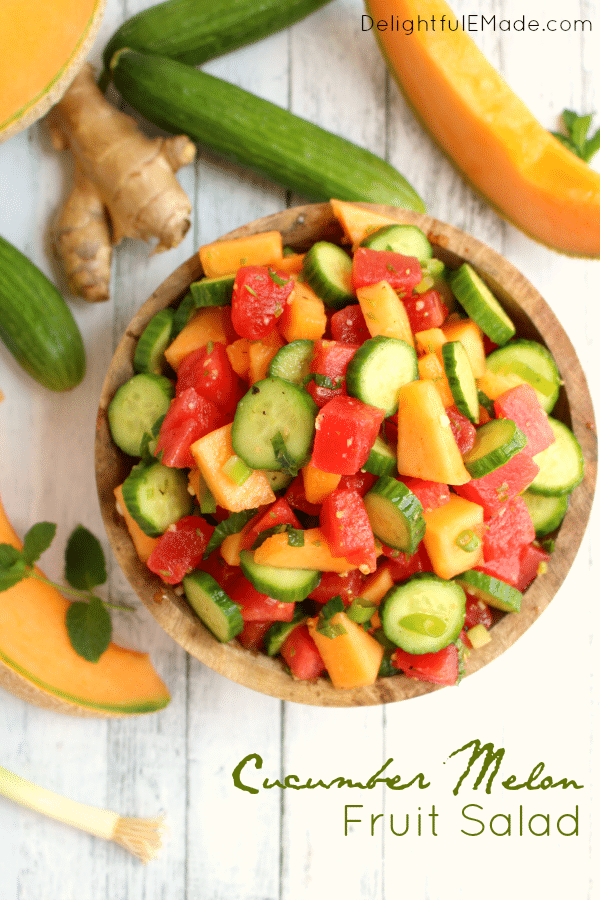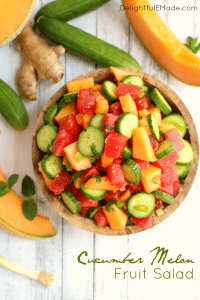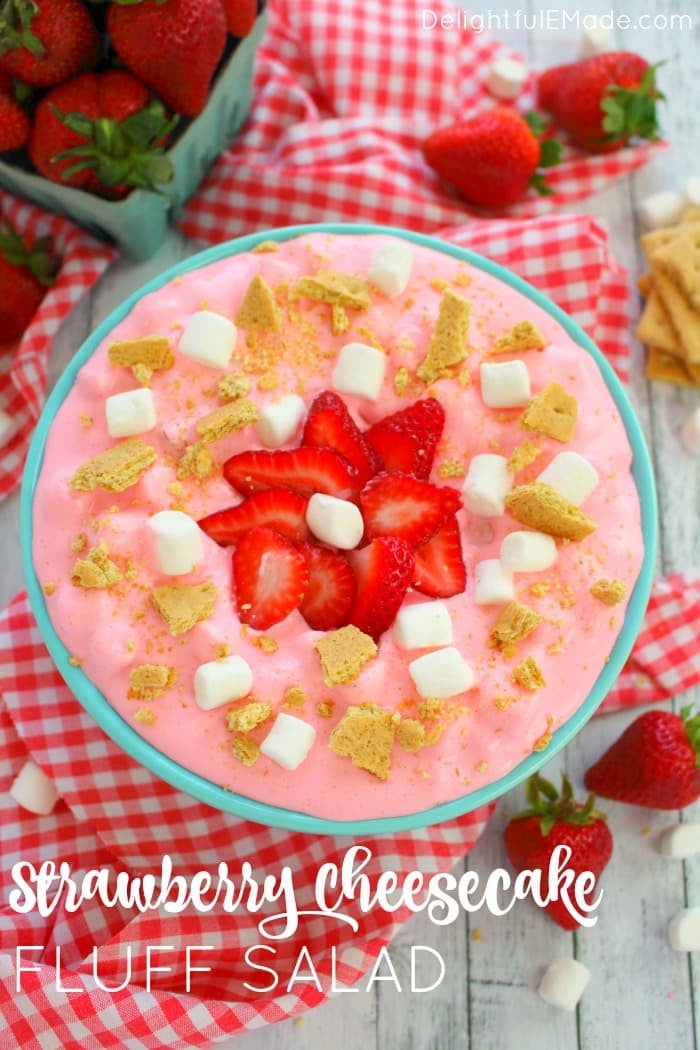 Strawberry Cheesecake Fluff Salad