Looking for an easy holiday treat to make with your kids and grandkids? These 4 ingredient reindeer pretzels are a fun and easy holiday snack. These rolo pretzel reindeer come together as a cute snack to enjoy with hot cocoa or apple cider.
This post may contain affiliate links. Delightful E Made is a participant in the Amazon Services LLC Associates Program, an affiliate advertising program designed to provide a means for us to earn fees by linking to Amazon.com and affiliated sites.
Could you use a fun and easy holiday treat idea to make with your kids and grandkids? These rolo reinder pretzels are the perfect option for a snow day or treat to enjoy while watching Christmas movies.
Made with just 4 ingredients and just a minute or two in the oven, these reindeer pretzels are super easy to make.
In this post I'll show you exactly what you'll need to make these holiday treats as well as the tips and tricks to make them extra cute!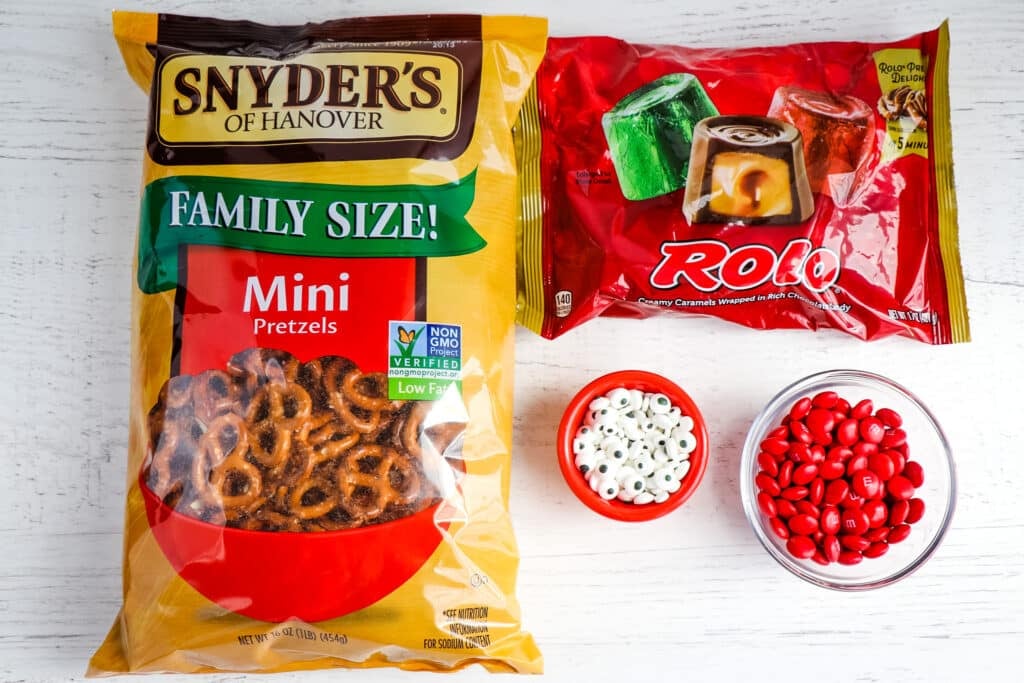 What do I need to make rolo pretzel reindeer?
Here's a quick-reference shopping list of the ingredients you'll need to make these fun and cute holiday snacks:
Mini pretzel twists – the mini twists are about 1 1/4″ in diameter and the perfect size for the reindeer face and antlers.
Rolo candies – these are chocolate covered caramel candies.
Red M&M's – you can purchase Christmas (red and green) M&M's or a regular bag of M&M's that are multi-color.
Candy eyes – you can find these at most grocery stores near the cake decorations. They can also be purchased at most craft stores as well.
For exact ingredient amounts and full recipe instructions be sure to scroll down to the bottom of the post for the recipe. Thanks!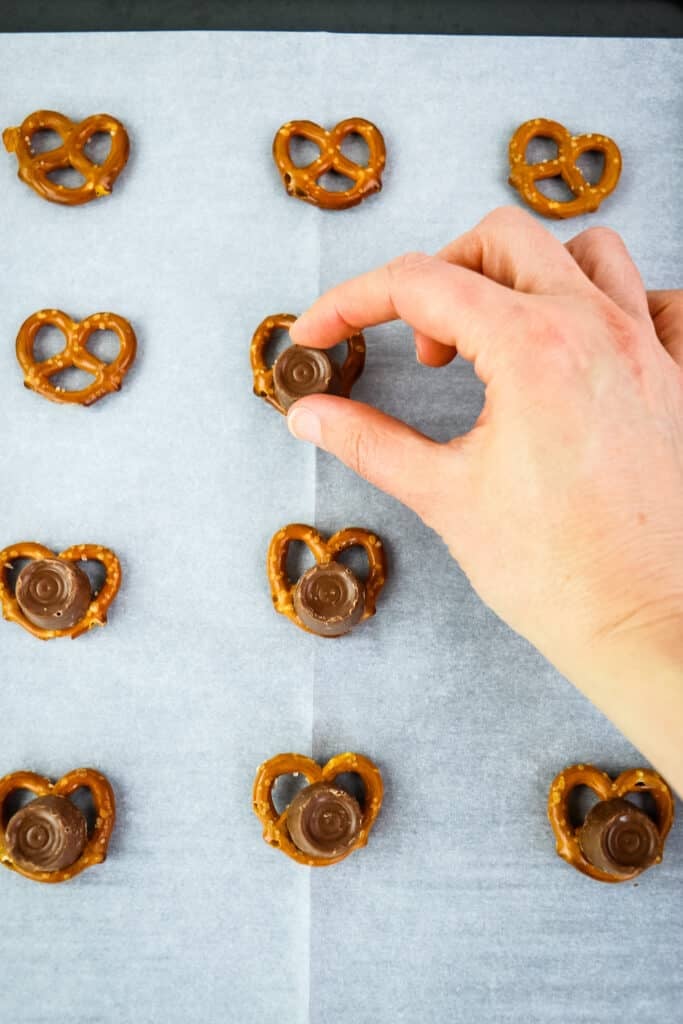 How do I make reindeer pretzels with rolos?
Start with a baking sheet or cookie sheet, and place a sheet of parchment paper on top.
Place the pretzel twists on the baking sheet and add a rolo candy onto the bottom portion of each pretzel.
Place the pretzels into the oven for no more than 2 minutes. I discovered that 90 seconds was the perfect time to slightly soften the rolo candy without completely melting.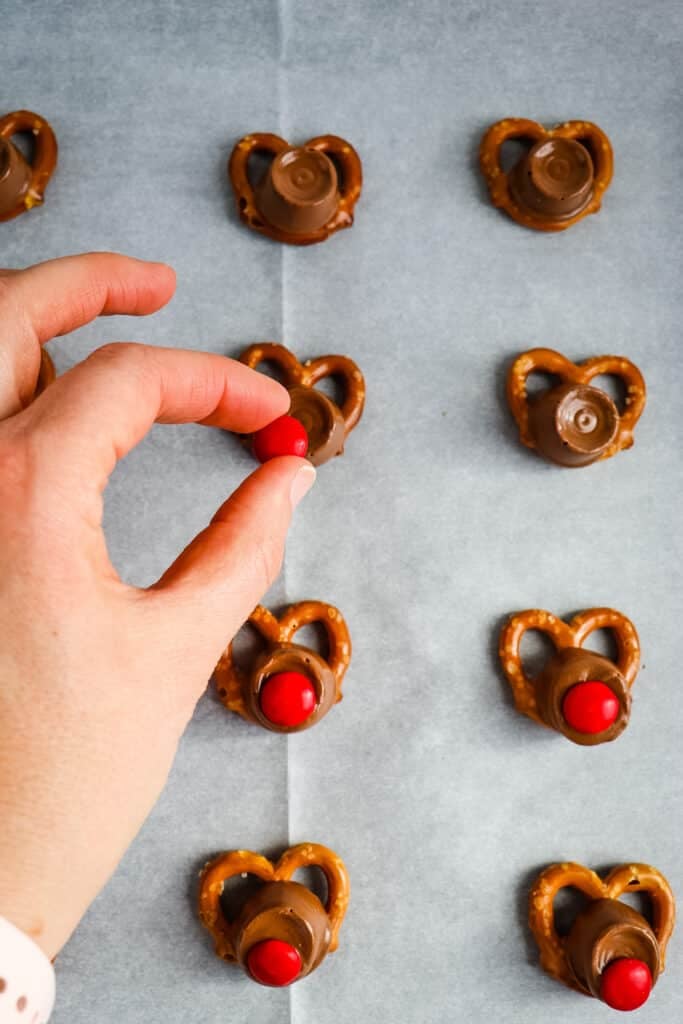 To the softened rolo, add a single red M&M candy as the nose of the reindeer.
Above the red M&M, add two candy eyes to be the eyes of the reindeer face.
Love treats using M&M's? Check out some of my other M&M recipes: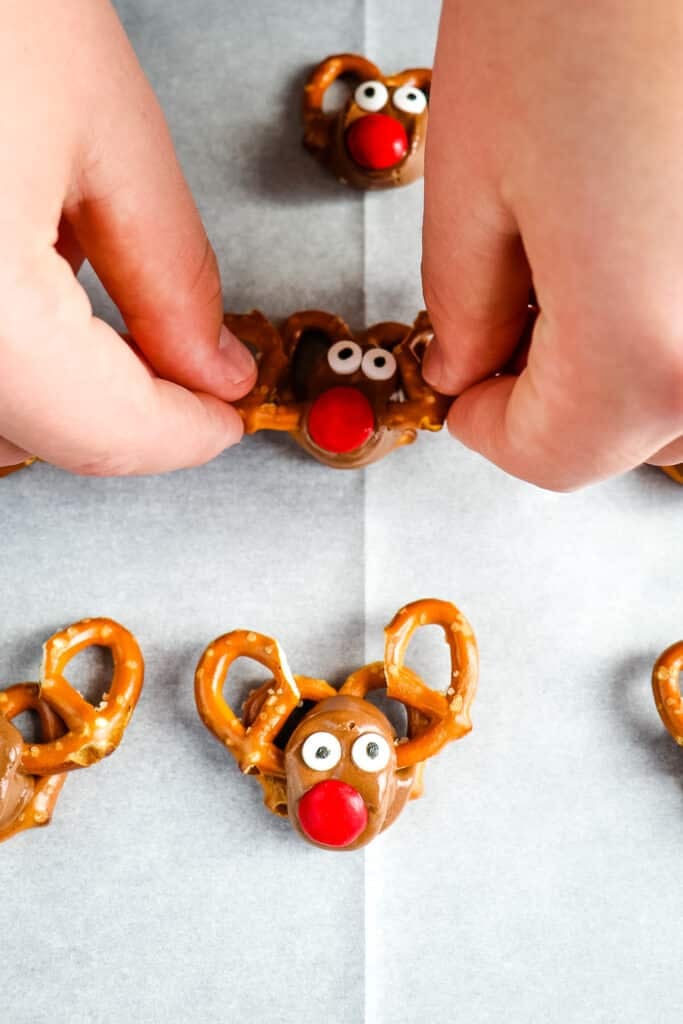 The last steps is to add the antlers to the reindeer. To do this, add a pretzel that has been broken in half. Place the ends of each pretzel piece into the sides of the melted rolo.
Let the rolo reindeer come to room temperature. You can also place the pretzels in the refrigerator to cool and harden the chocolate so they can be handled and stored.
FAQ's about making rolo reindeer pretzels:
How do you make edible reindeer?
You can make edible reindeer out of pretzels, rolo candies, M&M's and candy eyes. Slightly melt the rolo candy and add the M&M as a nose, candy eyes, and a broken pretzel as the antlers.
How do you break pretzels for antlers?
It does get a little tricky to break pretzels in half evenly for pretzel antlers. For best results, use your thumbs and fingers to grip the pretzel firmly, then break evenly down the middle. You'll likely have some pretzels that break unevenly – enjoy these as a snack. Buy a large bag of pretzels so you have plenty of pretzels to work with.
What temperature do I melt rolos for making reindeer pretzels?
Set your oven to 250 degrees. The rolos will only need 1-2 minutes at the most to soften for decorating into reindeer.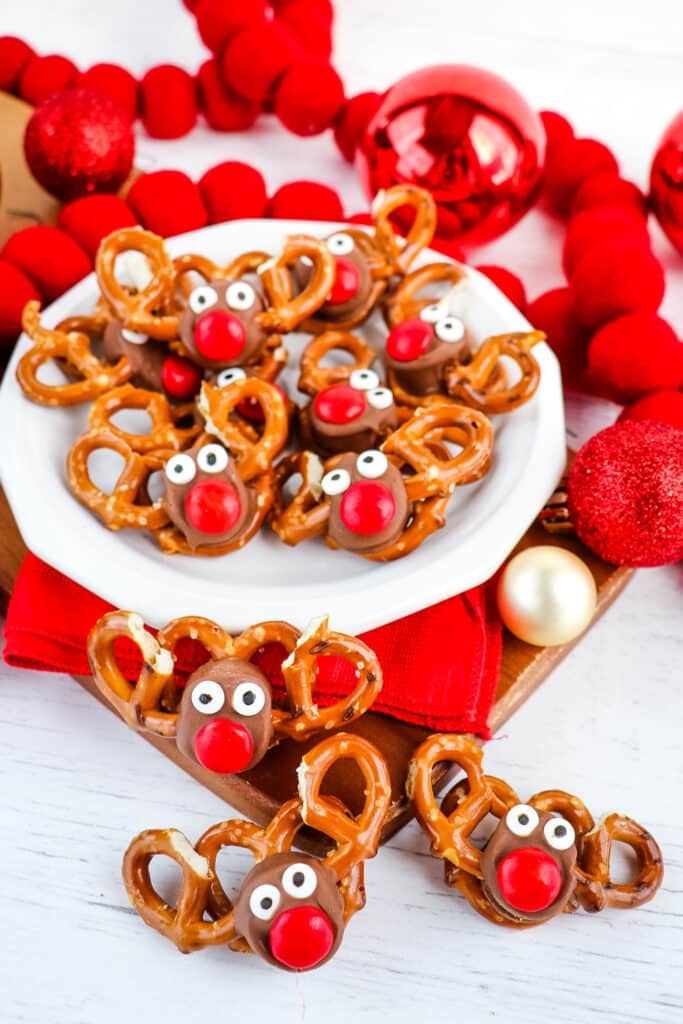 If you loved this easy Christmas treat, check out some of these other holiday candy and cookie ideas: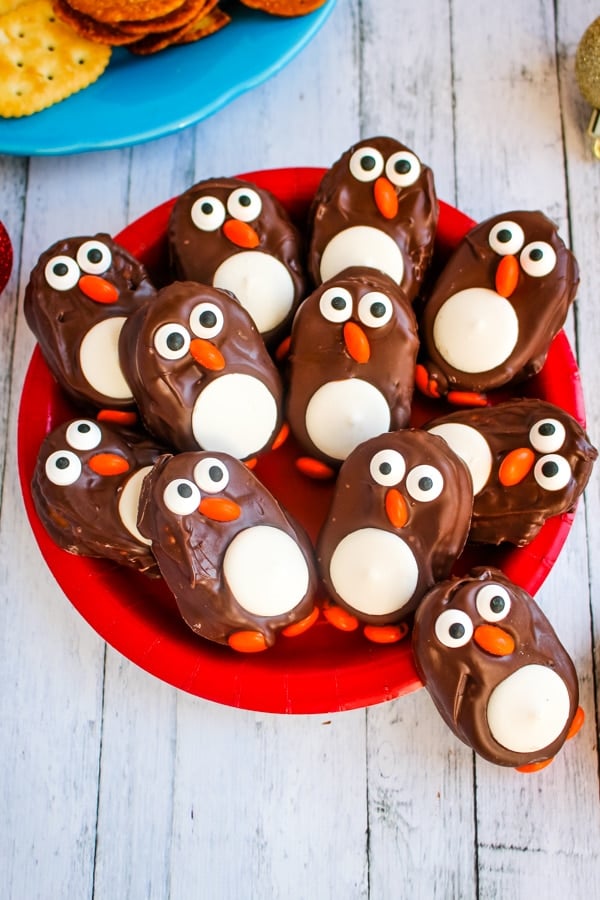 ---
---
Reindeer Pretzels
Looking for a fun and easy holiday treat idea? These reindeer pretzels are easy to make with just 4 ingredients. Great to make with kids and grandkids to get into the holiday spirit!
Ingredients
24 chocolate caramel Rolo candies
48 mini pretzel twists
24 red M&M candies
48 candy eyes
Instructions
Preheat oven to 250 degrees
Line a baking sheet or cookie sheet with parchment paper.
Place half (24 pretzels) on the baking sheet, and add a rolo candy onto the bottom half of the pretzel. Place the pan into the oven for 1 1/2 - 2 minutes. (I discovered that 90 seconds is idea. Anything more than 2 minutes and the rolo will be too melted and runny. 90 seconds helps the candy soften, but not overly melt.)
Remove from the oven and add a single red M&M to the top of the rolo for the reindeer nose. Above the red M&M add two candy eyes.
Break the other 24 pretzels in half. Place the two halves (single broken pretzel) on either side of the softened rolo acting as the reindeer antlers.
Let the reindeer come to room temperature and the chocolate firm up. You can also place them in the refrigerator to firm up for un-messy handling.
Notes
Storage: Store the cooled reindeer pretzels into an airtight container or zip-lock bag. The pretzel snacks will keep for up to 2 weeks or longer when stored in an airtight container. Snacks can be kept at room temperature.
Recommended Products
As an Amazon Associate and member of other affiliate programs, I earn from qualifying purchases.
Nutrition Information:
Yield:

24
Serving Size:

1
Amount Per Serving:
Calories:

21
Total Fat:

3g
Saturated Fat:

1g
Trans Fat:

0g
Unsaturated Fat:

5g
Cholesterol:

11mg
Sodium:

36mg
Carbohydrates:

4g
Fiber:

3g
Sugar:

4g
Protein:

1g