The BEST Peach Pops Recipe!
With just three ingredients these EASY peach popsicles are healthy and completely delicious! Perfect for cooling off on a hot day, these frozen yogurt peach pops are a fantastic summer snack that everyone in the family will love!
This post may contain affiliate links. Delightful E Made is a participant in the Amazon Services LLC Associates Program, an affiliate advertising program designed to provide a means for us to earn fees by linking to Amazon.com and affiliated sites.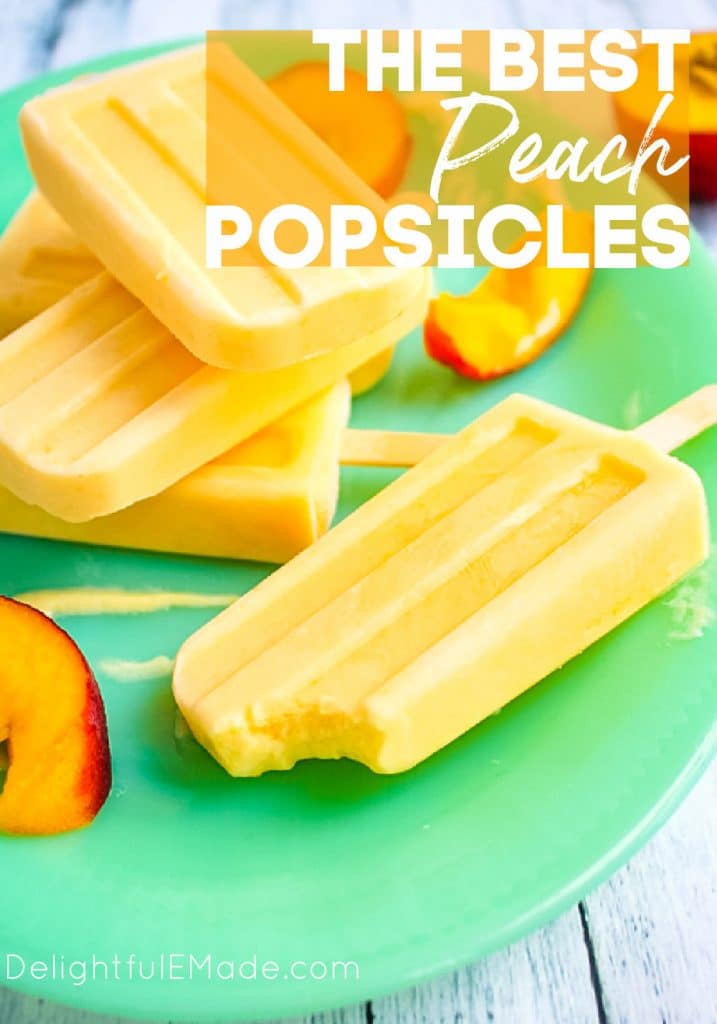 EASY 3 Ingredient Peach Popsicles
Do you and your kids love frozen yogurt pops or popsicles from the grocery store freezer section? Most of those store-bought popsicles are loaded with refined sugar and high-fructose corn syrup. Yuck!
Get rid of that sugar and make your own super EASY peach popsicles. With just 3 ingredients, a blender and some popsicle molds, you'll have some fantastic frozen snacks for cooling off on a hot day.
Here's everything you need to know about making your own popsicles at home: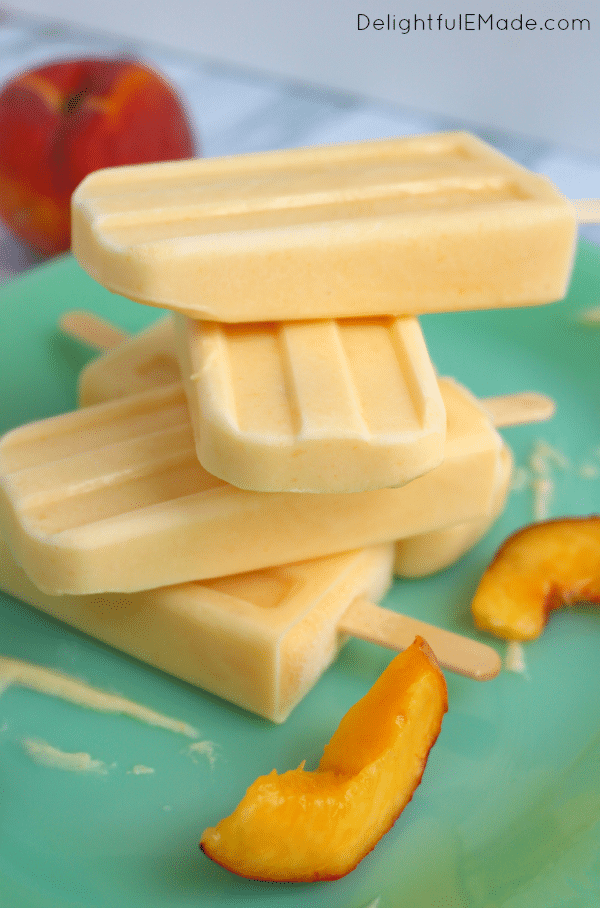 What do I need to make popsicles at home?
You'll need a blender, popsicle molds, popsicle sticks, and the filling.
What ingredients do I need to make peach popsicles?
You'll need three ingredients; Greek yogurt, fresh or frozen peaches and orange juice.
These fro-yo pops couldn't be easier to make. Simply combine the Greek yogurt, peaches, and orange juice in your blender until smooth.
Then pour into popsicle molds, add a stick, and freeze. In a few hours, you'll have a cold, yummy snack that everyone in your family will love!'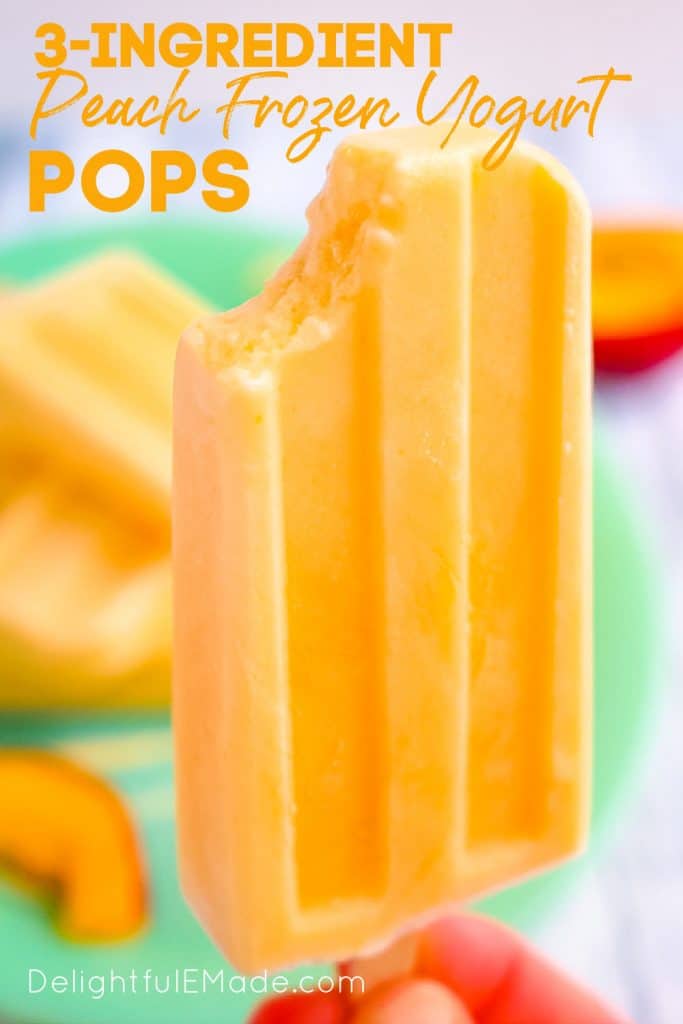 How long do popsicles need to freeze?
Typically, popsicles need about 8 hours to freeze fully.
If you take the popsicles out too soon before they have frozen completely, they will not stay on the stick, or they will be mushy and will fall apart quickly.
How do you get popsicles out of the mold?
The best way to remove popsicles from the mold is to run the frozen mold under warm (not hot) water for 20-30 seconds. This will help slightly soften the surface of the popsicle and un-stick it from the surface of the mold.
How do you keep popsicles from sticking?
Once your popsicles are out of the mold, lay them flat on a waxed paper lined baking sheet. Refreeze the popsicles for another 15 minutes to ensure the outside of the popsicle is refrozen and cold.
Store the re-frozen popsicles in an airtight container or resealable freezer bag.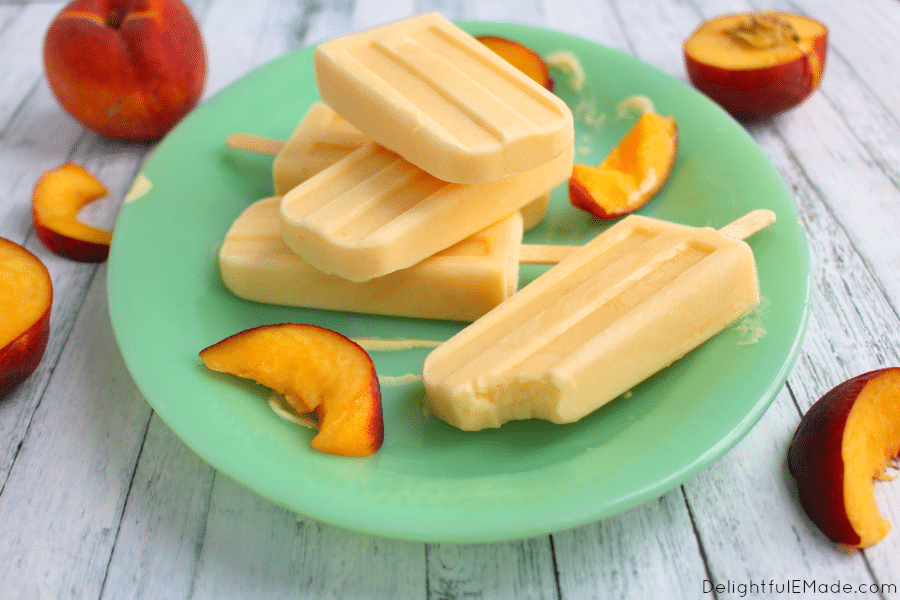 What type of yogurt is best for frozen yogurt pops?
I like and prefer Fage plain Greek yogurt. It does not contain added sugar and you can flavor it however you like.
For this recipe, the peaches do all of the flavoring and the orange juice adds just the right amount of sweetness for a popsicle.
Can I turn smoothies into popsicles?
Yes! Just about any smoothie recipe can be made into popsicles. Simply blend together your smoothie recipe the way you normally would, and pour into your popsicle mold. Insert the popsicle sticks and freeze for a minimum of 8 hours.
Here are some of my most popular smoothie recipes that would be perfect as popsicles.
Raspberry Almond Chia Smoothie
Did you know I wrote a smoothie cookbook! Yes, I'm the author and creator of The Protein Smoothie Bible. Get it here on Amazon!
Do you love peach recipes? Check out some of my other favorite peach treats:
Copycat Chick-Fil-A Peach Milkshake
Frozen Raspberry Peach Bellini
Here's the recipe for these easy, delicious Peach Pops:
Erin Indahl-Fink
Easy Peach FroYo Pops
With just three ingredients these frozen treats are healthy, easy and completely delicious! Perfect for cooling off on a hot day, these frozen pops are a fantastic summer snack that everyone in the family will love!
10 minPrep Time
8 minTotal Time
Ingredients
1 c. plain Greek yogurt
2/3 c. peaches, fresh or frozen
1/3 c. orange juice
Instructions
In a blender, add all ingredients and blend until smooth. Pour into 4-5 Popsicle molds.
Freeze for 8 hours or until completely frozen. Remove from molds by running under warm water for 20-30 seconds.
Enjoy right away, or refreeze on a baking sheet for an additional 15 minutes.
Store in plastic zip freezer bags or a resealable container in freezer.
7.8.1.2
164
https://delightfulemade.com/2015/06/08/easy-peach-froyo-pops/
Copyright by DelightfulEMade.com
These are the perfect treat for keeping on hand anytime you're looking to cool off this summer. Kids, and grown-ups alike, everyone enjoys a cold, tasty treat in the summer! Enjoy! ~Erin