Wondering what snacks at Target to buy? As an avid Target shopper for many years, and someone who has lost over 100 lbs, (and maintained that weight loss for over 6 years) I've picked the BEST healthy target snacks. These are great weight loss snacks as well as snacks great for everyone in your family to enjoy!
This post may contain affiliate links. Delightful E Made is a participant in the Amazon Services LLC Associates Program, an affiliate advertising program designed to provide a means for us to earn fees by linking to Amazon.com and affiliated sites.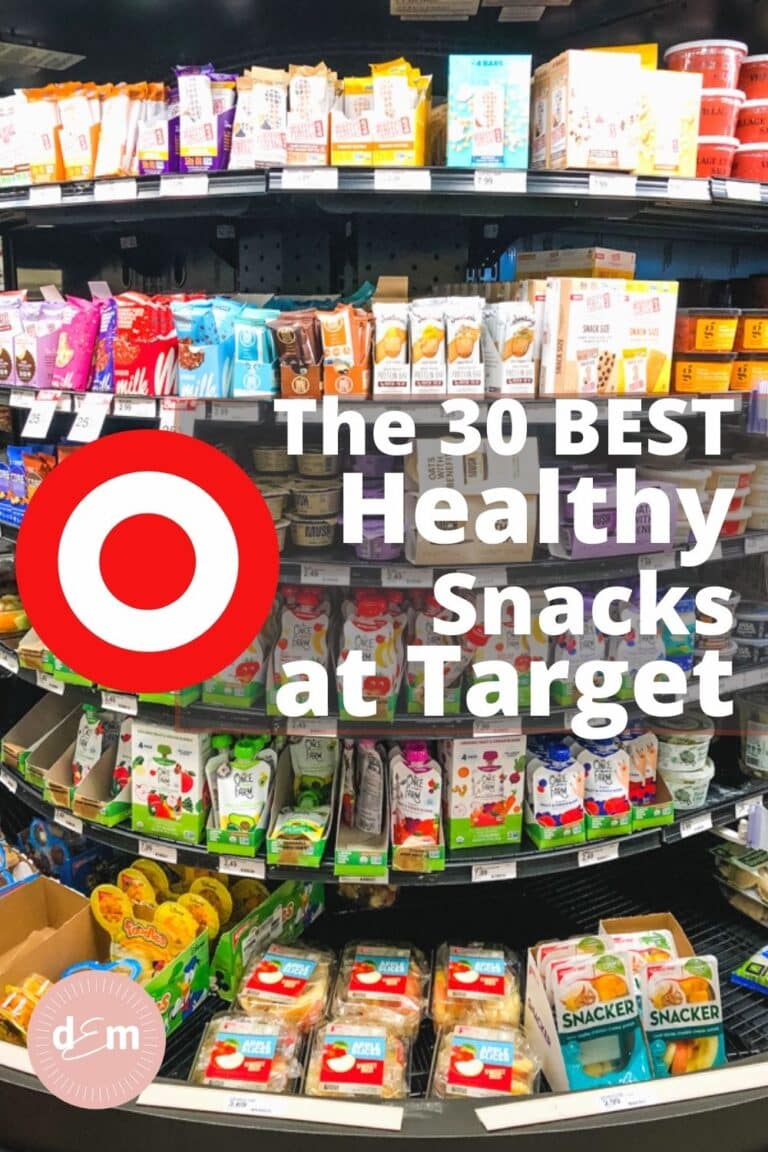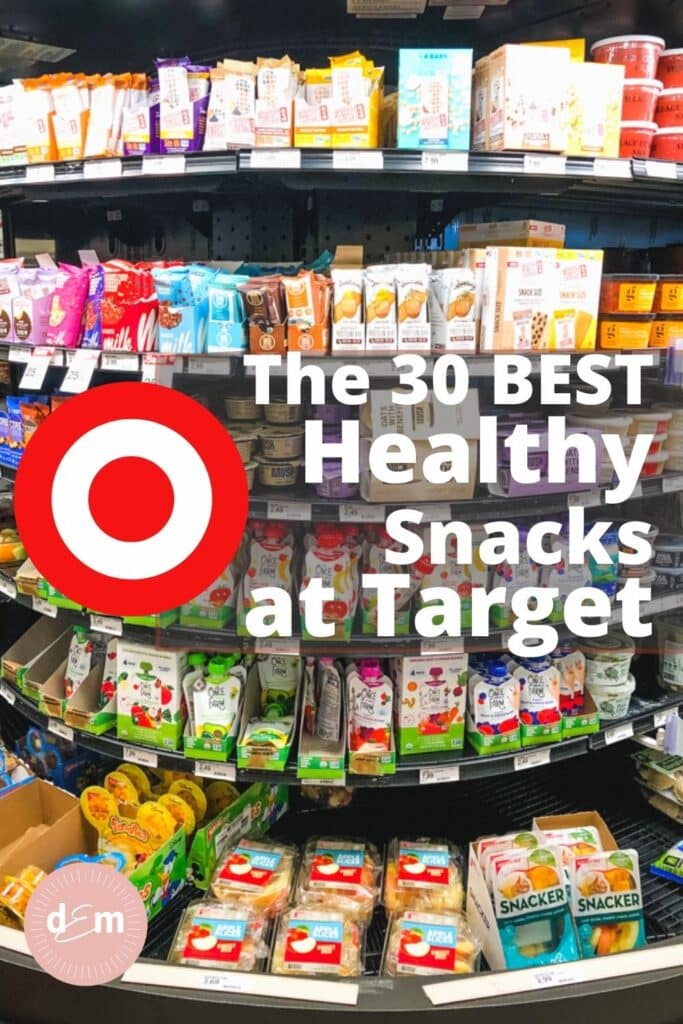 You don't have to spend loads of money when trying to make healthy choices for you and your family. In fact, when looking for healthy snacks to buy, Target has an excellent selection of fresh, healthy, protein rich, and nutrient-dense snacks.
As someone who has lost over 100 lbs, and has maintained that weight loss for several years, I know the value in having weight loss snacks on hand. When you know what to look for, the snacks at Target are a great value, are very versatile, and can provide you and your entire family with a less processes, more nutrient-dense treat.
My Criteria to make the Healthy Target Snacks list:
In order to make my Healthy Target Snack list, I considered several factors for each snack. Here's what I took into consideration for each snack:
Refined Sugar Content: The snack should contain little to no refined sugar. Every snack on the list has < 3g of refined/added sugar.
Minimally Processed: Most of the snacks that made this list are fresh, natural, and go through minimal to no manufacturing.
Minimal Ingredients: You'll see that almost all of the snacks listed have very few ingredients. In fact, the more ingredients listed, typically, the less healthy it is for you. (Good rule of thumb!)
Good source of either protein, fiber, and/or good fats. Good weight loss snacks will be one of these three items. Protein, fiber and fat help satiate your hunger, and keep you feeling fuller, longer.
Caveat: This is no "perfect snack" or "perfect food." When making healthy snack choices for you and your family, you will need to take into consideration personal tastes, preferences, dietary restrictions, food allergies and intolerances. What is great for one person, may be a poor choice for another. Keep this in mind when making choices for yourself and your family.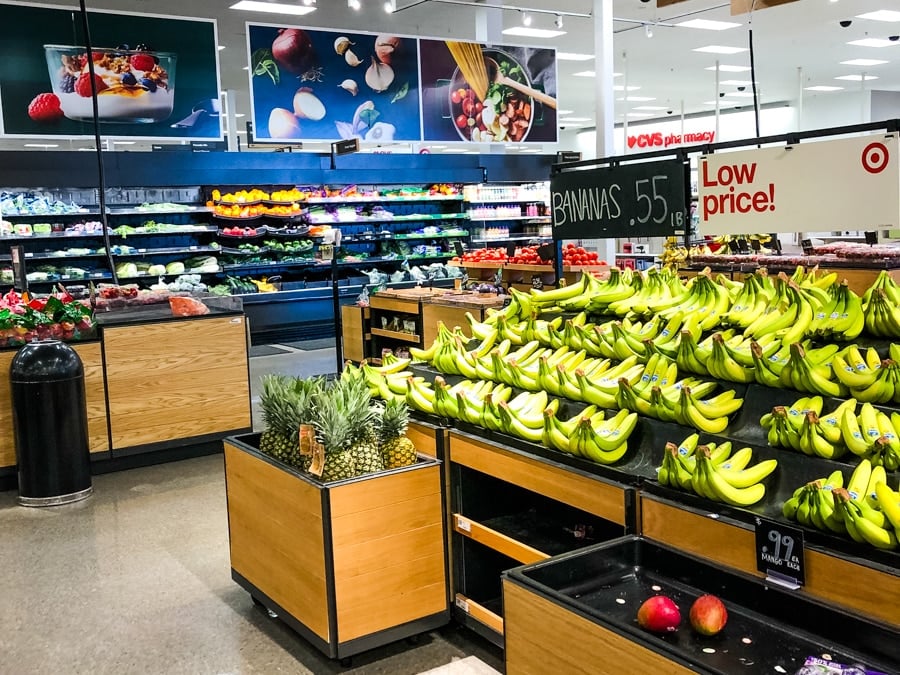 Why shop for snacks at Target?
Target stores, and Super Target markets are now available for millions of people in the US. They offer a wide variety of fresh, healthy and nutrient-dense foods with good selection and accessibility. Target is able to provide reasonable prices given the volume of product it is available to purchase.
As you may have noticed at your local Target, many stores now offer Target Drive-Up. This is a free, contactless pick-up, where you place your order on the Target app, and your order is brought directly to your car within a matter of hours. For many busy families, this can be a grocery game-changer!
Ready to finally get organized with weekly meal prep?
Plan dinners, meal prep recipes and organize ingredients all with this simple, organized 50-Page Meal Prep Planner Magnetic Tear Pad.
Designed specifically for the entire family to use, this meal planner is the key to staying organized with healthy eating throughout your entire week!
How I've organized my 30 Best Healthy Target Snacks List
I find that when I'm shopping at Target, I find it most useful to shop by section. I've organized my list by where you will find these items in Target.
Fresh Produce Section
Deli and Meats Section
Shelf-Stable and Pantry Section
Frozen Foods Section
Dairy Section
Note: While I tried to select items that are widely available at most Target stores, note that not all items will be in stock or available at the time you are shopping.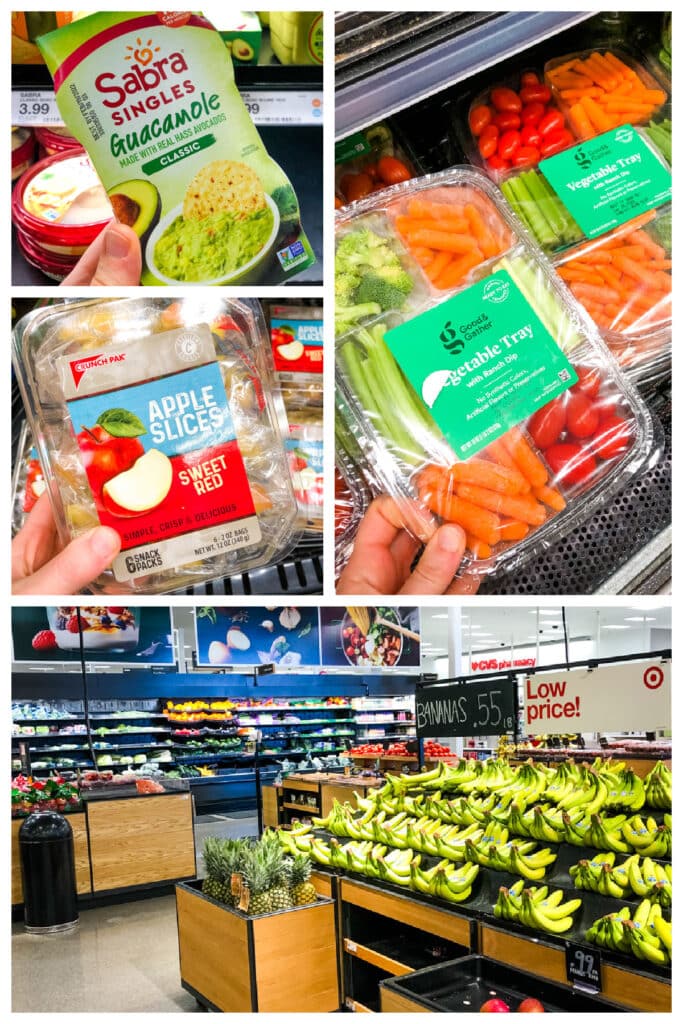 Here are my favorite healthy Target snacks in the Fresh Produce section:
Any and all fresh produce: bananas, apples, oranges, pineapple, tomatoes, avocado, carrots, broccoli are just a few of the excellent options that Target has. Fresh produce makes to top of the list for being nutrient dense and a great source of fiber, vitamins and minerals. Try my Tropical Pineapple Mango Salsa with the fresh fruit from Target.
Good and Gather Vegetable Trays: these come in two sizes, and are great to keep in your fridge for easy snacking.
Sabra Singles Guacamole Cups: These are great for pairing with carrots, bell peppers, tomatoes or even a topping to make avocado toast.
Crunch Pak Sweet Apple Slices: If time is tight, these are a great individual option for lunchboxes.
Refrigerated Deli Meats Section / Refrigerated Snacks (at front of store):
Good and Gather Individual Mozzarella Cheese & Prosciutto Sticks: great for a quick grab-and-go protein snack or addition to any lunchbox.
Good and Gather Hard Cooked Eggs (2-pack): Short on time? Grab a few of these egg 2-packs to keep in your fridge for snacks, topping salads or breakfast.
Columbus Genoa Salame Paninos Rolled Cheese and Salami: With 25g of protein, you can't go wrong with this savory snack. Pair with some fruit to round out your treat. (They also make prosciutto and mozzarella rolls.)
Good and Gather Genoa Salami, Provolone Cheese Slices and Almonds: This is like a grown-up "lunchable" without the junk food. A great all-around protein-rich snack that would be good to grab when done shopping.
Three Bridges Egg Bites: I found these at the very front of the store in a refrigerated snack case. A great heat-and-eat snack, these could also be a great healthy breakfast option.
Mush Vanilla Ready-to-Eat Oats: These make my list as they're a great high-fiber option with low to no refined sugar. These come in vanilla, blueberry and Coffee Coconut and can be bought individually or in 4-packs.
BHU Foods and BHU Keto Protein Bars: Unlike most protein bars, these have minimal ingredients and limited or no refined sugar. A good choice for a protein bar. These come in Dark Chocolate, Choc Chip Cookie Dough and Peanut Butter Chocolate flavors.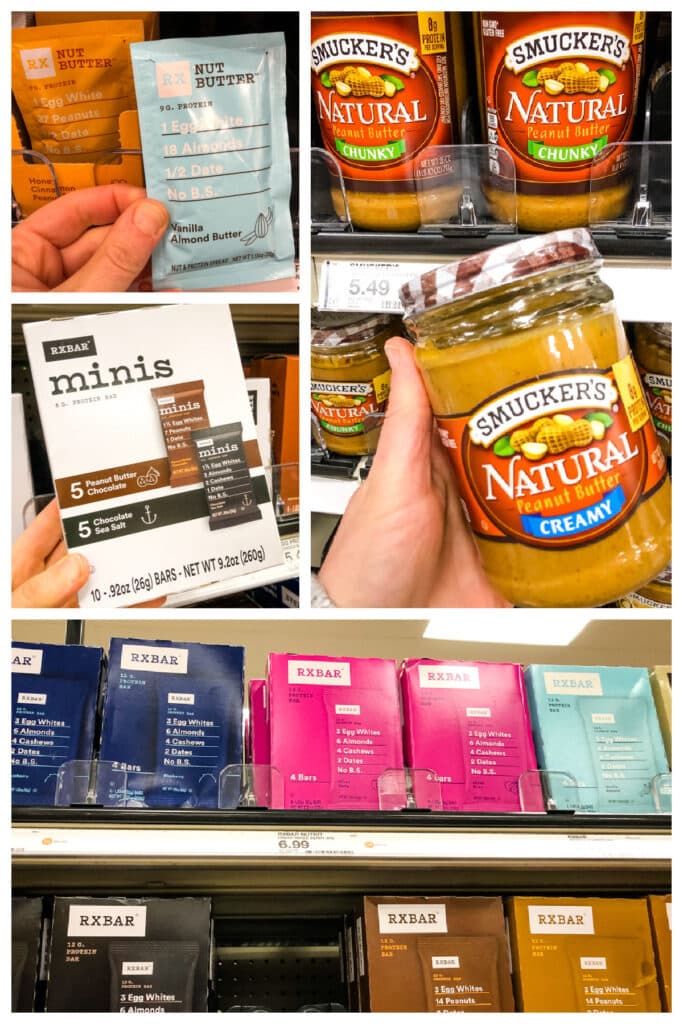 Shelf Stable and Pantry Snacks at Target (center of grocery section):
Rx Nut Butter Individual Serving Packs: Minimal ingredients, minimal refined sugar and no added oils make these nut butter backs a great healthy snack to buy. Pair with apples, celery or top your favorite whole grain toast.
Smuckers Natural Peanut Butter (Chunky and Creamy): This peanut butter is a great healthy snack option, as the only ingredients are peanuts and salt. Most popular peanut butter brands are loaded with unhealthy oils and refined sugar. Smuckers Natural does not, making it a great choice! Try my No Bake Granola Bars recipe that includes this peanut butter. Just 5 simple ingredients are all you need!
RxBar Mini's (multiple flavors): At just 100 calories per bar, these minis are a great choice for when you're looking to satisfy your sweet tooth without refined sugar. A great lunchbox addition or something to keep in your desk at work.
RxBars – Full Sized (multiple flavors): One of only two protein bars to make my healthy snacks list. Made with minimal ingredients, no oils, or refined sugar, these are a great protein bar option, and one of the few protein bars I will buy.
Country Archer Provisions Grass Fed Beef Stick Mini's: Beef jerkey is a great protein-rich snack option, but many have added sugar! (I know, right? What's up with that!) These are a great mini snack to keep in your desk or toss into lunchboxes.
Good and Gather Flavored Tuna Packs: For the money, this might be one of the best protein-rich snacks on the list! At $1.29/pack, these single-serving flavored tuna packs are great to pair with veggies or top whole grain toasts. Check out my recipe for how to make Greek Yogurt Tuna Salad – it's amazing!
Good and Gather Whole Raw Almonds: Having individually packaged nuts is a great way to keep your serving-size in check. (Because a handful of nuts can escalate to multiple handfuls real quick!) They also offer mixed nuts in individual packs.
Favorite Day Peanut Butter Monster Trail Mix Individual Packs: This item nearly did NOT make my list as the added sugar comes in at 9g, HOWEVER, if you're looking for a sweet snack that it individually portioned, this is a decent option.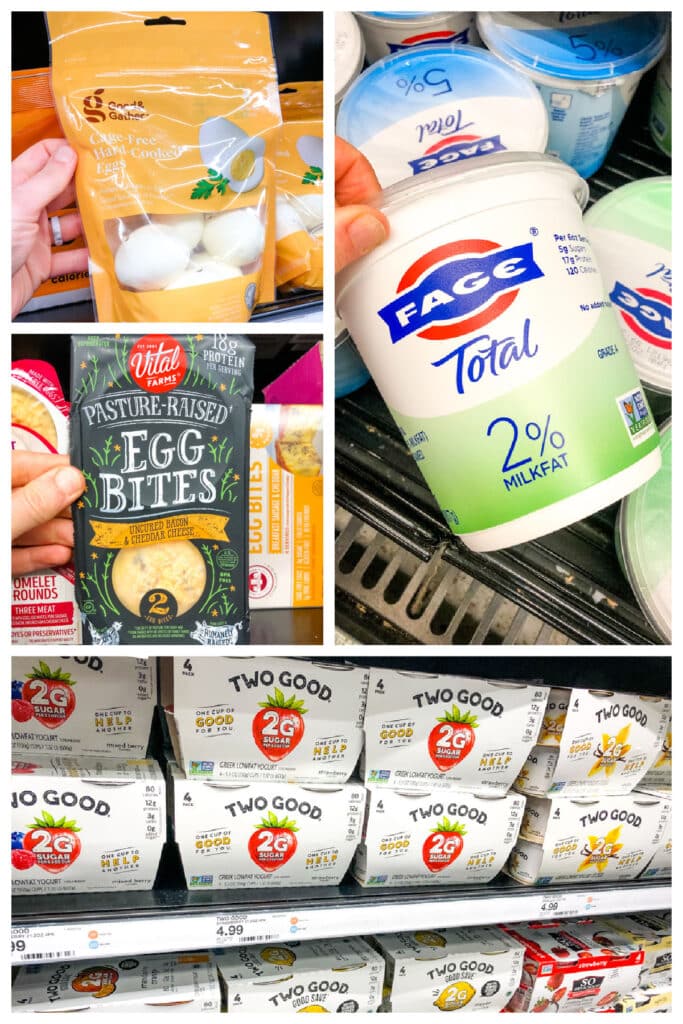 Refrigerated Dairy Section Snacks at Target:
Good and Gather Pasture-Raised Hard-Cooked Eggs: Because I know time is tight for many people, having hard-cooked eggs at the ready can be a meal prep and healthy snack game changer!
Vital Farms Pasture Raised Egg Bites: A fantastic protein-rich healthy snack or breakfast option. Pair with fresh fruit, veggies and/or whole grain toast for a well-rounded light meal.
Fage Total 2% and 5% Plain Greek Yogurt: This is my preferred yogurt that I continually use for dips, snacks, salad dressings and more. I love mixing it with PB2 powdered peanut butter to create a healthy peanut butter fluff! Try my Greek Yogurt Fruit Dip and Greek Yogurt Veggie Dip that tastes just as good (maybe better!) than Ranch.
Two Good Flavored Yogurt Cups: Most flavored yogurt cups and loaded with refined sugar. Make sure you read your labels carefully. These fruit flavored yogurts are a great option with just 2 grams of sugar and a good source of protein.
Good and Gather Cheese Bites: Mozzarella, cheddar, jack and other cheeses are cut into small bites. Great for pairing with fruit for a quick snack that keeps your portion in check.
Tillamook Individually Wrapped Colby Jack Snack Bars: Again, because these are individually packaged, your portion is kept in check. These are great for lunchboxes and paired with fresh fruit, like apples and grapes.
Breakstone's Cottage Cheese Cups: Cottage cheese is an excellent source of protein and makes for a really smart weight loss snack. Pair it with fresh berries, cherry tomatoes or pineapple.
Frozen Foods Section Healthy Target Snacks
Birch Benders Chocolate Chip Keto Waffles: Nearly all frozen waffles have loads of ingredients, unhealthy oils and refined sugars, but not these! Birch Benders offers a great healthy waffle option. Top with nut butter and berries!
Garden Lites Veggies Made Great Super Food Veggie Cakes: A tasty, savory veggie cake that is a great makes a great heat and eat snack.
Diana's Dark Chocolate Banana Babies: Craving chocolate? These frozen bananas come in with just 3 grams of refined sugar. A great healthier option to ice cream, popsicles as a frozen treat.
Good and Gather Broccoli and Cheddar Cheese Omelet Cups: Another great heat-and-eat snack that will will keep you full and satiated. A good source of protein and fiber make these a great option. Other flavors also available.
---
Looking for healthy snack recipes? These are my favorites:
Here are some other healthy eating resources:
---