Do you love dried cranberries, but not all of the refined sugar that the store-bought packages cranberries contain? With just 3 ingredients I'll show you how to make dried cranberries in the oven! This dried cranberries recipe is perfect for adding to salads, yogurt, oatmeal, granola, cookies and even wraps!
This post may contain affiliate links. Delightful E Made is a participant in the Amazon Services LLC Associates Program, an affiliate advertising program designed to provide a means for us to earn fees by linking to Amazon.com and affiliated sites.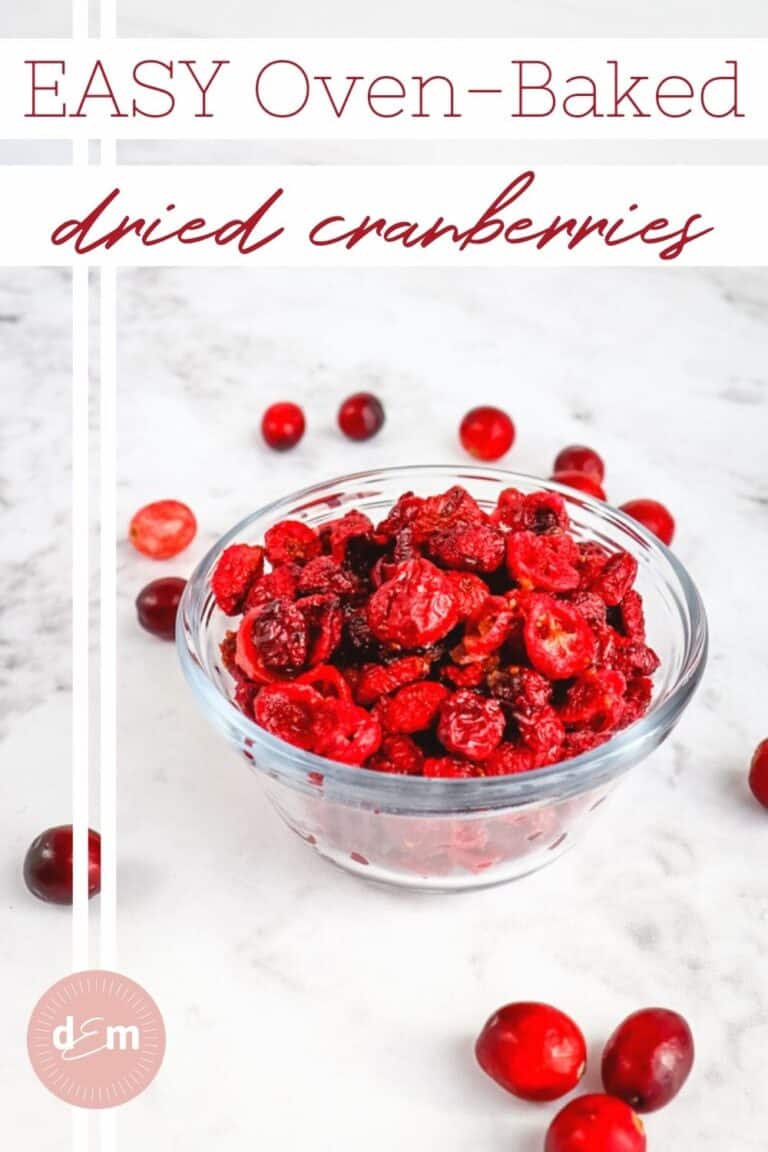 Do you love dried cranberries, but not all of the added calories and sugar that pre-packaged, store bought cranberries contain? FYI – most store bought dried cranberries contain a whopping 26g of sugar for every 1/4 cup serving. I've got ya covered with this easy recipe for how to dry cranberries!
Easily made in the oven (no dehydrator necessary) this dried cranberries recipe needs just 3 ingredients! To sweeten the cranberries we use a sugar alternative that cuts the added sugar to zero!
Once you learn how to make dried cranberries, you'll never buy the pre-packaged ones again!
What you'll need to make this recipe:
For exact ingredient amounts and full recipe instructions be sure to scroll down to the bottom of the post for the recipe. Thanks!
The first step you'll need to take is rinsing and halving the fresh cranberries.
Cutting the cranberries in half helps the berries cook/dry quicker in the oven, versus being hole and juicy. I found that using a serrated knife works well with the skin of the cranberries.
Do you love using cranberries during the holidays? Here are some of my other cranberry recipes and ideas: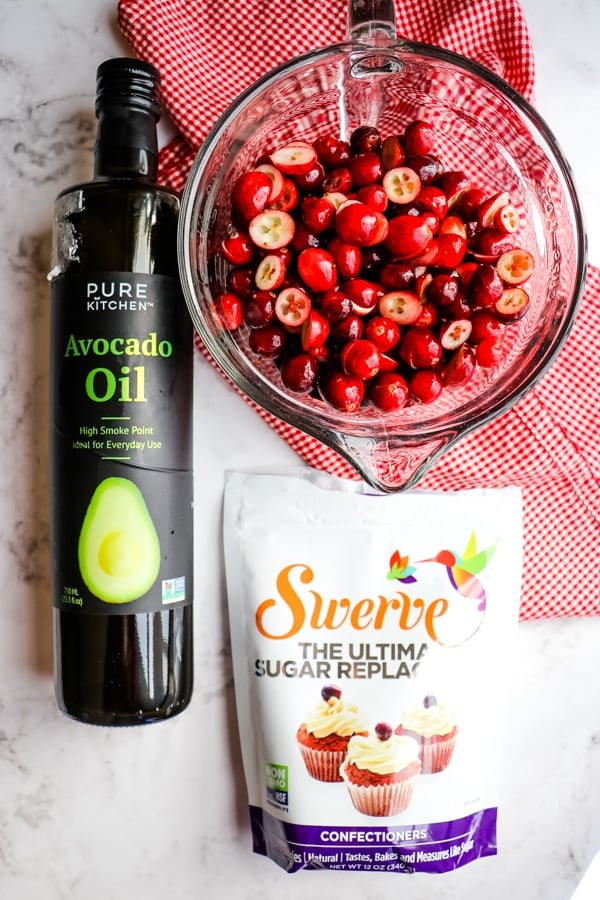 The next step in the process is coating the cranberries with avocado oil and a powdered sugar replacement. Since we are trying to reduce/eliminate sugar, but also still sweeten the tart cranberries, this Swerve Confectioners Sugar Replacement is a great option.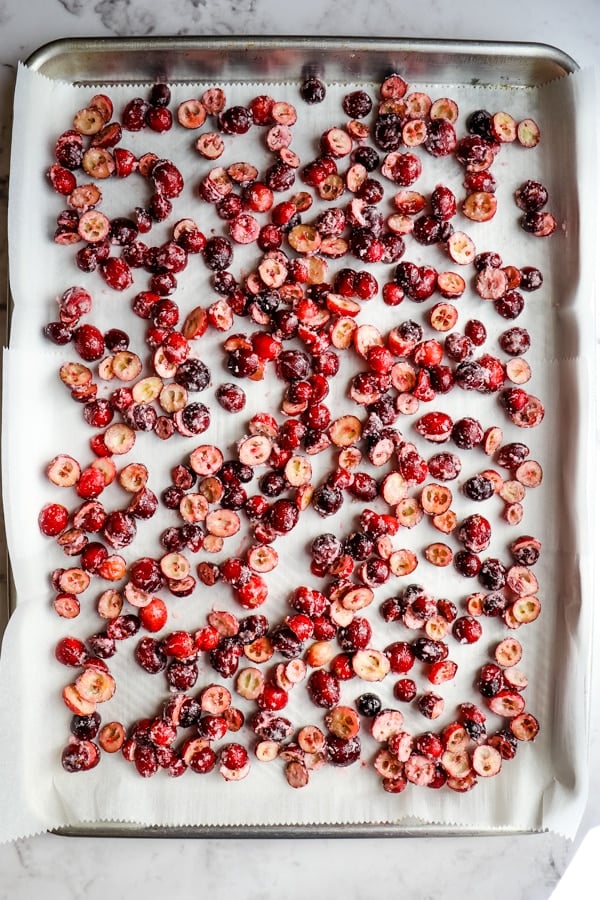 Once the berries are coated, place on a lined baking sheet. You can either use parchment paper (what I used) or silicone baking mats. Both of these do well in preventing the berries from sticking.
To dry the berries in the oven, you'll set the oven at 200 degrees. A low temperature is necessary in drying out the berries, but also preventing them from burning or over-caramelizing.
Looking to dry other fruits? Check out my tutorial for How to Make Fruit Leather at Food.com
Ingredient Substitutions and Recommendations:
Avocado Oil – you could also use unflavored coconut oil. I would NOT recommend vegetable or canola oils.
Granular Monk Fruit Sweeteners – like Lakanto or Whole Earth are great brands that would work well in this recipe.
For exact ingredient amounts and full recipe instructions be sure to scroll down to the recipe at the bottom of the post. Thanks!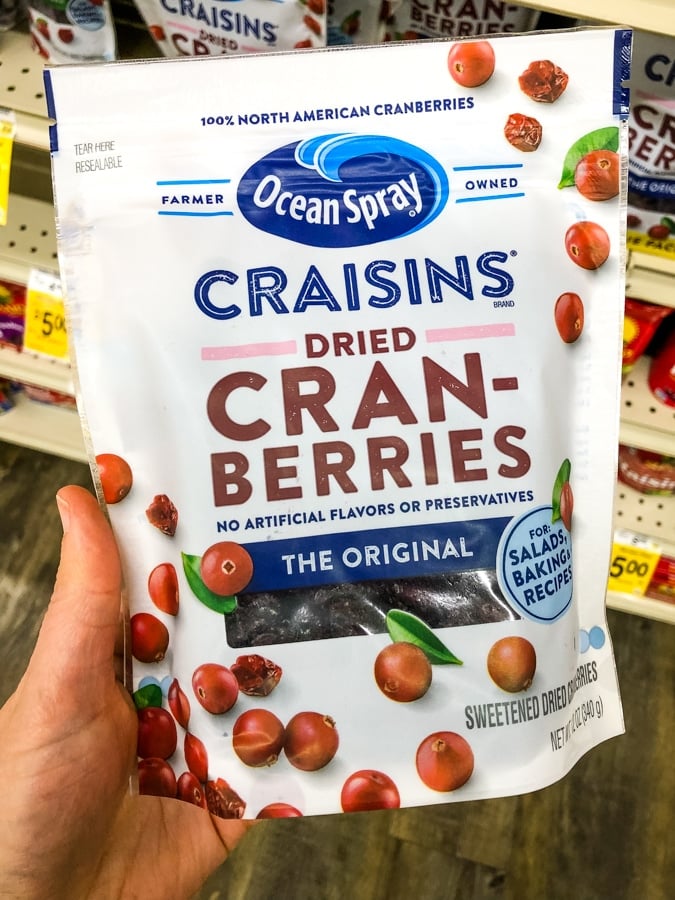 Frequently asked questions about How to Dry Cranberries:
What can you do with dried cranberries?
You can use them many ways! Add to salads, bake into cookies or bars, make your own granola or granola bars, mix into your yogurt and oatmeal and add to a turkey wrap or sandwich.
Should dried cranberries be soaked before baking?
It is certainly helpful to soak cranberries before baking, but not necessary. Soaking cranberries helps plump them up and add moisture. Sometimes when baking dried cranberries can become hard or chewy.
Can I substitute dried cranberries for fresh in muffins?
Yes, you can substitute dried cranberries for fresh. There is a 1/4 difference, meaning for every 1 cup of fresh cranberries you'll only need 3/4 cup of dried. For optimal results, soak the dried cranberries in hot water for 15 minutes (drain off water) prior to baking.
Are dried cranberries high in sugar?
Yes! Store-bought dried cranberries are very high in refined sugar. There are 26g of sugar per 1/4 cup serving. This is why learning how to make dried cranberries is a great way to cut sugar!
How do I store dried cranberries?
Store in a cool, dry place. Refrigeration is ideal for homemade dried cranberries. They will keep refrigerated for 2-3 weeks and frozen for up to 6 months.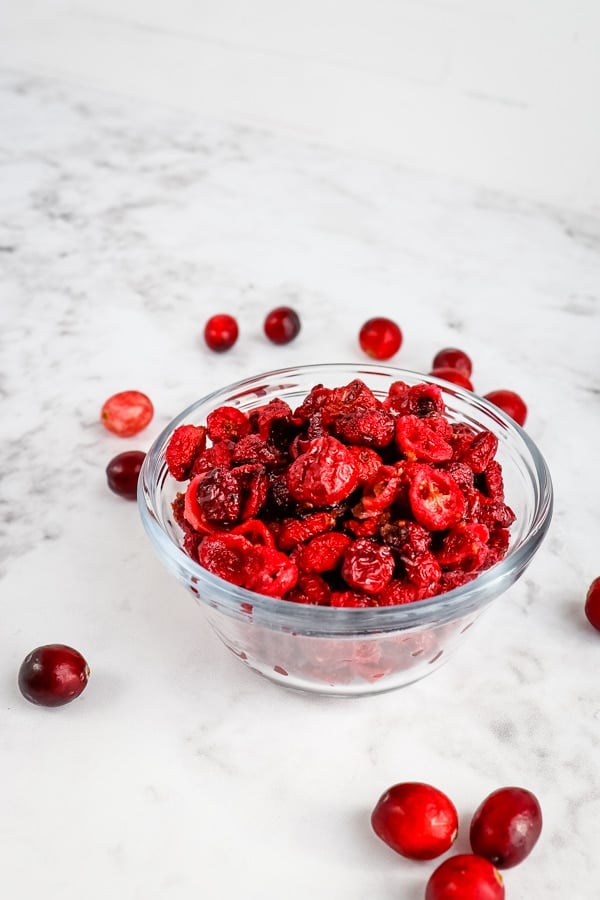 Here are some ideas on how to use these dried cranberries recipe: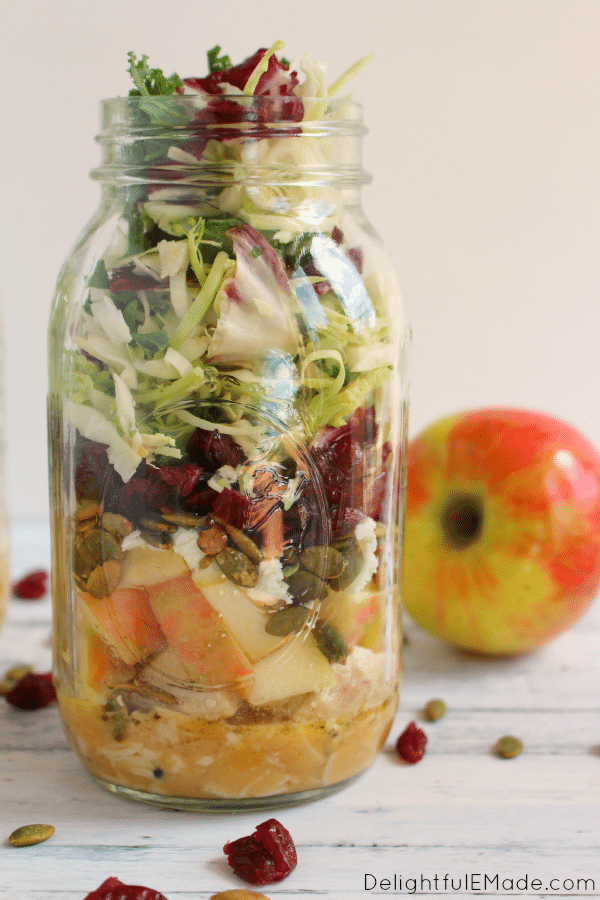 ---
---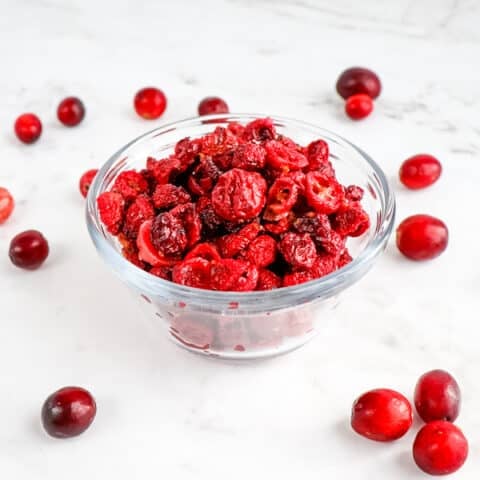 How to Make Dried Cranberries Recipe
Yield:
6 servings, 1 1/2 cups of dried cranberries
Total Time:
3 hours
10 minutes
Forget the over-sugared, store-bought dried cranberries. This dried cranberries recipe is easily made in your oven without added sugar.
Ingredients
1 (12 oz.) package, fresh cranberries, rinsed
1/2 c. powdered sugar substitute, like Swerve or Lakanto
2 Tbsp. avocado oil
Instructions
Preheat oven to 200 degrees. If your oven does not go this low, set it to the lowest temperature possible. Line a baking sheet with parchment paper or a silicone baking mat. Set aside.
Rinse the fresh cranberries. Slice the berries in half and add to a bowl.
To the sliced berries, add the powdered sugar substitute and the avocado oil. Stir well to coat the berries. Pour the coated berries onto the prepared baking sheet and space-out/distribute into an even layer.
Bake at 200 degrees for 3-4 hours or until the berries are mostly dry. Let cool on baking sheet to room temperature. Store in an airtight container in the refrigerator.
Notes
Refrigerated dried cranberries will keep in an airtight container for 2-3 weeks.
Frozen, dried cranberries will keep in an airtight container for up to 6 months.
Nutrition Information:
Yield:

6
Serving Size:

1/4 cup
Amount Per Serving:
Calories:

40
Total Fat:

5 gramsg
Carbohydrates:

22 gramsg
Protein:

0 gramsg