Looking for an amazing homemade Italian dressing recipe? Look no further! This Healthy Italian Dressing is super simple to make, using basic ingredients that you likely already have on hand. Unlike store-bought dressings, this recipe contains no sugar, corn syrup or sub-par oils – just quality ingredients that will taste amazing!
This post may contain affiliate links. Delightful E Made is a participant in the Amazon Services LLC Associates Program, an affiliate advertising program designed to provide a means for us to earn fees by linking to Amazon.com and affiliated sites.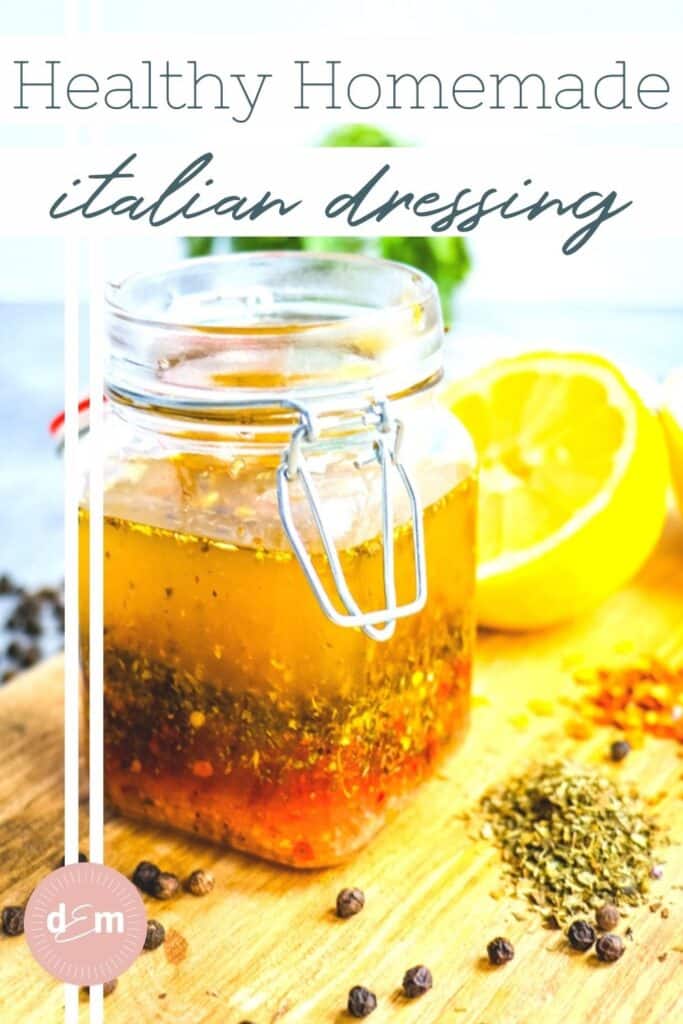 Have you ever stopped to look at the nutrition label of most store-bought, bottled salad dressings? You'll quickly discover that most store-bought dressings contain an unusually large amount of sugar and corn syrup. They're also made with really poor quality oils.
This homemade Italian dressing recipe is a breath of fresh air! It contains no sugars, syrups or toxic oils – just good quality ingredients that you likely already have in your pantry.
Best of all, this dressing tastes way better than anything store-bought, and it's less calories as well!
What you'll need to make this homemade Italian dressing recipe:
Extra virgin olive oil, or the best quality olive oil you can afford
Red wine vinegar
Juice of 1 lemon
1-2 cloves of garlic
Garlic powder
Dried oregano
Dried basil
Crushed red pepper flakes
Garlic salt
Ground pepper
For exact ingredient amounts and full recipe instructions be sure to scroll down to the bottom of the post for the recipe. Thanks!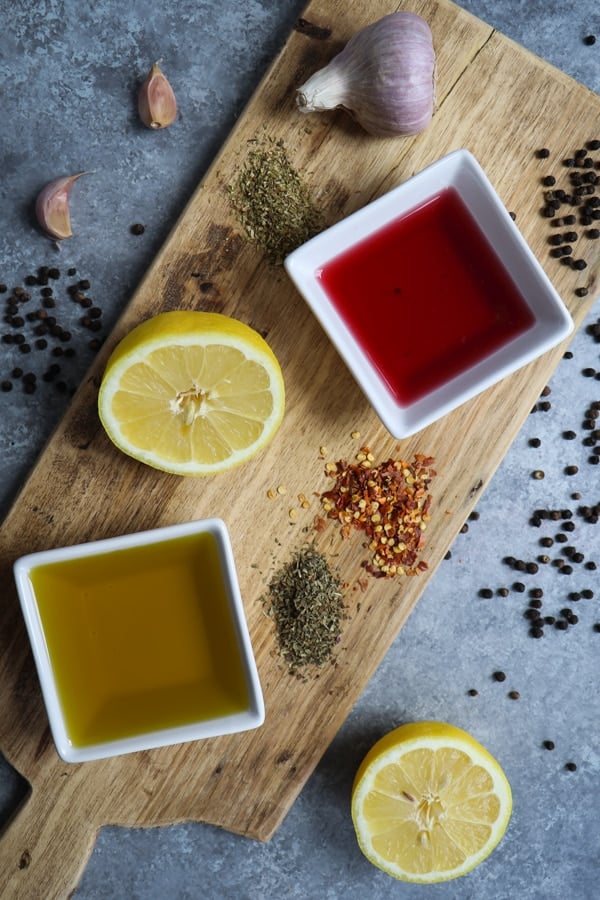 The time commitment to make this dressing is very minimal. From start to finish, it will take less than 5 minutes. I will often make this dressing after I've tossed a salad together or when making lunch. It's a quick, simple and healthy option!
Pro-Tip: Dress your salad right before serving. If you dress your salad in advance, the lettuce and vegetables will become soggy and wilt.
Looking for other ways to use this Italian dressing? Check out these recipes:
Tools you'll need to make this homemade Italian dressing:
Ingredient Substitutions and Recommendations:
Extra Virgin Olive Oil: I would recommend using the best quality olive oil you can afford. A good substitute to olive oil would be avocado oil. I do NOT recommend canola, corn, soy bean, sunflower, safflower, rapeseed oils, as these tend to be poor quality, and promote inflammation in the body.
Red Wine Vinegar: A good substitute would be balsamic vinegar or a champagne vinegar.
For exact ingredient amounts and full recipe instructions be sure to scroll down to the recipe at the bottom of the post. Thanks!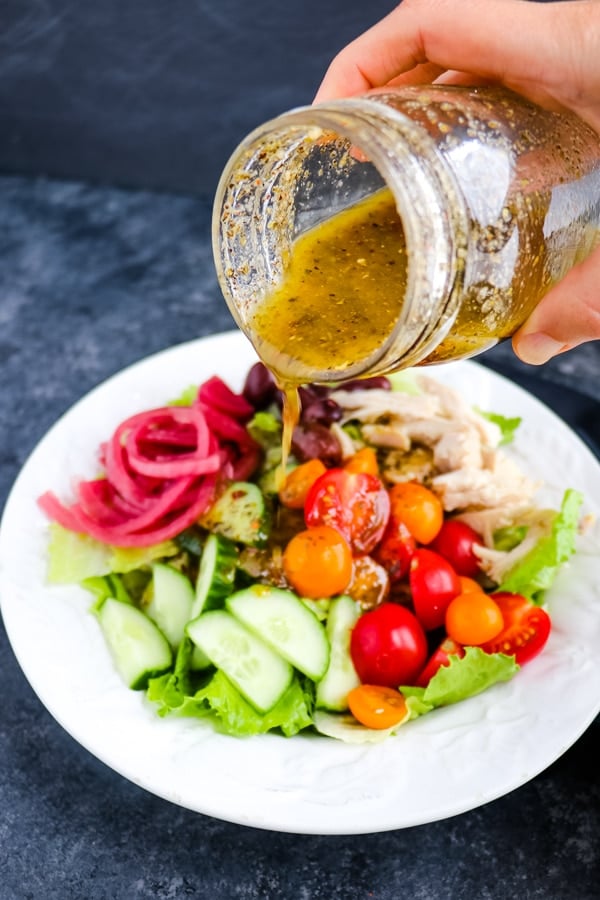 Frequently asked questions about homemade Italian dressing:
Is Italian vinaigrette same as Italian dressing?
Italian dressing is a type of vinaigrette. Vinaigrette dressings are typically an oil and vinegar based mixture.
What makes this Italian dressing healthier?
This homemade Italian dressing recipe doesn't include sugar, corn syrup, or any other partially-hydrogenated oil (soy, corn, canola, rapeseed, safflower, sunflower, ect). This dressing recipe calls for extra virgin olive oil, which is much healthier than those other mega-transfat oils, which are considered highly inflammatory and toxic.
Is homemade salad dressing better than store bought dressing?
Yes. For several reasons, homemade salad dressing is almost always better than store bought. First, you get to control the ingredients going into the dressing, and these ingredients are fresher, and therefore taste better. Additionally, homemade dressings are less expensive to make, and more economical than store-bought.
Should I refrigerate Italian dressing?
Yes. Because this recipe includes lemon juice and garlic, it should be refrigerated. If the oil separates, simply let it come to room temperature and shake or whisk to combine. This dressing will last 7-10 days, stored in an air-tight container (like a mason jar), refrigerated.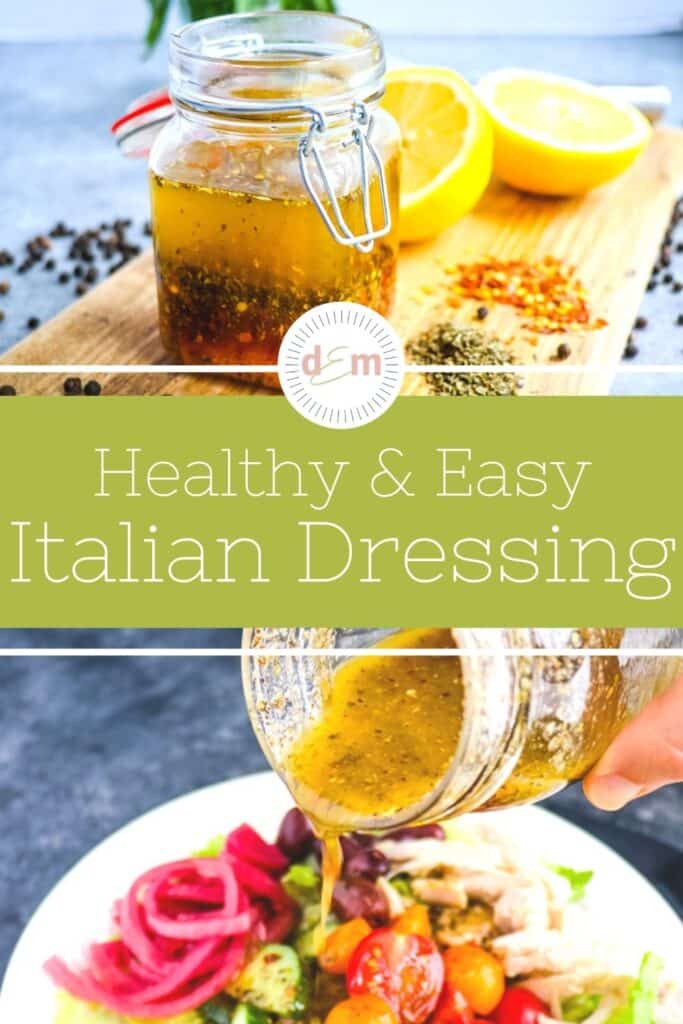 Looking to meal prep salads for more healthy lunches? Here's some great resources:
Here are some other resources for your healthy living journey:
If you loved this dressing recipe, check out some of my other dressings and salads: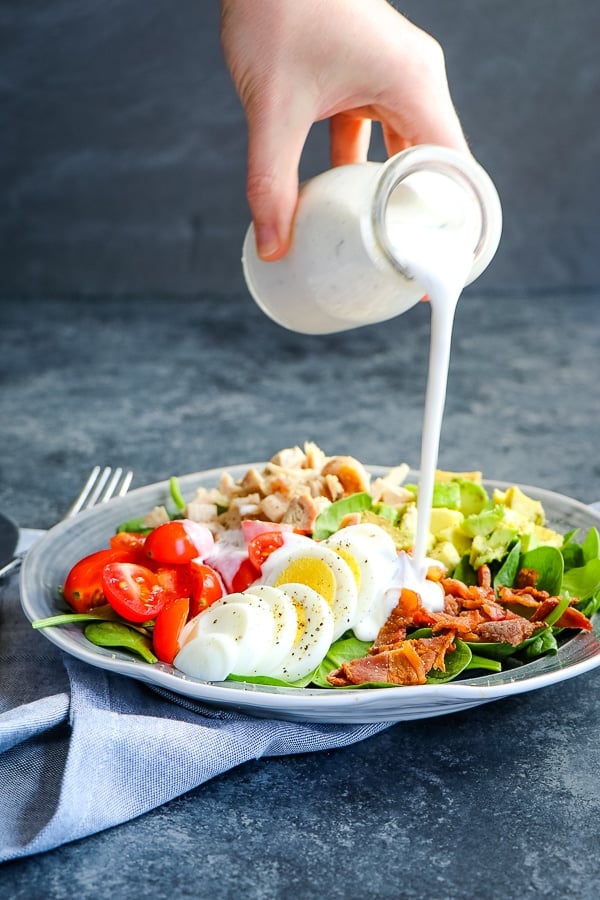 ---
---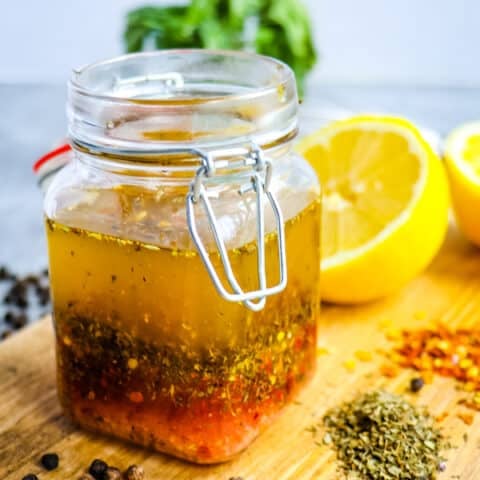 Healthy Homemade Italian Dressing Recipe
Yield:
about 1 cup, 8 servings
This healthy homemade Italian dressing is the perfect substitute for store-bought salad dressing. Made with simple ingredients, this Italian dressing is amazing on a freshly tossed salad.
Ingredients
1/2 c. Extra Virgin Olive Oil
1/4 c. red wine vinegar
2 Tbsp. freshly squeezed lemon juice (juice of 1 lemon)
1 tsp. minced garlic
1 tsp. garlic powder
1 tsp. dried oregano
1 tsp. dried basil
1/2 tsp. crushed red pepper flakes
1/2 tsp. garlic salt
1/2 tsp. ground pepper
Instructions
In a medium mixing bowl, add the oil, vinegar, lemon juice, garlic, garlic powder, oregano, basil, red pepper flakes, garlic salt and pepper.
Whisk together well. Pour over salad right away.
Notes
Store any leftover dressing in an airtight container in the refrigerator.
The dressing will likely separate once refrigerated. Let the refrigerated dressing come to room temperature. Shake or whisk together and dress your salad.
A serving side for dressing is 2 tablespoons.
Recommended Products
As an Amazon Associate and member of other affiliate programs, I earn from qualifying purchases.
Nutrition Information:
Yield:

8
Serving Size:

1
Amount Per Serving:
Calories:

125
Total Fat:

14g
Saturated Fat:

2g
Trans Fat:

0g
Unsaturated Fat:

11g
Cholesterol:

0mg
Sodium:

101mg
Carbohydrates:

1g
Fiber:

0g
Sugar:

0g
Protein:

0g