With just 6 ingredients, this simple Tomato Basil Mozzarella Salad will be your new go-to summer side! This Italian Tomato Salad is made with fresh cherry tomatoes, mozzarella, basil and a 3-ingredient balsamic vinaigrette. This Caprese Salad with Cherry Tomatoes tastes incredible!
This post may contain affiliate links. Delightful E Made is a participant in the Amazon Services LLC Associates Program, an affiliate advertising program designed to provide a means for us to earn fees by linking to Amazon.com and affiliated sites.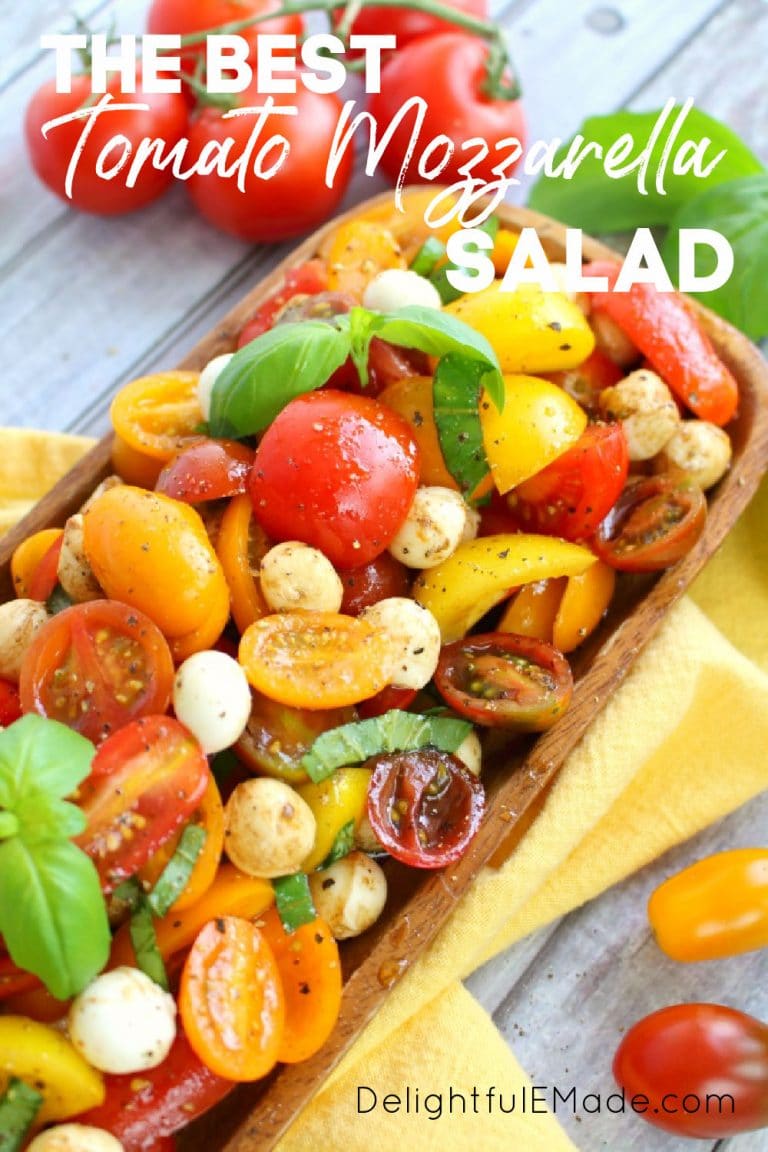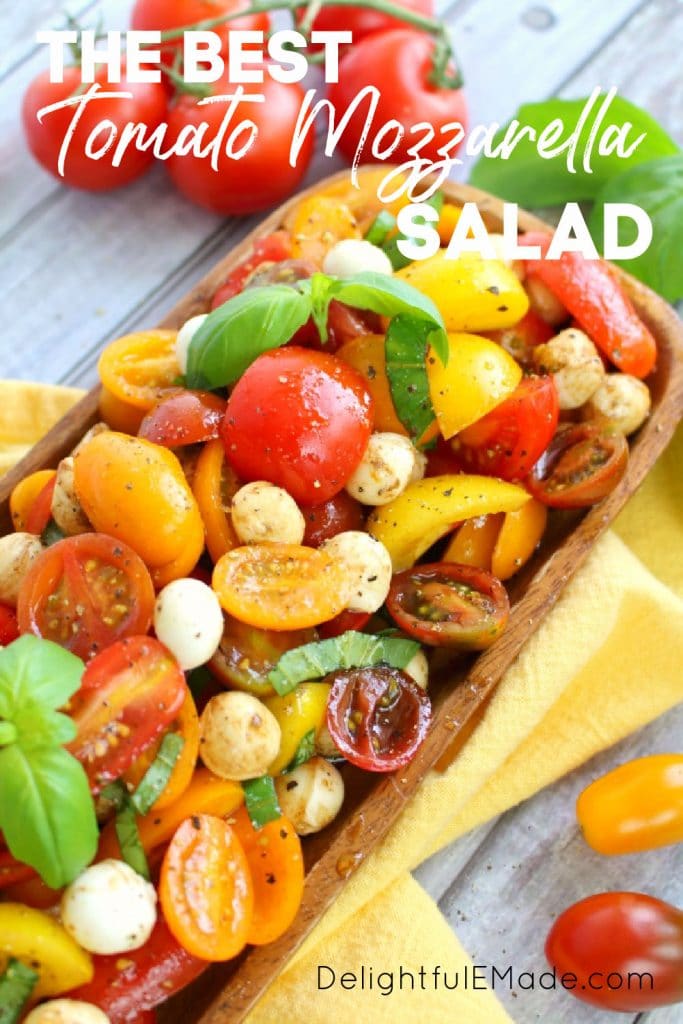 The BEST Italian Tomato Salad Recipe!
When the temps reach 90+ degrees, my dinner ambitions quickly go out the window. The idea of turning on the oven, or even heating up the outdoor gas grill is less than appealing. I tend to gravitate to salads like my Italian Chopped Salad and Grilled Salmon Salad that are substantial enough on their own, but light enough for a simple summer meal.
This Caprese Salad with Cherry Tomatoes definitely fits into this category and is the perfect summer salad to enjoy any time the mood strikes.
The best part of this salad is that it's incredibly simple to make. Since it's just 6 ingredients, it comes together in moments, making for a fantastic no-fuss side dish or even meal on its own.
Here are the simple steps to making this fantastic Tomato Basil Mozzarella Salad: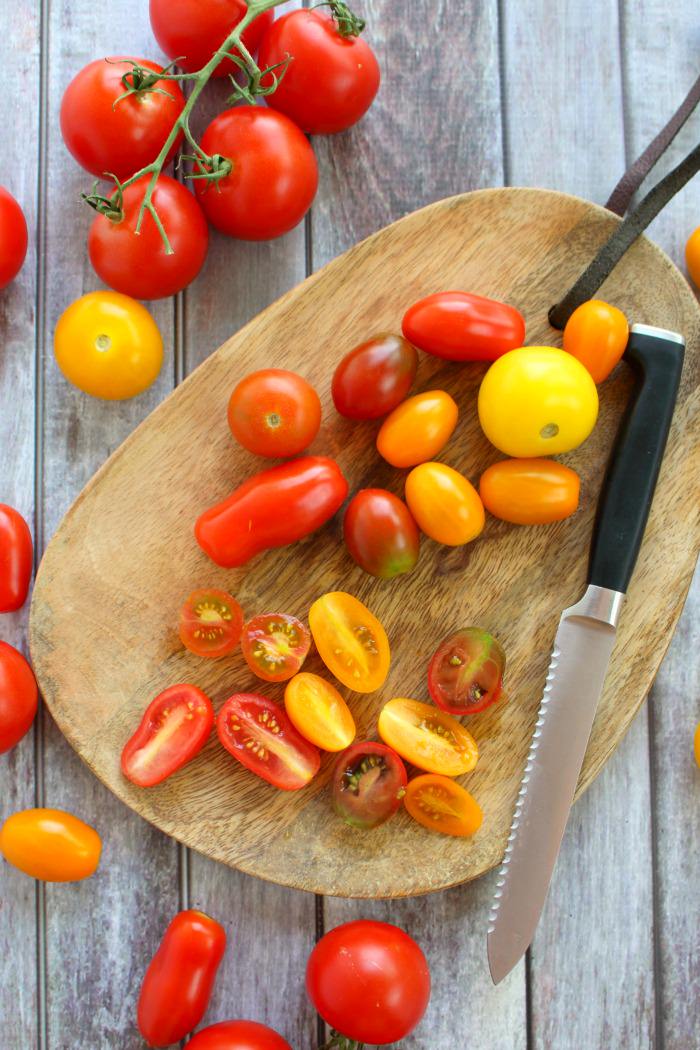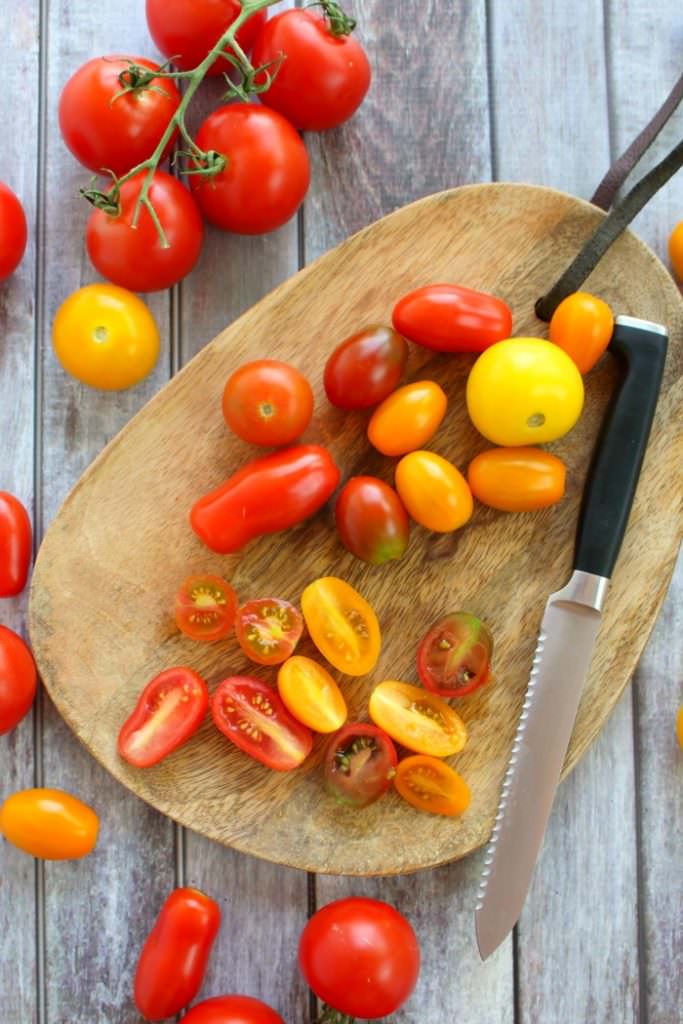 Step 1: Rinse and Slice Cherry Tomatoes
When selecting the tomatoes for this salad, you can go just about any direction you like. I chose some gorgeous tri-color cherry tomatoes, that were incredibly sweet and added some fantastic color. However, heirloom, plum, Roma or Campari are also delicious varieties that are great in this salad.
When cutting the tomatoes, halve or quarter the tomatoes. For larger tomatoes (like heirloom) simply cut into smaller wedges.
What's the best place to buy cherry tomatoes?
I've discovered that Costco carries cherry tomatoes all year. Check out my page for all the Things I Buy At Costco for Costco dinner ideas and Costco Meals. It's a great price for the size/container you receive.
During the summer months many farmers markets carry locally grown tomatoes, which always taste superb!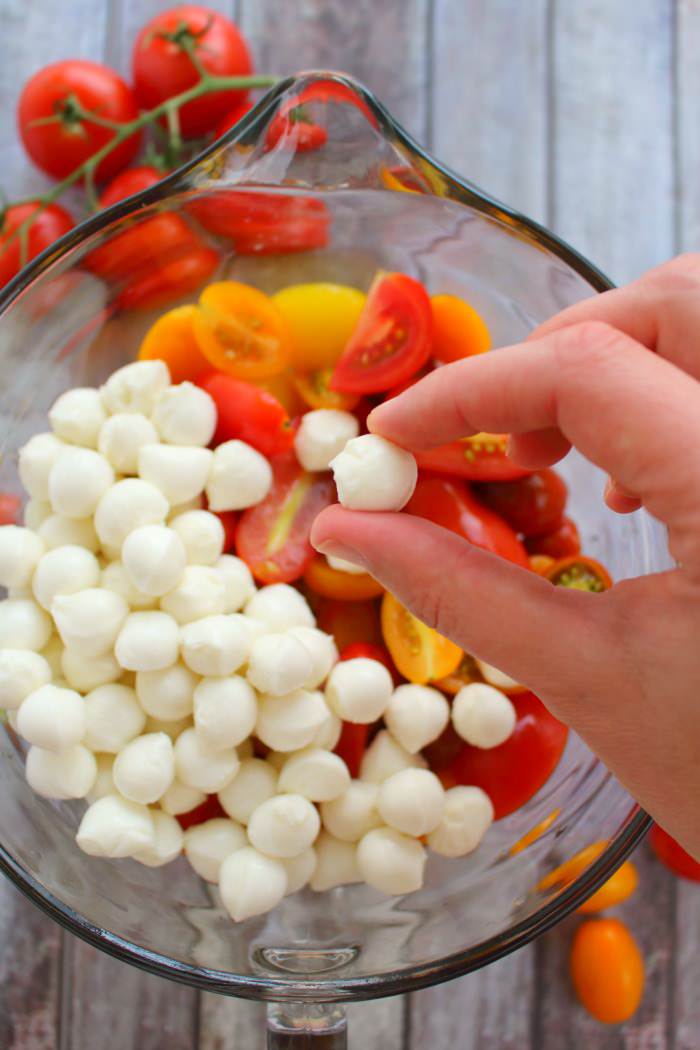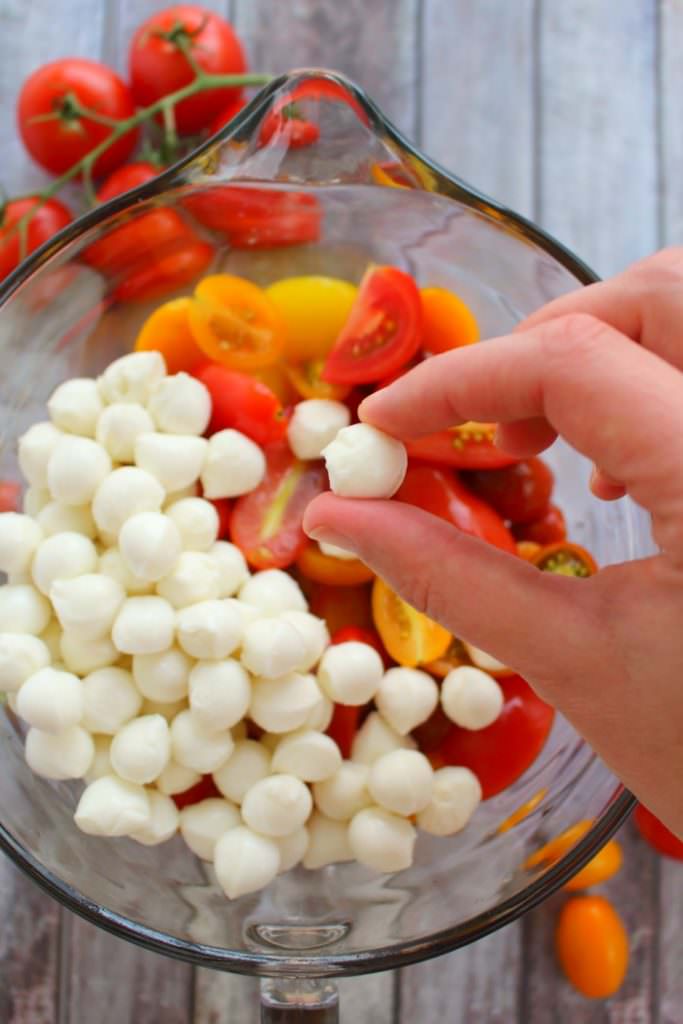 What mozzarella is best for Italian tomato salad?
For this tomato salad, I chose the small "pearl" sized mozzarella that can be found in most grocery stores. However, if the pearls are not available, you can use a ball of fresh mozzarella and cut into bite-sized pieces.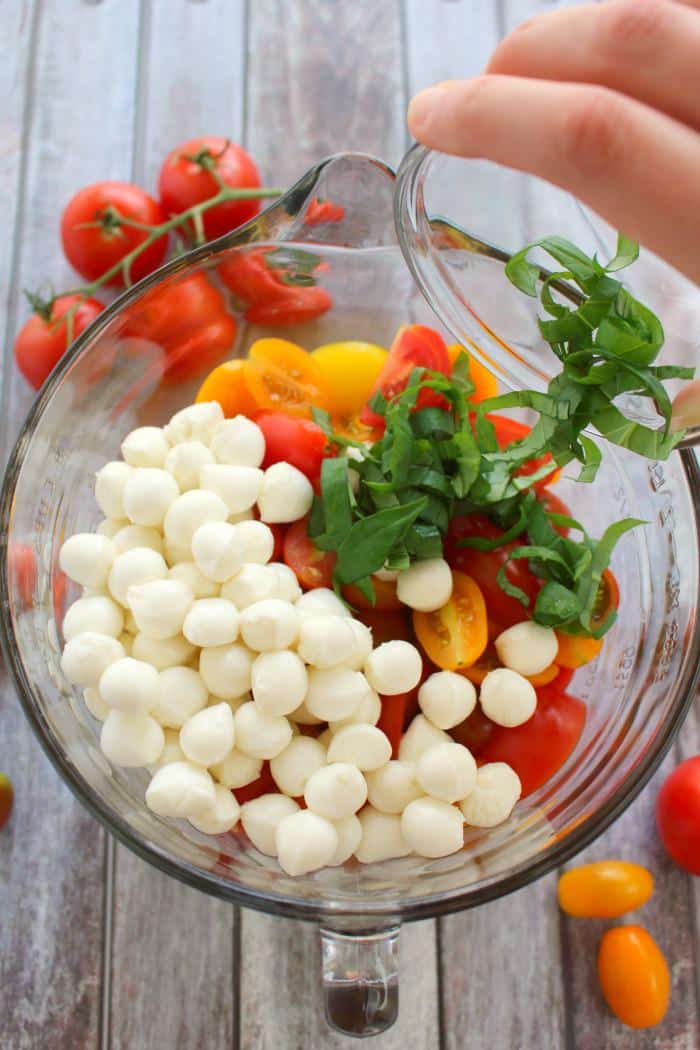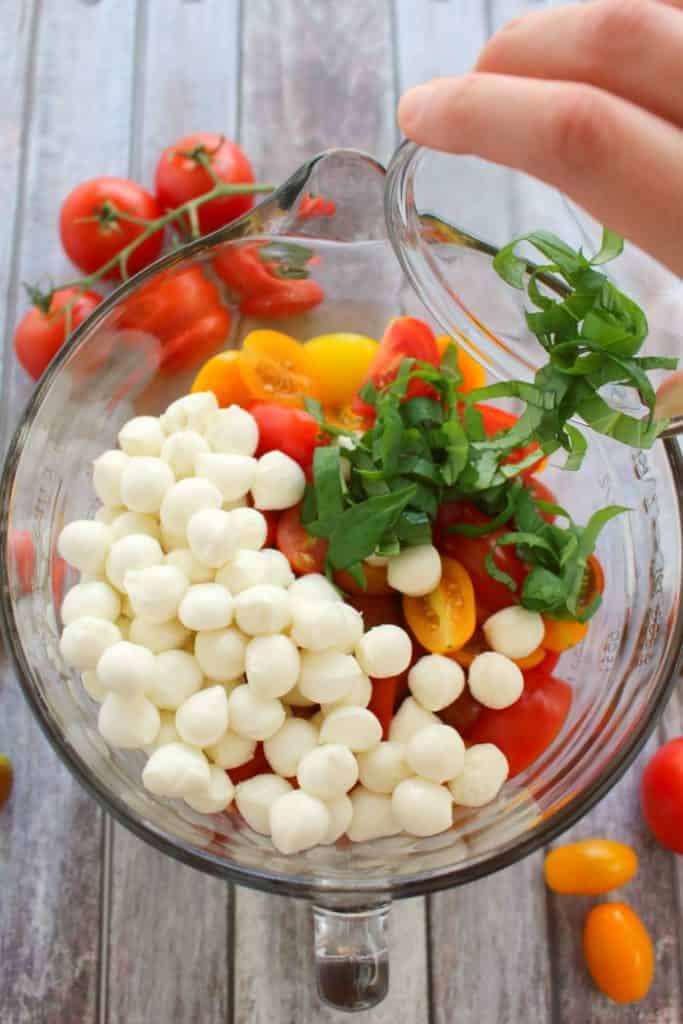 Where do I find fresh basil for caprese salad?
You can usually find basil year-round at most grocery stores. You can find it in the produce section where you would find the fresh herbs. During most summer months, basil is readily available at most local farmers markets.
For the basil, add about 6-8 medium leaves that have been sliced or torn into small pieces. I personally LOVE the taste and peppery aroma of basil, so I add quite a bit. Feel free to add the amount of basil that best suits your taste.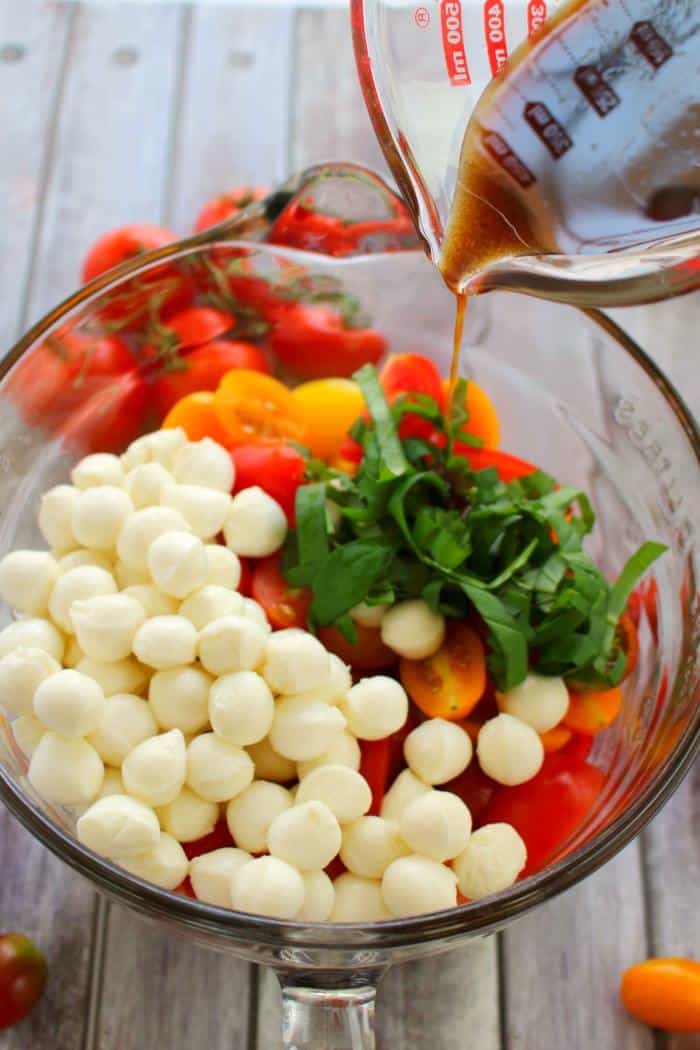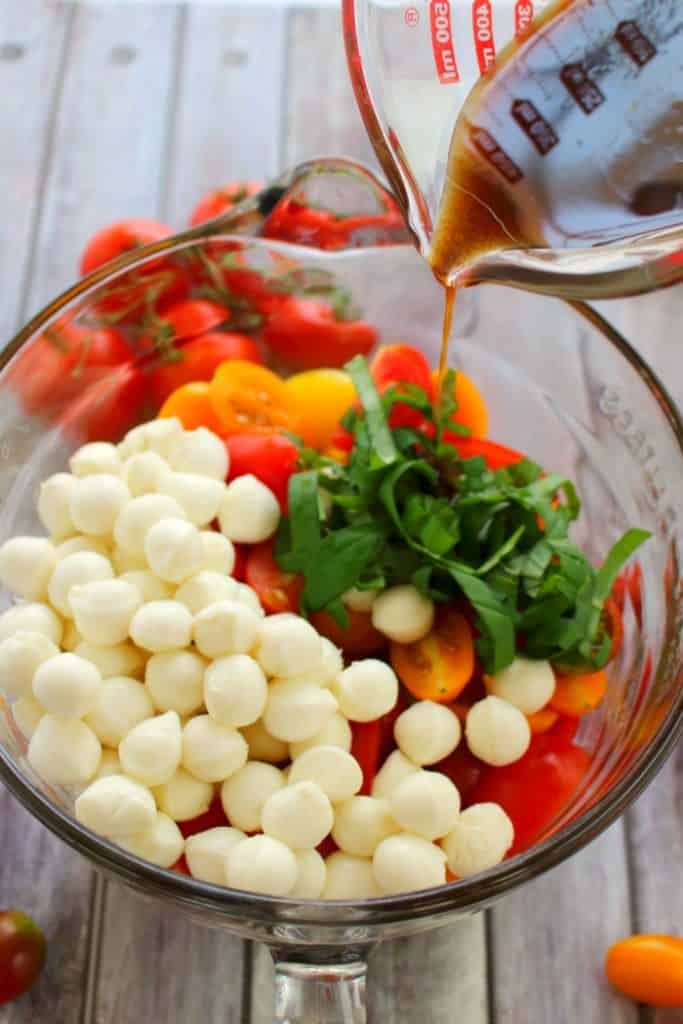 What dressing is best for caprese salad?
Balsamic dressing is idea for tomato basil mozzarella salad. It consists of olive oil, balsamic vinegar, and ground pepper.
To a small dish or measuring cup, pour in the olive oil, vinegar, and pepper and whisk. Occasionally, I'll also add a few grinds of salt or some minced garlic to the dressing, but it's certainly just an option.
After whisking the dressing together, pour over the tomatoes, cheese and basil and gently toss to coat.
Looking for some healthier homemade dressing recipes? Check these out: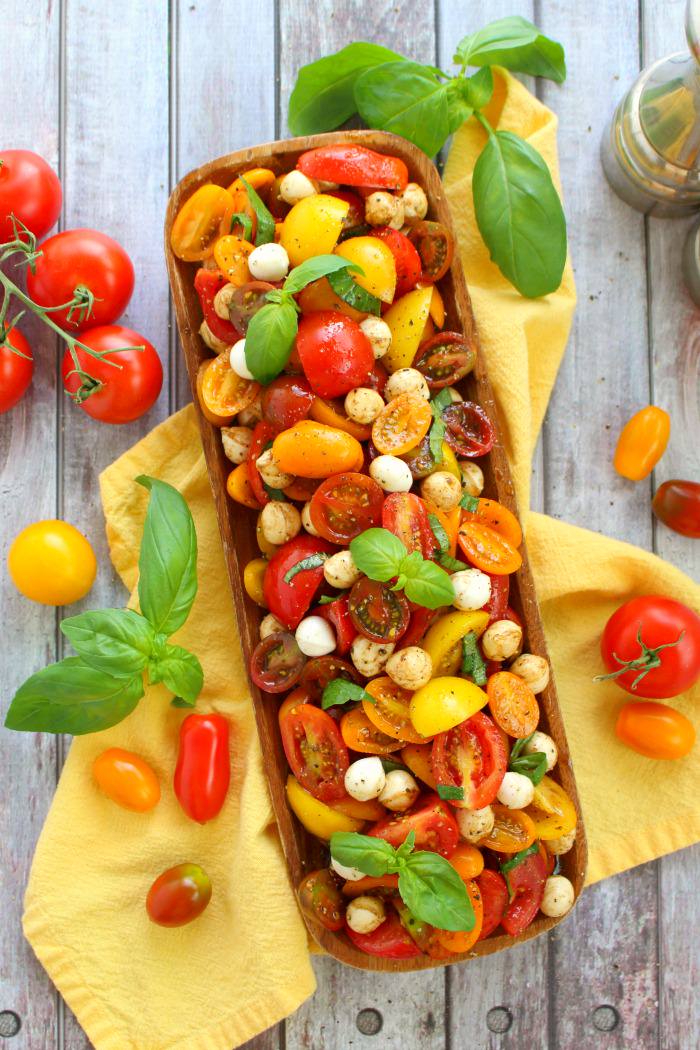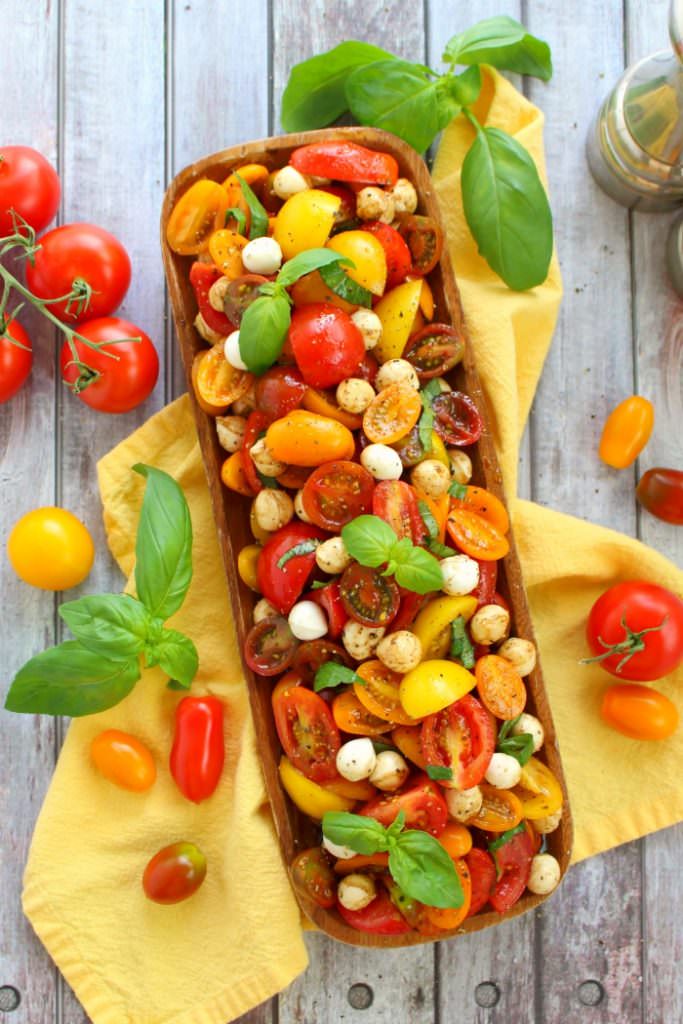 That's it – just 3 salad ingredients and 3 dressing ingredients and you'll have the most wonderful tomato basil mozzarella salad. We love enjoying this caprese salad with grilled steak, chicken, or pork chops and is great with your next pasta meal.
What goes well with caprese salad?
Grilled chicken, steak and pork chops are great served with this caprese salad with cherry tomatoes. It's also fantastic with almost any Italian pasta dish. Here are a few of my favorite recipes that go well with tomato basil mozzarella salad.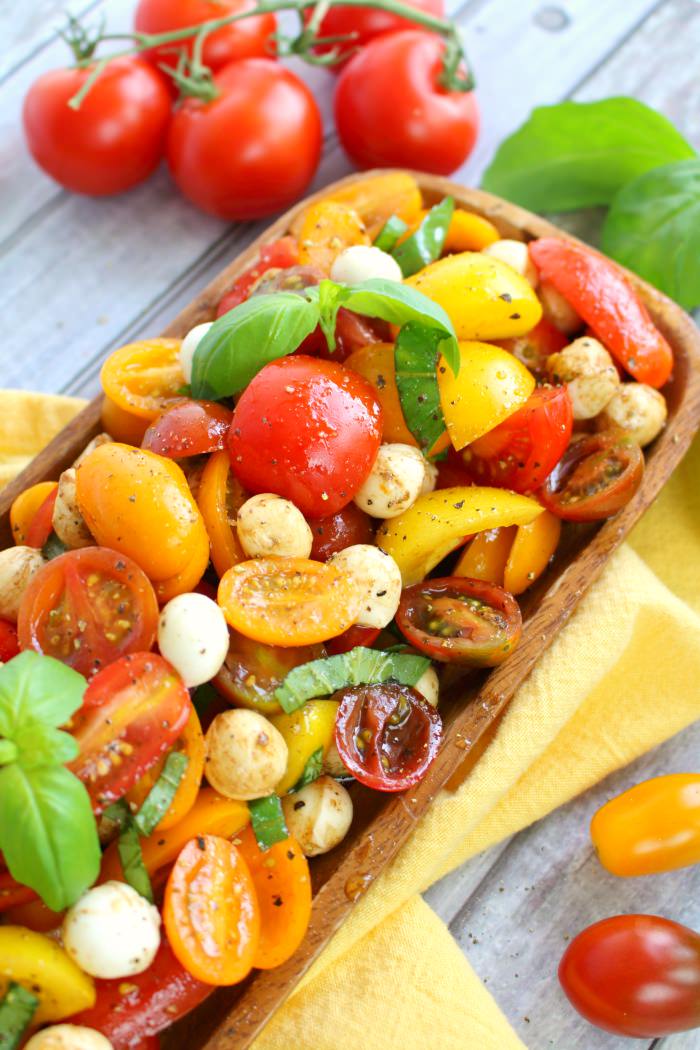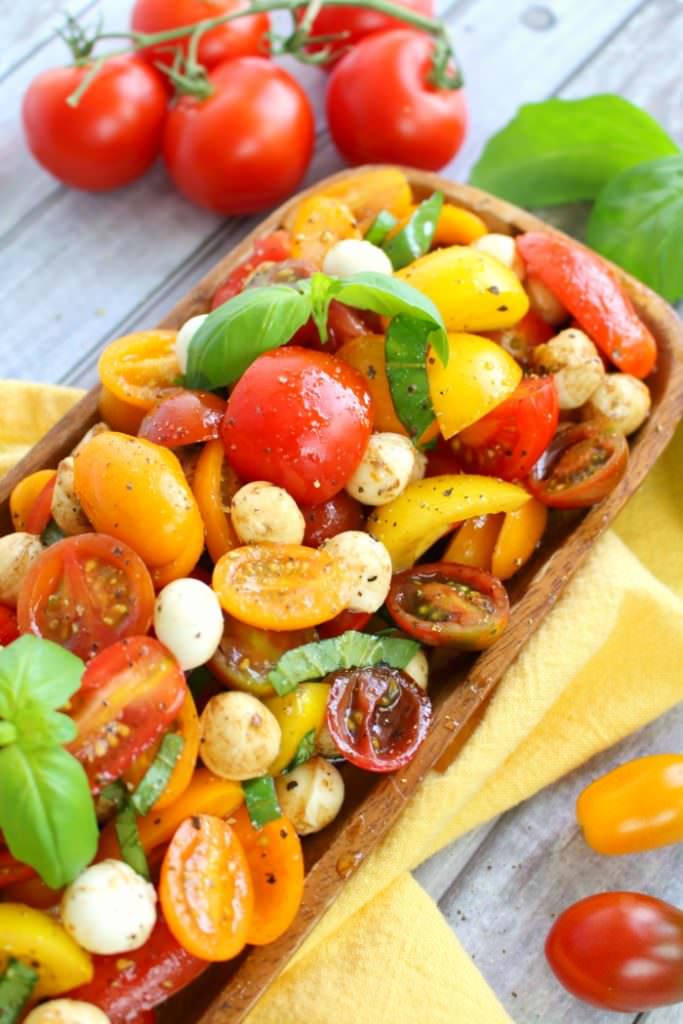 The next time you're at the farmers market or grocery store, be sure to pick up some of the summer's best tomatoes and basil. Those red, orange and golden tomatoes are loaded with flavor. When paired with fresh, fragrant basil and mozzarella you'll quickly discover a new summer favorite!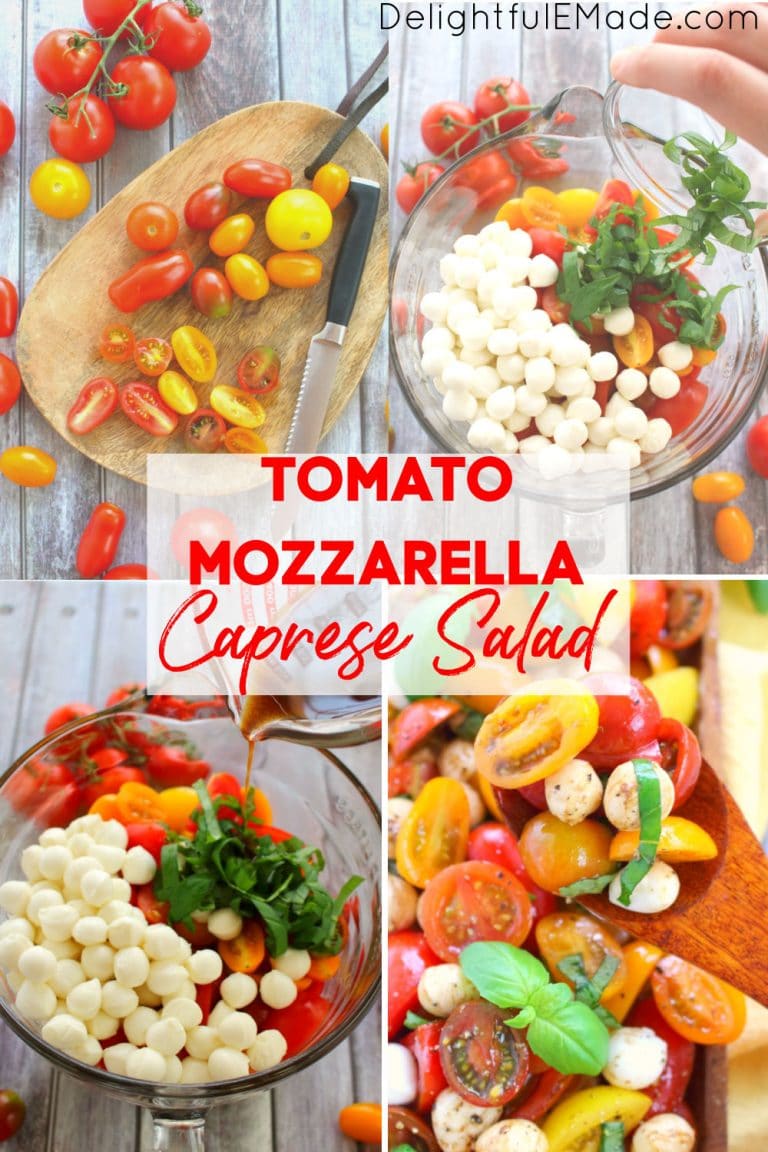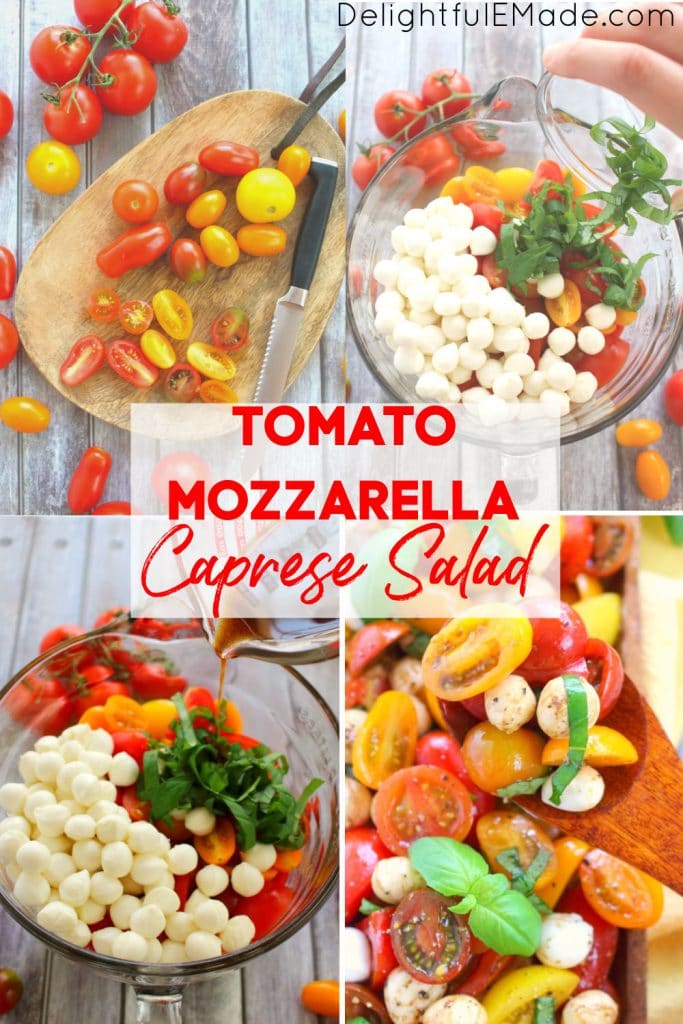 Here's a quick-reference shopping list of the ingredients you'll need to make this simple tomato salad:
Cherry Tomatoes – 2 pints, any color or assortment
Fresh Mozzarella – "pearl" size, if not available you can use any size of fresh mozzarella available
Fresh Basil Leaves
Balsamic Vinegar
Olive Oil
Ground Pepper
(For exact ingredient amounts and full recipe instructions be sure to reference the recipe card below. Thanks!)
Could you use more summer salad inspiration? Check out these delicious salad ideas:
Check out my video for how to make this delicious Tomato Basil Mozzarella Salad:
Here's the simple, easy and completely delicious recipe for this fantastic Italian Tomato Salad recipe: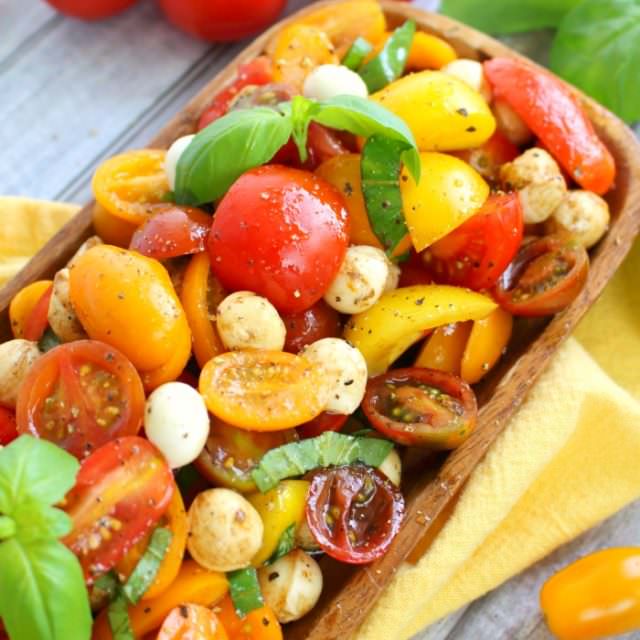 Italian Caprese Tomato Salad
With just 6 ingredients, this simple tomato salad recipe will be your new go-to summer side!  Made with fresh cherry tomatoes, mozzarella, basil and a 3-ingredient balsamic vinaigrette, this caprese salad takes just minutes to make and tastes incredible!
Ingredients
2 pints (about 24 oz.) Cherry Tomatoes, any color or assortment
1 (8 oz.) container, fresh mozzarella "pearls"
6-8 basil leaves, sliced or torn
Dressing:
1/4 c. olive oil
1/4 c. balsamic vinegar
fresh ground pepper (4-6 grinds)
Instructions
Slice all of the tomatoes in half, for larger tomatoes, slice into quarters. Add tomatoes into large mixing bowl. Drain the mozzarella of any liquid, and add the cheese to the tomatoes. Slice or tear the basil leaves and add to the tomatoes and cheese.
In a small bowl, add the olive oil, balsamic vinegar and pepper. Whisk to combine and pour over the salad. Gently toss the salad to coat all the ingredients.
Serve right away. Refrigerate any leftovers in an airtight container.
Notes
If you cannot find a container of mozzarella "pearls" you can use whatever size mozzarella you can find and cut into small bite-sized pieces.
Nutrition Information:
Serving Size:

1
Amount Per Serving:
Calories:

65
Total Fat:

4g
Saturated Fat:

1g
Sodium:

3mg
Carbohydrates:

9g
Protein:

1g