Easy Greek Tortellini Salad – the perfect Tortellini Pasta Salad!
Do you love a really amazing, tortellini pasta salad? My Easy Greek Tortellini Salad recipe is the perfect dish for your next cookout. Loaded with all of your favorite Greek ingredients, this cold tortellini salad will be the perfect side dish for just about any meal!
This post may contain affiliate links. Delightful E Made is a participant in the Amazon Services LLC Associates Program, an affiliate advertising program designed to provide a means for us to earn fees by linking to Amazon.com and affiliated sites.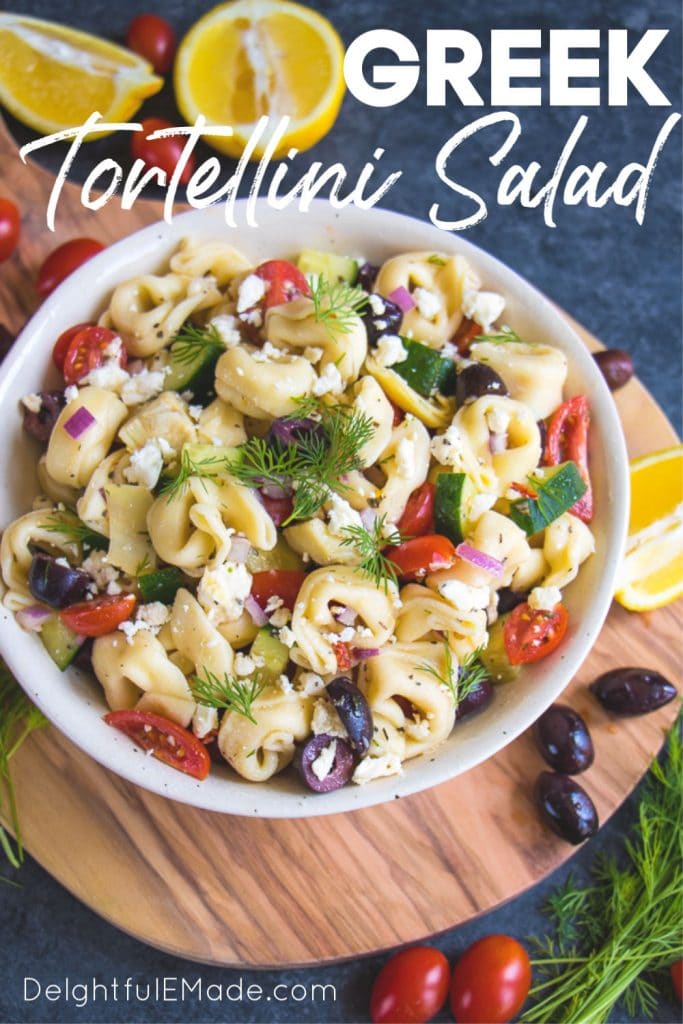 Whenever we have a neighborhood pot luck or an event where we bring something to share, my tortellini pasta salad is always at the top of my list. It's incredibly simple to make, it's loaded with fresh veggies and tender tortellini pasta, so it looks just as good as it tastes!
Like this recipe? Be sure to pin it to your SALAD board on Pinterest!
Follow DelightfulEMade on Pinterest for some of the very best Side Dish & Pasta Salad ideas!
Tortellini pasta salad is definitely fantastic for a pot-luck dinner or luncheon. Pretty much everyone loves pasta, and when fresh veggies, olives and feta cheese are added to the mix, you'll absolutely get asked for the recipe!
I crafted this recipe from my very popular Italian Tortellini Salad, and just made a few ingredient adjustments. Here's how it comes together:
Here are the easy steps to making this delicious tortellini pasta salad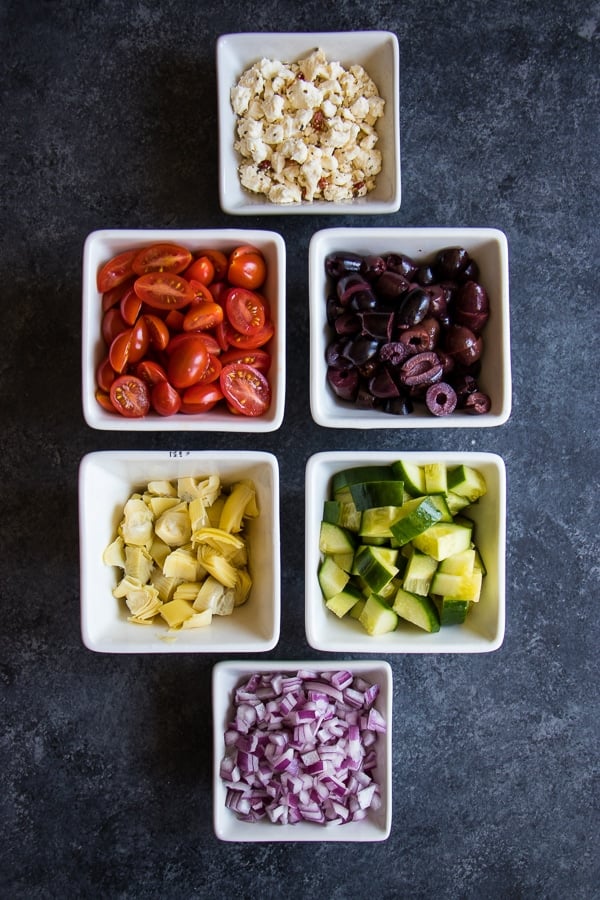 Step 1: Chop your ingredients
One of my favorite components to this amazing tortellini salad recipe are the crunch, savory veggies. They compliment the tender tortellini pasta perfectly and add some nice texture to the salad. The addition of feta cheese and Kalamata olives add a great Greek accent to the salad.
Feel free to add a savory or herb-flavored feta to your salad. I actually chose a sun-dried tomato and herb feta cheese which was wonderful! Additionally, feel free to substitute canned black olives if you cannot find Kalamata.
Pro-tip: Bring a pot of water to a boil and begin cooking your tortellini when chopping your vegetables. If you're using refrigerated or frozen tortellini, you'll need to cook the tortellini before adding it to your salad. This will give you time to let the pasta cool after cooking.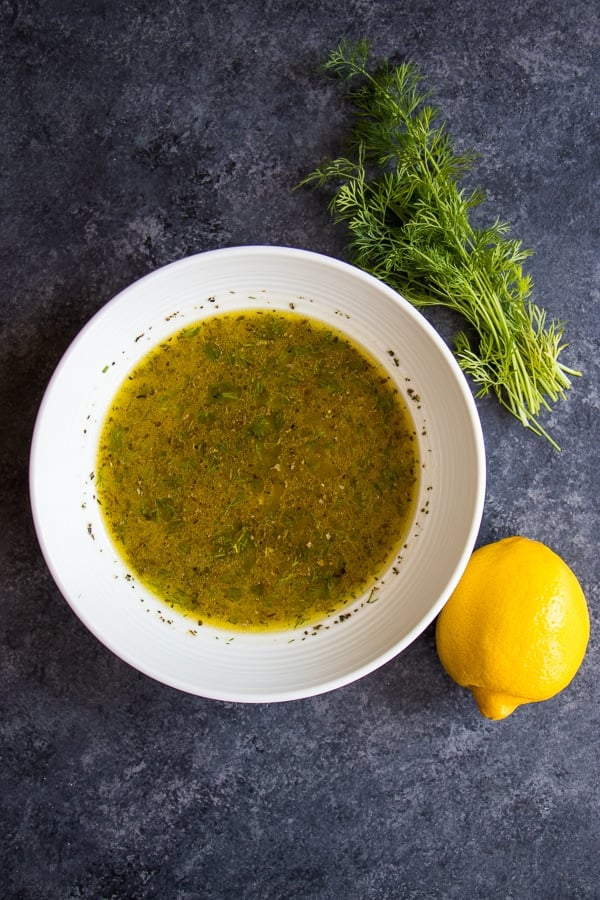 Step 2: Mix your dressing
I personally feel this dressing is what brings this salad together! Made with fresh lemons, olive oil, garlic, oregano, fresh dill, salt and pepper, it comes together quickly and easily. Get the full recipe for my Lemon Olive Oil Dressing here.
Useful Tool: We use and absolutely love this Stainless-Steel Citrus Juicer that we got from Amazon. (Amazon Affiliate Link) It's very durable and works well for both lemons and limes. Hello, fresh margaritas!!
I would highly recommend juicing fresh lemons. Leave the bottled stuff for the amateurs.
I'm a big advocate of making your own salad dressing versus buying the bottled stuff. The store-bought bottled stuff is loaded with sugar and highly toxic oils with mega-trans fats.
Along with this delicious lemon dill dressing, my Healthy Caesar Dressing my Homemade Italian Dressing, Honey Balsamic Dressing an Greek Yogurt Ranch Dressing are my go-to dressings.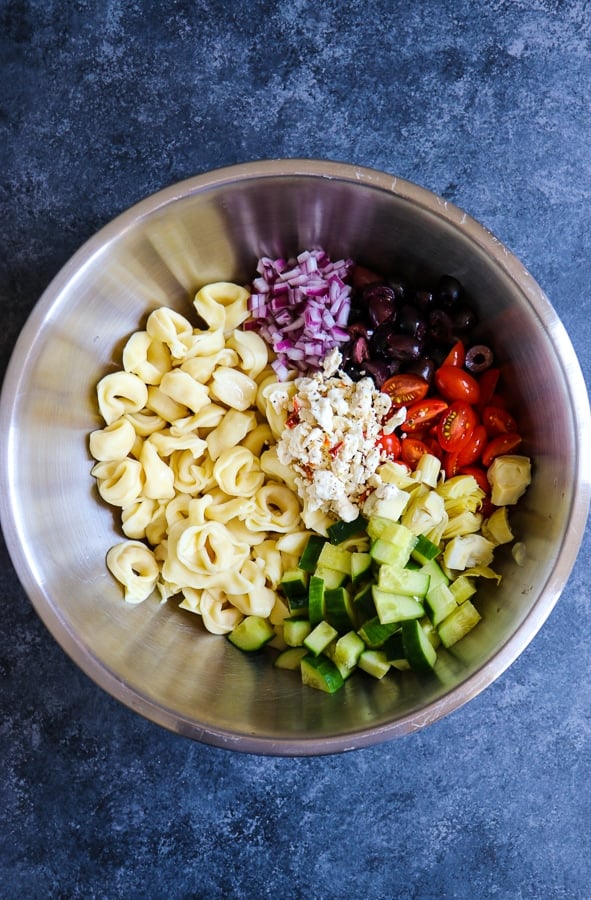 Step 3: Mix everything together with the tortellini
Once the tortellini is done cooking, drain and let cool in colander. Rinse with cold water to speed up the cooling process, if necessary.
Mix the tortellini pasta with the chopped vegetables and lemon dill dressing. Refrigerate for at least one hour.
I absolutely love my set of stainless steel mixing bowls. I use them almost daily! They come in various sizes, and best of all you can get them on Amazon!
Pro-tip: If you are making this salad a day ahead, reserve your dressing or make extra dressing to toss with the salad just before serving. Once the pasta is dressed it will absorb much of the dressing.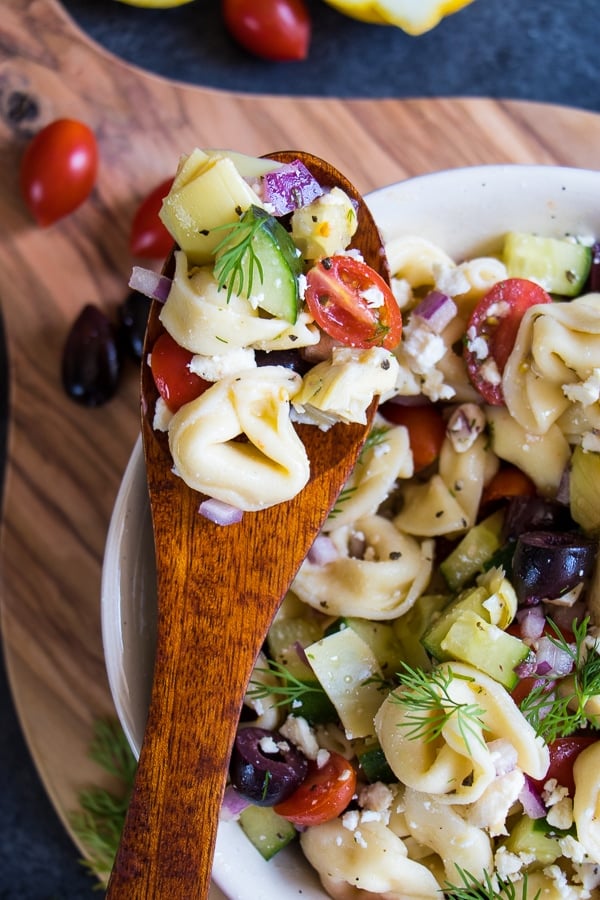 Enjoy this delicious tortellini at your next pot-luck, cookout or for a simple weeknight dinner! It's fantastic with grilled chicken, pork chops, steak, and even your favorite burger recipe. I've got some great grilling suggestions below!
Love cooking with tortellini? Check out our Chicken Tortellini Alfredo, and Creamy Tomato & Tortellini Soup.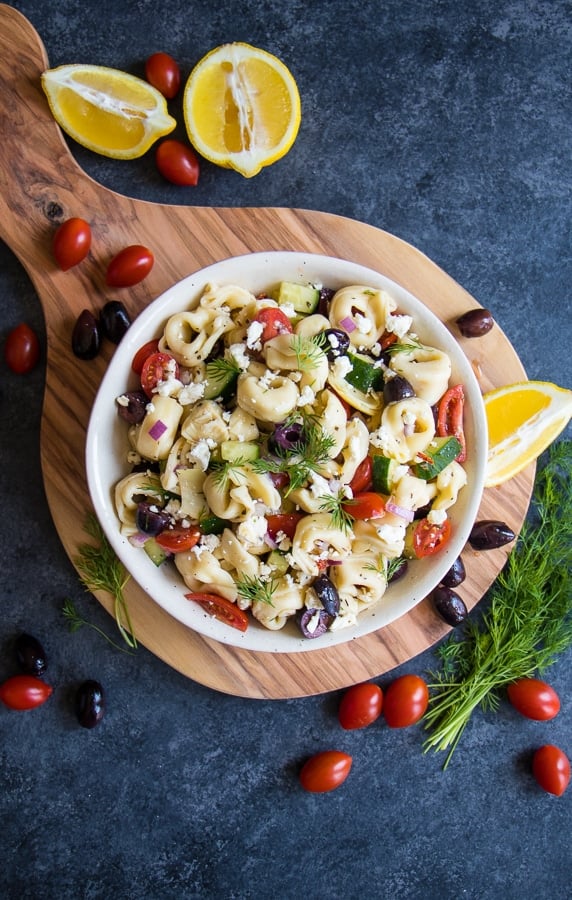 Tortellini Pasta Salad Q&A:
Can you make tortellini pasta salad the day before?
Yes, definitely! It's a great side dish to make the day before a party or pot-luck. Because the tortellini soaks up the dressing, I would recommend reserving the dressing or making an extra batch of dressing and keeping it in a separate container. Just before serving, add the addition dressing and toss together.
How long with tortellini salad keep in the refrigerator?
I wouldn't keep any leftovers for more than 5 days. Because of the feta cheese and the cheese inside the tortellini, the freshness of the pasta salad isn't as good as when it's first made.
Can you freeze Greek pasta salad?
No, I wouldn't recommend it.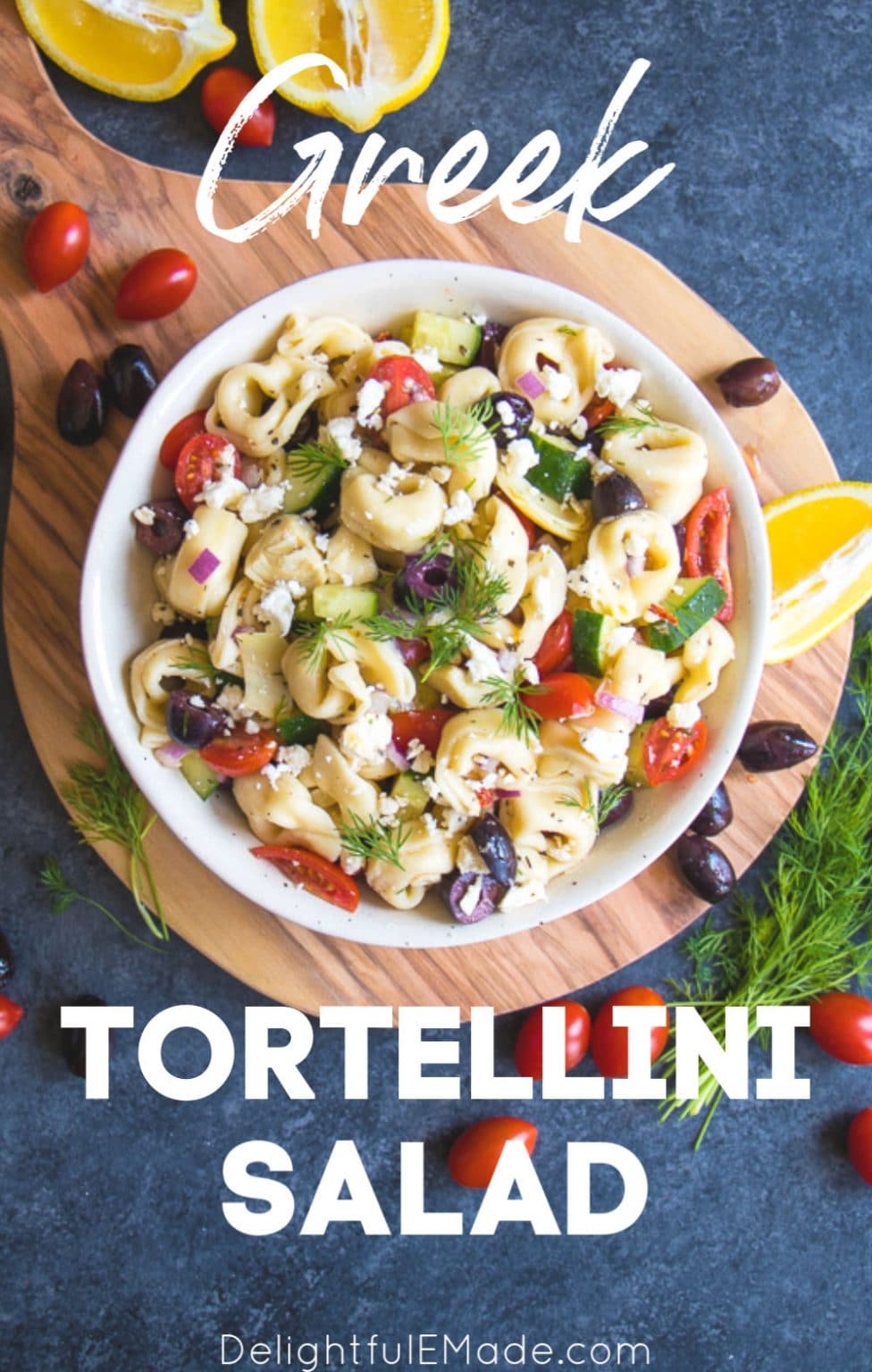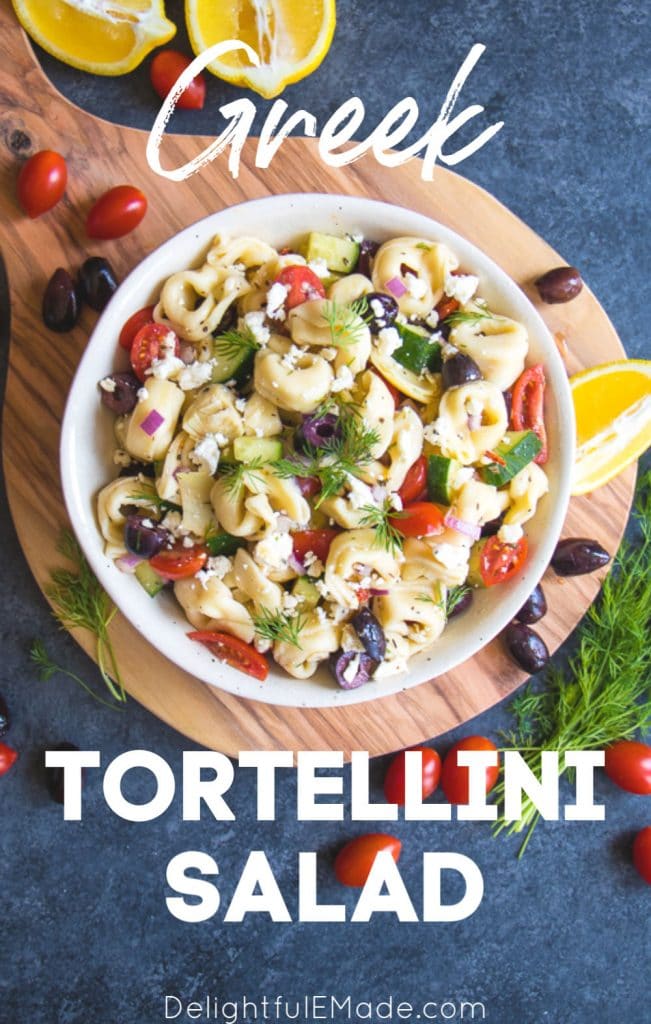 What goes with this Easy Greek Tortellini Salad recipe? I would recommend these:
Looking for other cold summer salad recipe ideas? Check these out:
Here's the recipe for my Easy Greek Tortellini Salad: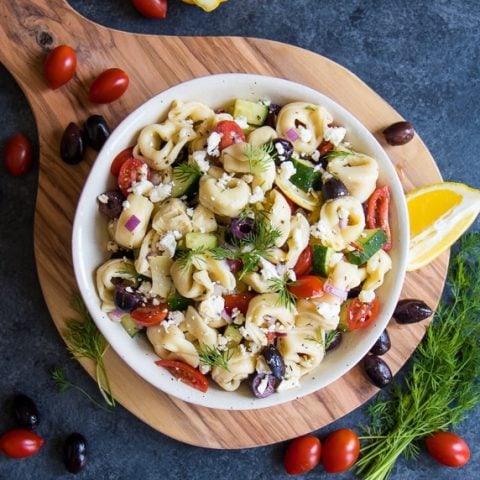 Easy Greek Tortellini Salad Recipe
Do you love a really amazing, tortellini pasta salad? My Easy Greek Tortellini Salad recipe is the perfect dish for your next cookout. Loaded with all of your favorite Greek ingredients, this cold tortellini salad will be your new side dish for just about any meal!
Ingredients
16 oz. frozen or refrigerated, cheese tortellini, cooked and cooled
1 c. cherry tomatoes, halved
1 c. Kalamata olives, halved
1 c. chopped artichoke hearts, canned or jarred
1 c. cucumber, thickly sliced and quartered
1/2 c. red onion, diced
1/2 c. feta cheese crumbles
Lemon Dill Dressing:
juice of two lemons (about 1/3 cup of juice)
4 Tbsp. olive oil
1 Tbsp. fresh dill, minced
1 tsp. minced garlic
1/2 tsp. dried oregano
salt and pepper to taste
Instructions
Bring a large pot of water to boil. Cook tortellini according to package directions. Drain and rinse. Let cool to room temperature.
Chop the tomatoes, cucumbers, olives, artichokes and onion. Add to a large mixing bowl along with the feta cheese crumbles.
Mix the dressing: In a medium bowl, whisk together the lemon juice, olive oil, garlic, oregano, dill, salt and pepper.
To the large mixing bowl of vegetables, add in the cooked and cooled tortellini and toss together with the lemon dill dressing. Make sure all ingredients are evenly coated. Refrigerate for at least one hour before serving.
Notes
If preparing this salad a day in advance, mix the dressing and reserve in a separate container. Dress the pasta salad just before serving.
Salad serves 8, 1 cup servings