Want a new way to enjoy turkey pinwheels? These healthy cranberry turkey roll ups are just as easy to make as they are pretty to look at. Made with simple ingredients that you likely already have, these healthy turkey wraps make a great appetizer for a holiday party or a healthy lunch option for yourself!
This post may contain affiliate links. Delightful E Made is a participant in the Amazon Services LLC Associates Program, an affiliate advertising program designed to provide a means for us to earn fees by linking to Amazon.com and affiliated sites.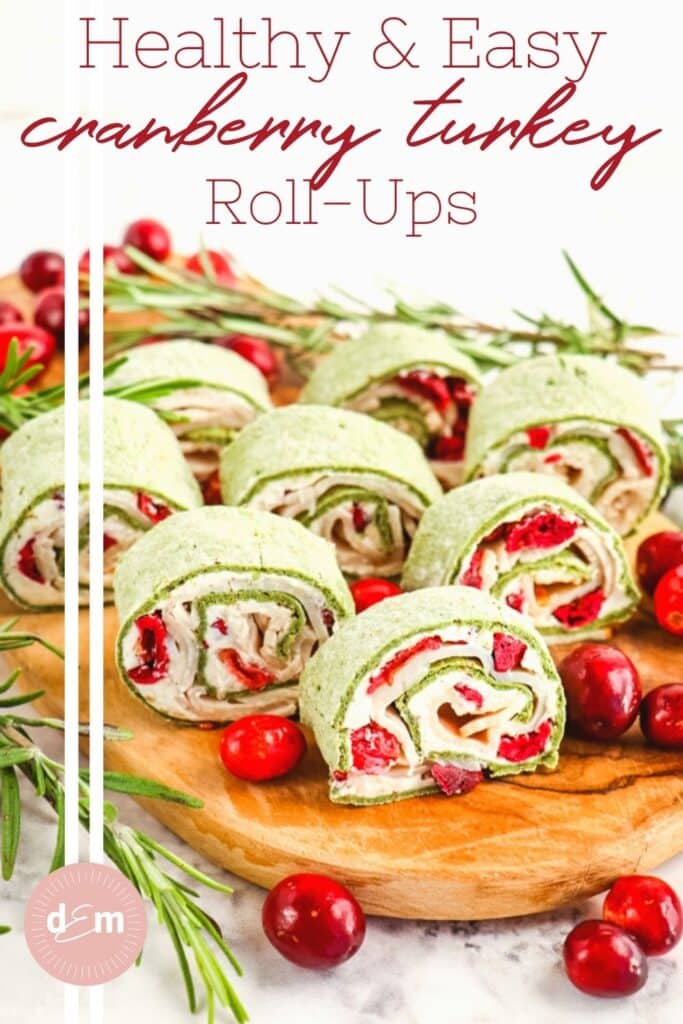 Do you love turkey pinwheels from Costco? I can do you one better with these cranberry turkey roll ups! With bright red dried cranberries and green spinach wraps, they make the perfect EASY holiday appetizer.
With just 4 ingredients, plus spices these healthy turkey wraps can also be made as a healthy lunch option for yourself. Just 5 minutes is all you need to make this healthy alternative to a turkey sandwich.
What you'll need to make this recipe:
Low carb wraps – I like these Spinach Flat Outs (green) or La Banderita Low Carb Wraps
Cream Cheese – feel free to use regular or low fat
Sliced Turkey Breast – look for good quality deli turkey made without nitrates or nitrites.
Dried Cranberries – look for low sugar, or better yet, make your own homemade dried cranberries.
Spices to season the cream cheese – keep it simple with salt, pepper and Italian seasoning
For exact ingredient amounts and full recipe instructions be sure to scroll down to the bottom of the post for the recipe. Thanks!
Choose your wraps and stir together the cream cheese spread:
The first step in making these turkey pinwheels is to choose a wrap. I like the two above: Spinach Flat Outs and La Banderita Carb Counter Wraps. Both are low in calories, net carbs and are a great option if you're looking to make a lighter appetizer or lunch option for yourself.
Next, mix together your cream cheese spread. To cover one regular sized wrap, you'll need 2 tbsp. of cream cheese. For optimal spreading, let your cream cheese come to room temperature. You can also use whipped cream cheese that's a little more spreading-friendly. To season the cream cheese, I like to keep it simple with just salt, pepper and Italian seasoning.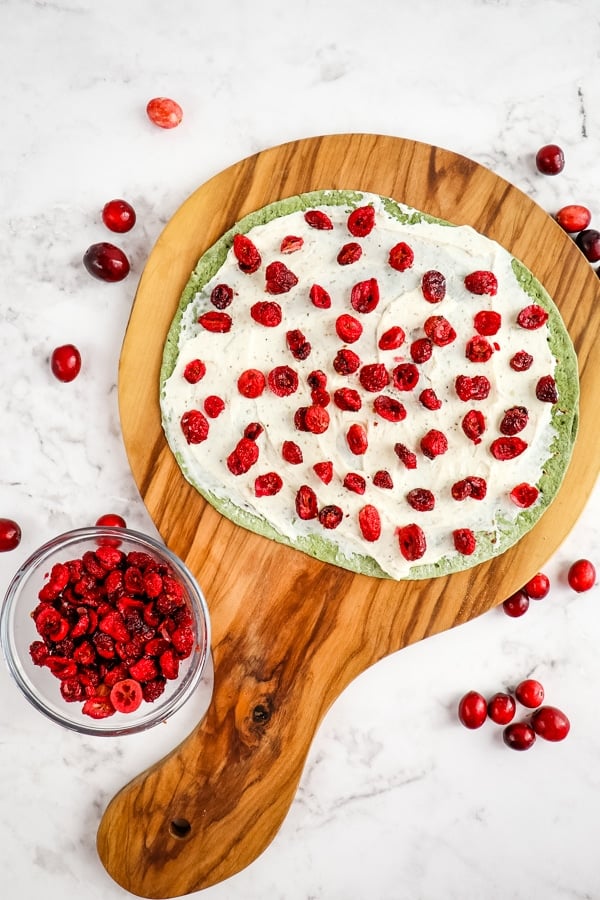 Next steps to building your turkey roll ups:
Spread the seasoned cream cheese spread on to the wrap. Then, sprinkle about 2 tablespoons of dried cranberries on top of the cream cheese.
Top the cream cheese and cranberries with the sliced deli turkey. These turkey wraps are also fantastic with leftover Thanksgiving turkey. Check out my tutorial for How to cook a Moist and Juicy Turkey.
If you love dried cranberries, check out my recipe for Cranberry Chicken Salad.
Frequently asked questions about making turkey pinwheels:
Are turkey wraps good for you?
Yes, they can be. Make sure to choose a wrap that has good quality ingredients, is low in refined sugar, and limits inflammatory oils.
Which wraps are the healthies?
I like Flat Out brand wraps, as well as La Banderita carb counter wraps. These are both low in calories, carbs, and contain protein.
Are spinach wraps healthy?
Not really. Many commercially produced wraps are high in calories, carbs, sugar and and made with unhealthy, inflammatory oils. Look for a healthier option like Flat Out or La Banderita.
Are wraps healthy for weight loss.
Yes, they can be. When wraps are paired with lean protein, good fats and fiber, they can be a great addition to a healthy diet that promotes weight loss.
What can I add to turkey pinwheels?
Adding vegetables, like spinach, shredded carrots, cucumbers or bell peppers are a great way to add fiber and color to a turkey roll up.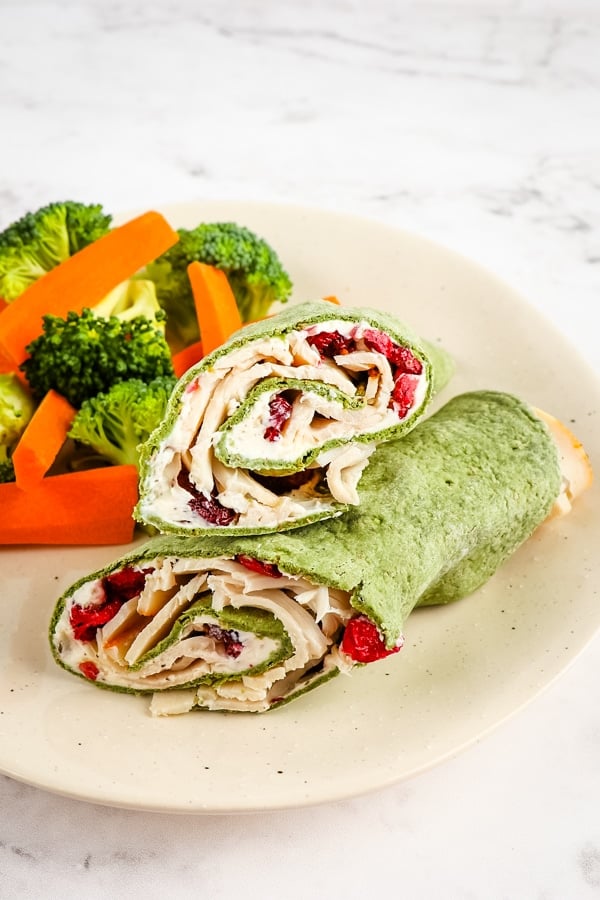 Making yourself a healthy lunch:
If you're making these turkey wraps for yourself, feel free to slice 'em up any way you like.
These turkey roll ups refrigerate well and will keep for a couple days, refrigerated in an airtight container. I like to meal prep these with fresh vegetables and some added protein from cottage cheese.
Looking for some other ways to eat healthy? Check out these great resources:
Don't have much time to make your own healthy snacks? Check out my list of the 30 Best Healthy Target Snacks. These are fantastic healthy snack ideas that you can grab and go when shopping at Target.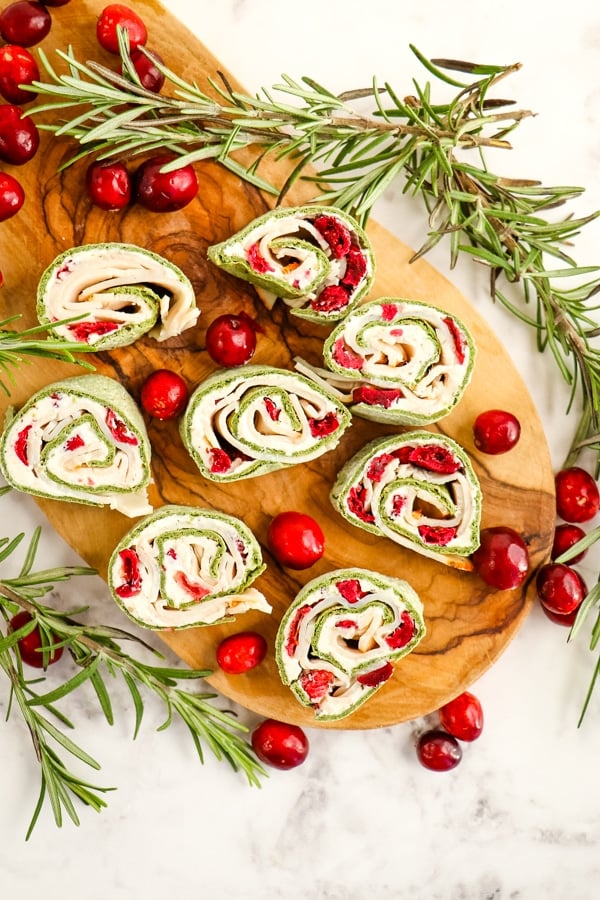 If you loved this recipe, check out some of these other similar posts: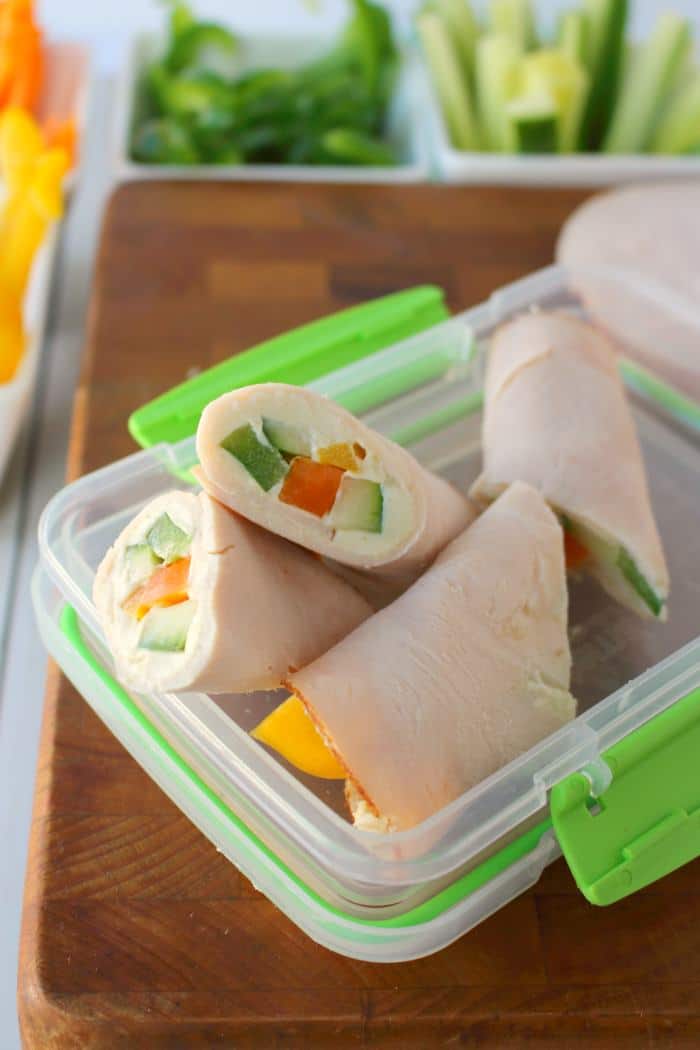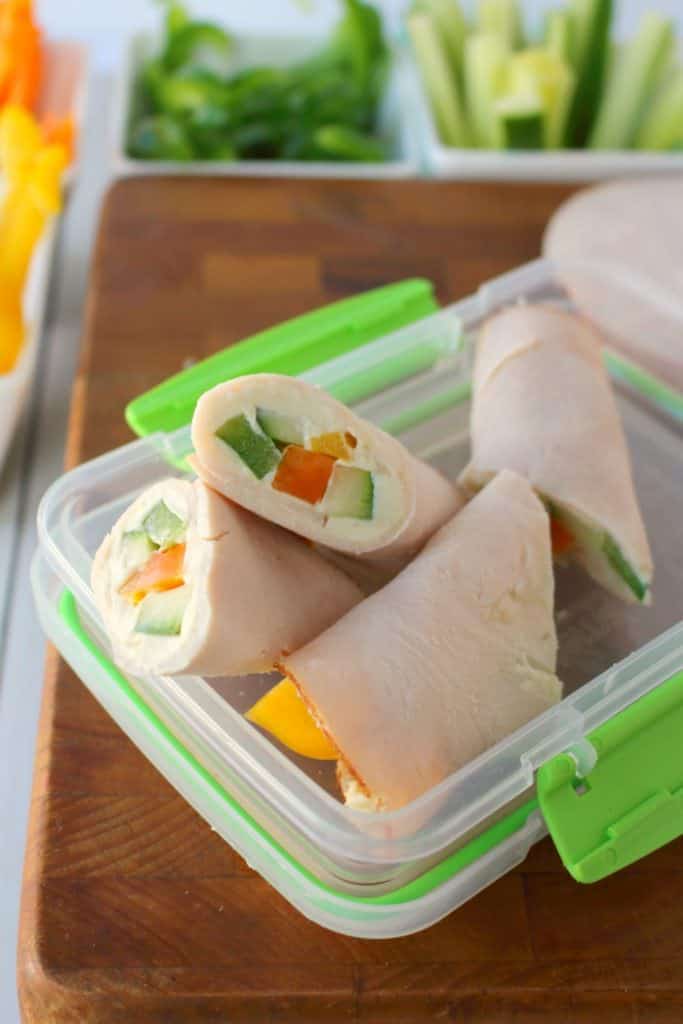 ---
---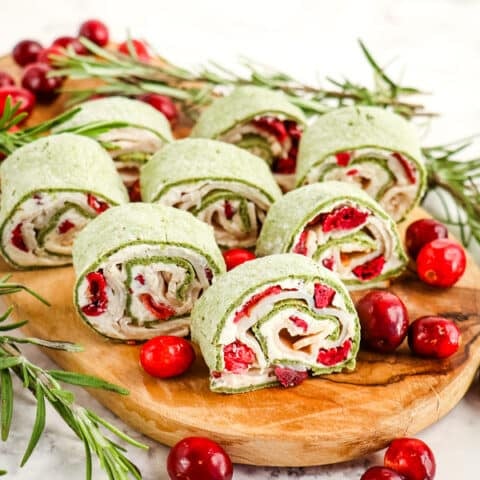 Cranberry Turkey Roll Ups
Yield:
1 lunch-sized wrap or 8 mini pinwheels
If you love turkey pinwheels then these cranberry turkey roll ups are for you! Made with just 4 ingredients plus spices, this healthy turkey wrap recipe is a great lunch option or easy holiday appetizer!
Ingredients
1 8" low carb wrap
2 oz. sliced deli turkey
2 Tbsp. cream cheese, softened
2 Tbsp. dried cranberries
1/8 tsp. garlic salt (or just a sprinkle)
1/8 tsp. ground pepper (or just a sprinkle)
1/8 tsp. Italian seasoning (or just a sprinkle)
Instructions
In a small bowl, mix together the cream cheese, salt, pepper, and Italian seasoning. Spread the cream cheese mixture on to the wrap.
To the wrap with cream cheese, sprinkle with the dried cranberries, and top with the sliced turkey.
Roll somewhat tightly from one end to the other, taking caution to not tear or break the wrap.
Slice with a sharp knife and serve right away.
Notes
Serving as an Appetizer: these can be sliced and refrigerated for up to 8 hours in advance. Store in an airtight container.
Enjoying as a individual wrap/lunch/snack: the wrap can be assembled and refrigerated overnight. Refrigerate in an airtight container.
Nutrition Info:
Lunch serving/single wrap = 296 calories
Mini Turkey Pinwheels (1 wrap cut into 8 pinwheels) = 37 calories/pinwheel
Nutrition Information:
Yield:

1 lunch serving
Amount Per Serving:
Calories:

296
Total Fat:

19g
Carbohydrates:

20.1g
Sugar:

3g
Protein:

17g