Love a fresh, delicious margarita? This blackberry margarita recipe definitely does not disappoint. Made with just 4 simple ingredients, this blackberry margarita is great on-the-rocks or frozen.
This post may contain affiliate links. Delightful E Made is a participant in the Amazon Services LLC Associates Program, an affiliate advertising program designed to provide a means for us to earn fees by linking to Amazon.com and affiliated sites.
A margarita is a classic tequila-based cocktail made with lime juice and Cointreau. This blackberry margarita recipe is flavored with fresh, muddled blackberries. This margarita recipe can be made either frozen/blended or on-the-rocks.
Margaritas are a great warm-weather drink. Served cold, this is a great cocktail for cooling off on a warm summer evening. A margarita is also the idea cocktail for serving during Cinco de Mayo, which is May 5th.
What do I need to make a blackberry margarita?
Tequila – there are numerous tequila brands on the liquor store shelf. Choose the best quality tequila that you can afford. We like Herradura Reposado (pictured below).
Cointreau – we prefer using Cointreau, which is an orange liqueur. The orange balances out the tartness of the lime juice perfectly. If you don't have Cointreau, you could also use Triple Sec.
Fresh lime juice – in our experience, fresh-squeezed lime juice is ideal for margaritas. However, if you're making large batches feel free to purchase bottled lime juice. When buying limes, budget at least 1 lime per drink, plus any slices you'll want for garnishes and rimming glasses.
Fresh blackberries – using fresh blackberries is idea for this blackberry margarita recipe. If fresh are unavailable, grab a bag of frozen blackberries from the frozen fruit section.
For exact ingredient amounts and full recipe instructions be sure to scroll down to the bottom of the post for the recipe. Thanks!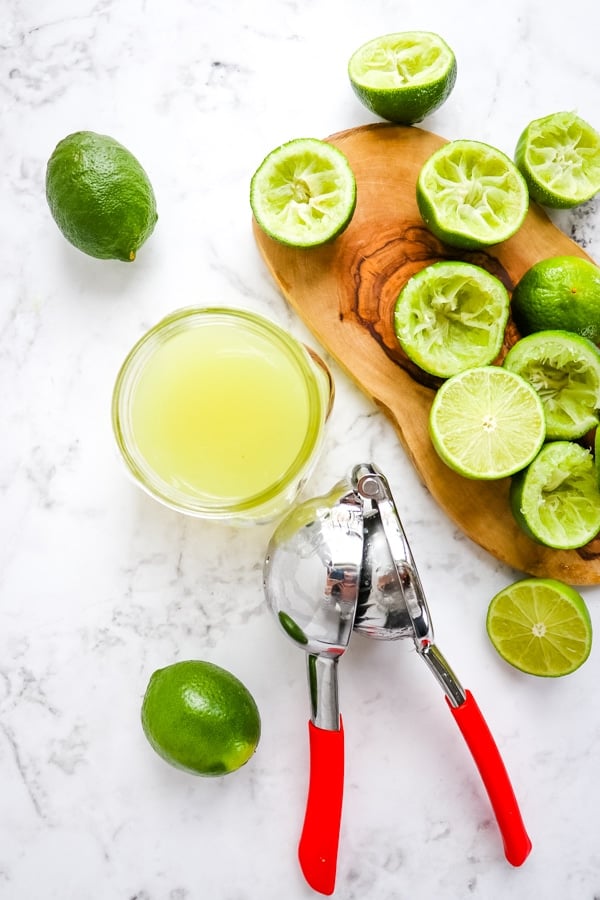 How do I make a margarita?
To make a margarita, start with a cocktail shaker filled with ice. Add the fresh lime juice, tequila and Cointreau. Add a tight fitting lid to the cocktail shaker, and shake vigorously. Pour into a glass with a salted rim, filled with ice. Enjoy right away while cold.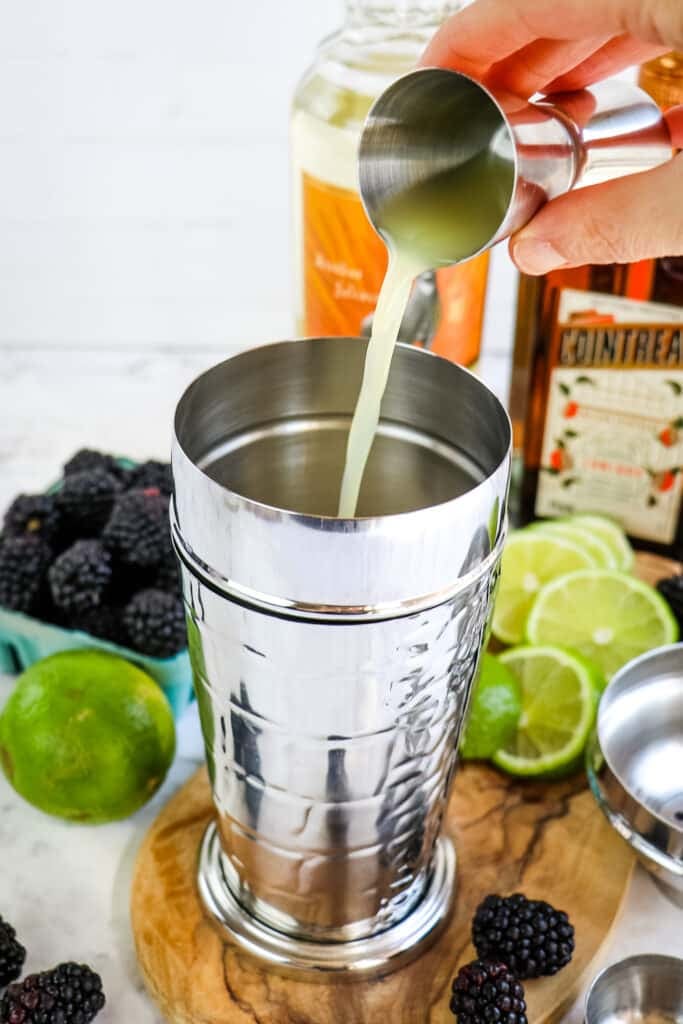 For making a blackberry margarita, first add the lime juice and fresh blackberries to the cocktail shaker. Muddle the blackberries with the juice. To muddle means to crush or break apart.
Add the tequila and Cointreau to the juice and blackberries. Add ice to the cocktail shaker. Place a tight fitting lid on to the cocktail shaker and shake vigorously to mix the cocktail.
Strain into a glass that has been filled with ice. Enjoy the cocktail topped with lime slices and fresh blackberries.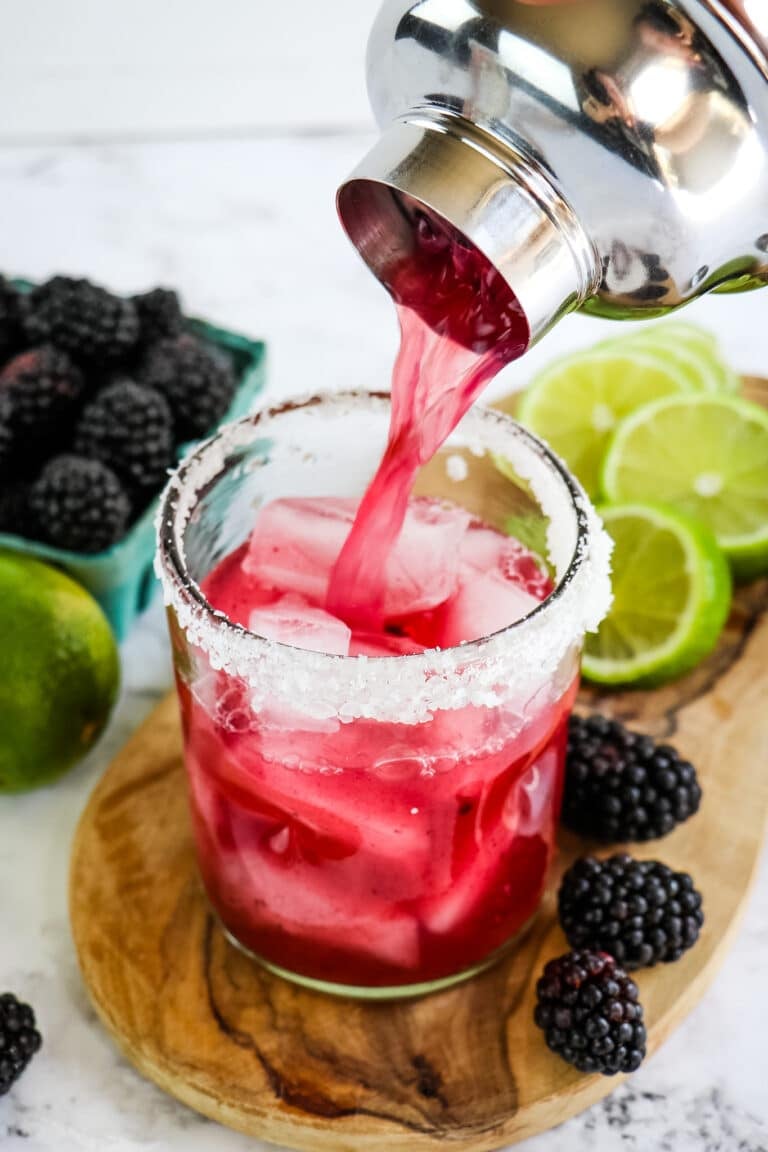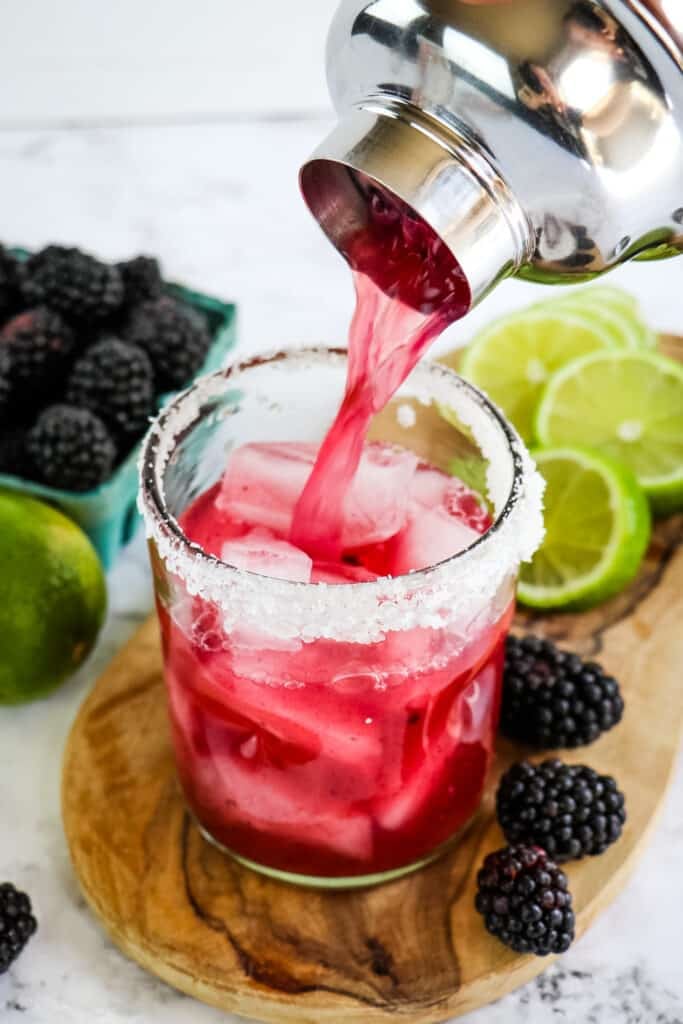 Frequently asked questions about making margaritas:
Do you need simple syrup to make a margarita?
No, you do not need simple syrup to make a margarita.
What kind of alcohol is a margarita?
Margaritas are a tequila based cocktail. We like and prefer Herradura Reposado Tequila for our margaritas. There are many other brands out there – choose the best quality tequila you can afford.
What is better in a margarita Cointreau or Triple Sec?
We prefer Cointreau in a margarita. Cointreau is a orange citrus liqueur, made with sweet and bitter orange citrus rinds. It adds some great richness and mild citrus flavor that pairs perfectly with the lime juice in a margarita.
Triple Sec is also appropriate for a margarita. It is not as strong – Cointreau is approximately 40% stronger than Triple Sec.
What ingredients do you need to make a margarita?
The base ingredients for a margarita are Tequila, Cointreau (or Triple Sec), and fresh lime juice. The ratio for these is 2:1:1, 2 parts tequila, 1 part Cointreau, and 1 part lime juice.
How many calories are in a blackberry margarita?
This blackberry margarita has 240 calories and 0 g of added sugar.
Restaurant margaritas are typically are very calorie and sugar heavy. For example, the Texas Roadhouse Raspberry Margarita has a whopping 470 calories and 76 grams of sugar. That is the equivalent of 19 teaspoons of sugar!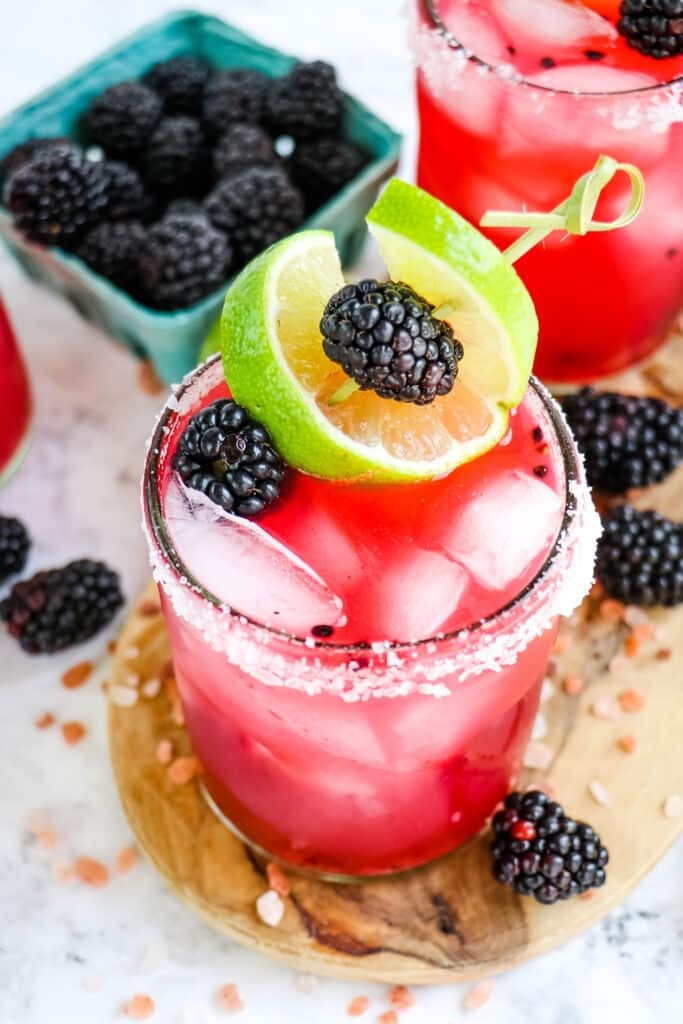 How do I salt a rim?
To salt the rim of your glasses for margaritas, run a lime wedge around the rims of the glasses. Dip the glasses into kosher or margarita salt. Lastly, fill the glasses with crushed or cubed ice. Add some lime slices to the glasses, if you prefer.
I'm using Jose Cuervo Margarita Salt for these margaritas. It comes in a convenient round, flat container that makes it useful for rimming the edges of your margarita glasses.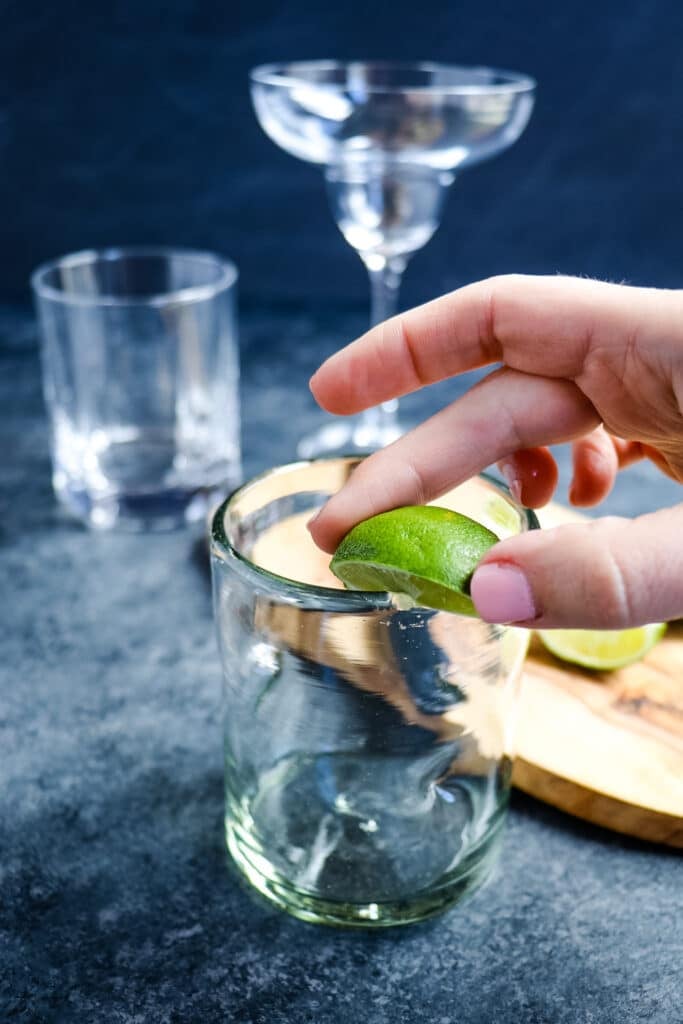 What do I serve with margaritas?
Margaritas are great served with just about any Tex-Mex fare. Here are some of our most popular dips, appetizers and main dish recipes that would be perfect with this blackberry margarita:
---
---
If you loved this margarita recipe, check out our other easy homemade margarita ideas: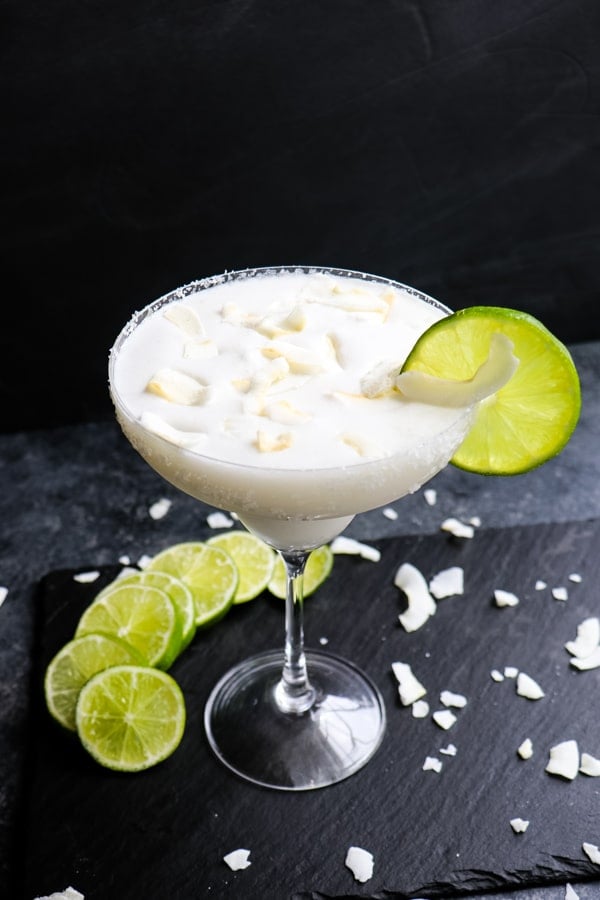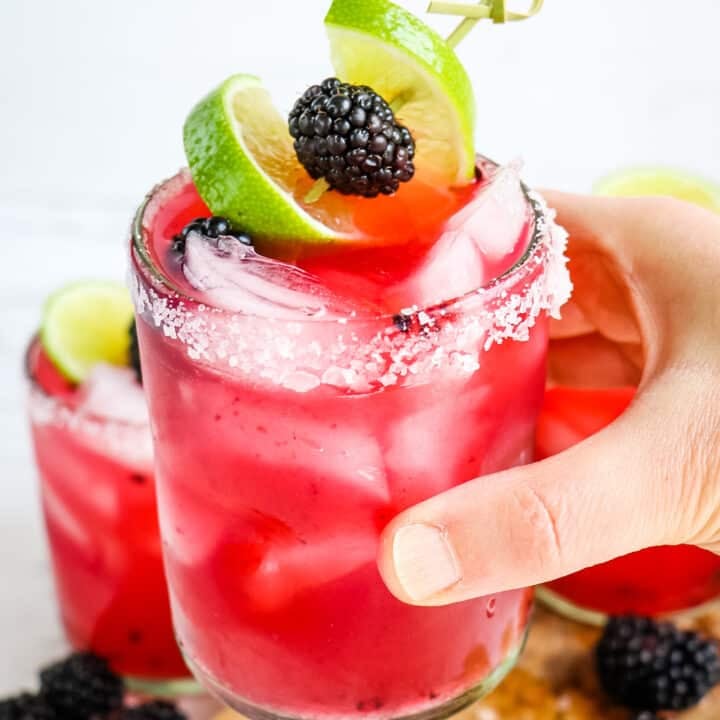 Blackberry Margarita
Love a fresh, delicious margarita? This blackberry margarita is fantastic and perfect for enjoying on a warm summer day. Made with just 4 ingredients, this will quickly become your favorite go-to cocktail.
Ingredients
2 oz. (2 shots) tequila, good quality
1 oz. (1 shot) Cointreau citrus liqueur
1 oz. fresh squeezed lime juice
1/4 cup fresh blackberries (about 6-8 berries)
Instructions
To a cocktail shaker, add the lime juice and blackberries. Using a muddler (a fork will also work), crush or muddle the blackberries together with the lime juice.
To the blackberries and lime juice, add the tequila and Cointreau. Fill the cocktail shaker with ice. Add a tight fitting lid, and shake the cocktail well to mix.
Prepare glasses by salting the rims (if desired) and filling glass with ice. Strain cocktail into glass and enjoy right away while cold.
For blended: To a blender, add 1 1/2 cups of ice, along with the tequila, Cointreau, lime juice and blackberries. Blend for 45-60 seconds or until smooth. Pour into salted margarita glasses and enjoy right away while cold.
Notes
If fresh blackberries are unavailable, feel free to substitute frozen blackberries. Thaw the berries slightly in the microwave or at room temperature before mixing the cocktail.
If making multiple drinks, feel free to use bottled lime juice. There are now good-quality bottled lime juices available at your local supermarket in the juice section.
Nutrition Information:
Yield:

1
Serving Size:

1
Amount Per Serving:
Calories:

140
Total Fat:

0g
Saturated Fat:

0g
Trans Fat:

0g
Unsaturated Fat:

0g
Cholesterol:

0mg
Sodium:

4mg
Carbohydrates:

22g
Fiber:

2g
Sugar:

16g
Protein:

1g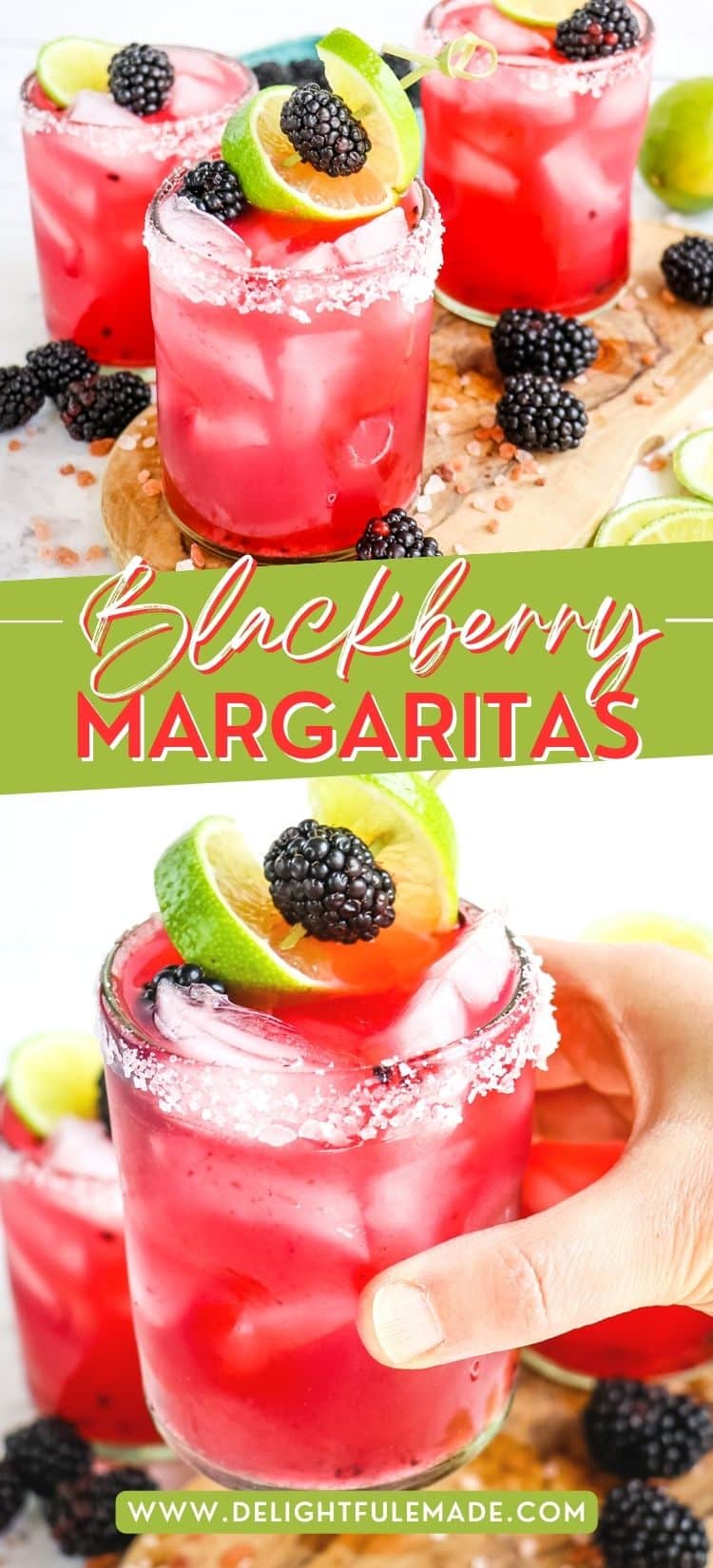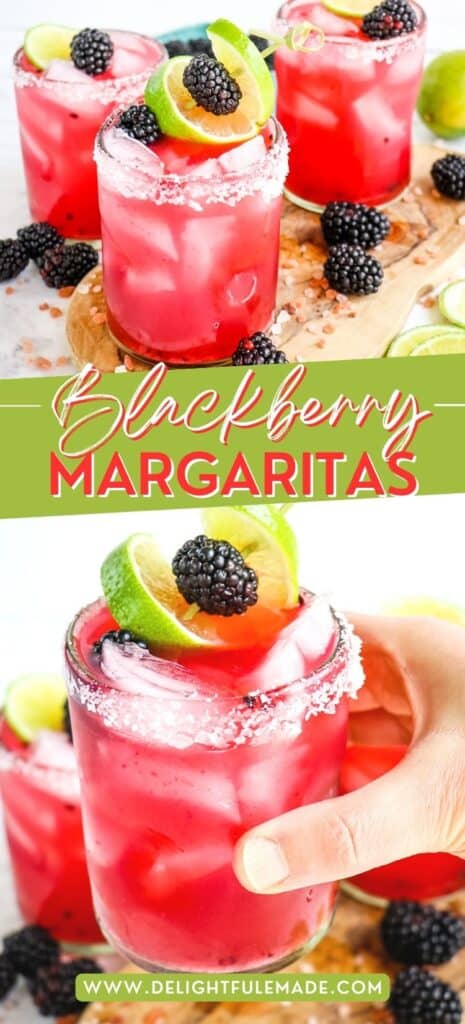 You Might Also Like These Recipes