The VERY BEST Broccoli Apple Salad
This broccoli apple salad is a fantastic side dish, loaded with amazing flavor and crunch! Fresh cherries, apples and a simple Greek yogurt dressing make this an amazing healthy broccoli salad recipe that can be enjoyed any time of year!
This post may contain affiliate links. Delightful E Made is a participant in the Amazon Services LLC Associates Program, an affiliate advertising program designed to provide a means for us to earn fees by linking to Amazon.com and affiliated sites.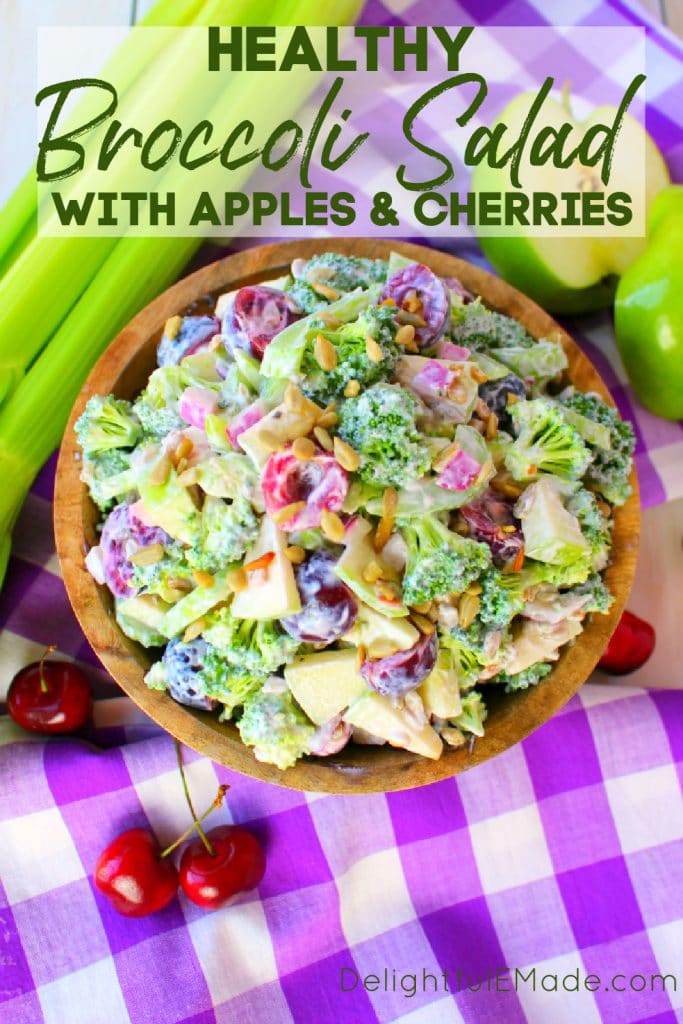 Amazing Broccoli Salad with Apples
With the summer cookout season in full swing, we seem to always have ample amounts of stuff on the grill. Burgers, chicken, pork chops, brats, just to name a few – but side dishes sometime seem to be rather sparse.
I've been craving a crunchy, healthy broccoli salad recipe loaded with flavor and deliciousness, which is how this broccoli salad with apples came to be.
Similar to the traditional broccoli salad recipe, this broccoli apple salad has a few differences that set it apart, taking that old salad from good to incredible! To compliment the fresh, crisp broccoli, I've added sweet, tart Granny Smith apples and fresh, sweet cherries.
These two are a little unexpected, but are actually a really nice addition to the salad. The celery and red onion also add some great crispness and flavor. The sunflower seeds are a really nice addition to this salad that add a bit of saltiness and extra crunch to every bite.
Here's how this delicious, Healthy Broccoli Salad recipe comes together: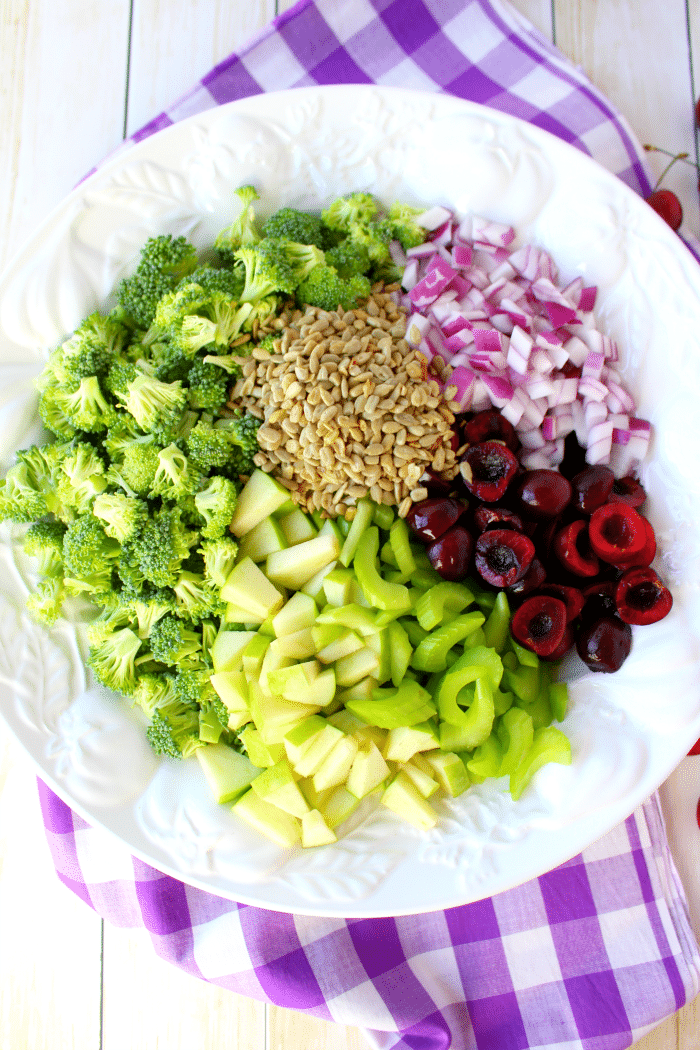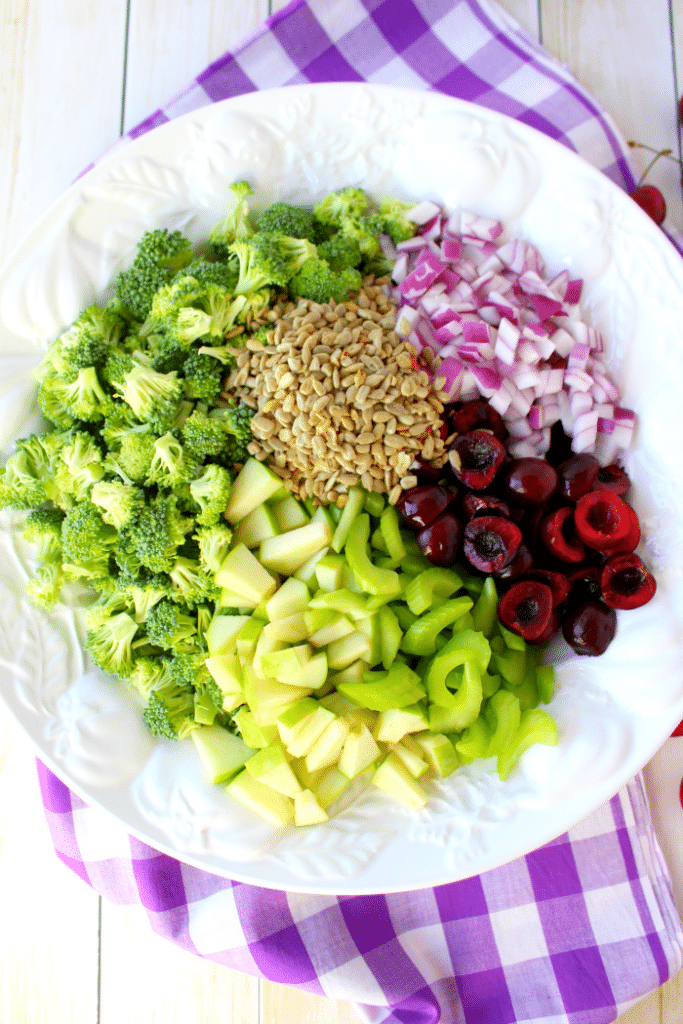 Step 1: Chop Ingredients
When chopping the ingredients, everything can simply be tossed into one big bowl.  Trim off the main stalk of the broccoli, and then cut individual bite-sized broccoli pieces.  Rinse the cherries, halve and remove the pits.
Love cherries? You can also use fresh cherries in my Cherry Bread recipe as well as my Cherry Smoothie and Cream Cheese Cherry Scones.
Slice the apples (you can leave the skin on) and chop into small pieces. Rinse and chop the celery into small pieces as well. As for the red onion, dice it into small pieces (like above.) All of these should be small enough to get multiple pieces onto a fork or spoon.
Love broccoli? Check out my other recipes that use broccoli: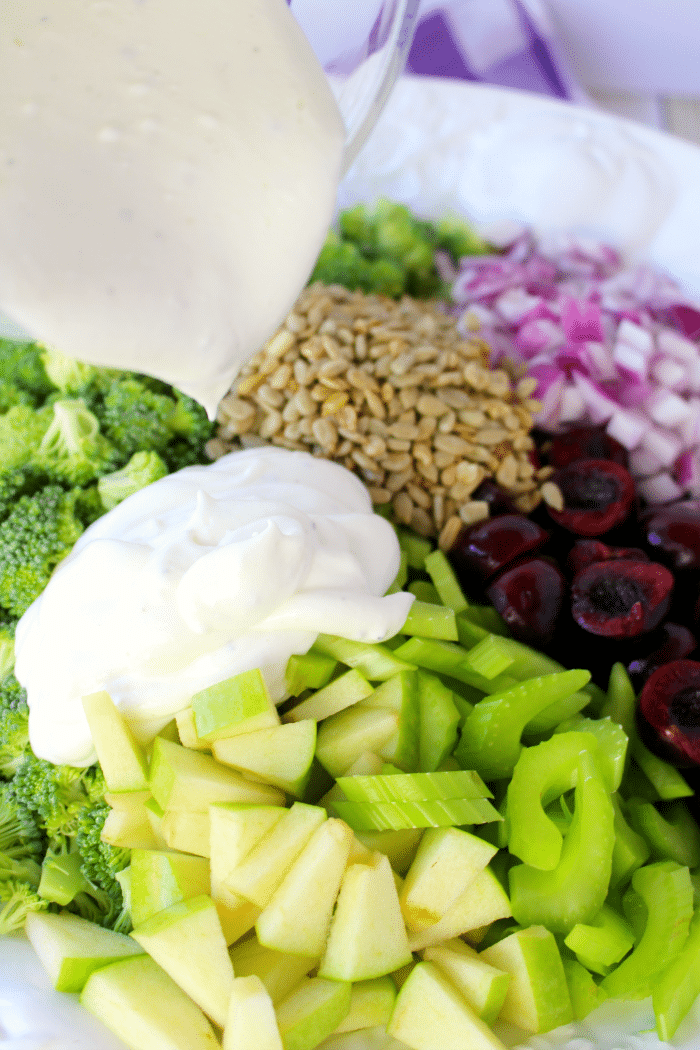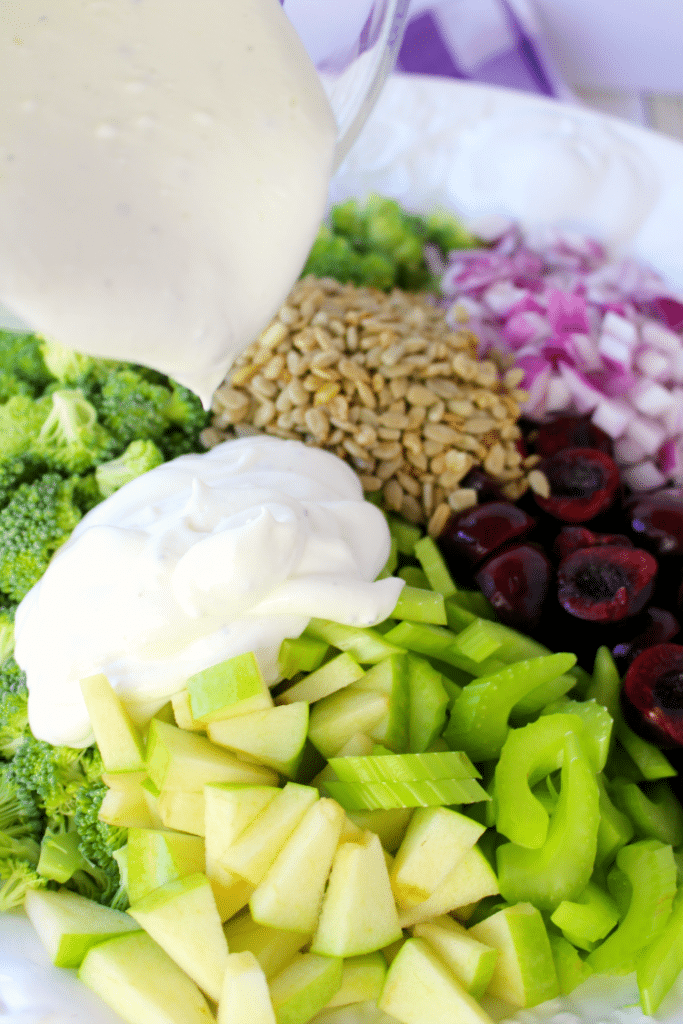 Step 2: Add the Greek Yogurt Dressing
As for the dressing in this salad, I wanted to lighted it up a bit from the traditional, overly-heavy mayo dressing. Instead, I use plain Greek yogurt, along with white vinegar, sweetener, salt and pepper.
Not only is there plenty of dressing to coat the fruit and veggies, you would never guess it's a skinny version! As for the flavor – it's nearly perfect. It's not overly heavy, and just enough to coat all the fruits and veggies without masking their flavor and texture.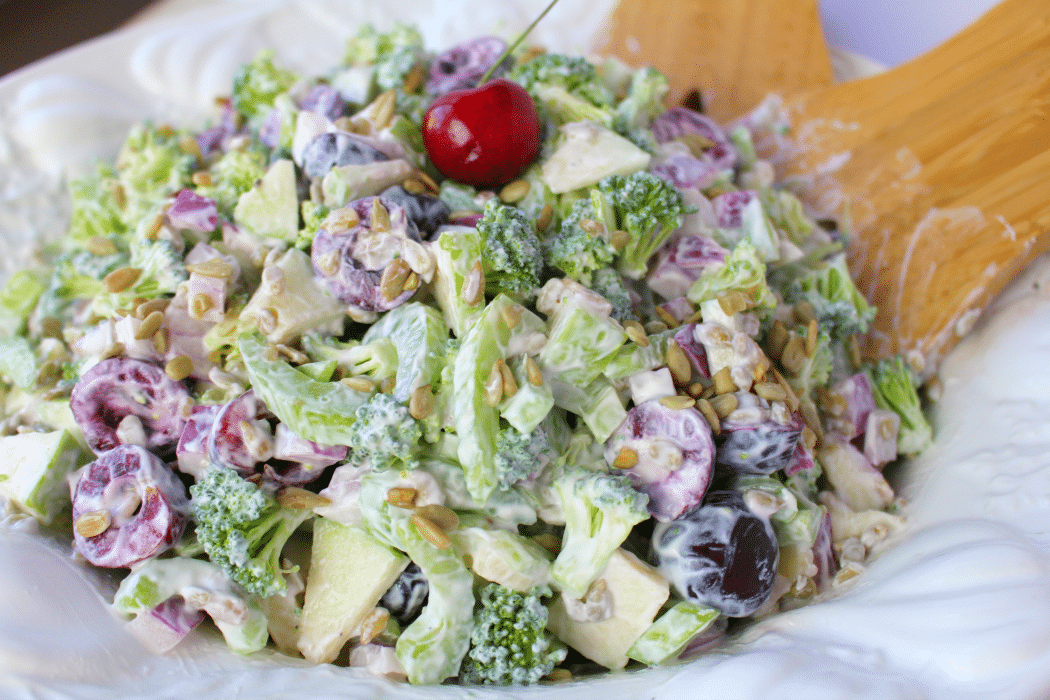 Step 3: Toss Dressing and Salad Ingredients to Coat
When tossed together, the Greek Yogurt dressing coats everything beautifully! Sprinkle a few more of the sunflower seeds and and top with a cherry and you'll have the most fantastic broccoli salad!
I like to toss the salad with the dressing in a separate mixing bowl and then add the salad to a pretty bowl or serving dish.
Note: If you're not much of a sunflower seed person, I've also added pistachios to this salad, which is a great substitute.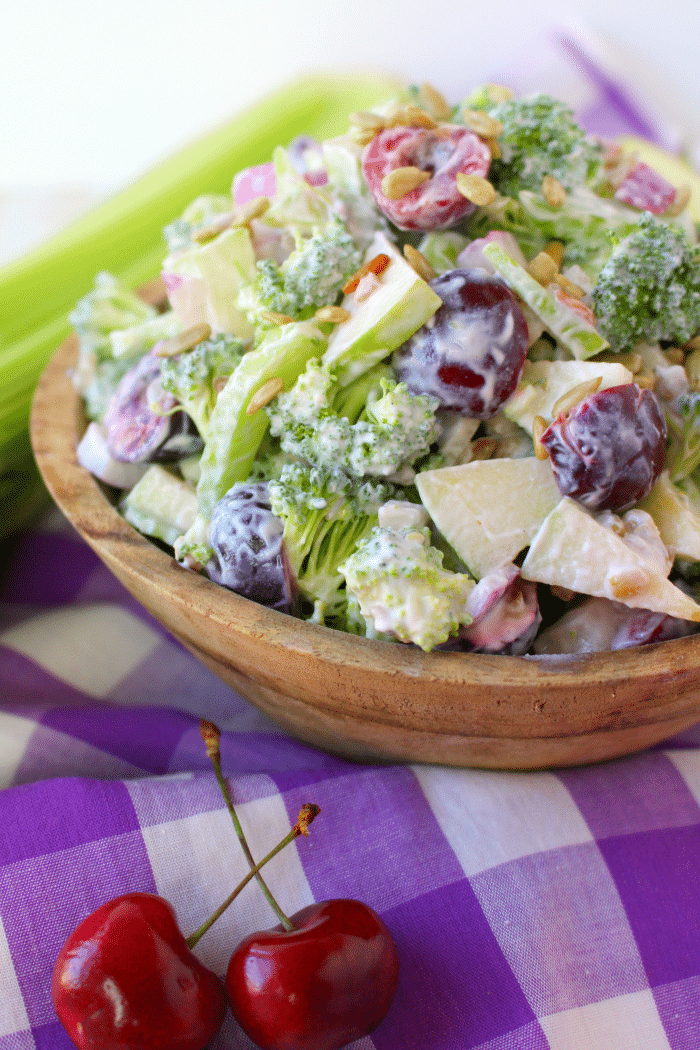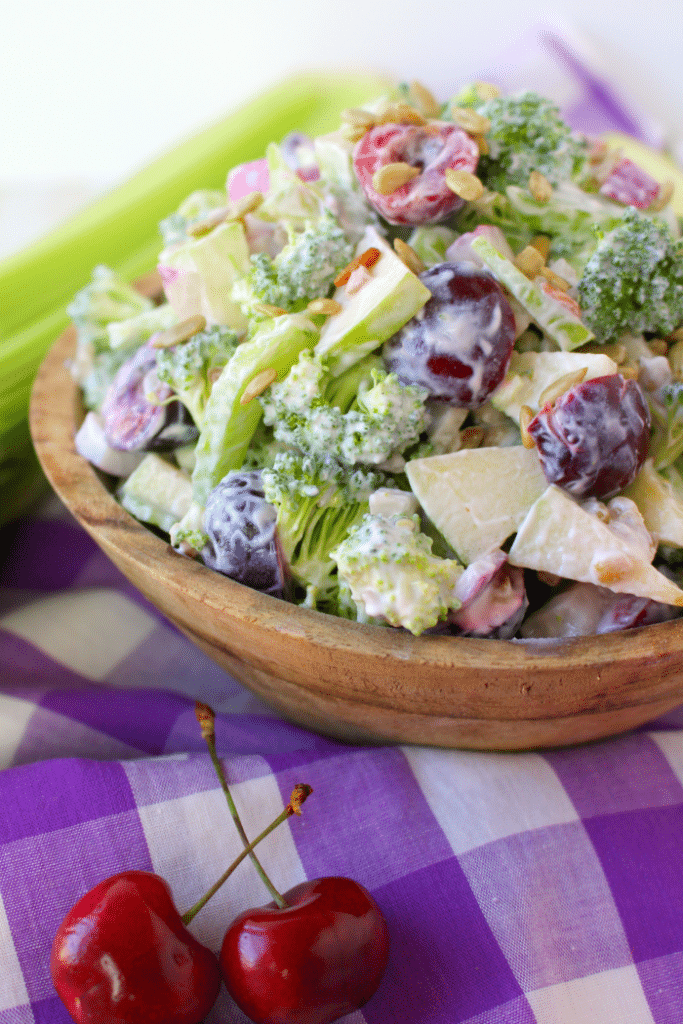 This easy broccoli salad pairs perfectly with grilled chicken, burgers, sausage and even steak! It's also great salad to share at your next potluck or neighborhood cookout or block party. It's an amazing summertime side, that can be easily enjoyed all year round!
Here's a quick-reference grocery list for all the ingredients you'll need for this fantastic broccoli salad recipe:
Fresh broccoli
Fresh cherries
Granny Smith apple
Celery
Red Onion
Sunflower Seeds
Light Sour Cream
Plain Greek Yogurt
White Vinegar
Sugar
Salt and Pepper
(For exact ingredient amounts and full recipe instructions be sure to reference the recipe at the bottom of this post.)
Healthy Broccoli Salad FAQ's:
Cherries are out of season for me. What can I use instead? Yes, cherries are primarily available in the summer months. During the rest of the year I would recommend adding dried cherries or cranberries (try to find no-sugar added, if possible.) Many freezer sections of the grocery store carry frozen cherries year-round – give these a try.
Can I use vanilla yogurt instead of plain, Greek yogurt? No, I would not recommend vanilla yogurt. It will be too sweet, and the flavors will not bode well with the rest of the ingredients.
What variety of apples should I use for this broccoli apple salad? I personally use tart, Granny Smith apples, but feel free to use other varieties like Pink Lady, Honey Crisp and even Red Delicious.
Wondering what to serve with this Healthy Broccoli Salad recipe? Here's what I love to pair it with:
If you loved this broccoli salad with apples, be sure to check out some of my other fantastic summer salads: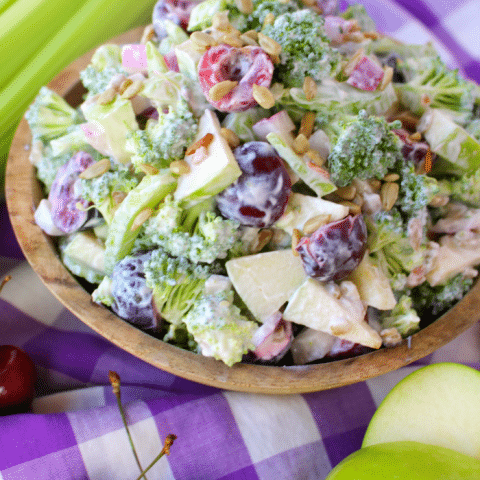 Creamy Broccoli Salad with Apples and Cherries
This fantastic Broccoli Salad is the perfect side dish, loaded with amazing flavor and crunch! Fresh cherries, apples, celery, red onion, and sunflower seeds, along with the broccoli and a simple creamy dressing make this a great summer salad that can be enjoyed any time of year!
Ingredients
2 medium broccoli crowns, trimmed of stems (about 5 cups of bite-sized pieces)
1 1/2 c. fresh cherries, pitted and halved*
1 large Granny Smith Apple, chopped (about 1 1/2 cups)**
3 ribs, celery, chopped (about 1 cup)
1/2 c. red onion, chopped
1/2 c. sunflower seeds
[b]Dressing:[/b]
1 c. plain, Greek yogurt (I used Fage)
2 Tbsp. white vinegar
1 Tbsp. granular monk fruit or stevia sweetener, like Lakanto
salt and pepper to taste
Instructions
In a large mixing bowl, add the chopped broccoli, cherries, apples, celery, red onion and sunflower seeds. Toss together.
In a small bowl, whisk together the yogurt, vinegar, sweetener, salt and pepper until smooth. Pour over the rest of the salad ingredients and toss together until the dressing evenly coats the salad.
Can be served right away, or made ahead, refrigerated and served.
Refrigerate any leftovers. Will keep in an airtight container for up to 3 days.
Notes
If you're unable to find fresh cherries, or they are out of season, feel free to use dried cherries.
*Feel free to use any variety of apple you wish. I've used Honey Crisp and Red Delicious, which are also wonderful in this salad!
Nutrition Information:
Serving Size:

8 servings
Amount Per Serving:
Calories:

264
Total Fat:

3g
Saturated Fat:

1g
Cholesterol:

8mg
Sodium:

232mg
Carbohydrates:

51g
Sugar:

21g
Protein:

19g
I hope this easy broccoli salad recipe inspires you to enjoy all the delicious flavors of summer! ~Erin