If you love sweet and savory flavors, this fresh Pineapple Mango Salsa recipe is for you. Made with fresh pineapple mango salsa ingredients, this easy salsa recipe is great for topping fish or chicken, or simply eating with tortilla chips.
This post may contain affiliate links. Delightful E Made is a participant in the Amazon Services LLC Associates Program, an affiliate advertising program designed to provide a means for us to earn fees by linking to Amazon.com and affiliated sites.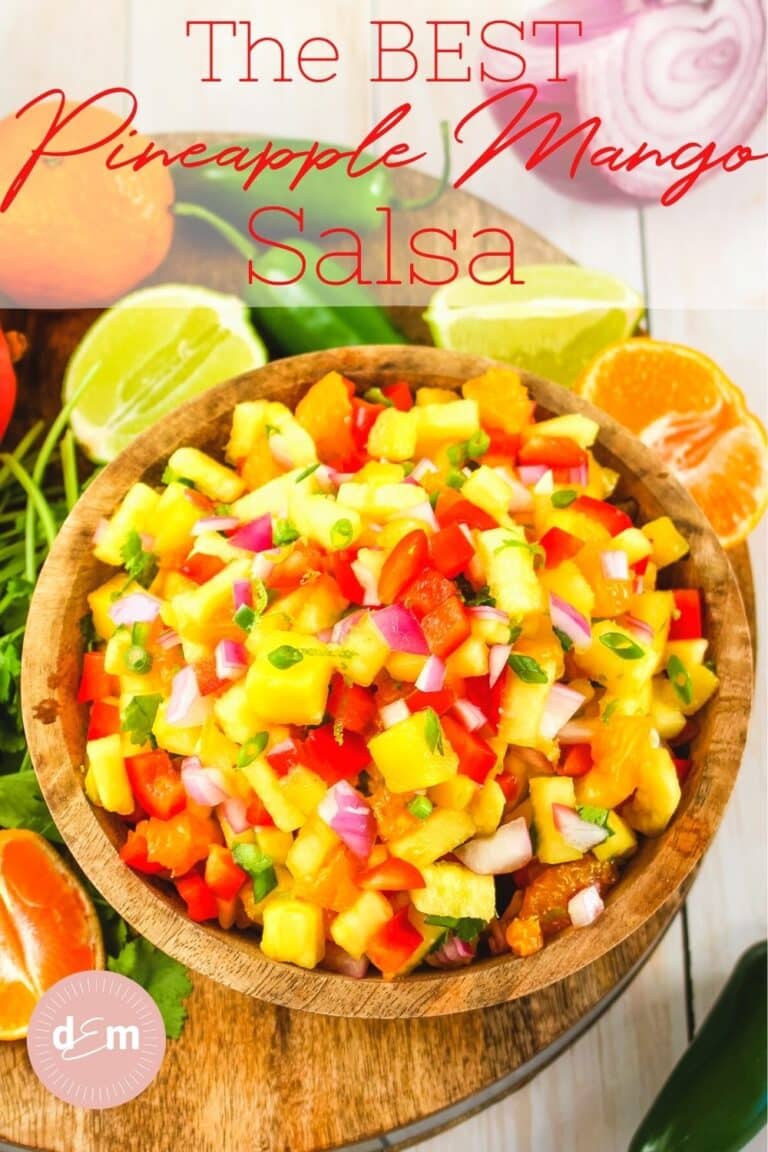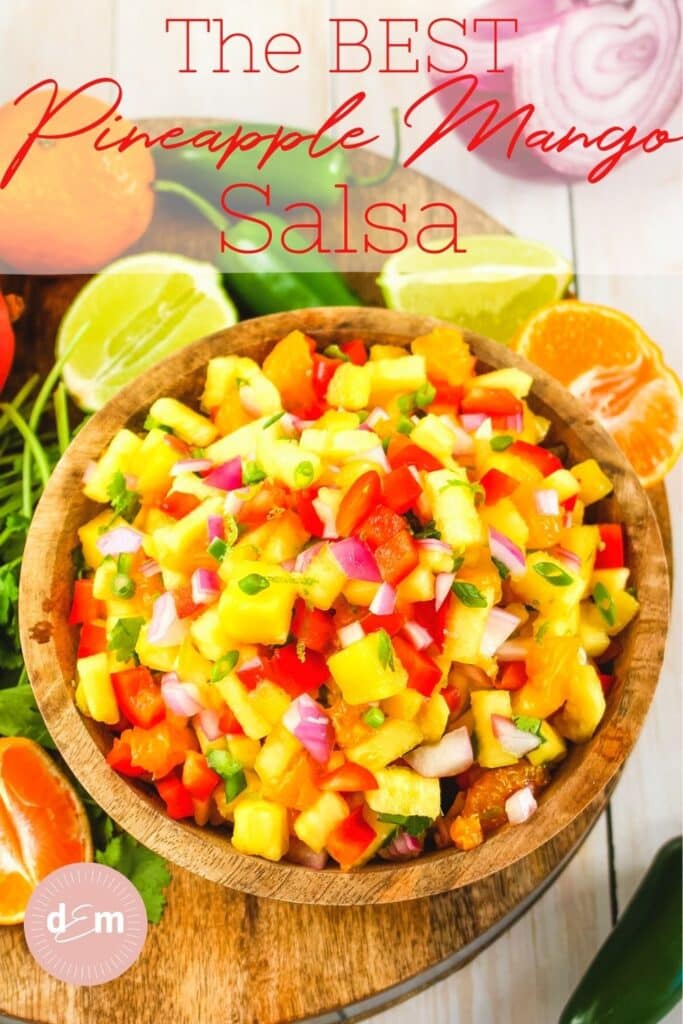 Do you love a fruity, sweet salsa recipe? If so, this fresh delicious pineapple mango salsa is for you. Made with sweet mango, pineapple, bell peppers and savory green and red onions, this fresh salsa is the perfect healthy snack or topping.
This pineapple mango salsa is amazing in salads, lettuce wraps and great for topping fish and chicken.
Here's how this simple, delicious pineapple mango salsa recipe comes together.
What are pineapple mango salsa ingredients?
Here's a quick reference grocery list of the ingredients you'll need to make this salsa:
Fresh pineapple
Fresh mango
Red bell pepper
Mandarin oranges (canned)
Green onions
Cilantro
Red onion
Lime (for juice and zest)
White vinegar
For exact ingredient amounts and full recipe instructions be sure to reference the recipe card at the bottom of this post. Thanks!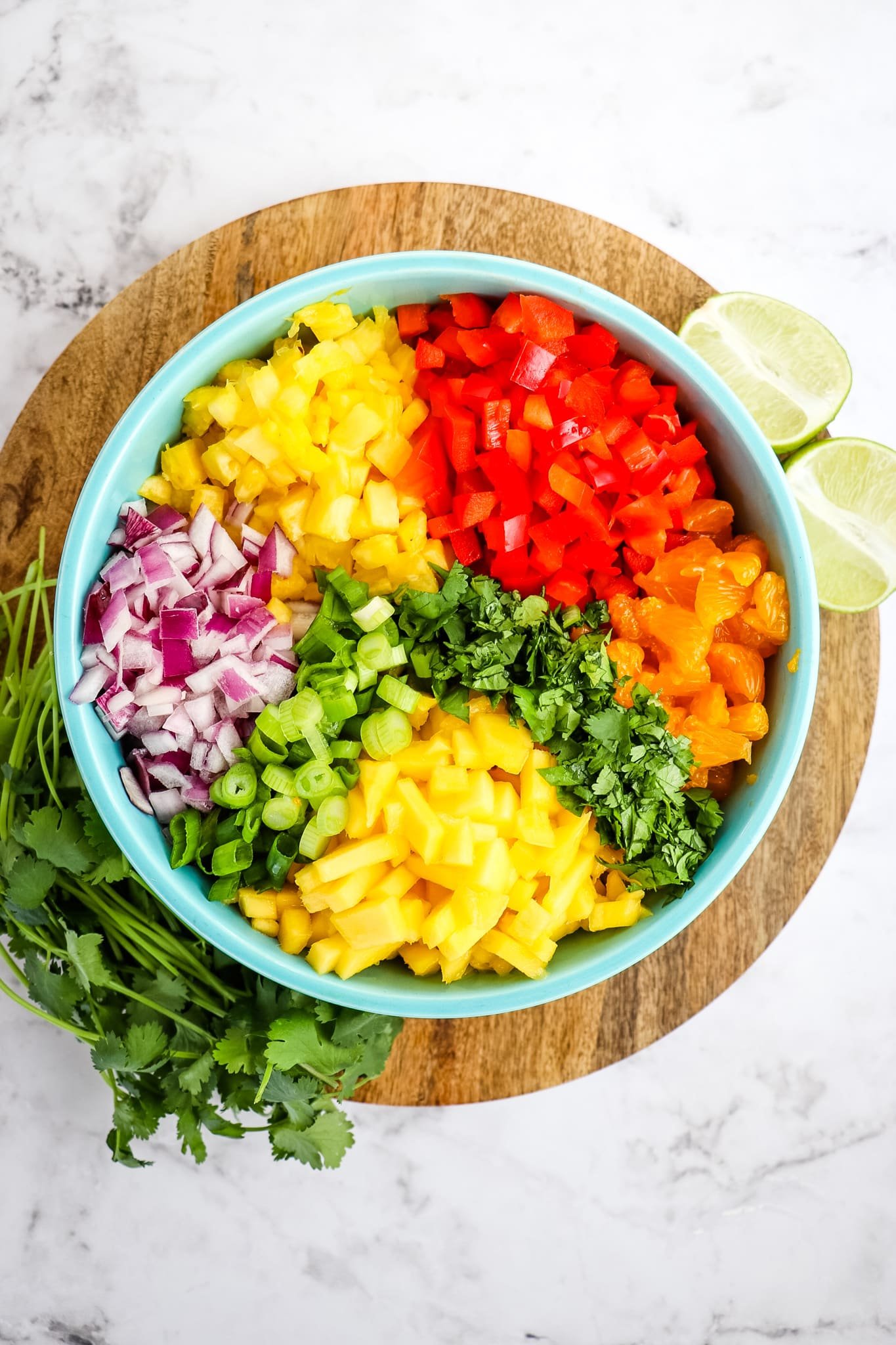 How do I make pineapple mango salsa?
Making this salsa recipe is quite simple. Here's what you do:
Start by chopping the pineapple, mango, red bell pepper, oranges, green onions, red onion and cilantro. Ingredients will need to be chopped somewhat finely. All of these ingredients go directly into a mixing bowl.
Top the ingredients with the juice and zest of a lime, and white vinegar. The acidity of the lime juice and vinegar will act as a natural preservative keeping the fruit fresh and prevent it from browning.
Ingredient substitutions and recommendations:
Here are a few ingredient substitutions and recommendations when making this salsa recipe:
Pineapple – if you're unable to find fresh pineapple, a good substitute is frozen pineapple. In a pinch you can also use canned pineapple, however it will be softer.
Mango – most grocery stores carry frozen mango in the frozen fruit section. This is a good substitute for fresh mango.
Canned mandarin oranges – you can also use fresh clementines or navel oranges that have been peeled.
Red bell pepper – you can also use an orange, yellow or green bell pepper.
Cilantro – I know some people do not prefer cilantro, so feel free to omit from the recipe.
Spices – this recipe doesn't call for any spices, however, if you want to add some spice, try adding a bit of chili powder or cumin. (1/2 tsp or less)
What goes with pineapple mango salsa?
This salsa is a fantastic topping for chicken and fish. I've paired it with my Spicy Chicken Lettuce Wraps and a side to go with my Air Fryer Coconut Shrimp. This salsa is also great with salmon and mahi mahi.
Here are some other recipes that would be great paired with this sweet and savory salsa:
This pineapple mango salsa makes for a great healthy snack as well. Pair with whole grain tortilla chips.
Looking for some other healthy snack inspiration? Check out these: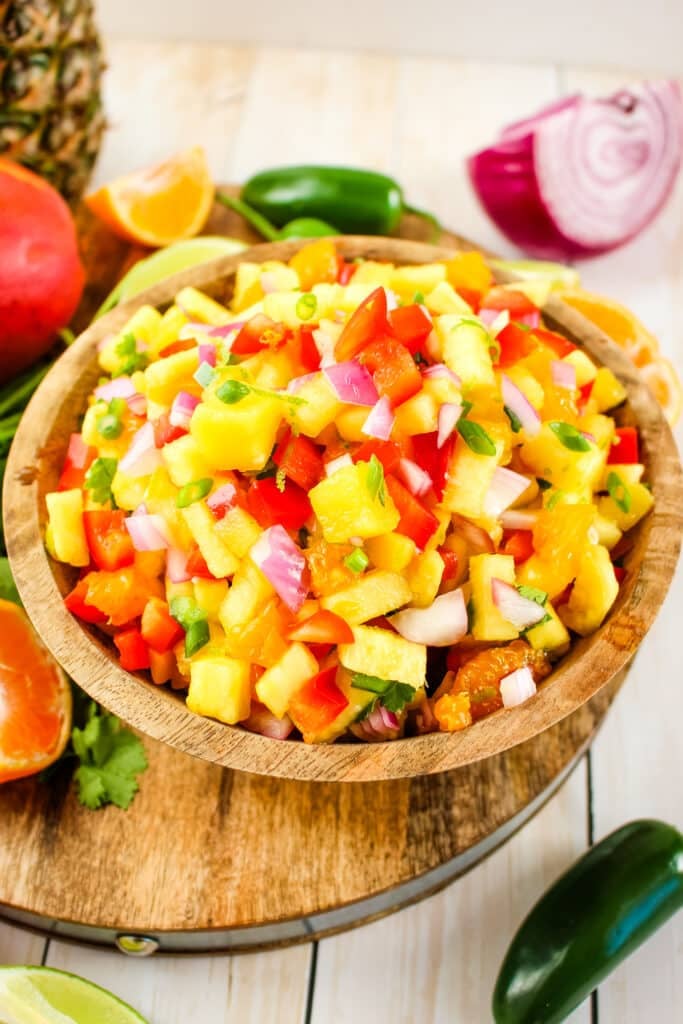 FAQ's about how to make salsa:
What is in pineapple mango salsa?
Pineapple mango salsa ingredients include fresh pineapple, mango, red bell pepper, mandarin oranges, red onion, green onion, cilantro, juice and zest of a lime and white vinegar.
How many calories are in pineapple mango salsa?
There is approximately 53 calories in a 1/2 cup serving of fresh, homemade pineapple mango salsa.
Is homemade pineapple mango salsa better for you than store-bought?
Yes. Homemade pineapple mango salsa is much better for you than jarred, store-bought salsa. Most processed, store-bought jarred pineapple mango salsas include a significant amount of refined sugar and extra calories. Homemade salsa recipes only include fruit, and don't need extra processed sugar.
The flavors of this salsa are wonderful! The lime juice brings all of the fresh, fruity flavors together, and the crunch of the pepper and onions add the perfect texture to this salsa.
Looking for some other delicious Tex-Mex toppings and sauces? These are some of our favorites: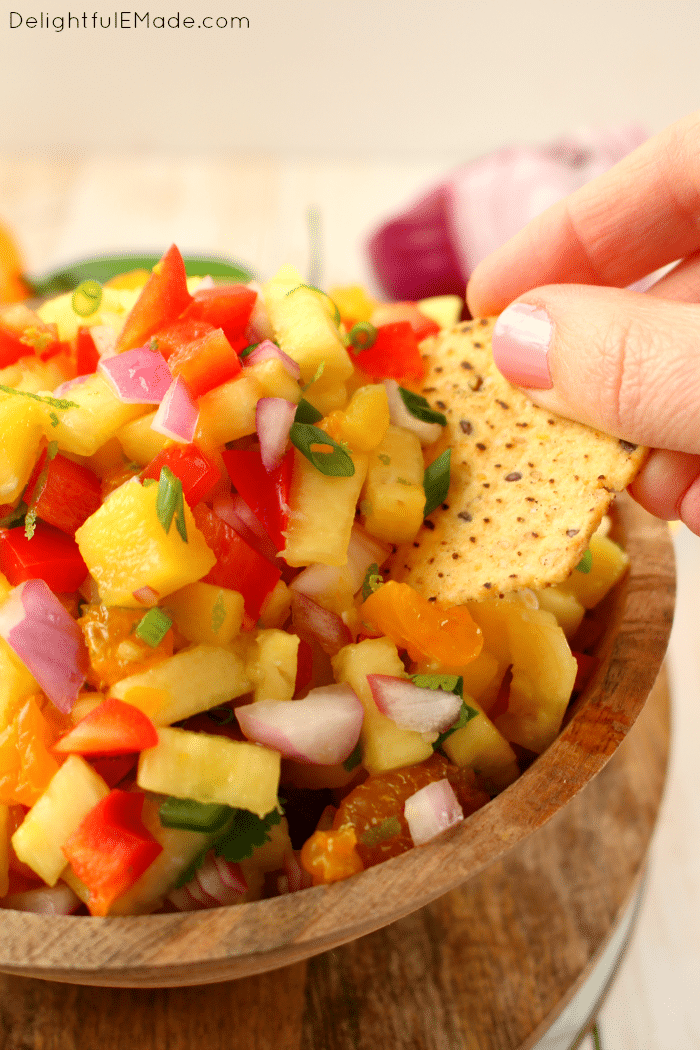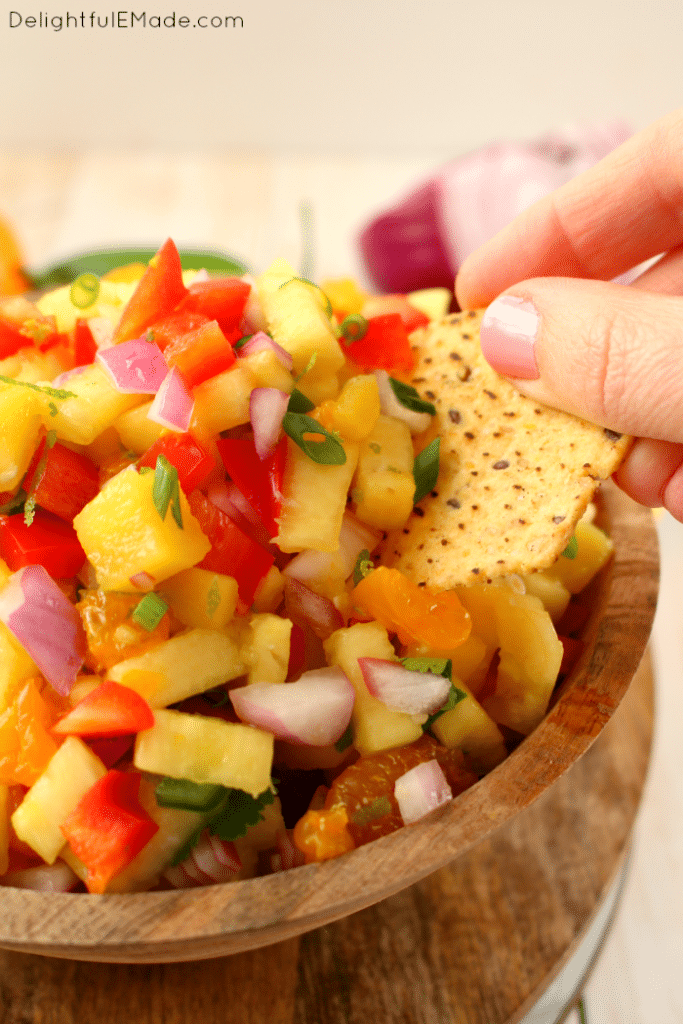 Pineapple Mango Salsa
If you love a sweet and savory salsa, this pineapple mango salsa recipe is for you! Fantastic as a healthy snack and great as a topping on chicken and fish.
Ingredients
2 c. fresh pineapple, diced
1 fresh mango, peeled and diced (about 1 1/2 cups)
1 large red bell pepper, diced (about 1 cup)
1 (8 oz.) can, mandarin oranges, drained and cut into pieces
1/2 red onion, diced (about 1/2 cup)
2 green onions, diced (about 1/2 cup)
1/4 c. fresh cilantro, chopped
Zest of 1 lime (about 1 tbsp.)
Juice of 1 lime (about 1-2 tbsp.)
2 Tbsp. white vinegar
Instructions
In a mixing bowl, add the pineapple, mango, bell pepper, oranges, onions and cilantro. Stir together to combine.
Top with the lime juice and zest and vinegar. Stir well to coat. Enjoy right away.
Notes
Store salsa in an airtight container in the refrigerator. Will keep for up to 7 days refrigerated.
Nutrition Information:
Yield:

12
Serving Size:

1/2 cup
Amount Per Serving:
Calories:

47
Total Fat:

0g
Saturated Fat:

0g
Trans Fat:

0g
Unsaturated Fat:

0g
Cholesterol:

0mg
Sodium:

2mg
Carbohydrates:

12g
Fiber:

2g
Sugar:

9g
Protein:

1g