Strawberry Limoncello Spritzers
If you love a good strawberry mimosa recipe, then you need to try these Strawberry Limoncello Spritzers! This simple brunch cocktail includes Prosecco, Italian limoncello and fresh strawberries. This limoncello mimosa will make your brunch even more fabulous!
This post may contain affiliate links. Delightful E Made is a participant in the Amazon Services LLC Associates Program, an affiliate advertising program designed to provide a means for us to earn fees by linking to Amazon.com and affiliated sites.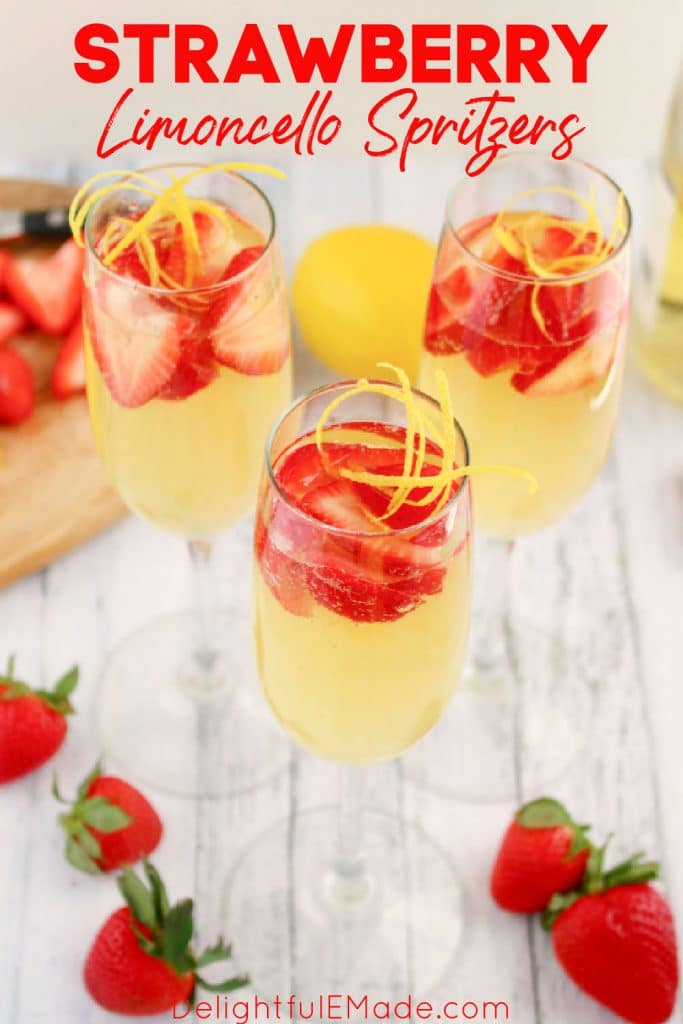 The Easiest Limoncello Mimosa recipe with Strawberries!
Every once in a while, a delicious brunch cocktail completely hits the spot! Its the perfect drink to enjoy with a delicious Sunday morning breakfast.
This easy-to-make Strawberry Limoncello Spritzer is wonderful with fresh, delicious strawberries, limoncello liquor and topped off with Prosecco or Moscato. It tastes like a grown-up sparkling strawberry lemonade!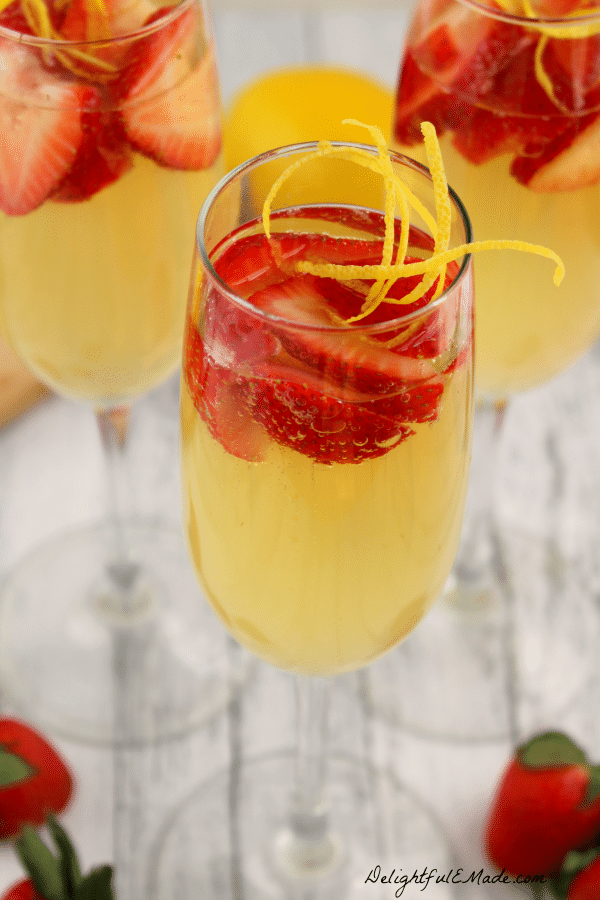 What ingredients are in mimosas?
For a traditional mimosa you'll need just orange juice and champagne or sparkling wine.
For this limoncello mimosa, you'll need sliced, fresh strawberries added to the bottom of Champagne flutes. If you don't have champagne glasses, no worries – any wine glass will do.
To the sliced strawberries, add the limoncello liqueur over the top. Limoncello is an Italian liqueur that is fabulous when paired with fresh berries. The Italians often drink this as an aperitif, but it's also a wonderful addition to a champagne cocktail like this. I also enjoy limoncello in my Lemon Raspberry Mimosas.
What is limoncello?
Limoncello is an Italian liqueur that is made from soaking lemon rind in natural grain alcohol.
Can I use prosecco or Moscato instead of champagne for mimosas?
Yes, for this limoncello mimosa you can use any sparkling wine, Prosecco or Moscato.
To the strawberries and limoncello, you'll then top off the drink with your Prosecco or your favorite Champagne or Sparkling wine. Much like a mimosa, these spritzers are a wonderful brunch drink.
Once you've added the Prosecco, top off these delicious cocktails with some lemon zest, which adds a great bit of yellow color on top of the fresh red strawberries. A wonderfully fresh drink perfect for ushering in spring and summer!
Making these cocktails couldn't be easier! You can also make a pitcher of this drink by pouring the entire bottle of sparkling wine in and adding about 6 oz. of the limoncello. Add about 1 c. of strawberries.
When should I serve these strawberry limoncello spritzers?
This is a great drink when you are hosting friends for a casual Sunday brunch. It's also fantastic for Easter or Mother's Day brunch and be amazing for a bridal shower or anytime you're hosting friends for a cocktail hour.
If you loved this delicious Strawberry Limoncello Spritzer, check out some of my other drink recipes:
Strawberry Lemon Drop Cocktail
Frozen Raspberry Peach Bellini
Here's the recipe for these fantastic, easy Strawberry Limoncello Spritzers: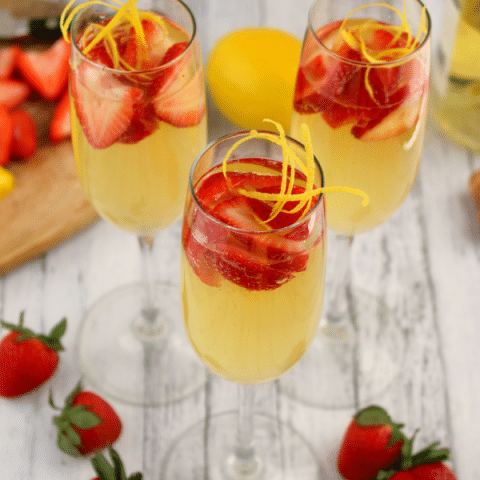 Strawberry Lemoncello Spritzers
Move over mimosa, their's a new brunch cocktail in town! This sparkling, fresh drink features Italian lemoncello, which perfect with strawberries and Prosecco!
Ingredients
sliced strawberries (1-2 berries per glass)
lemoncello liquor (1 oz./shot per glass)
Prosecco, Moscato or Champagne
Lemon Zest, long strips
Instructions
In champagne glasses, add the sliced strawberries. Pour 1 oz. lemoncello over the berries, and then fill the remaining glass with the champagne. Top with a few strips of lemon zest. Enjoy in moderation.
I hope you get to enjoy this delicious, refreshing cocktail the next time you have brunch, or anytime you're wanting to enjoy a sparkling beverage. Cheers! ~Erin