This Pina Colada Punch will be your new favorite happy hour drink! Made with four simple ingredients, this fantastic champagne punch recipe is perfect for parties, showers, Sunday brunch and girls nights.
This post may contain affiliate links. Delightful E Made is a participant in the Amazon Services LLC Associates Program, an affiliate advertising program designed to provide a means for us to earn fees by linking to Amazon.com and affiliated sites.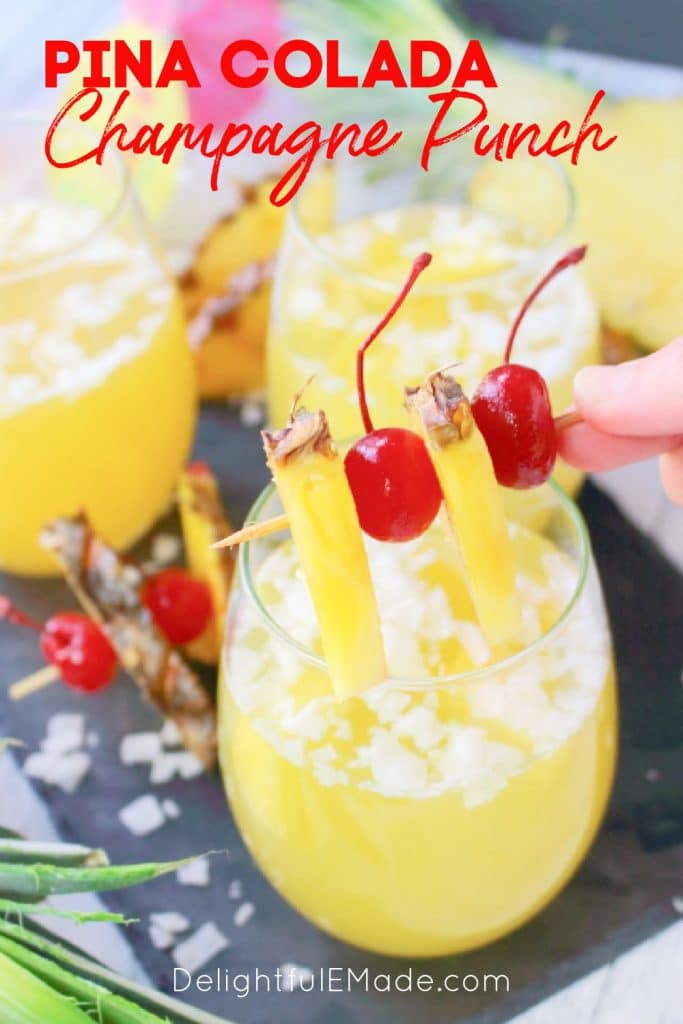 The BEST Champagne Punch Recipe!
Much like my popular Pina Colada Smoothie this easy champagne punch recipe is made in just a couple of minutes with just a few simple ingredients! With the flavors of pineapple and coconut, this drink is even easier than the classic Pina Colada, without the blending.
It's perfect for parties, bridal showers or just a lazy afternoon for you and your favorite lawn chair. Let me show you how simple this Pina Colada Champagne Punch is to throw together – no blender necessary!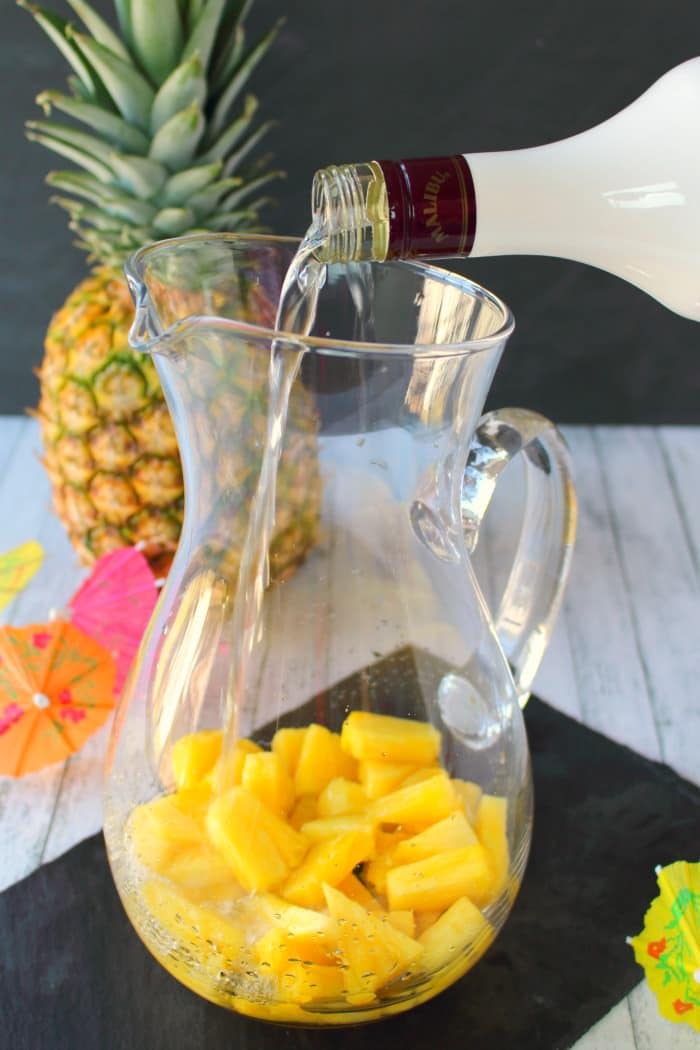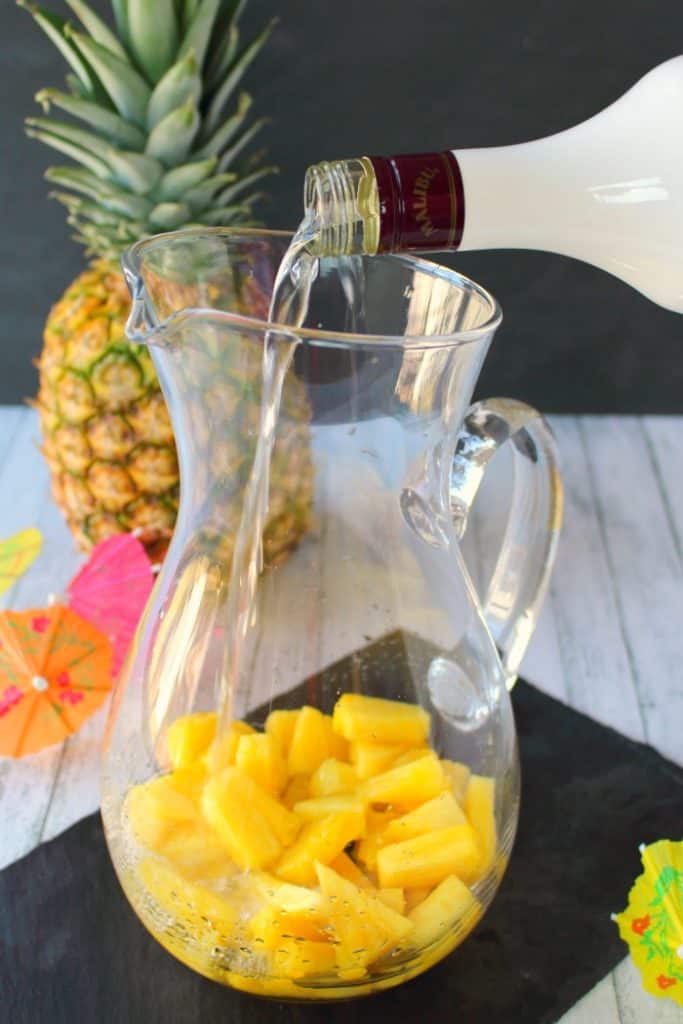 Step 1: Place Fresh or Frozen Pineapple into Pitcher and add Rum
I had a fresh pineapple sitting on my counter that I needed to slice up, however, frozen pineapple works great for this champagne punch. Add it frozen right to the pitcher, as it will help chill the rest of the ingredients.
On top of the pineapple, add your favorite coconut rum. I like using Malibu rum – I think it smells like a tropical vacation!
What liquor can you mix with Champagne?
Champagne is really versatile and can take on and compliment other flavor combinations. These liquors are great mixed with champagne: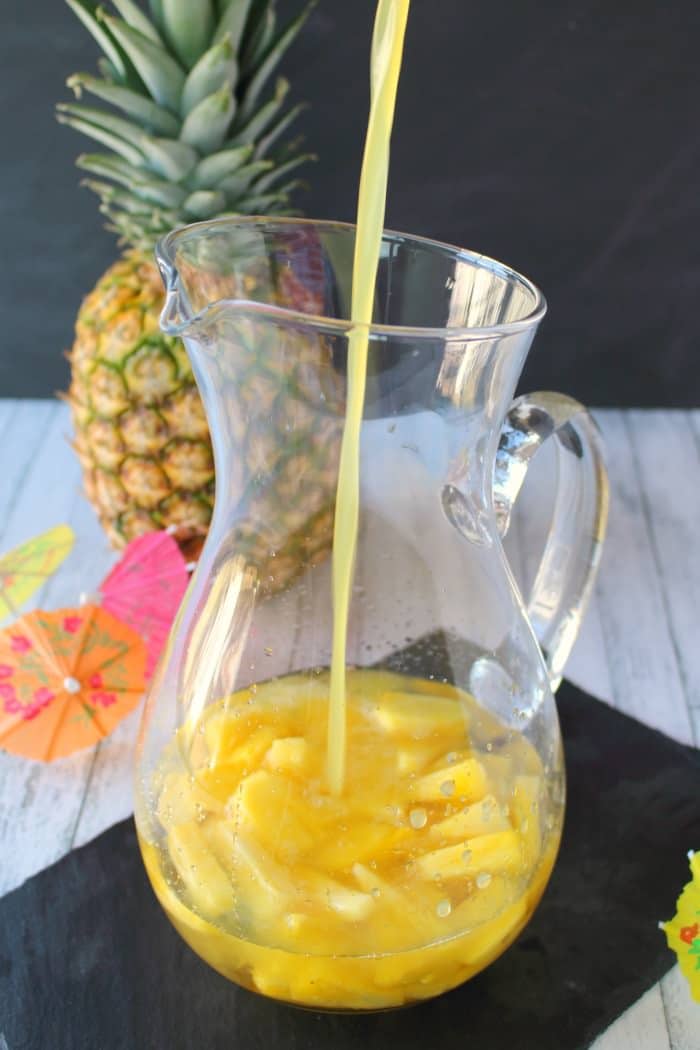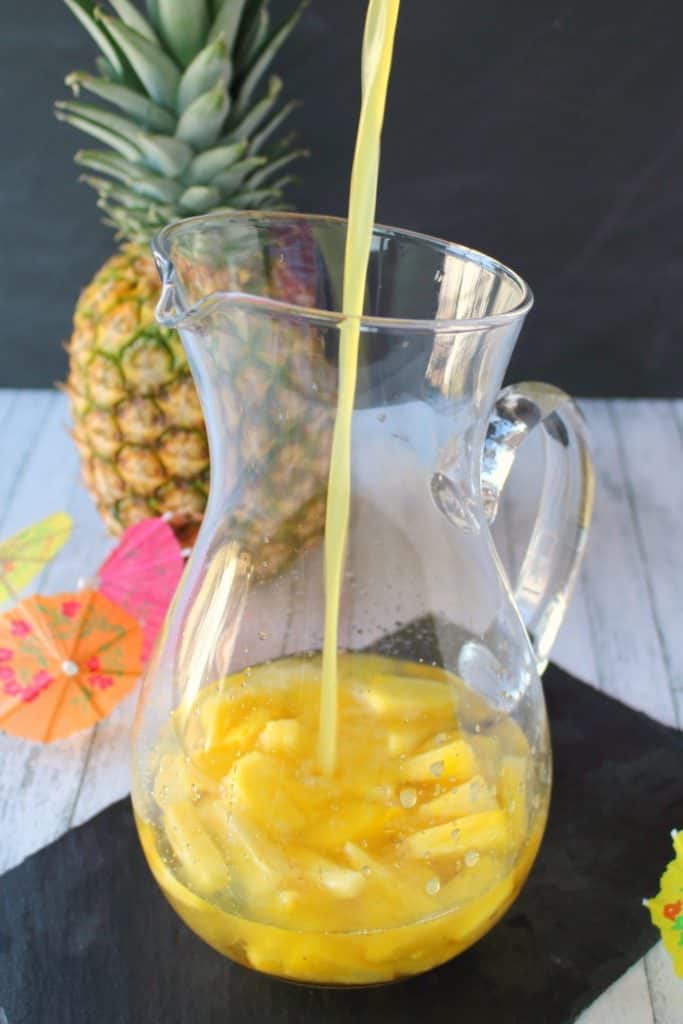 Step 2: Add Pineapple Juice
I added simple pineapple juice from the can for this recipe. If you're making and serving this punch right away, make sure you chill the juice first, as this champagne punch tastes the best served very cold.
How do you serve punch at a party?
You can serve punch in either a large glass pitcher or a punch bowl with a ladle for serving. Make sure to have glasses on hand for people to serve themselves.
Pro Tip: If you have extra pineapple juice (I had quite a bit left from the can I bought) pore the juice into ice cube trays and freeze it. You can add the cubes to the pitcher or punch bowl to keep it cold without being watered-down.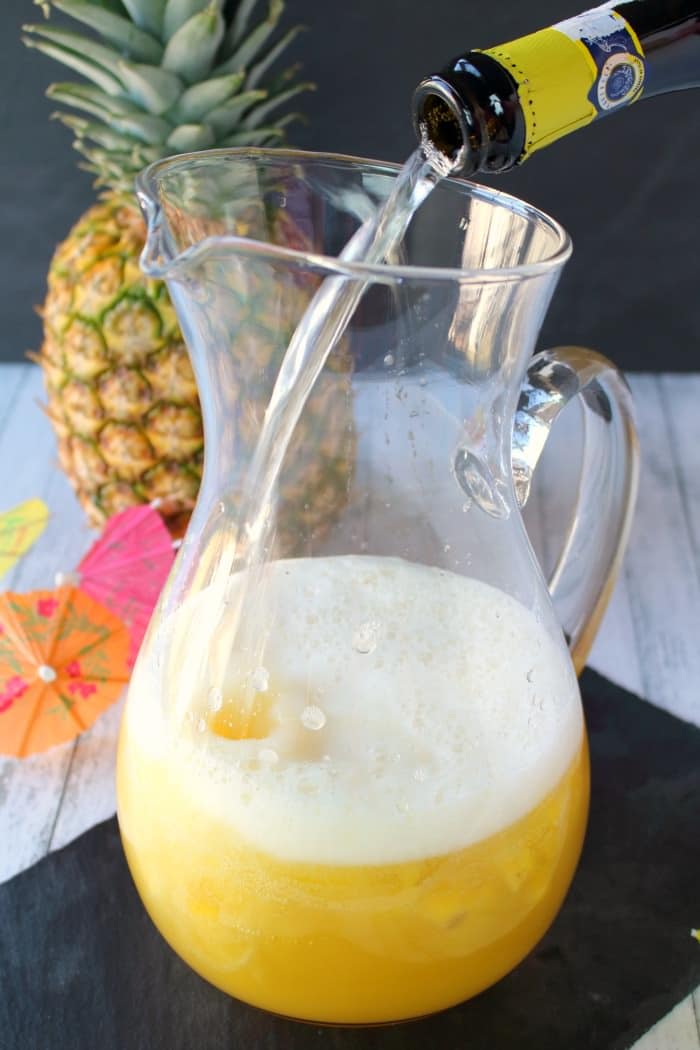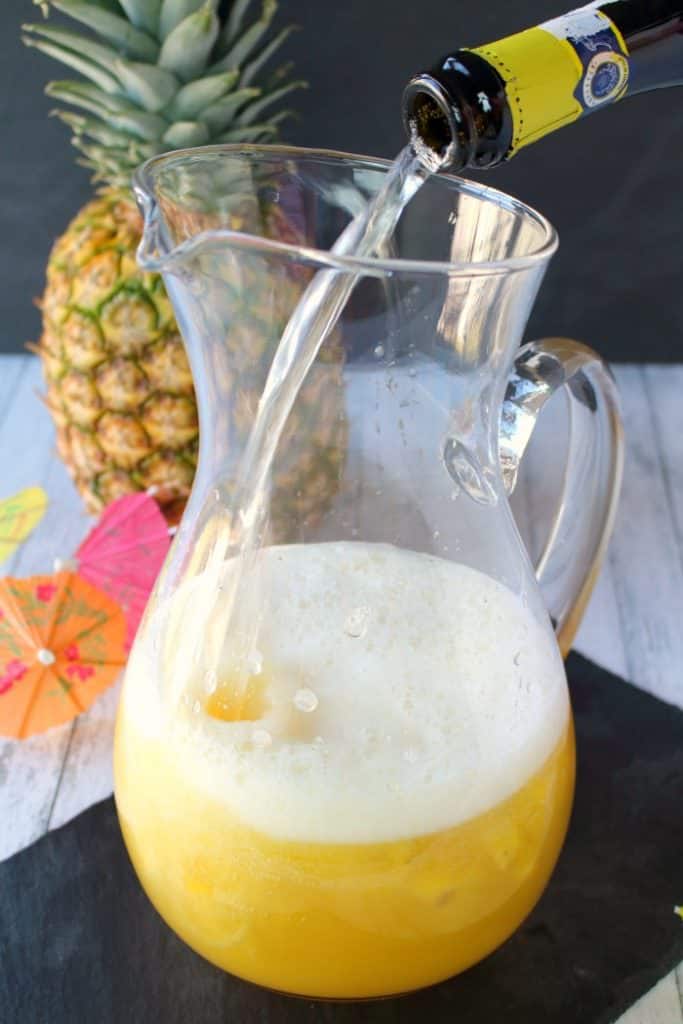 Step 3: Add Chilled Champagne to create the champagne punch recipe
For this recipe, feel free to use your preference of any sparkling wine, champagne, Moscato or Prosecco. Don't hold back – pour in the entire bottle! If it bubbles up, let the bubbles go down and pour in the rest.
What tastes good with champagne?
Champagne is wonderfully versatile and goes with an either sweet or savory palate. Here are a few ideas for foods to serve with this champagne punch recipe: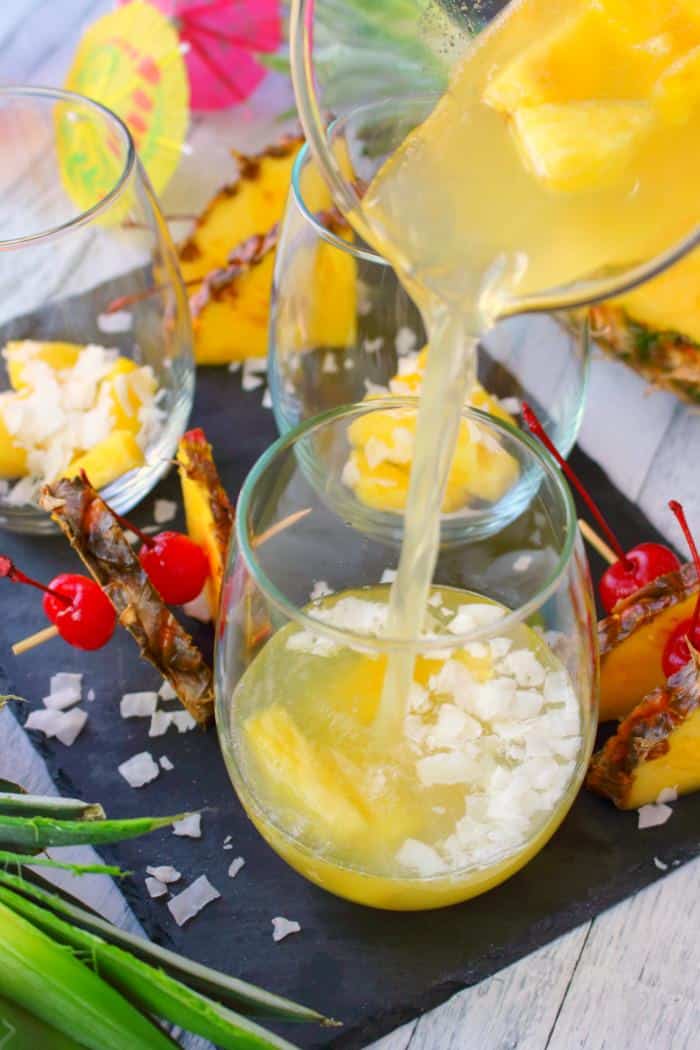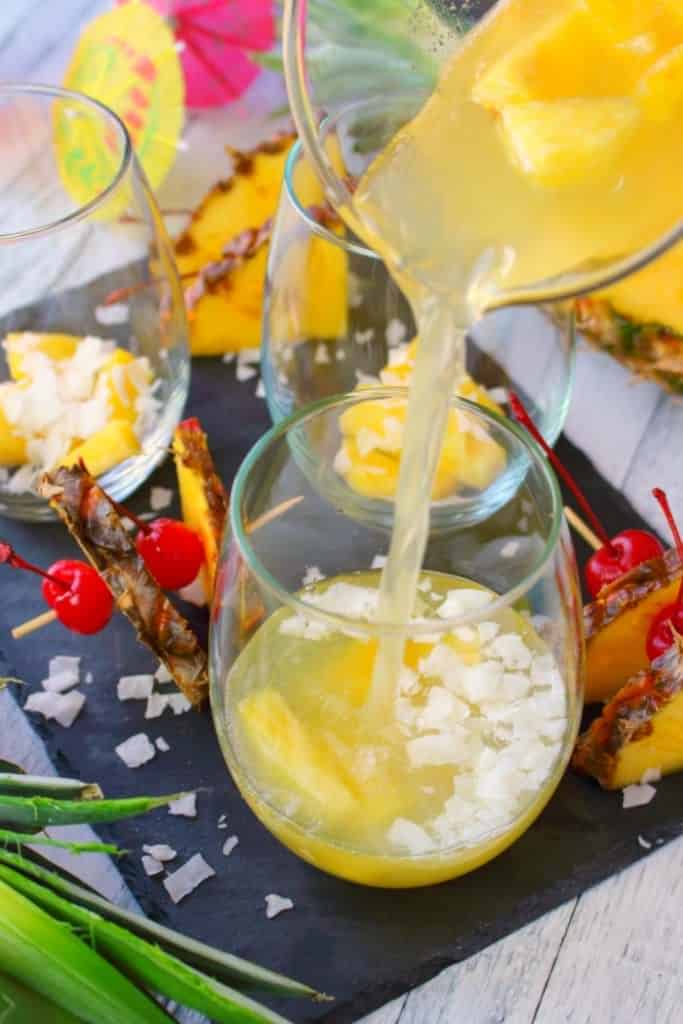 Step 4: Mix and Pour the pina colada punch
Simply give the champagne punch a stir, and pour into your favorite wine glasses or champagne flutes. I added some pineapple slices and flake coconut to the bottom of each glass.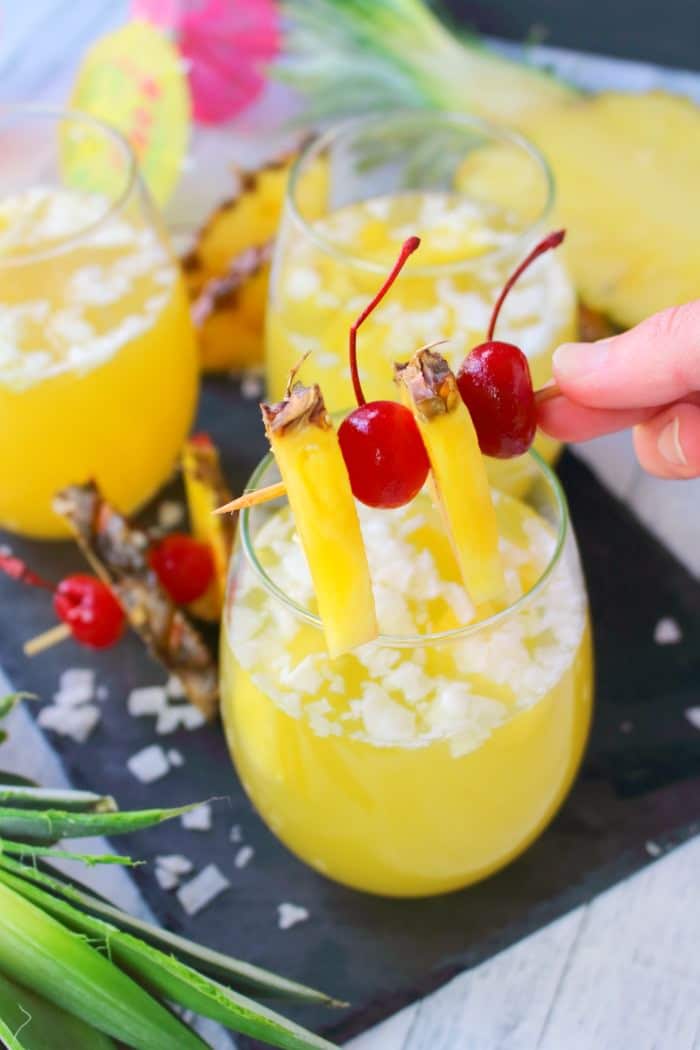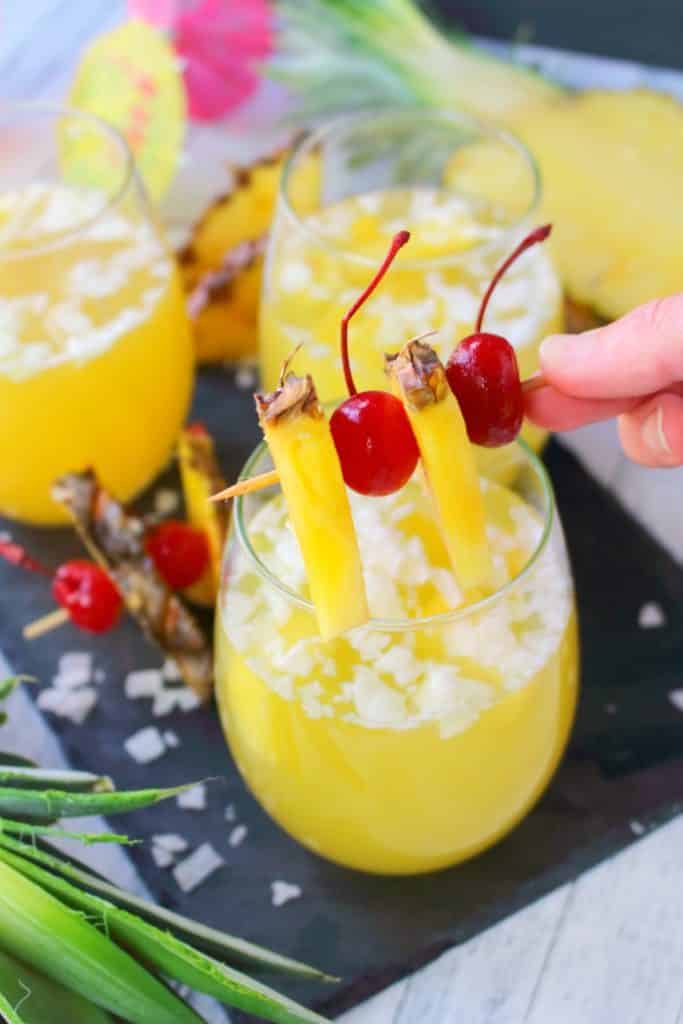 Step 5: Garnish and Enjoy!
I skewered some fresh pineapple slices with maraschino cherries for the perfect pina colada garish. It makes the drinks look really pretty and adds a great tropical flare, because – if you can't be sitting on a beach somewhere, this might be the next best thing! 🙂
What can I serve with this Pina Colada Punch?
This Pina Colada Champagne Punch would be great served with any Tex-Mex inspired meal. Here are a few options that would go great with this drink: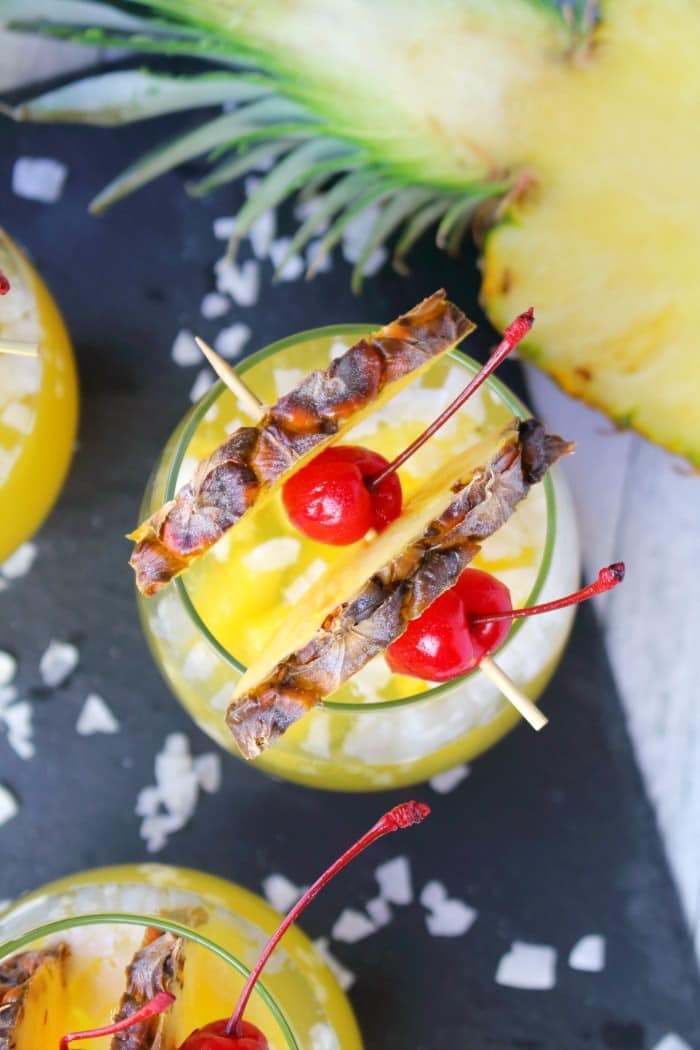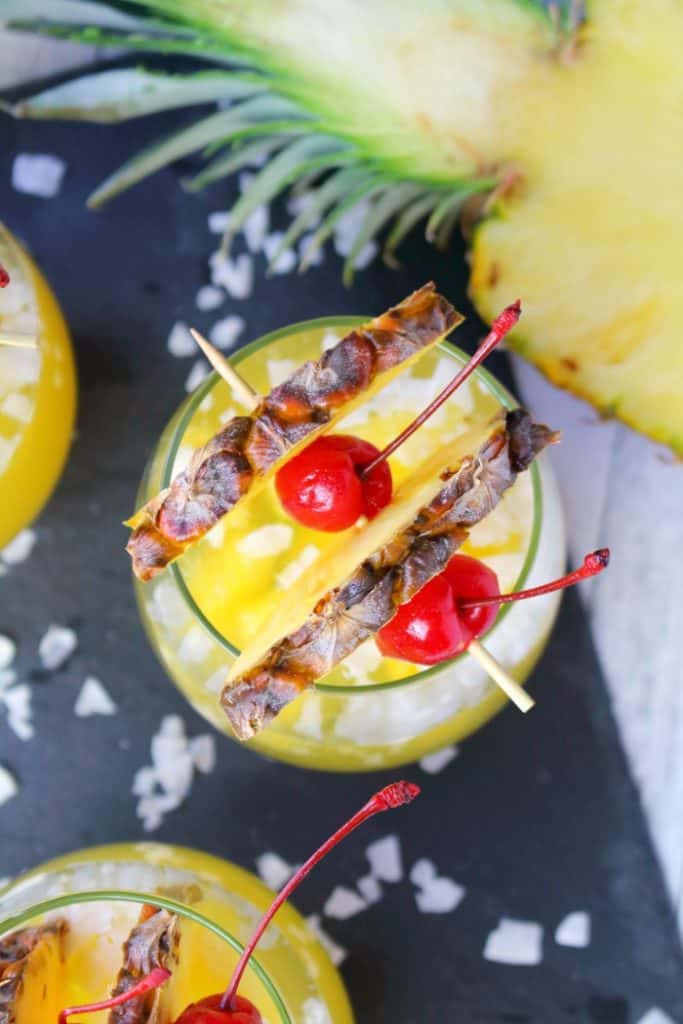 Here's a quick shopping list for the ingredients you'll need to make this delicious champagne punch recipe:
Fresh or frozen pineapple
Pineapple juice
Coconut Rum (like Malibu)
1 bottle (750 ml) Champagne, Sparkling Wine, Prosecco or Moscato
Optional garnishes: Coconut flakes, maraschino cherries, additional pineapple slices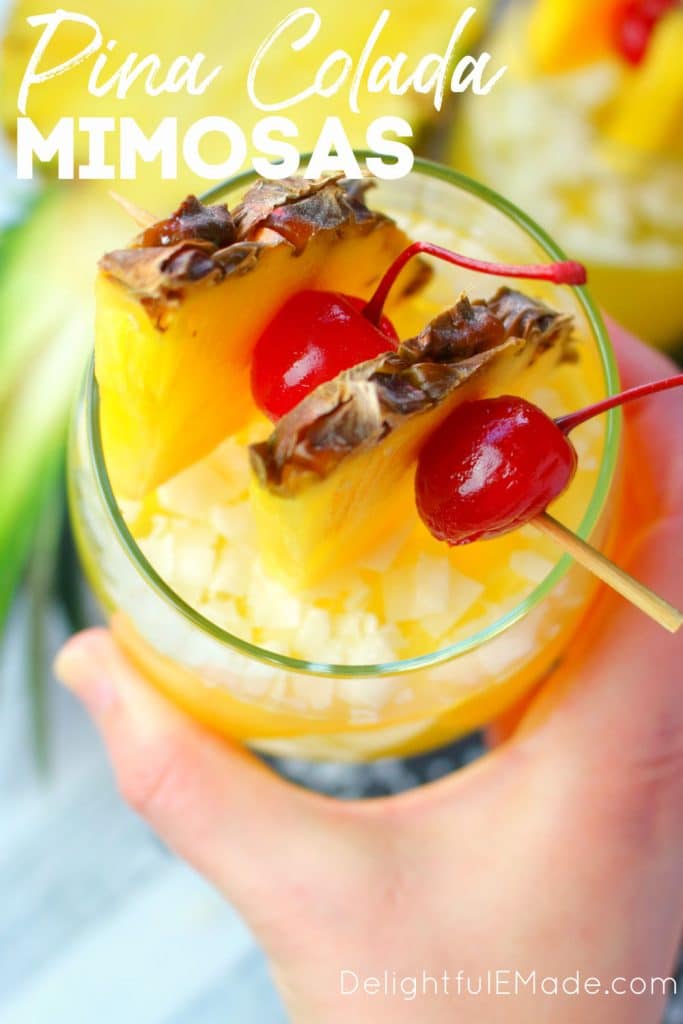 If you loved this pina colada punch, then check out some of my other drink and cocktail ideas:
Here's the wonderfully simple recipe for my Pina Colada Champagne Punch: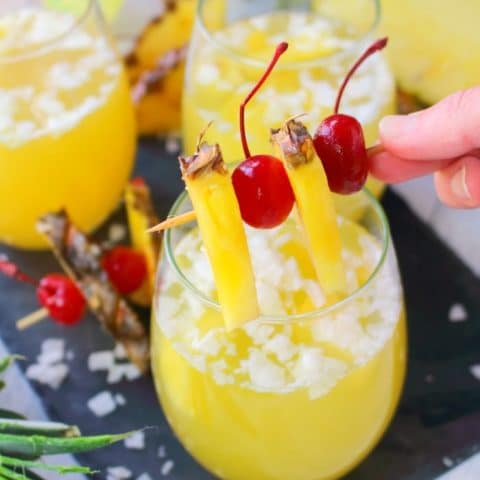 Pina Colada Champagne Punch
This Pina Colada recipe will be your new favorite happy hour drink! Made with four simple ingredients, this fantastic champagne punch is perfect for parties, showers, and girls nights! Forget the blender, this amazing pineapple coconut cocktail is super easy and completely delicious!
Ingredients
2 c. fresh or frozen pineapple chunks
3 c. pineapple juice
1 c. coconut rum (like Malibu)
1 (750 ml) bottle, sparkling wine, Champagne, Moscato or Prosecco
Toppings/Garnishes:
Flake coconut
Pineapple slices
Maraschino cherries
Instructions
In a large pitcher, add the pineapple chunks. Pour in the coconut rum, pineapple juice and champagne. Stir to combine and chill for at least 1 hour.
Pour and serve.
Notes
Chill all of the ingredients before mixing the punch if you would like to mix and pour the drinks immediately.
Nutrition Information:
Serving Size:

1
Amount Per Serving:
Calories:

363
Sodium:

7mg
Carbohydrates:

78g
Sugar:

72g
Protein:

2g