An amazing way to enjoy a fresh, delicious margarita! This easy Pineapple Margarita recipe is just 5 ingredients and comes together in moments. Fabulous for your next happy hour or celebrating Cinco de Mayo!
This post may contain affiliate links. Delightful E Made is a participant in the Amazon Services LLC Associates Program, an affiliate advertising program designed to provide a means for us to earn fees by linking to Amazon.com and affiliated sites.
How to make an amazing Pineapple Margarita
Are margaritas your cocktail of choice? You're definitely not alone. Margaritas, when mixed properly and with good ingredients, can be an amazing cocktail.
This Pineapple Margarita recipe is a fantastic spring and summer drink and amazing as an outdoor cocktail. These are also fantastic for Cinco de Mayo, and a must-have beverage anytime you're enjoying Mexican food.
Not overly sweet or syrup-y, this Pineapple Margarita has just the right amount of lime-citrus, paired with the pineapple flavors. With a fair amount of tequila, this cocktail has some kick – it's not for the faint of heart, but a definite must for every margarita lover!
Here are the simple steps to mixing a delicious Pineapple Margarita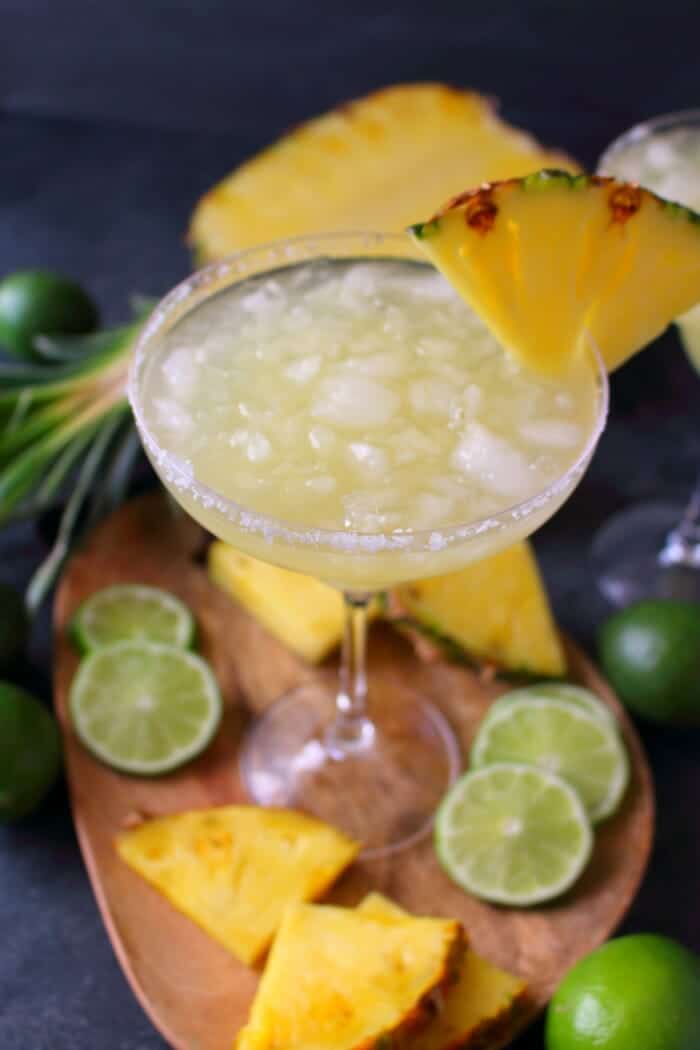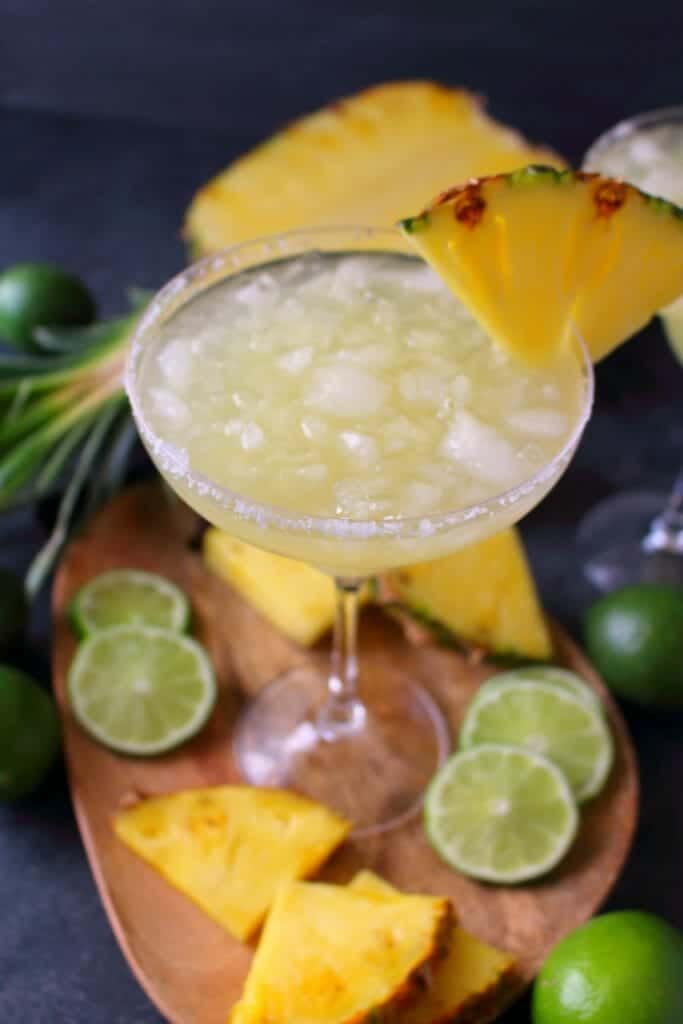 Step 1: Fill Cocktail Shaker with Ice
A key aspect to making this cocktail ultra-refreshing is to have the ingredients VERY cold. Start with filling a cocktail shaker with ice.
If you can, have your ingredients chilled before making the drink as well.
What do I need to make a Pineapple Margarita?
Tequila – I like Herradura, (gold or silver) but any good quality tequila will do.
Cointreau – this is a citrus liqueur that adds delicious flavor to any margarita.
Lime Juice – for a margarita, I always recommend fresh-squeezed. Don't buy the bottled stuff – it's just not the same. If you're making these margaritas for a party or get-together, juice your limes in advance and refrigerate.
Pineapple Juice – feel free to use canned or bottled pineapple juice.
Optional ingredients: Fresh pineapple slices and kosher salt for rims of glasses.
For exact ingredient amounts, please be sure to reference the full recipe and instructions at the bottom of this post. Thanks!
If you love a great tequila cocktail, check out my recipe for a Strawberry Tequila Sunrise over at Real Housemoms.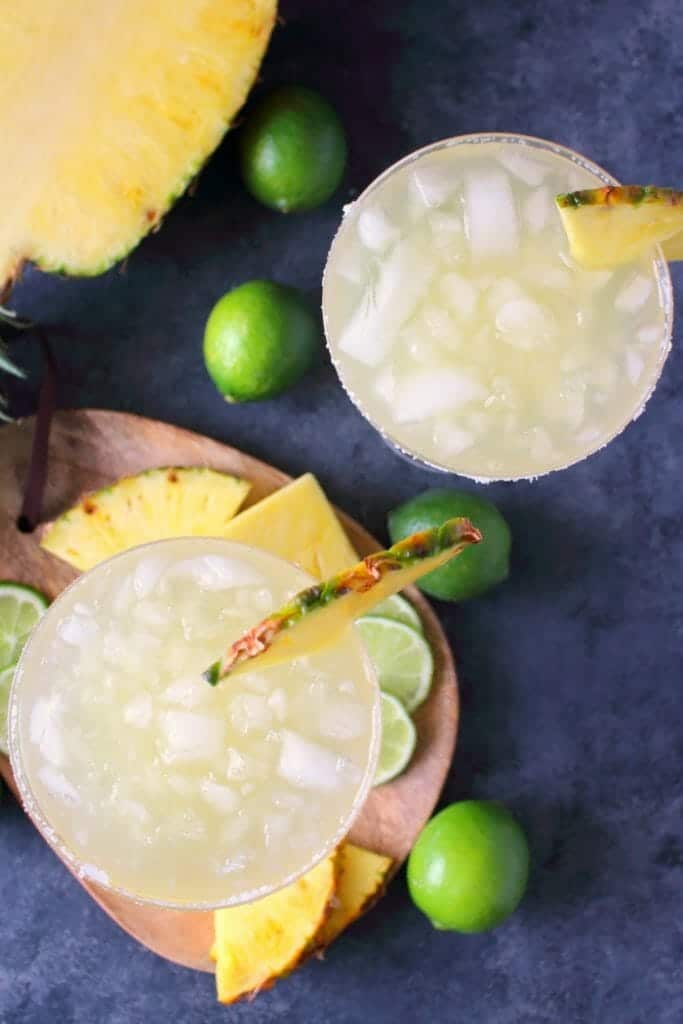 How do you salt a rim at home?
Before mixing the cocktail, prep your glasses. Start by running a lime wedge around the rims of the glasses, and then dip the glasses in kosher or margarita salt.
Next, fill the glass(es) with crushed ice. Slice up some fresh pineapple and add a wedge to the rim of each glass for a garnish if you would like.
To add a bit of extra flavor and spice, add a bit of chili powder to the salt. This this a great way to enhance the flavor of your margarita.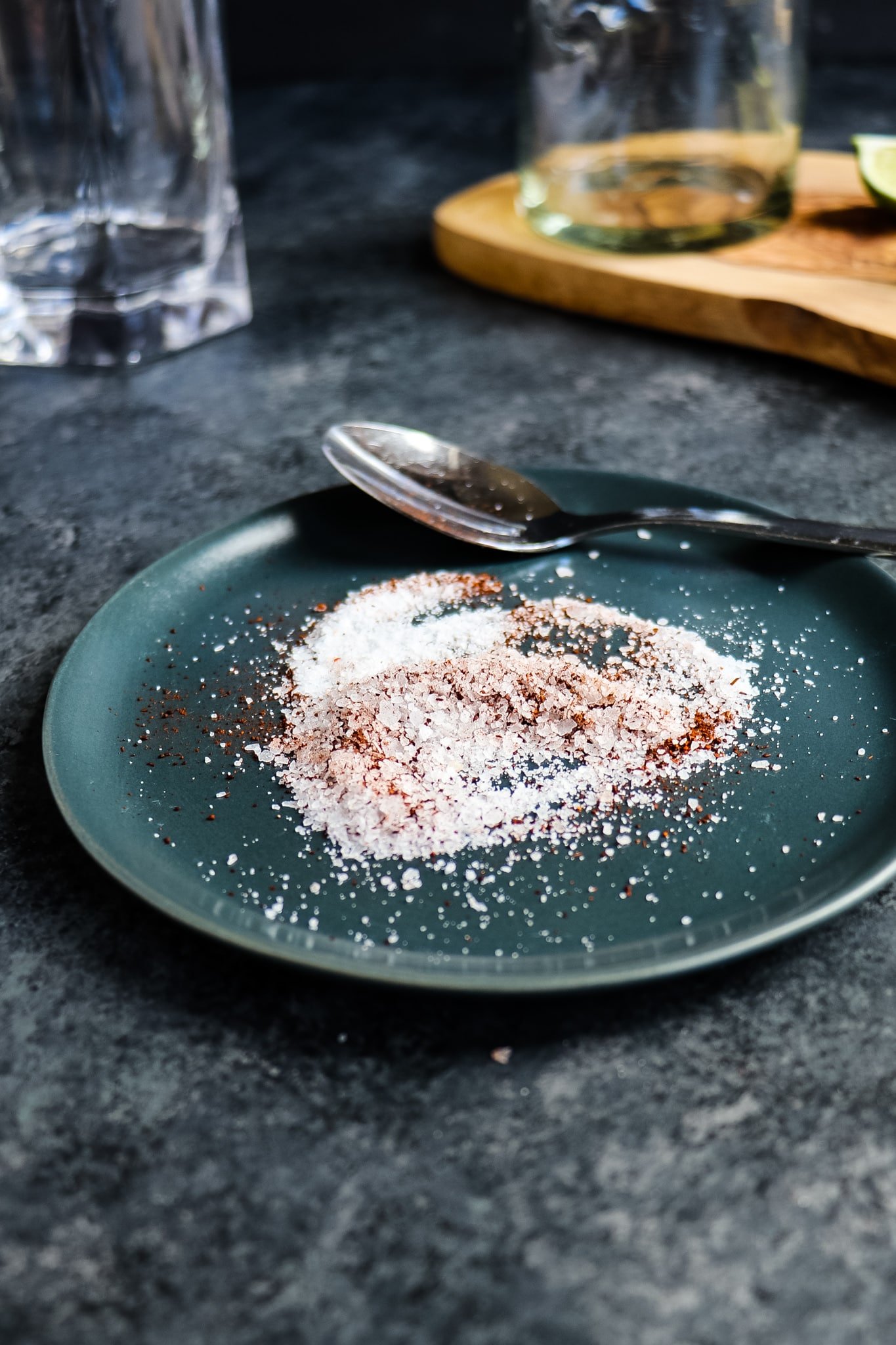 What type of glasses are best for margaritas?
The standard glass for a margarita is an up-style, curved margarita glass.
However, rocks-glasses are practical and just as effective for imbibing a delicious fresh-squeezed margarita. These are also easier to rim with lime and salt.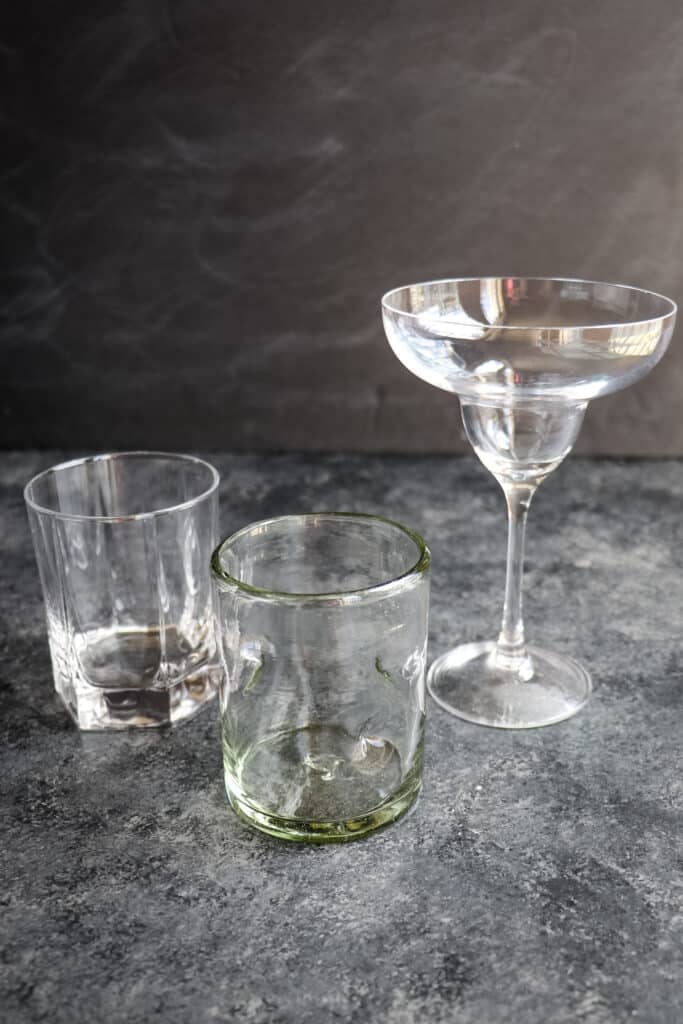 Mix and Pour the Pineapple Margaritas
Now that your shaker and glasses are ready, simply pour in the tequila, Cointreau, fresh lime juice, and pineapple juice to the shaker filled with ice.
Secure the lid to the shaker, and mix vigorously. Pour into the prepped glasses, and enjoy these amazing Pineapple Margaritas right away while cold.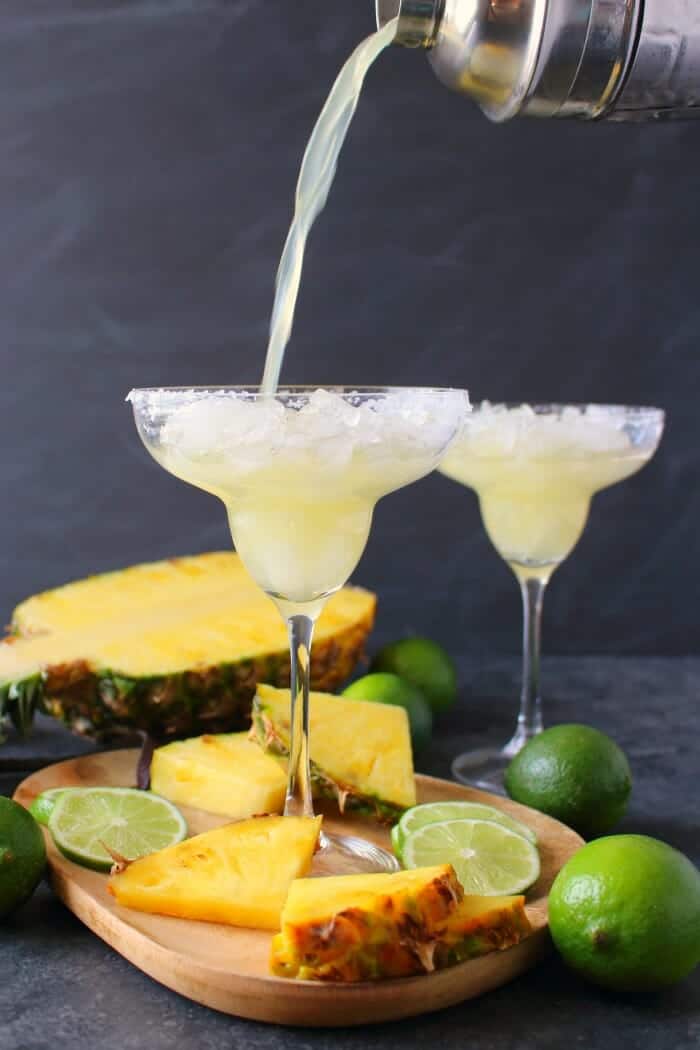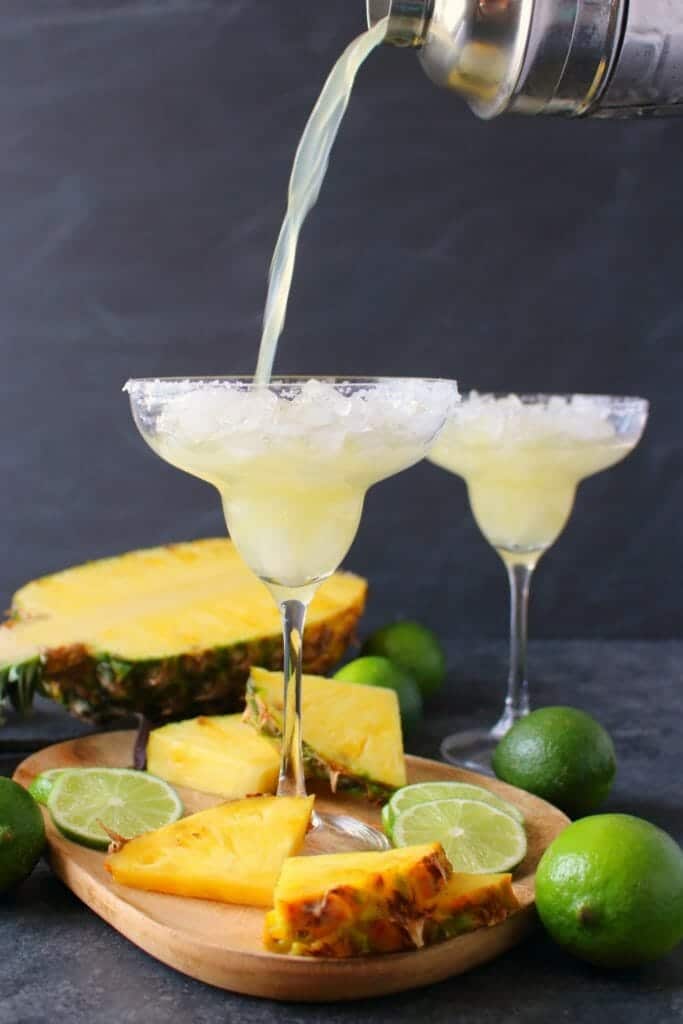 How do I make this Pineapple Margarita recipe frozen?
For a frozen pineapple margarita, simply add ice to a blender. (Approximately 6-8 cubes of ice per drink). Add the same ingredients to the ice, and blend until ice is completely crushed and smooth.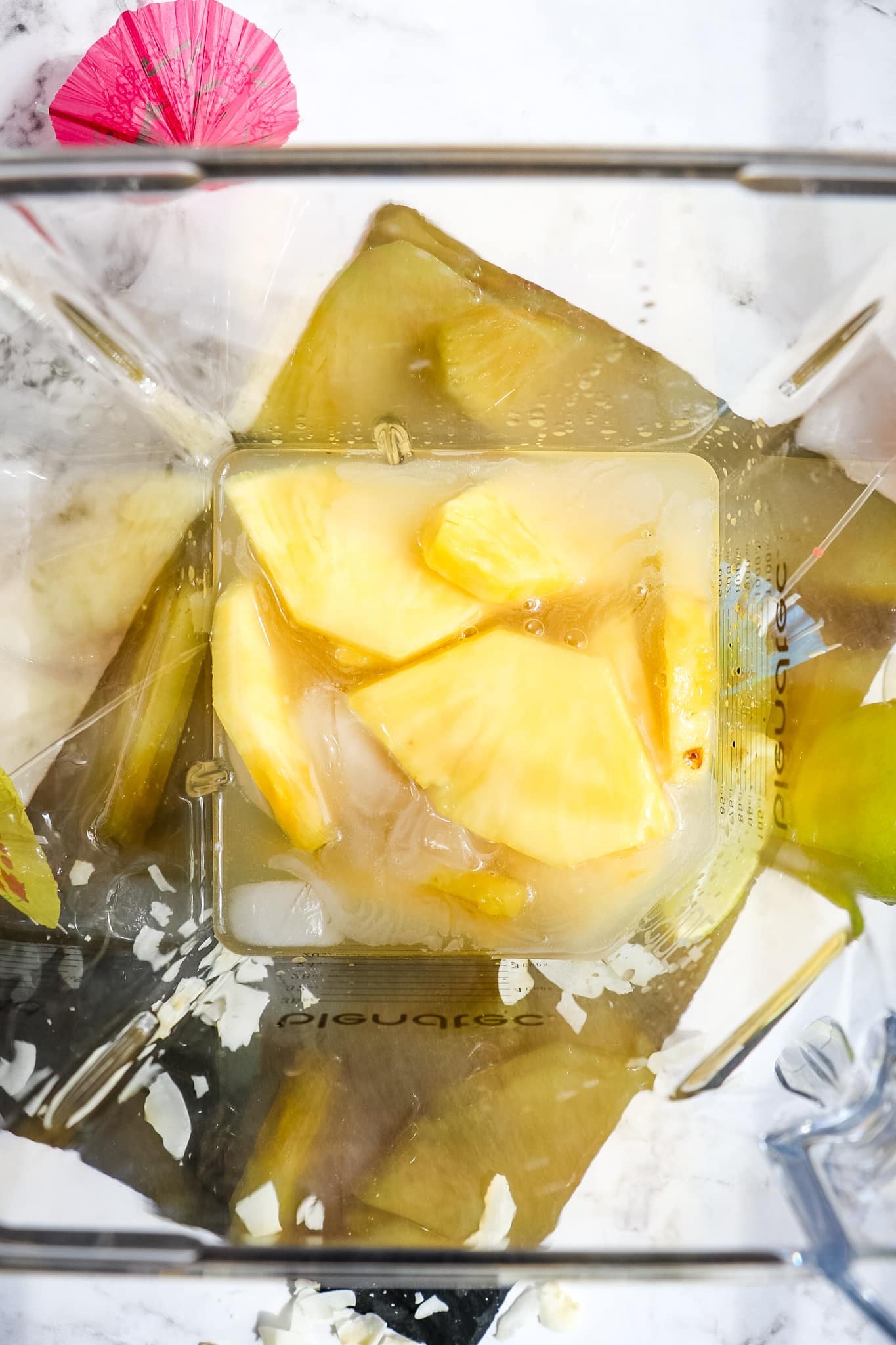 Pour the blended drink into prepared glasses and enjoy!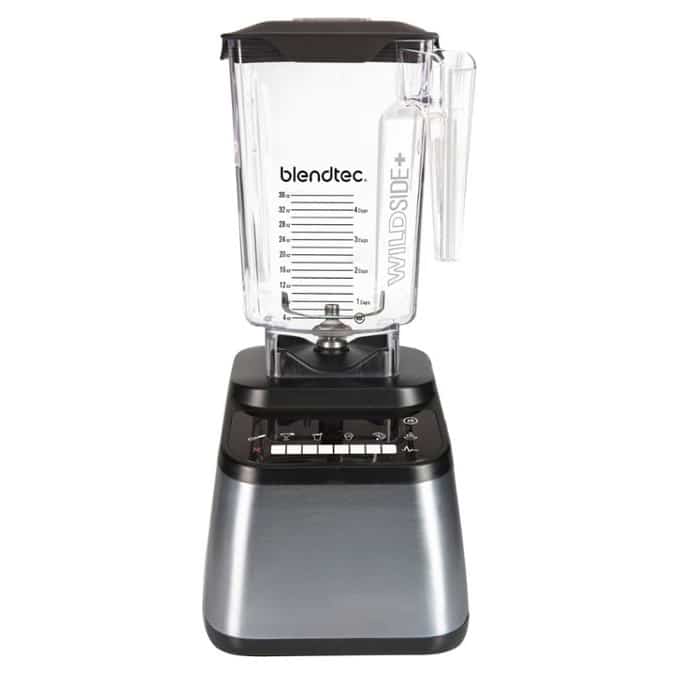 Blendtec 650 Designer Series Blender with Wildside Jar
This is the Blender I use almost DAILY! Everything from smoothies, to cocktails, to waffle and muffin batter and even nut butter, this ultrapowerful blender creates an amazing puree every time. It's very durable and made to last!
What can I serve with margaritas?
Margaritas are great served with an Tex-Mex inspired meal. Here are some great main dish options to serve with margaritas:
This margarita recipe is the perfect drink to sip on a warm day, with your friends out on the patio and especially on Cinco de Mayo. Amazing with a Classic Pico de Gallo Salsa my Loaded Guacamole or Tropical Pineapple Mango Salsa and your favorite tortilla chips.
FAQ's about making great margaritas:
What kind of salt do you use on a rim margarita?
The best salt option to rim a glass is kosher salt. You can also use Jose Cuervo Margarita Salt for these margaritas. It comes in a convenient round, flat container that makes it useful for rimming the edges of your margarita glasses.
Can you use lime juice in a bottle for margaritas?
Fresh limes will taste the best in a margarita. However if you can't access limes, using bottled lime juice is a good substitute in a pinch.
Is Cointreau or Triple Sec better for margaritas?
In testing both citrus liqueurs, we use and prefer Cointreau. It balances the acidity of the citrus and adds the perfect amount of orange flavor to every margarita we tested.
Is Triple Sec necessary for a margarita?
You will need some type of orange liqueur to balance the flavor and acidity of the lime juice. Cointreau is our preferred orange liqueur in making margaritas.
Do I need simple syrup to make a margarita?
No. Many restaurants and bars add syrup as a way to "volumize" drinks. Unfortunately, this just adds calories and sugar to your drink. A traditional margarita only has tequila, Cointreau and lime juice. If you want to add a sweetener, add a small amount of agave nectar to taste.
What is the ingredient ratio for a margarita?
For best results use a 2:1:1 ratio. A classic margarita will be 2 parts tequila, 1 part Cointreau (orange liqueur) and 1 part fresh lime juice.
If you loved this delicious Pineapple Margarita recipe, check out some of my other delicious cocktail and drink ideas:
Pineapple Margaritas
An amazing way to enjoy a fresh, delicious margarita! This easy Pineapple Margarita recipe is just 5 ingredients and comes together in moments. Fabulous for your next happy hour or celebrating Cinco de Mayo!
Ingredients
2 oz. Tequila, good quality
1/2 oz. Cointreau orange liqueur
1 oz. lime juice, fresh squeezed
1 oz. pineapple juice
For Garnish:
Pineapple Wedges
Kosher Salt, for rims of glasses
Instructions
In a cocktail shaker filled with ice, add the tequila, Cointreau, lime juice, and pineapple juice. Secure a tight fitting lid, and shake contents vigorously.
Optional: run a lime wedge around the rim of glass, and dip into salt. Add pineapple wedge for garnish.
Add crushed ice to glass.
Pour margarita into glass and enjoy right away while cold.
Notes
For a frozen/blended Pineapple Margarita: simply add ice to a blender (approximately 6-8 ice cubes per drink), add the ingredients, and blend until the ice is completely crushed and smooth. Pour into prepared glasses.
Nutrition Information:
Serving Size:

1
Amount Per Serving:
Calories:

151
Sodium:

31mg
Carbohydrates:

5g
Sugar:

4g
You Might Also Like These Recipes