Made with a cake mix, this super chocolaty Double Chocolate Turtle Bars are just as easy as they are delicious!  Loaded with lots of chocolate, caramel, and pecans, these bars are amazing anytime you're in the mood for a sweet treat!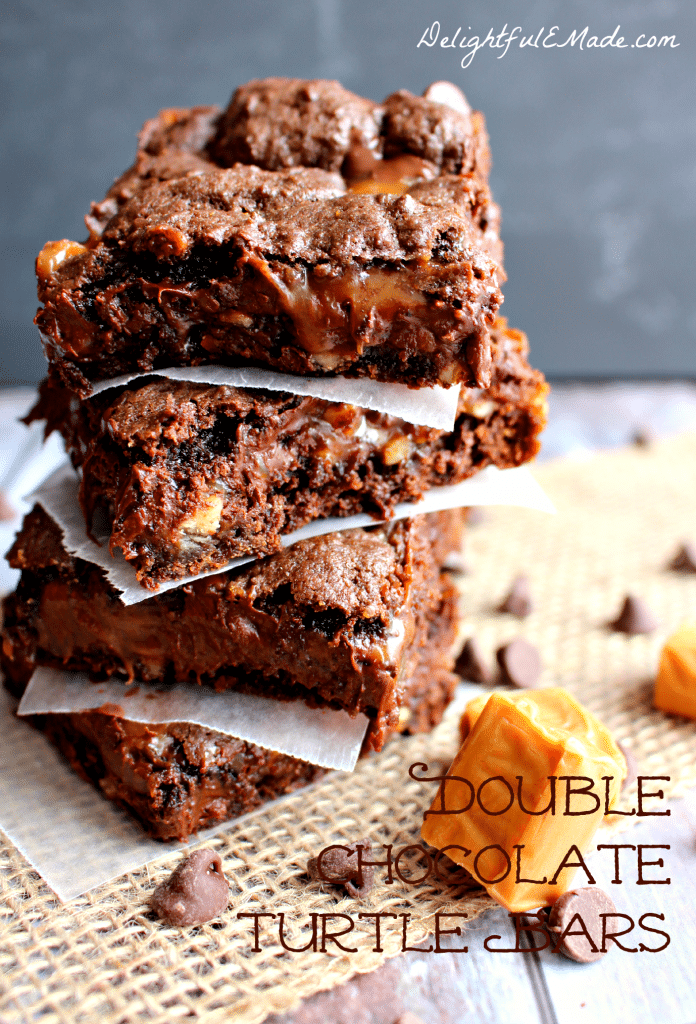 I don't know about you, but when I get a little stressed, anxious, or am burning the candle at both ends, my go-to food is chocolate.  I know full-well that I'm an emotional eater, and its something I've tried to overcome.  Over the years I've become much better about not eating my feelings, but its still something that I do on occasion.
The past couple weeks have been REALLY stressful!  I took on a volunteer position at my son's school for their annual Mardi Gras fundraiser.  Its a fantastic event that brings out a couple hundred people, and in the process raises quite a bit of money toward the schools operating costs and tuition assistance.  This year I was the auction chairperson (a pretty significant responsibility), and over the past several months have been in charge of coordinating donations for our live and silent auction.   Needless to say, I've been a little stressed!  This past Saturday the event took place, and we had quite a successful evening…but it took hundreds of hours of work to get to that point.  Oye Vey!!  I'm glad its over!
Now that the Mardi Gras Gala is in the books, I'm excited to get back to blogging, bringing you delicious recipes, and sharing all of my ideas for making life a little more delightful.  One of these fantastic recipes are these super-delicious Double Chocolate Turtle Bars!  This is one of the many recipes my mom has shared with me over the years, and are definitely a go-to goodie when I'm a little stressed.  (There, I said it!)  🙂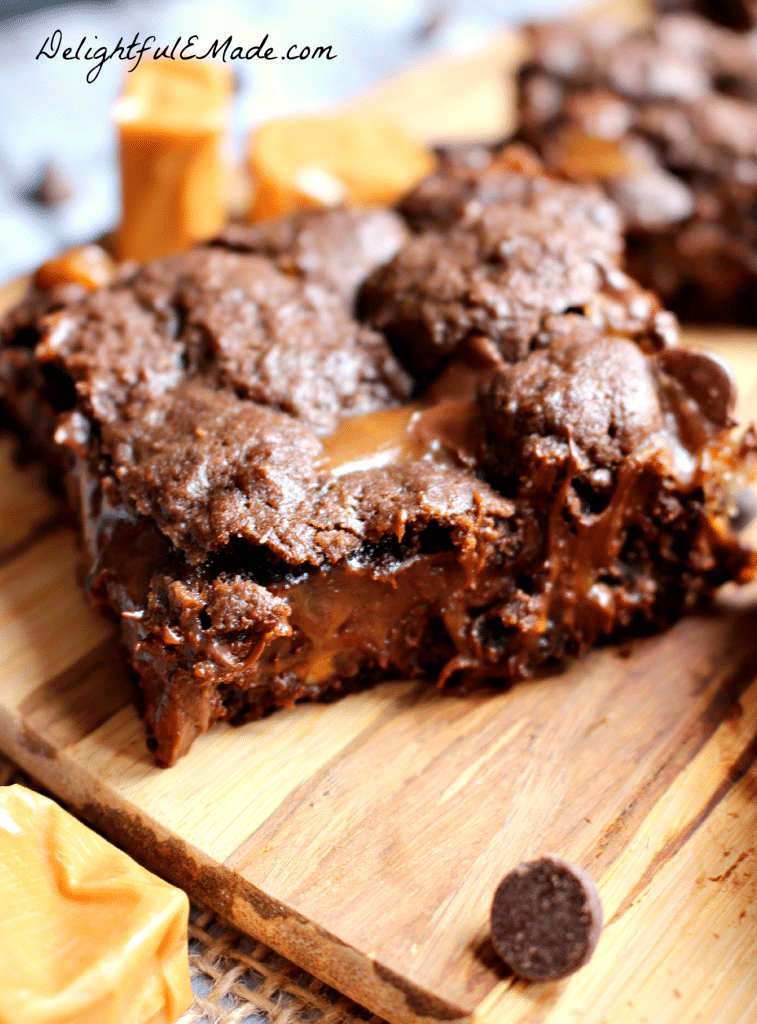 As you can see, these bars are loaded with chocolate, caramel and pecans!  They are super-gooey, fudgy and really hit the spot when chocolate is what you're craving.  Perfect with a scoop of ice cream, they make one heck of a fantastic dessert at the end of the day!!  These bars actually use a cake mix, which makes it pretty fool proof.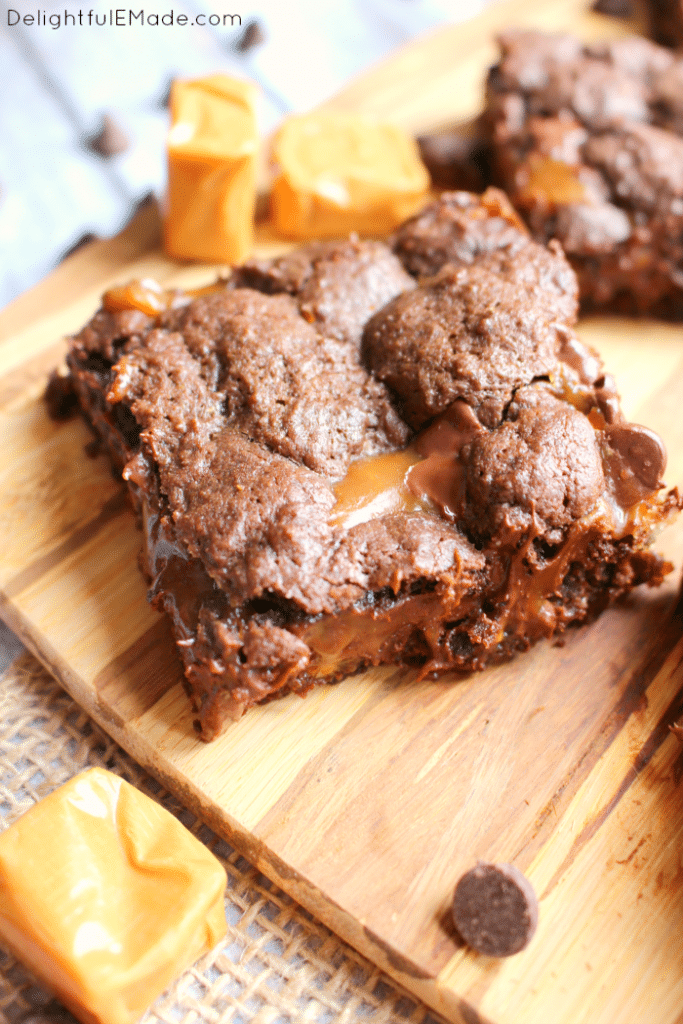 Here are how these amazingly delicious bars come together:

Erin Indahl-Fink
Yields 12-18
Double Chocolate Turtle Bars
Chocolate, caramel and pecans have never tasted so good! These Double Chocolate Turtle Bars are the perfect dessert when you're craving something gooey and delicious!
15 minPrep Time
30 minCook Time
45 minTotal Time
Ingredients
1 pkg chocolate cake mix
3/4 c. butter, melted
1 c. milk (divided)
1 pkg. Kraft caramels
1 c. chopped pecans
2 c. semi-sweet chocolate chips
Instructions
Preheat oven to 350 degrees. Spray a 9x13" plan with non-stick spray.
In a mixing bowl pour the melted butter and 1/2 c. milk into the cake mix. Stir. The batter will be sticky. Using a rubber scraper, spread 1/2 the batter into the 9x13 pan. Bake at 350 degrees for 15 minutes.
Remove from the oven and sprinkle the chopped pecans and chocolate chips over the thin cake layer. Melt the caramels with 1/2 c. milk in the microwave. (Melt in 1 minute increments, stirring each time. It took me 2 1/2 minutes to get to a smooth fully melted consistency.) Pour the caramel evenly over the nuts and chocolate chips. Drop the remaining cake batter (I used my fingers to drop small chunks) on the caramel. Bake 15 minutes more at 350 degrees.
Cool completely before cutting.
Store at room temperature in a air tight container.
7.8.1.2
58
https://delightfulemade.com/2014/03/03/double-chocolate-turtle-bars/
Copyright by DelightfulEMade.com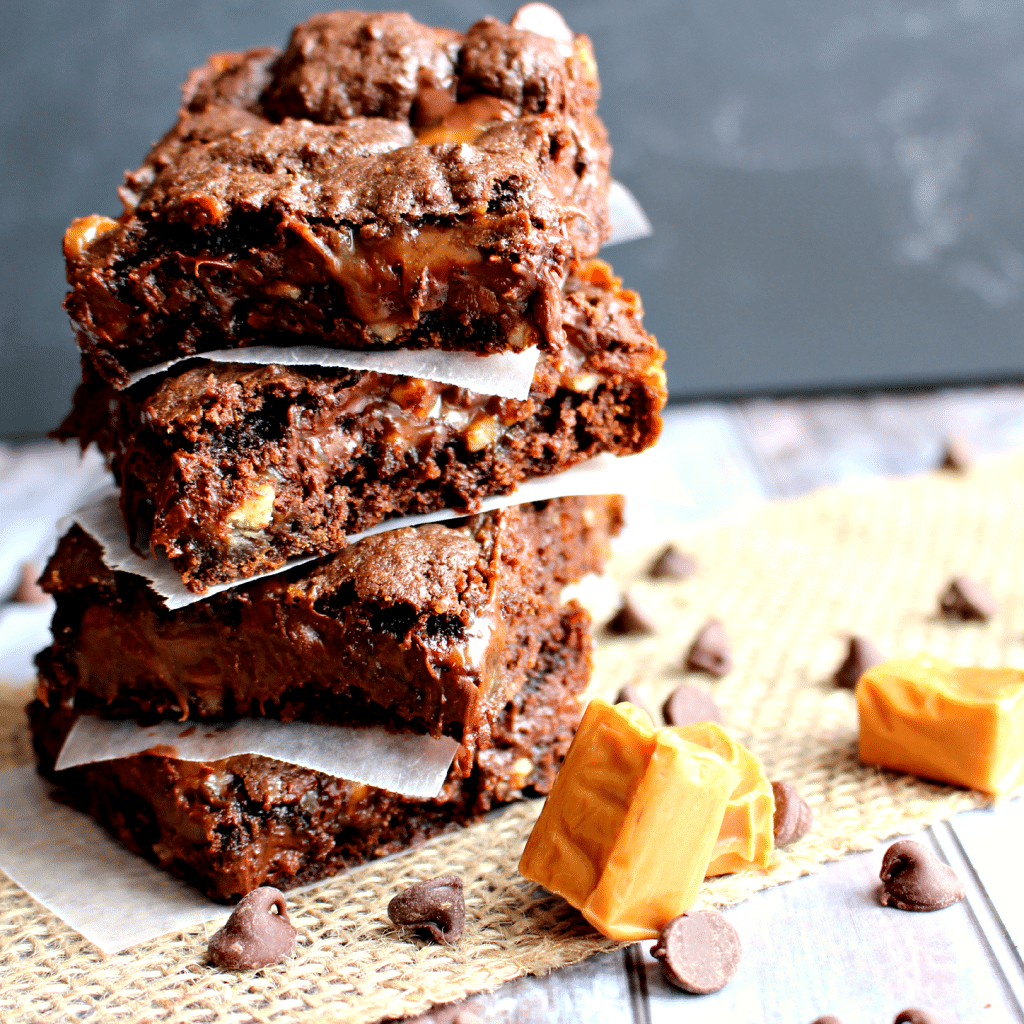 As you can see, these bars are  pretty easy to make.  Great for a fun dessert, bake sale goodies, or fun treat for someone that loves chocolate, caramel and/or pecans!
I will continue to work on being less of an emotional eater.  I'm getting better at it all the time, however, there are just days when I have to have something chocolaty, gooey and delicious!!  Do you blame me?  🙂
I hope you get to enjoy these as much as I have!
Erin