S'mores Nachos – the Ultimate S'mores recipe!
The ultimate s'mores recipe perfect for sharing! These S'mores Nachos are a fun take on the classic campfire treat. Made with just 4 ingredients and under 10 minutes, they can be made in the oven or on the grill!
This post may contain affiliate links. Delightful E Made is a participant in the Amazon Services LLC Associates Program, an affiliate advertising program designed to provide a means for us to earn fees by linking to Amazon.com and affiliated sites.
As soon as the weather gets warmer and the days get longer, we fire up the grill for dinner. Steaks, burgers, pork chops and chicken, but do you ever do dessert on the grill?
I've got a really fun way for the entire family to enjoy a delicious dessert, right from the grill in under 10 minutes! S'mores Nachos for the win! They're the perfect way to treat your family to a fun, easy dessert any night of the week.
Here's how this fun S'mores recipe is made: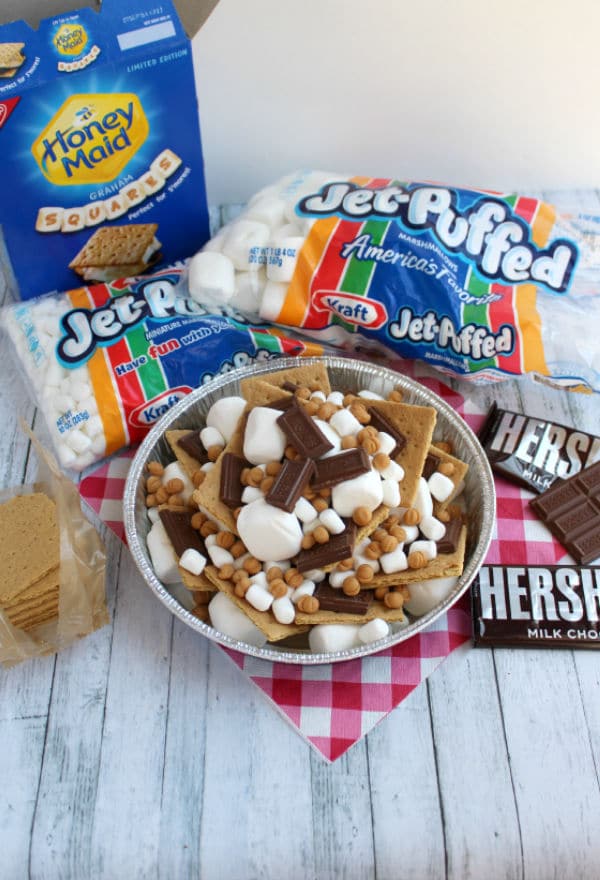 What ingredients do I need for this s'mores recipe?
To make these s'mores nachos, you'll need just 4 ingredients; graham crackers, Hershey's bars, marshmallows (any size), and caramel bits.
You can definitely customize this s'mores recipe by adding other goodies! Here's just a few ideas:
peanut butter chips
white chocolate chips
mini peanut butter cups
mini candy bars
strawberries
raspberries
OREO's
Nutter Butter cookies
How to build your S'mores nachos:
I recommend using a disposable aluminum pan. This makes clean-up especially easy, especially if your grill is overly hot and gets smokey.
Start by layering the marshmallows, graham cracker squares, and chocolate bars in the bottom of the pan. Add some mini marshmallows as well – they fill in the cracks nicely.
Just like nachos, add another layer of graham crackers, chocolate and marshmallows. Lastly, top with some additional sweet treats, like these yummy Kraft Caramel Bits – not only do they go great with the s'mores ingredients, they melt wonderfully!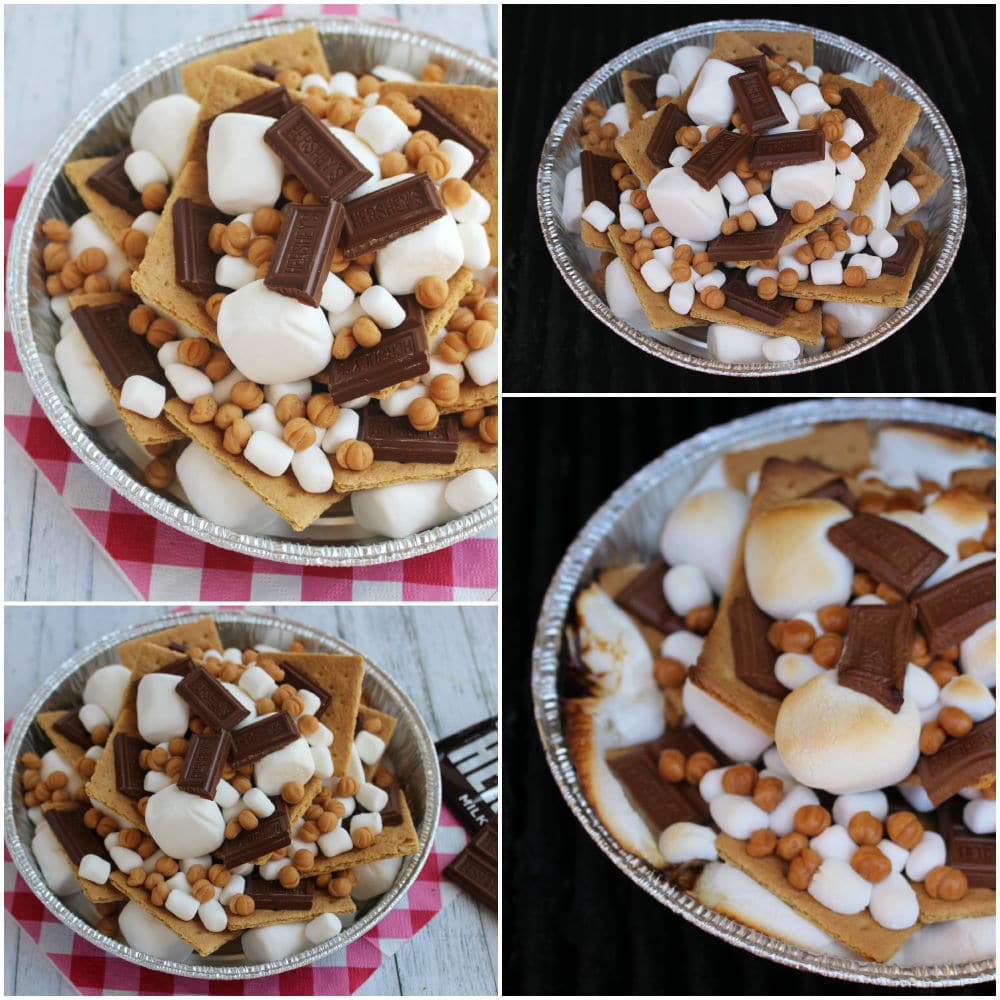 How do I heat this s'mores recipe?
Once they're assembled, they're ready to go on the hot grill. Place your pan directly on the grill grates, away from the direct flame and lower the heat to medium-low. Close the grill lid, and let the heat do all the work. Set your timer for two minutes, and what you'll end up with is S'mores heaven!
Just look at that gooey s'mores perfection! The marshmallows on the bottom melt along with the chocolate, and caramel, and the graham crackers act as the perfect chip for this melted goodness!
This is the perfect week night dessert on a warm spring or summer evening for the entire family to enjoy. Eating these outdoors on the deck or patio is the perfect way to end a summer day.
How do I make s'mores nachos in the oven?
Is it too cold or rainy to go outside? No problem. These s'mores nachos can be made directly in the oven. Heat the oven to 400 degrees, and place pan on the top rack. The s'mores will need just 5 minutes to get golden brown, melty and delicious! (Keep an eye on your s'mores – they could get golden brown and melt in 3 minutes or less.)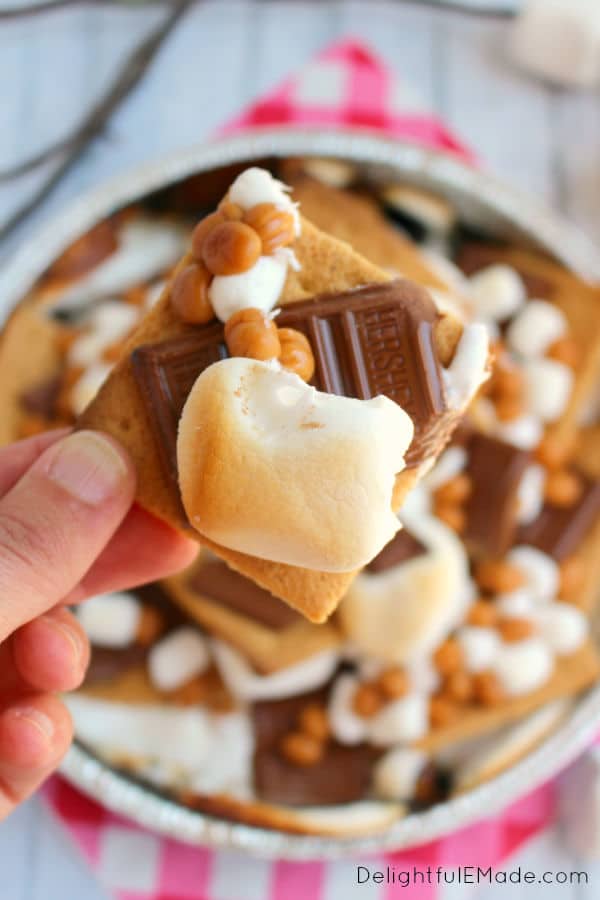 If you loved this delicious s'mores recipe, check out some of my other fun chocolatey treats:
Peanut Butter White Chocolate Crock Pot Candy
Crock Pot Chocolate Almond Candy
Chocolate Dipped Ritz Cracker Cookies
Layered Chocolate Peanut Butter Fudge
Here's the recipe for these delicious, easy S'mores Nachos:
S'mores Nachos
A fun way for the entire family to enjoy s'mores right from the grill! Ready in under 10 minutes, and topped with all your favorites, these easy and delicious S'mores Nachos will having you going in for more!
Ingredients
12 - 16 Honey Maid Graham Cracker Squares
3 - 4 Hershey's Milk Chocolate bars, divided
12 - 16 Kraft Jet Puffed Marshmallows
2 c. Kraft Jet Puffed Mini-Marshmallows
1 c. Kraft Caramel Bits
Instructions
Preheat outdoor gas grill on high setting.
Assemble the nachos in a round or rectangular disposable aluminum cake pan. Layer graham crackers, chocolate bars, marshmallows. Top with Caramel bits and a few extra chocolate bars.
Place pan with assembled nachos directly on to the preheated grill, over indirect heat/flame. Shut grill lid, and let melt for about 2 minutes. Careful not to overcook, as the marshmallows can burn. Remove from grill with potholders. Enjoy right away!
To make in the oven: Preheat oven to 400 degrees. Place pan of s'mores nachos on the top rack. Keep an eye on the nachos. They will need just 3-5 minutes. Take out when the marshmallows are golden brown and the chocolate is soft and melted.
Nutrition Information:
Serving Size:

4 servings
Amount Per Serving:
Calories:

242
Total Fat:

6g
Saturated Fat:

4g
Cholesterol:

23mg
Sodium:

134mg
Carbohydrates:

41g
Sugar:

34g
Protein:

6g
This shop was compensated by Collective Bias, Inc. and its advertiser. All opinions are mine alone. #LetsMakeSmores #CollectiveBias #sponsored