Looking for a new way to enjoy a spring mix salad? This delicious blueberry spring mix salad recipe is loaded with flavor and freshness. Made with a package of store-bough spring mix, this salad can be served as a side dish or as a lunch entrée salad with chicken. Healthy, easy and delicious!
This post may contain affiliate links. Delightful E Made is a participant in the Amazon Services LLC Associates Program, an affiliate advertising program designed to provide a means for us to earn fees by linking to Amazon.com and affiliated sites.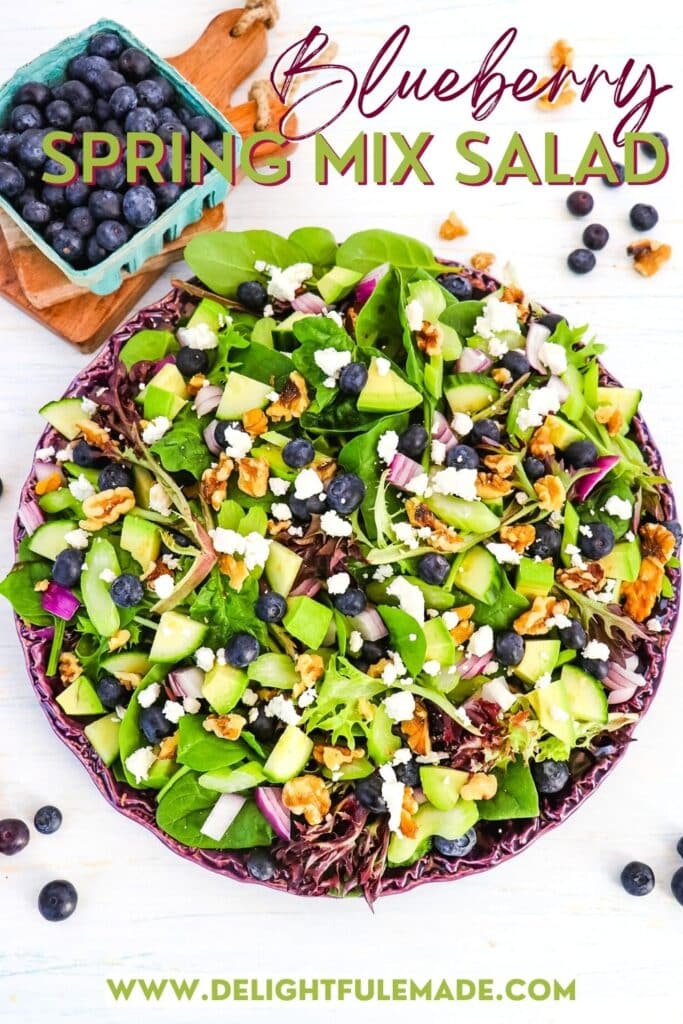 Do you have a bag of spring mix in your refrigerator right now? Do you need a new idea of what to do with it? This healthy, easy blueberry salad is a great option!
You can make this blueberry salad two ways – as a side salad for a meal, or add chicken to it for a lunch option. Either way, this salad is fresh, colorful and a great way to enjoy that package of spring mix!
What do I need to make a spring mix salad recipe?
Bag/Package of spring mix – found in your produce section, spring mix typically includes a mixture of lettuce, including baby spinach, arugula, chard, radicchio, endive, red and green romaine or other heirloom lettuces.
Celery – this will add some great color and crunch to your salad.
Avocado – wonderfully nutritious, avocado will provide your salad with some good fats, and keep you full and satiated throughout the day.
Cucumber – a great option to add to any salad, I like to use English cucumber, as it does not need to be peeled.
Red onions – feel free to use fresh red onion or use my recipe for pickled red onions.
Blueberries – fresh blueberries are best for this blueberry spring mix salad.
Goat cheese crumbles – these can be found in the cheese or deli section of your grocery store.
Walnuts – like the avocado, these also add some good fats to your salad, and also add some great texture and crunch.
Chicken (or an entrée or lunch salad) – I've listed some good chicken options below.
Dressing – a great pairing for this salad is my Honey Balsamic Dressing.
For exact ingredient amounts and full recipe instructions be sure to scroll down to the bottom of the post for the recipe. Thanks!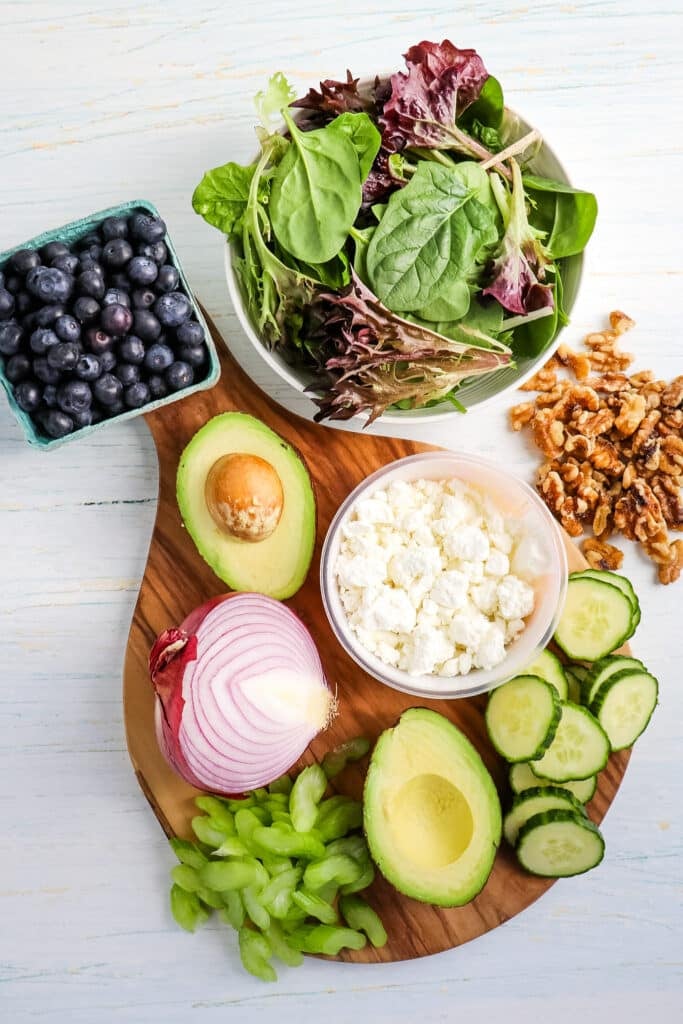 Ingredient Substitutions and Recommendations:
Pickled red onions instead of fresh red onion. Occasionally, fresh red onion can be a bit strong. Try my pickled red onions – they are fantastic in a salad! Still crisp, yet slightly sweet, without the overwhelming strong onion flavor.
Feta or Blue Cheese crumbles instead of goat cheese. If you like a stronger cheese, give feta or blue cheese a try.
Sliced or chopped almonds, pecans or pistachios instead of walnuts. All of these nut options are great and will give you a nice crunch to every bite of your salad.
How do I make blueberry spring mix salad?
To make this salad, start by placing the spring mix into a large salad bowl. Add in the sliced celery, red onions, avocado, cucumber, blueberries, goat cheese crumbles and walnuts. If you are making this salad an entrée salad, also add in the chicken.
Top the salad with the dressing and toss together to dress. Enjoy right away.
Note: if you are prepping this salad for later, hold off on adding the dressing. Store the dressing in a separate container and dress just before serving. Dressing your salad and then refrigerating it will cause the salad to become limp and soggy.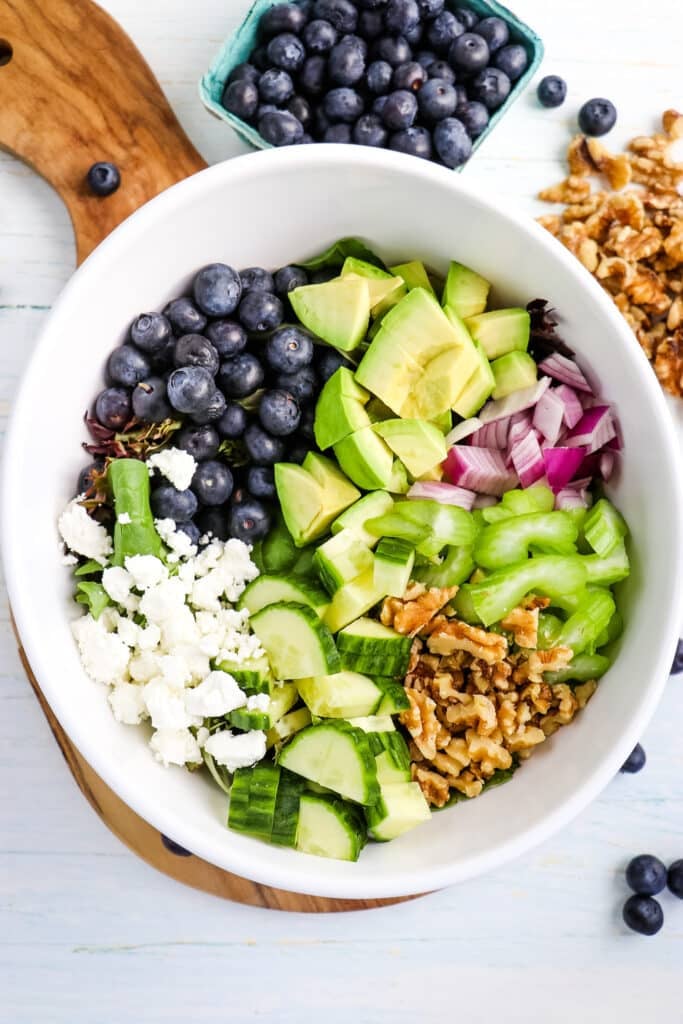 Adding chicken to your blueberry salad:
The addition of grilled chicken is a great way to add extra protein to your salad and make it into an entrée. This salad is perfect for lunch. Here are some options of grilled chicken that are great in this salad: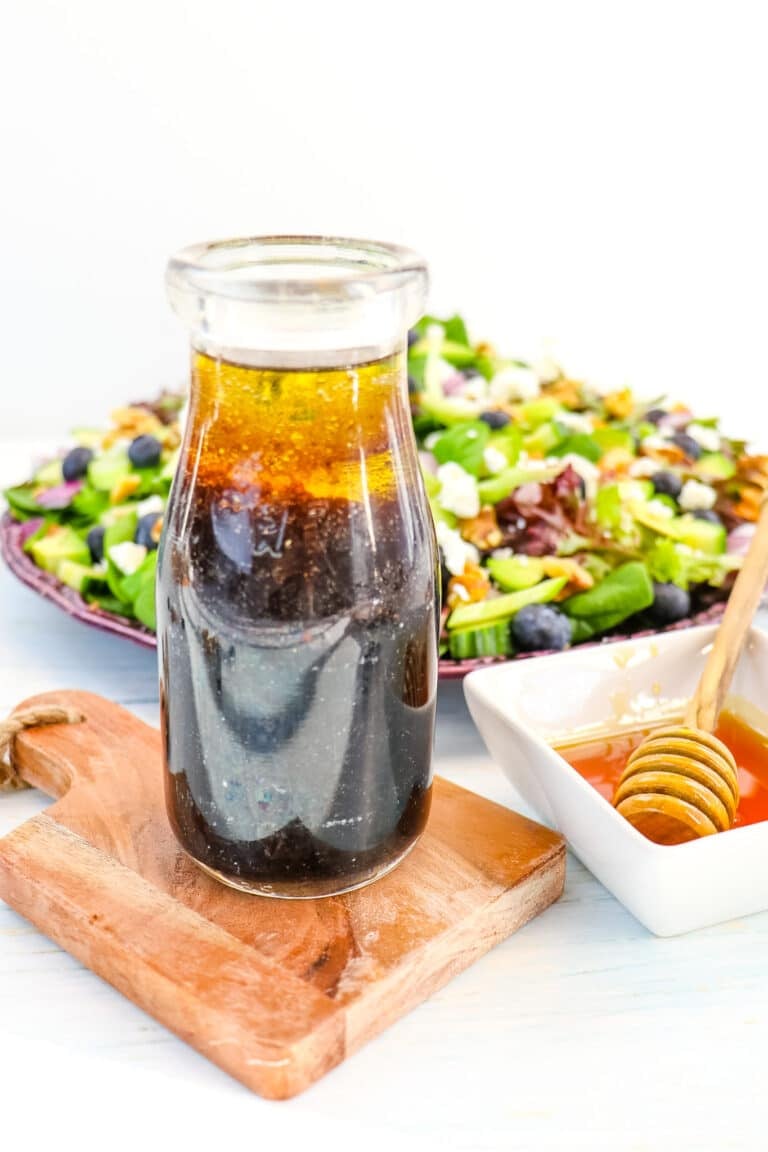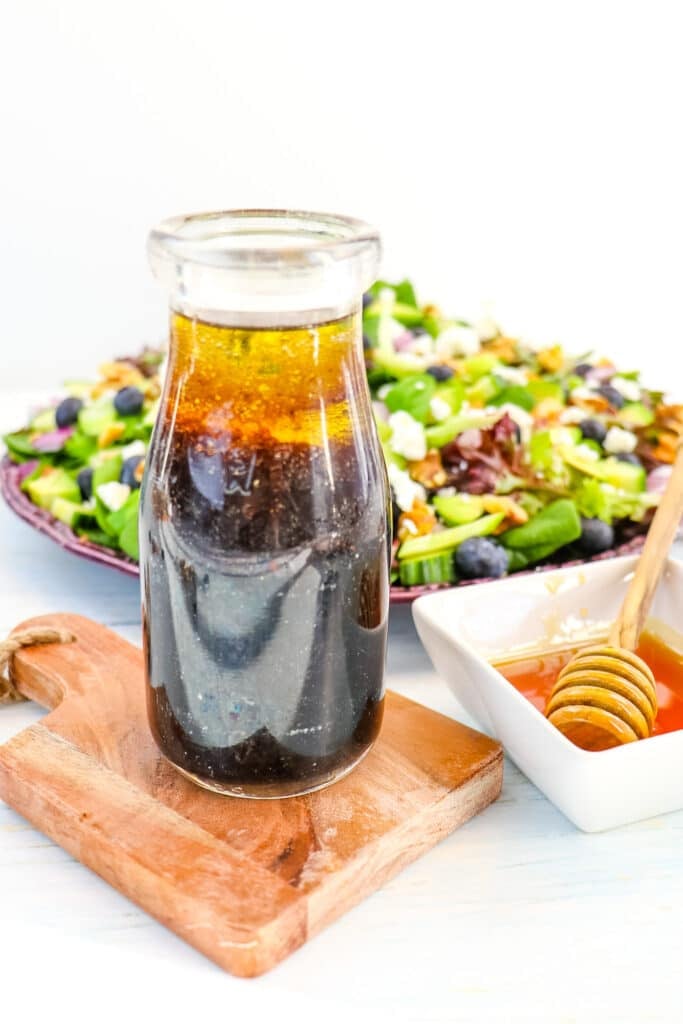 The best dressing for a spring mix salad recipe:
I've paired this salad with my Honey Balsamic Dressing. This dressing is slightly sweet, yet has a nice vinaigrette flavor, which goes great with the berries, avocado and greens.
Here are some other homemade salad dressing recipes that would be great with this salad:
Frequently asked questions about spring mix salad:
What is spring mix salad made of?
Depending on the package you purchase (ingredients are listed on the front label), spring mix contains lettuce, baby spinach, chard, arugula, radicchio, endive, red and green romaine and other heirloom lettuces.
Is spring mix good for you?
Yes, spring mix is a healthy option for any salad. It contains folate, calcium, and is a good source of Vitamins A, C and K.
Is spring mix healthier than romaine lettuce?
Yes, leafy greens that are included in spring mix are very nutritionally dense. These greens offer a good source of Vitamins K, A and C are are rich in calcium, folate and fiber.
What is the healthiest lettuce to eat in a salad?
Romaine, spinach, kale, arugula and and other deep leafy greens are the best option for a salad. These all contain folate, calcium, fiber and are rich in Vitamins A, C and K.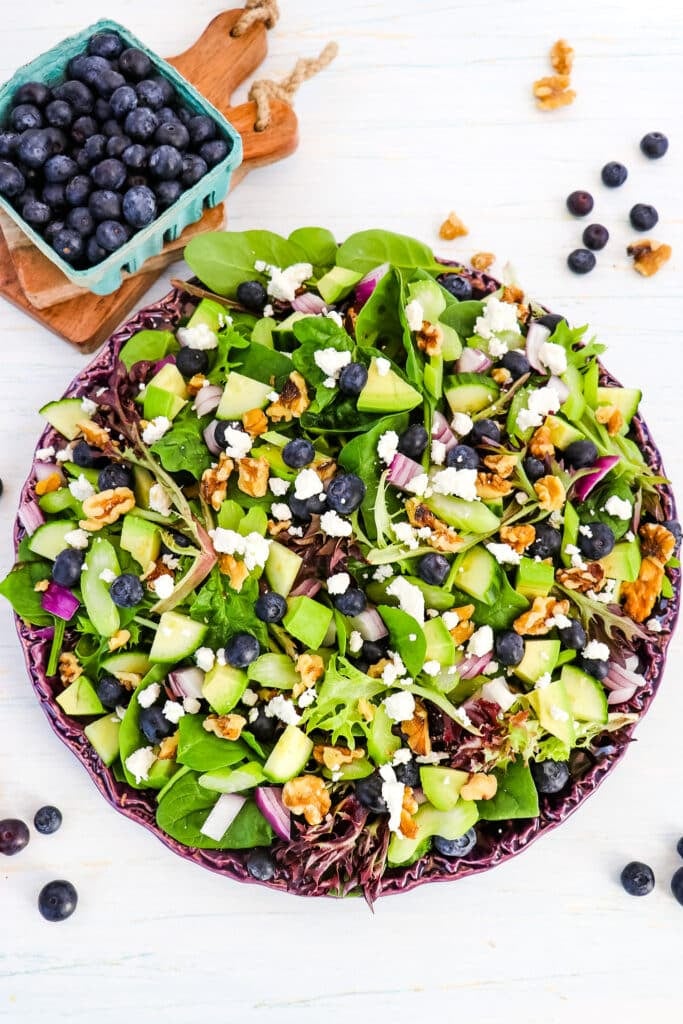 If you loved this spring mix salad recipe, check out some of our other salad ideas: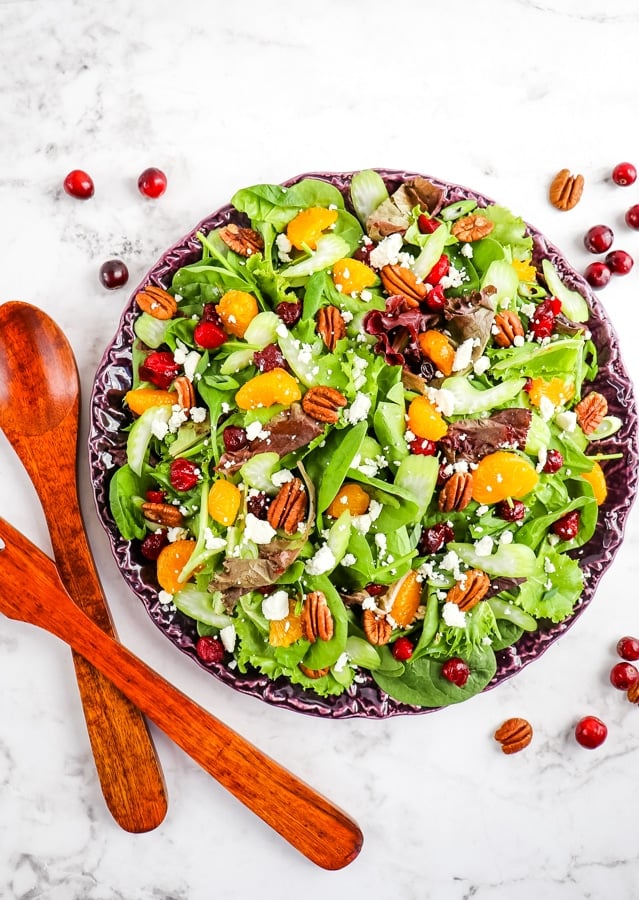 ---
---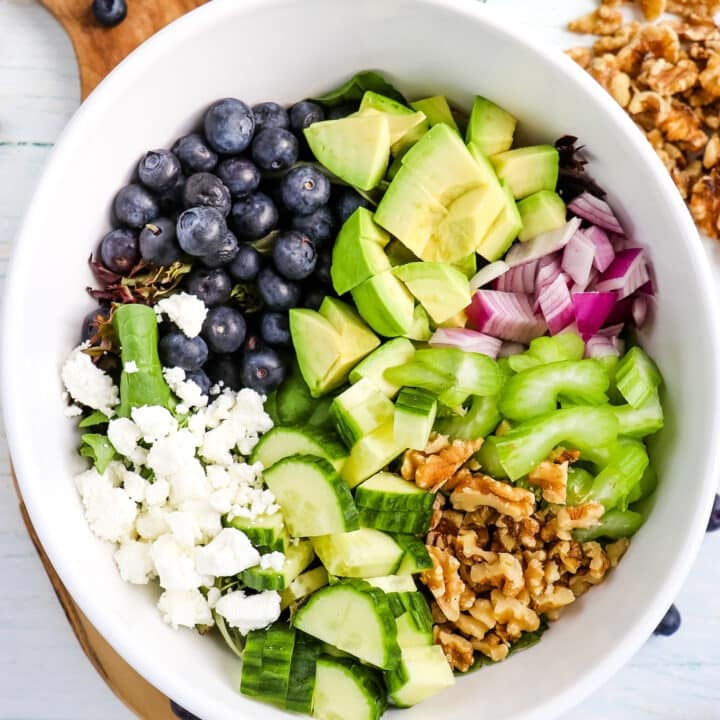 Blueberry Spring Mix Salad
Looking for a new spring mix salad recipe? This blueberry salad with spring mix has incredible flavor, crunch and freshness. Best of all, you can serve it as a side salad, or stand-alone as an entrée lunch salad.
Ingredients
1 (5 oz.) pkg, Spring Mix
3/4 cup, fresh blueberries, rinsed
1/2 cup celery, sliced
1/2 cup avocado, diced into chunks
1/2 cup cucumber, sliced
1/3 cup red onion, diced
1/3 cup goat cheese crumbles
1/3 cup chopped walnuts
1/2 cup Honey Balsamic Dressing
Instructions
To a large salad bowl, add the package of spring mix.
Add in the blueberries, celery, avocado, cucumber, red onions, walnuts and goat cheese crumbles.
If serving the salad right away, dress the salad with the honey balsamic dressing and toss together to coat all the ingredients. (If making the salad in advance, store the dressing in a separate container. Dress the salad just before serving.)
Serve right away after dressing the salad.
Notes
To make as a single entree salad: Place 3 cups of spring mix (about 3 large handfuls) into a bowl. Add 1/4 cup of blueberries. Add 2 tablespoons each of the celery, avocado, cucumber, red onion. Add 1-2 tablespoons of the walnuts and goat cheese crumbles. Top with 2 tablespoons of the honey balsamic dressing. If meal prepping this salad, store the dressing in a separate container. Dress just before eating.
How much chicken? To an entrée salad, add 4 oz. grilled chicken for every serving.
Recommended Products
As an Amazon Associate and member of other affiliate programs, I earn from qualifying purchases.
Nutrition Information:
Yield:

4
Serving Size:

1
Amount Per Serving:
Calories:

332
Total Fat:

28g
Saturated Fat:

6g
Trans Fat:

0g
Unsaturated Fat:

21g
Cholesterol:

9mg
Sodium:

207mg
Carbohydrates:

17g
Fiber:

4g
Sugar:

10g
Protein:

7g