Are you looking for a homemade cheeseburger macaroni recipe? This delicious ground beef cheeseburger mac is way better than any store-bought mix. Great for when you need an easy weeknight dinner idea!
This post may contain affiliate links. Delightful E Made is a participant in the Amazon Services LLC Associates Program, an affiliate advertising program designed to provide a means for us to earn fees by linking to Amazon.com and affiliated sites.
Do you like the convenience of making hamburger helper or those other store-bought ground beef mixes, but not all the preservatives and sodium that come with it? This easy cheeseburger macaroni recipe tastes even better than those mixes AND is made with real, simple ingredients.
Another advantage to making your own cheeseburger mac is that you get more than what you would with a box mix. This recipe is also customizable, so you can add in veggies or use ground turkey or chicken.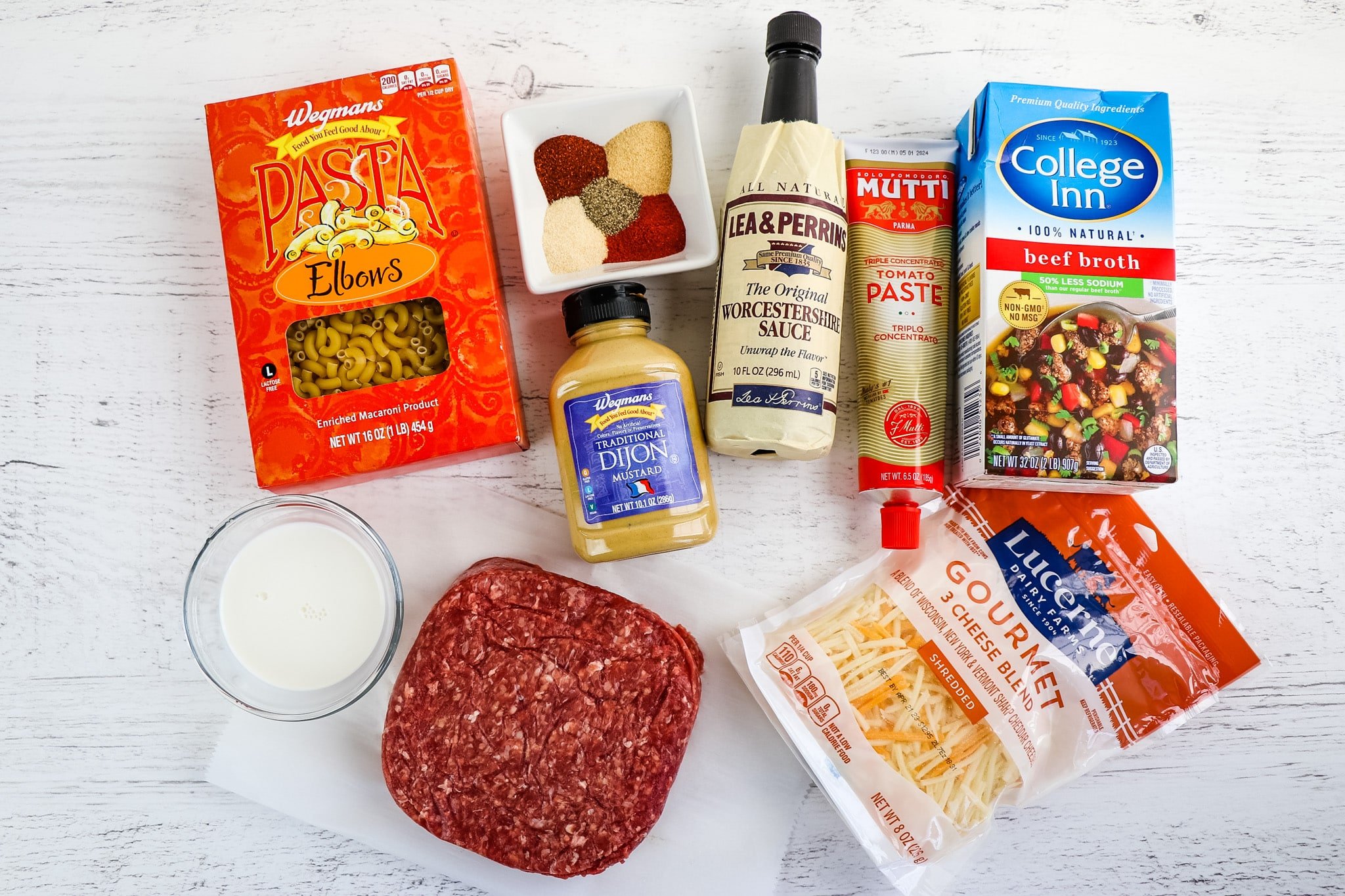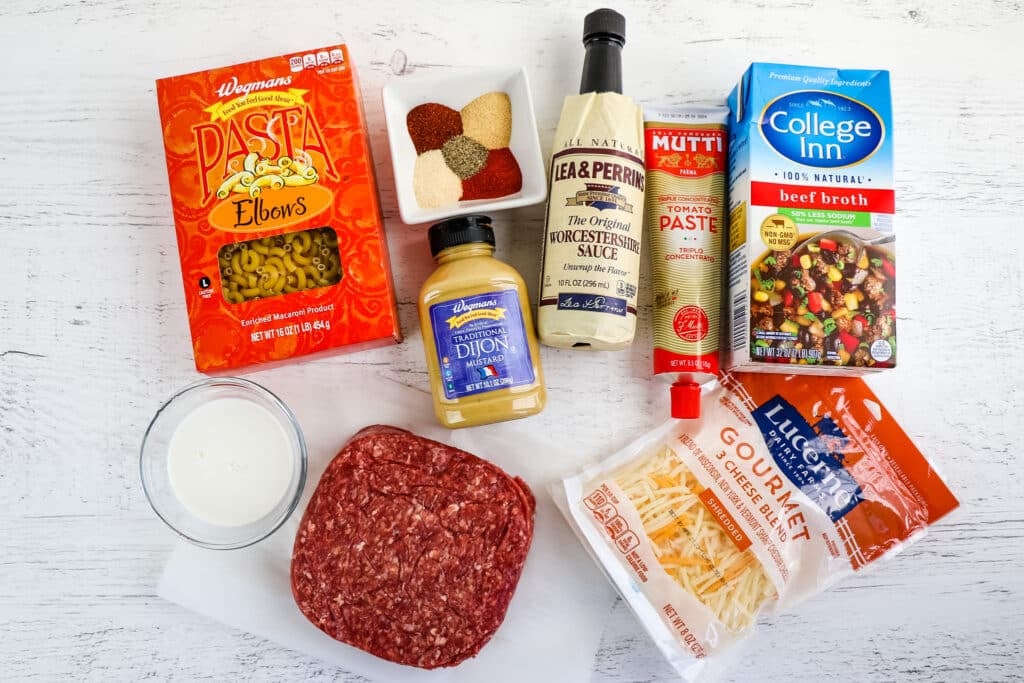 What do I need to make homemade cheeseburger macaroni?
Ground beef – I use a 10% fat content beef, however, feel free to chose a leaner or higher fat content beef.
Worcestershire sauce – this adds great flavor to the beef and sauce.
Dijon mustard – great for creating some depth of flavor in the sauce.
Tomato paste – this will create some richness in the sauce.
Spices – you'll need chili powder, onion powder, garlic powder, paprika and black pepper.
Beef broth – I recommend using low-sodium beef broth the ensure the dish isn't overly salty. You will need this liquid as the pasta cooks directly in the skillet.
Half and half – this will add some nice creaminess to the sauce
Elbow macaroni – necessary for the "mac" however, you could also use a small shell pasta as a substitute.
Shredded cheese – I recommend using a cheddar cheese blend, however, you could also use a Mexican blend shredded cheese.
For exact ingredient amounts and full recipe instructions be sure to scroll down to the bottom of the post for the recipe. Thanks!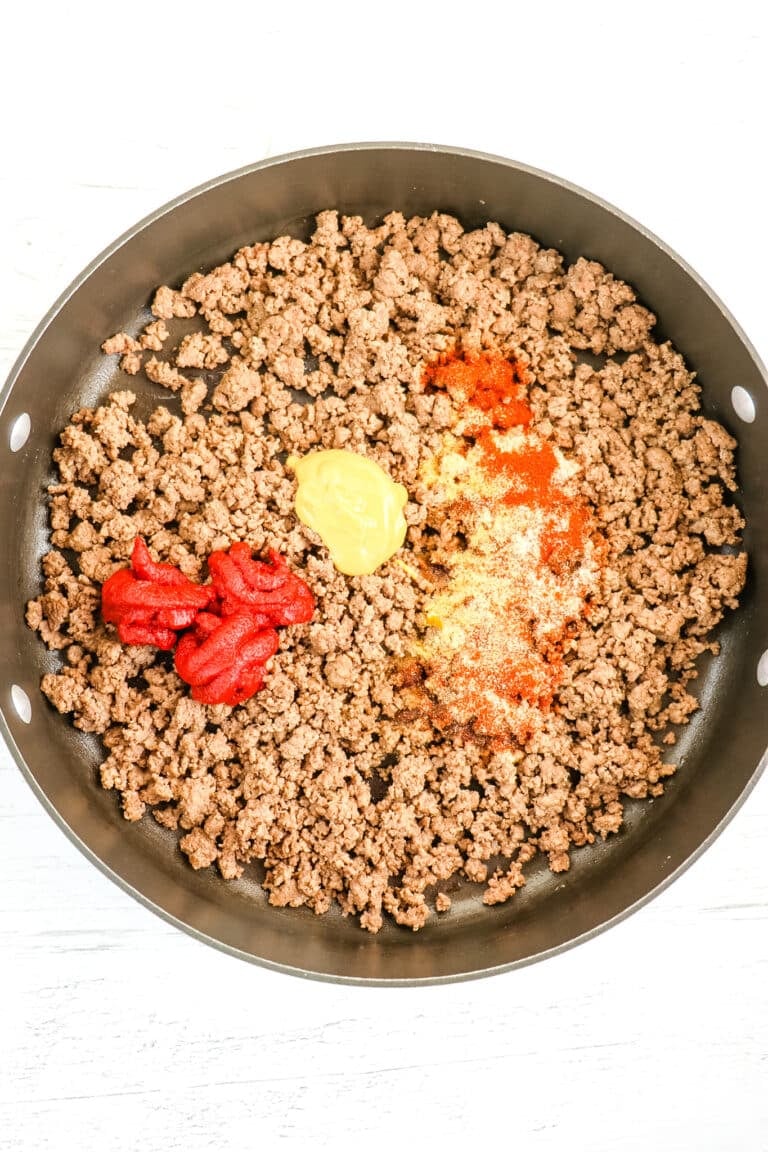 How do I make cheeseburger macaroni?
Start by browning your ground beef in a large skillet. Drain off any excess fat that the meat may render. To the browned beef, add the tomato paste, mustard and Worcestershire sauce. Also add in the spices; chili powder, onion powder, garlic powder, black pepper and paprika. Stir everything together well to season the beef over medium low heat.
To the seasoned beef, add in the beef broth and macaroni. Bring the mixture to a simmer, and then cover the skillet to cook the pasta.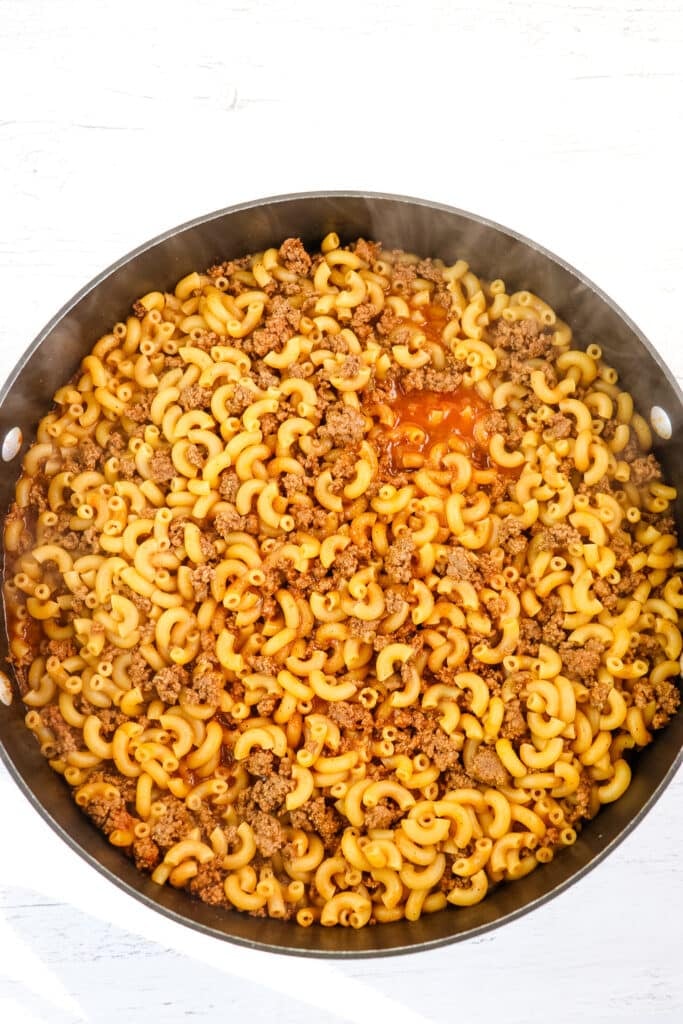 Once the macaroni is done cooking add in the half and half and shredded cheese. Cook until the cheese melts and the mixture becomes creamy.
How to customize your cheeseburger mac:
Meat – instead of beef you can use ground turkey, ground chicken or even mild Italian sausage.
Add in veggies – this dish is great with the addition of canned diced tomatoes, sauteed mushrooms or diced bell peppers.
Change up the cheeses – you can use pepper jack cheese, Monterrey jack or a Mexican blend cheese.
Frequently asked questions about making cheeseburger macaroni recipe:
How do you make cheeseburger macaroni taste better?
Using beef broth will add flavor and richness to your cheeseburger macaroni. Better still, skip the mix and make it homemade. It is WAY better and very simple.
What can I use instead of Hamburger Helper?
You can make cheeseburger macaroni with tomato paste, mustard, Worcestershire sauce, spices, beef broth, elbow macaroni, half and half and shredded cheese.
What cheese is best for homemade Hamburger Helper?
A shredded cheddar blend of cheeses is best for making homemade cheeseburger macaroni.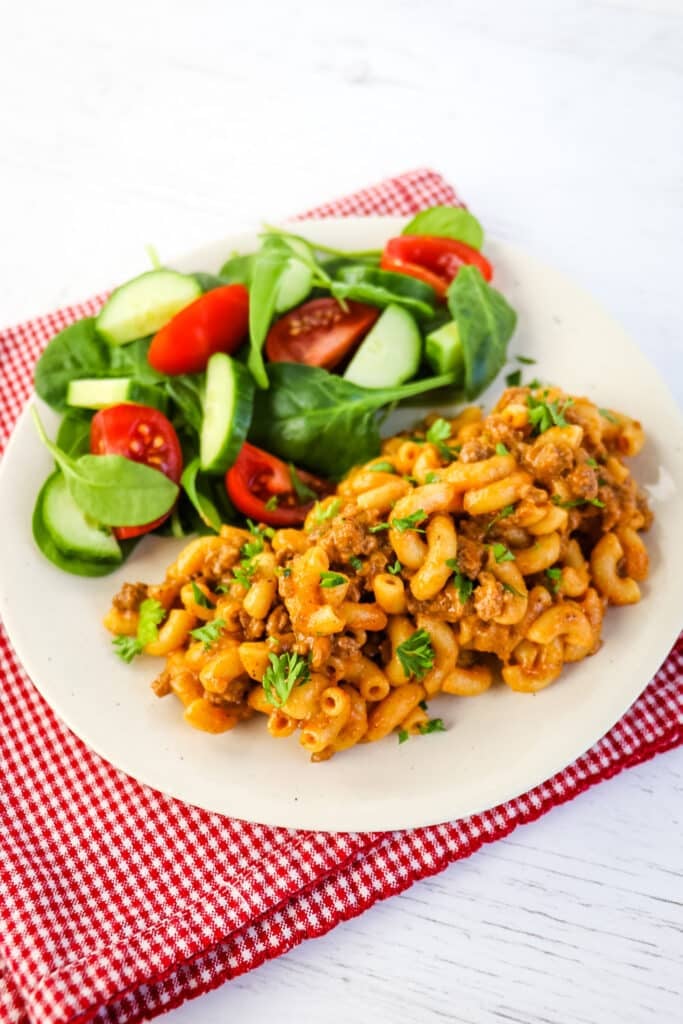 What can I serve with cheeseburger macaroni?
Cheeseburger mac is great served with vegetables and side salads. Here are some of our favorite side dish that would be great served with this recipe:
If you loved this ground beef recipe, check out some of our other popular recipes using ground beef: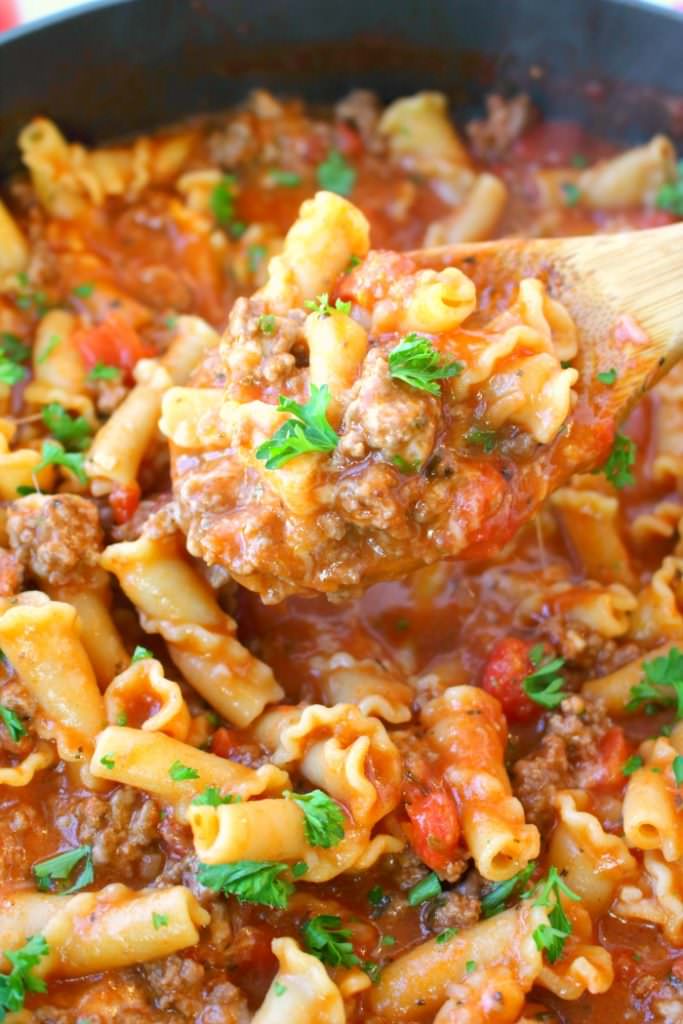 ---
---
Cheeseburger Macaroni
Forget the box mix, this homemade cheeseburger macaroni recipe is WAY better! Made with ground beef, shredded cheese and beef broth, this easy cheeseburger mac is great for an easy dinner.
Ingredients
1 lb. lean ground beef
3 Tablespoons tomato paste
1 Tablespoon Worcestershire sauce
1 Tablespoon Dijon mustard
1 teaspoon chili powder
1 teaspoon onion powder
1 teaspoon garlic powder
1 teaspoon paprika
1/2 teaspoon black pepper
1 (32 oz.) carton, low sodium beef broth
12 oz. elbow macaroni
1 1/2 cup half and half
2 cups shredded cheddar cheese, or cheddar blend
Instructions
To large skillet add the ground beef, and brown over medium high heat. Drain off any excess fat that the meat may render. In the same skillet to the drained beef add in the tomato paste, Worcestershire sauce, mustard, chili powder, onion powder, garlic powder, paprika and pepper. Stir well to combine.
To the seasoned beef mixture add in the beef broth and macaroni. Heat over medium-high heat and bring to a simmer. Reduce the heat to medium-low, covering the skillet with a lid. Simmer for 8-10 minutes or until the macaroni is cooked to al dente.
Add in the shredded cheese and half and half and stir to combine. Heat over medium heat for another 2-3 minutes until the cheese melts and the mixture becomes creamy.
Remove from heat and serve right away while hot. Enjoy!
Notes
Storage: store any leftovers in an airtight container in the refrigerator. When kept refrigerated, leftovers will keep for up to 5 days.
Recommended Products
As an Amazon Associate and member of other affiliate programs, I earn from qualifying purchases.
Nutrition Information:
Yield:

6
Serving Size:

1
Amount Per Serving:
Calories:

528
Total Fat:

30g
Saturated Fat:

16g
Trans Fat:

1g
Unsaturated Fat:

11g
Cholesterol:

130mg
Sodium:

576mg
Carbohydrates:

25g
Fiber:

2g
Sugar:

5g
Protein:

38g