Looking for a simple, delicious ground beef enchiladas recipe? You've come to the right place! This recipe for red sauce enchiladas is perfect for your next Tex-Mex night.
This post may contain affiliate links. Delightful E Made is a participant in the Amazon Services LLC Associates Program, an affiliate advertising program designed to provide a means for us to earn fees by linking to Amazon.com and affiliated sites.
Do you love red sauce enchiladas, and wanna make them with your own homemade sauce? It's actually way easier than you think. These Ground Beef Enchiladas in Red Sauce are easy to assemble and come together quickly with basic ingredients.
This recipe is made with my homemade red enchilada sauce recipe. This can be made in advance or the night you are cooking. You can also sub in store-bought sauce in a pinch. I'll show you the easy steps for how to make these delicious ground beef enchiladas.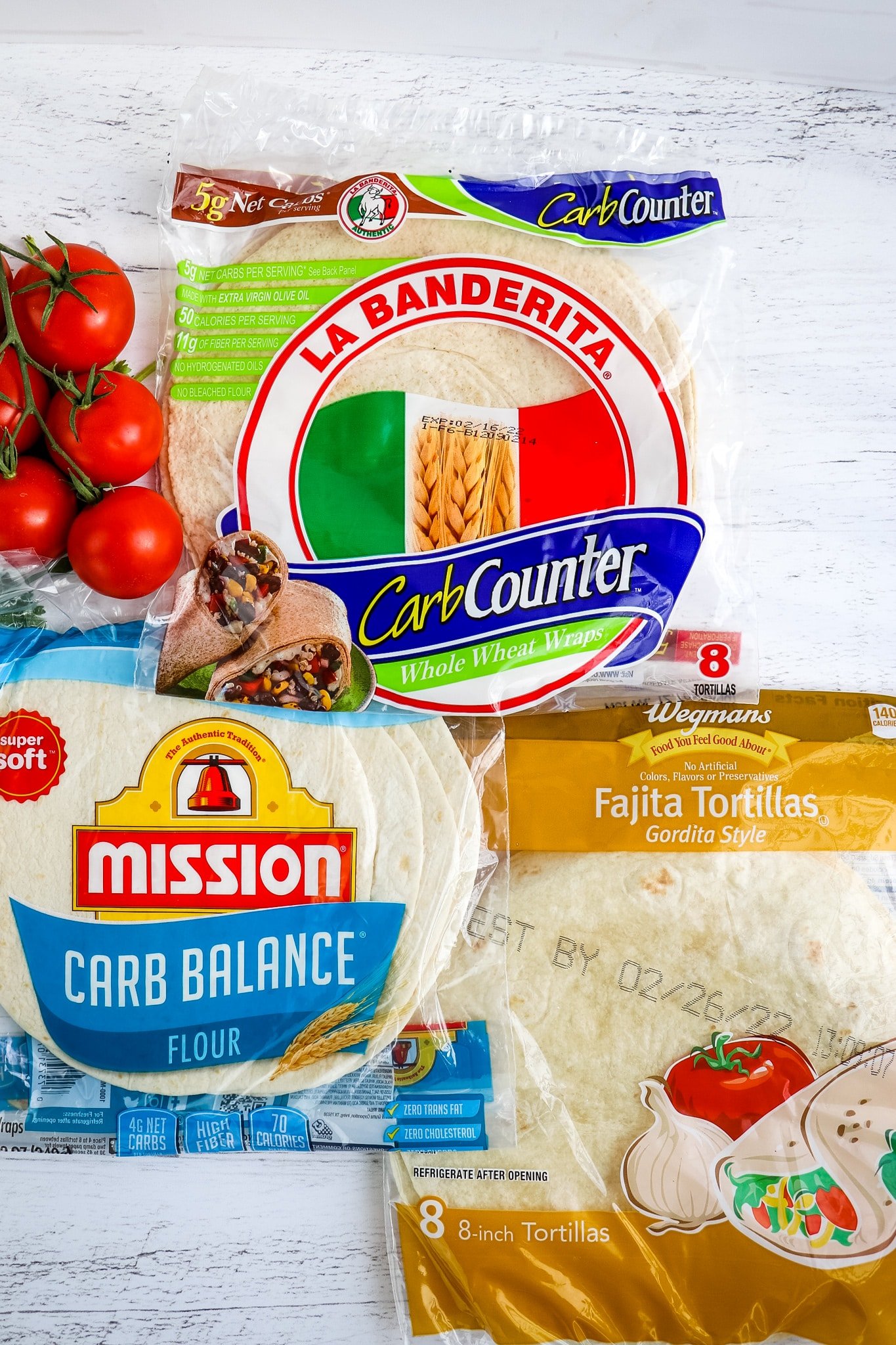 What do I need to make ground beef enchiladas?
Tortillas – medium, 8″ fajita sized, flour tortillas work best. (I'll talk more about why flour tortillas work the best for enchiladas below.)
Ground beef
Taco Seasoning – I like to use my homemade taco seasoning, but store-bought can be used as well.
Tomato paste
Enchilada sauce – my red enchilada sauce recipe is really easy to make, but you can also use canned.
Shredded cheese – Mexican blend, cheddar or Colby-Jack are all great options.
For exact ingredient amounts and full recipe instructions be sure to scroll down to the bottom of the post for the recipe. Thanks!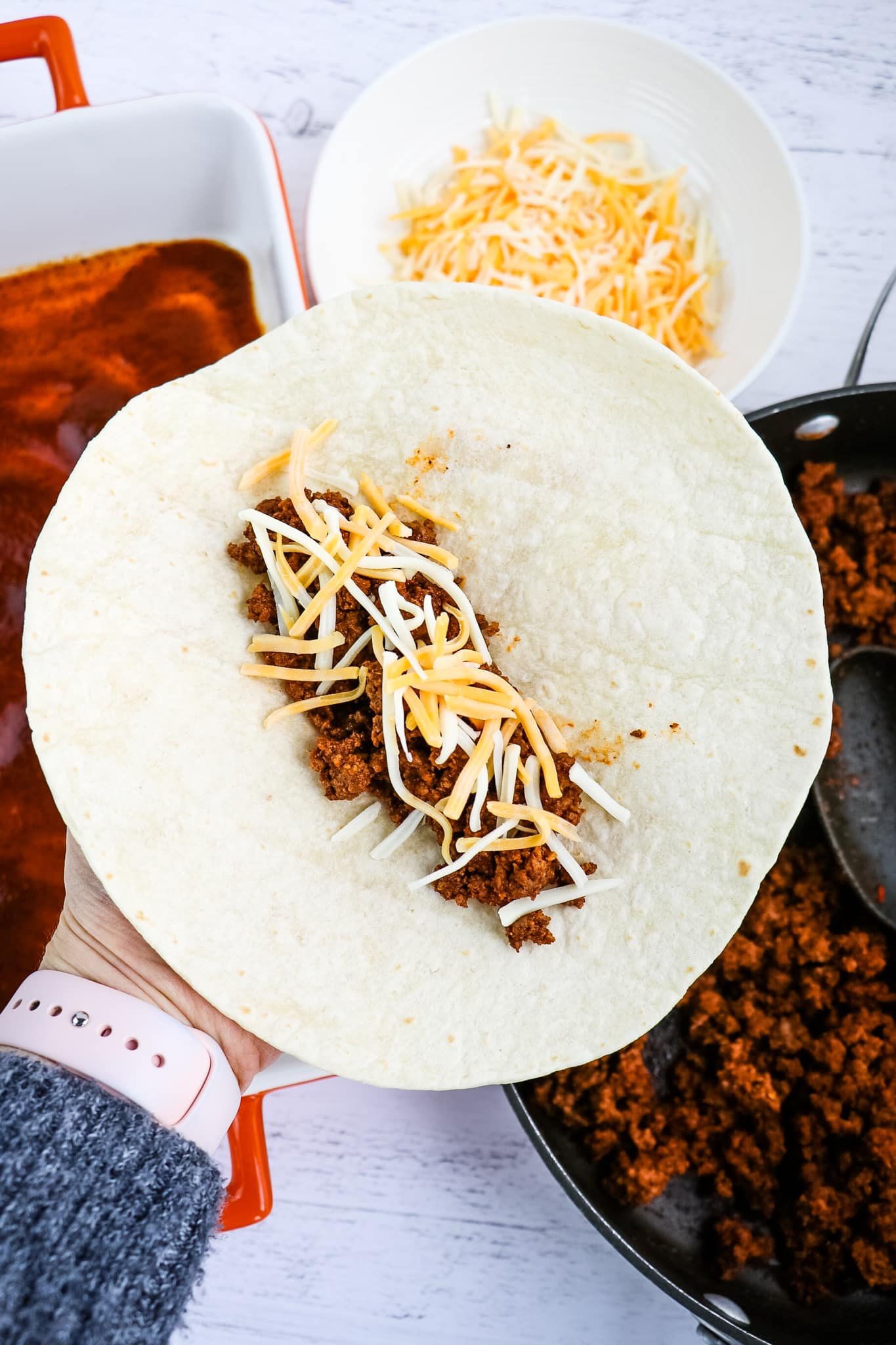 How do I make ground beef enchiladas?
Start by making your enchilada sauce. I really like and prefer using this homemade red enchilada sauce recipe, as you can customize how spicy or mild you like it. To a 9 x 13″ baking dish, add approximately 1/2 cup of the sauce to the bottom of the pan. This helps the enchiladas to not stick to the bottom.
Prepare the ground beef filling. Brown ground beef, and drain off any excess grease. To the browned ground beef, add the tomato paste, taco seasoning and 1/2 cup of water, and bring the ground beef mixture to a simmer. Remove from heat.
You can now begin rolling your enchiladas. Start with a single tortilla (pictured above), and add approximately 1/3 cup of the ground beef mixture, and sprinkle on 1-2 tablespoons of the shredded cheese. Tuck one edge of the tortilla into the center mixture, and roll the other end over the top. Place the rolled enchilada into the pan, seam-side down.
Roll all eight of the enchiladas and place them next to one another in the bottom of the pan with the enchilada sauce.
Once all of the enchiladas are in the pan, top the enchiladas with the remaining red enchilada sauce. On top of the sauce, top with the remaining shredded cheese. They are now ready to bake.
Love cooking with ground beef? Check out our Cheeseburger Macaroni and our Cheesy Italian Goulash for some other easy, delicious dinner ideas.
Frequently asked questions about making enchilada:
Are enchiladas better with corn or flour tortillas?
Because enchiladas are baked in a sauce, flour tortillas tend to hold up better than corn tortillas. Flour tortillas also hold up much better when assembling the enchiladas, as corn tortillas tend to tear or fall apart easily.
What kind of cheese is best in enchiladas?
Most Mexican restaurants use queso blanco cheese for enchiladas. However, shredded cheddar, Colby-Jack or Mexican blend cheeses are most popular for home cooking.
Do I have to fry tortillas for enchiladas?
No. Frying tortillas is not necessary. Some say that frying helps prevent cracking and breaking of corn tortillas, however, it is an extra, more time-consuming step.
What do you serve enchiladas with?
Toppings and side dishes for enchiladas very widely by preference. However, here are some of our favorite ways to serve enchiladas:
Need some drink and cocktail recipes to go with your enchiladas? Here are some libations that go perfectly with all your favorite TexMex:
Inspired to make other Tex-Mex recipes? Give these a try: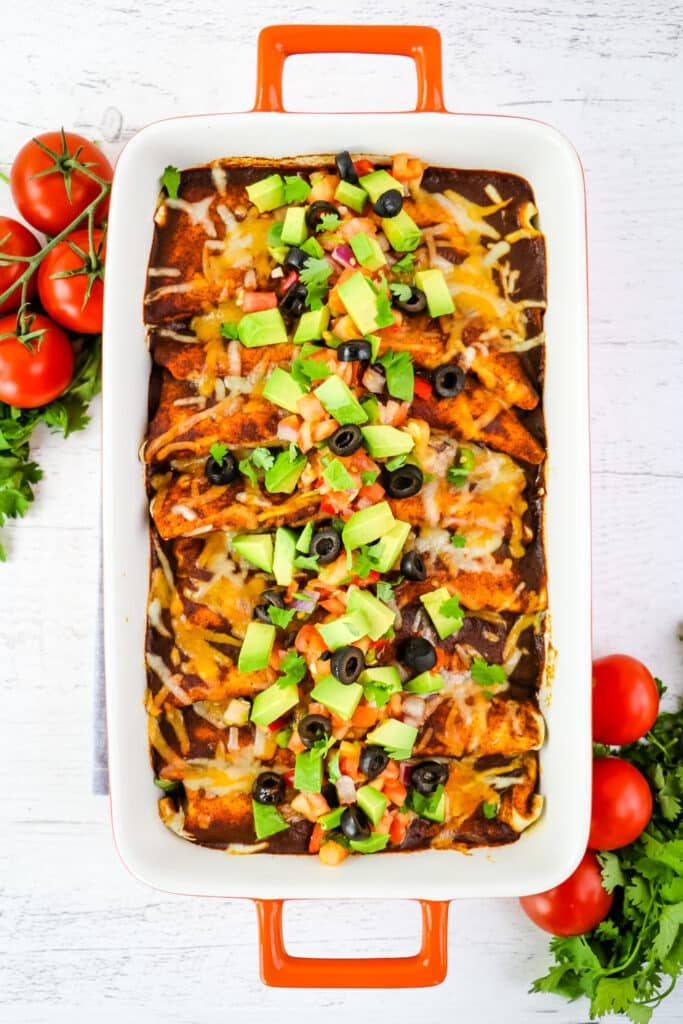 Looking for some great toppings and sides for your enchiladas? Check these out:
If you loved this enchilada recipe, check out these other similar posts: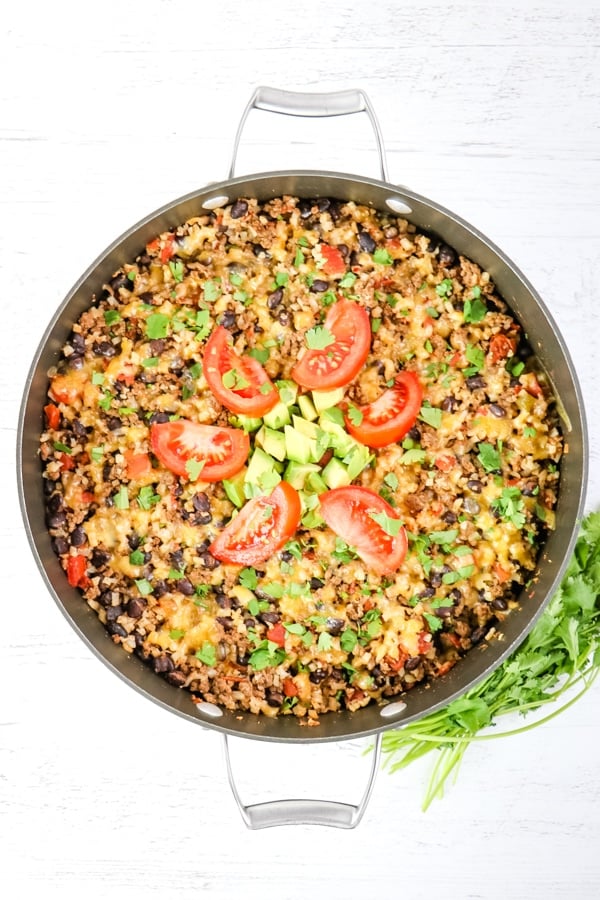 ---
---
Ground Beef Enchiladas
Do you love red sauce enchiladas? These ground beef enchiladas with red sauce are simple to make and taste amazing. Perfect for your next Tex-Mex night!
Ingredients
1 1/2 cup homemade red enchilada sauce (you can also use canned, store-bought)
1 lb. lean ground beef, browned and fat drained
3 Tbsp. taco seasoning
1/2 c. water
2 Tbsp. tomato paste
1 c. shredded Colby-Jack cheese (cheddar or Mexican blend are also good)
8 medium (8") flour tortillas
Instructions
First, prepare the ground beef filling. Brown the ground beef over medium-high heat. Drain off any excess fat. To the ground beef add the taco seasoning, water and tomato paste. Heat over medium heat, stir to combine and bring to simmer. Cook until liquid simmers off, about 5 minutes. Remove from heat.
Preheat oven to 375 degrees. In a 9 x 13" baking dish or pan, lightly spray with non-stick cooking spray and add 1/2 cup of the red enchilada sauce.
Begin filling tortillas with about 1/3 cup of the prepared meat mixture and about 1-2 Tbsp. of the shredded cheese. Roll the tortilla and place seam-side down into the pan with the sauce. Roll all 8 enchiladas and place in the pan. Pour the remaining 1 cup of red enchilada sauce over the top of the rolled tortillas. Sprinkle the top of the sauced enchiladas with the remaining shredded cheese.
Bake at 375 degrees for 18-20 minutes. Remove from oven and let cool 5-10 minutes before serving. Top with your favorite Tex-Mex toppings.
Notes
Store any leftovers in an airtight container in the refrigerator. Enchiladas will keep refrigerated for up to 5-7 days.
To make Low-Carb: Substitute regular tortillas for low-carb tortillas. I really like La Banderita low-carb tortillas and wraps.
Nutrition Information:
Yield:

8
Serving Size:

1 enchilada
Amount Per Serving:
Calories:

375
Total Fat:

15g
Saturated Fat:

6g
Trans Fat:

0g
Unsaturated Fat:

7g
Cholesterol:

63mg
Sodium:

993mg
Carbohydrates:

34g
Fiber:

3g
Sugar:

4g
Protein:

25g