Forget the store-bought stuff! This Honey Balsamic Dressing is way better than anything you'll find on the grocery shelf. Made with just 5 simple ingredients, this honey balsamic vinaigrette recipe is perfect for keeping your salads healthy and delicious!
This post may contain affiliate links. Delightful E Made is a participant in the Amazon Services LLC Associates Program, an affiliate advertising program designed to provide a means for us to earn fees by linking to Amazon.com and affiliated sites.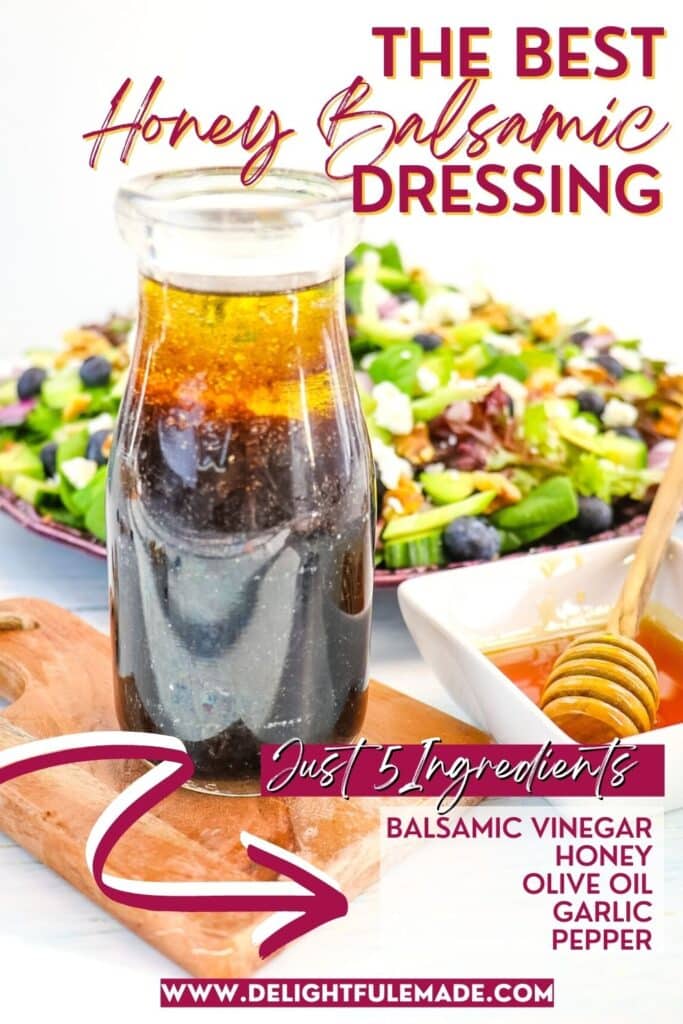 Do you love a simple, homemade salad dressing recipe! It is definitely true what they say – homemade dressing is far superior in flavor than anything you'll find on the grocery store shelves.
Made in just a matter of moments, this balsamic vinaigrette is perfect for topping just about any salad that you happen to toss together. It's easy, simple and completely delicious!
What do I need to make homemade honey balsamic dressing?
Balsamic vinegar – this can be found with the rest of the vinegars in your local grocery store. There are likely several brands. Choose the best quality you can afford.
Olive oil – choose a good quality olive oil for your dressing. You can also substitute avocado oil as well. I do NOT recommend using vegetable or canola oil.
Honey – choose a good quality honey.
Garlic – fresh minced garlic is great, however, using minced garlic that comes in a jar is a huge time saver. (This is what I use 99% of the time!)
Fresh ground pepper – feel free to add a few grinds of salt as well.
For exact ingredient amounts and full recipe instructions be sure to scroll down to the bottom of the post for the recipe. Thanks!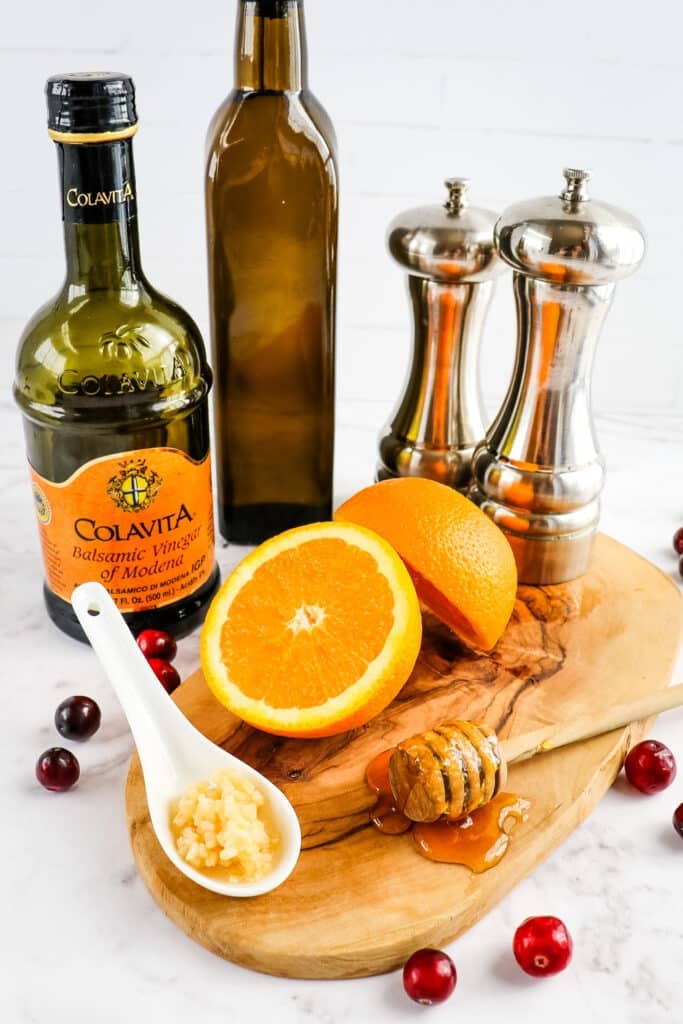 How do I make honey balsamic vinaigrette?
Making your own homemade salad dressing is very easy. To a small bowl add the vinegar, oil, honey, garlic and pepper. If you like add a few grinds of salt as well.
Using a small whisk, mix the ingredients together well. Pour over your salad and enjoy right away.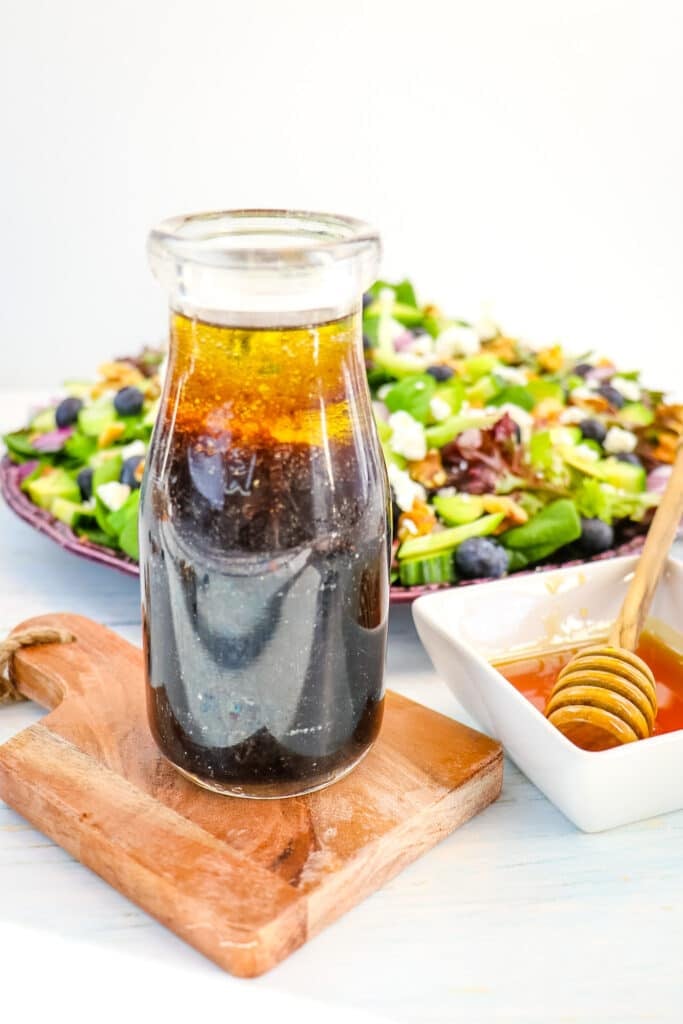 How should I store homemade balsamic vinaigrette?
Balsamic vinaigrette can be stored at room temperature. There is no need to refrigerate this dressing. In fact, if stored in the refrigerator, the oil will get thick and become slightly solidified. For best results, keep the dressing at room temperature in a sealed container.
Ingredients to customize or add to your honey balsamic dressing:
Orange juice and/or orange zest – this adds a sweet citrus flavor to the dressing, and goes well with any salad that may have mandarin oranges.
Dijon mustard – this will add a fantastic richness to the dressing and will give it a slight tartness that will pair well with the honey.
Shallots – this is a small reddish onion that has a great delicate flavor. Mince the shallot well, or add it and the rest of the ingredients to a blender to emulsify.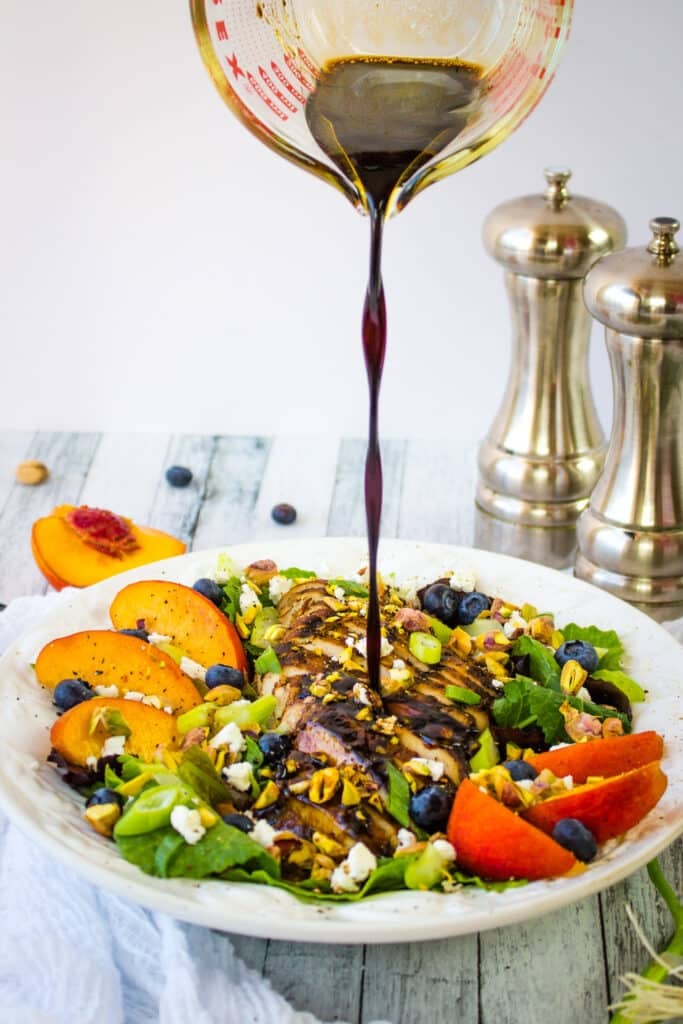 Frequently asked questions about making homemade salad dressing:
Do I need a blender to make salad dressing?
No, a blender is not needed to make salad dressing, unless you would prefer to use it. A small bowl and a whisk are all that are needed to make homemade salad dressing.
Do honey and balsamic vinegar go together?
The sweet flavors of honey and the acidity of balsamic vinegar pair very well. When mixed together for a dressing honey and balsamic vinegar taste great together.
Does honey balsamic dressing need refrigeration?
This recipe contains no ingredients that need refrigeration, therefore this honey balsamic dressing can stay at room temperature.
How many calories are in honey balsamic dressing?
There are approximately 100 calories for 2 tablespoons of honey balsamic dressing.
Why is it better to make your own salad dressing?
By making your own salad dressing, you control the ingredients that are used. Most store-bought salad dressings contain numerous ingredients, including unhealthy, inflammatory oils and often high fructose corn syrup and refined sugars. Making your own salad dressing will not only taste better, it is much healthier as well.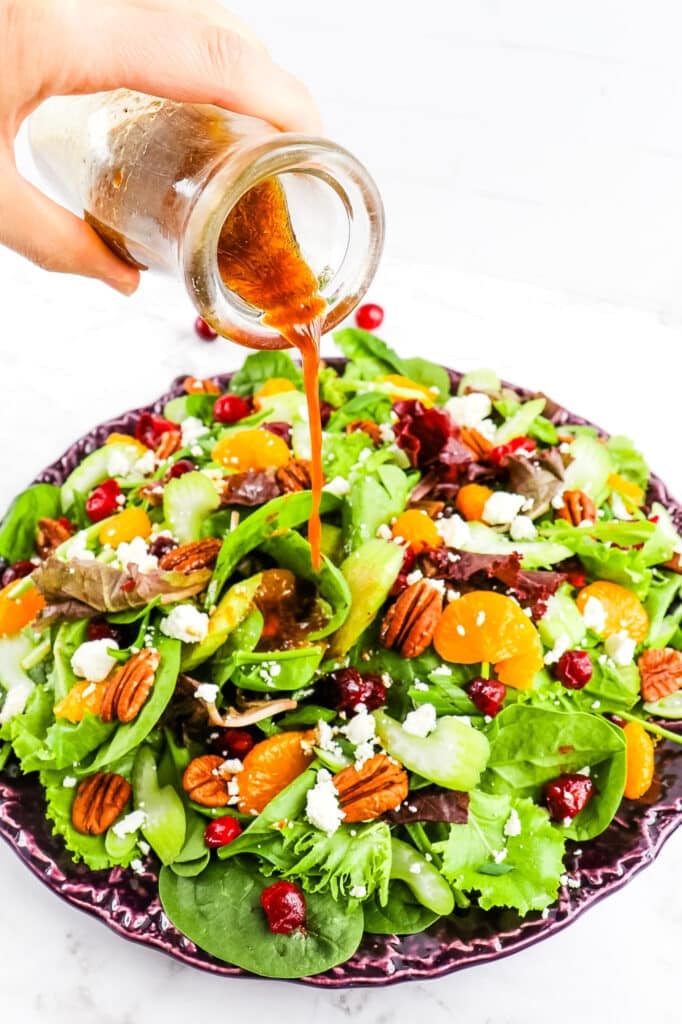 Love making homemade salad dressing? Check out our other easy homemade dressing recipes:
If you loved this honey balsamic vinaigrette recipe, check out our favorite salads to go with it: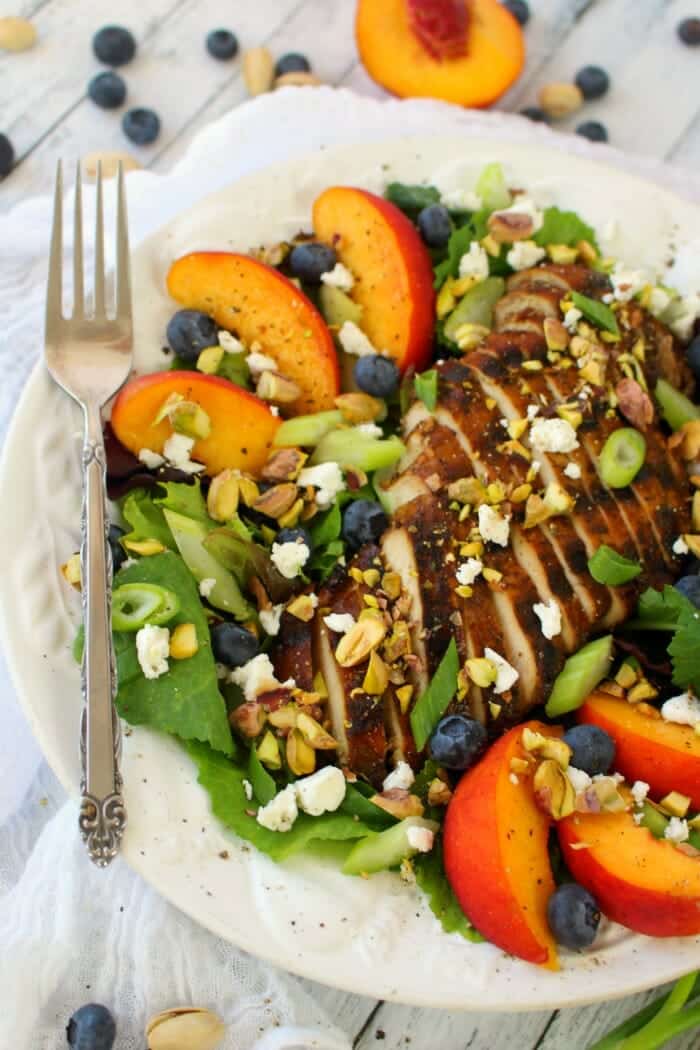 ---
---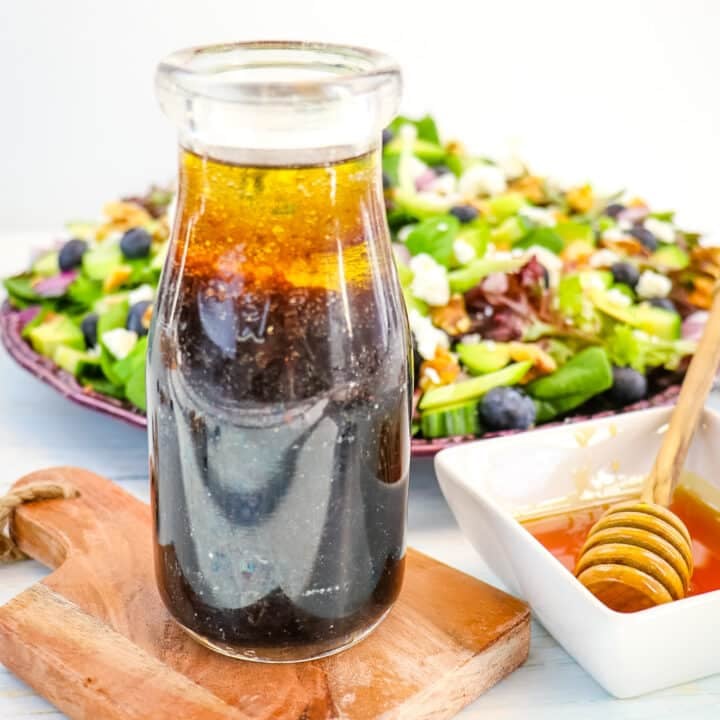 Honey Balsamic Dressing
Love a great homemad salad dressing? This simple 5 ingredient honey balsamic dressing takes just moments to make and is far superior than any store-bought balsamic dressing.
Ingredients
1/2 cup balsamic vinegar, good quality
2 Tablespoons olive oil
2 tablespoons honey
2 teaspoons minced garlic
Fresh ground salt and pepper to taste
Instructions
In a small bowl, whisk together the vinegar, olive oil, honey, garlic, salt and pepper. Whisk well to ensure the honey has adequately dissolved into the dressing.
Pour over your favorite salad right just before serving.
Notes
There is no need to refrigerate this dressing. Store in an airtight container at room temperature. The dressing will keep for up to 5 days. However, if you add Dijon mustard, shallots, or orange juice or zest, it is best kept refrigerated.
Recommended Products
As an Amazon Associate and member of other affiliate programs, I earn from qualifying purchases.
Nutrition Information:
Yield:

4
Serving Size:

1
Amount Per Serving:
Calories:

101
Total Fat:

7g
Saturated Fat:

1g
Trans Fat:

0g
Unsaturated Fat:

6g
Cholesterol:

0mg
Sodium:

82mg
Carbohydrates:

15g
Fiber:

0g
Sugar:

13g
Protein:

0g