The coconut meringue pie of your dreams! This classic Coconut Cream Pie recipe is made with a gorgeous meringue and perfectly creamy coconut custard filling. This coconut cream pie with meringue is the ultimate dessert for any holiday meal or celebration!
This post may contain affiliate links. Delightful E Made is a participant in the Amazon Services LLC Associates Program, an affiliate advertising program designed to provide a means for us to earn fees by linking to Amazon.com and affiliated sites.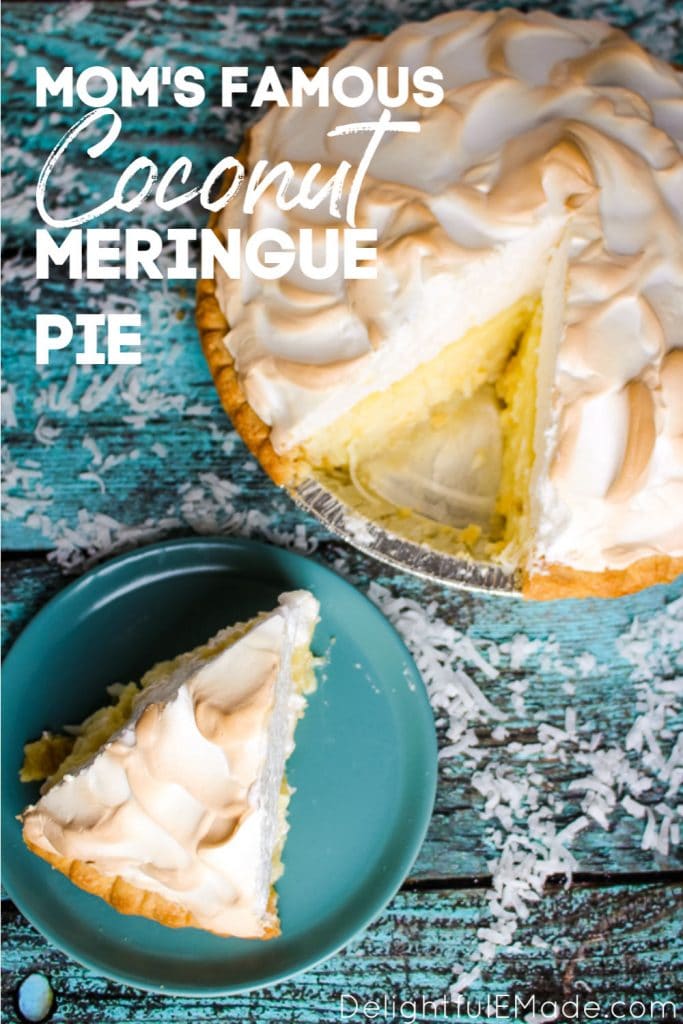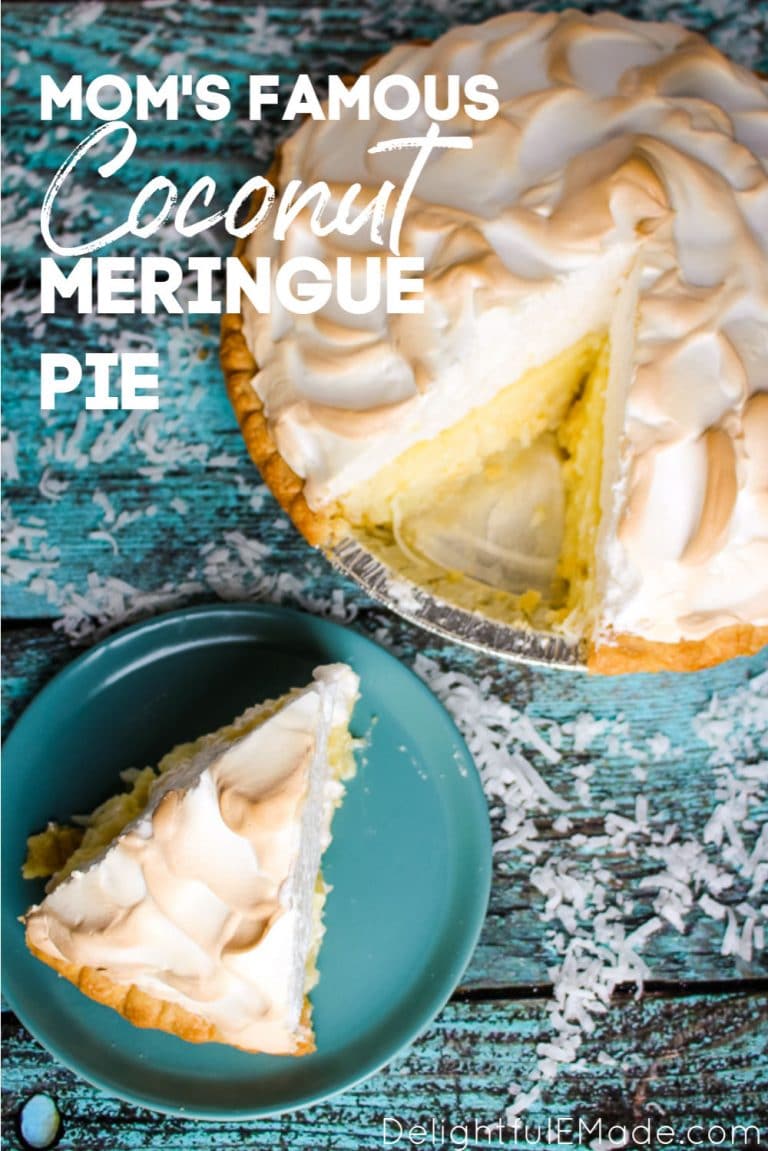 The ultimate coconut cream pie recipe!
Welp…I've gone and done it this time. I'm going to disclose my mom's famous Coconut Cream Pie recipe for all of the world to see. I may be in trouble for this one!! Back in Burke, South Dakota my mom is an amazing baker and know for her phenomenal pies.
She can roll out a pie crust in her sleep (probably because she has many times!), and can bake up a batch of rolls like nobody's business. Last summer she donated a few of her famous pies to the local school foundation auction, and this Coconut Cream Pie went for $300! Yes, $300, and yes, it's that good!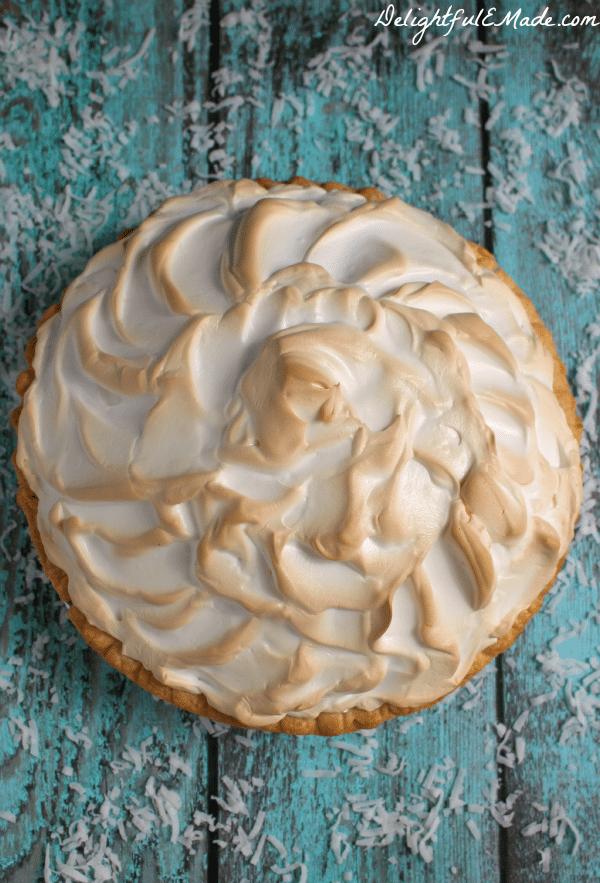 Coconut Meringue Pie: The perfect holiday dessert!
My mom often makes this pie for Easter and Christmas dinner. She often bakes a few pies, however, this is always the one that disappears first! Its topped with a gorgeous marshmallow cream meringue, which is the perfect compliment to the creamy coconut cream custard that lies below.
This pie comes together beautifully with a classic pie crust and makes for a beautiful dessert for any occasion or holiday meal.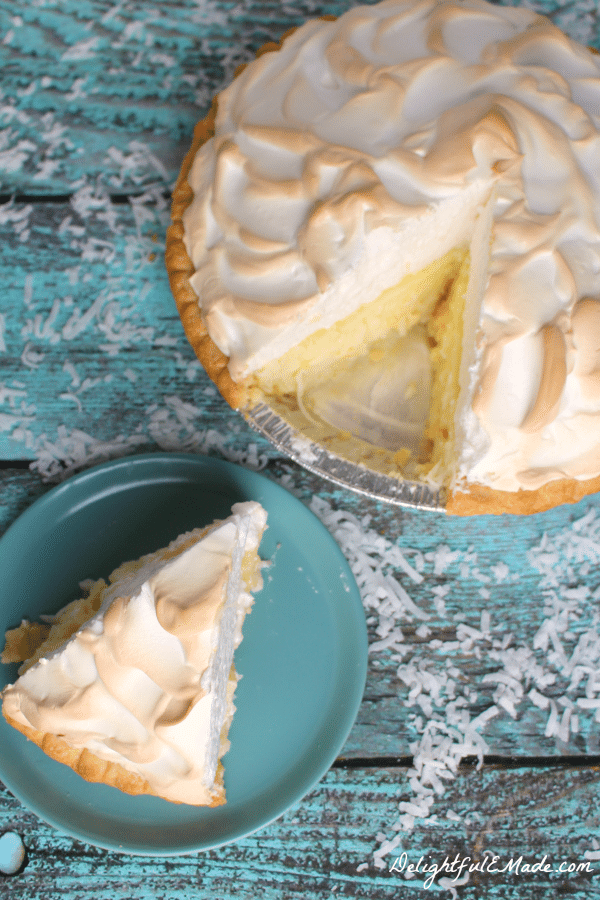 How this Coconut Cream Pie recipe comes together:
This pie is pretty easy to make and comes together in a few steps. Don't fret – the time it takes is completely worth it. You'll start with baking up a pie shell – I actually use a store-bought pie shell to save a bit of time, but feel free to use a home made recipe like my mom.
My friend Melissa over at Bless this Mess Blog has a fantastic pie crust post – if you wanna go homemade, be sure to check out her post on 4 Recipes for a Perfect Pie Crust. One day I will master the perfect pie crust. 🙂
This crust will be baked BEFORE you add anything to it. This is called blind baking a crust. Before I put it in the oven, I'll add some pie weights or beans so the crust doesn't puff up while baking.
After about 10 minutes, take the crust out of the oven and let it cool. You now have the base of your pie.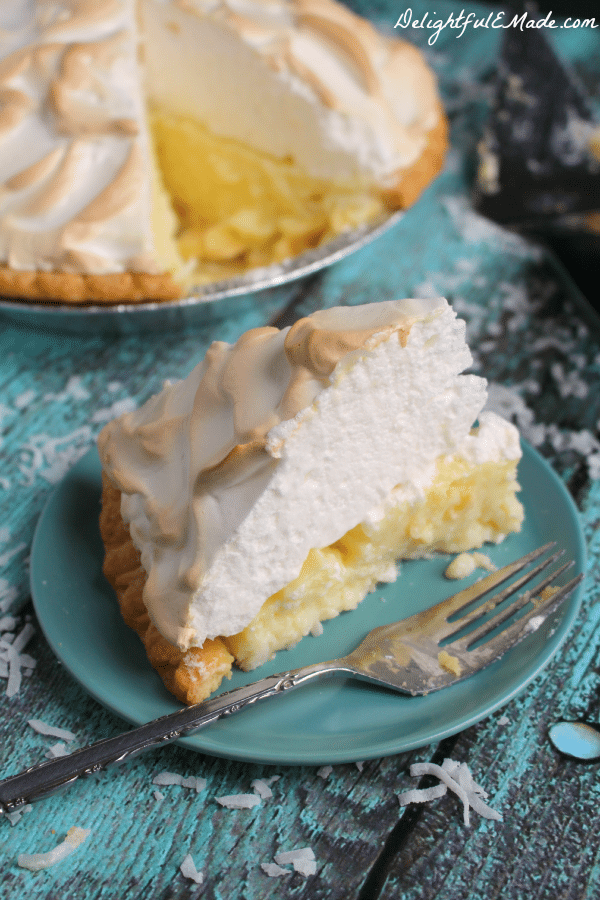 The Coconut Custard Filling for mom's Coconut Cream Pie:
Your next step involves making the coconut custard. The custard is made with some very simple ingredients that you likely have in your pantry right now. It does involves some stirring and watching, as the custard cooks and thickens quicker that you may think.
Once the custard is done cooking on the stovetop, let it cool in the saucepan for a few mutes. While it's still warm, you'll then be able to pour it right into the pie shell.
From here, let the custard cool to room temperature while you make the meringue.
How do you thicken coconut cream pie filling?
Two ingredients that are essential in making a thickened coconut cream pie filling are cornstarch and egg yolks. Slowly temper the yolks into the filling and cook on a low temperature until thickened.
Be sure to NOT leave out the cornstarch. This ingredient is essential in making sure your custard thickens once it cooks. Also, be patient. Cook the custard slow and low and your results will be a fantastic, thick delicious coconut custard!
(Be sure to reference the recipe card below for exact recipe amounts and detailed instructions for making the coconut cream pie filling.)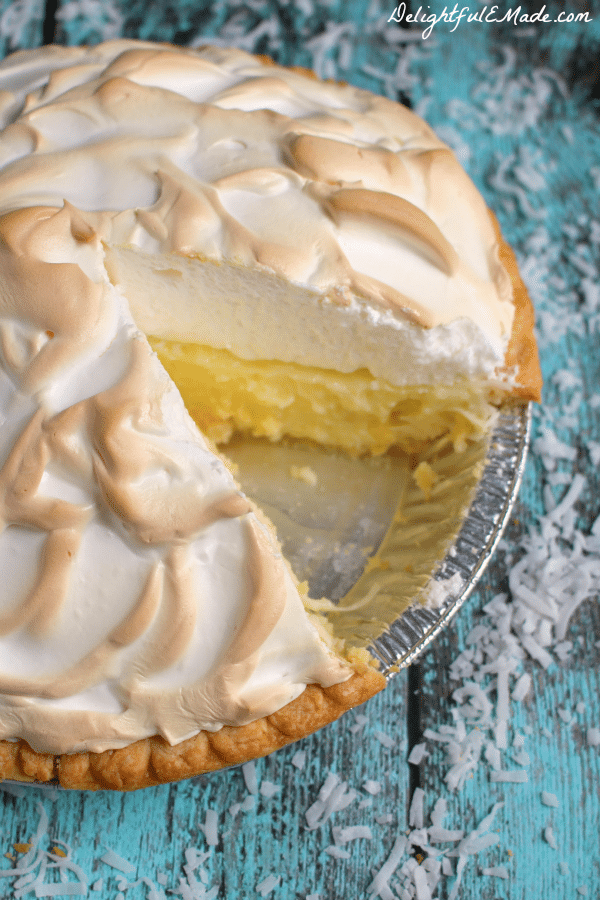 Making The Marshmallow Meringue for this Coconut Cream Pie recipe:
The final step in making this pie is to make the meringue. This meringue recipe is one of my very favorites, and quite honestly, one that my mom has made for every cream pie recipe. It requires just three ingredients:
Marshmallow Cream – aka, marshmallow fluff
Egg Whites
Cream of Tartar
Tips for getting a thick and fluffy meringue:
You'll want to start with room temperature egg whites. Add these to your mixing bowl, and fit your hand or stand mixer with the whisk attachment. Begin whisking at medium speed and add the cream of tartar. You'll whip the egg whites for about 3-5 minute or until stiff peaks form.
Once you have stiff peaks, you can then add the container of marshmallow cream. Continue whipping on a medium high speed for 2-3 more minutes to achieve a thick, firm and fluffy meringue.
Add the meringue to the slightly cooled custard filling (not hot), and seal the meringue to the pie crust so it doesn't shrink while baking. Sealing a meringue to the crust basically means that the meringue must be completely touching the crust, and that the bottom filling is not exposed.
To brown the meringue, bake at 350 degrees for 10-15 minutes or until golden brown. Be sure to keep an eye on the meringue, as you don't want it to over-brown. I don't recommend making pointed peaks in the meringue, as these tend to burn before the rest of the meringue cooks.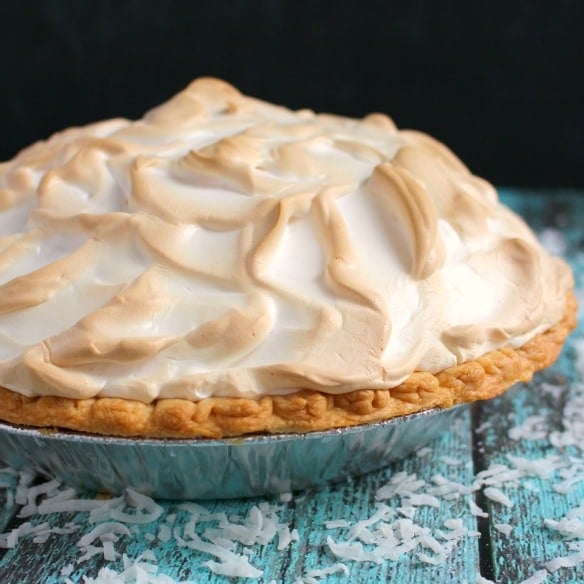 Coconut Meringue Pie FAQ's:
Why did my coconut cream pie weep?
Weeping means that you have an unstable meringue. This is caused by a few culprits. One; the meringue was not whipped to stiff peaks, causing there to be too much moisture. Two; the temperature of the filling is either too hot, or very cold. The filling should be slightly warm or room temperature. Refrigeration also tends to create excess weeping or for your meringue to shrink.
How do I stop my meringue from weeping?
A few tips: 1) add the meringue to the top of the custard while slightly warm. Not piping hot, and not cold. This will help keep the moisture to a minimum. 2) Make sure you are whipping the egg whites to stiff peaks. This will help "dry out" some of the moisture from the egg whites. 3) Make sure to seal the meringue to the crust.
Can I make this pie ahead of time?
For best results, I recommend serving this pie the same day it is made. However, you can make this pie can be made ahead or the day before an event. To ensure that your meringue doesn't shrink or weep, make sure the meringue is sealed all the way to the crust, with no vents or air pockets between the crust, filling and meringue. Make sure the pie is at room temperature before refrigerating overnight.
If you loved this delicious Coconut Meringue Pie, check out some of my other delicious coconut desserts:
If pie is your favorite dessert, check out some of my fantastic pie and tart recipes:
Get the classic Coconut Cream Pie recipe here: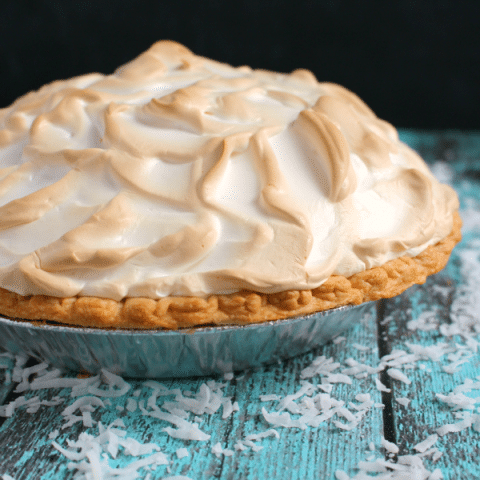 Coconut Cream Pie
This classic cream pie is made even more amazing with a gorgeous meringue and perfectly creamy coconut custard filling. One of the best pie's you'll ever have!
Ingredients
1 9" pie shell (store bought or homemade)
6 Tbsp. corn starch
3/4 c. sugar
1/2 tsp. salt
3 c. milk
3 egg yolks, beaten
3 Tbsp. butter, melted
1 1/2 tsp. vanilla
1 c. sweetened shredded coconut
For meringue:
3 egg whites, room temperature
1/8 tsp. cream of tartar
1 small (7 oz.) container, marshmallow creme
Instructions
Bake pie shell according to package directions. Prick with a fork on the bottom. Add pie weights or beans to the bottom of the crust to ensure it doesn't puff up during baking. Let cool completely.
In a medium saucepan, whisk together the corn starch, sugar and salt. Gradually whisk in the milk. Cook over medium heat, constantly whisking to ensure the milk doesn't scorch or burn. Milk mixture will begin to thicken. When it starts to bubble, stir a little of the hot milk mixture into the egg yolks, then stir the yolks into the remaining hot mixture. Continue to whisk the hot mixture for one minute more then promptly remove from the heat. Whisk in the melted butter, vanilla and coconut. Pour custard into the cooled pie shell. Cover with plastic wrap and chill.
For the meringue, pour the room temperature egg whites into a mixing bowl of a stand mixer fitted with a whisk attachment. Begin whisking at medium speed and add the cream of tartar. Whisk for 3-5 minute or until stiff peaks form. Add the container of marshmallow cream, and whisk for 2-3 minutes more for stiff peaks. Meringue will be firm. Add the meringue to the chilled custard pie, and seal the meringue to the pie crust so it doesn't shrink while baking. Bake at 350 degrees for 10-15 minutes or until golden brown. (I don't recommend making peaks in the meringue, as these tend to burn before the rest of the meringue cooks.) Chill pie until ready to serve. Enjoy!
Notes
Refrigerate any leftovers. Cover the pie with foil, or store individual slices in an airtight container in the refrigerator. Pie will keep for up to 4-5 days refrigerated.
Recommended Products
As an Amazon Associate and member of other affiliate programs, I earn from qualifying purchases.
Nutrition Information:
Yield:

8
Serving Size:

1
Amount Per Serving:
Calories:

614
Total Fat:

26g
Saturated Fat:

13g
Trans Fat:

0g
Unsaturated Fat:

12g
Cholesterol:

88mg
Sodium:

561mg
Carbohydrates:

87g
Fiber:

4g
Sugar:

50g
Protein:

9g