The ultimate Strawberry Cream Pie recipe!
The most amazing strawberry cream pie recipe you'll ever have! This no-bake creamy strawberry pie is made with fresh strawberries, cream cheese and a Golden OREO crust. It's perfect for Easter, Mother's Day or any spring or summer celebration!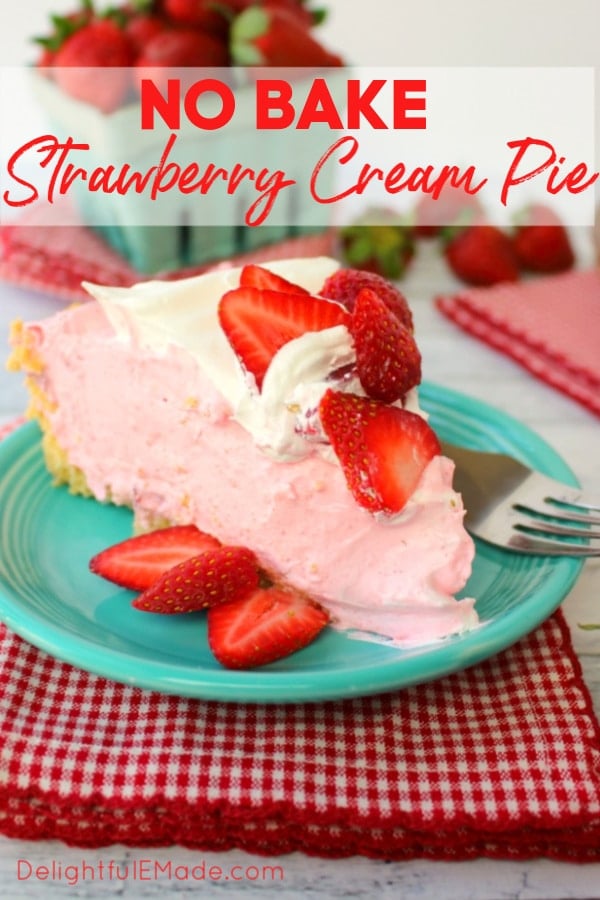 Strawberry Cream Pie – the perfect spring dessert!
I definitely feel that spring is upon us. Trees are budding and flowers are slowly breaking through the soil with blooms bursting with color. Spring also means Easter and spring celebrations. I especially love the time we get to share with family during Easter. It's a great time to step back from the busy schedule (even if just for a day) and share a wonderful day together.
Growing up my family always gathered after Easter Mass, and had a big ham dinner with all the trimmings, and that always included pie for dessert. My mom would typically make her Famous Coconut Cream Pie and another fruit pie like strawberry or blueberry. This Creamy Strawberry Pie would certainly be one that would fit in perfectly for any family Easter celebration!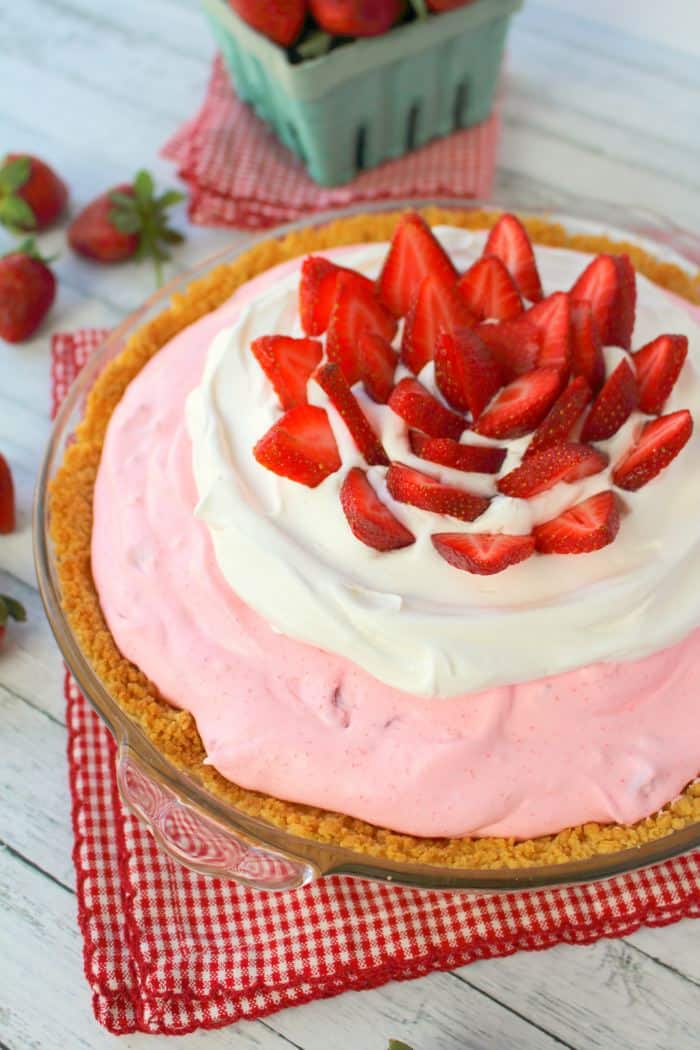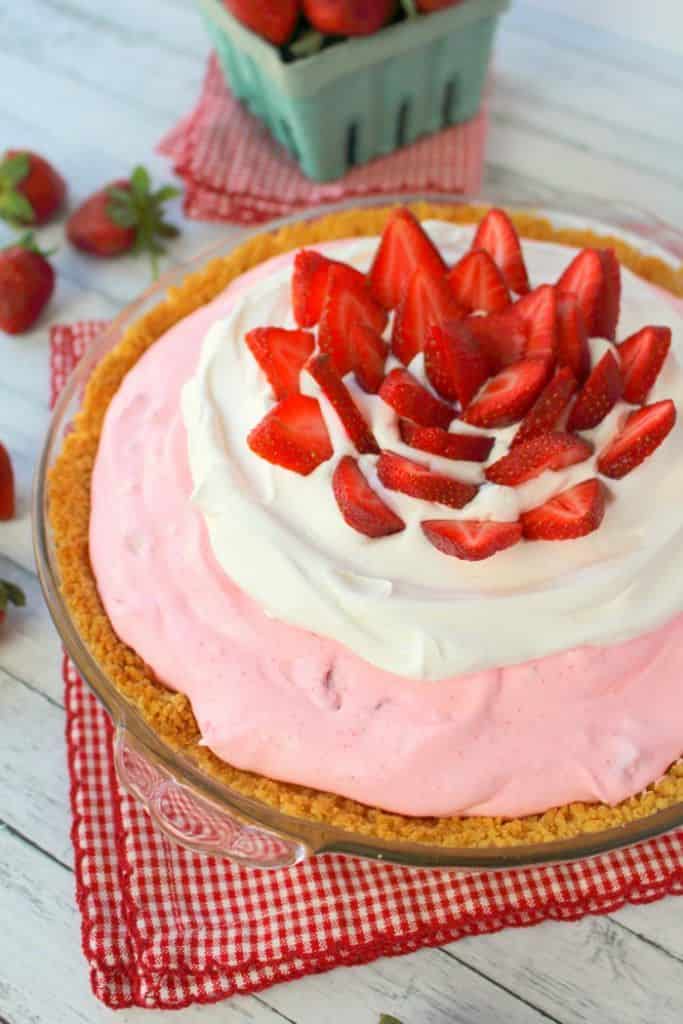 I particularly love how easy this strawberry pie recipe is to make. It's a no-bake recipe, much like my Lemon OREO Icebox Pie and my Chocolate Covered Strawberry Pie. You have the option of either chilling or baking the crust for a few minutes, but the filling and topping is all no-bake. That fabulous crust is actually made with Golden OREO's, which adds an amazing flavor and crunch!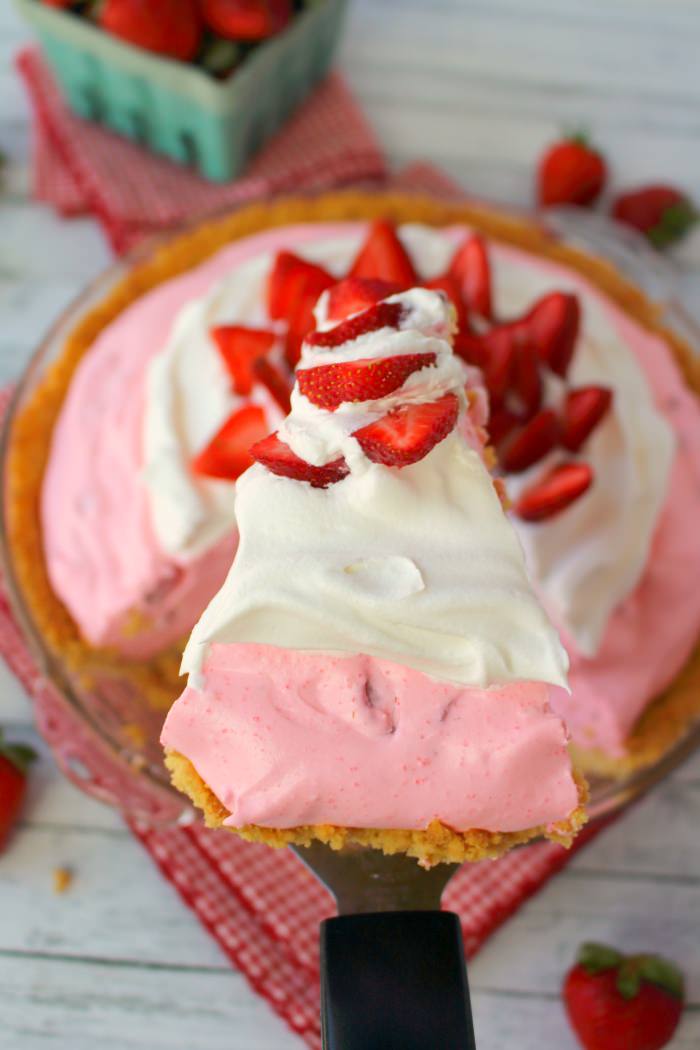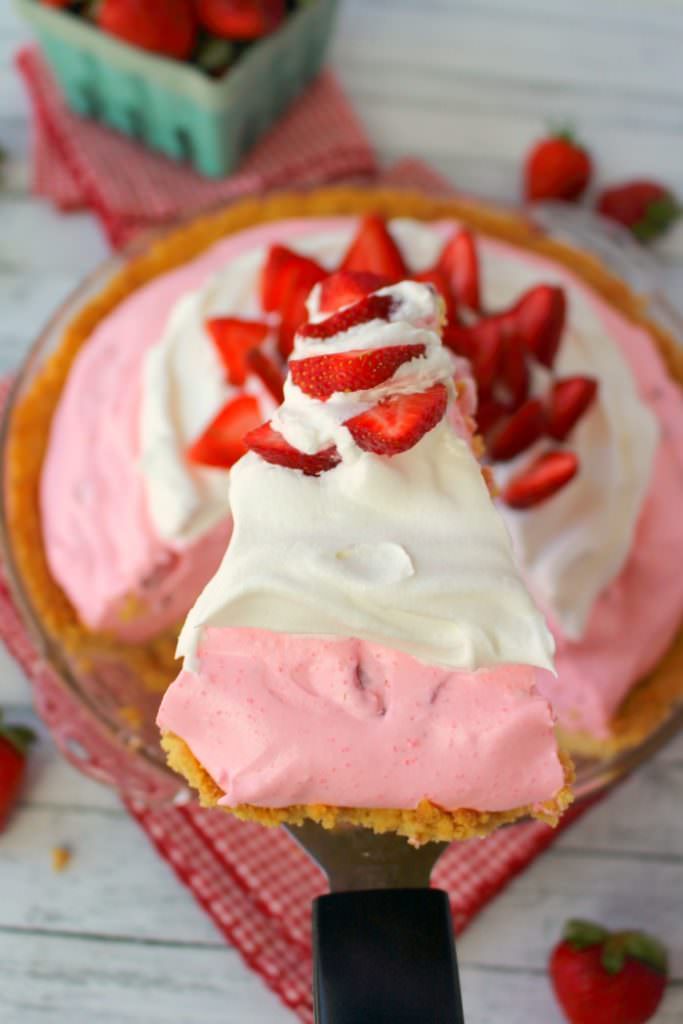 How do you make strawberry pie filling?
The delicious strawberry filling is very similar to a fluffy cheesecake. That's because it's make with cream cheese to give it that super creamy consistency, and mixed together with fresh strawberries, strawberry gelatin and fluffy whipped topping. With additional whipped topping and sliced fresh strawberries, this amazing creamy strawberry pie recipe becomes a show-stopper of a dessert!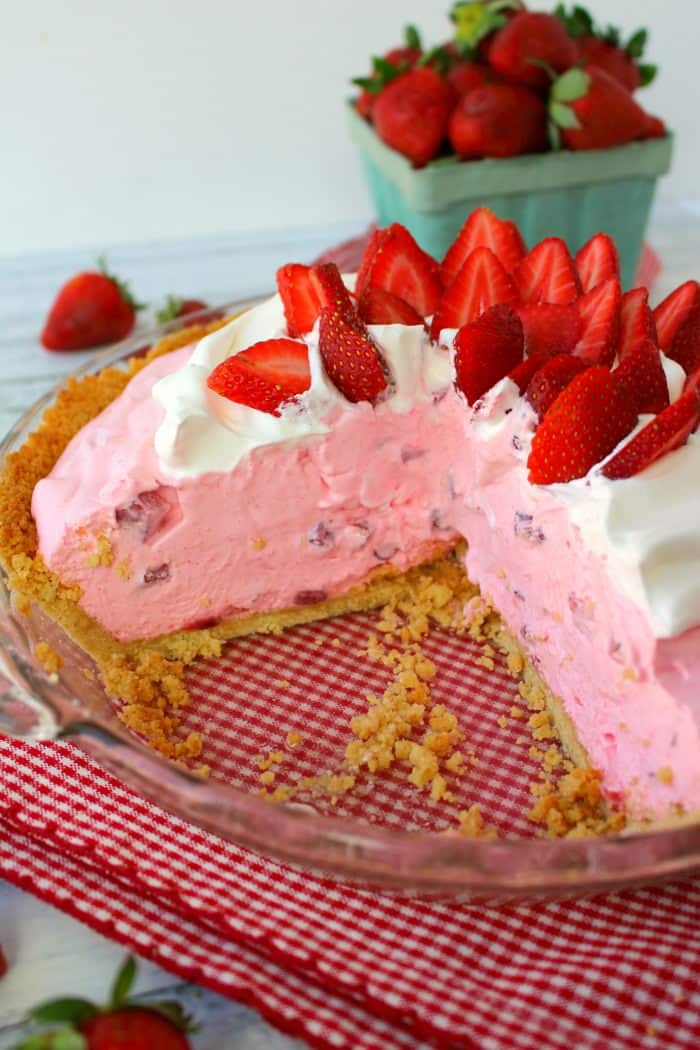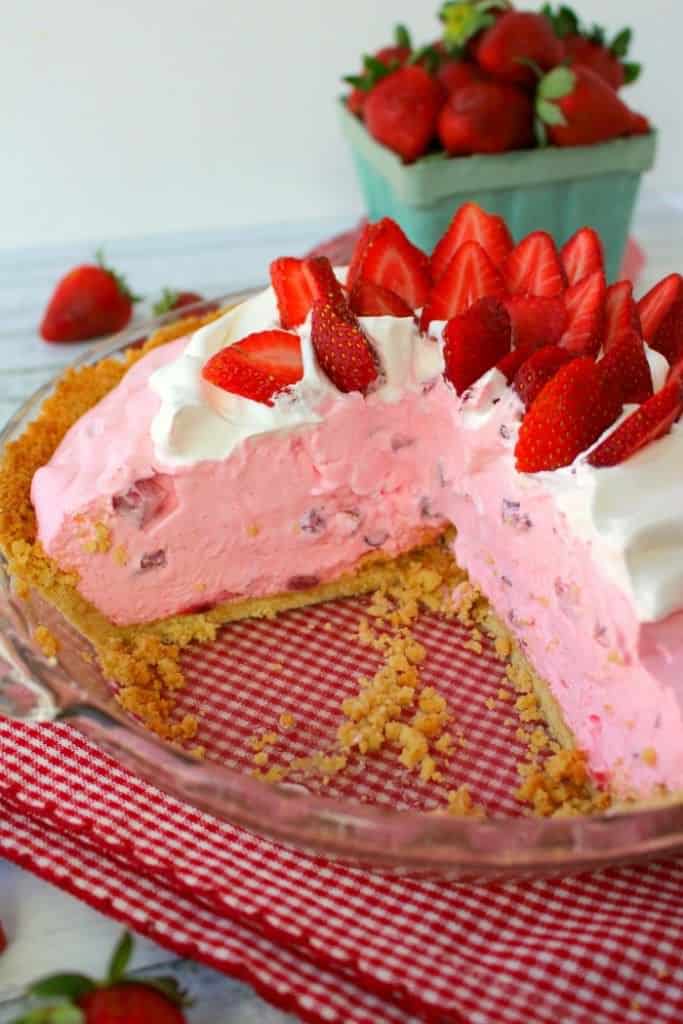 When should I serve this creamy strawberry pie?
This strawberry pie makes a beautiful dessert for Easter brunch or dinner, to a Mother's Day celebration or a summer cookout!
Your guests will think that you worked all day in the kitchen to make this gorgeous dessert, but in reality, it takes just minutes from start to finish. Slice up this pie, and you'll discover it's studded with big chunks of fresh strawberries inside that pretty pink filling.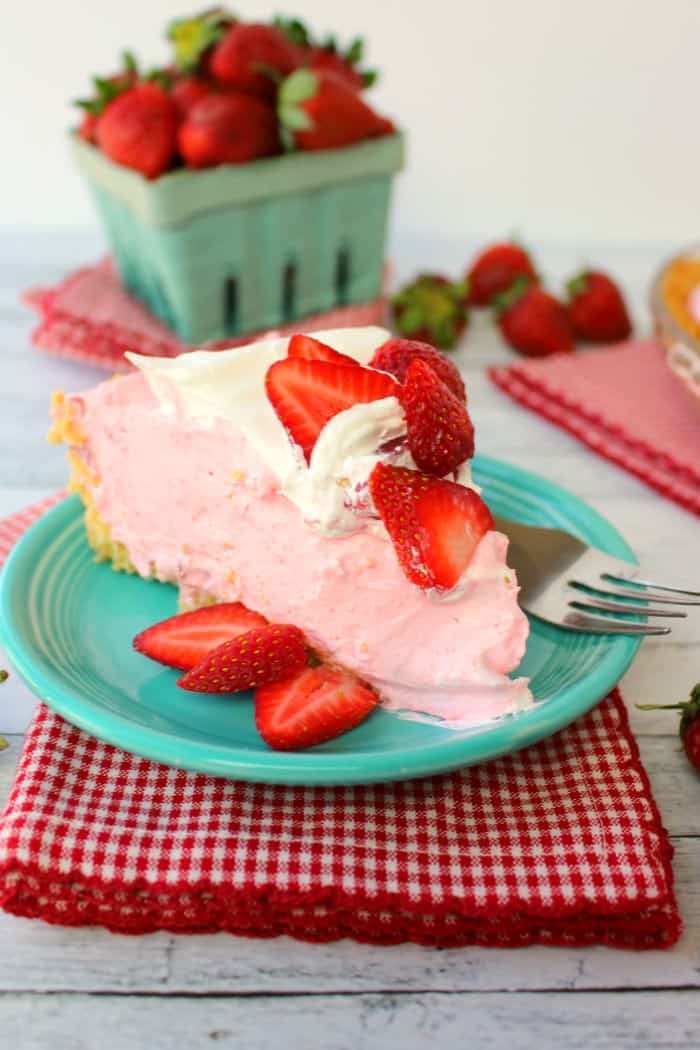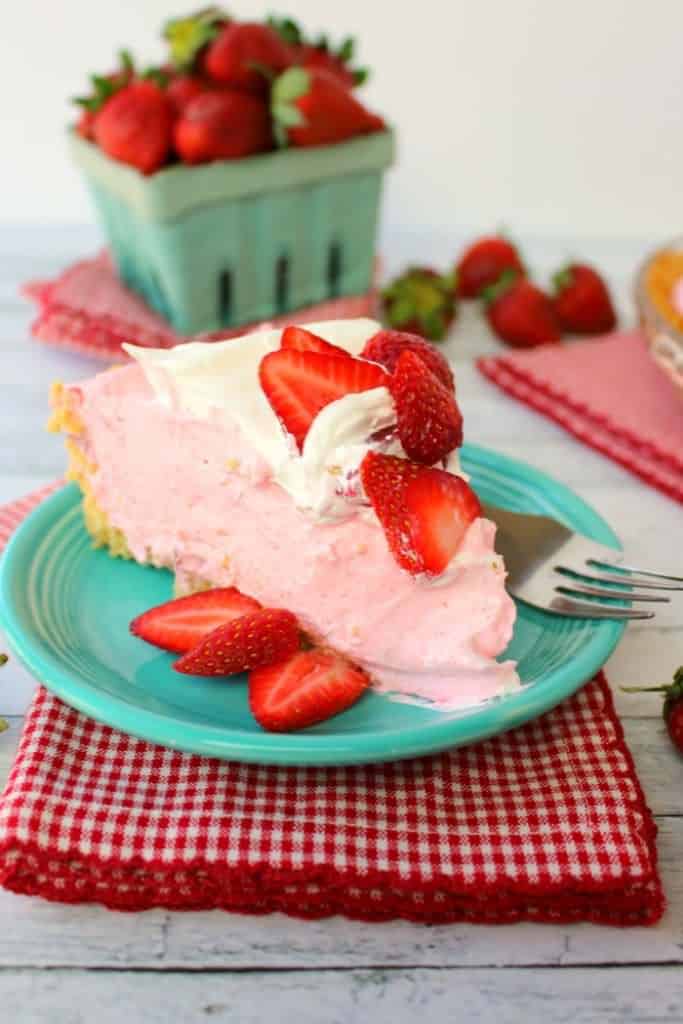 Should Strawberry Cream Pie be refrigerated?
Yes. This pie is made with cream cheese, whipped topping and strawberries. All of these ingredients need to be refrigerated.
How long does strawberry pie last?
Kept refrigerated, this creamy strawberry pie will last 4-5 days.
What ingredients will I need to make strawberry cream pie?
Golden OREOs (regular or double-stuffed)
butter
1 (8 oz.) package, cream cheese
sugar
1 (3 oz.) package, strawberry Jell-O
milk
1 large (16 oz) carton, frozen whipped topping
fresh strawberries
For the full recipe with exact ingredient amounts and recipe instructions, be sure to see the recipe card below.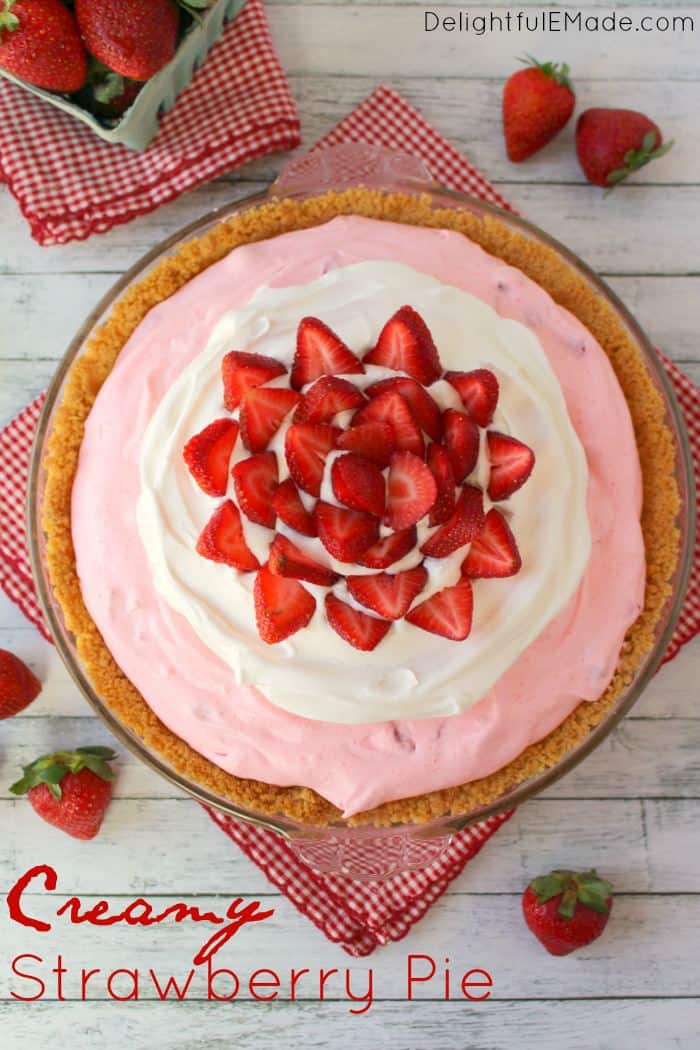 If you loved this delicious no bake strawberry pie recipe, check out my other delicious no bake desserts:
Chocolate Covered Strawberry Pie
Chocolate Covered Cherry No Bake Cheesecake Bars
No Bake Triple Chocolate Cheesecake Bars
Here's the recipe for this amazing Strawberry Cream Pie recipe: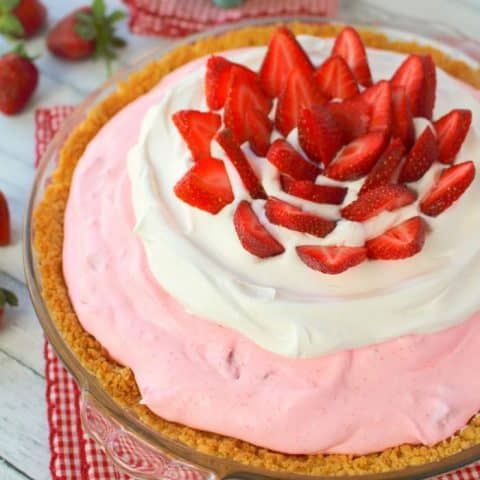 Creamy Strawberry Pie
The most amazing strawberry pie recipe you'll ever have! Not only is this recipe easy and no-bake, its made with fresh strawberries, cream cheese and a Golden OREO crust. It's perfect for Easter, Mother's Day or any spring or summer celebration!
Ingredients
22 Golden OREO cookies (or any other vanilla sandwich cookie)
3 Tbsp. butter, melted
1 (8 oz.) pkg, cream cheese, room temperature
1/4 c. sugar
1 c. milk
1 (3 oz.) pkg. Strawberry Jell-o
1 c. fresh strawberries, chopped
8 oz. (half of the 16 oz. carton) whipped topping, thawed
Toppings:
4-6 oz. of remaining whipped topping, thawed
1-1 1/2 c. sliced strawberries
Instructions
In a food processor, crush the Golden OREO's. Stop the processor, pour in the melted butter, and pulse for another 10-15 seconds to combine the crumbs and butter. Mixture should resemble gravel. Pour crumbs into a 9" pie plate, and firmly press into the bottom and sides of the plate. Refrigerate.
For filling: With a hand or stand mixer, cream together the cream cheese and sugar until smooth and fluffy. In a separate cup or bowl, pour the gelatin mix into the milk, and stir to dissolve. With the mixer running on low and fitted with the whisk attachment, gradually pour in the milk mixture into the cream cheese, stopping occasionally to scrape down the sides of the bowl. Continue until milk cream cheese mixture is smooth. Using a rubber scraper, fold in half (8 oz.) of the whipped topping. Fold in the chopped strawberries until mixture is completely combined. Pour the filling into the chilled crust and refrigerate for at least 2 hours.
Just before serving, top the pie with additional whipped topping. (Feel free to add as much or as little as you like.) Add the sliced strawberries to the top of the whipped topping. Slice and serve.
Notes
For a more firm crust, bake in a 350 degree oven for 5-7 minutes. Yes, I realize this makes this recipe no longer no-bake, however, this will help the pie hold its shape when sliced.
Nutrition Information:
Serving Size:

1
Amount Per Serving:
Calories:

352
Total Fat:

35g
Saturated Fat:

22g
Cholesterol:

92mg
Sodium:

276mg
Carbohydrates:

11g
Sugar:

7g
Protein:

1g
I hope this simple & delicious strawberry cream pie recipe inspires you to gather your family together this Easter, spring or any other time, and enjoy the season! ~Erin
Need some holiday pie inspiration? These pies are perfect for Easter, Thanksgiving and Christmas:

Mom's Famous Coconut Cream Pie