The best lemon pie you'll ever have! Made with lemon OREO's, this Lemon OREO Icebox Pie is heaven on a plate! Much like the classic lemon icebox pie recipe, this no bake lemon pie recipe is incredible!
This post may contain affiliate links. Delightful E Made is a participant in the Amazon Services LLC Associates Program, an affiliate advertising program designed to provide a means for us to earn fees by linking to Amazon.com and affiliated sites.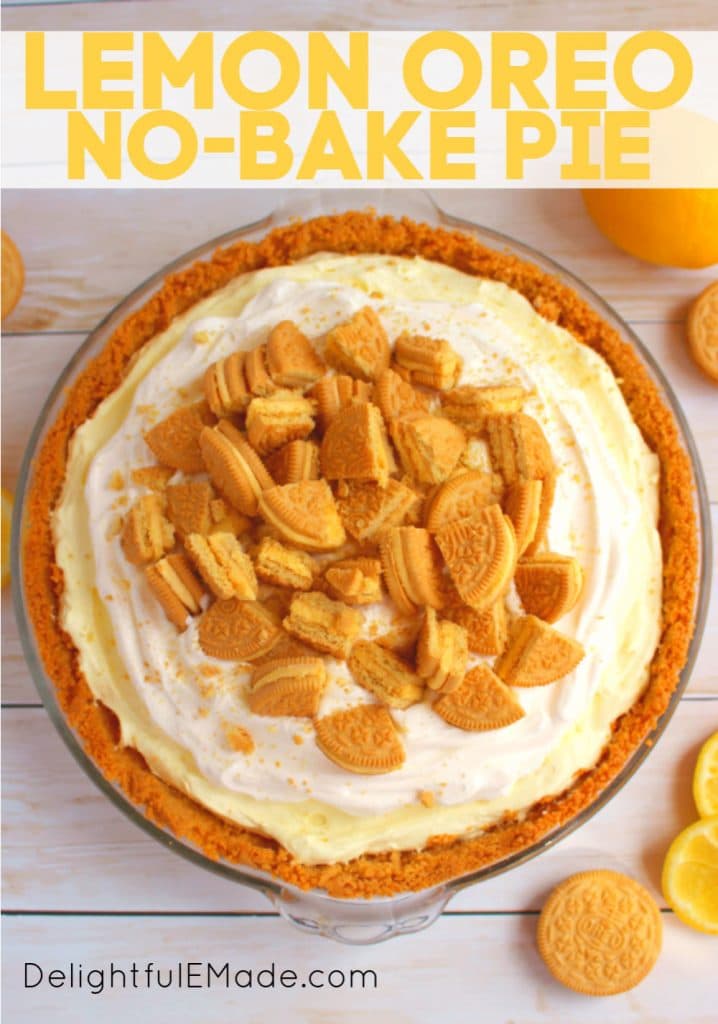 Lemon Icebox Pie with Lemon OREO's!
If you love a dessert that's easy to make and includes Lemon OREO's, then I've got a good one for ya! I actually came up with this dessert while grocery shopping.
While shopping at my local Target I noticed these amazing Lemon OREO's on the shelf. I immediately though, "I've GOT to make these into an amazing dessert… a lemon pie, yes! A Lemon Oreo Icebox Pie to be exact.
Is lemon icebox pie easy to make?
Yes, this lemon icebox pie is very easy to make.
Step 1: Start with the crust. Using a blender or food processor, crush the OREO's (reserving some for the topping) and add melted butter. Press the crumb mixture into the bottom and sides of a pie plate. You can bake the crust (to make it more firm) or simply refrigerate.
Step 2: Make the lemon cream filling. You'll need cream cheese, sugar, milk, lemon pudding mix and whipped topping. Using a hand or stand mixer, you'll get an amazing, fluffy filling that makes this lemon icebox pie incredible!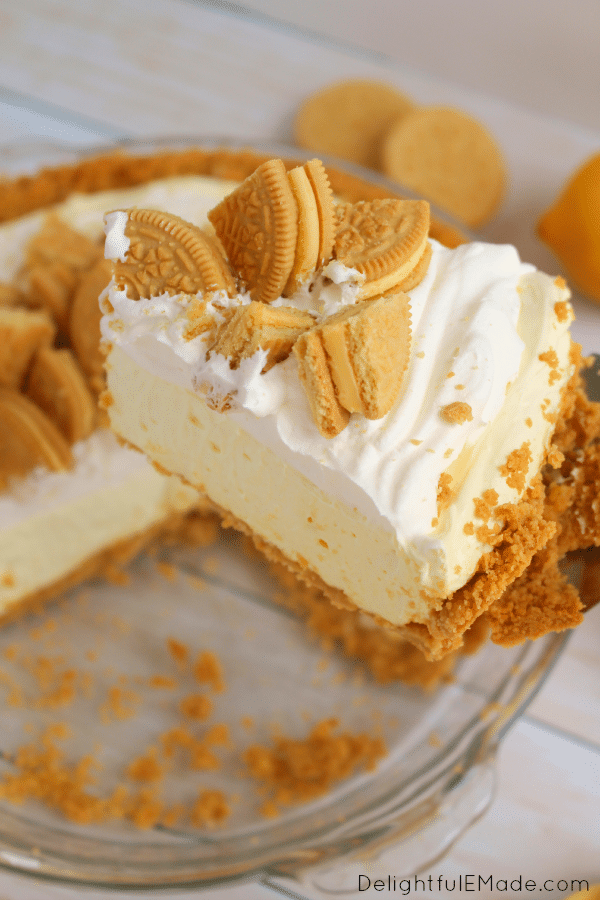 How do I top this no bake lemon pie?
I topped the pie filling with a bit more whipped topping, which added a nice layer of extra creaminess to the pie.  I then added the rest of the Lemon Oreo's to the top, which adds a fantastic lemon crunch that compliments the creaminess of the pie perfectly!
Love OREO's? Check out my recipes for Chick-fil-A Cookies and Cream Milkshake and my Starbucks Mocha Cookie Crumble Frappuccino – both of which are blended with OREO cookies!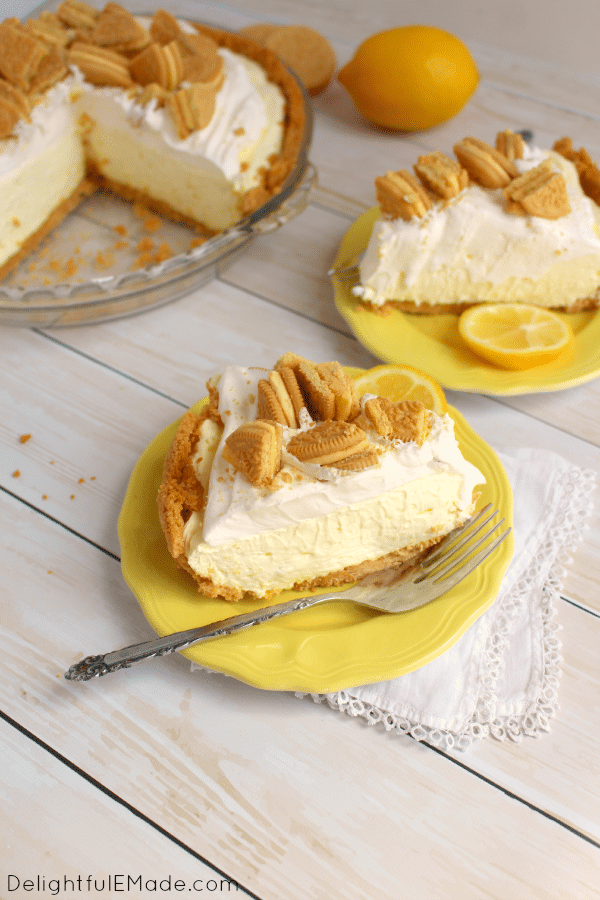 When should I serve lemon icebox pie?
This pie is a wonderful spring or summer dessert. It would be fantastic for a Mother's Day brunch, Easter dinner dessert or any family gathering.
Love anything lemon? Be sure to check out my recipes for Lemon Poke Cake, Lemon Bundt Cake and my Copycat Starbucks Lemon Loaf.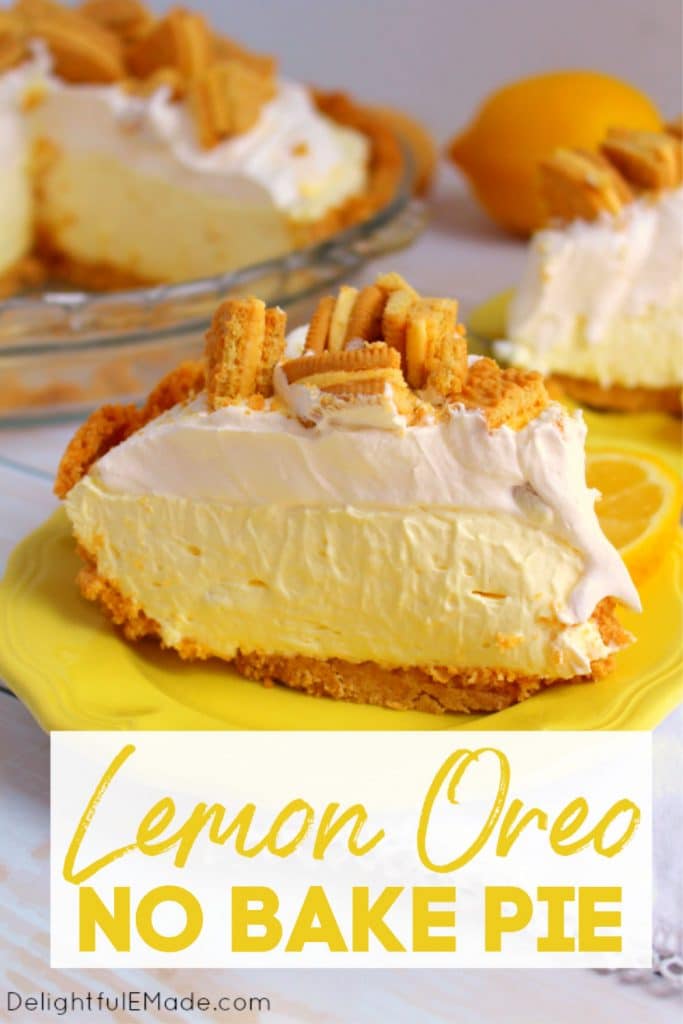 Love a delicious, creamy no bake pie? Check out some of my other similar recipes:
Very similar to this recipe are my no bake cheesecake bars:
Here's the recipe for my delicious Lemon OREO Icebox Pie: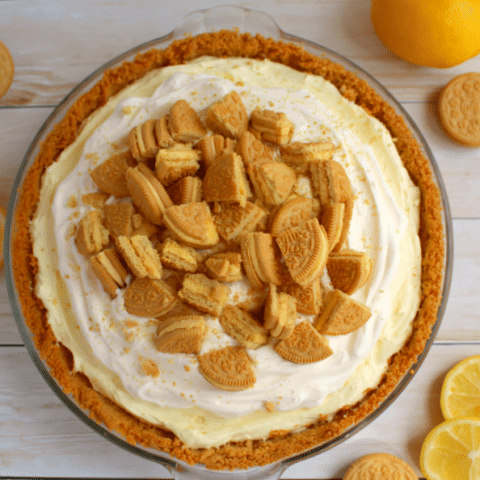 Lemon Oreo Icebox Pie
The best lemon pie you'll ever have! Made with a lemon OREO crust, filled with a creamy lemon filling and topped with more crunchy lemon OREO cookies, this dessert will be the highlight of your day!
Ingredients
1 package, Lemon Oreo cookies, divided
3 Tbsp. butter, melted
1 (8 oz.) pkg, cream cheese, room temperature
1/4 c. sugar
1 (3.4 oz) pkg, instant lemon pudding mix
1 c. milk
1 large (16 oz.) carton, frozen whipped topping, thawed
Instructions
Preheat oven to 350 degrees. In a food processor, crush about 22 of the oreos. Pour the oreos into a 9" pie plate. Stir in the melted butter, and press the mixture to the bottom and sides of the pie plate, forming the crust. Bake at 350 for 8-10 minutes to set the crust. Remove from oven and let cool completely. (Baking the crust is completely optional, although it helps to make more uniform pie slices.) You can also just press the crust into the bottom and sides of the pie plate and refrigerate before adding the filling.
With a hand or stand mixer, cream together the room temperature cream cheese and sugar until smooth. Add the milk and pudding mix, and beat until smooth and creamy. Lastly, fold in half (8 oz) of the whipped topping to the pudding mixture. Pour the filling into the cooled pie shell. Refrigerate for 2-3 hours or until set. Top the pie with the remaining whipped topping, and Oreos. Enjoy.
Notes
Baking the crust is completely optional. However, it does help the crust set and makes it easier to slice into more uniform slices.
If you would prefer to NOT bake the crust, that is fine. Simply press the cookie crumb mixture into the bottom and sides of the pie plate and refrigerate before adding the filling.
Nutrition Information:
Serving Size:

8 slices
Amount Per Serving:
Calories:

274
Total Fat:

21g
Saturated Fat:

13g
Cholesterol:

65mg
Sodium:

238mg
Carbohydrates:

28g
Sugar:

25g
Protein:

1g
This pie is absolutely wonderful! My husband, son and I loved it. My husband also took this pie to work with him, and he came home declaring that every Friday needs to be "pie Friday." Why not?! I hope this pie inspires every day to be "pie day." Enjoy! ~Erin