All the amazing flavors of smores in one glorious smores cocktail!  This delicious Smores Martini is made with marshmallow vodka, creme de cocoa, along with graham cracker crumbs, and toasted marshmallows. This smores drink will take you back to fun campfire memories, without the sticky fingers!
This post may contain affiliate links. Delightful E Made is a participant in the Amazon Services LLC Associates Program, an affiliate advertising program designed to provide a means for us to earn fees by linking to Amazon.com and affiliated sites.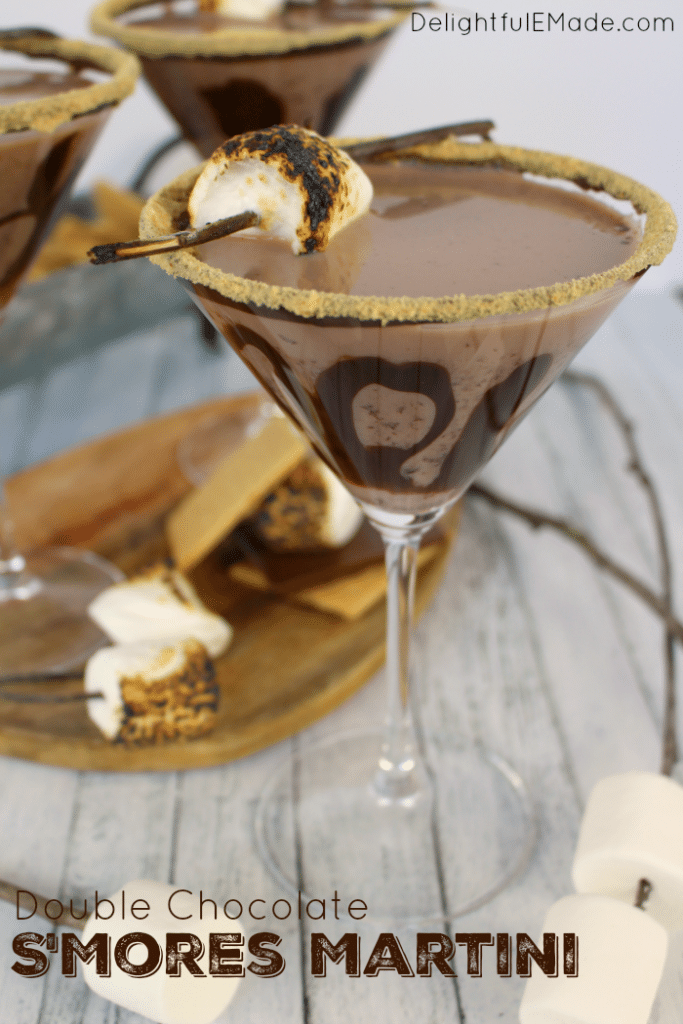 Does your summer involve gathering around a campfire or back yard fire pit, and making S'mores? Over the last several summers, Jason, Harrison and I travel back to South Dakota to visit our families.
While visiting, it has become tradition to have at least one campfire, with lots of s'mores! Especially for Harrison and his cousins, this fun summer tradition is one of the highlights of the summer, and undoubtedly, when some of the best memories are made!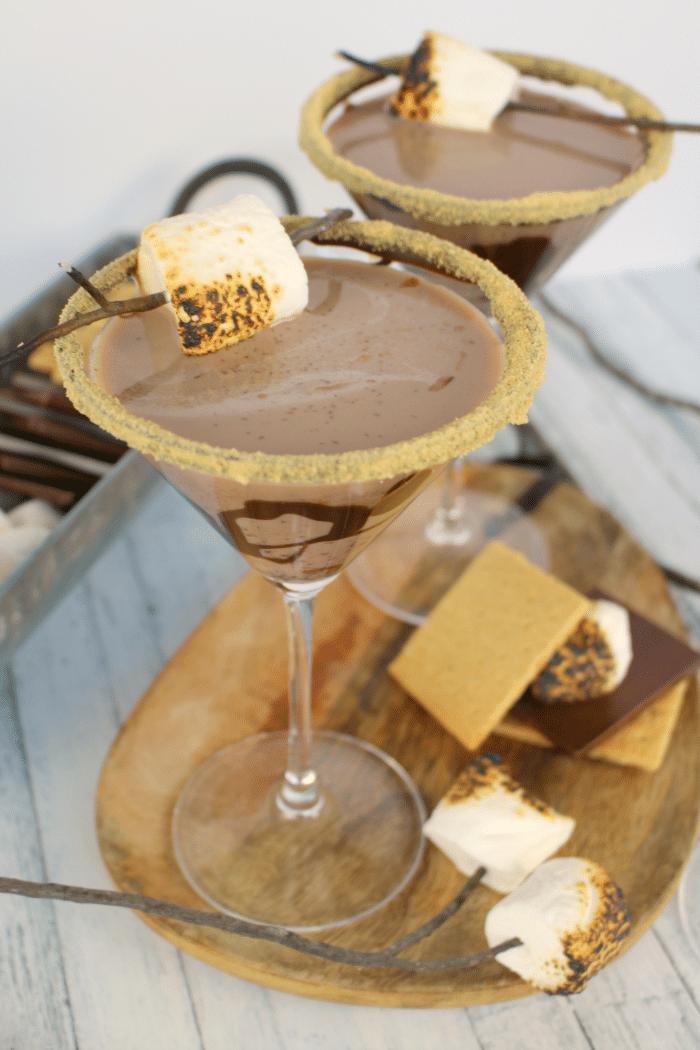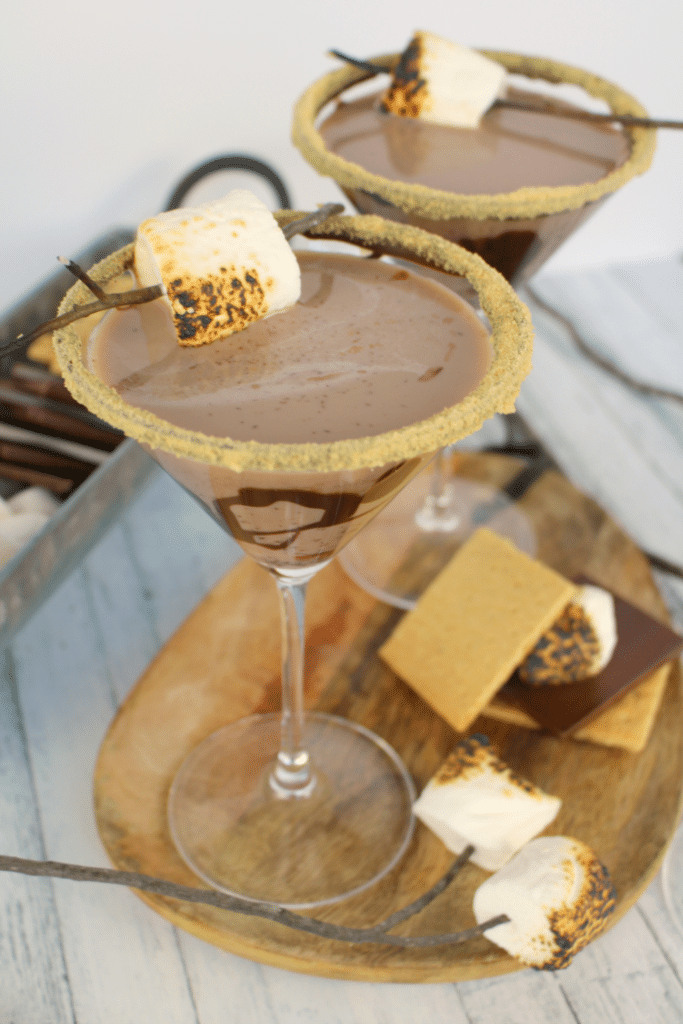 I really do love a yummy, gooey s'more!  These delicious chocolaty, marshmallow flavors inspired me to turn this classic summer treat into an amazing cocktail. This is how my smores cocktail was born.
With just a few ingredients, you'll have an amazing drink that may even be better than the graham cracker sandwich!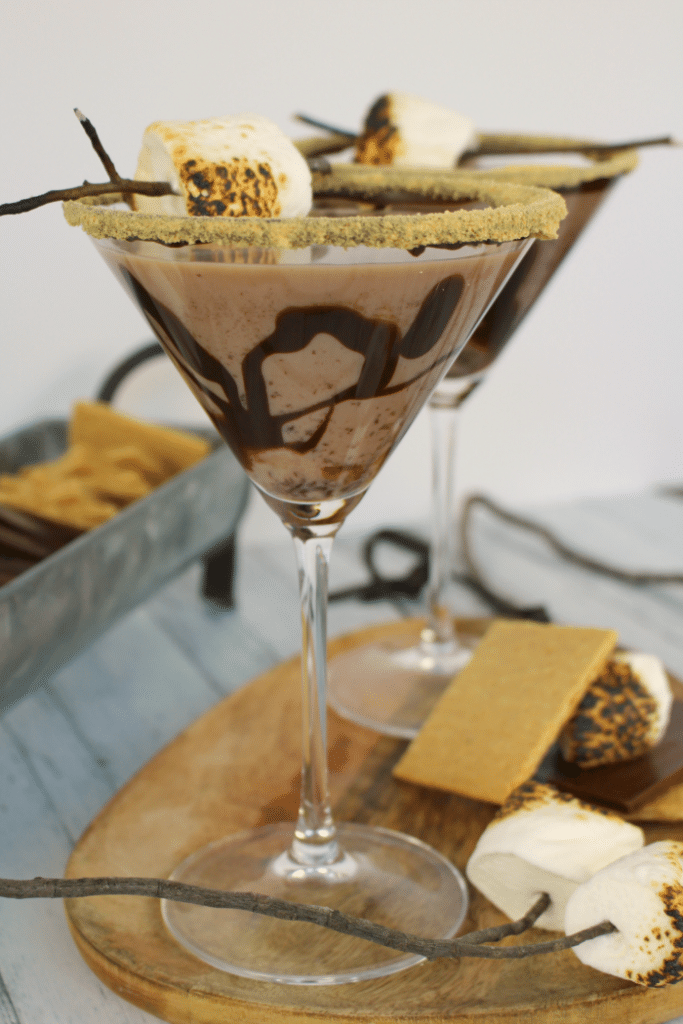 What do I need to make a smores martini?
Here's a quick reference checklist of the ingredients you'll need to make this easy smores drink:
Chocolate Milk
Creme de cocoa – you can also use Baileys or Rum Chata
Marshmallow Vodka – if you cannot find marshmallow flavored vodka, go with whipped cream or vanilla flavored vodka.
Garnishes – chocolate syrup, graham cracker crumbs and toasted marshmallows.
For exact ingredient amounts and full recipe instructions be sure to reference the recipe card at the bottom of this post. Thanks!
Pro-Tip:  You don't need a campfire to toast marshmallows.  Using your stove top, turn your burner to high, and toast your marshmallows on sticks or metal barbecue skewers.  As for graham cracker crumbs, if you don't want to mess with crushing your own, you can actually buy crumbs already crushed.
You can find these in the baking aisle of the grocery store near the ready-made pie crusts. Otherwise, crushing graham crackers in the blender or food processor takes just a few seconds, and is a fantastic addition to this cocktail!
Add some chocolate syrup to the insides of the glasses to add a pretty chocolate swirl to the glass. Lets face it; you can really never go wrong with extra chocolate!! 🙂
To get the graham cracker crumbs to stick to the rims of the glasses, I lightly drizzled chocolate syrup on the rims, and then dipped the rims into the crumbs. You can also melt some chocolate chips on a plate for a few seconds in the microwave, and then dip the rims into the chocolate.
Love a great dessert cocktail like this Smores drink? Check out some of our other sweet dessert drinks:
Here's the easy, delicious recipe for this fantastic summer cocktail:

Double Chocolate S'mores Martini
All the amazing flavors of s'mores in one glorious cocktail! Made with marshmallow vodka, creme de cocoa, along with graham cracker crumbs, and toasted marshmallows, this drink will take you back to fun campfire memories, without the sticky fingers!
Ingredients
2 oz. (1/4 cup) chocolate milk
1 oz. marshmallow flavored vodka
1 oz. creme de cocoa
1 oz. creme liqueur (like Baileys or Rum Chata)
For garnishes:
toasted marshmallows
graham cracker crumbs (about 1/3 c. for 4 cocktail glasses)
chocolate syrup
Instructions
Start by adding the chocolate syrup to the rim of the cocktail glass. Promptly dip the chocolate rims into the graham cracker crumbs. Add additional chocolate syrup to the inside of the glass, if desired.
In a cocktail shaker or mason jar, add ice. Pour in the chocolate milk, vodka, creme de cocoa, and creme liqueur. Shake and pour into the prepared glass. Top with a toasted marshmallow. Enjoy right away.
I hope this cocktail brings back fond memories of summers past. Mix up this fantastic drink, and enjoy it next to a campfire this summer. Amazing memories are sure to be made! Cheers! ~Erin