Do you love Starbucks Peppermint Mocha, but not waiting in line or the price tag? This post will show you how to make a peppermint mocha at home using 5 simple ingredients. It tastes just like the Starbucks version and much easier on your wallet, too!
This post may contain affiliate links. Delightful E Made is a participant in the Amazon Services LLC Associates Program, an affiliate advertising program designed to provide a means for us to earn fees by linking to Amazon.com and affiliated sites.
Is your holiday season not complete without a Starbucks Peppermint Mocha? This classic holiday drink is easy to make at home using just 5 simple ingredients.
In this post I'll show you how to make a peppermint mocha, the ingredients you'll need and answer your most frequently asked questions about making peppermint mochas at home.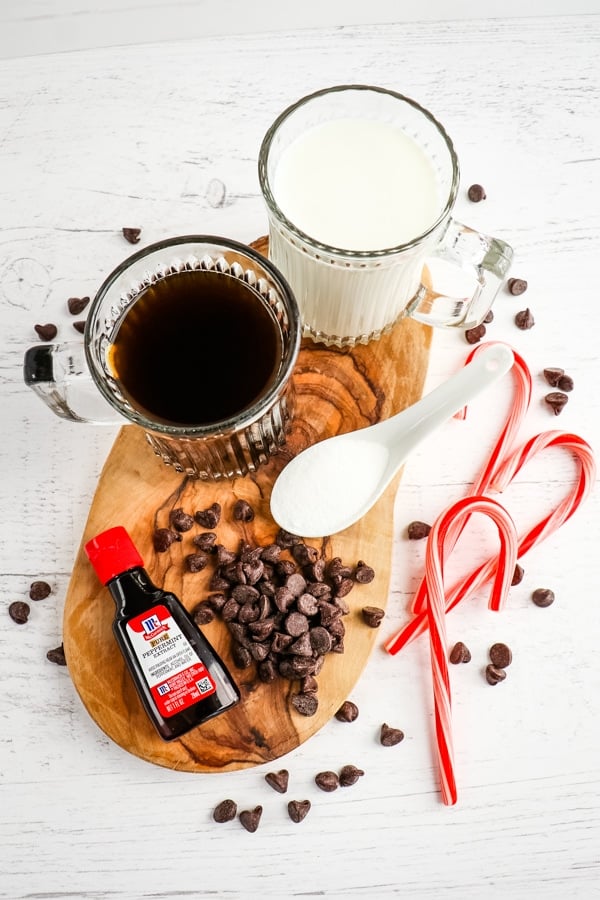 What do I need to make a peppermint mocha?
Milk – we used dairy whole milk, but feel free to use any dairy or plant-based milk of your choosing.
Strong brewed coffee – to make it like a Starbucks mocha, add in a freshly brewed shot of espresso.
Semi-sweet chocolate – use good quality chocolate chips or a baking bar to get that delicious, rich chocolate flavor.
Sugar – instead of sugar, use a monk-fruit sweetener like Whole Earth or Lakanto. This will sweeten your drink without adding extra calories and refined sugar.
Peppermint extract – you don't need much. Just a few drops will go a long way!
For exact ingredient amounts and full recipe instructions be sure to scroll down to the bottom of this post to the recipe card. Thanks!
Tips on how to make a peppermint mocha:
Start by adding the coffee, milk, sugar and chocolate chips to a saucepan.
Heat over medium-low heat to melt the chocolate. Use a whisk to help the sugar dissolve and the chocolate come together with the liquid.
DON'T let the liquid come to a rolling boil. The milk will scald/burn to the bottom of the pan, and it will taste off.
Heat until steaming and until the chocolate has melted completely. This should take just 5 minutes or so, over medium-low heat.
Once the chocolate has melted completely, remove from heat and stir in the peppermint extract.
---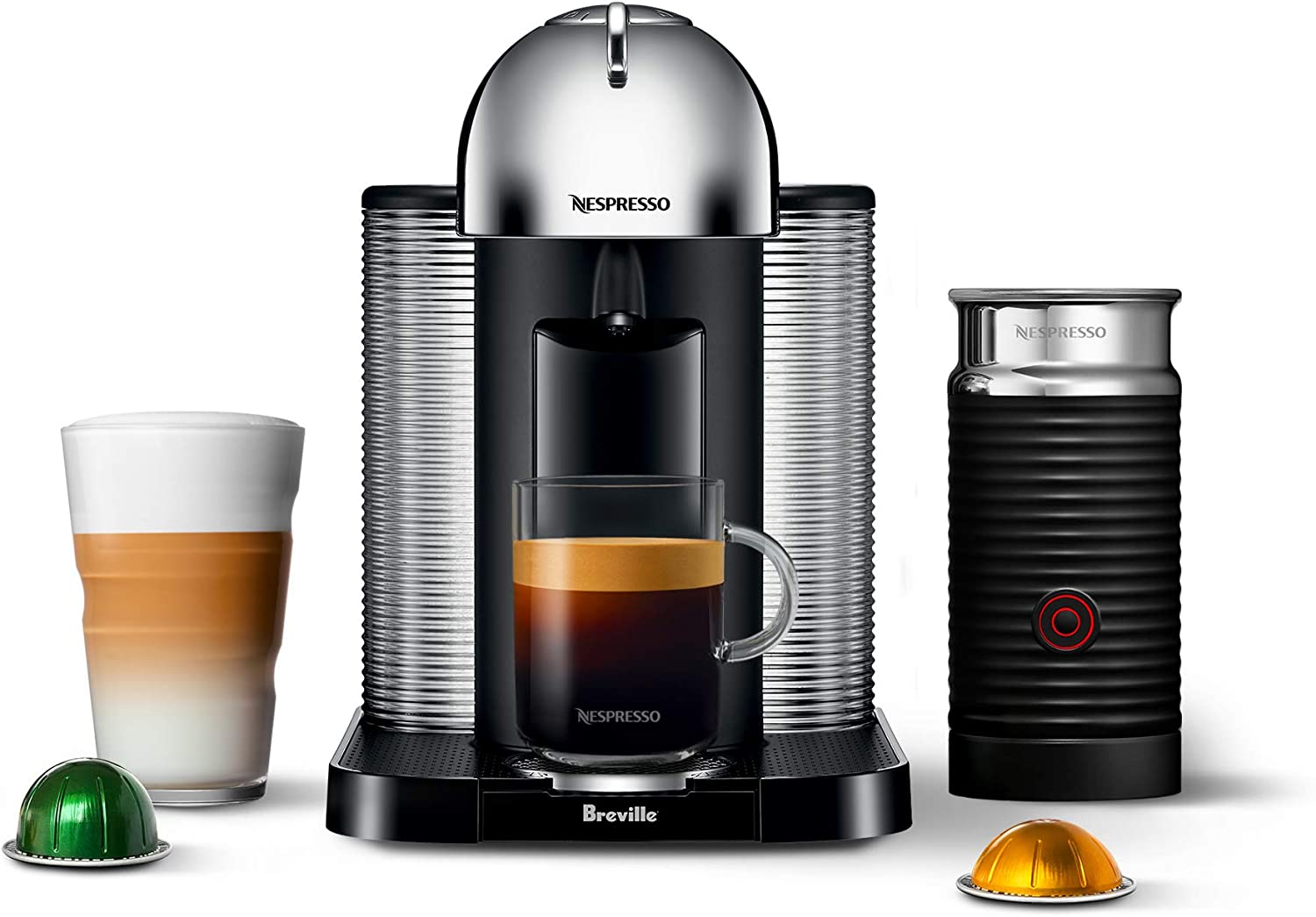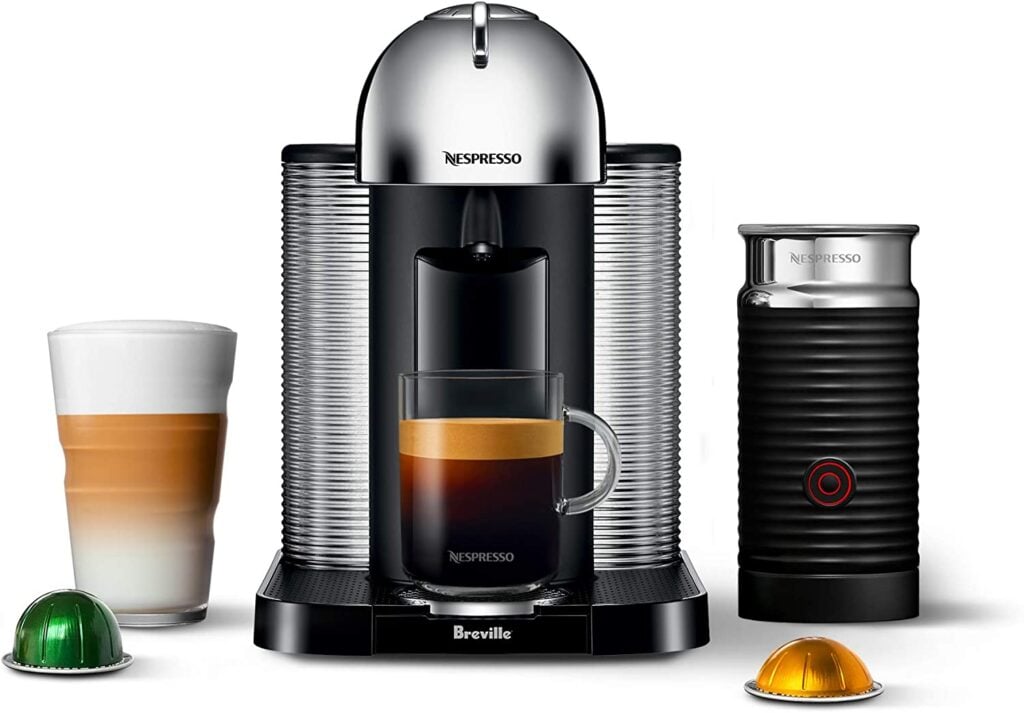 Nespresso Vertuo Coffee and Espresso Machine
Want to make both coffee AND espresso at home? This is the machine I use and LOVE. The fresh espresso is amazing and the brewed coffee tastes equally fantastic. I highly recommend!
---
If you love a great espresso drink, check out my Iced Caramel Latte and my Caramel Brulee Latte.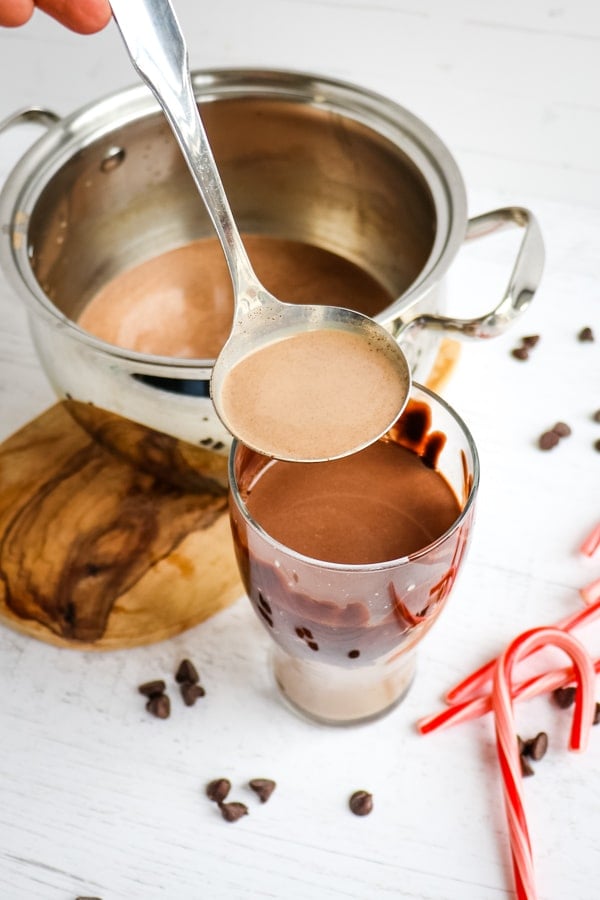 Here are some frequently asked questions about how to make a peppermint mocha:
What is in a peppermint mocha?
A Starbucks peppermint mocha contains coffee, steamed milk, mocha/chocolate sauce and peppermint syrup.
How do you make a peppermint mocha from Starbucks?
Heat together coffee, milk, sugar and chocolate. Heat until the chocolate melts and the sugar dissolves. Stir in peppermint extract. Serve right away while hot and top with whipped cream and or chocolate syrup.
Does a peppermint mocha taste like coffee?
Not really. The chocolate and peppermint flavors are more pronounced in a peppermint mocha than coffee.
How many calories in a Grande (16 oz.) Peppermint Mocha?
A grande Starbucks Peppermint Mocha has 440 calories and 54 grams of sugar!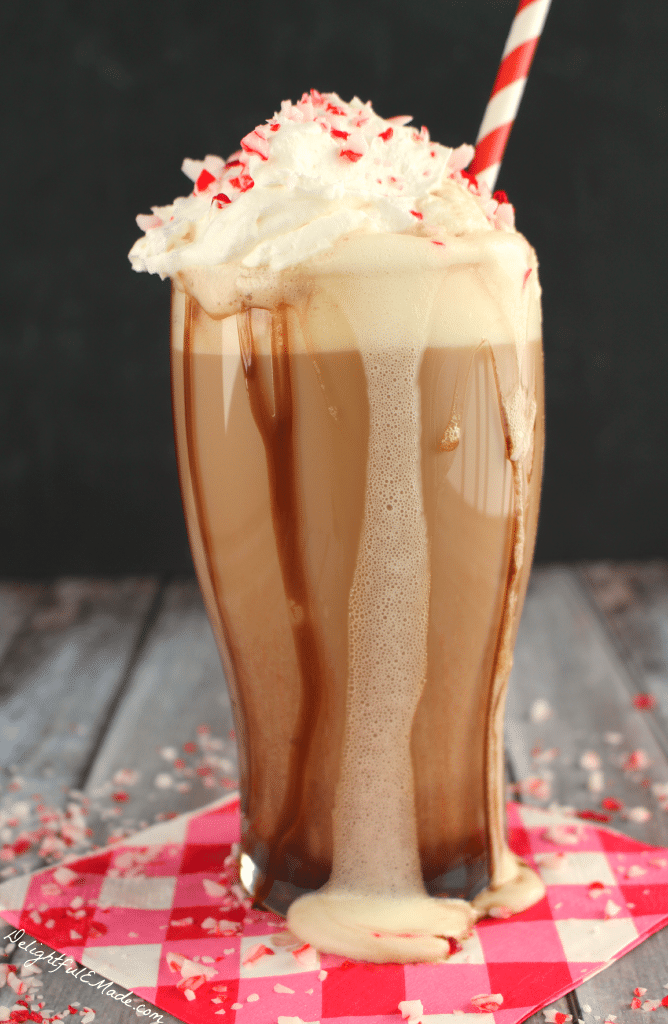 Topping ideas for a peppermint mocha:
Whipped cream or whipped topping, like my Homemade Cool Whip
Chocolate syrup
Mini-chocolate chips
Crushed peppermints, or peppermint chips. You can purchase these already crushed at many grocery stores or craft stores during the holidays.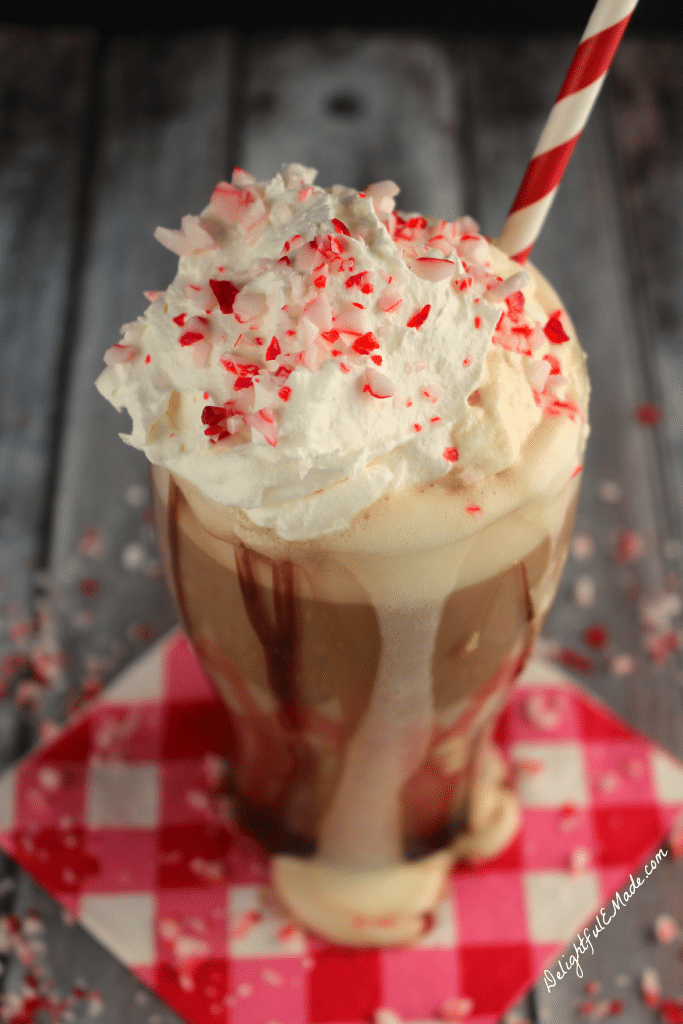 This is such a fun drink to enjoy while you're watching your favorite Christmas movies, great to take with you in the car while shopping (so you don't have to spend $$$ at the coffee shop), and wonderful for enjoying with holiday cookies and candies! Better yet, enjoy one of these delicious Peppermint Mocha's in your pajamas while you do your online shopping!
If you love a classic holiday drink, check out my recipes like Starbucks Mocha Frappuccino Recipe, my Mocha Cookie Crumble Frappuccino and my Baileys Hot Chocolate.
Do you love Starbucks treats as well? Check out some of my snacks that can be enjoyed with this peppermint mocha:
If you loved this Starbucks Copycat Drink, check out some of my other classic coffee creations: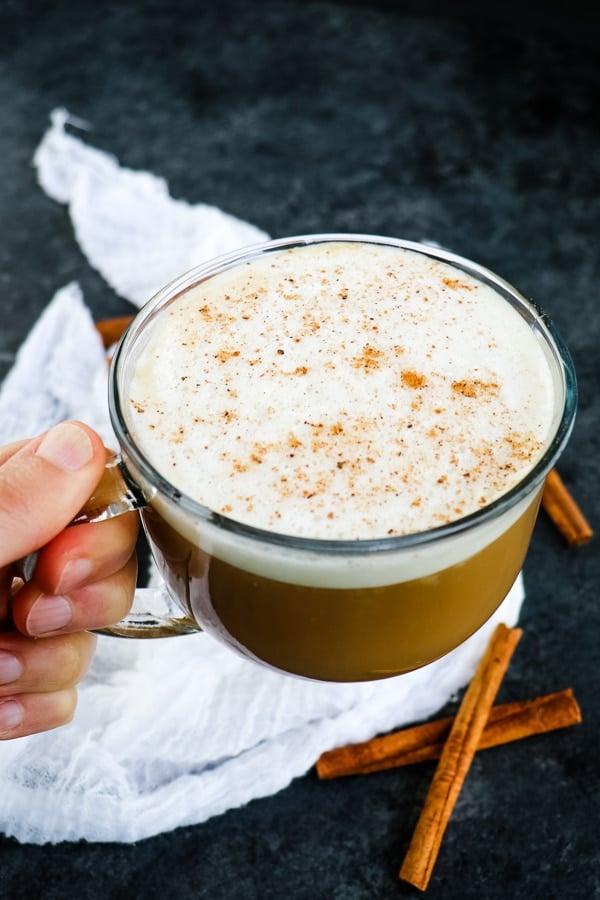 Easy Peppermint Mocha
Love a Starbucks peppermint mocha during the holidays? This easy Peppermint Mocha just needs 5 ingredients to make at home!
Ingredients
1 c. strong brewed coffee
1 c. whole milk
2 Tbsp. semi-sweet chocolate chips
2 tsp. sugar, or your preferred sweetener (optional)
1/8 tsp. peppermint extract
Instructions
In a small saucepan, add the milk, coffee, sugar and chocolate chips. Heat over medium-low heat, stirring often with a whisk.
Heat until the liquid is steaming, but not boiling. Once the chocolate has melted completely, remove from heat. Add in the peppermint extract and stir.
Ladle into glass or mug while still hot. Top with your favorite toppings. Enjoy right away.
Notes
Feel free to use the milk of your choice, dairy or plant-based. Substituting milk will change the consistency, flavor and calorie content of the drink.
Sugar is optional. The drink will be sweet from the chocolate, but maybe not as sweet as the Starbucks version. Adapt the amount of sweetness as needed with the sugar or sugar-substitute of your preference.
Nutrition Information:
Yield:

1 drink
Serving Size:

16 oz.
Amount Per Serving:
Calories:

296
Total Fat:

12.3g
Carbohydrates:

38.2g
Sugar:

36g
Protein:

11g