The BEST Starbucks Salted Caramel Mocha Recipe!
Love Starbucks Salted Caramel Mocha but tired of spending $5/day and wasting time in line? My Copycat Starbucks Salted Caramel Mocha recipe tastes just like the real deal, but better! Coffee, chocolate, and caramel come together to make a rich, delicious and comforting drink. No espresso machine required!
This post may contain affiliate links. Delightful E Made is a participant in the Amazon Services LLC Associates Program, an affiliate advertising program designed to provide a means for us to earn fees by linking to Amazon.com and affiliated sites.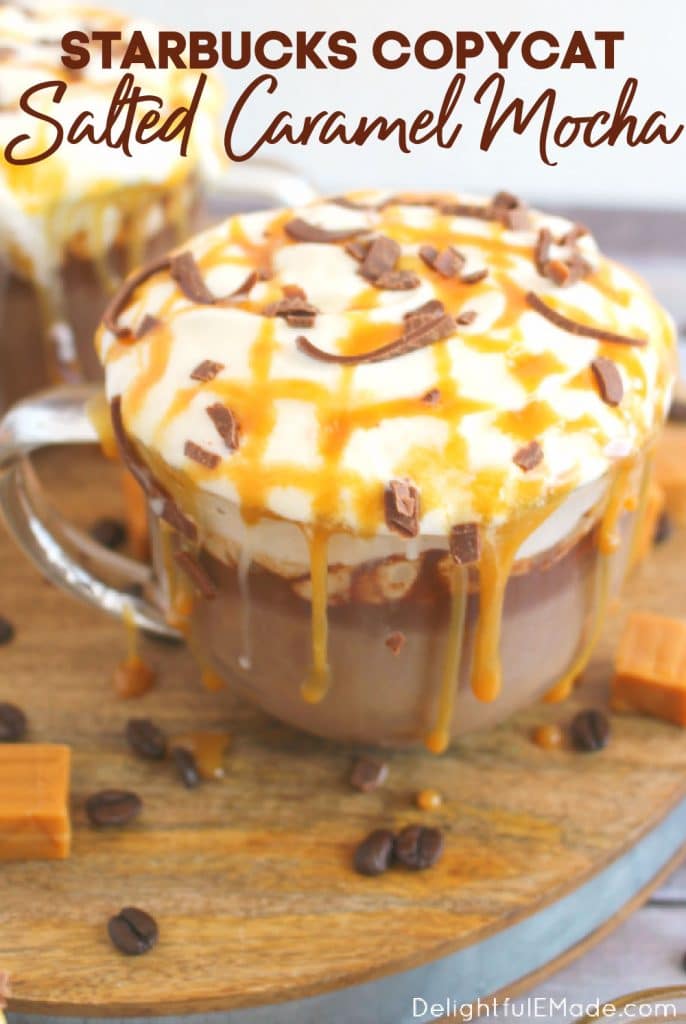 EASY Starbucks Salted Caramel Mocha Recipe at Home!
Now that we're in the cooler months of the year, I love nothing more that a hot, delicious coffee. I love tea, coffee, espresso – pretty much anything that warms me up when there is a chill in the air.
I love treating myself to a Starbucks drink, however, as we all know, at $5+ a drink, it adds up FAST!! So, I've come up with a way to enjoy a delicious Starbucks Salted Caramel Mocha right at home with just a few ingredients that you likely already have in your pantry and fridge.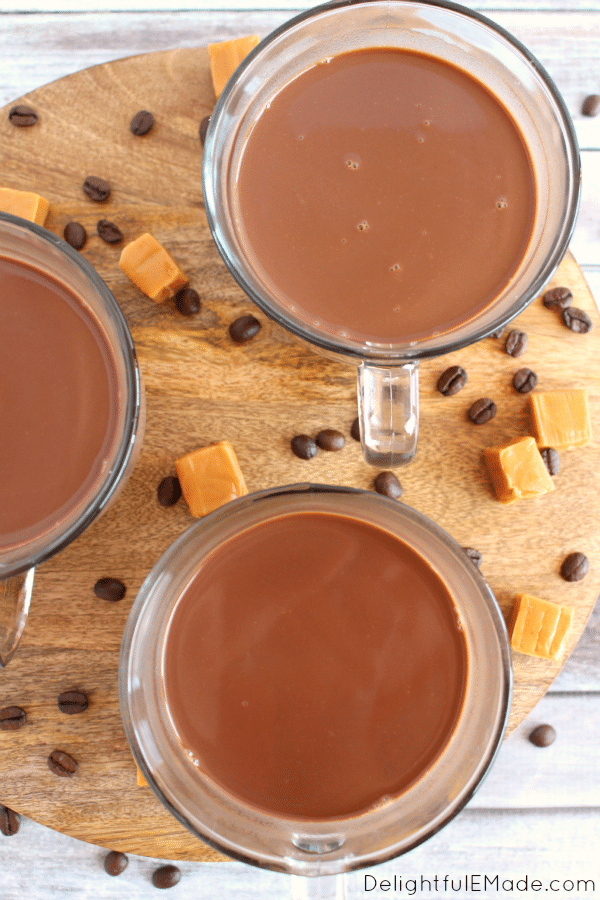 What you'll need to make this Starbucks Salted Caramel Mocha recipe:
Semi-sweet chocolate chips
Granulated Sugar
Caramel bits (found in the baking aisle near the chocolate chips)
Salt
Milk – your preference
Strong brewed coffee – you can also use a freshly brewed shot of espresso.
Whipped Cream
Caramel Sauce
For exact ingredient amounts and full instructions, be sure to scroll down to the recipe below at the bottom of this post.
How do I make a Starbucks Salted Caramel Mocha?
I start with adding chocolate chips, sugar, caramel bits, and salt to the bottom of a sauce pan. You'll then add milk and strong brewed coffee, and heat these on medium low heat.
Continually whisk the liquid, and as the chocolate and caramel melt. Pour into mugs and top with your preference of toppings like whipped cream, caramel sauce and chocolate shavings.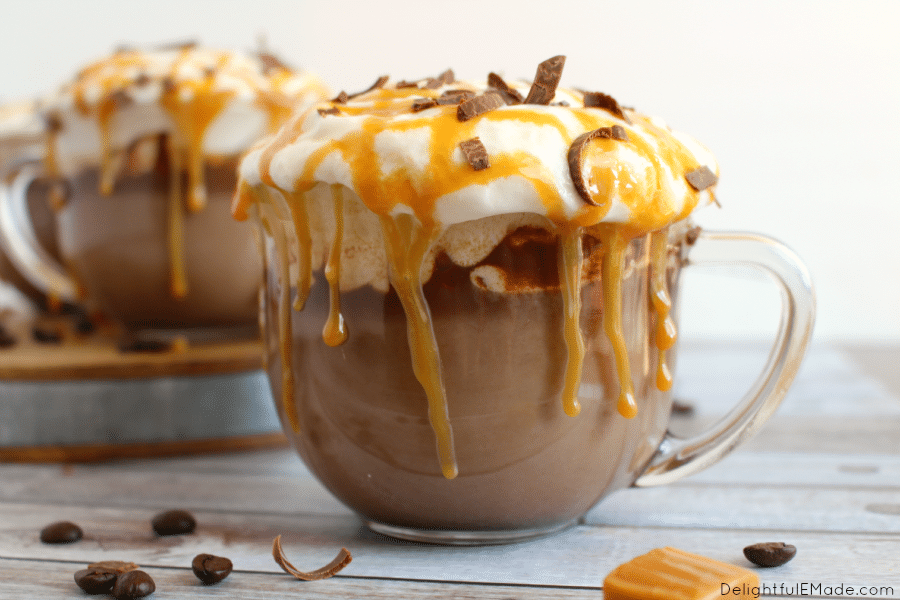 Once all the chocolate and caramel melt into the milk and coffee, you'll have a hot, steaming drink perfect for topping with whipped cream, caramel sauce and chocolate shavings!
This is definitely a decadent drink and perfect for those mornings when you just want to relax in your pajamas, and cover up with a cozy blanket.
---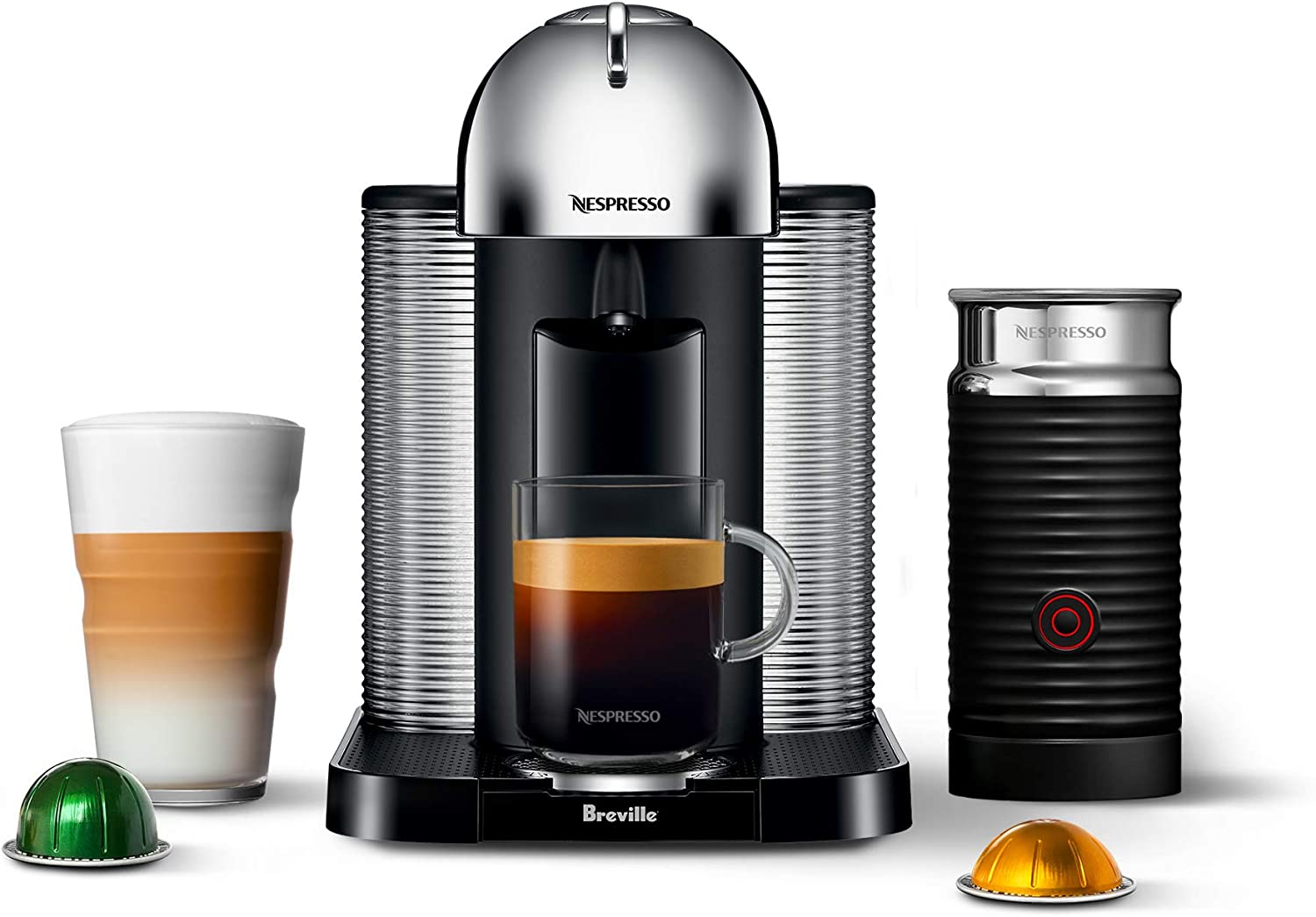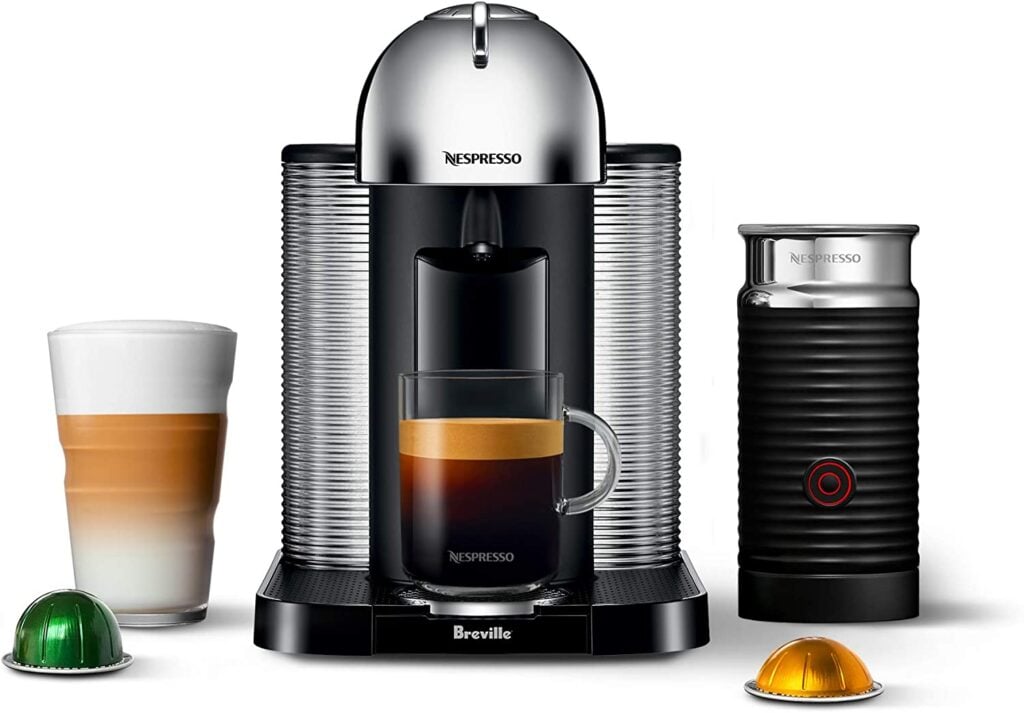 Nespresso Vertuo Coffee and Espresso Machine
Want to make both coffee AND espresso at home? This is the machine I use and LOVE. The fresh espresso is amazing and the brewed coffee tastes equally fantastic. I highly recommend!
---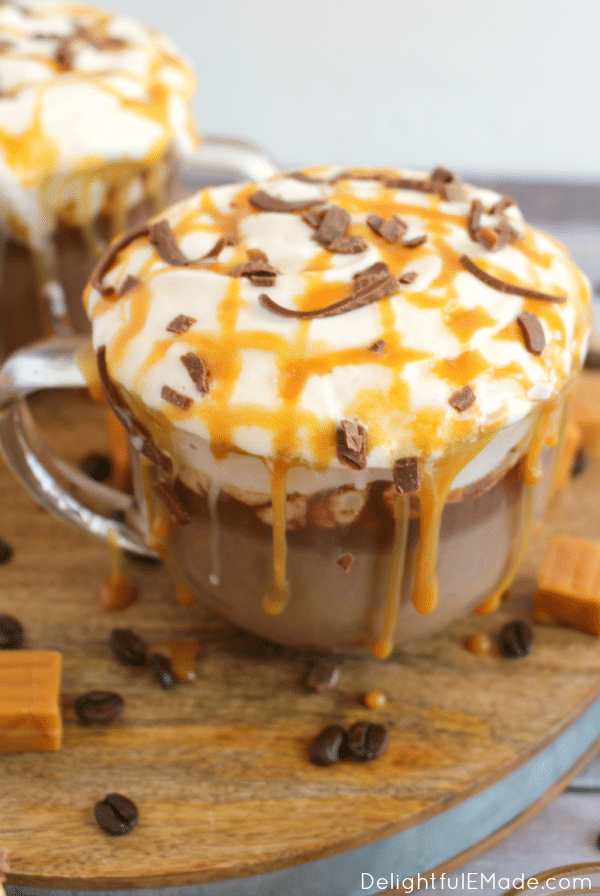 When do I serve a salted caramel mocha?
This drink is perfect to enjoy on a lazy weekend, when you want to treat guests to a delicious coffee drink, or even serve on a special day like Christmas morning!
It's wonderful to have when you have overnight guests and want to treat them to a special drink with breakfast. Any way you have it, you'll definitely be in for a treat!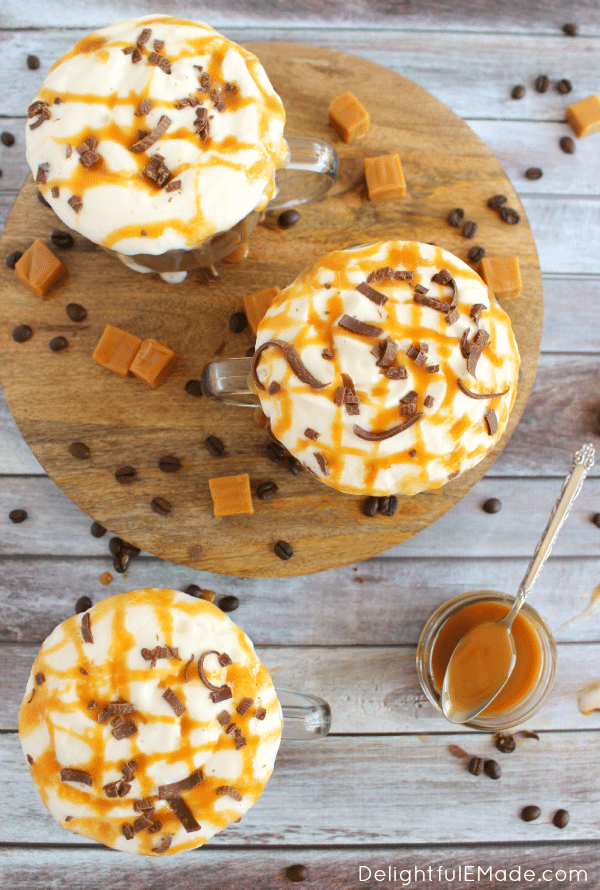 Love Starbucks drinks and treats? Check out some of my other Starbucks Copycat recipes:
If you love making coffee and hot chocolate drinks at home, here's some recipes you'll be sure to love:
Get the Starbucks Salted Caramel Mocha recipe here: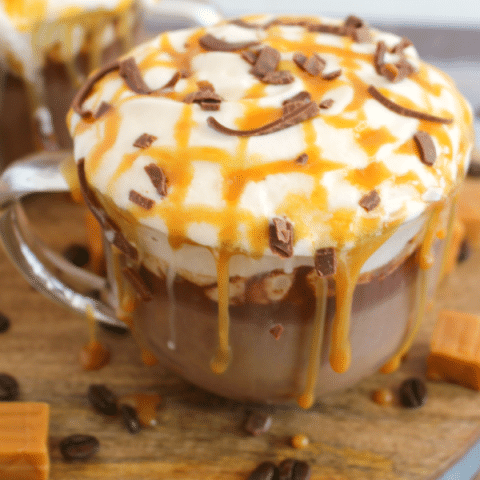 Starbucks Copycat Salted Caramel Mocha
Just like Starbucks, but better! Rich, creamy chocolate and caramel come together for an amazing hot coffee drink!
Ingredients
2/3 c. semi-sweet chocolate chips
1/3 c. sugar
1/4 c. caramel bits
1/8 tsp. salt
3 c. milk (your preference)
1 c. strong brewed coffee
Toppings:
whipped cream
caramel sauce
chocolate shavings
Instructions
In a medium saucepan, add the chocolate chips, sugar, caramel bits, salt, milk and coffee. Heat over medium low heat, whisking often. As ingredients melt together, continue whisking and bring to a low simmer. Do not boil.
Pour mocha into mugs and top with desired amount of whipped cream, caramel sauce and chocolate shavings. Enjoy right away.
Notes
This recipe makes 4 small (tall, 8 oz.) drinks, or two large (grande,16 oz.) drinks.
Nutrition Information:
Serving Size:

4 servings
Amount Per Serving:
Calories:

1414
Total Fat:

58g
Saturated Fat:

34g
Cholesterol:

73mg
Sodium:

652mg
Carbohydrates:

210g
Sugar:

163g
Protein:

34g
As we move into the cooler months of the year, I hope you get the chance to treat yourself to a lazy morning and enjoying a rich, delicious Salted Caramel Mocha! Stay in your jammies, cozy up with a blanket and enjoy! ~Erin