Do you love gnocchi in an amazing Italian inspired dish? This Italian sausage gnocchi in a creamy red sauce with sun dried tomatoes and spinach will become an instant favorite. Best of all, this gnocchi and sausage recipe is also easily made in one skillet for a quick weeknight dinner.
This post may contain affiliate links. Delightful E Made is a participant in the Amazon Services LLC Associates Program, an affiliate advertising program designed to provide a means for us to earn fees by linking to Amazon.com and affiliated sites.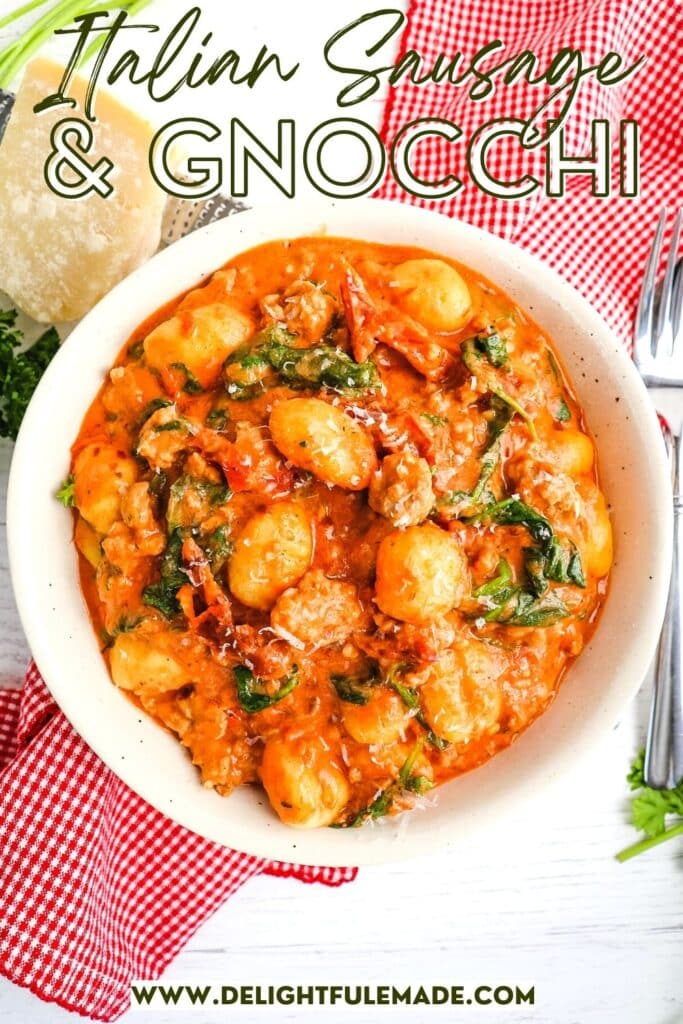 Do you love cooking with potato gnocchi, but could you use a new recipe idea? This simple and delicious gnocchi and sausage recipe is perfect for enjoying all those delicious Italian flavors.
The best part of this recipe is that it cooks all in one skillet, making for simple cooking and easy clean-up. In this recipe I'll show you exactly what you need, how to make the recipe and ways to add flavor and deliciousness in every bite!
What do I need to make a gnocchi and sausage recipe?
Italian Sausage – feel free to purchase either bulk Italian Sausage or links? I purchased the links, as my supermarket did not have bulk Italian sausage available. Simply cut and remove the casing from the sausage.
Potato gnocchi – this can be found in the pasta section at your supermarket.
Garlic – feel free to peel and mince cloves or purchase pre-minced garlic in a jar. (This is what I use. It is a big time-saver!)
Sun dried tomatoes – these typically come in a jar and packed in oil. They are sold either whole or Julienned sliced.
Low-sodium chicken broth – you can also substitute vegetable broth.
Half and half – you can also substitute heavy cream for a richer sauce or whole milk.
Italian seasoning – great for seasoning the sauce
Garlic salt
Ground pepper
Red pepper flakes
Tomato sauce – look for no sugar added tomato sauce.
Fresh baby spinach
For exact ingredient amounts and full recipe instructions be sure to scroll down to the bottom of the post for the recipe. Thanks!
How do I make gnocchi and sausage?
The first step to making this Italian inspired dish is to brown the Italian sausage. As I've indicated in the ingredient list above, you can either use bulk Italian sausage or Italian sausage links. If you are using links, cut the casing down the side of the link and turn out the sausage into the pan.
Brown the sausage along with the sun dried tomatoes. Drain off any excess grease that the sausage renders.
To skillet with the browned sausage and tomatoes, add in the potato gnocchi, chicken broth, tomato sauce, half and half, and spices (Italian seasoning, garlic salt, pepper and red pepper flakes.)
Stir all the ingredients well and over medium heat, bring the mixture to a simmer. Then, add in the fresh spinach, stirring frequently until it wilts into the sauce.
Once the spinach has wilts into the sauce with the rest of the ingredients, you're done!
What can I serve with Italian sausage gnocchi?
This Italian-inspired dish is great served with numerous salads and vegetables. Here are some of our favorite sides that would be perfect with this gnocchi dish:
Love cooking with sausage? Try my Sheet Pan Sausage and Peppers or my Air Fryer Chicken Sausage, which are both great weeknight dinners that need minimal prep.
Frequently asked questions about cooking with gnocchi:
What meat goes with gnocchi?
Italian sausage is a great option when cooking with gnocchi. Make a creamy red sauce and add the sausage, spinach, and sun dried tomatoes is an excellent and very flavorful pairing.
Is gnocchi pasta or potato?
Traditionally, gnocchi is made with potatoes. The other ingredients to create the gnocchi dough (semolina or plain flour and egg) are very similar to other pastas. Gnocchi is also used in many Italian dishes like a medium-sized pasta.
Are you supposed to eat gnocchi with sauce?
Yes, gnocchi is best when served in a meat sauce or ragu, a creamy red sauce, pesto, marinara or alfredo sauces. It is also very common for gnocchi to be served in a simple brown butter sauce with sage.
Can you cook gnocchi in sauce instead of boiling?
Yes, gnocchi can be cooked directly in the sauce it is being served with. It only needs to be softened in the sauce and will then be ready to eat. Preboiling gnocchi before being added to sauce is NOT recommended, as it becomes gummy and unappealing.
If you loved this Italian inspired recipe, check out some of these other pasta recipes: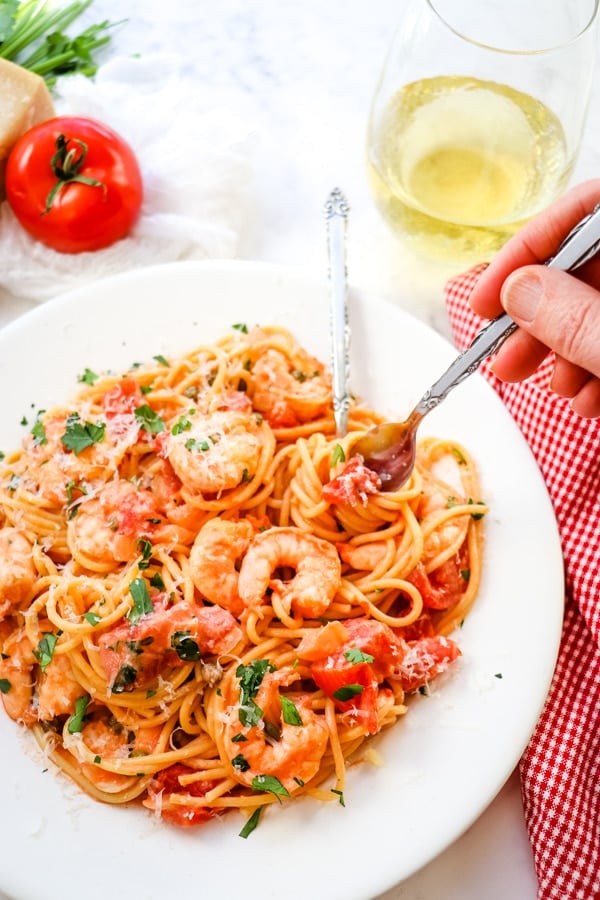 ---
---
Italian Sausage Gnocchi
Looking for a simple, delicious gnocchi and sausage recipe? This Italian sausage gnocchi in a creamy red sauce with sun dried tomatoes and spinach will be your new favorite way to enjoy gnocchi!
Ingredients
15 oz. Italian sausage (hot or mild), bulk or links
10 oz. jar, sun dried tomatoes, drained of oil and sliced
1 Tablespoon minced garlic (about 3 cloves)
16 oz. pkg. potato gnocchi
1 cup half and half
1/2 cup chicken broth
15 oz. can, tomato sauce
1 teaspoon Italian seasoning
1/2 teaspoon garlic salt
1/2 teaspoon ground pepper
1/4 teaspoon red pepper flakes
5 oz. pkg. fresh baby spinach
Instructions
To a large nonstick skillet, over medium-high heat, add in the Italian sausage. Begin browning the sausage. Add in the sun dried tomatoes (drained from the oil) and minced garlic. Brown with the sausage for 2-3 minutes until the sausage is fully cooked and no longer pink. Remove from heat and drain off any excess fat that the sausage renders.
Return the sausage mixture back to the stovetop. Add in the gnocchi, broth, half and half, tomato sauce, Italian seasoning, pepper, garlic salt and red pepper flakes. Heat over medium heat and stir well to combine the ingredients. Heat to a simmer, and cook for 4-5 minutes.
Add in the fresh spinach, and gently combine into the sauce. The spinach will begin to wilt into the sauce. Cook for 2-3 more minutes until the spinach wilts into the rest of the ingredients.
Remove from heat and let cool for 2-3 minutes before serving. Top with fresh grated Parmesan cheese, if desired.
Notes
Note: the potato gnocchi does NOT need to be pre-boiled before being added to the meat sauce. The gnocchi will soften when it is cooked in the sauce. If preboiled, the gnocchi will become overly soft and gummy and will not incorporate well with the sauce.
Storage: store any leftovers in an airtight container and refrigerate. Kept refrigerated, the gnocchi will keep for up to 5 days.
Recommended Products
As an Amazon Associate and member of other affiliate programs, I earn from qualifying purchases.
Nutrition Information:
Yield:

6
Serving Size:

1
Amount Per Serving:
Calories:

616
Total Fat:

29g
Saturated Fat:

11g
Trans Fat:

0g
Unsaturated Fat:

20g
Cholesterol:

77mg
Sodium:

1203mg
Carbohydrates:

68g
Fiber:

9g
Sugar:

24g
Protein:

28g