The Ultimate Cilantro Lime Chicken Recipe!
Fire up the grill, its time for some amazing cilantro lime chicken! Chicken breasts are marinated with cilantro, lime juice and a spicy habanero chili sauce, this verde grilled chicken recipe will bring the heat.
Now that summer is in full swing, my grill has been working overtime! My family and I love grilling in the summer, not only because it brings amazing flavor to our meal, and its a quick, easy way to get dinner on the table. Double-victory, right?!! Having a variety of easy, delicious grilling recipes for the summer is a must. I recently added this Cilantro Lime Chicken to my arsenal of recipes – its definitely one of our new favorites! Not only does it have some great spice, this cilantro lime chicken is a fantastic way to spice up plain 'ole chicken breasts.
Here are the quick and easy steps to creating this flavorful and delicious cilantro lime chicken recipe:
Step 1: Mix the Marinade
Marinating prior to grilling is one of the best (and easiest!) ways to add flavor and tenderness to your meat, especially chicken. I recently came across the awesome El Yucateco Chile Habanero hot sauce. El Yucateco makes a great variety of hot sauces, but I went for the verde to pair with my chicken. Wow!! What an amazing infusion of flavor, spiciness and heat! Paired with lime juice, cilantro and a couple other ingredients, it makes for a quick, easy marinade for chicken breasts.
Simply mix the marinade ingredients together in a small bowl. Add the chicken breasts to a resealable plastic bag or baking dish, and pour the marinade over the chicken. Seal the chicken (or cover if in a dish) and refrigerate.
For my recipe, I added about 2 tablespoons of El Yucateco sauce to my marinade, and wow, what a difference! I pairs wonderfully with the lime juice and cilantro, and that gorgeous green "verde" color is the star of the show!
Step 2: Preheat grill and cook chicken
When grilling your chicken, preheat your grill on high. Before you put your chicken on, turn OFF the grill, and generously spray with a non-stick grilling spray. This will help the chicken not stick to the grill grates. You can also coat the grates with a bit of olive oil, however, I've come to prefer the spray, as its not as messy. Just remember to turn OFF the grill, as if you don't, it can really flame up and be a safety hazard. Immediately turn the grill back on and set at a medium heat setting.
Depending on your grill (I have a gas grill that heats up pretty quickly), grill your chicken on medium heat for about 6 minutes per side. Before removing the chicken from the grill, cut a thick side of the chicken to test for doneness. If the chicken is white all the way through and the juices run clear, the chicken is done. If there is still pink color, grill for a bit longer. Once you take the chicken off the grill, cover with foil and let set for a few minutes – this will help ensure the chicken stays nice and juicy.
Step 3: Top chicken with sour cream, cilantro and lime juice for serving
Just before serving, I added a drizzle of sour cream to the chicken. This adds a nice cool, complementary flavor to the verde marinade. I also added a bit more chopped cilantro, which is a nice way to add in a bit more green color. Serve with lime wedges to add even more delicious lime flavor to every bite.
Here's a quick-reference shopping list of the ingredients you'll need to make this amazing cilantro lime chicken recipe:
1 lb. chicken breasts (about 3-4 medium)
El Yucateco Salsa Picante Green Hot Sauce
3-4 limes (2 for juice)
Olive oil
Garlic
Cilantro
Sour Cream
If you loved this delicious Cilantro Lime Grilled Chicken, check out my other Simple Grilled Chicken recipes: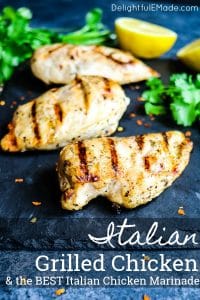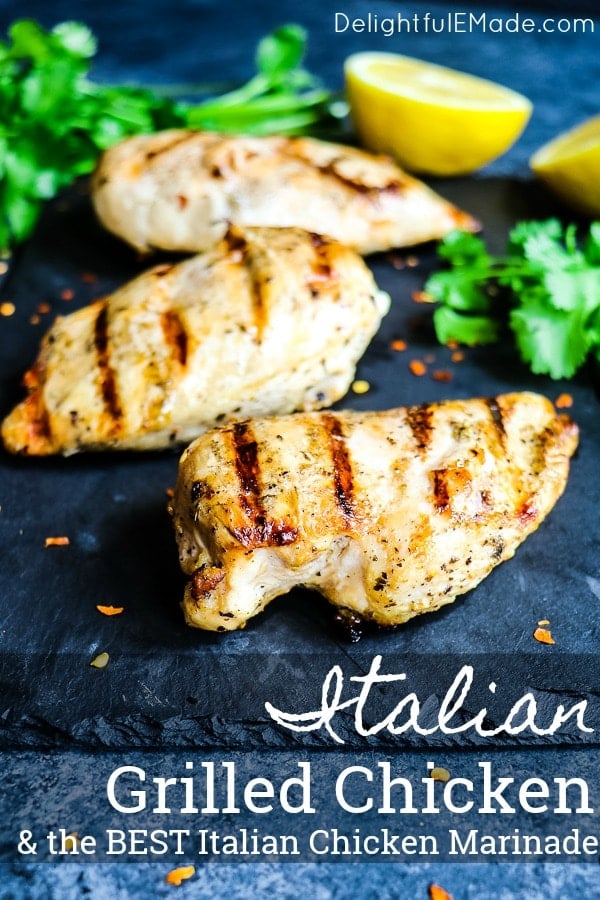 Brown Sugar Balsamic Grilled Chicken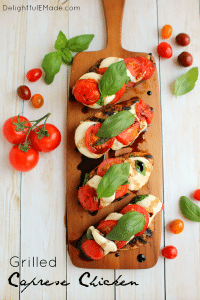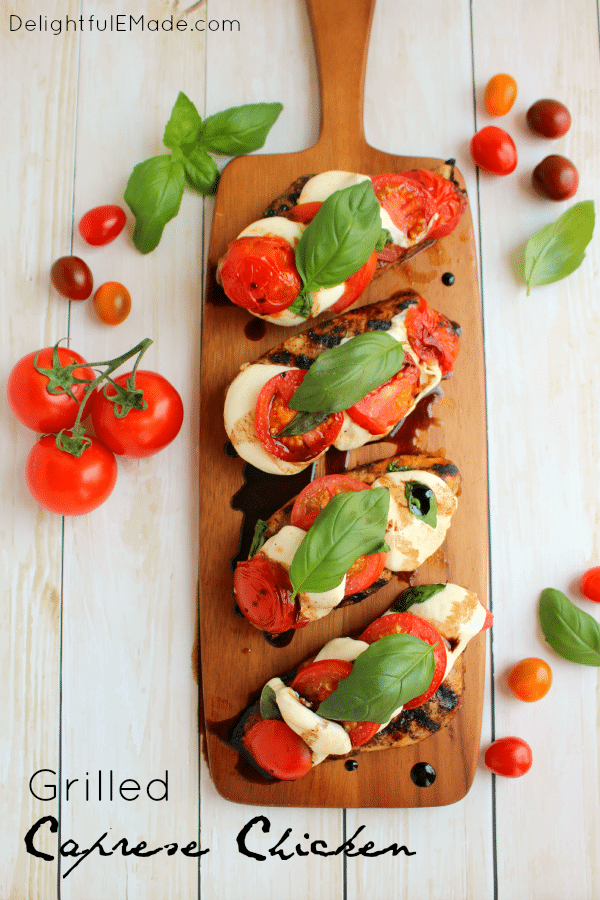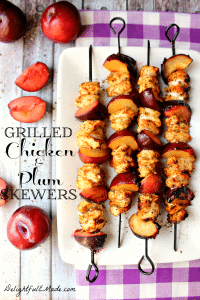 Grilled Chicken and Plum Skewers
Barbecue Chicken and Red Grape Skewers
Here's how this fantastic Spicy Verde Grilled Chicken comes together:
Erin Indahl-Fink
Yields 3-4 servings
Spicy Verde Grilled Chicken
Fire up the grill, its time for some amazing chicken! Marinated with cilantro, lime juice and a spicy El Yucateco verde habanero chili sauce, this chicken will bring the heat!
10 minPrep Time
12 minCook Time
22 minTotal Time
Ingredients
1 lb. boneless, skinless chicken breasts (3-4)
For Marinade:
2 Tbsp. El Yucateco Salsa Picante de Chile Habanero green hot sauce
juice of 2 limes (about 1/4 c.)
1/4 c. olive oil
2 cloves garlic, minced
2 Tbsp. chopped fresh cilantro, plus more for serving
sour cream for serving
Instructions
For marinade, whisk together the hot sauce, lime juice, olive oil, garlic and cilantro together in a small bowl.
In a large resealable plastic bag, add the chicken and pour the marinade over the chicken. Reseal the bag, coat the chicken with the marinade well. Refrigerate the chicken for 2-3 hours, or up to 24 hours.
Preheat your grill on high heat. Before adding the chicken, turn the grill OFF, and spray with a non-stick grilling spray. Turn grill back on, at a medium heat. Add the chicken skin side down and cool for about 6 minutes. Turn and cook for an additional 6 minutes. Remove from grill, cover the chicken with foil, and let rest for 5-10 minutes to help keep the chicken juicy. Just before serving add a bit of sour cream and additional chopped cilantro if desired. Enjoy!
7.8.1.2
167
https://delightfulemade.com/2015/06/22/spicy-verde-grilled-chicken/
Copyright by DelightfulEMade.com
This shop has been compensated by Collective Bias, Inc. and its advertiser. All opinions are mine alone. #KingOfFlavor #CollectiveBias
As you can see, this recipe comes together quickly and easily. One of my favorite parts about marinating chicken to go on the grill (or any other meat for that matter!) is the fact that all of your prep work is pretty much done in advance. That 10 minutes it takes to get your chicken marinating is totally worth it, as it means you'll have a quick, easy and super-flavorful dinner ready to go when you are. This is such a great dinner idea for any night of the week!
I hope you get the chance to make this amazing Spicy Verde Grilled Chicken soon – its such a great way to spice up your summer! Happy grilling, everyone! ~Erin