If you love ordering an iced vanilla latte at Starbucks, but don't want the added sugar, this iced skinny vanilla latte is for you. Made with just 3 ingredients, this iced vanilla latte recipe can be made in just moments. Great for saving time, calories and money!
This post may contain affiliate links. Delightful E Made is a participant in the Amazon Services LLC Associates Program, an affiliate advertising program designed to provide a means for us to earn fees by linking to Amazon.com and affiliated sites.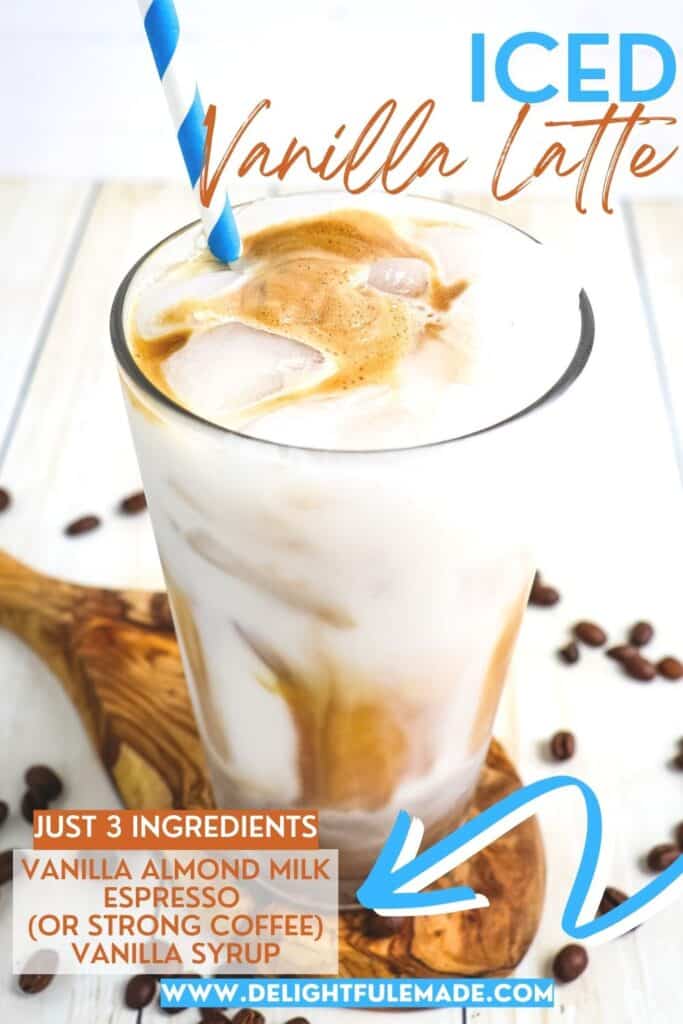 Grabbing a cold, delicious Starbucks iced vanilla latte is a treat that many of us love. However, at over $4 a drink, ordering one several times a week can be a real hit to your wallet, not to mention unwanted calories.
This homemade iced vanilla latte is a fantastic alternative. Made with much healthier ingredients, this iced latte can be customized to your taste. Best of all, the ingredients needed are a small fraction of the price of buying an iced latte at the coffee shop every day.
What do I need to make an iced skinny vanilla latte at home?
For exact ingredient amounts and full recipe instructions be sure to scroll down to the bottom of the post for the recipe. Thanks!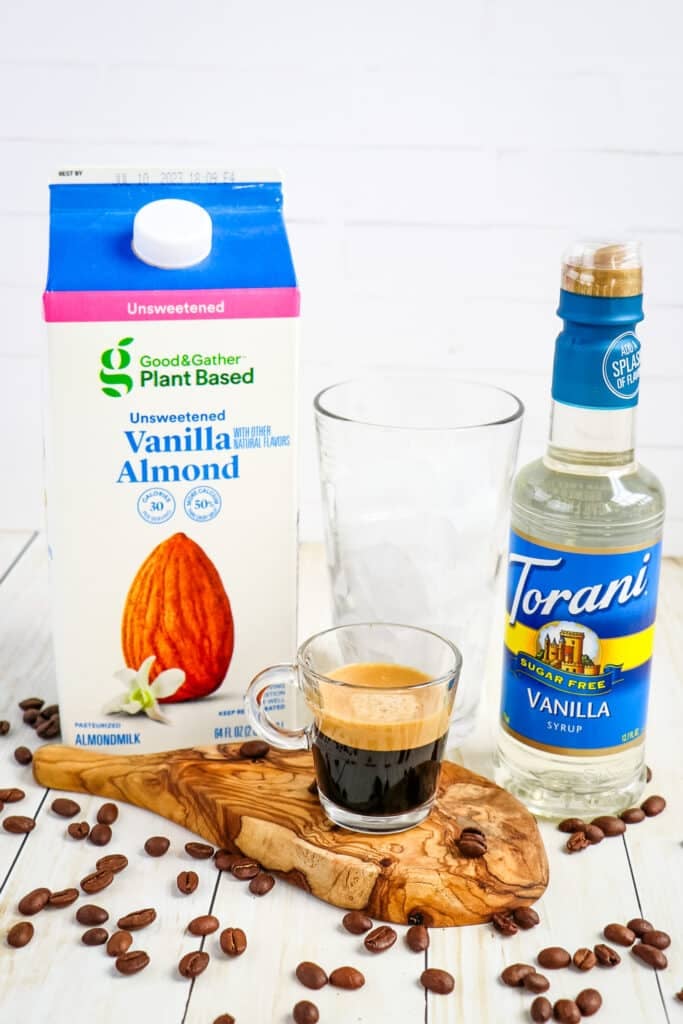 How do I make an iced vanilla latte?
To make an iced vanilla latte, fill a glass with ice. Add in your preferred milk. To the milk, pour in the vanilla syrup. Lastly, pour in fresh brewed espresso. Stir together well and enjoy right away while cold.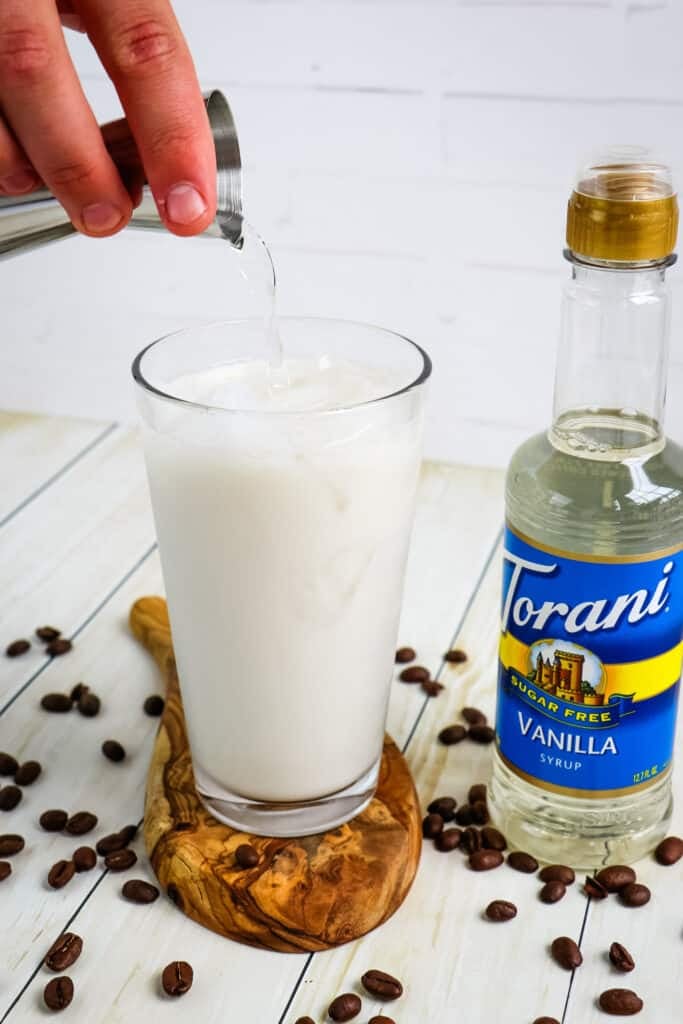 When making an iced latte, I recommend adding the milk and the vanilla syrup to the glass first. Stir these together, then add in the espresso.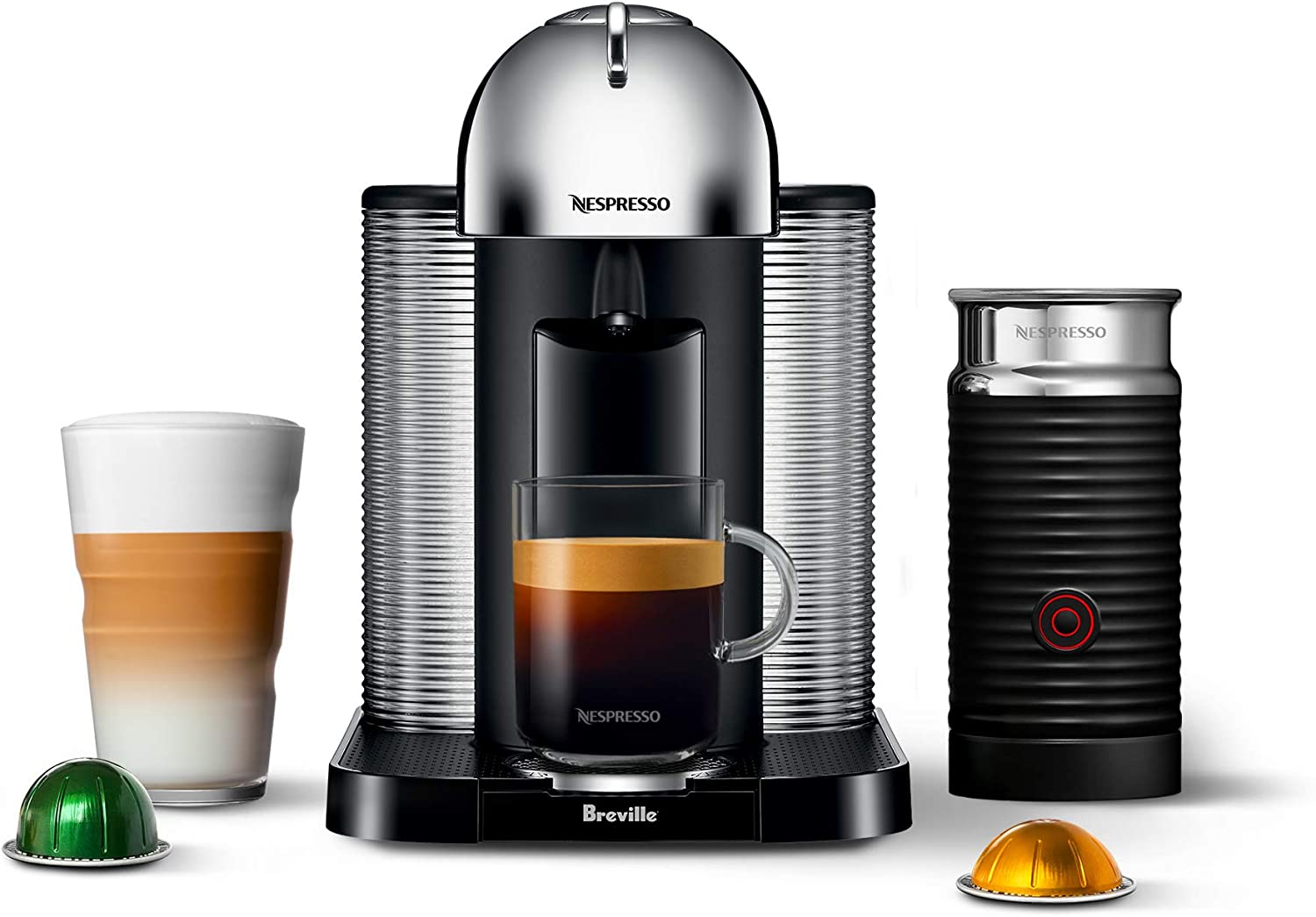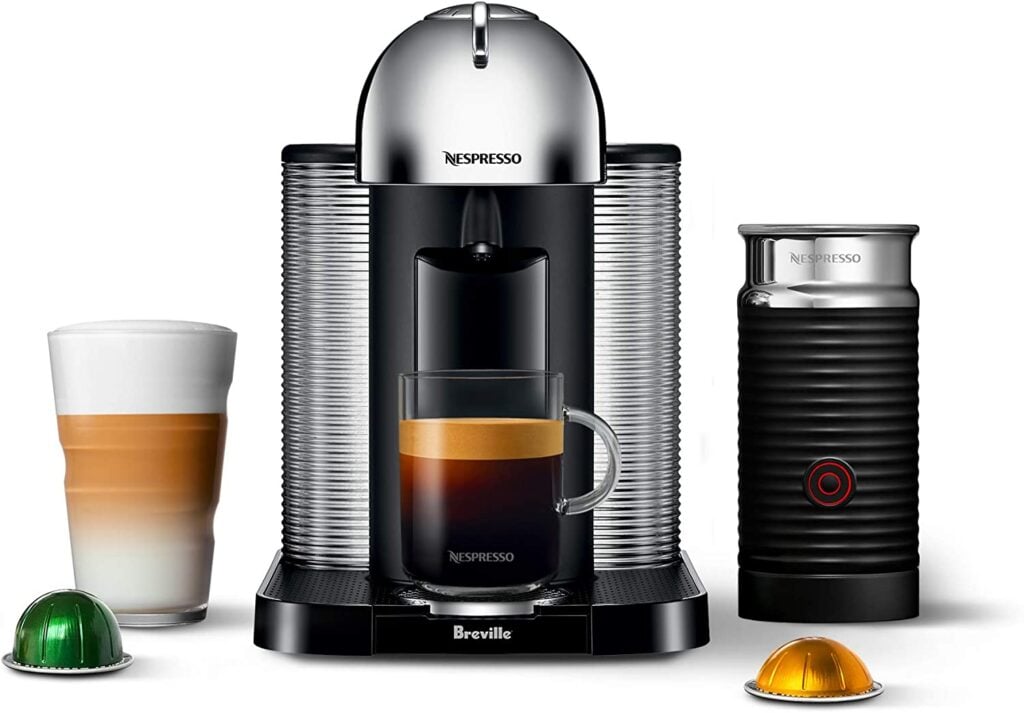 Nespresso Vertuo Coffee and Espresso Machine
Want to make both coffee AND espresso at home? This is the machine I use and LOVE. The fresh espresso is amazing and the brewed coffee tastes equally fantastic. I highly recommend!
Ingredient Substitutions and Recommendations:
Espresso – don't have espresso option at home? No problem. You can use either strong brewed coffee OR instant espresso. Cafe Bustelo instant espresso is a great option if you don't have an espresso machine at home.
Milk – any milk works well for this latte recipe. Any dairy milk (whole, 2% or skim) works well, and any non-dairy, plant based milk works well also. I recommend keeping the milk very cold before adding it to the ice.
Vanilla syrup – would you rather have a syrup that's homemade? Check out my recipe for homemade vanilla bean syrup here.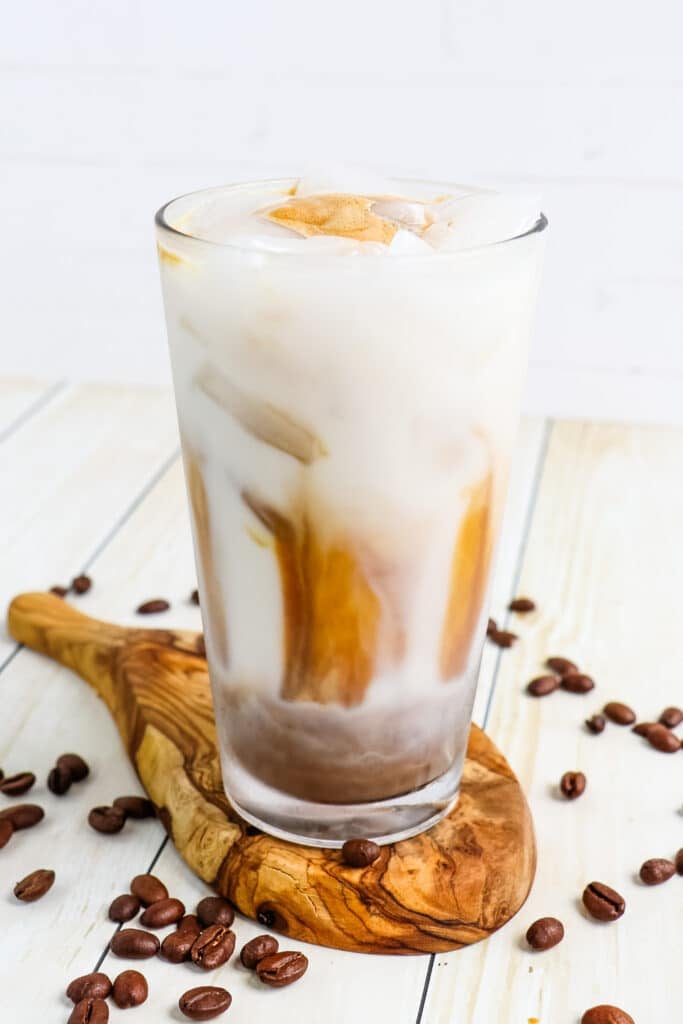 Frequently asked questions about lattes:
What is the difference between a latte and a vanilla latte?
A regular latte includes steamed (or cold for an iced latte) milk and a shot of espresso. A vanilla latte will include the milk, espresso and vanilla syrup.
What goes in a Starbucks iced latte?
According to Starbucks menu, a Starbucks iced latte includes ice, your choice of milk, and Starbucks espresso.
How many shots of vanilla are in a vanilla latte?
On average, there is one shot of vanilla syrup ( 1 ounce or 2 tablespoons) in a small to medium sized latte.
What is in a skinny vanilla latte?
A skinny vanilla latte is made with skim milk, sugar free vanilla syrup and espresso.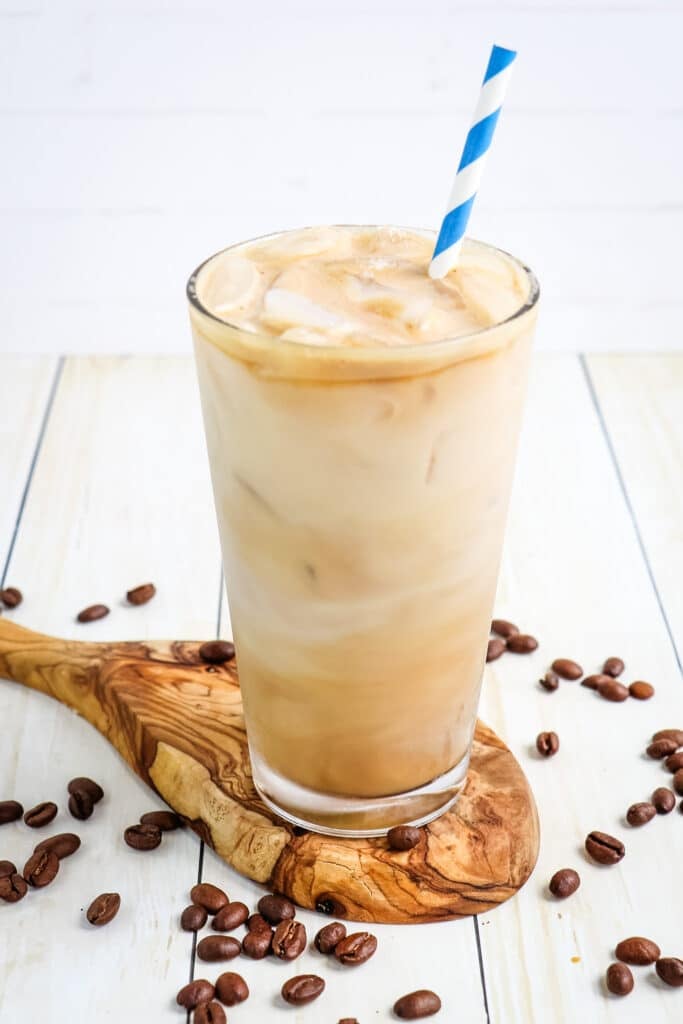 Check out some of our homemade Starbucks drink and treat recipes:
If you loved this homemade iced vanilla latte recipe, check out some of these other similar posts: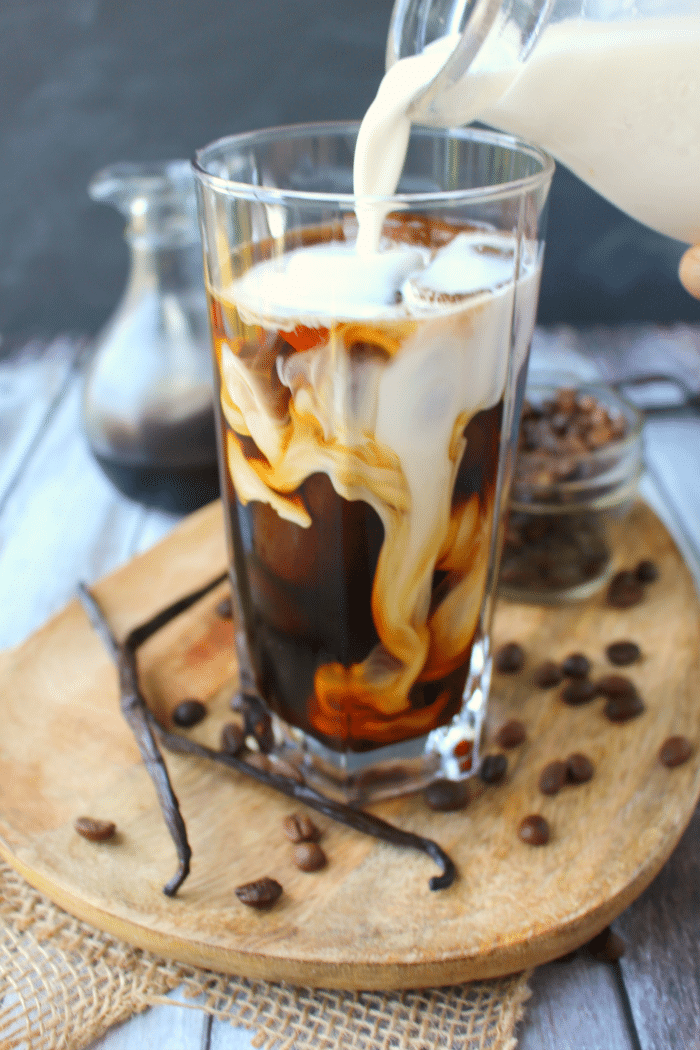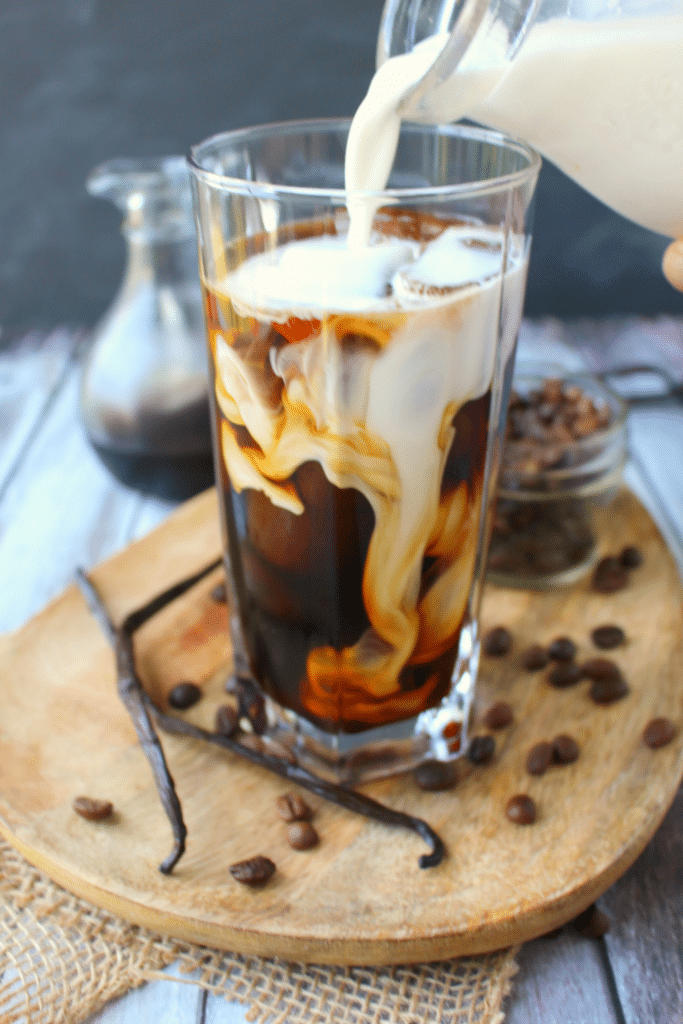 ---
---
Iced Vanilla Latte
Love ordering an iced vanilla latte at Starbucks, but don't like all the calories? This easy iced skinny vanilla latte needs just 3 ingredients and is a fantastic way to save money, time and calories!
Ingredients
1 1/2 cups unsweetened vanilla almond milk
2 tablespoons sugar free vanilla syrup
1 (1 oz.) shot of espresso (fresh brewed or instant)
Ice
Instructions
Fill a glass with ice.
Pour the milk over the ice into the glass. Add in the vanilla syrup and the espresso.
Stir together and enjoy right away while cold.
Recommended Products
As an Amazon Associate and member of other affiliate programs, I earn from qualifying purchases.
Nutrition Information:
Yield:

1
Serving Size:

1
Amount Per Serving:
Calories:

55
Total Fat:

4g
Saturated Fat:

0g
Trans Fat:

0g
Unsaturated Fat:

3g
Cholesterol:

0mg
Sodium:

9mg
Carbohydrates:

4g
Fiber:

1g
Sugar:

0g
Protein:

2g