Looking for an easy apple scones recipe? This tender, moist apple cinnamon scones are the perfect breakfast treat to start the day. Made with no refined sugar, these apple scones are on the healthier side, too!
This post may contain affiliate links. Delightful E Made is a participant in the Amazon Services LLC Associates Program, an affiliate advertising program designed to provide a means for us to earn fees by linking to Amazon.com and affiliated sites.
Do you love a tender, flaky, delicious scone to go with your morning coffee or tea? This apple scone recipe is the perfect one to make when you're craving scones. Fantastic fresh out of the oven, these are also great to wrap up and freeze for later.
Easily made, these apple scones come together in just minutes. With the perfect flavors of fall, these apple cinnamon scones go perfectly with a chia latte your your favorite pumpkin spice latte.
What do I need to make apple scones?
Flour – I used whole wheat flour, but you could also use unbleached all-purpose flour, gluten-free flour or oat flour.
Sugar or Granular Monk Fruit Sweetener – to reduce/eliminate refined sugar, I like to use Whole Earth Granular Monk Fruit Sweetener as a 1:1 sugar substitute. It's great for baking.
Baking Powder – this is the primary leavening for this recipe. It is necessary in getting your scones to rise.
Salt – idea for adding flavor. Don't leave this out, as it is will amplify the flavor of the scones. Without it, the scones will taste flat and unappealing.
Spices – I used cinnamon and nutmeg for flavoring the scones, which goes wonderfully with the apples. Cinnamon is also used for the glaze.
Vanilla extract – idea for adding flavor to the scone batter.
Butter – traditional in baking scones, I used a salted butter. You could also use unsalted butter. Make sure the butter is very cold when cutting it in to the dry ingredients.
Milk – I used whole dairy milk, but you could also use any dairy or plant-based milk for this recipe. You'll need milk for the glaze topping as well.
Apple – I used a Granny Smith apple for this recipe which is great for baking.
Powdered sugar (or powdered sugar substitute) – I used Swerve powdered sugar substitute to keep these scones on the healthier side.
For exact ingredient amounts and full recipe instructions be sure to scroll down to the bottom of the post for the recipe. Thanks!
How do I make scones?
To make scones start by mixing all of the dry ingredients together in a mixing bowl. Dry ingredients include flour, sugar, baking powder, salt, cinnamon and nutmeg.
Once the dry ingredients are mixing together, add in the cold butter and cut it into the dry ingredients with a pastry blender or forks. The mixture will resemble gravel.
Add in the milk and vanilla and mix together just until the wet and dry ingredients are incorporated. The dough will resemble a thick biscuit dough. Do your best to not overmix.
Fold in the chopped apples, and add in any nuts if you prefer.
Cutting the scones:
Turn out the scone dough on to a baking sheet that has been lined with parchment paper. This is ideal in preventing the scones from sticking to the pan. You could also use a silicone baking mat.
Shape the dough into a round disk and flatten it out into a 1″ thick circle, approximately 10-12″ in diameter.
Using a pizza cutter, cut the scones into 6 equal triangles. Don't separate. Bake the scones close together. This will help them rise and not spread out while baking.
Bake the scones and remove from the oven to let cool. Top with glaze.
Ingredient Substitutions and Recommendations:
Flour – I used whole wheat flour, but you could also use unbleached all-purpose flour, gluten free flour, or even oat flour.
Spices – for some added flavor, use apple pie spice, which is a spice mixture that includes cinnamon, nutmeg, ginger and cloves.
Nuts – for some additional texture and crunch, consider mixing in nuts like walnuts, pecans or chopped almonds.
Sugar instead of glaze – for a crunchy top texture, top the scones with turbinado sugar before baking. This would be substitute for the glaze.
Topping scones:
For this apple scone recipe I used a simple cinnamon glaze made from Swerve confectioners sugar substitute (you could also use regular powdered sugar), cinnamon and milk. Glaze the scones after they have cooled from coming out of the oven.
Instead of this glaze, you could add turbinado sugar, which is a large-granule, raw sugar. Mix this with cinnamon and add to the scones before baking. It will create a wonderful crunchy texture to every bite of your scone.
Note: this little mini whisk is one of my favorite tools for mixing glazes, dressings and spices. It's small (about 8″ long) and the perfect size for a small bowl. I use it almost daily!
Frequently asked questions about making scones:
What is the American version of a scone?
American scones are a slightly sweet biscuit made of wheat flour or oatmeal. Often fruit and nuts are mixed in to the batter. American scones are often topped with a sweet glaze or turbinado sugar.
Are scones dry or moist?
Scones should be tender, moist and soft, not dry. Scones are more dense than muffins and not as fluffy.
What is the secret to making scones rise?
To get scones to rise, start with very cold butter. Once baked the butter melts creating tiny air pockets allowing the scones to rise. Also, when baking don't space out the scones. Bake them close together so they bake up and not spread out flat.
What apples are best for baking?
Firm and crisp apples are best for baking, as they hold their shape and texture the best. These varieties of apple include Granny Smith, Braeburn, Cortland, Fuji and Gala.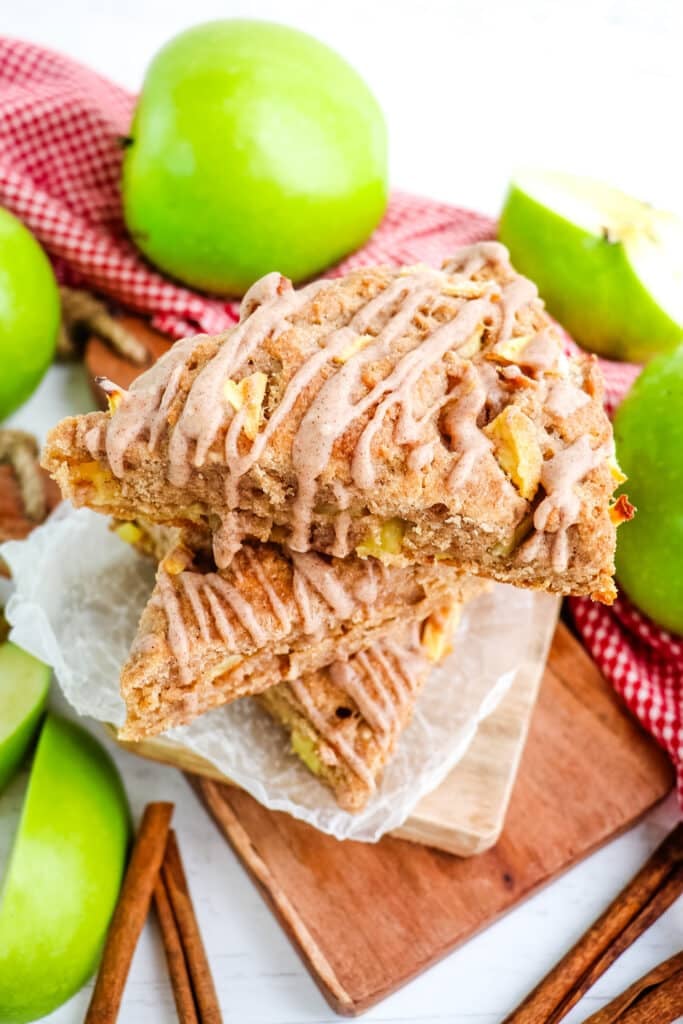 What is served with scones?
Coffee and tea is the perfect companion to scones. Here are some of our favorite coffee and tea recipes that would go perfectly with apple cinnamon scones:
If you loved this recipe, check out some of these other similar posts:
---
---
Apple Scones
Looking for a delicious apple scones recipe? These tender, moist and flaky apple cinnamon scones are the ultimate fall breakfast treat. Easily made in just minutes, these scones go perfect with coffee or a chai tea.
Ingredients
2 14/ cups whole wheat flour
1/4 cup granular monk fruit sweetener, like Whole Earth
1 1/2 teaspoons baking powder
1 teaspoon cinnamon
1/2 teaspoon ground nutmeg
1/2 teaspoon salt
1/2 cup (1 stick) butter, very cold
1/2 cup milk, dairy or plant-based
1 teaspoon vanilla extract
1 medium apple, peeled, cored and chopped (about 1 cup)
Cinnamon Glaze:
1/2 cup Swerve powdered sugar substitute
1/4 teaspoon cinnamon
1 tablespoon milk
Instructions
Preheat oven to 375 degrees. Line a baking sheet with parchment paper or a silicone baking mat. Set aside.
In a mixing bowl, add the dry ingredients; flour, sweetener, baking powder, cinnamon, nutmeg and salt. Whisk together to combine.
Cut the butter into chunks and add to the dry ingredients. Using a pastry blender or two forks, cut in the butter to the dry ingredients. Keep mixing the butter into the dry ingredients until the mixture resembles gravel. The butter should be in small pea-sized bits. Add the milk and vanilla to the mixture. Using a rubber scraper, mix in the milk and vanilla just until the dry ingredients have been absorbed. Fold in the chopped apples to the dough. Dough will be very thick and will easily form a ball.
Turn the dough ball out on to the lined baking sheet. Using your hands, pat the dough into a circle approximately 10" wide and 1" thick. Using a pizza cutter or sharp knife, cut the circle into 6 equal triangles.
Bake the scones at 375 degrees for 25-28 minutes or until lightly golden brown. Remove from oven and let cool about 20 minutes before adding the cinnamon glaze.
For the cinnamon glaze: in a small bowl add the powdered sugar substitute and cinnamon. Mix together well using a small whisk or fork. Add in the milk and whisk together well until smooth and creamy. Drizzle over the top of the scones. Enjoy right away.
Notes
Storage: store any leftover scones in the refrigerator. Will keep for up to 5 days refrigerated. The scones do well when frozen. Wrap individually in press-and-seal wrap then store in a freezer bag or freezer container. Will keep for up to 3 months frozen.
Recommended Products
As an Amazon Associate and member of other affiliate programs, I earn from qualifying purchases.
Nutrition Information:
Yield:

6
Serving Size:

1
Amount Per Serving:
Calories:

319
Total Fat:

17g
Saturated Fat:

10g
Cholesterol:

43mg
Sodium:

447mg
Carbohydrates:

50g
Fiber:

6g
Sugar:

2g
Protein:

7g