I received free product(s) from Oxo and Melissa's Produce in conjunction with this post.  Recipe, photos, and opinions are 100% my own.
Fruit salad brought to a whole new level!  Crunchy cucumbers, sweet watermelon and cantaloupe along with a delicious lime-ginger dressing makes this salad wonderfully fresh and delicious! An awesome summer side dish, perfect for picnics, pot-lucks and back yard cookouts!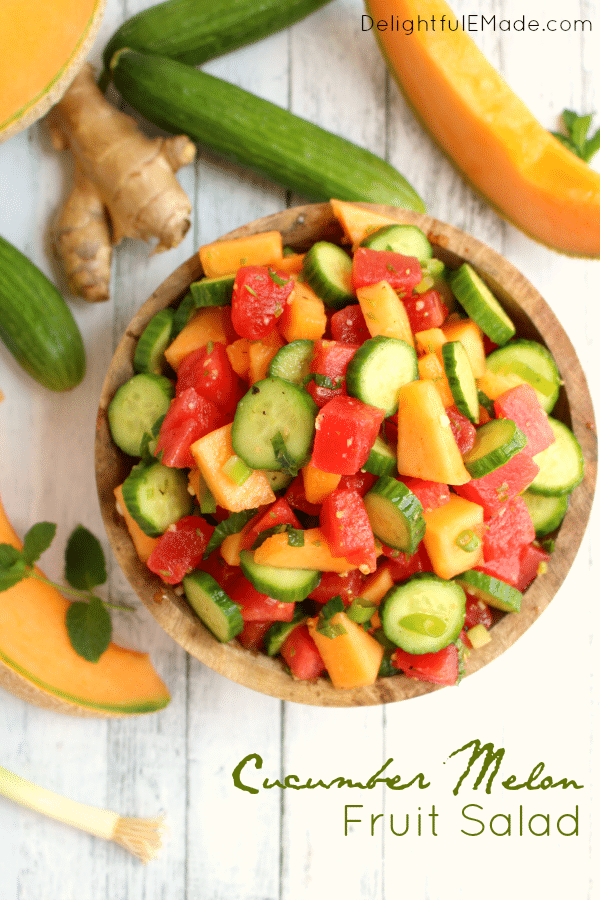 I recently cleaned out my refrigerator.  I tend to do this only when I need to make room for bigger containers in my fridge, or when something starts to stink.  Yeah, I know – probably not the best frequency.  However, lately I've been making a concerted effort to do better at using what I have in my refrigerator, versus going to the grocery store to buy more food, specifically with produce.  I tend to have really good intentions at the grocery store when buying healthy fruits and veggies, but when they come home, these healthy treats are often forgotten or get pushed aside in our fridge and quickly go bad before we eat them.
Apparently we're not the only family who tends to let their fruits and veggies go bad.  More than 25% of the fresh fruits and vegetables purchased by U.S. consumers are wasted annually before being consumed. That equates to more than 226 pounds per the average U.S. family! Why do we waste so much produce? When we bring produce home, we usually keep it in the plastic bags or the container it comes in. Storing our produce like this is actually causing it to go bad faster — this is the reason we often find rotten and slimy lettuce when we go to make a fresh green salad.
Thanks to Oxo and Melissa's Produce, I was able to try out the new Greensaver Activated Carbon System produce container.  I have to say, it is awesome!  The basket inside the container kept the cucumbers away from the edges of the container and the accumulated moisture, preventing the cucumbers from getting soft.  Additionally, the top vent is able to control the humidity within the container, and the carbon filter (inside the white portion of the lid), helps absorb ethylene gas, keeping these delicious cucumbers crispy and fresh for much longer.  I had these cucumbers stored in the Oxo container for nearly a week before I took them out to make my salad.  They were as fresh and crisp as the day I got them!  Click here to find out more about the Oxo Greensaver containers.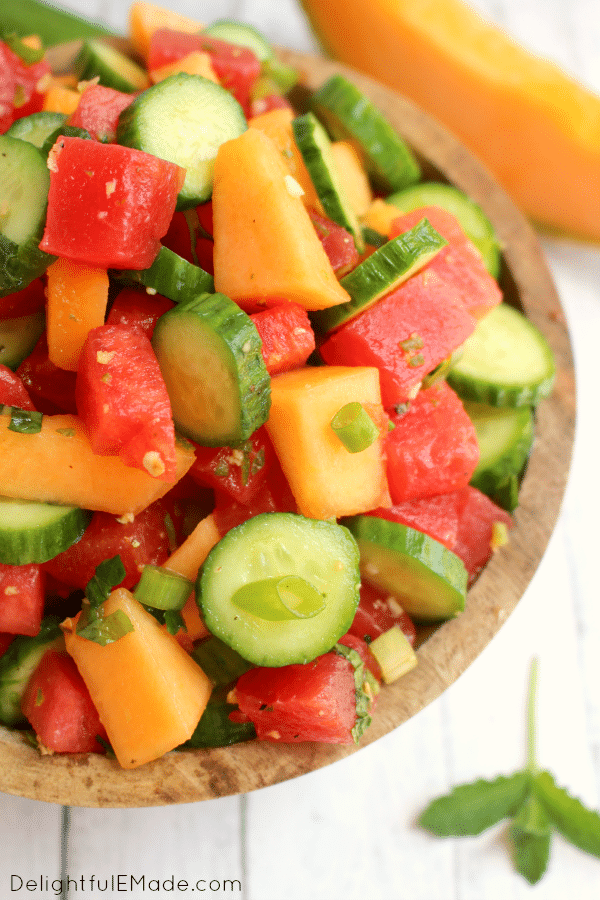 With my fresh, crispy mini-cucumbers from Melissa's Produce, I made this amazing Cucumber Melon Fruit Salad.  As far as fruit salads go, this one is my new favorite!  The crisp, delicious cucumbers paired with the sweet watermelon and cantaloupe, and the fresh lime ginger dressing are absolutely wonderful!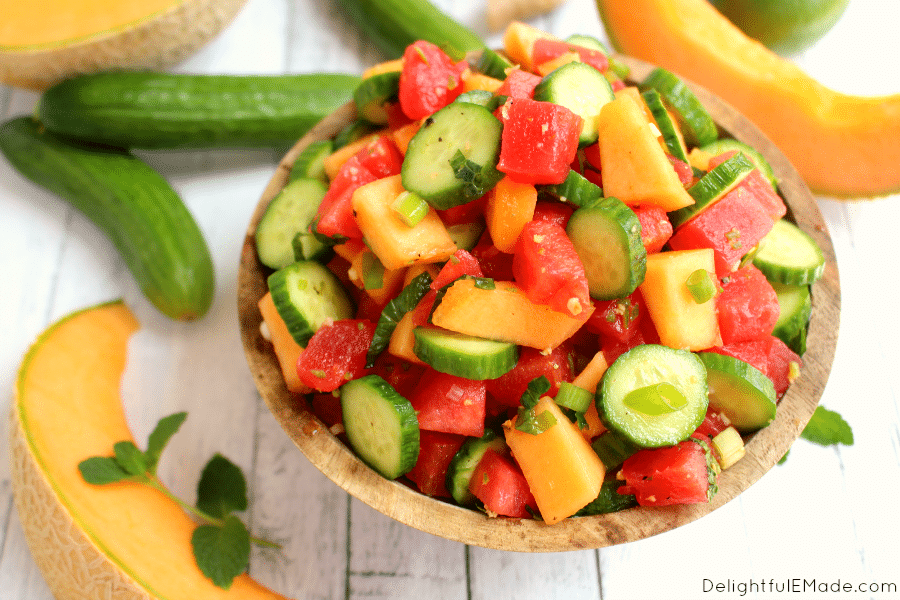 Additionally, I added some green onion to the salad for a bit of savory contrast.  There are so many fantastic flavors coming together in this salad, you'll want to keep it on hand as a side all summer long!  It goes great with grilled chicken, salmon and steak, and also makes a wonderful lunchtime side with your sandwich.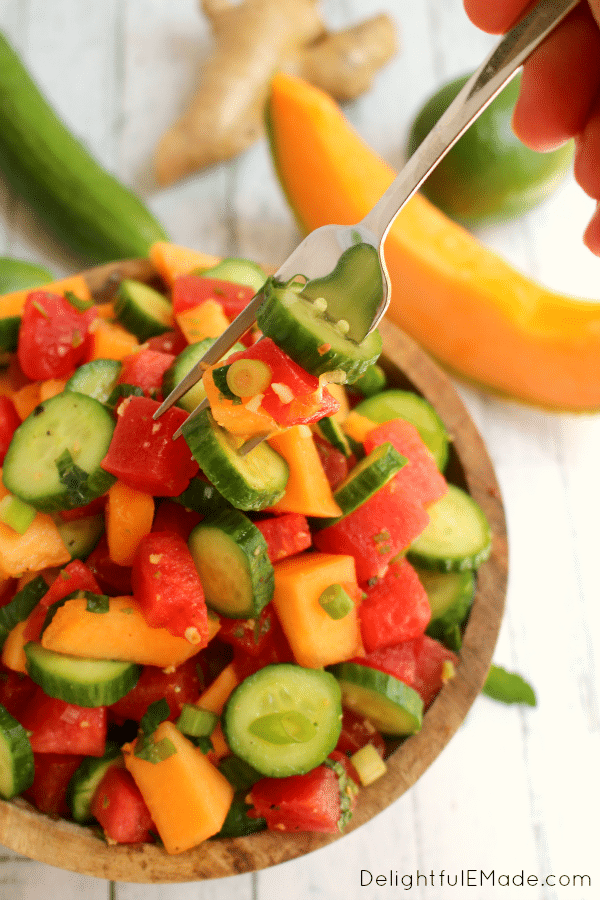 Here's how this delicious Cucumber Melon Fruit Salad comes together:

Erin Indahl-Fink
Yields 6 servings
Cucumber Melon Fruit Salad
A new fruit salad brought to a whole new level! Crunchy cucumbers, sweet watermelon and cantaloupe along with a delicious lime-ginger dressing makes this salad wonderfully fresh and delicious!
15 minPrep Time
15 minTotal Time
Ingredients
5 Mini Cucumbers, like ones from Melissa's Produce
3 cups seedless watermelon, cubed
3 cups cantaloupe, cubed
2 green onions, chopped
Dressing:
1/4 c. white vinegar
juice of 1 lime (about 1/4 c.)
grated peel of 1 lime (about 2 tsp.)
2 Tbsp. vegetable oil
1 Tbsp. grated fresh ginger root
2 cloves of garlic, minced
1/2 tsp. salt
1/2 tsp. pepper
Instructions
In a large bowl, combine the cucumbers, melons and onion. Toss to incorporate.
In a small bowl, whisk together the dressing ingredients (vinegar, lime juice and peel, oil, ginger, garlic, salt and pepper). Pour dressing over the melon mixture and toss to coat. Serve right away. Store any leftovers in an airtight container for up to 3 days.
7.8.1.2
160
https://delightfulemade.com/2015/05/25/cucumber-melon-fruit-salad/
Copyright by DelightfulEMade.com
The next time you're invited to a backyard BBQ, cookout or summer potluck, bring this delicious salad.  It is sure to get rave reviews, and your friends and family will be headed back for seconds.  Maybe make a double-batch.
Enjoy ~ Erin