If you love an amazing mocha, look no further!  My Salted Caramel Mocha tastes just like the Starbucks version, but better!  Coffee, chocolate, and caramel come together to make a rich, delicious and comforting drink.  No espresso machine required!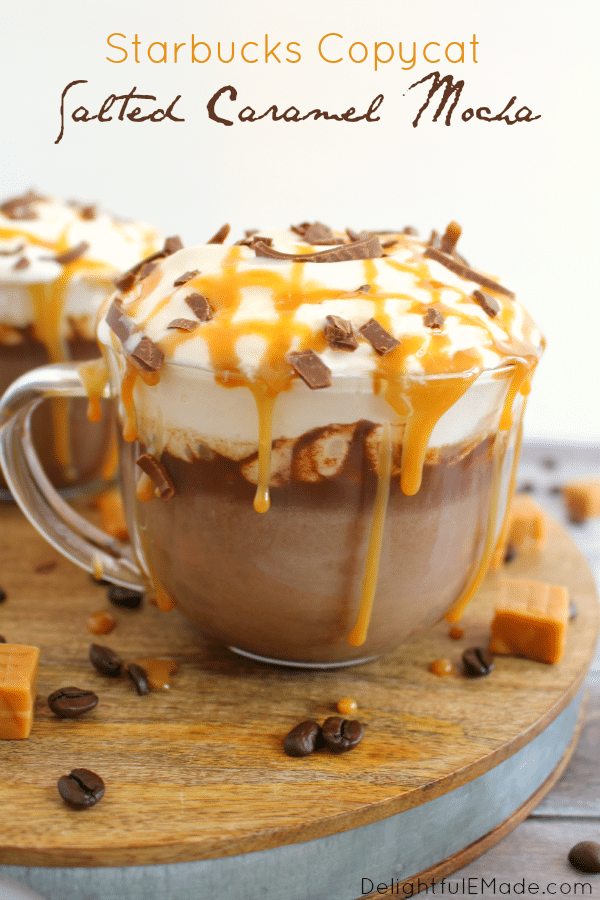 Now that we're in the cooler months of the year, I love nothing more that a hot, delicious coffee.  I love tea, coffee, espresso – pretty much anything that warms me up when there is a chill in the air.  I love treating myself to a Starbucks drink, however, as we all know, at $4+ a drink, it adds up FAST!!  So, I've come up with a way to enjoy a delicious Salted Caramel Mocha right at home with just a few ingredients that you likely already have in your pantry and fridge.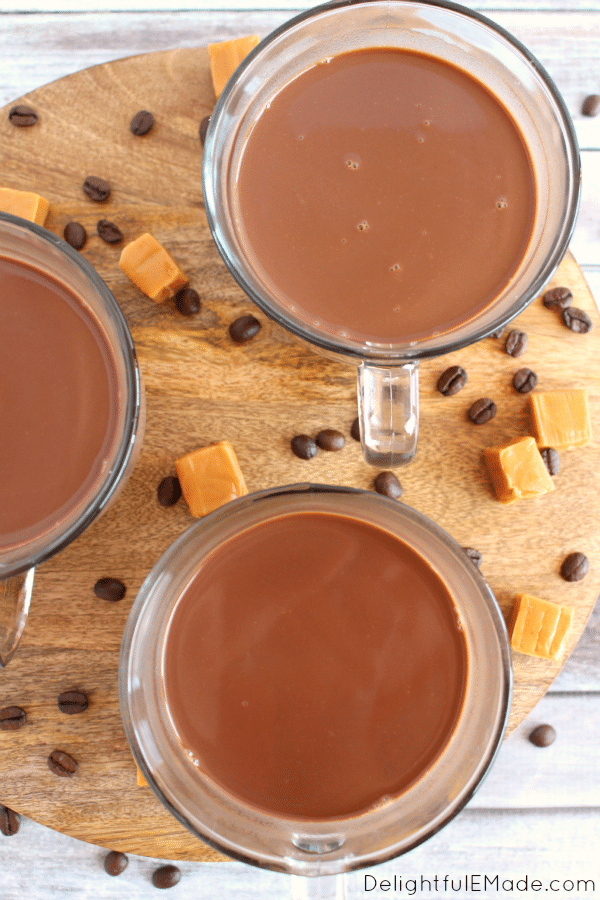 This recipe is very similar to my Mint Hot Chocolate, but adapted to include coffee and caramel.  With this rich and creamy chocolate base, you know this drink is gonna be incredible!!  I start with adding chocolate chips, sugar, caramel bits, and salt to the bottom of a sauce pan.  You'll then add milk and strong brewed coffee, and heat these on medium low heat.  You'll want to continually whisk the liquid, and as the chocolate and caramel melt, you'll have this amazingly rich, creamy drink perfect for a cool morning!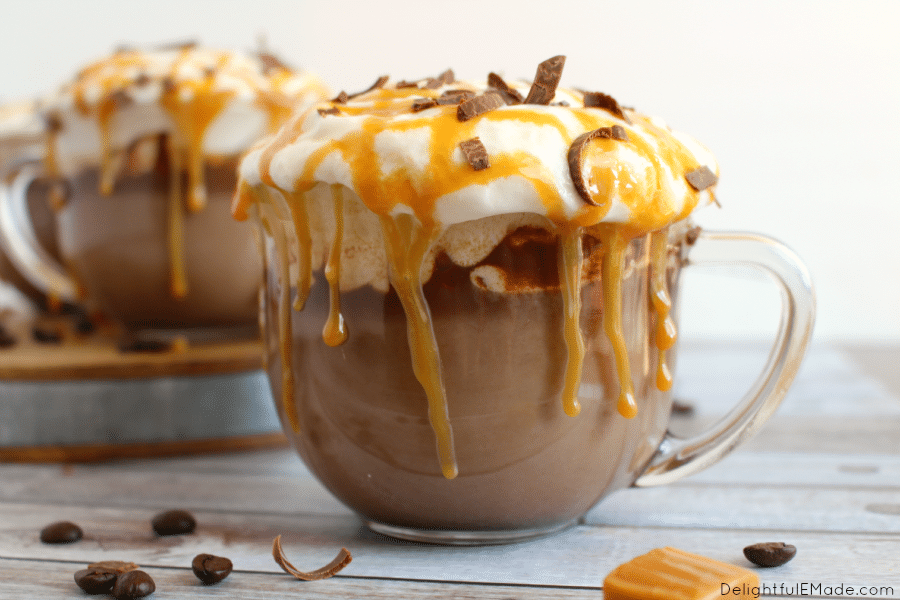 Once all the chocolate and caramel melt into the milk and coffee, you'll have a hot, steaming drink perfect for topping with whipped cream, caramel sauce and chocolate shavings!  This is definitely a decadent drink and perfect for those mornings when you just want to relax in your pajamas, and cover up with a cozy blanket.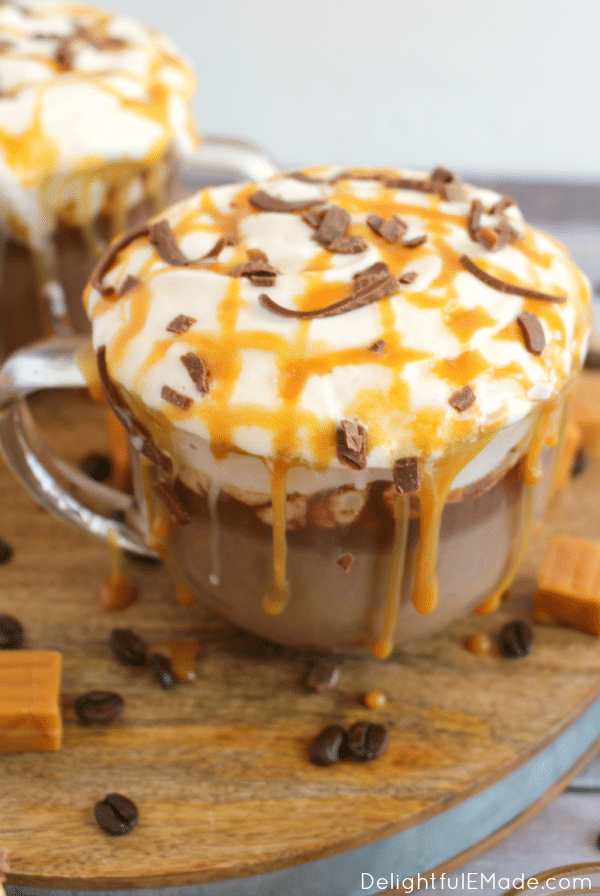 This drink is perfect to enjoy on a lazy weekend, when you want to treat guests to a delicious coffee drink, or even serve on a special day like Christmas morning!  It's wonderful to have when you have overnight guests and want to treat them to a special drink with breakfast.  Any way you have it, you'll definitely be in for a treat!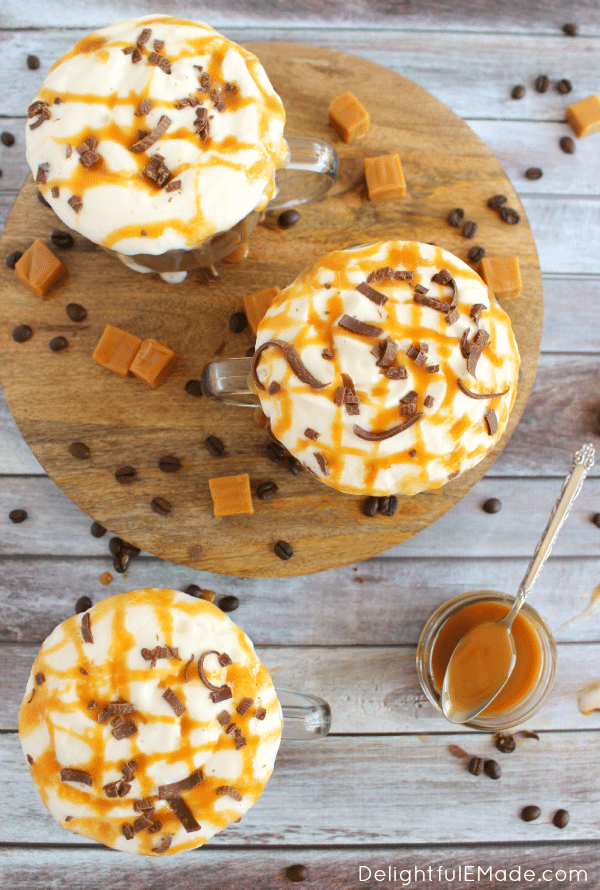 Here's the easy recipe for this classic coffee drink:

Erin Indahl-Fink
Yields 4 small or 2 large
Starbucks Copycat Salted Caramel Mocha
Just like Starbucks, but better! Rich, creamy chocolate and caramel come together for an amazing hot coffee drink!
2 minPrep Time
10 minCook Time
12 minTotal Time
Ingredients
2/3 c. semi-sweet chocolate chips
1/3 c. sugar
1/4 c. caramel bits
1/8 tsp. salt
3 c. milk (your preference)
1 c. strong brewed coffee
whipped cream, for topping
caramel sauce, for topping
chocolate shavings, for topping
Instructions
In a medium saucepan, add the chocolate chips, sugar, caramel bits, salt, milk and coffee. Heat over medium low heat, whisking often. As ingredients melt together, continue whisking and bring to a low simmer. Do not boil.
Pour mocha into mugs and top with desired amount of whipped cream, caramel sauce and chocolate shavings. Enjoy right away.
Notes
This recipe makes 4 small (tall, 8 oz.) drinks, or two large (grande,16 oz.) drinks.
7.8.1.2
192
https://delightfulemade.com/2015/10/08/starbucks-copycat-salted-caramel-mocha/
Copyright by DelightfulEMade.com
As we move into the cooler months of the year, I hope you get the chance to treat yourself to a lazy morning and enjoying a rich, delicious Salted Caramel Mocha!  Stay in your jammies, cozy up with a blanket and enjoy!  ~Erin