Perfect with your favorite tortilla chips, this delicious Southwestern Corn Salsa is amazing! Loaded with fresh, delicious veggies, this easy salsa recipe is just as flavorful as it is pretty. Fantastic as an easy appetizer for game day, and perfect for Cinco de Mayo!
This post may contain affiliate links. Delightful E Made is a participant in the Amazon Services LLC Associates Program, an affiliate advertising program designed to provide a means for us to earn fees by linking to Amazon.com and affiliated sites.
Aunt Denise's Southwestern Corn Salsa
Several years ago I was introduced to this amazing Southwestern Corn Salsa recipe by my Aunt Denise. Denise is my mom's sister, and has always been the aunt that we adore. She is warm, funny, gorgeous and pretty much the coolest lady you've ever met.
One of my first memories of Denise was when us kids all piled in the back of her old blue car. While she was driving down the road us kids would say, "Drive crazy, aunt Denise!! Drive crazy!!" She would then proceed to swerve the car back and forth knocking us kids over, falling out of our seats. My brother, cousins and I would be uncontrollably laughing, and asking her to do it over, and over again. We thought this was the funnest thing ever! (This was the late 70's/early 80's and car seats were unknown devices in our parts.) To this very day, this memory still makes me smile.
The perfect salsa recipe for just about any occasion
Denise has shared many delicious and reliably amazing recipes with me. This Southwestern Corn Salsa is easily one of my favorites! The salsa is crunchy, colorful, and made with fresh (and healthy!) ingredients! Over the years I've adapted the recipe with a cilantro-lime dressing that I make in the blender. This salsa is perfect to have on hand for watching football, and fantastic with your favorite margaritas for Cinco de Mayo. Check out my recipes for Strawberry Lime Margaritas, Pineapple Margaritas and a delicious Skinny Margarita. The salsa is great with your favorite tortilla chips – I really love Xochitl chips, which you can find in the international section of the grocery store. (They are also non-GMO, gluten free and trans-fat free.)
Here's a quick-reference shopping list of the ingredients you'll need for this Southwestern Corn Salsa:
Frozen Corn
Canned Black Beans
Green & Red Bell Peppers
Green Onions
Garlic
Fresh Cilantro
Olive Oil
Fresh Limes (for lime juice)
Chili Powder
Cumin
Salt & Pepper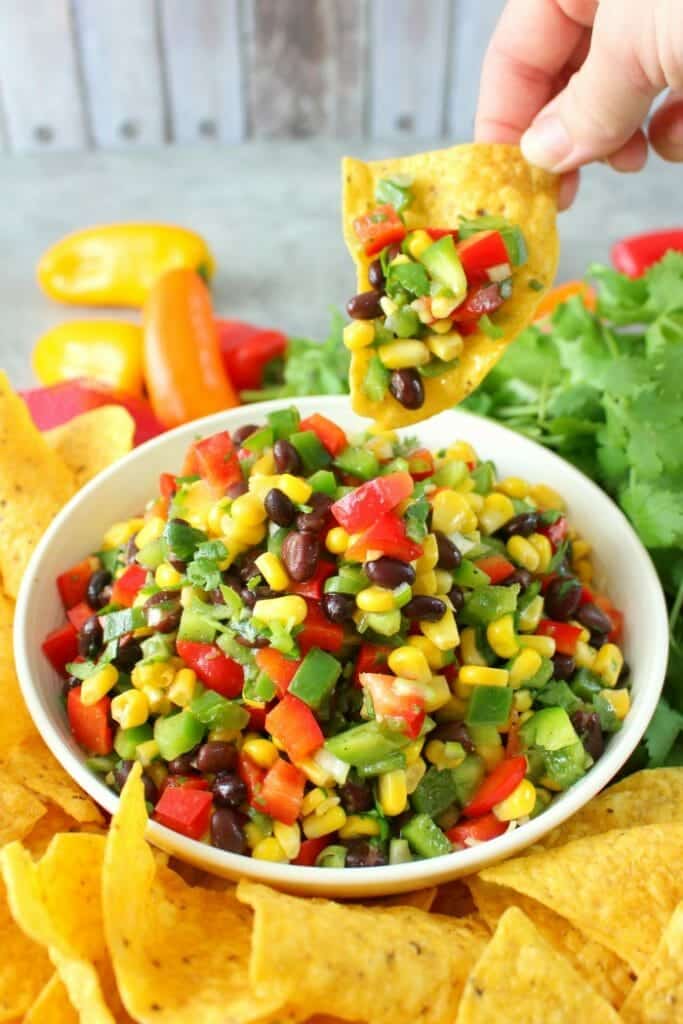 Topped with cilantro, this is a beautiful and delicious dip. I don't usually include a lot of cilantro, as my husband doesn't like it, but if you're a fan, chop up a bunch and go crazy! It is a very complimentary flavor that adds a nice peppery, fresh taste. This makes a good amount, and definitely serves a crowd.
Looking for some other delicious Tex-Mex toppings and seasonings? Here are some of my other recipes:
It's also perfect for topping nachos, enchiladas, tacos and fajitas! Check out my other posts for these awesome Tex-Mex recipes: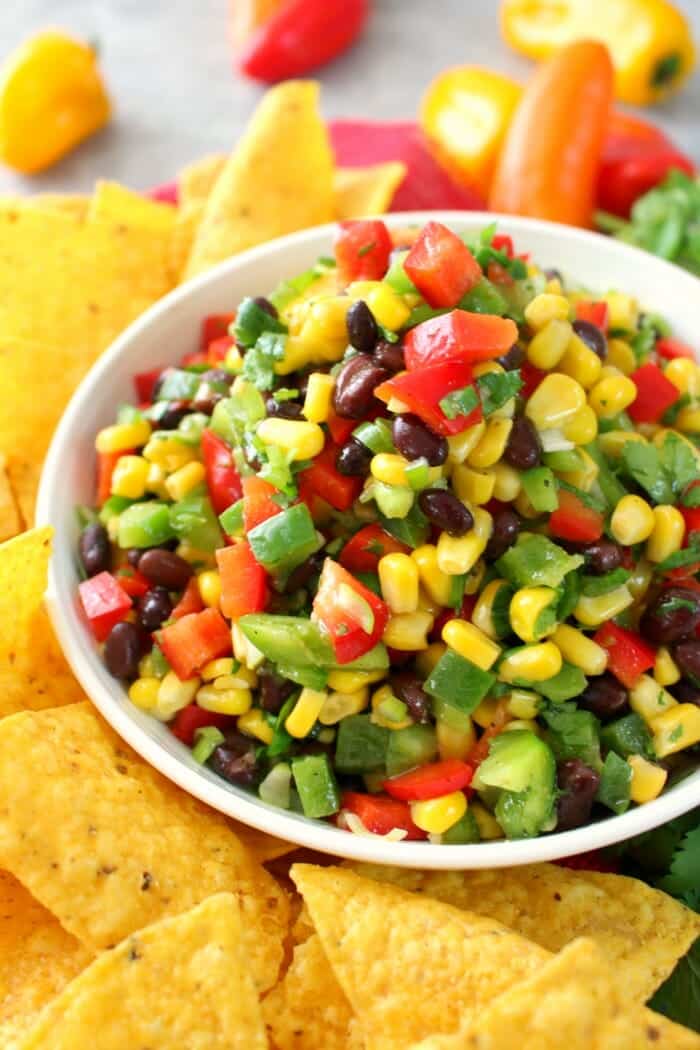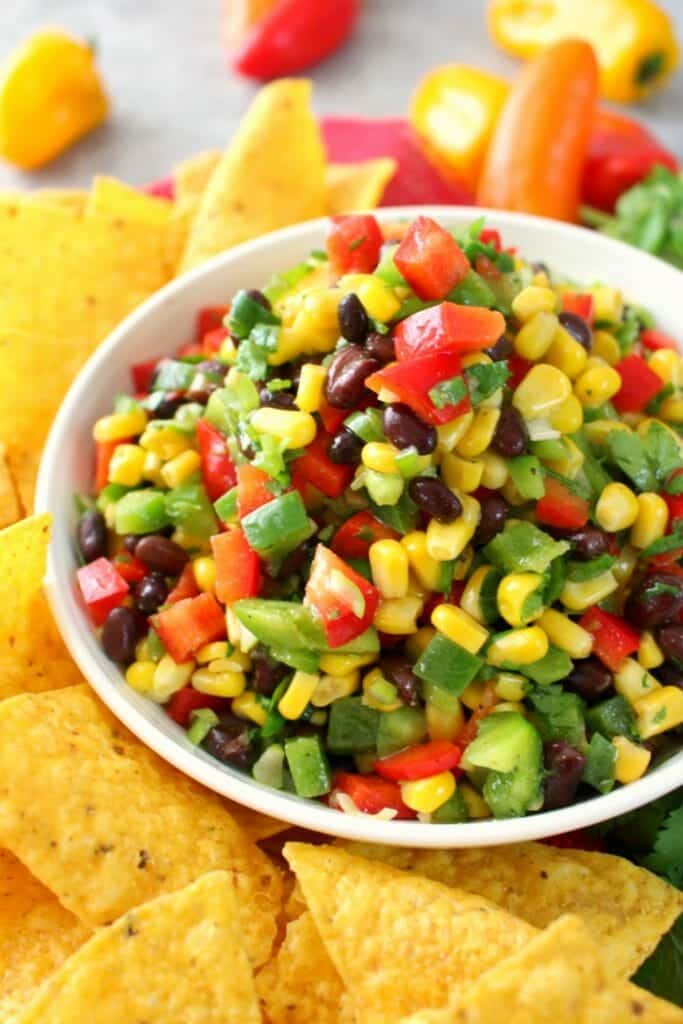 Aunt Denise's Southwestern Corn Salsa
This colorful salsa is great to share with a crowd while watching the big game. Great with your favorite tortilla chips!
Ingredients
1 (1-lb.) bag, frozen corn, slightly thawed
1 can black beans, drained and thoroughly rinsed
1 large green bell pepper, diced
1 medium red bell pepper, diced
3 green onions, sliced
2-3 cloves of garlic, minced
fresh cilantro, chopped
Cilantro-Lime Dressing:
1/3 c. olive oil
1/3 c. lime juice (about 2 limes)
3 cloves of garlic
1/2 tsp. chili powder
1/2 tsp. cumin
1/4 tsp. salt
1/4 tsp. pepper
handful of cilantro
Instructions
In a large mixing bowl, combine thawed corn, beans, peppers (chopped into small pieces), minced garlic, and onions. Stir to combine.
For the dressing, in a blender or food processor, add olive oil, lime juice, cloves of garlic, spices and handful of cilantro. Pulse to emulsify the dressing (should just take a few pulses.) Pour over salsa mixture. Stir to mix all ingredients. Top with additional cilantro if preferred.
Thanks to Aunt Denise, this recipe will be enjoyed for many, many years to come! Enjoy! ~Erin