A must-have for any Mexican meal! This fresh, delicious chunky guacamole is loaded with fresh avocados, tomatoes, onions and the perfect spices. You'll want to put this guacamole on everything!
This post may contain affiliate links. Delightful E Made is a participant in the Amazon Services LLC Associates Program, an affiliate advertising program designed to provide a means for us to earn fees by linking to Amazon.com and affiliated sites.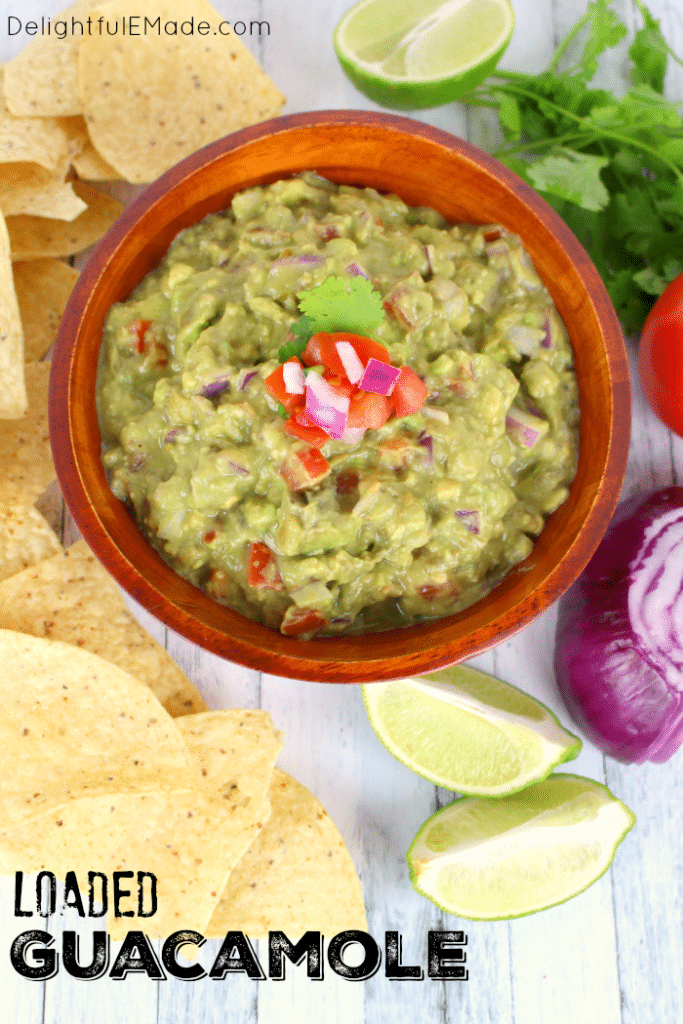 I don't know about your household, but Mexican food is definitely a staple here at our house. Any time we're having something like tacos, enchiladas, or fajitas, there is ALWAYS guacamole to go with it. For the longest time, I was one of those people at the grocery store buying the little tiny container of guacamole for $3.99. Not only was it rather expensive, it didn't taste that great. This home-made Loaded Guacamole tastes way better!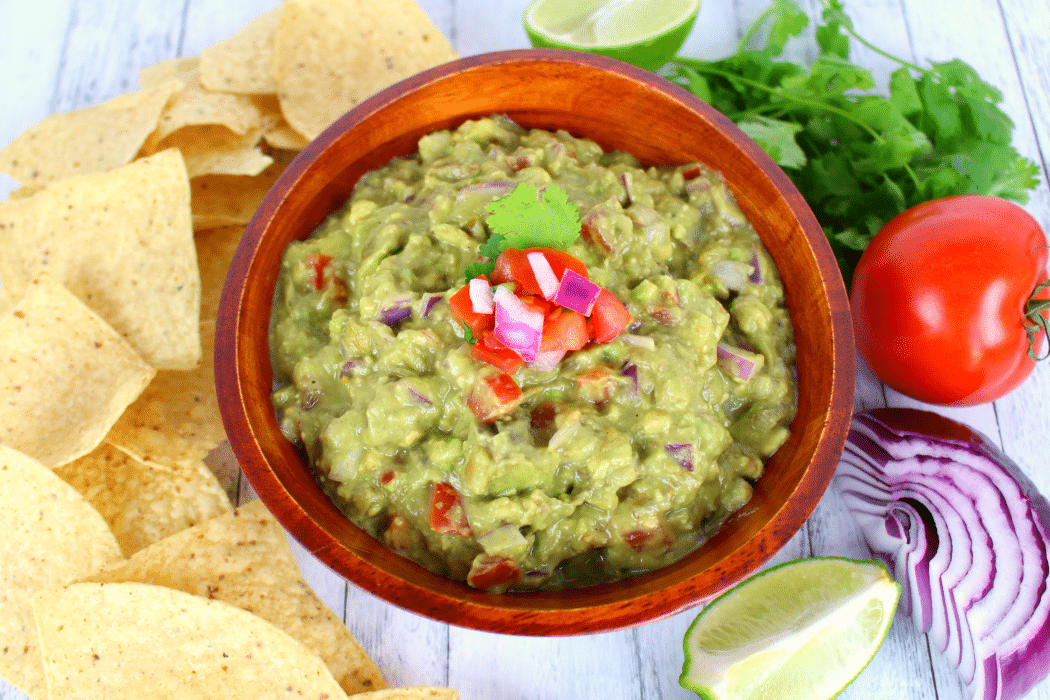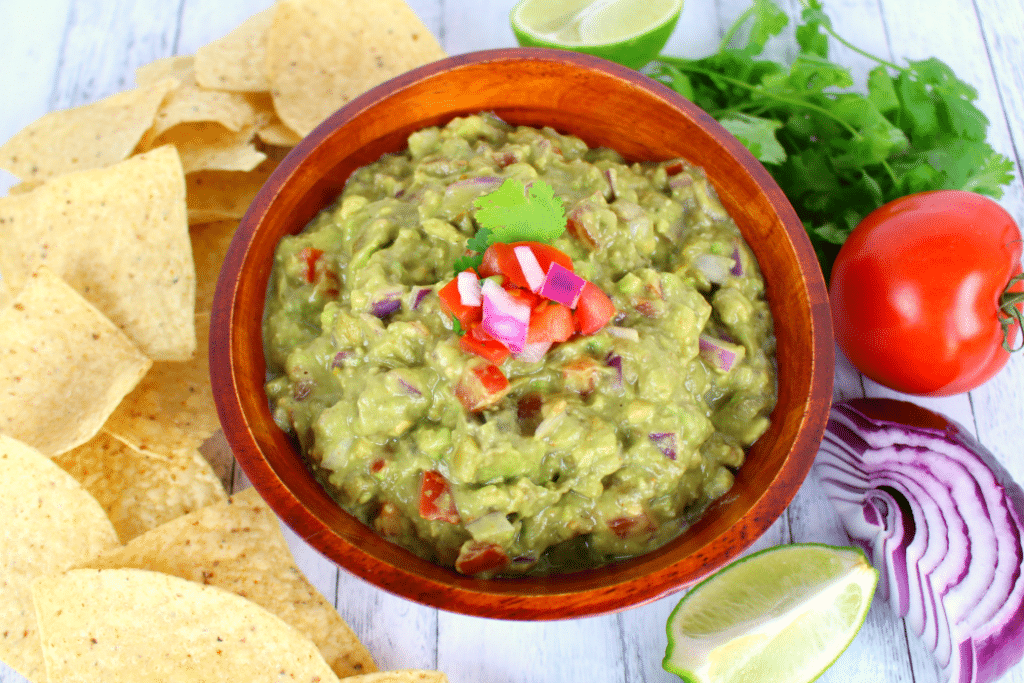 Once I discovered how easy it was to make this Loaded Guacamole at home, there was no more buying that mediocre stuff at the store. Not to mention, when you're making something at home, you know exactly what's going into it. The Loaded Guacamole has nothing but fresh ingredients along with some simple spices that you can easily find, making it Clean-Eating friendly!
To get my 6-year-old fella to eat more veggies, I've come to notice that if he is there helping me prepare what we're eating, he is much more apt to try and LIKE it! So I got him chopping away – he helped chop and prepare almost everything – the avocados, garlic, onion, lime juice, chilies, spices and tomatoes.
Looking for some other delicious Tex-Mex toppings and seasonings? Here are some of my other recipes: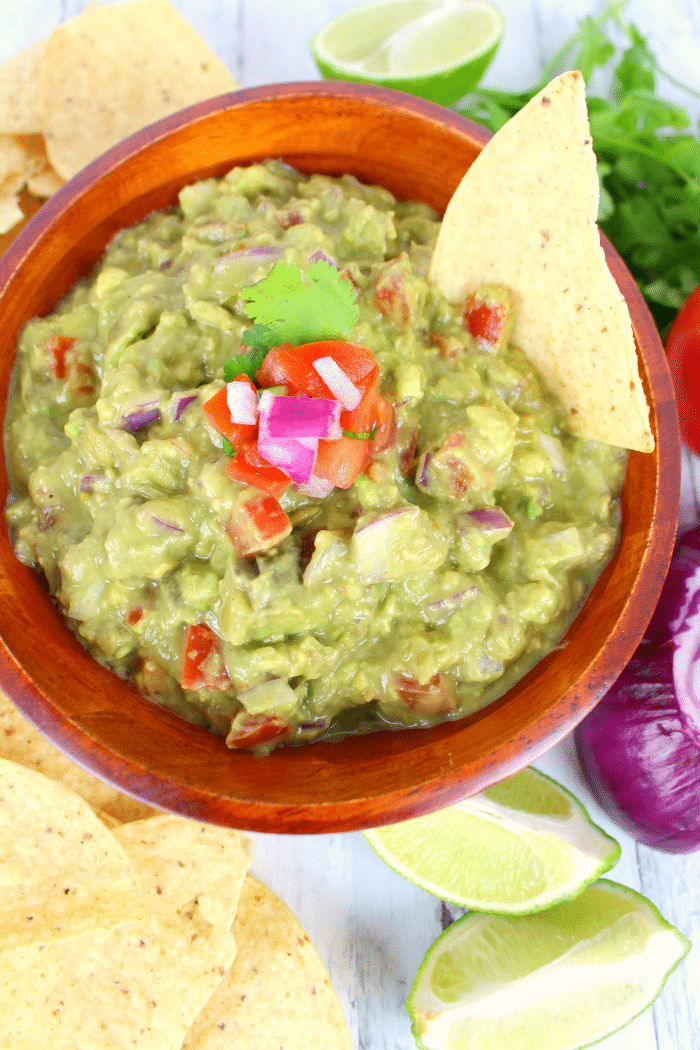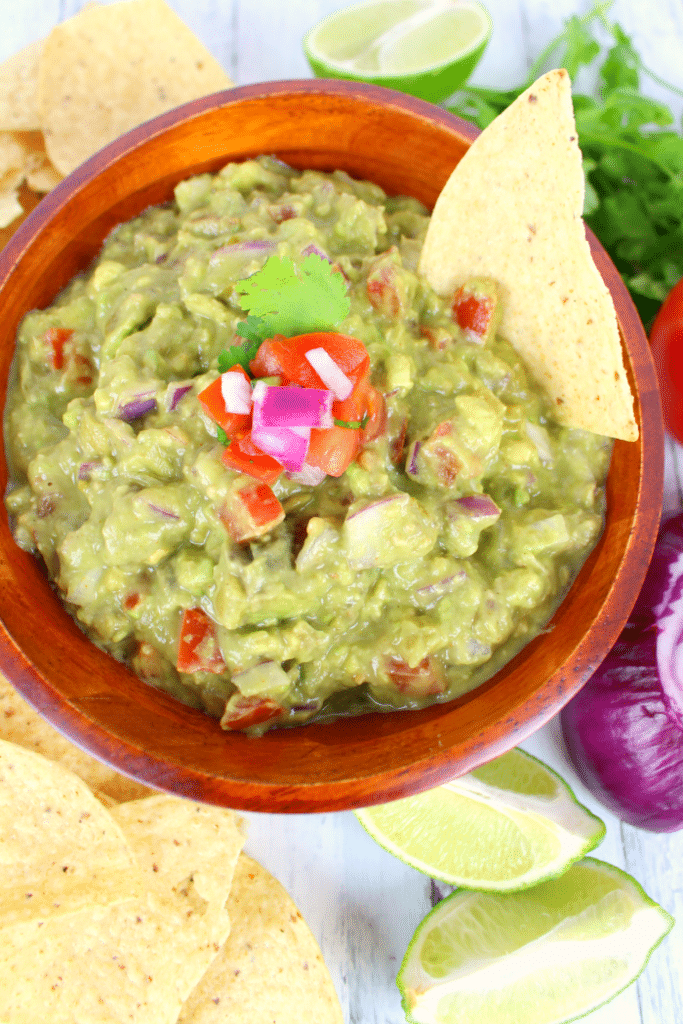 I really love a chunky guacamole, where you have bits and pieces of onion, avocado, garlic and tomato. To make a chunky guacamole, simply chop up your ripe avocados as you would all of your other ingredients. You can also pulse your food processor (or blender) just a few times – it will incorporate and break everything up, but still remain chunky. This guacamole is definitely perfect for Cinco de Mayo!
What can I put guacamole on?
You can use guacamole as a topping on just about any Tex-Mex dish. Here are some great options: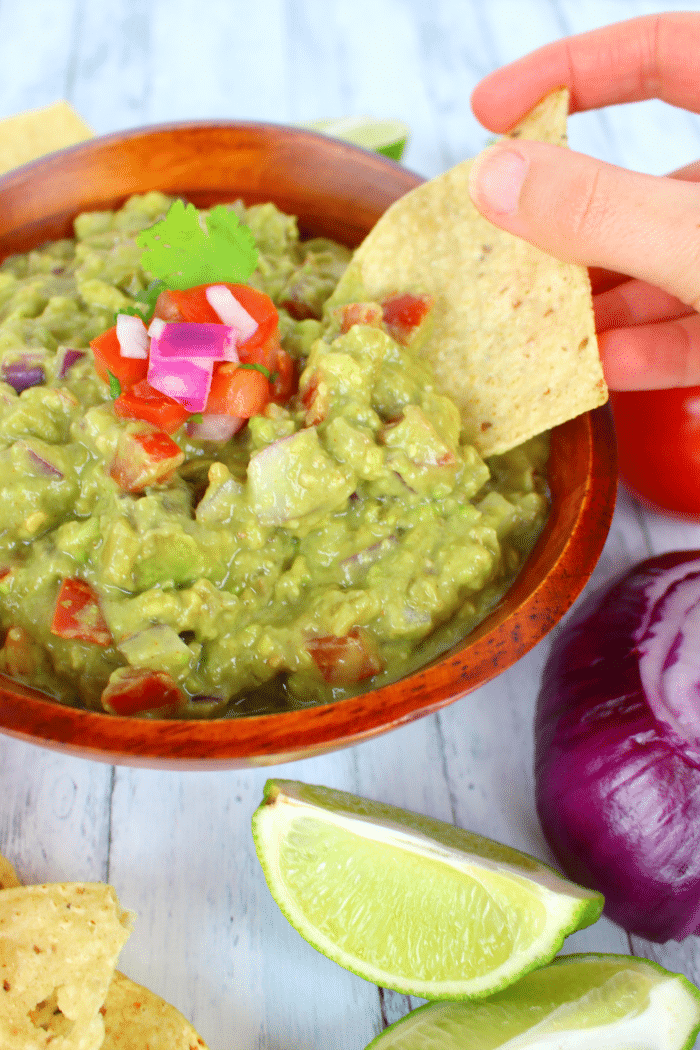 Here is how this fantastically fresh, easy and clean-eating friendly dip comes together:

Loaded Guacamole
You'll never buy guacamole at the supermarket again! This fresh, easy and delicious Loaded Guacamole has everything that you love about Mexican food - fresh, spicy and loaded with flavor!
Ingredients
2 ripe avocados
1 medium yellow or red onion, peeled and roughly chopped
2 medium roma tomatoes, chopped
3 cloves of garlic, roughly chopped
the juice of one lime
1/2 c. chopped, fire roasted chili pepper (fresh or canned)
1/2 tsp. garlic salt
1/2 tsp. cumin
1/2 tsp. cayenne pepper
Instructions
Chop the avocados, onions, and garlic. Combine in a mixing bowl. (For a creamier guacamole, puree for a few seconds in a food processor.) Stir in the lime juice, chili pepper, garlic salt and cumin and cayenne pepper.
Enjoy right away. Serve with tortilla chips and fresh vegetables. Top your favorite Tex-Mex foods like nachos, burritos, tacos and enchiladas. Refrigerate in an air-tight container for up 5 days.
*If you're rather strict on clean eating, you can fire-roast your own chili pepper at home, simply by roasting over an open burner until the skin blackens. Once cool, peel off the blackened skin, and you'll have a deliciously roasted chili pepper.
**If you don't have fresh chili peppers readily available in your produce section, you can find canned chopped chili's in Mexican food section of the supermarket, near the salsa. I use these often, and are a good sub when needed.
This post is the third of four post that is a part of the 2014 Clean Eating Challenge. Me and other fantastic food bloggers will be bringing you some great Clean-Eating friendly posts, and hopefully some additional ideas to help you eat cleaner, and fresher in the future!
Enjoy!
Erin