The Most AMAZING Cherry Scone Recipe!
Stuffed with fresh cherries, sliced almonds, and drizzled with a cream cheese glaze, these flaky cherry scones are fantastic with your morning coffee! Perfect for breakfast, this super-easy cherry scone recipe uses cream cheese to keep the dough wonderfully moist, tender, and completely delicious!
This post may contain affiliate links. Delightful E Made is a participant in the Amazon Services LLC Associates Program, an affiliate advertising program designed to provide a means for us to earn fees by linking to Amazon.com and affiliated sites.
I absolutely love baking with fresh fruit! As soon as the fresh cherries hit the stores and farmers market, I'm loading up my basket to bake up some goodies. Much like my Cherry Almond Crumble Tart and Cherry Crisp, these scones are amazing fresh out of the oven!
Loaded with sweet chunks of fresh cherries, lots of sliced almonds, and a delicious almond-cream cheese glaze, these scones are amazing for breakfast!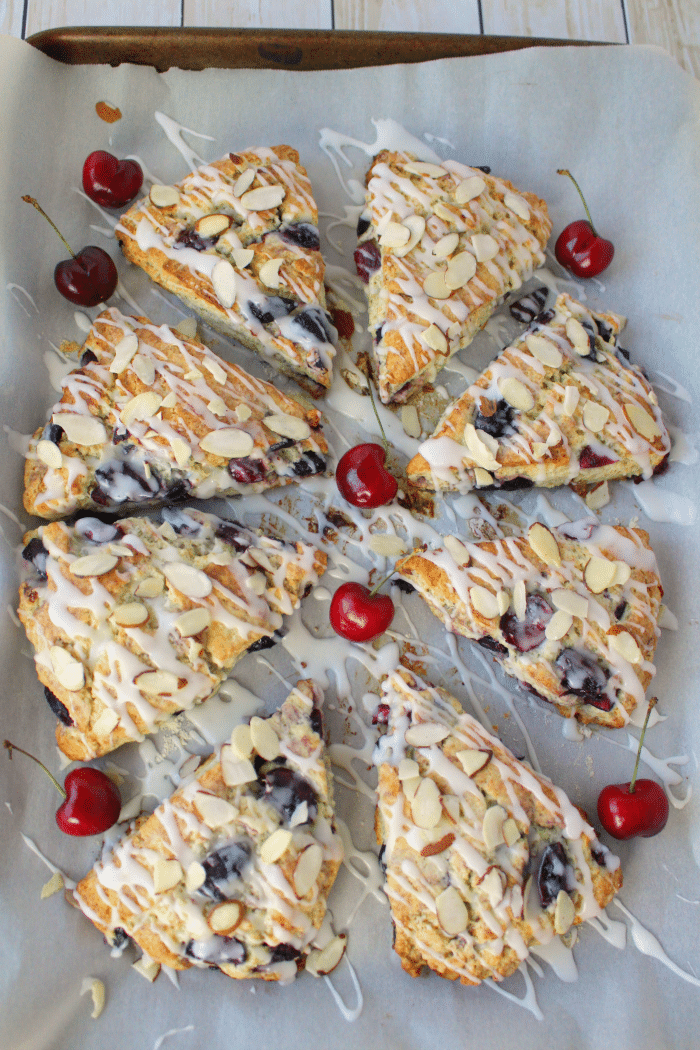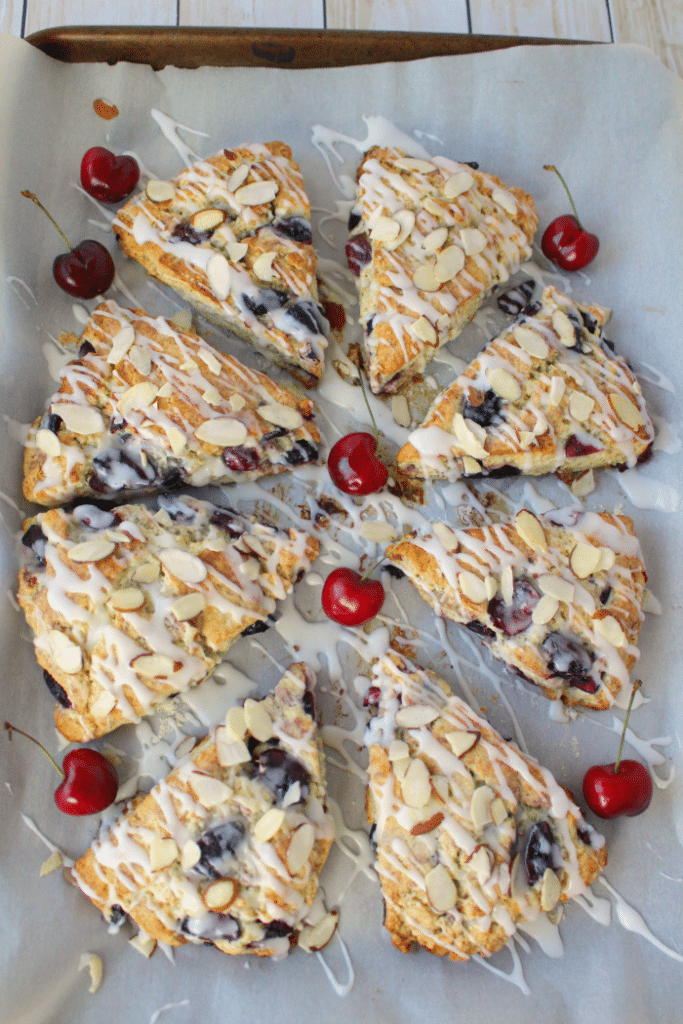 Are these cherry scones easy to make?
This scone recipe is super-simple to mix up and bake. Scones are wonderful in the fact that you simply mix your dough, shape into a disk, cut into wedges with a knife and bake. I had my 8-year-old help make these, and for the most part, he did the majority of it himself!
The one task that will take the most time is pitting the cherries – however, even this task will only take about 10 minutes. I use OXO Good Grips Cherry and Olive Pitter.
If you don't have fresh cherries available where you are, or they are out of season, grab a bag of cherries from the freezer case in the grocery store. These will already be pitted.  Simply rinse and cut into quarters.
Love cooking and baking with fresh cherries? Check out our other recipes that use fresh cherries: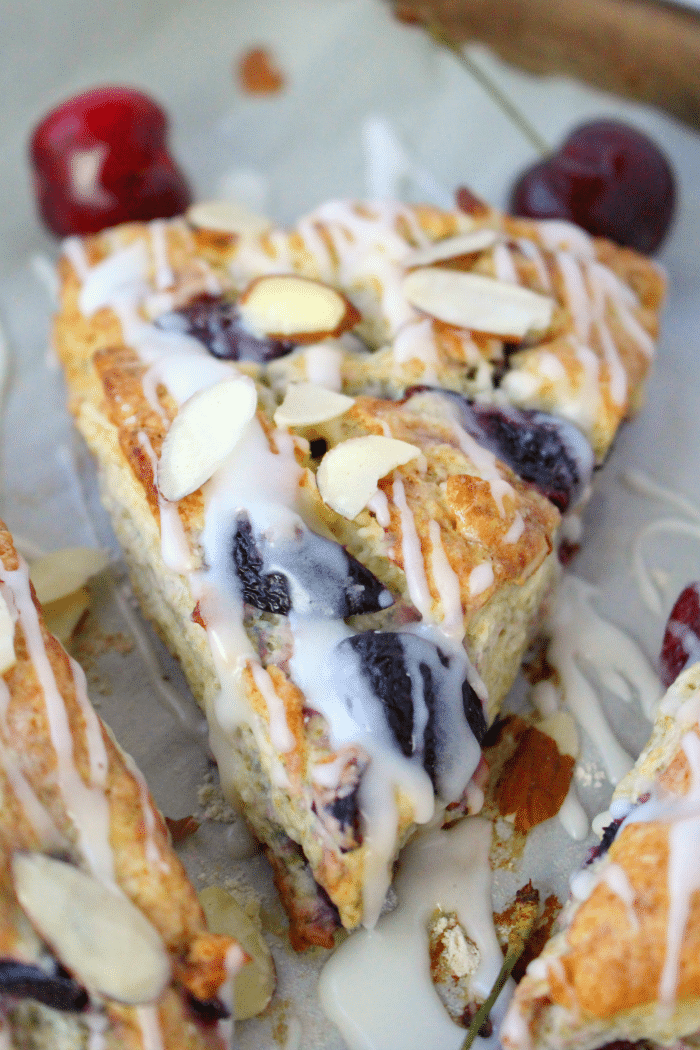 What goes into the batter to keep this cherry scone recipe flaky and moist?
In addition to the butter in this recipe, I also added cream cheese. Not only does it keep the scone flaky, it also provides some additional moisture.
I also added cream cheese to the glaze, which makes for an amazing frosting for this breakfast pastry.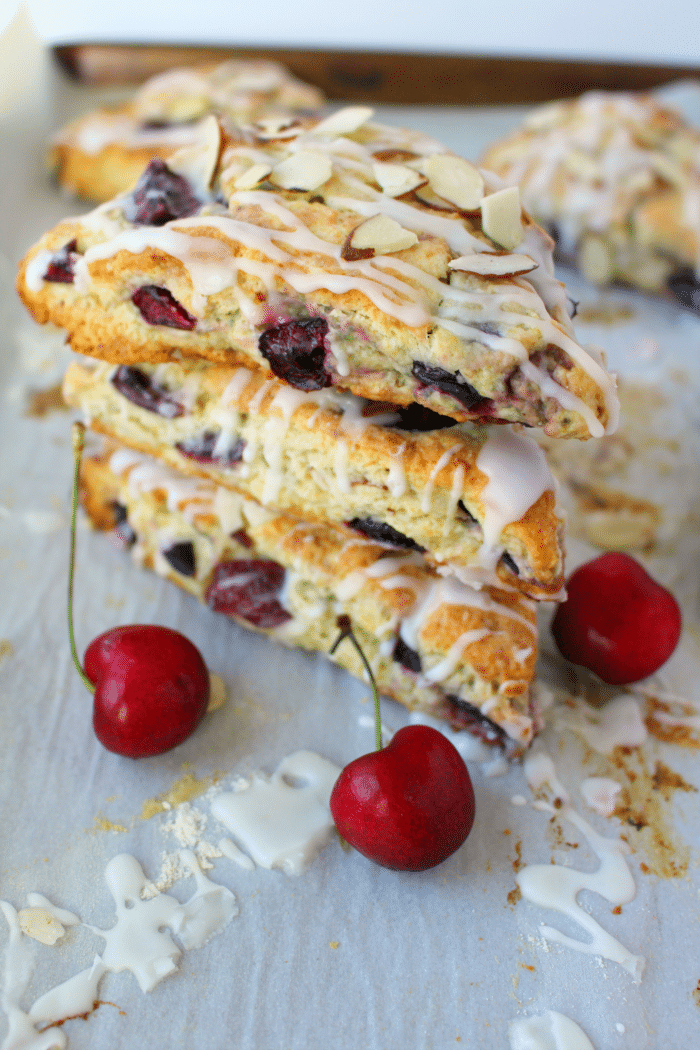 Where to add the almonds:
Sliced almonds are baked into the scone and added to the top after baking. The almonds adds a great crunch to every bite, and the topping looks pretty as well.
What type of almonds work best in these cherry almond scones?
I recommend sliced almonds, as they add a great texture and crunch. You can also use slivered almond or chop your own from whole almonds.
FAQ's when baking cherry scones?
I can't find fresh cherries. What else can I use?
When fresh cherries are not in season, I would recommend frozen cherries from the frozen food section. You can also use dried cherries (about 1/2 cup). Plump-up dried cherries by placing in a bowl and pouring boiling water over the top. Let sit for 10 minutes, drain and then add to the scone batter. Y
Do I have to use almonds?
No. If you would prefer to not have almond in your cherry scones, feel free to leave them out.
How long do cherry almond scones last?
These cherry scones will be at their best and freshest the first day you make them. If you have extras, I recommend wrapping individually and freezing in an airtight container or freezer bag. For best results, freeze the same day they are made.
Can scones be made in advance?
Scones are best when served fresh and made the same day. If you must make ahead, bake, let cool then wrap individually. Store wrapped scones in a freezer bag and freeze until ready to use. Thaw at room temperature.
If you loved these cherry scones, be sure to check out some of my other breakfast recipes: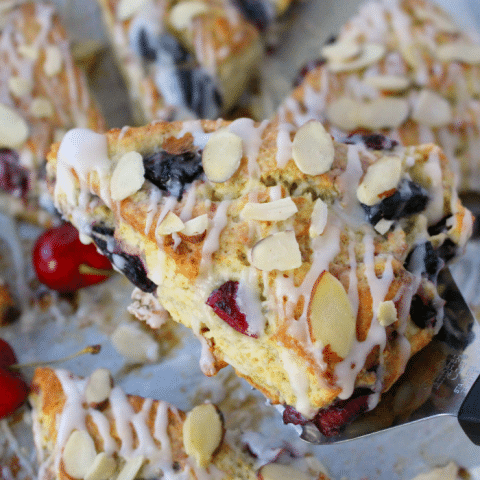 Cream Cheese Cherry Almond Scones
Stuffed with fresh cherries, sliced almonds, and drizzled with a cream cheese glaze, these flaky scones are fantastic with your morning coffee! Perfect for breakfast, this super-easy scone recipe uses butter, along with cream cheese to keep the dough wonderfully moist, tender, and completely delicious!
Ingredients
2 c. all-purpose flour
1/3 c. granulated sugar
1 Tbsp. baking powder
1/2 tsp. salt
5 Tbsp. cold butter
4 Tbsp. cold cream cheese
1/2 c. heavy cream
1 egg
1 tsp. almond extract
1/2 tsp. vanilla
1 1/3c. fresh cherries, pitted and halved
1/4 c. sliced almonds + 2 Tbsp. for topping
Glaze:
1 c. powdered sugar
2 Tbsp. cream cheese, room temperature
2-3 Tbsp. heavy cream
1 tsp. almond extract
Instructions
Preheat oven to 400 degrees. Line a baking sheet with parchment paper or a silicone baking mat.
In a mixing bowl, whisk together the flour, sugar, baking powder, and salt. To the dry ingredients, add the cold butter and cream cheese. Cut in with a pastry cutter or forks until mixture becomes gravel-like.
In a separate small bowl, combine the cream, egg, vanilla and almond extract. Mix together with a fork or whisk, and pour into the flour mixture. Gently mix together until all ingredients are moistened. Add in the cherries and almonds and mix until just combined. Try not to over-work the dough.
Transfer the dough onto the lined baking sheet. (Flour your hands and surface to help keep dough from sticking.) Shape into a ball, and then press into a disk that is about 1" thick. Cut the disk into 8 slices, and separate slightly for even baking.
Bake for 22-24 minutes or until golden brown. Remove from oven and let cool for 5-10 minutes.
Mix together the glaze by combining the powdered sugar, cream cheese, cream and extract. Mix until thick, but smooth. Add a few additional splashes of cream if necessary. Drizzle over the warm scones. Top with the additional almond slices. Enjoy
Notes
Scones are best when enjoyed the same day they are made. Wrap and freeze any leftovers.
Nutrition Information:
Serving Size:

8 scones
Amount Per Serving:
Calories:

394
Total Fat:

14g
Saturated Fat:

7g
Cholesterol:

37mg
Sodium:

407mg
Carbohydrates:

62g
Sugar:

34g
Protein:

7g