Bust out the tequila, its time for a margarita! Blended with frozen strawberries, lime juice, and rimmed with salt, these strawberry margaritas are easy to make, and wonderfully refreshing. An amazing margarita recipe!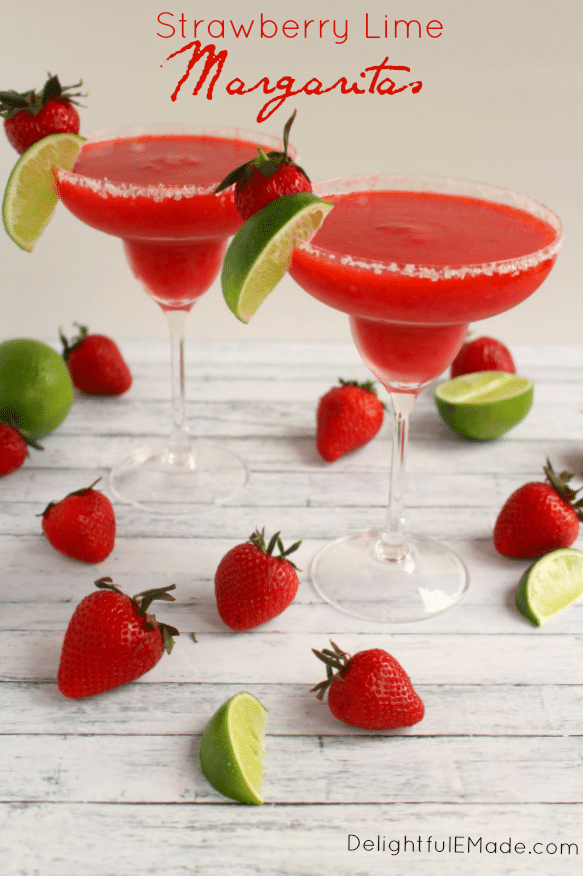 Strawberry Margaritas
With Cinco de Mayo just around the corner, one needs a delicious drink to celebrate. My frozen Strawberry Margaritas are the perfect nectar to sip on during this fun and festive holiday! Made with frozen strawberries, they're amazing on a hot evening, or anytime you're looking for a delicious cocktail!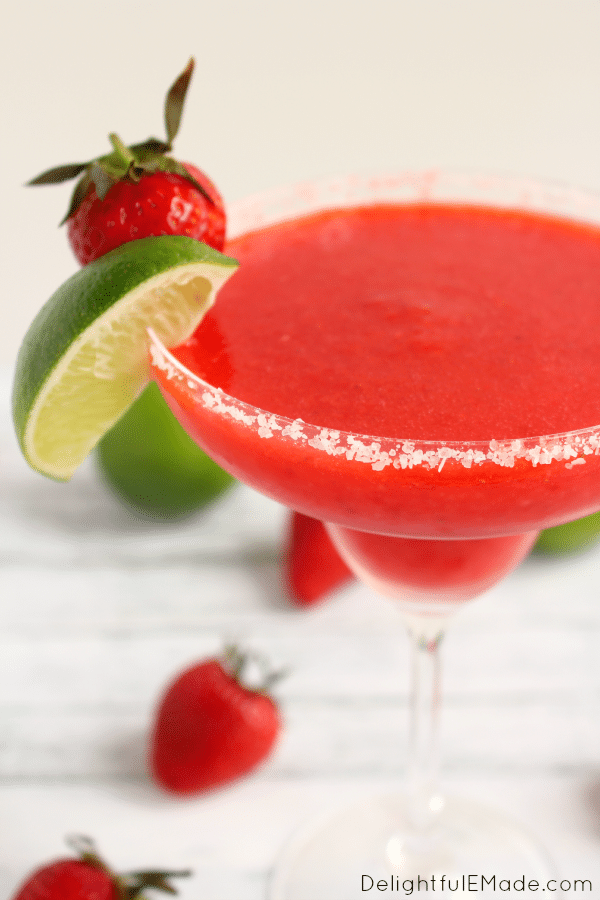 There are several ways to make a margarita, but my personal favorite is one that is frozen. For this cocktail, I used frozen strawberries rather than ice, to achieve an amazingly delicious texture and flavor. Along with fresh lime juice, honey, triple sec, and a good quality silver tequila, this drink is the ultimate refreshing libation!
Do I have to add salt to my glass?
Nope – this is totally personal preference. Some people enjoy a salted rim, others prefer it on the salty side. If you are making margarita for guests, ask your friends how they prefer their cocktail, and bar-tend accordingly.
What type of glasses are traditional for margaritas?
A curved wide-mouth, ups glass is typical for a margarita, especially when its frozen. An ups glass (a glass with a stem) is designed to keep your drink colder for longer. When the heat from your hands is placed on the stem of the glass, it does not interfere with the temperature of the drink, thus keeping it cold.
More often, if a drink is served on the rocks, it is served in a short (non-stem) rocks glass. Add salt accordingly.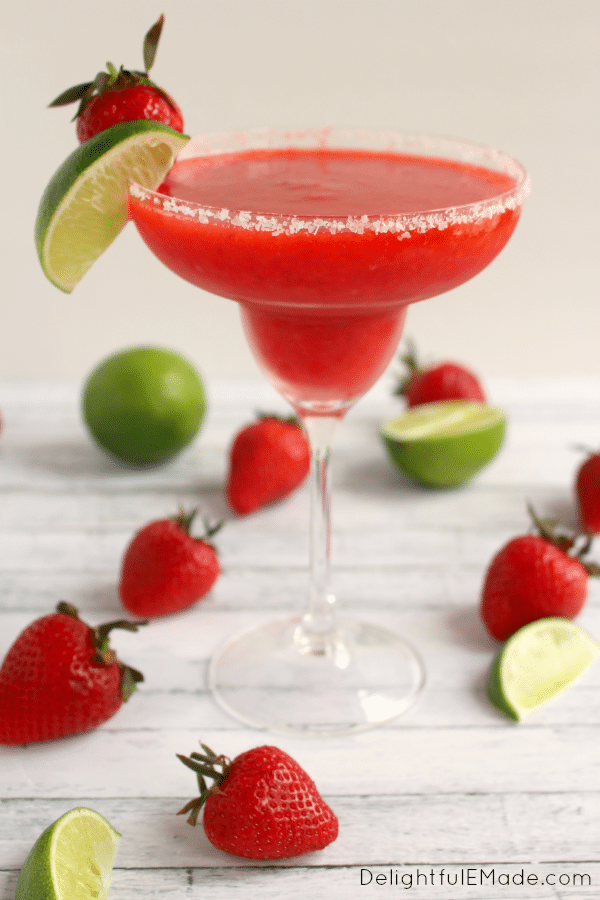 I enjoy salt on the rim of my margarita, however, this is totally up to personal preference. How one takes their margarita, some may say, is a great gauge of personality. Flavor, on the rocks, blended, frozen, salt or no salt – what's your favorite way to enjoy this delicious drink?
Do you prefer a margarita on the rocks? No problem! Check out my recipe for How to Make A Skinny Margarita!
If you loved this delicious strawberry margarita, check out some of my other cocktail recipes: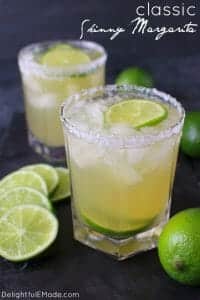 How to Make a Skinny Margarita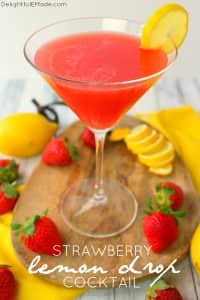 Love a Lemondrop? Try this Strawberry Lemon Drop Cocktail
If you love the classic dessert, then this Strawberry Shortcake Martini is right up your alley!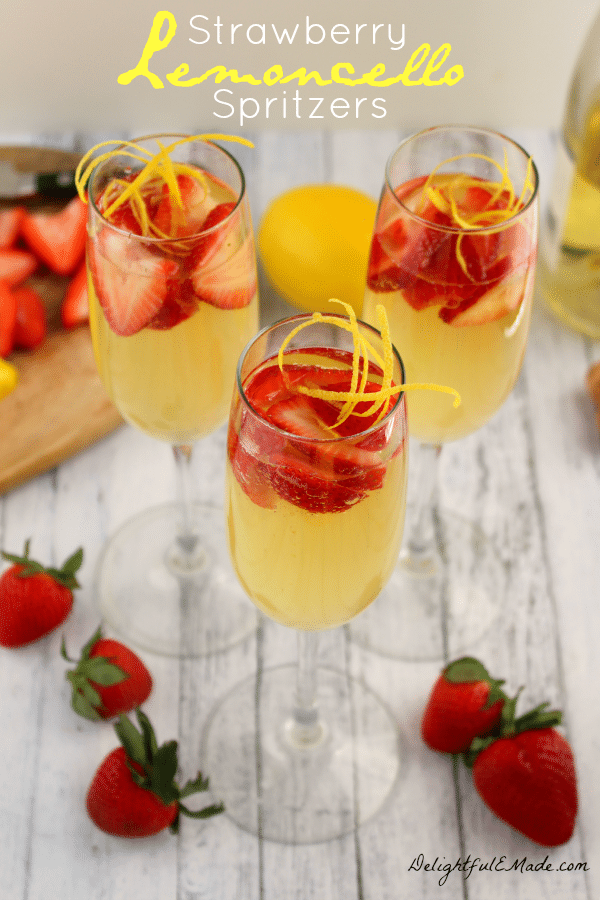 Strawberry Lemoncello Spritzers
Here's how this easy, delicious cocktail comes together:

Erin Indahl-Fink
Yields 2 large
Strawberry Lime Margaritas
Bust out the tequila, its time for a Margarita! Blended with frozen strawberries, lime juice, and rimmed with salt, these frozen margaritas are easy to make, wonderfully refreshing and an all-time favorite cocktail!
5 minPrep Time
5 minTotal Time
Ingredients
1 - 16 oz. package, frozen strawberries
6 oz. silver tequila
juice of 3 limes
2 tbsp. honey
2 oz. triple sec
salt for rims of glasses
fresh strawberries and lime wedges for garnish
Instructions
In a blender, add the frozen strawberries, tequila, lime juice, honey and triple sec. Blend until smooth. Run a lime wedge around the glass of 2 margarita glasses, and rim with salt. Pour the margaritas into prepared glasses, and enjoy right away!
7.8.1.2
151
https://delightfulemade.com/2015/04/26/strawberry-lime-margaritas/
Copyright by DelightfulEMade.com
These cocktails are a fun drink to enjoy any time of year, but they are especially fantastic for Cinco de Mayo, enjoying outdoors with friend on the patio, or after a long, hot day. Any way you prefer it, I hope you get to enjoy this classic cocktail soon! ~Erin