Do you love a Malibu Pina Coladas, but not all the sugar and calories that a classic cocktail contains? Try these delicious Skinny Pina Coladas! Just 5 ingredients and its less than half the calories and sugar of the traditional Malibu Pina Colada recipe.
This post may contain affiliate links. Delightful E Made is a participant in the Amazon Services LLC Associates Program, an affiliate advertising program designed to provide a means for us to earn fees by linking to Amazon.com and affiliated sites.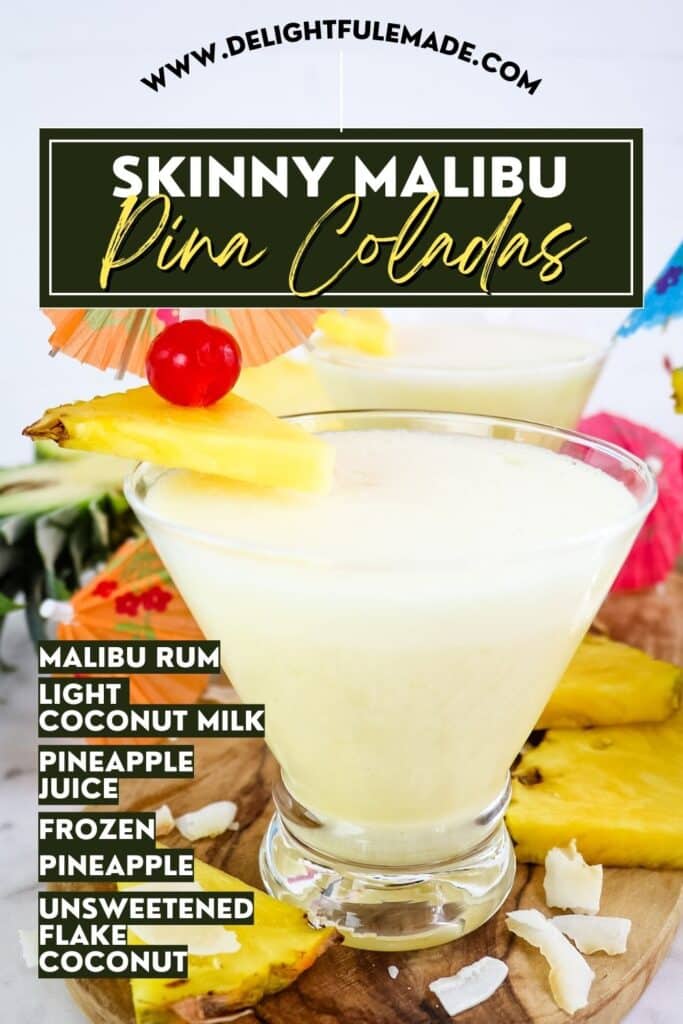 If you love ordering a restaurant pina colada, you probably know how much sugar and calories they contain. Good news! You can now enjoy those fantastic tropical flavors in a lighter drink at home.
This Skinny Malibu Pina Colada recipe cuts down on the refined sugar by using healthier options for ingredients. No sugary syrups or heavy ingredients needed here.
What do I need to make skinny Pina Coladas?
Malibu Rum
Light Coconut Milk
Pineapple Juice
Frozen Pineapple
Unsweetened Flake Coconut
For exact ingredient amounts and full recipe instructions be sure to scroll down to the bottom of the post for the recipe. Thanks!
What makes this pina colada skinny?
To reduce the calories and eliminate as much refined sugar as possible, I reduced the amount of pineapple juice, and replaced it with whole, frozen fruit instead. I also used light coconut milk instead of the heavily over-sugared coconut cream, which is used in most traditional pina coladas.
Most restaurant pina coladas are massive! They tend to be well over 12 ounces and contain hefty amounts of simple syrup (refined sugar and water). For example, TGI Friday's Pina Colada comes in at 430 calories and 72 grams of sugar. That is for ONE drink.
If you appreciate a skinny drink, be sure to check out my Classic Skinny Margaritas.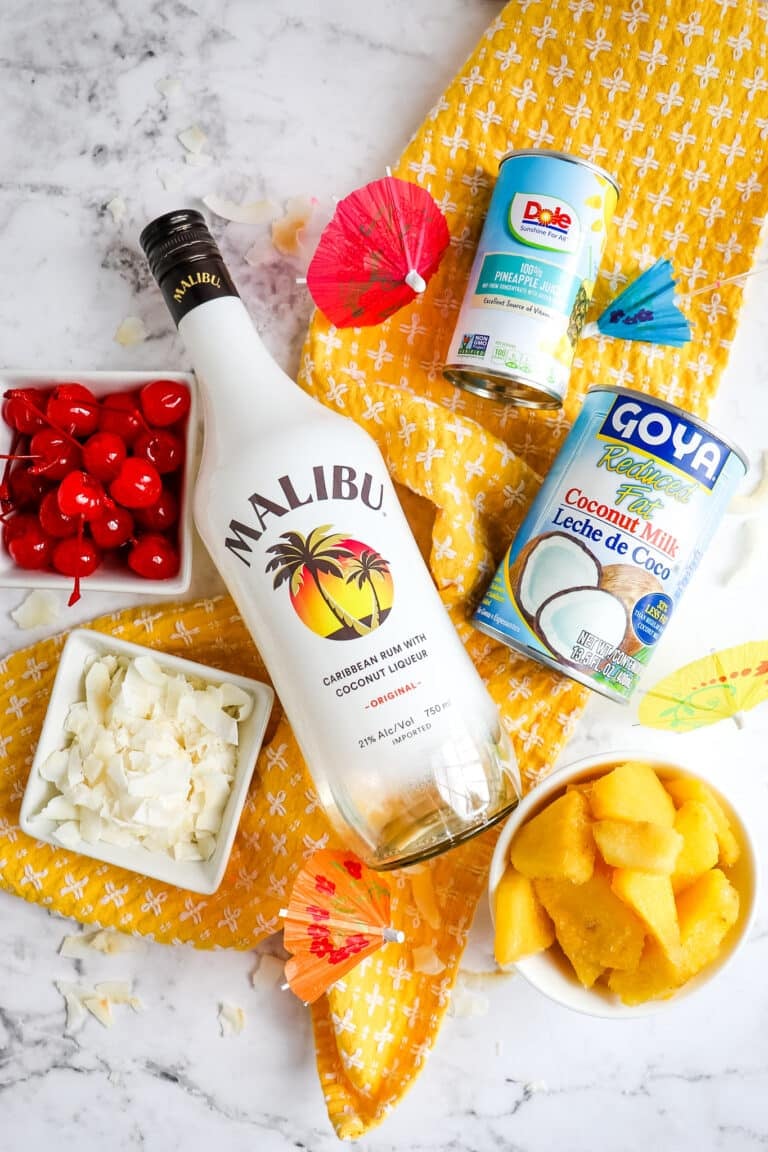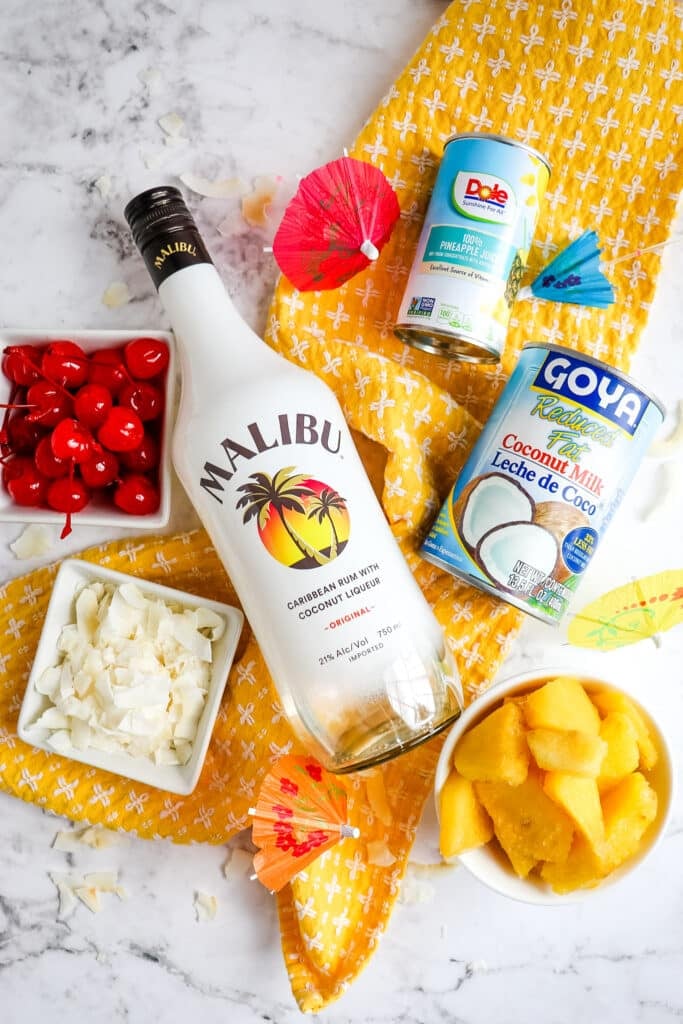 How do I make Malibu Pina Coladas?
Making pina coladas is very simple. To a blender add the Malibu rum, light coconut milk, pineapple juice, frozen pineapple and unsweetened flake coconut. Blend until smooth, pour into glasses and garnish with a pineapple slice and or a maraschino cherry. I also use Malibu rum in my Blueberry Coconut Mojitos and Mango Mojito.
Let's break down the simple steps to making this easy, skinny cocktail.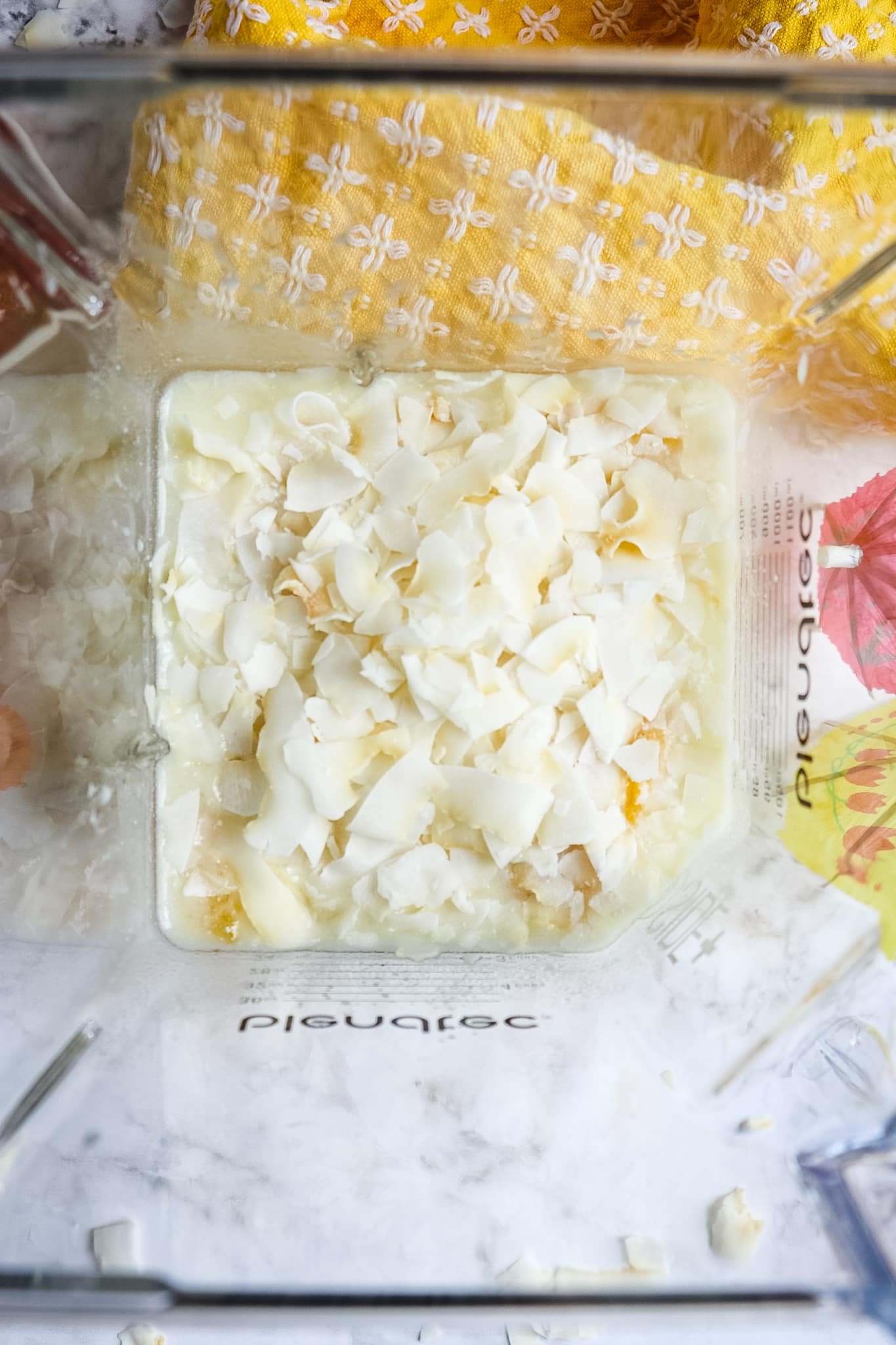 First, this is a drink that needs to be blended. To your blender jar, add all of the ingredients.
I use and love my Blendtec Designer Series Blender. We love making smoothies, drinks and cocktails with our Blendtec. It also does an amazing job with muffin and pancake batter and will handle making oat flour or nut butter with ease.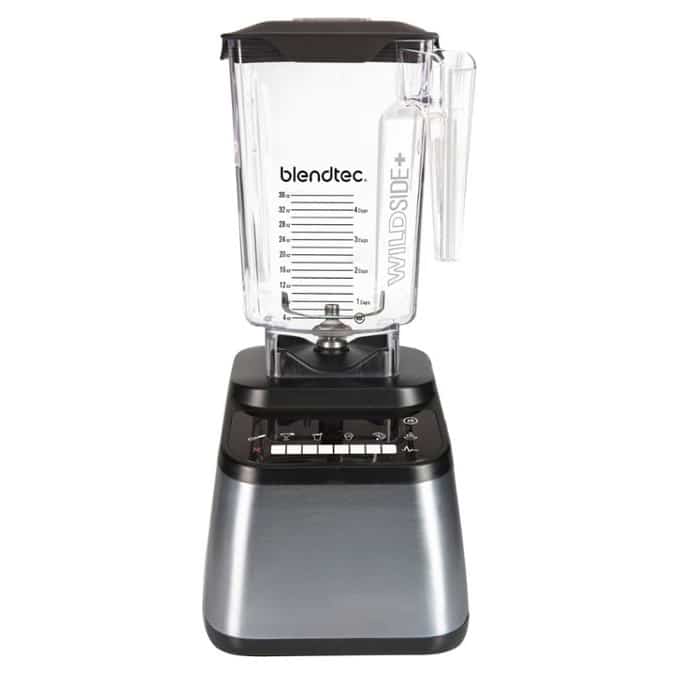 Blendtec 650 Designer Series Blender with Wildside Jar
This is the Blender I use almost DAILY! Everything from smoothies, to cocktails, to waffle and muffin batter and even nut butter, this ultrapowerful blender creates an amazing puree every time. It's very durable and made to last!
Love making frozen cocktails at home? Check out some of our other delicious homemade frozen drinks:
Ingredient Substitutions and Recommendations:
Rum – I personally prefer Malibu rum, but you can also use any other white (clear) rum, like Bacardi.
Light Coconut Milk – I used Goya brand light coconut milk to save some calories and keep this drink on the skinny side. You can use regular coconut milk (will add more calories), or sparkling coconut water making this drink even lighter.
Pineapple – frozen pineapple works well in this drink to keep it cold and frothy. You can also use fresh pineapple, you will need to add about 1 cup of ice if using fresh.
Coconut – to save on calories and added sugar, I used unsweetened flake coconut. You can use sweetened flake coconut, just know that it will add extra calories and sugar to your drink.
For exact ingredient amounts and full recipe instructions be sure to scroll down to the recipe at the bottom of the post. Thanks!
Blend the ingredients for approximately 45-60 seconds. This will ensure the frozen pineapple and coconut are fully broken down, smooth and well incorporated with the liquid ingredients.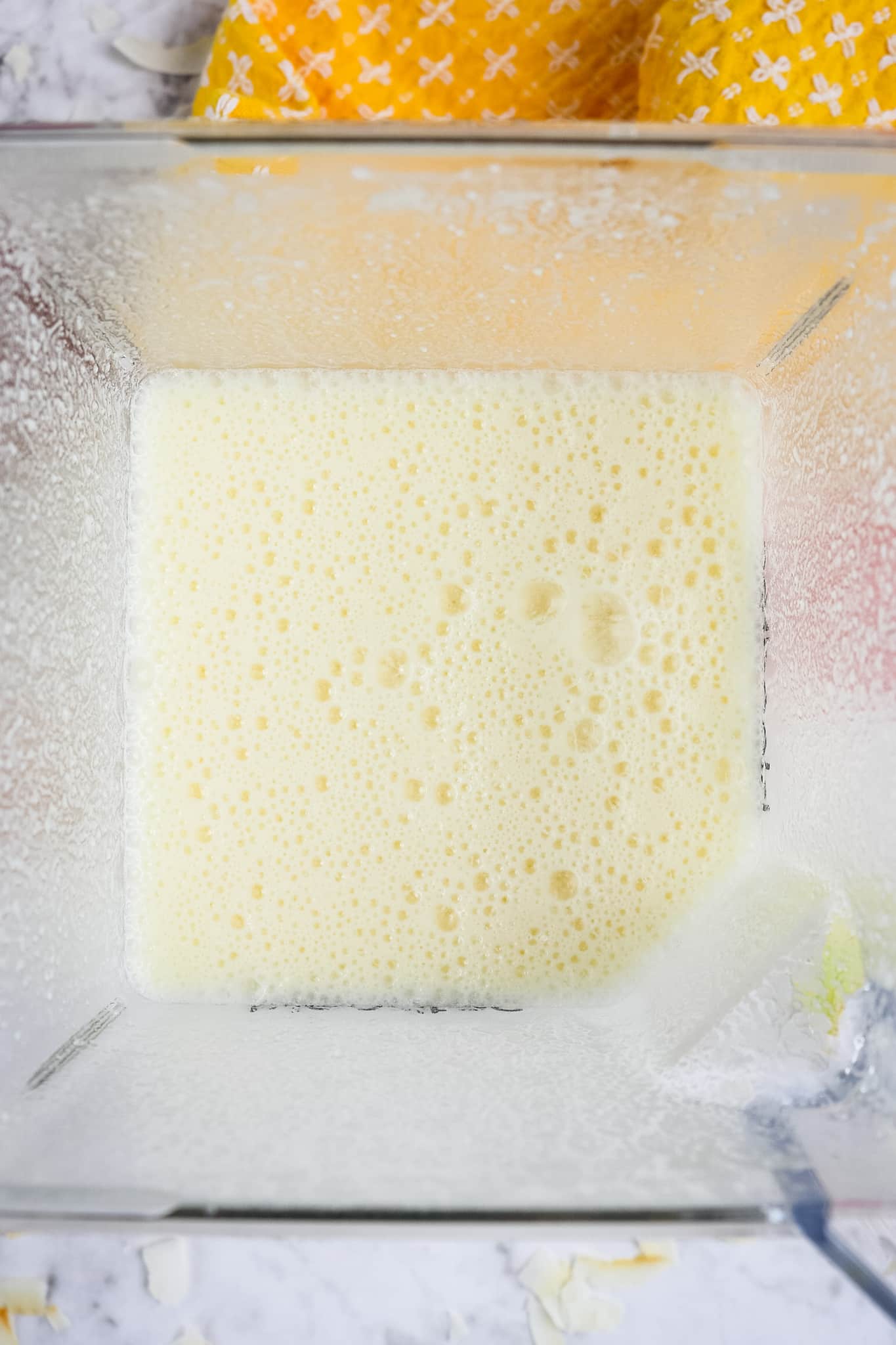 Pour the pina coladas into your favorite cocktail glasses right away while cold. Top with your favorite garnishes, like pineapple slices, maraschino cherries or little paper umbrellas for that tropical feel.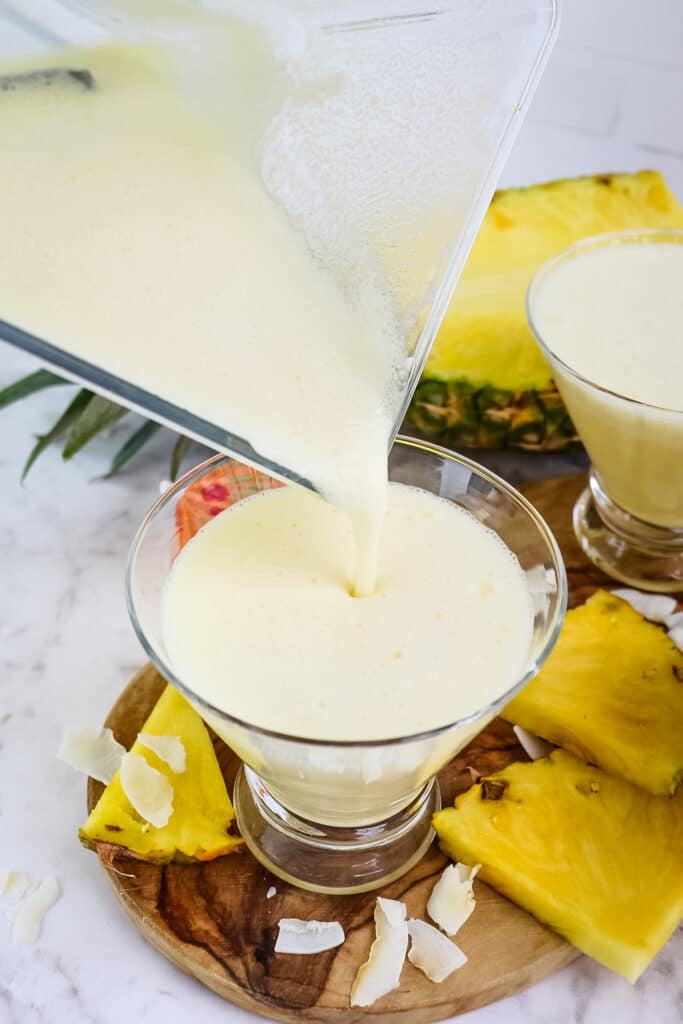 Frequently asked questions about making pina coladas:
Is Pina Colada fattening?
Because most traditional and restaurant pina coladas are made with heavy syrups and creams, and the portions are excessive, they can be very calorie-heavy and not a healthy choice.
Does a pina colada have a lot of calories?
Yes. A restaurant pina colada contains on average over 400 calories per drink. TGI Friday's contains 430 calories and 72 grams of sugar per drink.
What can you use instead of coconut cream in a pina colada?
You can use light coconut milk instead of coconut cream to reduce the calories and make it lighter.
Does Malibu work in Pina Coladas?
Yes. Malibu rum is a great choice when making a pina colada. The coconut flavors and aromas are perfect in this tropical drink.
Do you use Malibu or Barcardi in a Pina Colada?
You can use either white rum, however, I prefer to use Malibu as the coconut flavor and aromas are perfect for a pina colada.
What kind of rum goes in a pina colada?
Any white rum is acceptable in a pina colada. Going with a coconut flavored white rum, like Malibu, is a great option for making this coconut pineapple cocktail.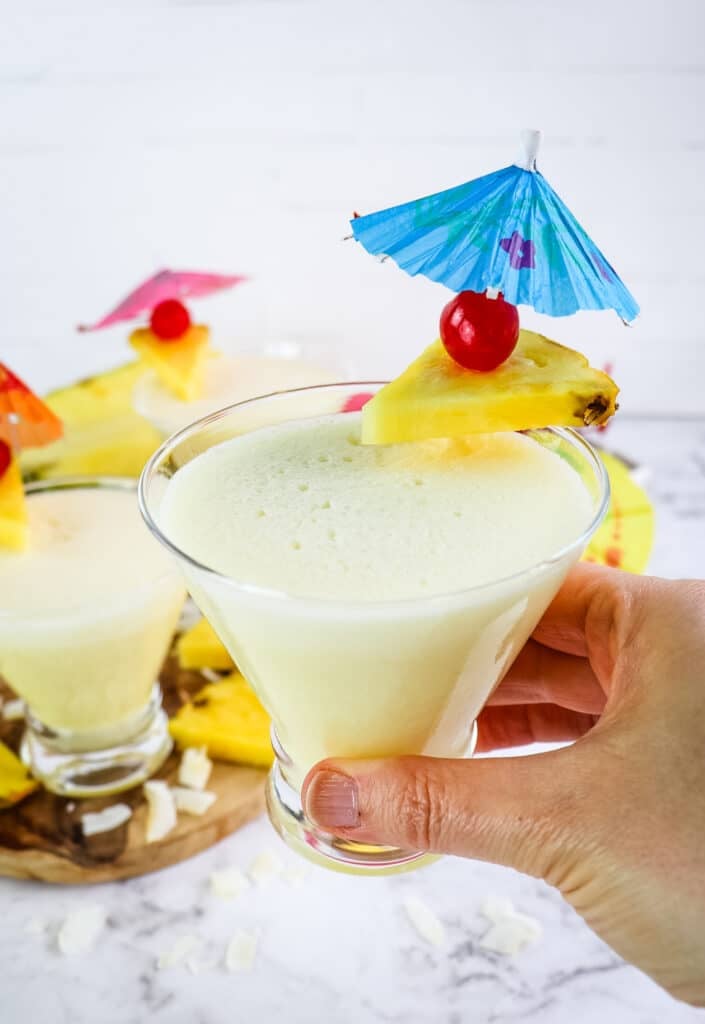 Do you love pineapple? Check out some of my other pineapple recipes:
---
---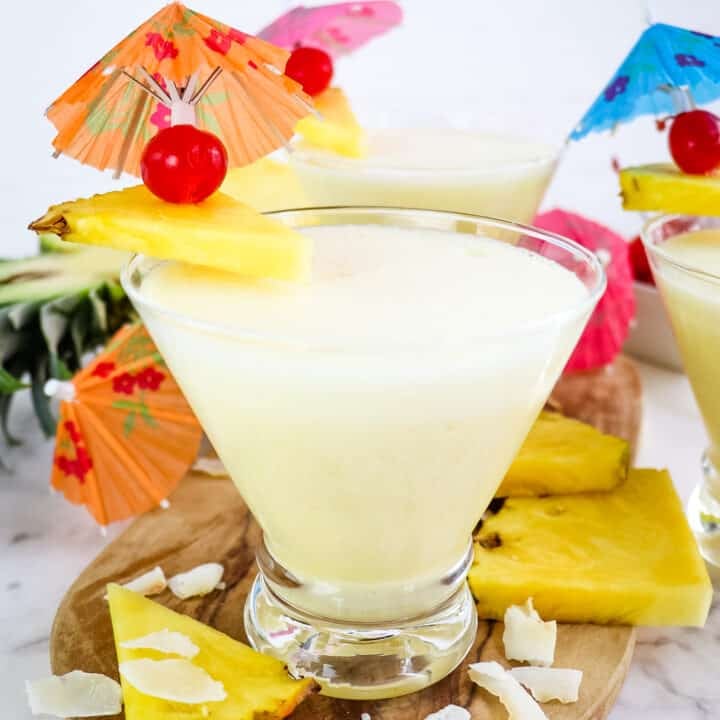 Skinny Malibu Pina Colada
Love the classic tropical Malibu Pina Colada recipe, but not all the calories and sugar? Make this Skinny Pina Colada. Just 5 ingredients and no refined sugar!
Ingredients
2 oz. Malibu rum
1/4 c. light coconut milk, like Goya
1/4 c. pineapple juice
1/2 c. frozen pineapple
2 tbsp. unsweetened flake coconut
Instructions
To a blender, all all the ingredients.
Blend at med-high speed for 45-60 seconds or until all the ingredients are completely blended and smooth.
Pour into glass and enjoy right away while cold. Top with slices of fresh pineapple or maraschino cherries for garnish, if desired.
Notes
To make it even lighter: substitute the light coconut milk for sparkling coconut water.
Nutrition Information:
Yield:

1
Serving Size:

1 drink
Amount Per Serving:
Calories:

353
Total Fat:

7g
Saturated Fat:

6g
Trans Fat:

0g
Unsaturated Fat:

0g
Cholesterol:

0mg
Sodium:

39mg
Carbohydrates:

41g
Fiber:

3g
Sugar:

36g
Protein:

1g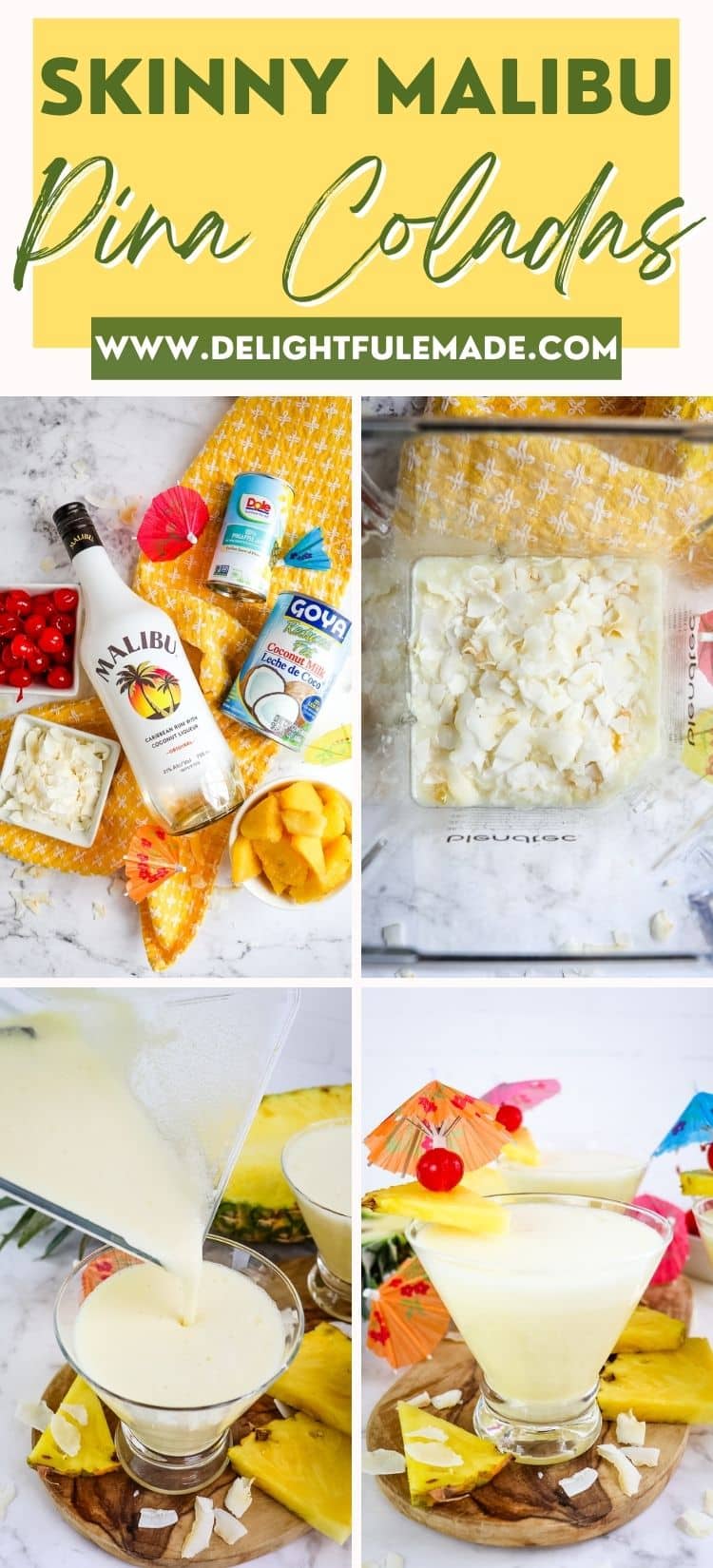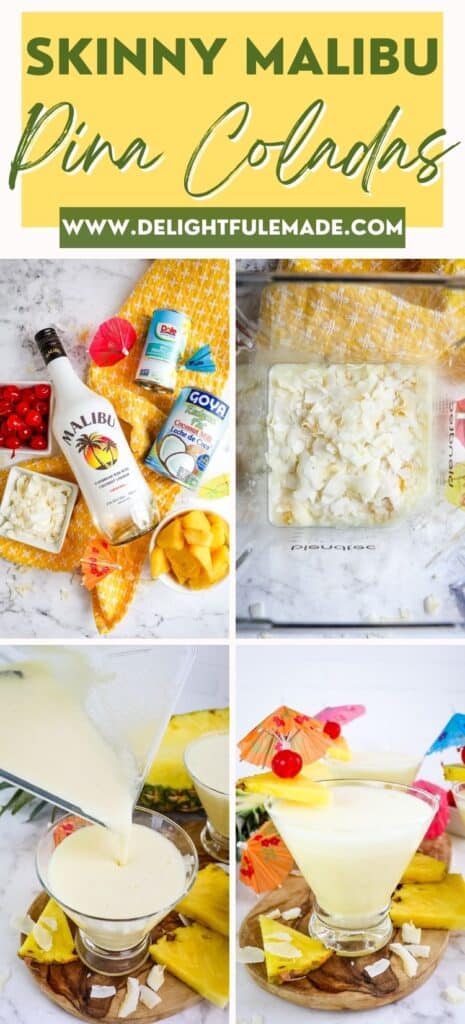 You Might Also Like These Recipes