Looking for an easy enchiladas recipe? This simple, delicious ground beef enchilada casserole recipe is easy to make and great for your next Tex-Mex night!
This post may contain affiliate links. Delightful E Made is a participant in the Amazon Services LLC Associates Program, an affiliate advertising program designed to provide a means for us to earn fees by linking to Amazon.com and affiliated sites.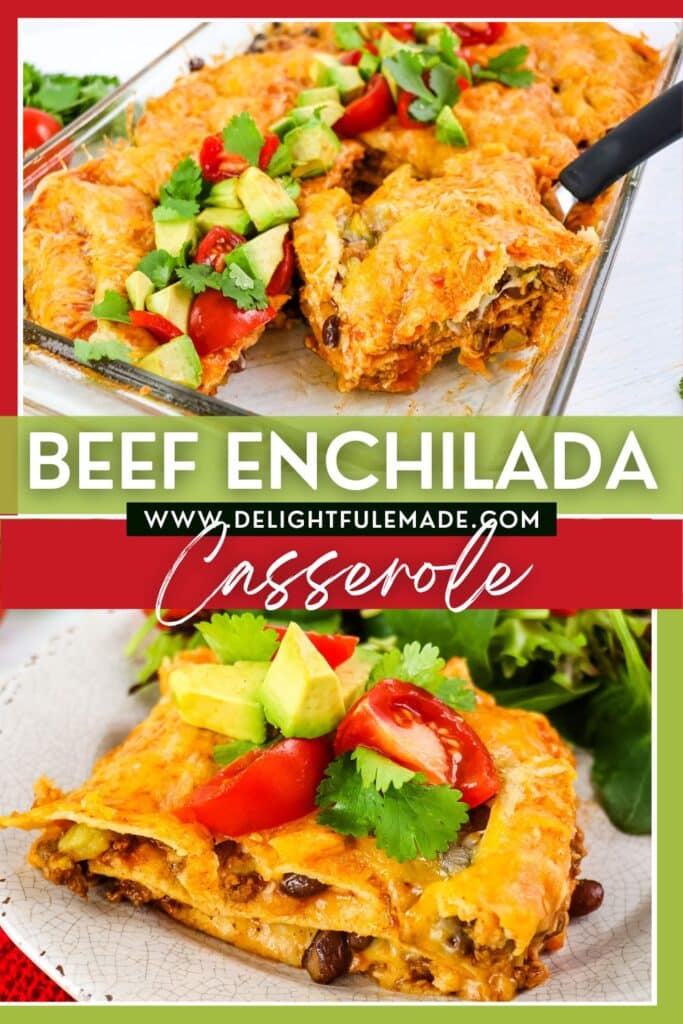 Do you and your family love Tex-Mex, but need a new recipe idea? This beef enchilada casserole needs to be on your must-make list.
Similar ingredients to a traditional ground beef enchilada recipe, this recipe eliminates the need to roll the enchiladas. Simply stack the tortillas, and layer the rest of the ingredients, creating a Mexican lasagna.
In this post I'll show you exactly what you'll need, and how to layer your casserole for a perfect dinner every time!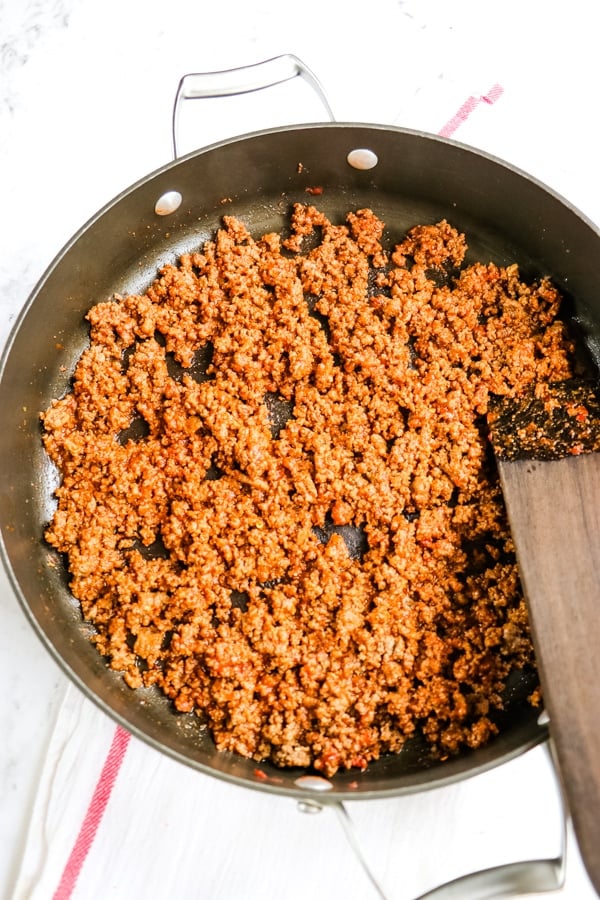 What do I need to make beef enchilada casserole?
Seasoned ground beef – I use my ground beef taco recipe, which is super easy to make, taking only 10 minutes. It creates the perfect seasoned filling for this casserole. This recipe uses my homemade taco seasoning.
Small corn tortillas – I purchased a 16 oz. package of small taco-sized tortillas, which work perfectly for this casserole.
Red enchilada sauce – you have a couple options here. Purchase a couple cans or sauce, OR make my homemade red enchilada sauce. 100% worth it, as homemade has superior flavor!
Black Beans – these are layered between the tortillas, with the ground beef.
Mild Green Chilies – these are layered alongside the black beans and beef.
Mexican Blend Shredded Cheese
Toppings – we enjoy fresh avocado chunks, fresh tomatoes, pico de gallo salsa and fresh cilantro. Feel free to top your casserole with any other favorite Tex-Mex toppings.
For exact ingredient amounts and full recipe instructions be sure to scroll down to the bottom of the post for the recipe. Thanks!
How do I make ground beef enchilada casserole recipe?
Start by placing a single layer of corn tortillas on the bottom of a 9 x 13″ baking dish or pan. I used smaller taco-sized corn tortillas, and cut a couple in half to create a single layer with minimal overlap.
Next, layer on the seasoned ground beef, about 1/2 cup, along with black beans and the diced chilies.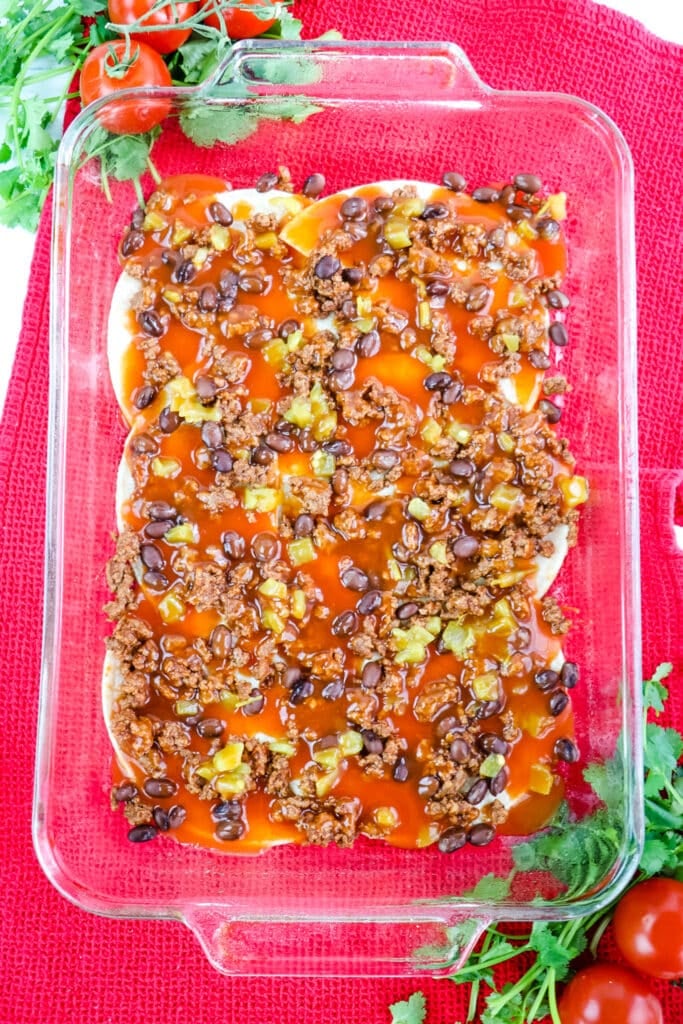 To the ground beef, beans, chilies, shredded cheese add the enchilada sauce.
Start over again by placing another layer of tortillas, sauce, beef, beans, cheese and chilies. Eventually, you'll create about 3-4 layers, finishing with tortillas and the remained shredded cheese on top.
What can I serve with ground beef enchilada casserole?
This Tex-Mex recipe goes with numerous toppings and sides. Here are a few we recommend: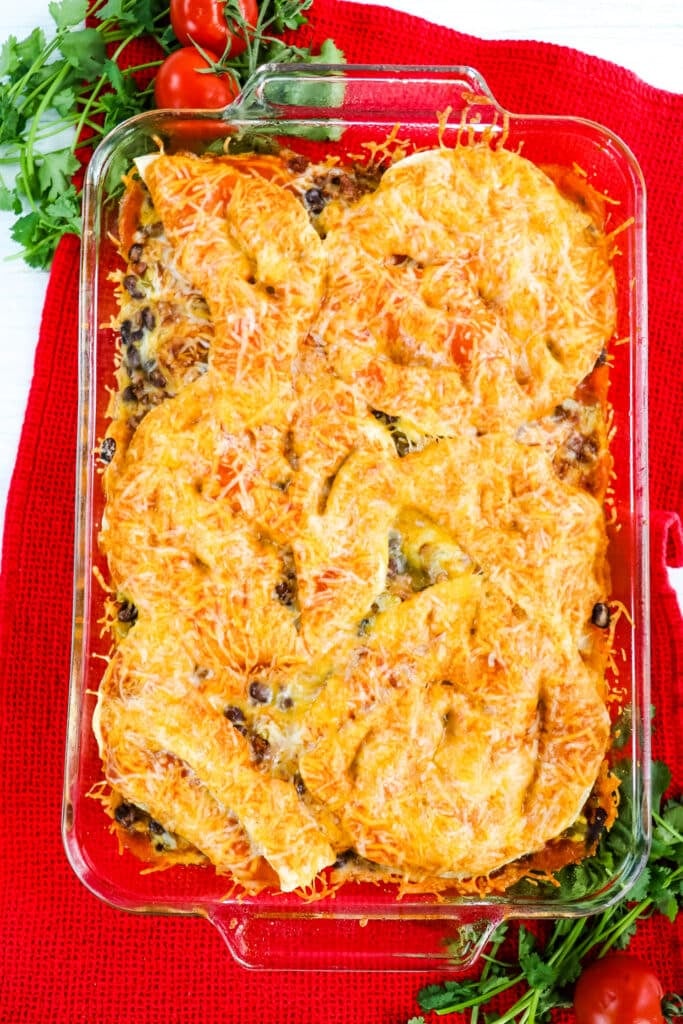 Once everything is layered, bake the casserole uncovered. Once done baking, top the casserole with your favorite Tex-Mex toppings, like tomatoes, avocados, fresh cilantro and sliced jalapenos.
Frequently asked questions about making a beef enchilada recipe:
How do you make beef enchiladas not soggy?
Some recommend toasting or frying your tortillas before rolling or layering with the rest of the enchilada ingredients. This will help create a more crispy tortilla and will prevent it from absorbing moisture when baking.
Is it better to use corn or flour tortillas for enchiladas?
Corn tortillas are traditionally used for enchiladas. These have a bit more texture than flour tortillas. However, when rolling enchiladas with filling, flour tortillas hold up better and are less likely to tear.
Do you bake enchiladas covered or uncovered?
Enchiladas can be baked uncovered. This will allow the cheese to melt and brown slightly. If you discover that the cheese is becoming brown before the enchiladas are cooked through, cover with foil for the remaining bake time.
How long do you bake beef enchiladas?
Because the ingredients of enchiladas are already cooked, enchiladas don't need much time to bake. Beef enchiladas will need approximately 18-20 minutes to bake at 375 degrees. Bake uncovered to allow cheese to melt.
How to keep flour tortillas from getting soggy in enchilada casserole?
Some recommend to toast or fry your tortillas before layering with the rest of the ingredients. This will help the tortillas stay slightly crisp and prevent them from absorbing any excess moisture.
I personally don't toast or fry the tortillas before layering. I feel this is an unnecessary and time consuming step.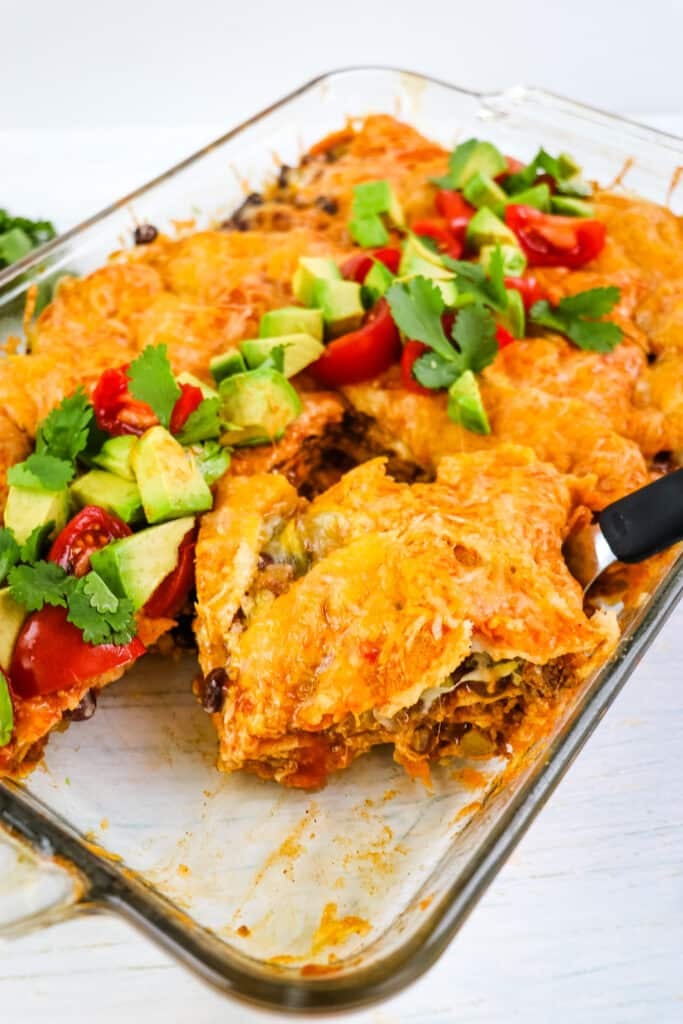 If you loved this casserole recipe, check out some of these other similar posts: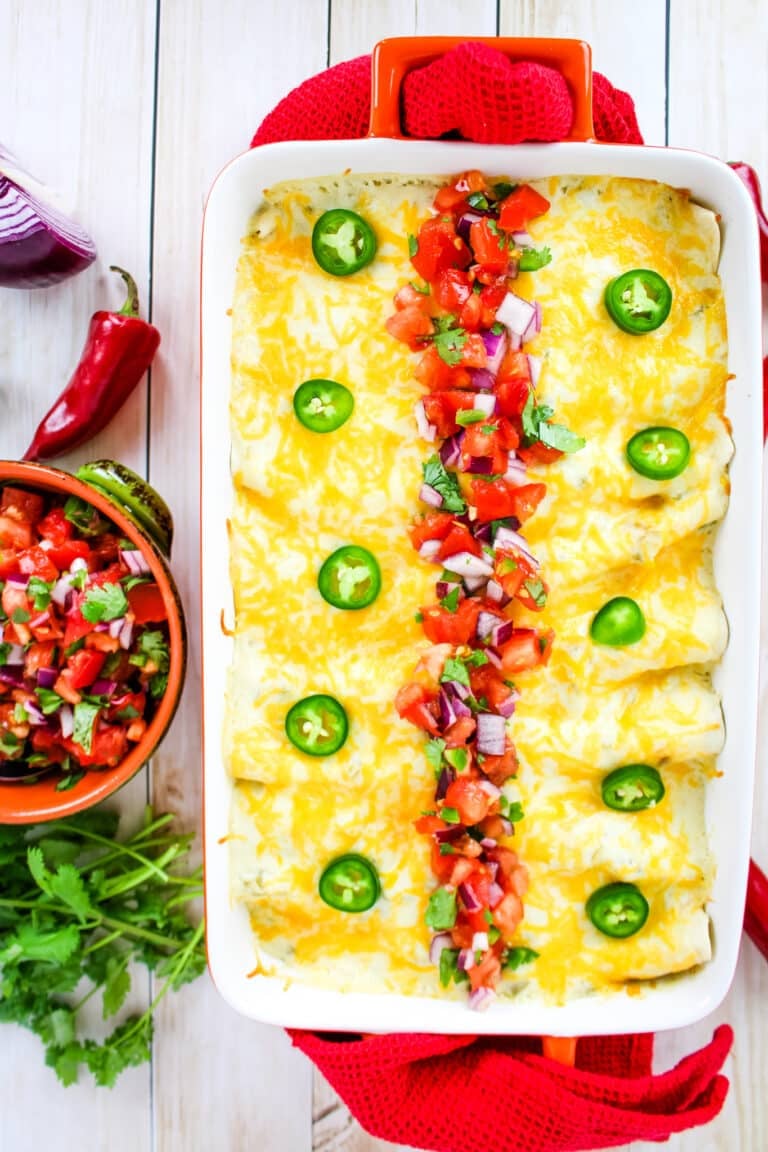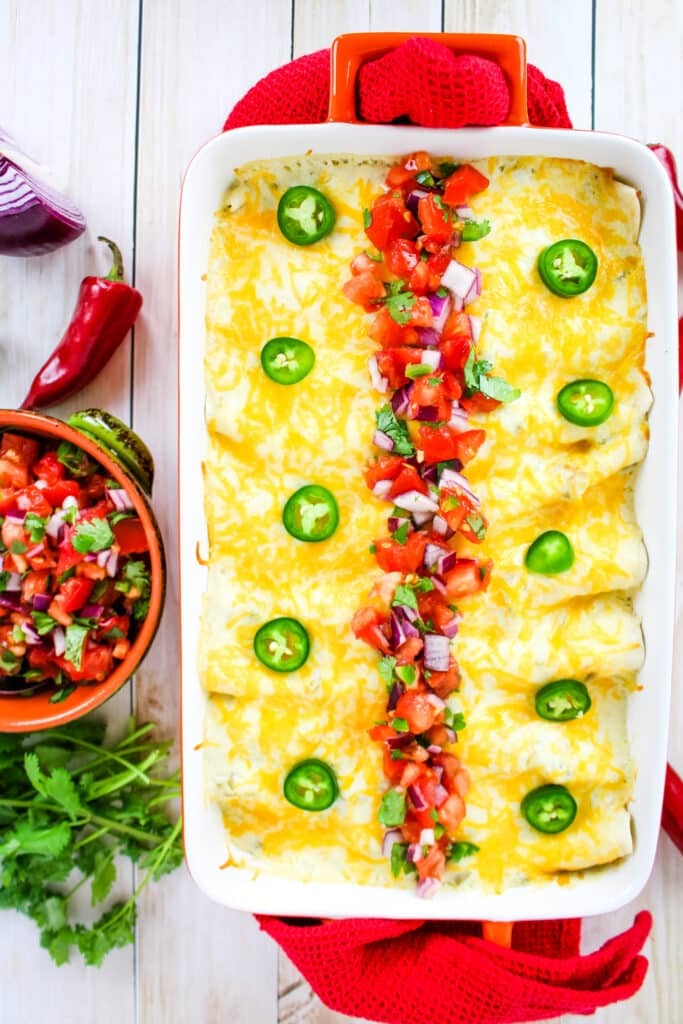 What drinks can I serve with enchiladas?
Enchiladas are great served with margaritas, daiquiri's, pina coladas and mojitos. Here are some of our most popular drink ideas that can be served with enchiladas: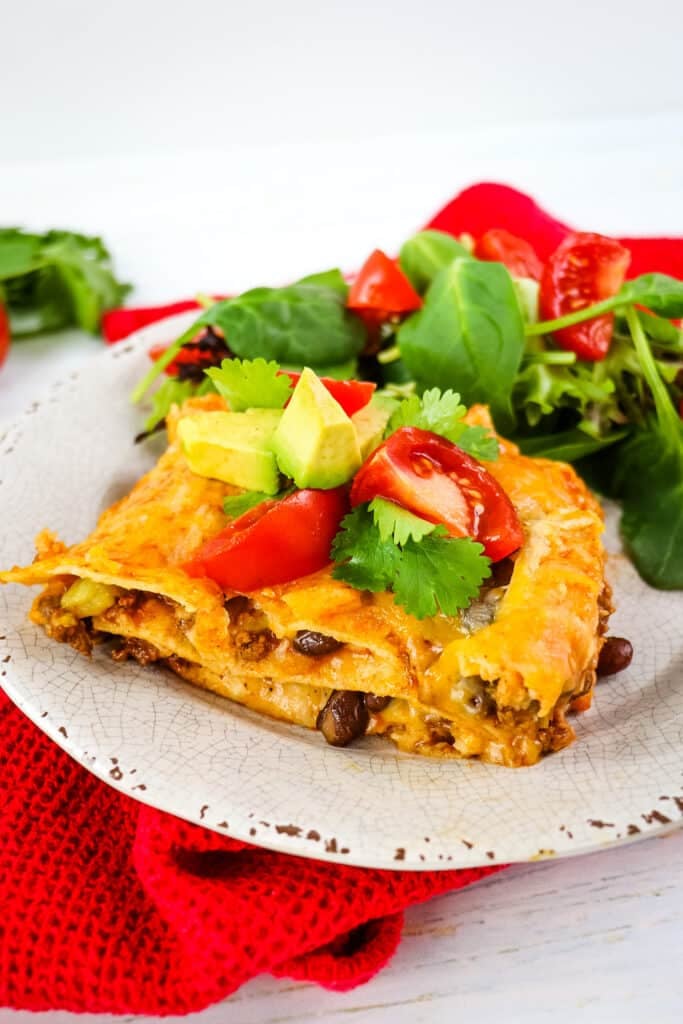 ---
---
Beef Enchilada Casserole
Need an easy beef enchilada recipe? This simple, delicious ground beef enchilada casserole is layers of Tex-Mex filling. A great way to enjoy all the flavors of enchiladas!
Ingredients
1 (16 oz) pkg., small taco-sized corn tortillas
1 lb. ground beef
2 Tablespoons taco seasoning
2 Tablespoons tomato paste
1/2 cup water
1 (15.5 oz.) can, black beans, drained and rinsed
1 (4.5 oz) can, mild green diced chilies
2 (10 oz.) cans, red enchilada sauce (about 2 1/2 cups, if using homemade)
2 cups shredded Mexican blend cheese
Instructions
Preheat oven to 350 degrees. Lightly spray a 9 x 13" baking dish or pan with non-stick cooking spray.
Prepare the seasoned ground beef; in a large skillet, brown the ground beef over medium-high heat and drain off any excess fat that is rendered. To the drained ground beef, add the taco seasoning, tomato paste and water. Heat over medium-high heat and simmer for 3-5 minutes or until most of the water has evaporated. Remove from heat and set seasoned meat aside.
To the bottom of the pan, place a single layer of 3-4 tortillas. Cut a couple of the tortillas in half, if needed to prevent any overlap. On top of the tortillas, add about 1/2 cup of the seasoned ground beef, 2-3 tablespoons of the black beans, 1 tablespoon of the chilies, and about 1/2 cup of the enchilada sauce. Sprinkle this layer with about 1/2 cup of the shredded cheese.
Start another layer by placing another single layer of tortillas on top of the fillings, and repeat the process.
Finish the casserole by adding a final layer of tortillas, sauce and shredded cheese.
Bake the casserole at 350 degrees for 25-30 minutes uncovered, or until the cheese has completely melted.
Remove from oven. Let set for 5 minutes before slicing. Serve with your favorite Tex-Mex toppings.
Notes
Store any leftovers in an airtight container in the refrigerator. Leftover casserole will keep for up to 5 days refrigerated.
Nutrition Information:
Yield:

8
Serving Size:

1
Amount Per Serving:
Calories:

331
Total Fat:

19g
Saturated Fat:

9g
Trans Fat:

0g
Unsaturated Fat:

8g
Cholesterol:

80mg
Sodium:

442mg
Carbohydrates:

13g
Fiber:

3g
Sugar:

2g
Protein:

26g