Do you love Chick-fil-A avocado lime ranch dressing? You can now skip the drive-thru and make it at home. Made with simple ingredients, this avocado lime dressing is easily blended in a food processor or blender to create a wonderfully creamy consistency. The perfect avocado cilantro lime dressing recipe!
This post may contain affiliate links. Delightful E Made is a participant in the Amazon Services LLC Associates Program, an affiliate advertising program designed to provide a means for us to earn fees by linking to Amazon.com and affiliated sites.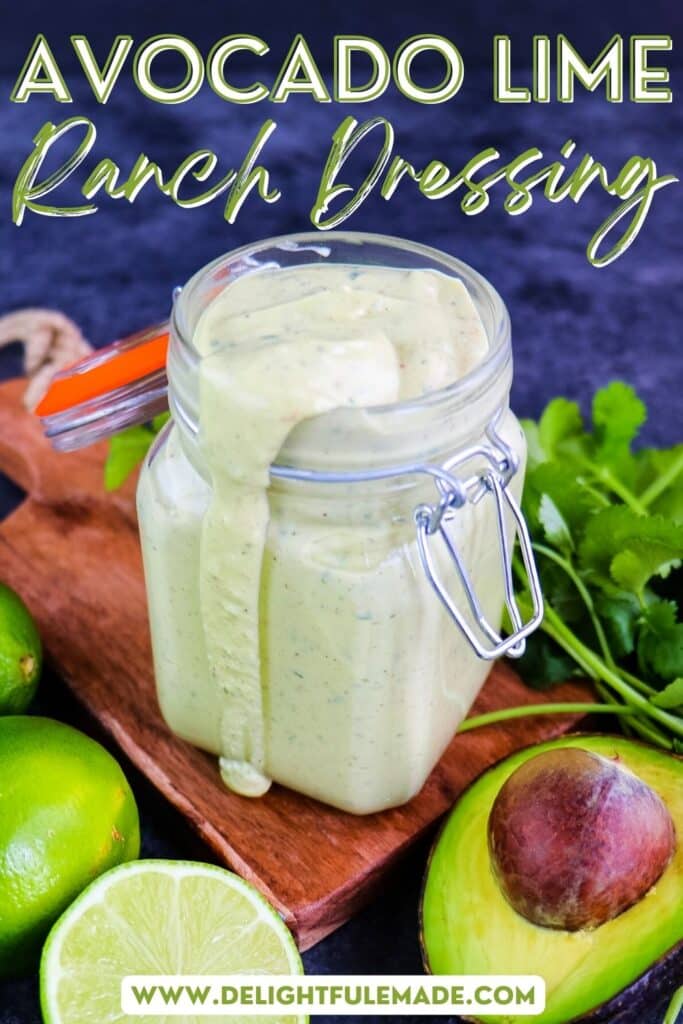 If you've ordered Chick-fil-A's southwest chicken salad, you've likely tried their avocado dressing that comes with it. It's a creamy ranch dressing with a cilantro lime flavor that goes perfectly with just about any Tex-Mex dish.
Made with Greek yogurt, this dressing recipe is quickly and easily blended together to achieve an ultra-creamy consistency. Not only is this dressing great on a salad, it's the perfect topping for tacos, nachos and fajitas.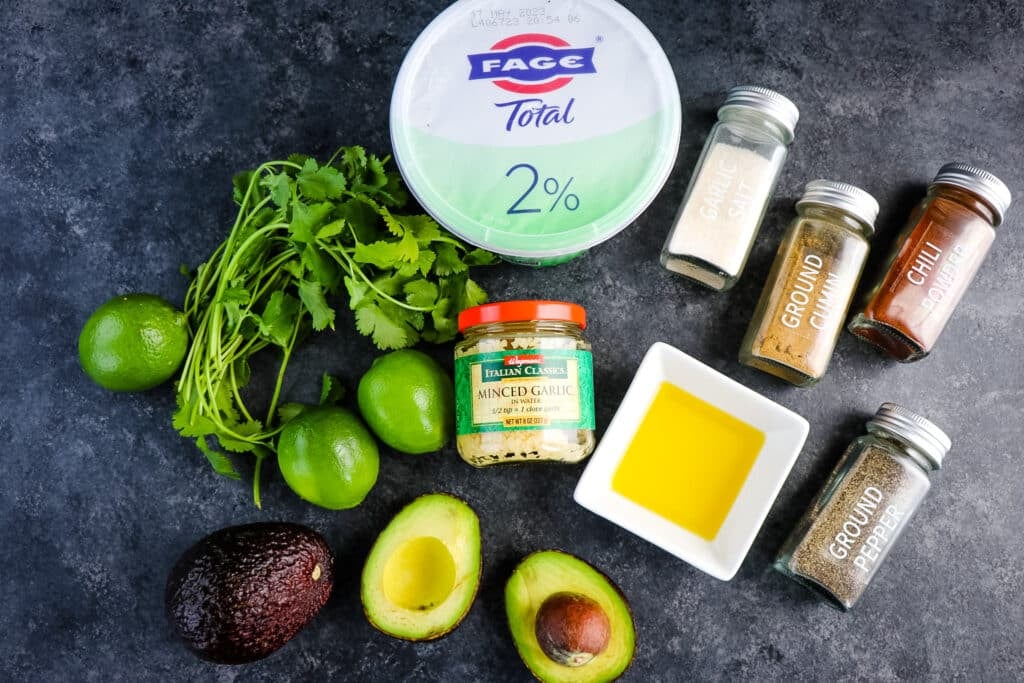 What do I need to make Avocado dressing?
Plain Greek yogurt – I like Fage 5% Greek yogurt, which is super creamy and has no added sugar.
Avocado – choose an avocado that is relatively ripe, but without browning. (I know, this can be difficult at times.) Check your frozen foods section, as frozen avocado chunks are becoming more readily available available. Also, avocado mash is prepackaged and sold in the refrigerated foods section.
Olive oil – a good quality extra virgin olive oil is ideal.
Lime juice – fresh squeezed lime juice is great and will provide ideal flavor.
Cilantro – fresh cilantro with stems removed will provide great flavor and freshness.
Garlic – you can use either fresh cloves or minced garlic that comes in a jar.
Chili Powder
Cumin
Garlic salt
Ground pepper
For exact ingredient amounts and full recipe instructions be sure to scroll down to the bottom of the post for the recipe. Thanks!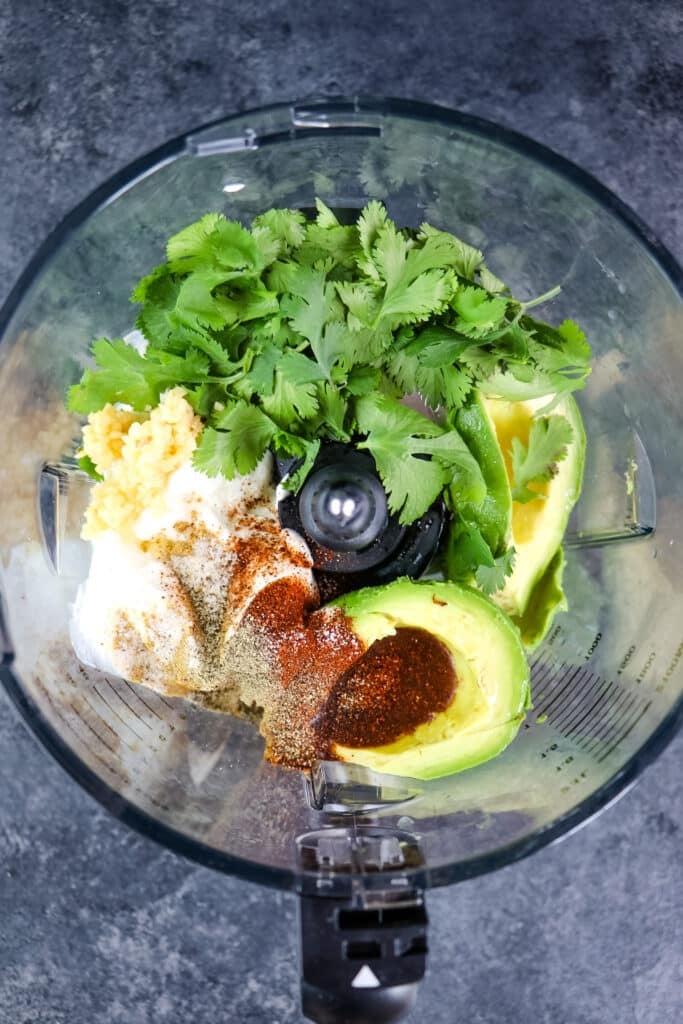 How do I make avocado lime dressing?
To make this homemade salad dressing, you'll need either a food processor or a blender. For this dressing I'm using my Ninja Food Processor, which works great for making dressings.
To make this avocado dressing, begin by adding all of the ingredients to the food processor. Process for about 30-45 seconds. Stop to scrape down the sides of the bowl. Process again in 30-45 second increments.
To make your dressing thinner, add extra lime juice. To make the dressing thicker, add extra yogurt or half of an avocado.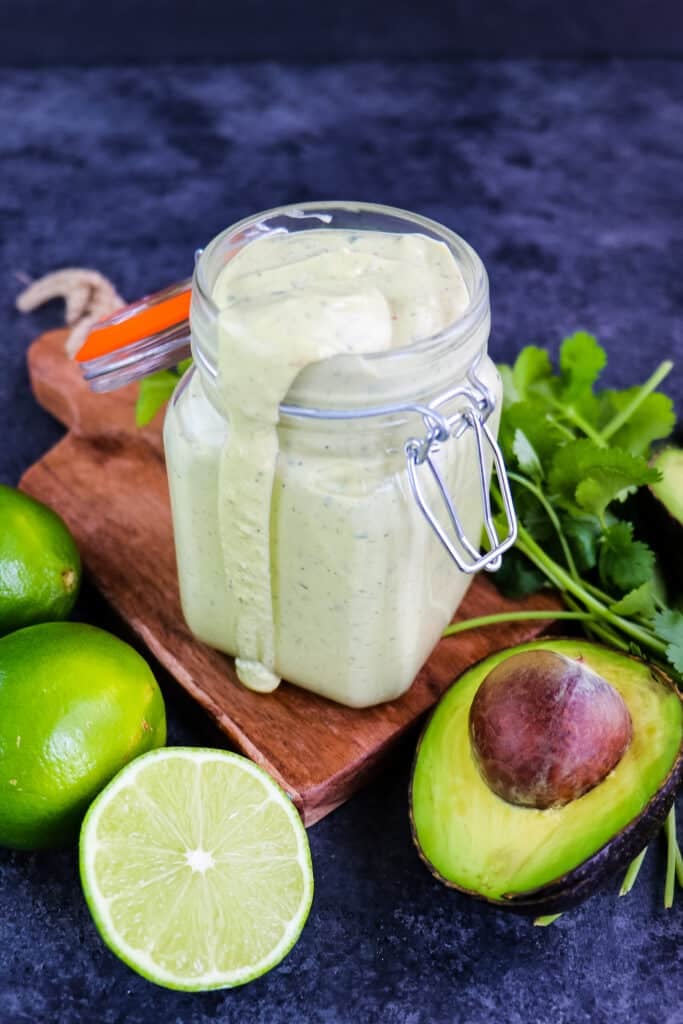 Once your dressing has reached a desired consistency. Transfer to a mason jar or a resealable container, and keep refrigerated. This avocado lime ranch dressing will last for up to 7 days, when kept refrigerated.
Ingredient Substitutions and Recommendations for Avocado Cilantro Lime Dressing:
Olive oil – you can substitute avocado oil for olive oil in this recipe. Avocado oil is a great healthy option for dressings.
Cilantro – if you're not much of a cilantro person, you could use curly-leaf parsley as a substitute. The flavor profile will change slightly.
Spices – I've included chili powder, cumin, garlic salt and pepper for a subtle Tex-Mex flavor. Feel free to mix it up a little with spice combinations.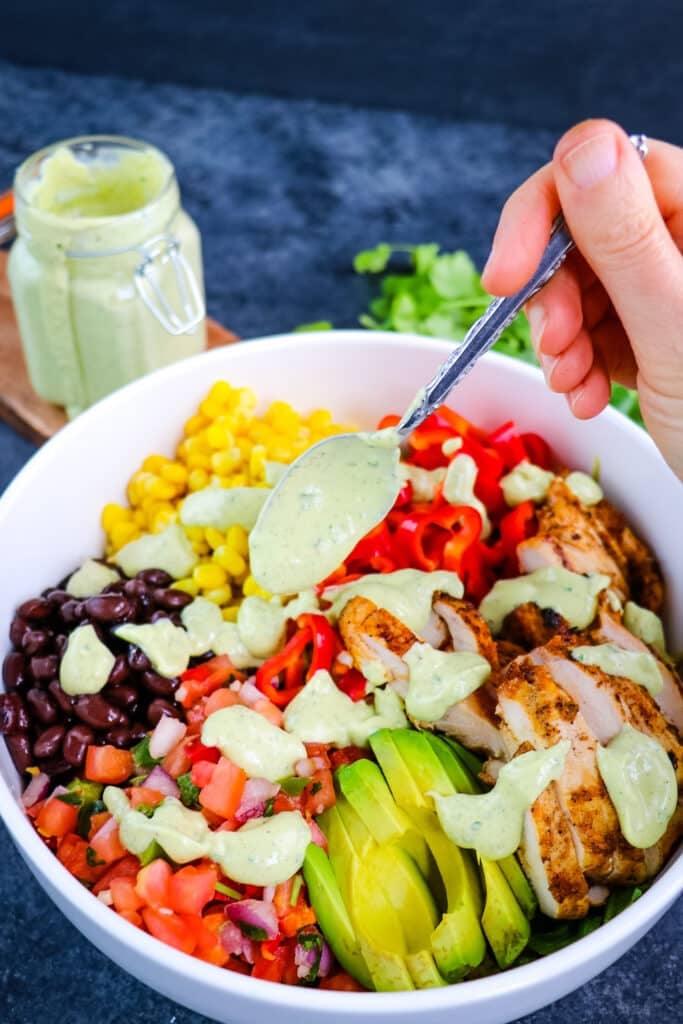 Frequently asked questions about avocado dressing:
Is avocado lime ranch dressing healthy?
Avocado lime ranch dressing can be healthy if you make it at home. Bottled, store-bough dressings typically contain high fructose corn syrup and unhealthy, toxic oils like corn, soybean and rapeseed oil.
Does avocado lime ranch taste like ranch?
Avocado lime ranch dressing will be creamy like ranch, but will have more of a citrusy, lime flavor.
What is avocado lime dressing made of?
This dressing is made of Greek yogurt, avocado, olive oil, lime juice, cilantro, garlic, chili powder, cumin, garlic salt and pepper.
What is the shelf life of avocado cilantro dressing?
Once made, store the avocado cilantro dressing in an air-tight container in the refrigerator. Kept refrigerated, it will keep for up to 7 days.
How many calories are in Chick-fil-A's avocado lime ranch dressing?
According to Chick-fil-A's nutrition website, the calories for the avocado lime ranch dressing is 310 calories.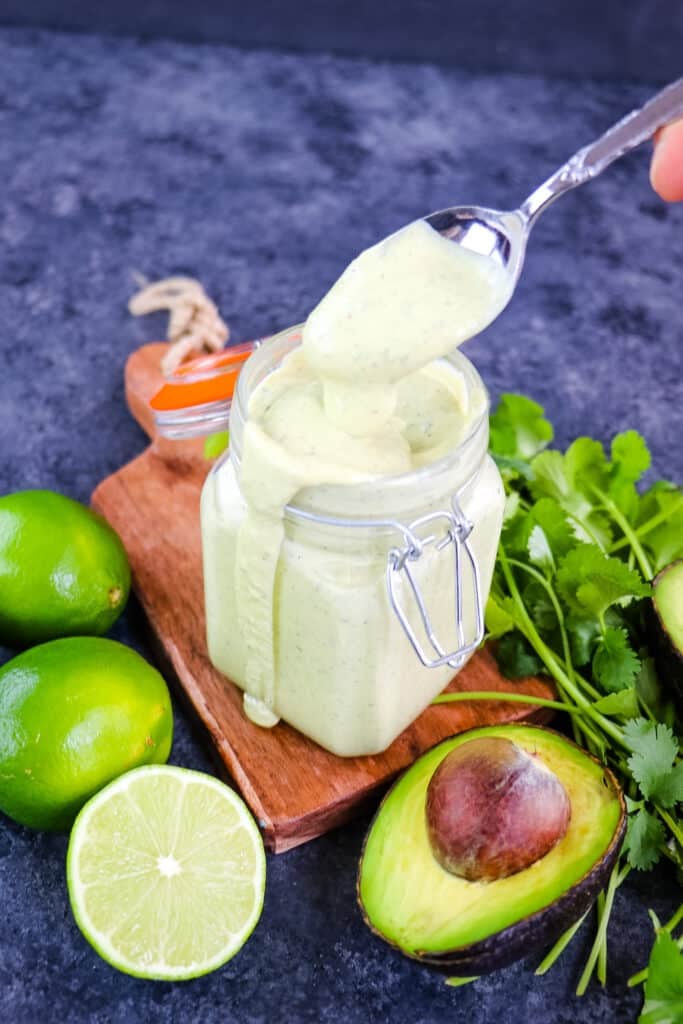 Love a great homemade salad dressing recipe? Check out our other homemade dressings that are better than store bought!
Wondering what you can serve with Avocado Dressing? Check out our other recipes that would be perfect with this homemade dressing: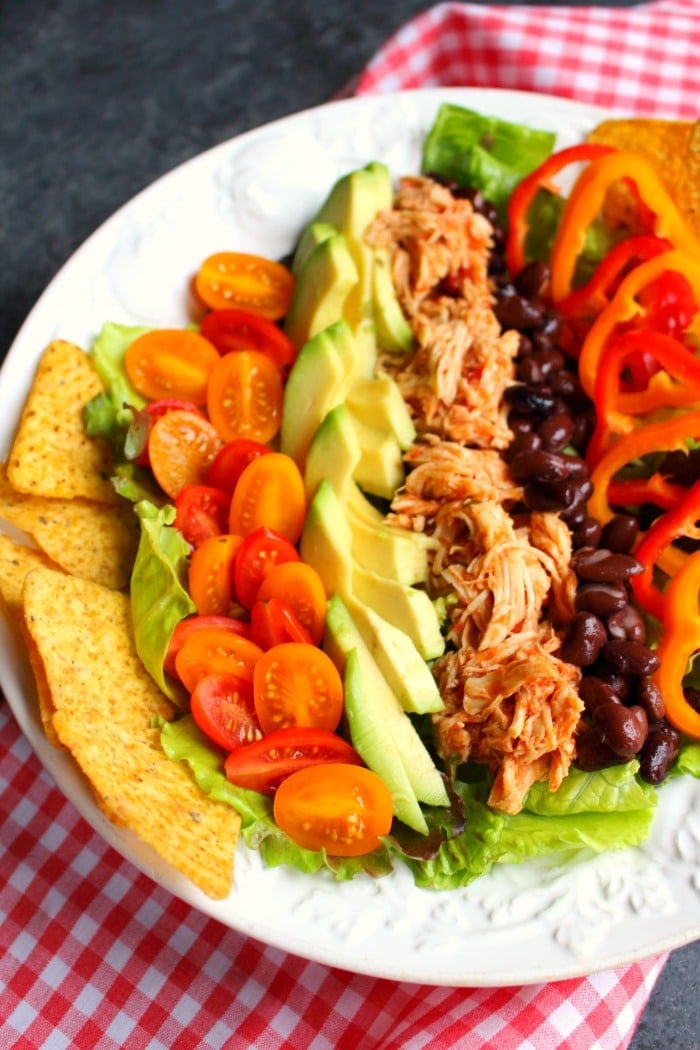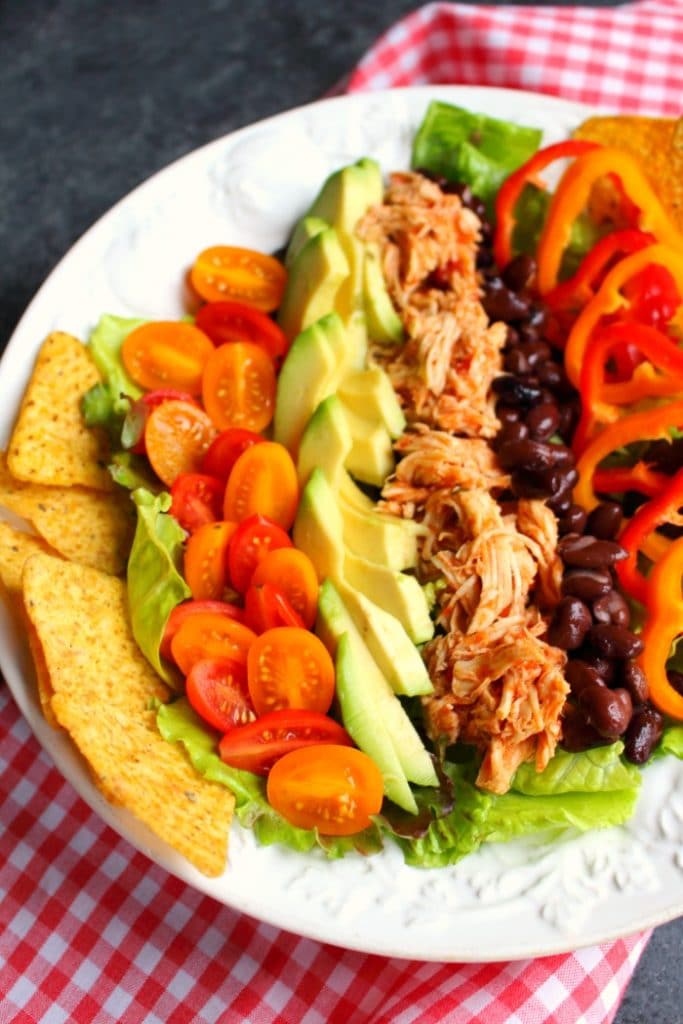 ---
---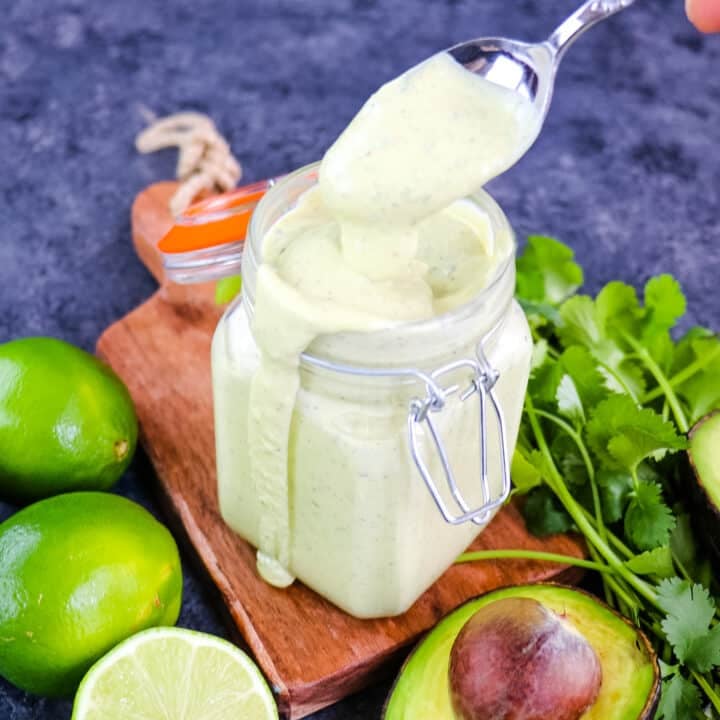 Avocado Lime Ranch Dressing
Love Chick-fil-A's avocado lime ranch dressing they serve with their Southwest salad? You can now make it at home! This creamy, delicious avocado lime dressing comes together simply with a food processor or blender. Great on salads and even better on tacos and fajitas.
Ingredients
1 cup plain Greek yogurt
1 ripe avocado (about 3/4 - 1 cup)
1/3 cup olive oil
1/3 cup fresh lime juice (juice of 3-4 limes)
1/4 cup fresh cilantro, with stems removed
3 cloves of garlic (1 tablespoon of jarred minced garlic)
1/2 teaspoon chili powder
1/2 teaspoon cumin
1/2 teaspoon garlic salt
1/4 teaspoon ground pepper
Instructions
To a food processor or blender add all the ingredients; yogurt, avocado, olive oil. lime juice, cilantro, garlic, chili powder, cumin, garlic salt and ground pepper.
Blend or process on medium speed for 30-45 second increments. Stop to scrape down the sides of the processor/blender. Continue to process in 45 second increments until completely smooth and creamy.
For a thinner dressing, add more lime juice. For a thicker consistency, add another 1/2 of an avocado or 1/2 cup of yogurt.
Once desired consistency is achieved, it is ready to be served.
Notes
Storage: Store any leftovers in an airtight container and keep refrigerated. Dressing will keep for up to 7 days refrigerated.
Serving size: 2 tablespoons
Nutrition Information:
Yield:

32
Serving Size:

1
Amount Per Serving:
Calories:

36
Total Fat:

3g
Saturated Fat:

0g
Trans Fat:

0g
Unsaturated Fat:

3g
Cholesterol:

0mg
Sodium:

30mg
Carbohydrates:

1g
Fiber:

1g
Sugar:

0g
Protein:

1g