This is one of the most flavorful ways to grill!! My Grilled Cedar Plank Salmon is not only healthy, but tastes amazing, and is very easy to prepare!  It will be your new summer favorite!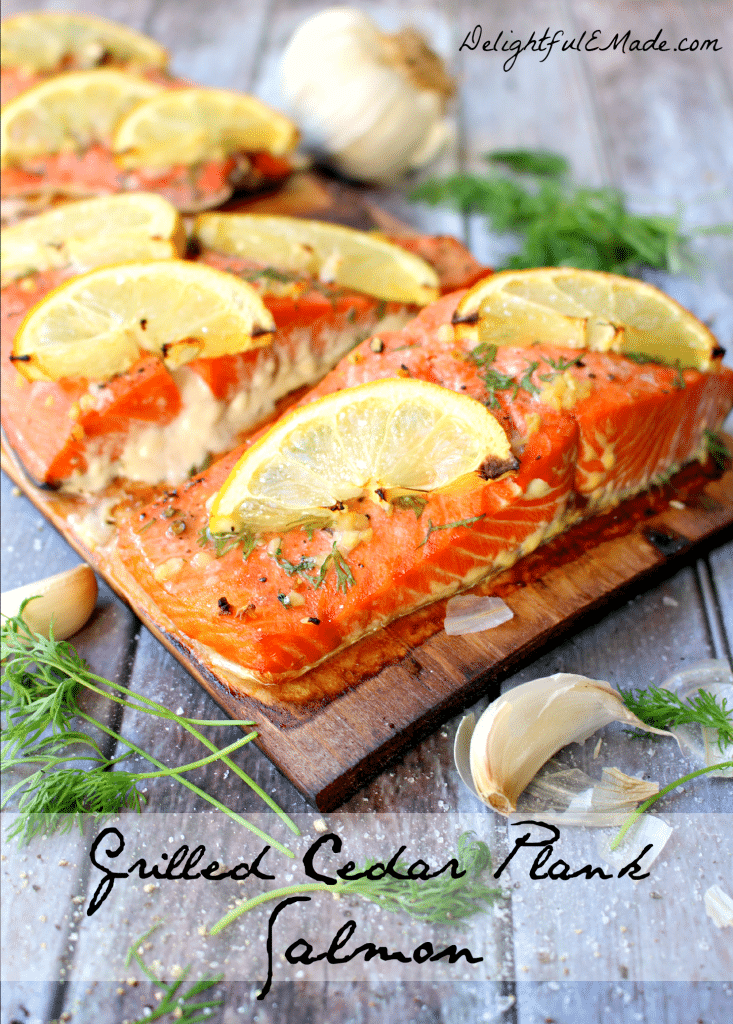 Have you ever made and ate a meal and then when finished ask yourself, "Why don't I make this more often?"  That's what I said to myself last night after making this super delicious and easy Grilled Cedar Plank Salmon.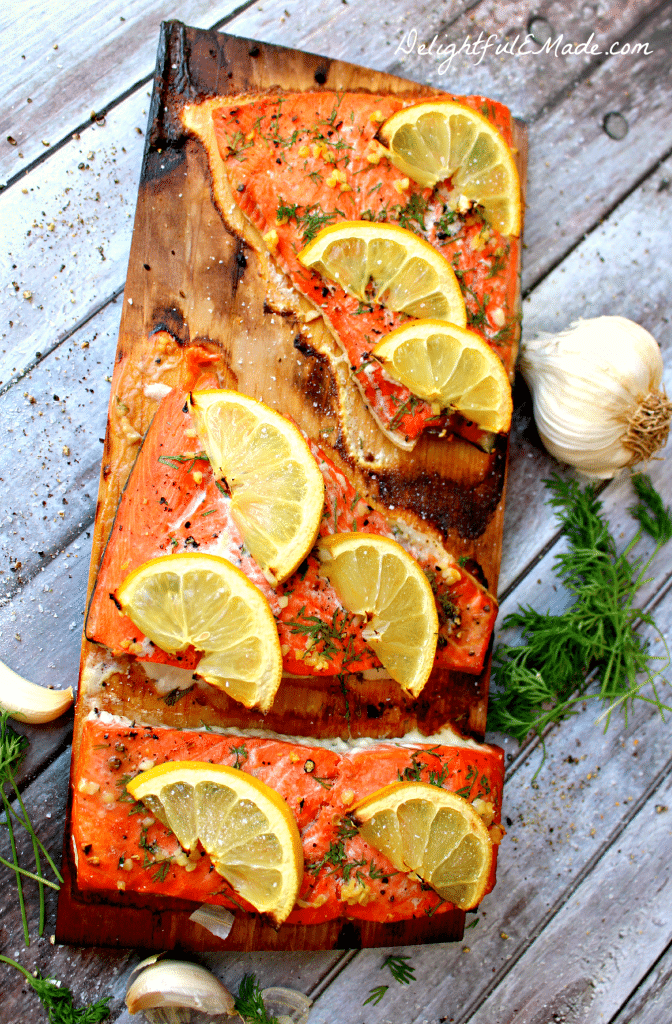 In our house we love eating salmon – its probably from our years living in the pacific northwest, where salmon is very fresh and plentiful.  I eventually learned how to grill using cedar planks, and it couldn't be easier!  The cedar plank gives the salmon a subtle, yet very flavorful smokey flavor.  When using the cedar plank, you don't need a fancy glaze or a heavy tarter sauce to accompany the fish.  It is simply perfect with just a few ingredients.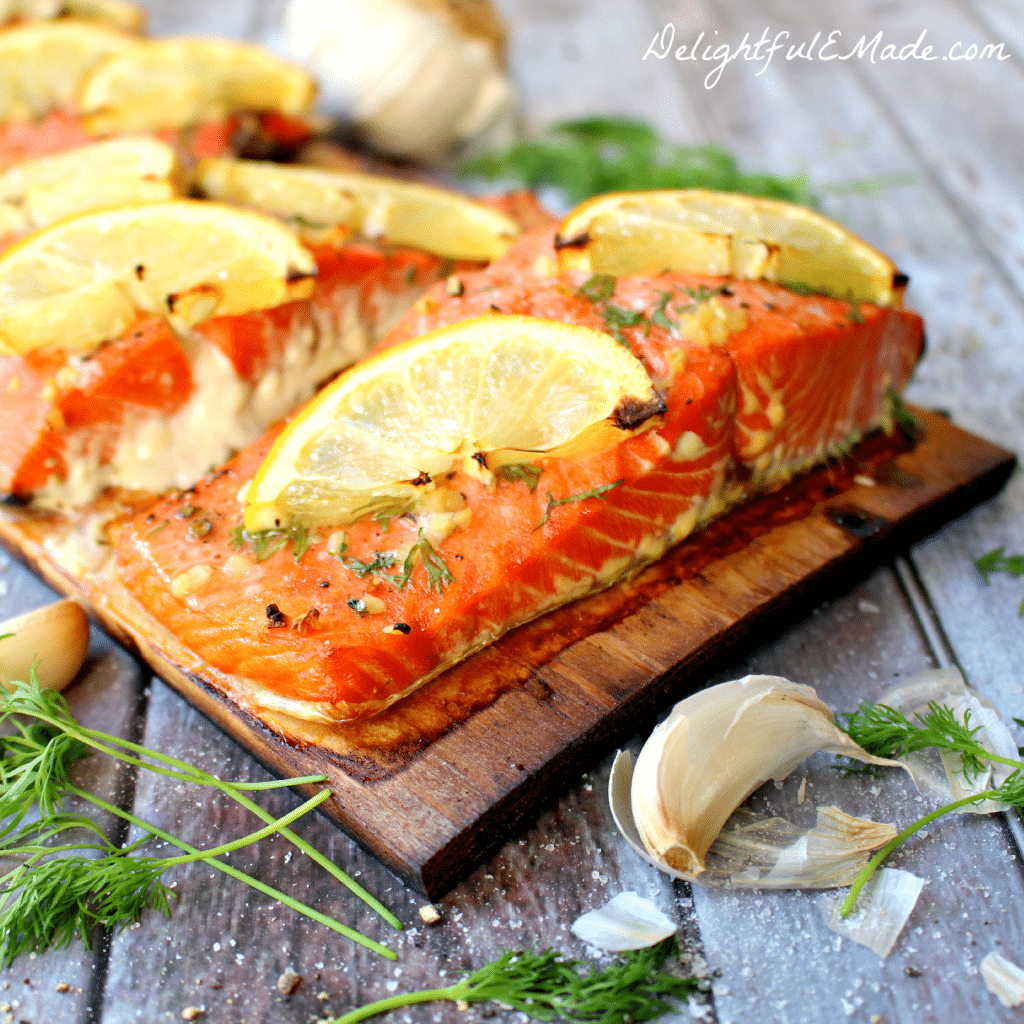 You can find cedar planks almost anywhere grilling supplies are sold.  I purchased mine at Target in the seasonal grilling area where the accessories are located.  You can definitely find cedar planks on line as well.  Rule of caution: DO NOT use a regular piece of wood you would get at a hardware store.  Home building lumber has typically been chemically treated and is not intended to be used for cooking.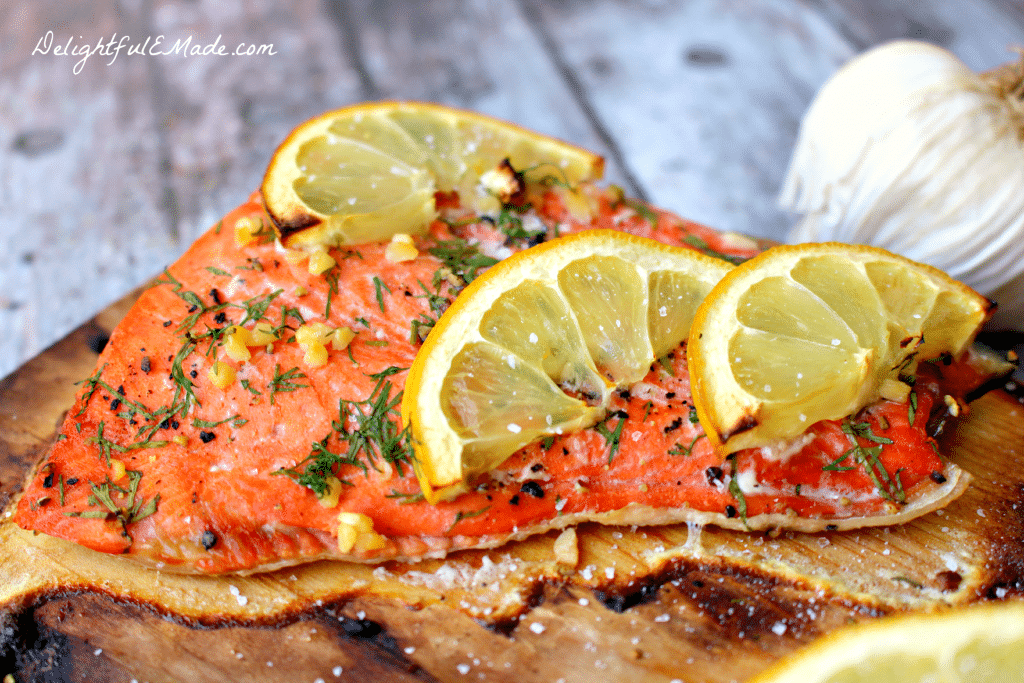 Anytime you're grilling with a cedar plank there are a couple simple rules to remember.  Rule One: ALWAYS remember to soak your cedar plank in water before grilling.  This prevents the wood from going up in flames with your food along with it.  I do this by filling a large roasting pan with water, a couple inches deep, and submerging the plank, and holding it down with a bottle of wine or jar of sauce from the pantry.  Something to keep it fully submerged.  I soak the plank for at least a couple hours.  Rule Two: When grilling the salmon, keep a spray bottle of water on hand, just in case the plank flames a bit.  Don't worry – its fine if this happens.  The spray bottle is there to shoot down the flames, and keep the food from being charred.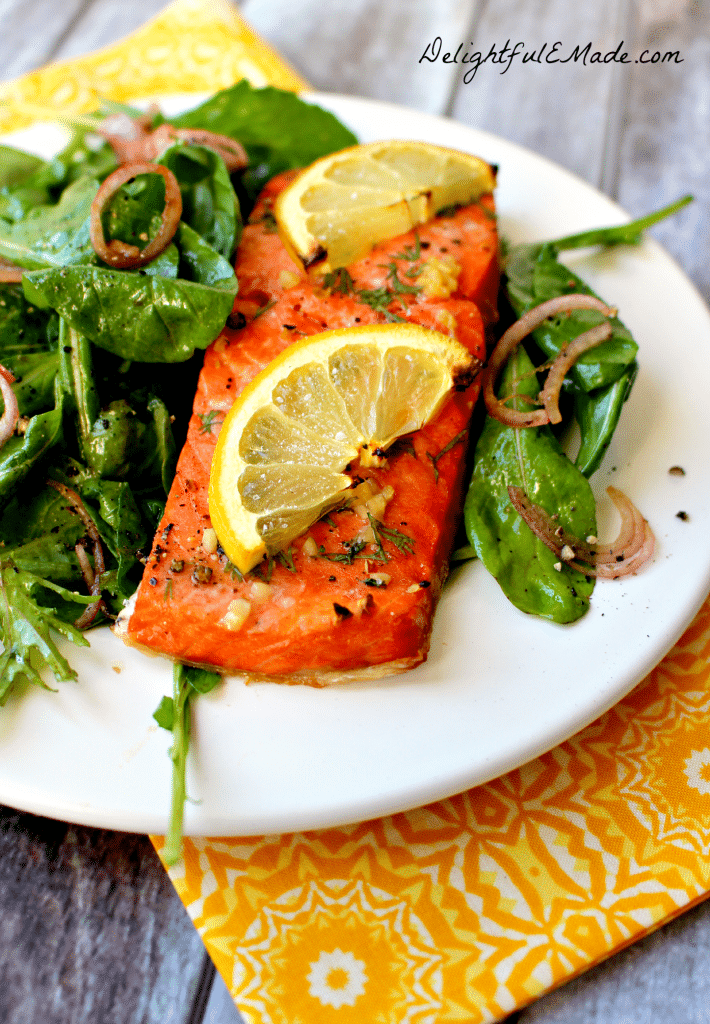 Another bonus to this fantastic dish:  its Clean Eating and a Paleo friendly dish.  There is definitely something to say for simplicity!  There are very few ingredients in this dish – but you don't need much.  Salt and pepper, garlic, dill and some lemon slices accompany the salmon and provide it with some extra depth.  Here's how it comes together:

Erin Indahl-Fink
Yields 3-5
Grilled Cedar Plank Salmon
This Grilled Cedar Plank Salmon is deliciously simple. Made with just a few ingredients, it gets its flavor from the smokey cedar plank that its grilled on. Clean Eating and Paleo Friendly, this dish is super health, and super delicious!!
15 minPrep Time
15 minCook Time
30 minTotal Time
Ingredients
3-4, (4-6 oz.) salmon fillets, or one large half salmon (look for wild caught if available) fresh or frozen
1 lemon
2-3 cloves of garlic, minced
1 Tbsp. fresh dill, minced
Salt and Pepper to taste
Instructions
-3 hours prior to grilling, prepare your cedar plank by soaking it in water. (A large roasting pan filled with a couple inches of water works well. Submerge the plank in water by holding it down with a heavy item like a bottle of wine or jar of sauce.) Let the plank soak fully for at least 2 hours. DON'T SKIP THIS STEP!
Using an outgood gas or charcoal grill, light it for medium high heat. Don't use a cedar plank indoors.
When plank has been soaked, place your fully thawed salmon fillets on the plank. Sprinkle fillets with salt and pepper to your taste. Next sprinkle on the minced garlic and dill. Lastly, slice the lemon in half. Squeeze one half of the juice of the lemon onto the fillets. Slice the other half of the lemon in slices, then the slices in halves. Place the halves on top of the salmon.
Place the prepared salmon onto the hot grill. Check the salmon on occastion to ensure the plank isn't flaming up. Use a spray bottle filled with water to shoot out any flare-ups. Grill for 12-15 minutes, or when salmon flakes. For a thicker salmon, increase grill time appropriately. Safely remove the hot plank from the grill with grilling tongs. Transporting on a baking sheet works well, as the plank will be very hot.
Serve right away with additional lemon wedges if desired.
7.8.1.2
69
https://delightfulemade.com/2014/04/18/grilled-cedar-plank-salmon-2014-clean-eating-challenge-post-2-4/
Copyright by DelightfulEMade.com
As you can see, this recipe is incredibly simple.  Now that the weather is getting warmer, and grilling season is upon us, I'll definitely be making this much more often.
This recipe is part of the 2014 Clean Eating Challenge, and post 2 of 4.  Me and several other fantastic food bloggers will be coming up with some fantastic Clean Eating options to keep us healthy.
Enjoy!
Erin