The BEST recipe for Oven Roasted Red Potatoes
These oven roasted red potatoes are the perfect side dish for just about any meal! These Garlic & Herb Roasted Red Potatoes come together quickly and easily with simple herbs and seasoning that you likely already have in your pantry.
This post may contain affiliate links. Delightful E Made is a participant in the Amazon Services LLC Associates Program, an affiliate advertising program designed to provide a means for us to earn fees by linking to Amazon.com and affiliated sites.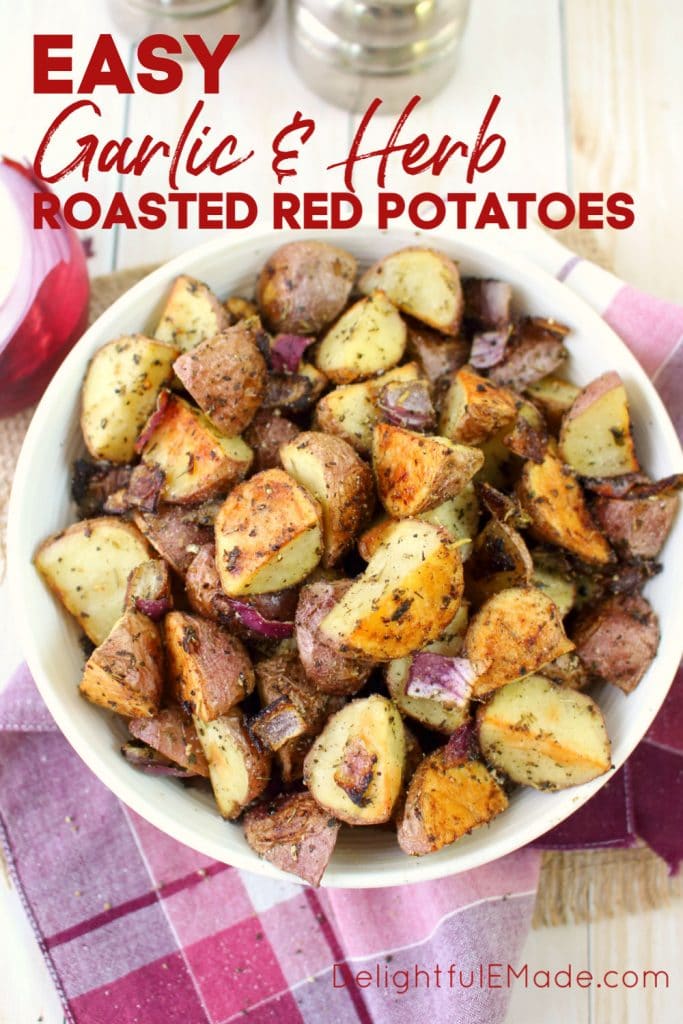 Do you have some recipes in your cooking arsenal that you come back to over and over again? You know what I'm talking about – those go-to recipes that you love, because they're consistently delicious, easy to make, and go with multiple dishes? These Garlic & Herb Roasted Red Potatoes are at the top of my go-to recipe inventory.
I've been making these oven roasted red potatoes for years (I can't believe I'm just now sharing this recipe with you!) They're perfect with a great roast, pork chops, steak, grilled chicken and are fantastic with salmon! They're also super simple to make – in the time it takes to preheat the oven, you can have them on their baking sheet ready to be roasted.
Here's how these simple oven roasted red potatoes come together:
Step 1: Gather your Ingredients
These roasted red potatoes require just a few simple ingredients – likely you already have them in your pantry and cabinet. Here's a quick reference check list of what you'll need:
Red Potatoes – these are baby red, which are fantastic for roasting. Any size will do.
Red Onion
Garic
Garlic Salt
Ground Pepper
Herbs de Provence
Olive Oil
(Be sure to reference the full recipe below for exact ingredient amounts.)
I've been asked in the past what exactly is Herbs de Provence. This is a simple herb mixture that you can purchase with the rest of the spices and herbs at the grocery store. The ingredients to Herbs de Provence are thyme, marjoram, basil, fennel, sage and lavender. This herb mixture smells heavenly, and is the perfect combination for these sweet potatoes. Should you not be able to find Herbs de Provence, feel free to use another combination of your choosing.
Also, at this time make sure you preheat your oven to 425 degrees.
Step 2: Coat potatoes in mixing bowl
Once you've quartered your potatoes, add in the rest of the ingredients to a mixing bowl. Stir to coat the potatoes.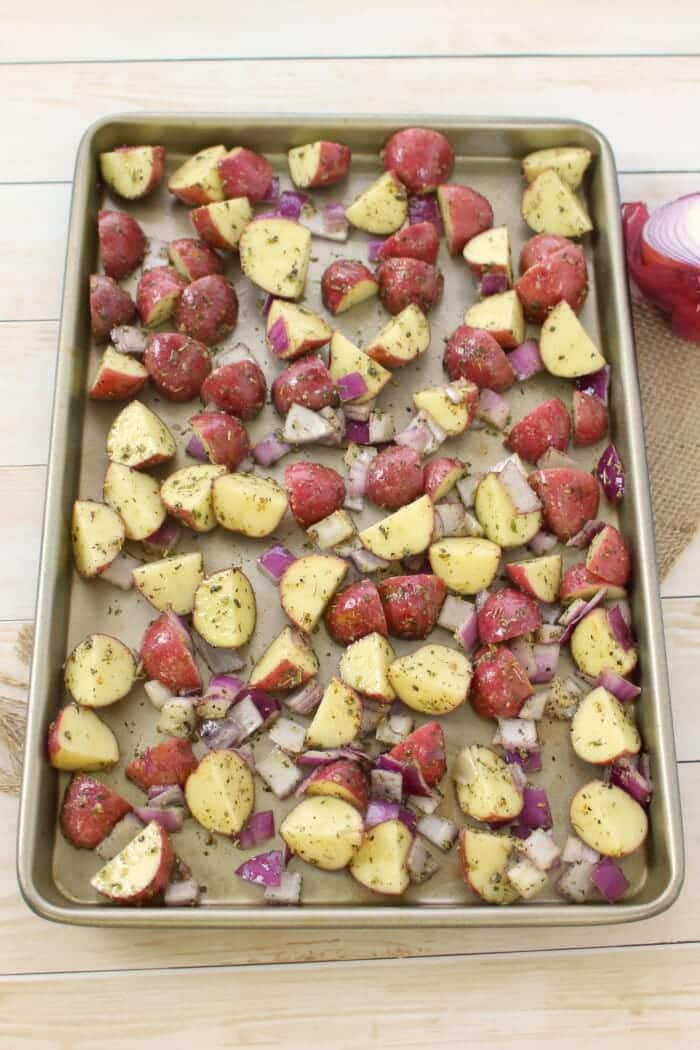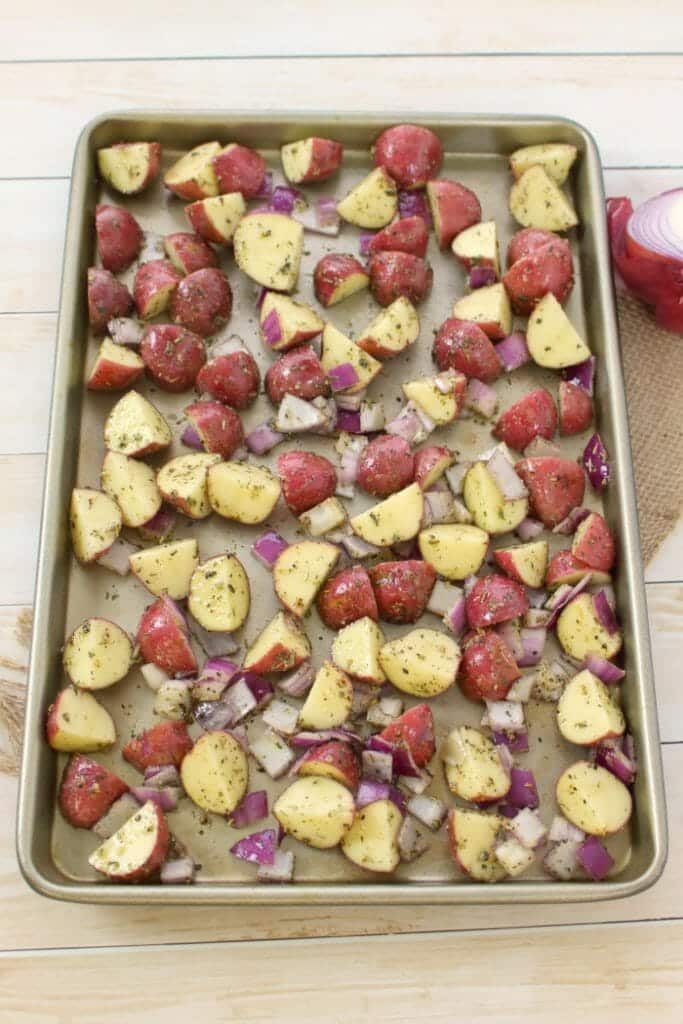 Step 3: Place potatoes on Baking Sheet
Once the potatoes are coated with the other ingredients, you can pour these out on to a baking sheet. Place in a preheated oven heated to 425 degrees. Roast the potatoes for 30-35 minutes.
The high temperature will not only cook the potatoes through, but will help them become crisp on the outside and soft on the inside. In my opinion, the perfect consistency for roasted potatoes or oven fries!
Step 4: Take Out of the Oven & Serve
Once the red potatoes come out of the oven, feel free to season with some additional salt and pepper if desired. The red onions will caramelize, become the perfect complimentary sweet to the savory garlic and herbs.
The potatoes will be a wonderful golden brown on the outside, and soft and sweet on the inside. While still hot, transfer to a serving dish and serve right away while warm.
These roasted potatoes will quickly become your new favorite side dish – not only do they taste amazing, but also because they're so simple to make! Not only are these a great side dish for any dinner, but are fantastic for a brunch side.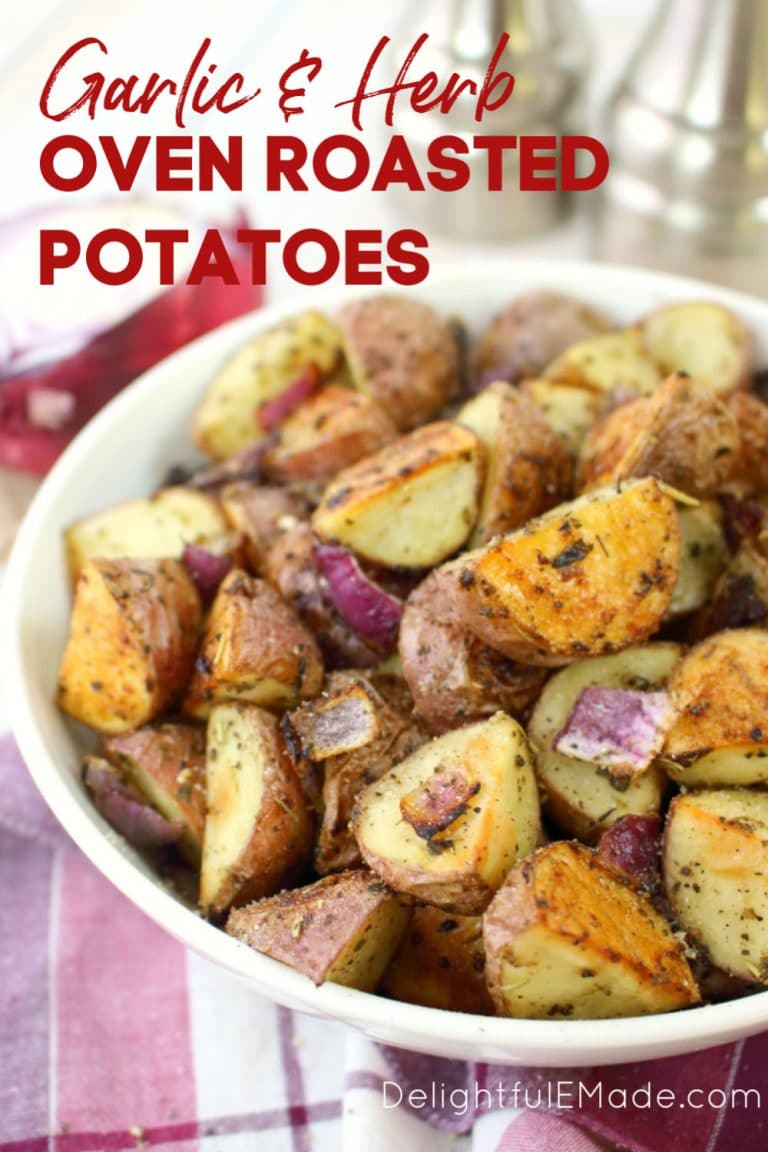 FAQ's about Oven Roasted Red Potatoes:
What are red potatoes good for?
Red potatoes are a great for roasting, and are also great fried.
Will red potatoes work for mashed potatoes?
Yes, red potatoes can work as mashed potatoes. You can even leave the skins on and not peel before boiling.
Should I boil potatoes before roasting them?
No. You do not have to boil potatoes before roasting them. The oven will do all the cooking, and will have a nice crispy exterior when put in the oven raw, uncooked.
What goes with roasted potatoes?
Oven roasted potatoes are very versatile and go great with chicken, pork, beef and fish.
If you loved these delicious Oven Roasted Red Potatoes, check out some of my other similar recipes:
Slow Cooker Cheesy Hash Brown Casserole
Ruth's Chris Copycat Sweet Potato Casserole
Here are a few recipes that these Garlic & Roasted Red Potatoes would go perfectly with:
Grilled Balsamic Rosemary Steaks
Brown Sugar Balsamic Grilled Chicken
Sheet Pan Citrus Salmon and Asparagus
Here's the easy, delicious recipe for my Oven Roasted Red Potatoes:
Garlic Herb Roasted Red Potatoes
The perfect side dish for just about any meal! These Garlic & Herb Roasted Red Potatoes come together quickly and easily with simple herbs and seasoning that you likely already have in your pantry. Roasted in the oven for the perfect crispy perfection.
Ingredients
1 1/2 lbs. red potatoes, rinsed
1/2 small red onion, roughly chopped
3 cloves garlic, minced
3 Tbsp. olive oil
1 1/2 tsp. Herbs de Provence
1 tsp. garlic salt
1/2 tsp. ground pepper
Instructions
Preheat oven to 425 degrees.
Cut potatoes into medium, bite sized pieces. Add to a mixing bowl. Add in the chopped onion, garlic, olive oil, herbs, garlic salt and pepper. Stir together well to coat the potatoes.
Pour out on to a baking sheet, spreading the potatoes evenly into a single layer. Bake for 30-35 minutes or until potatoes are a golden brown. Serve right away while hot.
Notes
1 serving = 1/2 - 3/4 cup of potatoes
Nutrition Information:
Serving Size:

6 servings
Amount Per Serving:
Calories:

156
Total Fat:

7g
Saturated Fat:

1g
Sodium:

8mg
Carbohydrates:

21g
Sugar:

2g
Protein:

3g