The perfect frozen pineapple daiquiri recipe!
Meet your new favorite summer cocktail! This incredible Pineapple Daiquiri recipe is made with fresh pineapple, limes and coconut rum. Blend up this frozen pineapple daiquiri for sipping poolside or for friends at your next summer cookout!
This post may contain affiliate links. Delightful E Made is a participant in the Amazon Services LLC Associates Program, an affiliate advertising program designed to provide a means for us to earn fees by linking to Amazon.com and affiliated sites.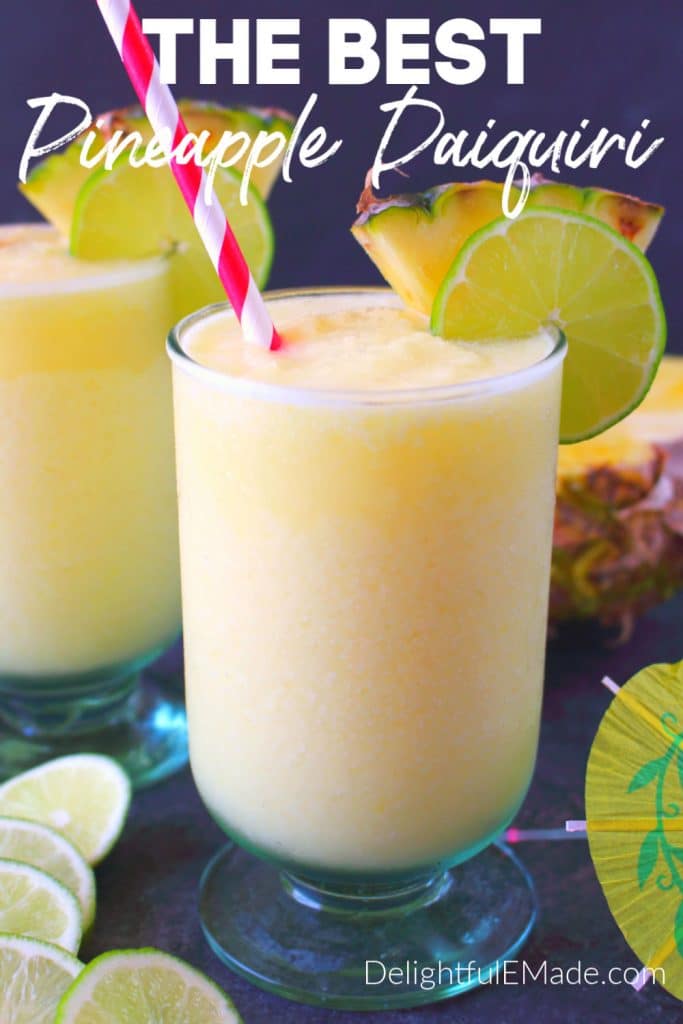 The perfect Pineapple Daiquiri recipe!
If there ever was a drink that tasted like a tropical island, it's THIS! This amazing Pineapple Daiquiri recipe is nothing short of spectacular.
It's made with real fruit – pineapple and fresh squeezed lime juice (not some thick, syrupy mix), coconut cream and a generous amount of coconut rum.
Everything about this drink screams summer! It's frosty cold, smooth and completely refreshing. So pull up your favorite lawn chair, apply an appropriate amount of sunscreen, grab your sunglasses, and blend up this delicious drink!
So, wanna know to make a frozen pineapple daiquiri? Check out the easy steps below.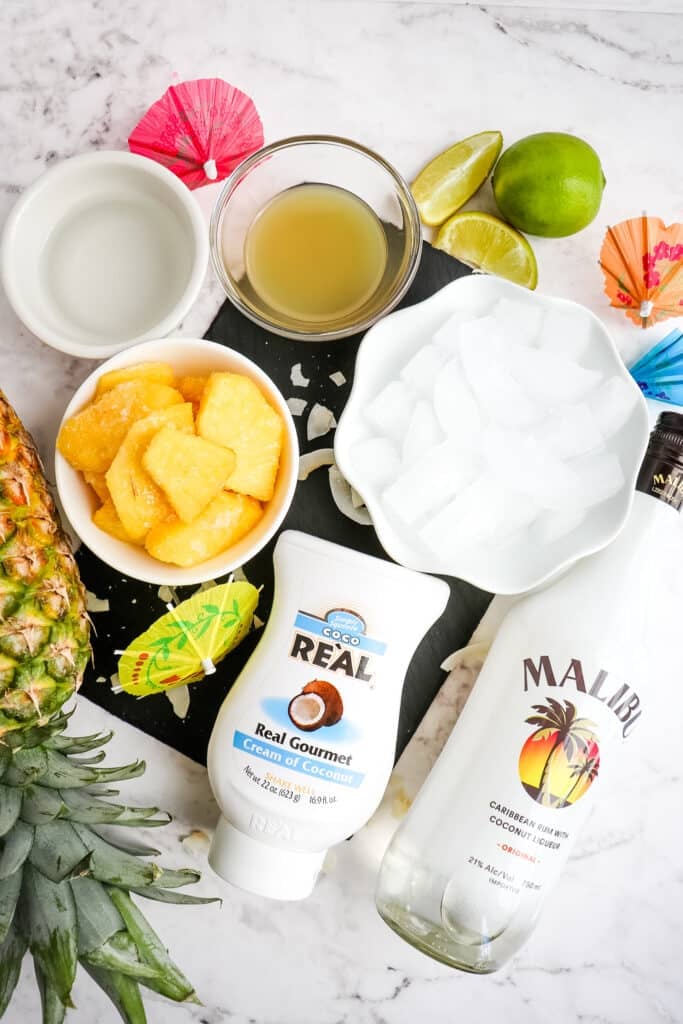 What goes in a frozen daiquiri?
Frozen pineapple – you can buy frozen, pre-cut pineapple in the frozen food section at the grocery store. Be sure to look for no-sugar added on the label. You can also use fresh pineapple – just be sure to freeze before hand. This will keep your drink extra cold and creamy.
Fresh squeezed lime juice – resist the urge to buy bottled lime juice. Fresh-squeezed is so much more flavorful. So, go to the produce section and go grab a few limes.
Coconut cream – you can find coconut cream (NOT coconut milk, or coconut water) in the International Foods section of the grocery store. You may also be able to find it where drink mixes are sold.
Coconut rum – we tested standard white rum and coconut rum in this drink. Hands-down, the coconut rum was the runaway favorite of the two. We used Malibu rum, however, feel free to use any brand you prefer.
Simple syrup – you actually make simple syrup by dissolving 1 part water into 1 part granulated sugar. Place the water and sugar into a sauce pan and bring to a low boil. Stir often to ensure the sugar properly dissolves. Once it comes to a low boil, remove from heat and let the syrup cool to room temperature. Simple syrup is a common ingredient in many cocktails – I like to keep a mason jar of this in my fridge for drinks like my Blueberry Coconut Mojitos and my Frosted Lemonade. I also have a great recipe for Mango Mojitos over at Real Housemoms that's amazing!
Ice – your freezer likely makes this for you. If it doesn't, you probably need this drink more than any of us right now.
(For exact ingredient amounts, be sure to reference the recipe below.)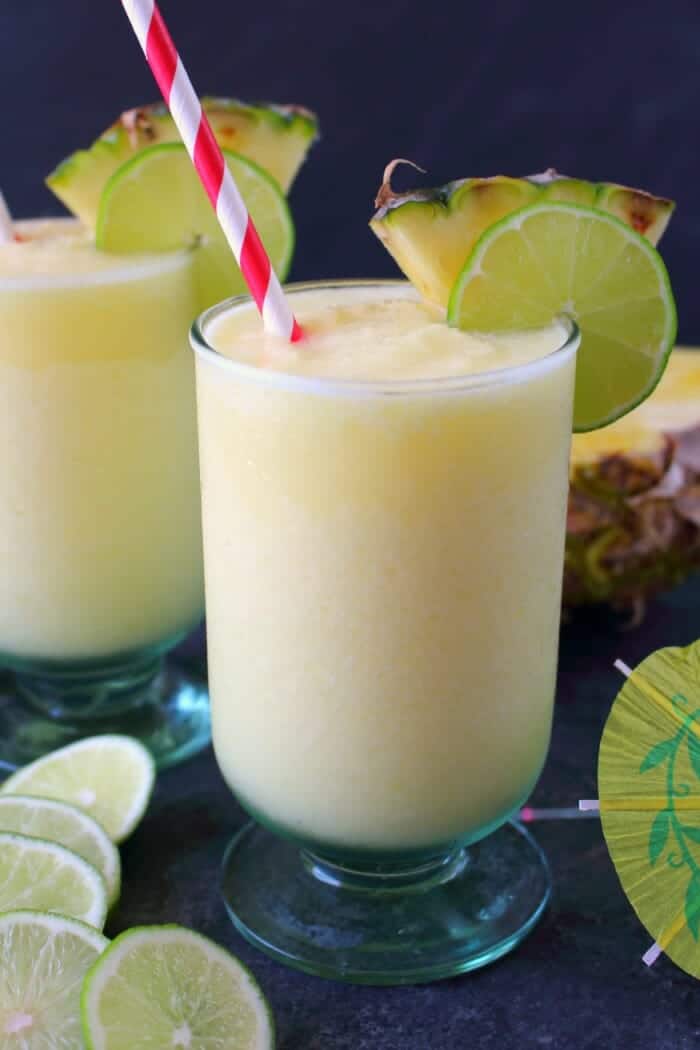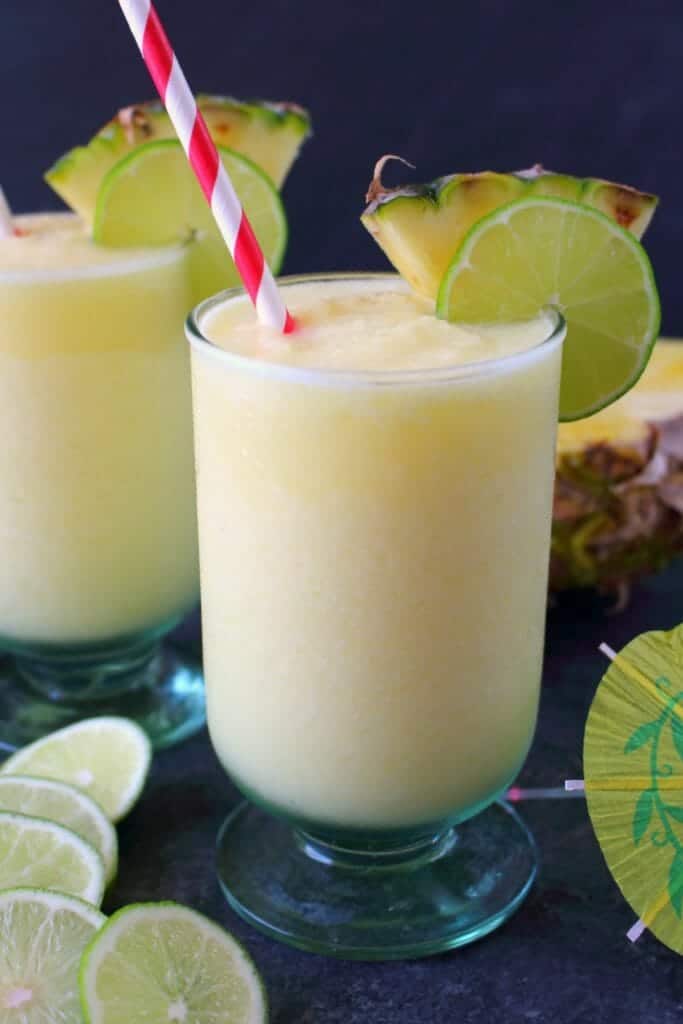 How do I make a daiquiri?
Here's the beauty of this glorious tropical cocktail. All you have to do is place the ingredients in your blender, and blend until smooth.
To ensure all of the ingredients adequately puree, blend for at least 45-60 seconds or until completely incorporated.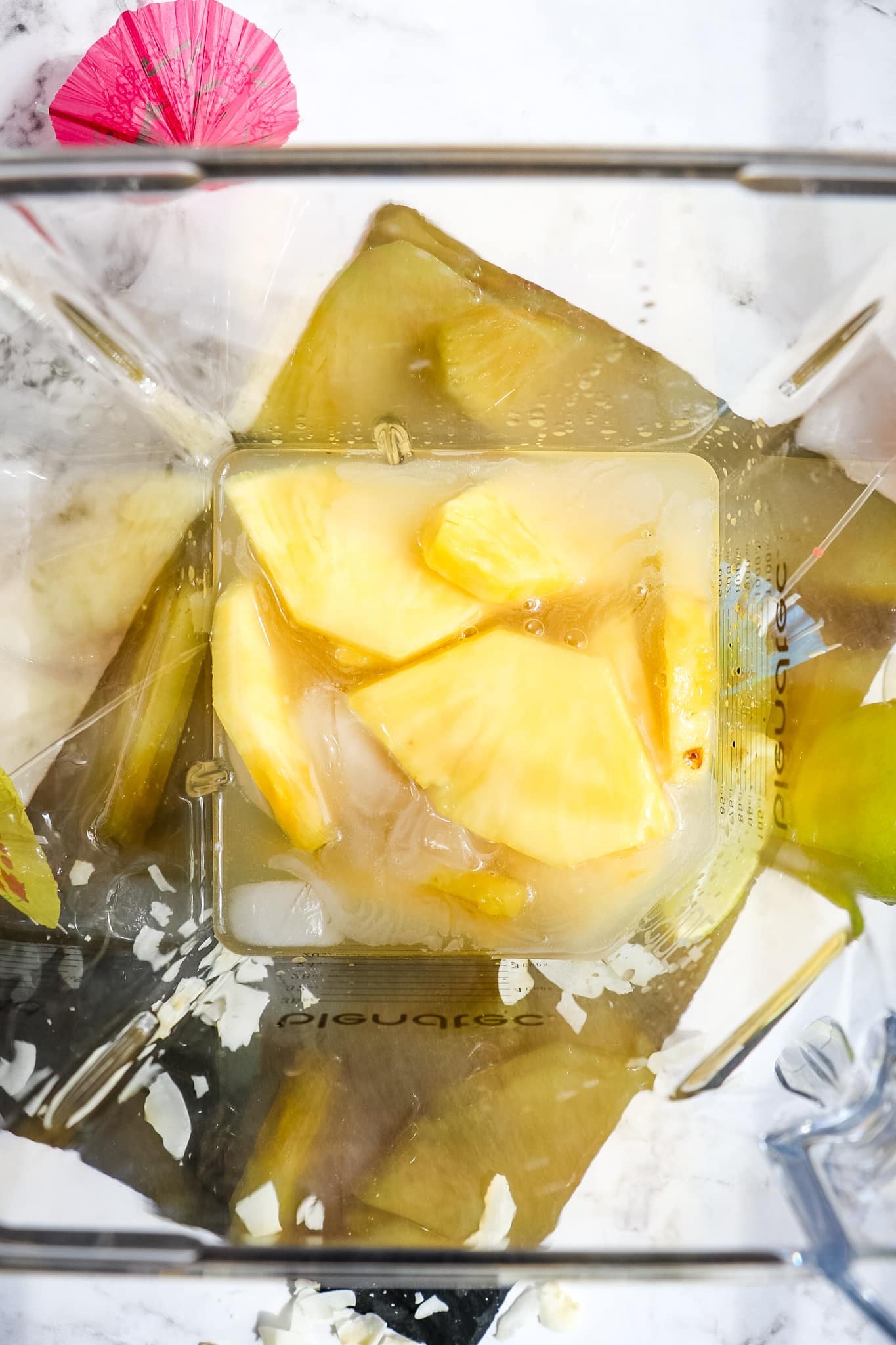 Pour into your favorite glass and enjoy right away while icy cold.
Garnish your drink with fresh pineapple slices, lime slices, and/or a maraschino cherry. Mini cocktail umbrellas also add a nice touch to a tropical drink like this.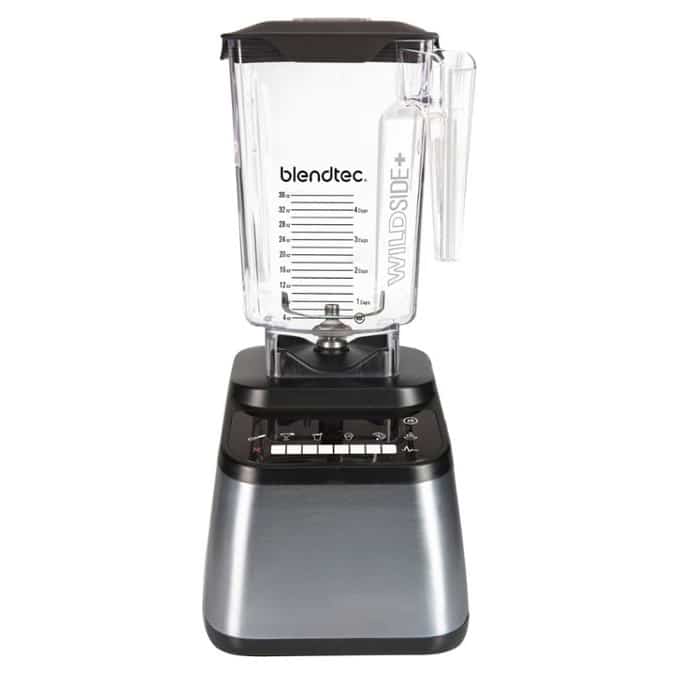 Blendtec 650 Designer Series Blender with Wildside Jar
This is the Blender I use almost DAILY! Everything from smoothies, to cocktails, to waffle and muffin batter and even nut butter, this ultrapowerful blender creates an amazing puree every time. It's very durable and made to last!
What glass is best for a frozen daiquiri?
The standard glass for this cocktail is a hurricane glass, however any larger glass will work well for this drink.
When you should make this Pineapple Daiquiri?
This drink is perfect for enjoying anytime the weather gets warm. Blend it up and enjoy with friends at your next cookout or barbecue.
Anytime or anywhere – this drink is the ultimate summertime cocktail!
Are you looking for a drink with a little less calories and sugar? Be sure to check out my post for How to Make a Skinny Margarita or my Skinny Malibu Pina Coladas.
What type of rum should I use for a daiquiri?
This pineapple daiquiri recipe is great with coconut rum, like Malibu. Any white rum is great in this cocktail. I use Malibu in my Blueberry Coconut Mojitos, which have great coconut flavor!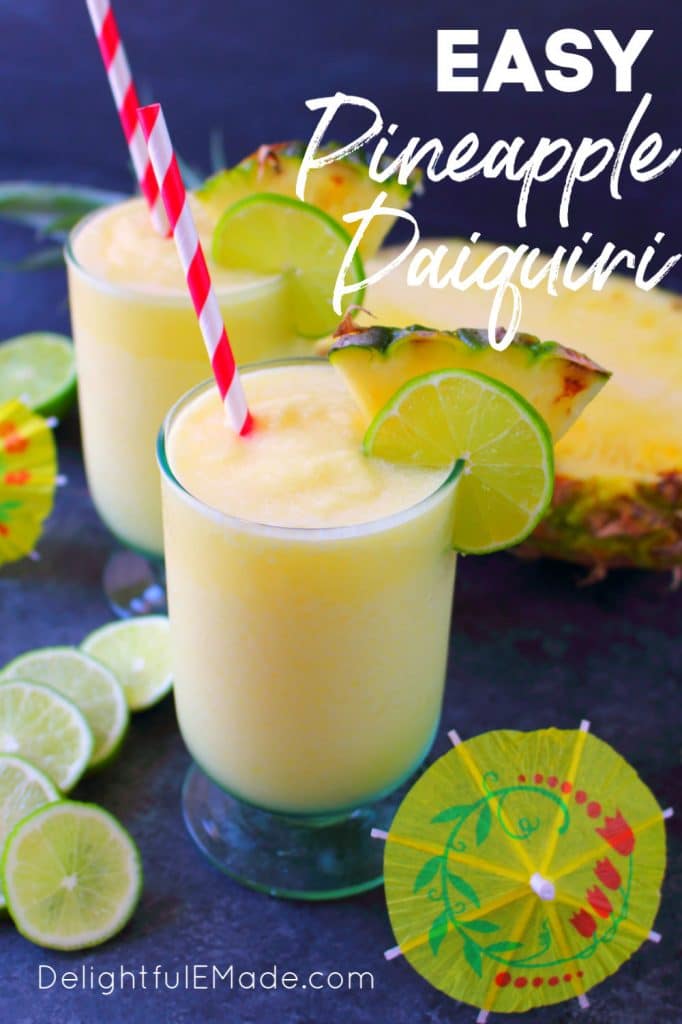 What can I serve with Pineapple Daiquiris?
Pineapple Daiquiris are great served with any Tex-Mex Dish. Here are a few ideas that would be great for your next Tex-Mex night or Cinco de Mayo Party: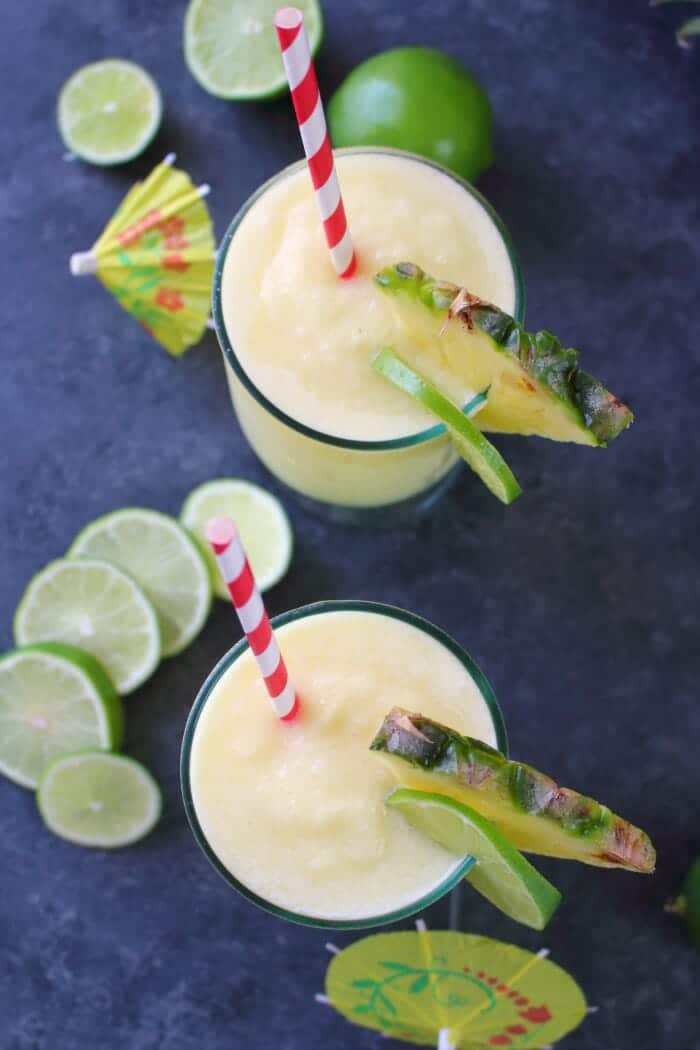 If you loved this delicious frozen pineapple daiquiri, check out some of my other drinks and cocktails:
Pineapple Daiquiri
Meet your new favorite summer cocktail! This incredible Pineapple Daiquiri recipe is made with fresh pineapple, limes and coconut cream. Perfect for sipping poolside or blending for all of your friends at your next summer cookout!
Ingredients
2 1/2 c. frozen pineapple
1 c. ice
1/4 c. simple syrup
1/3 c. fresh squeezed lime juice (juice of 2 limes)
1/3 c. coconut cream
4 oz. (4 shots) coconut rum
Instructions
To a blender add the frozen pineapple, ice, simple syrup, lime juice, coconut cream and coconut rum. Blend until smooth. Pour into glasses and garnish with fresh pineapple and lime slices, if desired. Enjoy right away while frozen.
Notes
Feel free to use any white rum that you prefer. I used Malibu rum, which adds an amazing coconut flavor and aroma to the drink.
Serves: 2 large drinks
Nutrition Information:
Serving Size:

2 drinks
Amount Per Serving:
Calories:

186
Total Fat:

8g
Saturated Fat:

8g
Sodium:

59mg
Carbohydrates:

28g
Sugar:

27g
Protein:

1g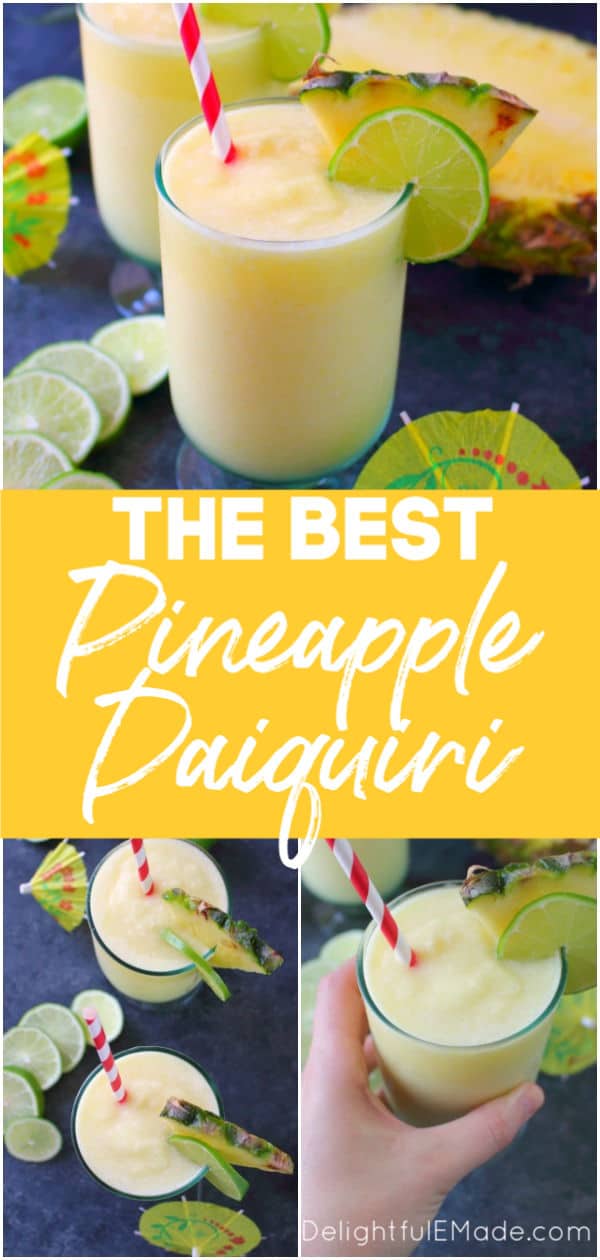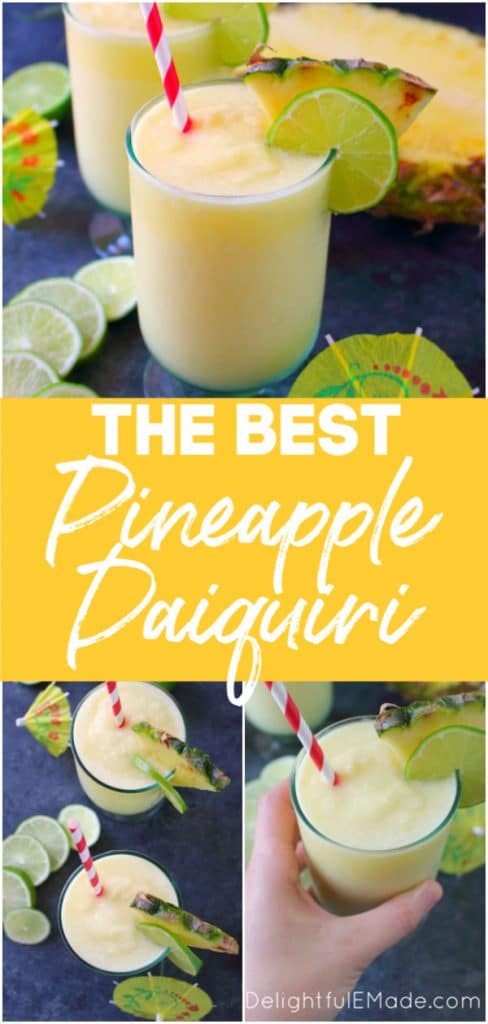 You Might Also Like These Recipes