Looking for an amazing mango mojito recipe? This flavorful and refreshing mango mojito needs just 6 simple ingredients and can be made in moments. Perfect for a warm summer evening and a great pairing with all of your Tex-Mex favorites!
This post may contain affiliate links. Delightful E Made is a participant in the Amazon Services LLC Associates Program, an affiliate advertising program designed to provide a means for us to earn fees by linking to Amazon.com and affiliated sites.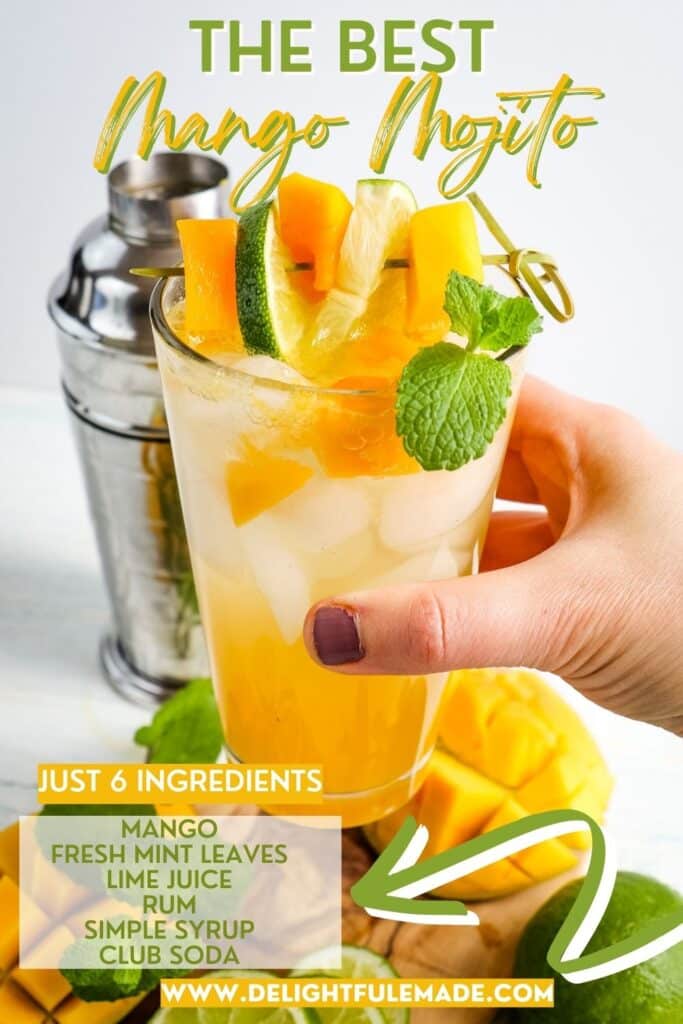 Do you love a cold, refreshing mojito? Good news – you can now make your favorite restaurant mojito at home with just 6 simple ingredients.
Made with fresh mangoes, mint leaves and lime juice, this classic rum drink is amazing paired with all your favorite Tex-Mex foods.
In this post, I'll show you how to make a mojito, what you'll need to make it, and how to serve this classic drink.
What do I need to make a mango mojito recipe?
Fresh mango – mango can typically be found (year-round) in your local grocery store within the produce section. Mangoes are often found near the tropical fruits, like pineapple and kiwi.
Mint leaves – mint can be found with the other refrigerated herbs in the produce section. Small mint plants are often sold in the produce section.
Lime juice – I prefer to use fresh-squeezed limes for juice, however, you can also use jarred lime juice.
Rum – white rum, like Bacardi, is a classic ingredient in a mojito. However, you can also use a flavored rum, like Malibu, Parrot Bay or flavored Captain Morgan rum products.
Simple syrup – you either buy simple syrup (found with other cocktail mixers), or make it at home. To make simple syrup, add a 1:1 amount of water and granulated sugar in a saucepan and simmer over medium low heat until the sugar is completely dissolved.
Club soda – club soda is used to top off a mojito and adds a great sparkle to your cocktail.
For exact ingredient amounts and full recipe instructions be sure to scroll down to the bottom of the post for the recipe. Thanks!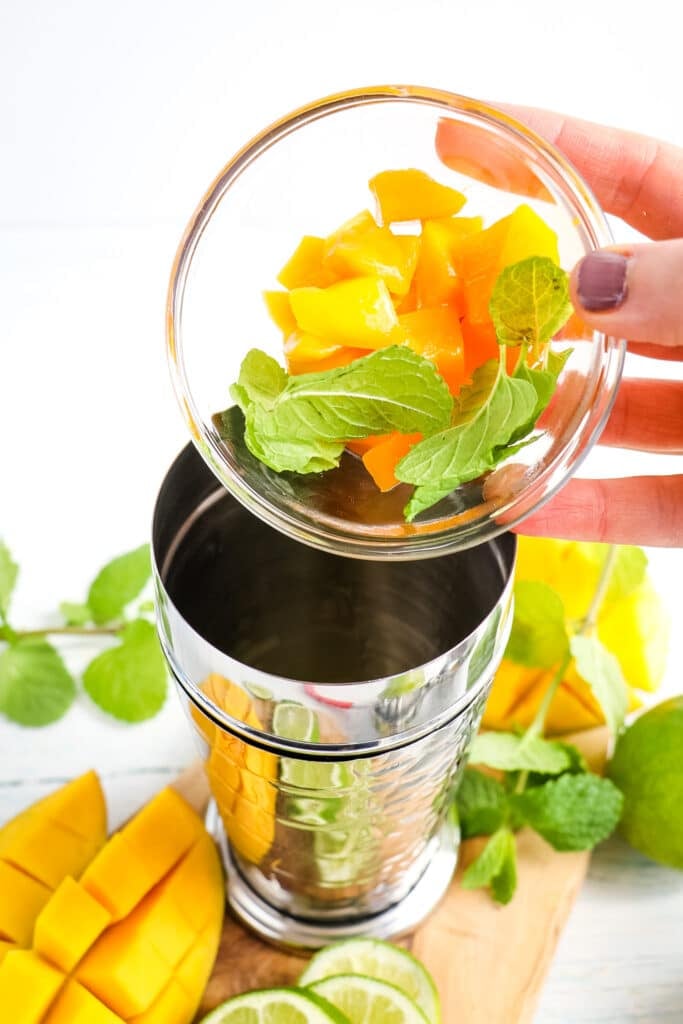 How do I make a mojito?
To make a mojito, start by muddling mint leaves, fresh mango and lime juice in a cocktail shaker with a muddler.
To muddle, means "to crush together". Muddling the mint, mango and lime juice helps express and press out the juices and essence from the ingredients.
To the muddled ingredients, add the rum and simple syrup. Also, add some ice to the shaker to get the ingredients cold.
Add a tight-fitting lid to the cocktail shaker, and shake vigorously.
Add some ice and additional mango pieces to a tall glass. Pour the mojito over the ice and mango. Fill the remaining space in the glass with club soda.
Love mango? Check out my Frozen Mango Daiquiri, which is also a rum based drink. Served frozen and blended, it's a fantastic summertime pool drink!
What tools are needed to make a mojito?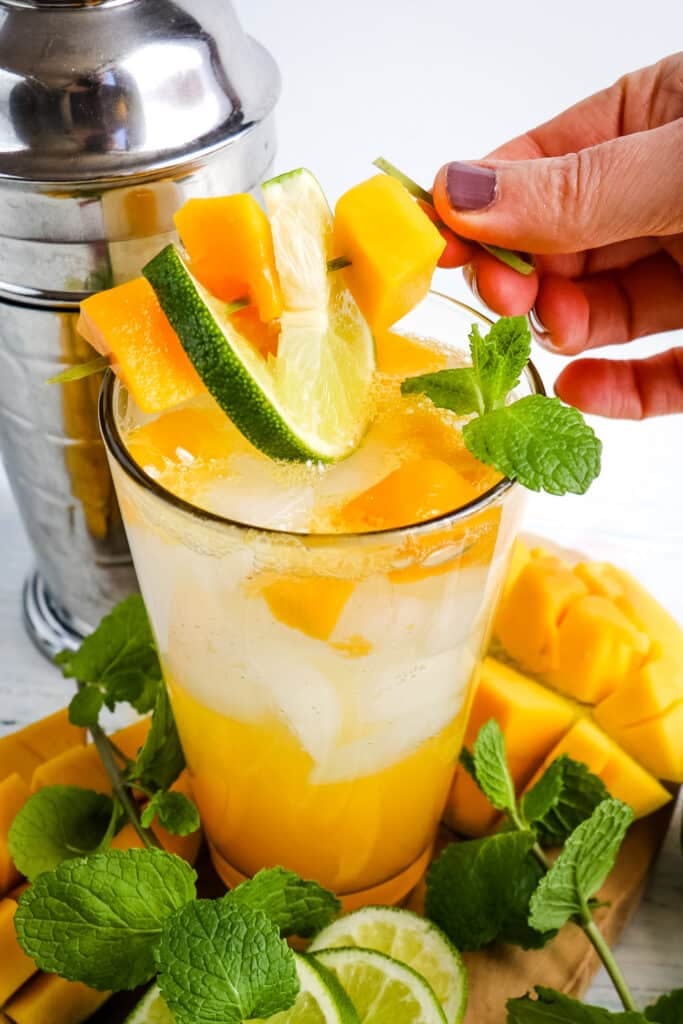 Frequently asked questions about making a mojito:
What is a mango mojito made of?
A mango mojito includes fresh mango, mint leaves, lime juice, Rum, simple syrup and club soda.
Does mango mojito contain alcohol?
Yes, a mojito contains alcohol. It is made with Rum.
Are mojitos healthy?
When made at home, a mojito can be healthier than a restaurant mojito. Do your best to limit the amount of simple syrup (which is primarily refined sugar), and use natural, fresh ingredients like lime juice, fresh mango and fresh mint.
What alcohol is a mojito?
A mojito is a Rum drink.
What glass is best for a mojito?
A mojito is typically served in a tall glass vessel, like an iced tea glass. This tall glass is called a Collins glass.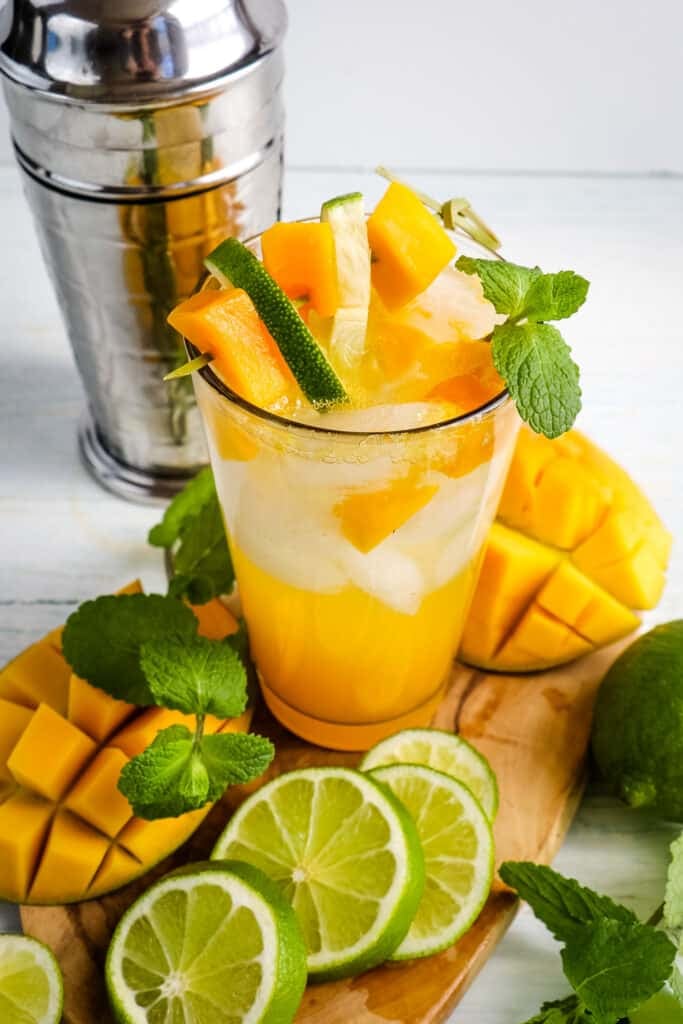 What can I serve with mojitos?
Mojitos are great served with Mexican food or any type of Tex-Mex fare? Here are some of our most popular Tex-Mex appetizers, dips and main dish recipes:
If you loved this cocktail recipe, check out some of our other easy cocktail ideas:
---
Mango Mojito
Looking for a cold, refreshing mango cocktail recipe? This delicious mango mojito recipe is fresh, crisp and the ultimate drink for a warm summer day.
Ingredients
1/2 cup mango, divided
6-8 mint leaves, plus more for garnish
1 tablespoon lime juice (juice of 1/2 line)
2 oz. Rum, like Bacardi or Malibu
1 tablespoon simple syrup
1 cup club soda
Ice
Instructions
To a cocktail shaker, add 1/4 cup of the mango (reserving the rest), mint leaves and the lime juice. With a muddler (or the back end of a wooden spoon), muddle or crush together the mango, mint and lime juice.
To the muddled ingredients add in the rum, simple syrup, and ice. Add the lid to the shaker so it fits tightly. Shake the shaker vigorously.
To a glass fill with ice and the reserved mango chunks. Strain the mojito from the shaker into the glass. Top the cocktail and fill the glass with club soda.
If desired, garnish with fresh mint leaves and a lime slice, if desired. Enjoy right away while cold.
Notes
Can this cocktail be made in advance? Yes. You can mix the mojito ingredients separately and reserve in a mason jar. When ready to serve, pour approximately 1/3-1/2 cup of the mixture over ice and top with club soda.
Nutrition Information:
Yield:

1
Serving Size:

1
Amount Per Serving:
Calories:

355
Total Fat:

1g
Saturated Fat:

0g
Trans Fat:

0g
Unsaturated Fat:

1g
Cholesterol:

0mg
Sodium:

33mg
Carbohydrates:

31g
Fiber:

8g
Sugar:

21g
Protein:

4g
---